Regular price
$194.00 USD
Regular price
$299.00 USD
Sale price
$194.00 USD
Unit price
per
Sale
Sold out
Weekender MAX 80W 111Wh Power Station Features:
Compact Yet Robust: 80W output packed in a 2.9 lbs device.
Varied Charging Ports: Includes AC, DC, and multiple USB outlets.
High Capacity in Compact Design: Houses a 30000mAh/111Wh lithium battery.
Rapid Recharge: Quick charging capabilities through wall outlet and compatible solar panels.
Top-Notch Safety: Features an advanced battery management system and smart cooling fan.
Ready for Emergencies: Equipped with an ultra-bright LED light panel.
Intelligent Features: Whisper-quiet operation and a clear LED display for battery life.
Modified Sinewave Output: Offers a peak wattage of 120W.
Extended Lifecycle: Designed to exceed 1000 charge cycles.
1-Year Warranty: Backed by a one-year warranty from the date of purchase.
30W Foldable Solar Panel Features:
Top-Notch Solar Cells: 30W panels guarantee efficient solar energy conversion.
Mobile & Foldable: Designed for effortless packing and transportation.
Robust Construction: Crafted to endure challenging outdoor environments.
Convenient Kickstand: Ensures the panel gets maximum sunlight exposure.
Seamless Connectivity: Directly links with the Weekender MAX and other devices.
Adaptable to Weather: Crafted to excel even under variable weather scenarios.
1-Year Warranty: Signifies its top-grade quality and longevity.
Free
Local Shipping
1-year Hassle Free
Warranty
Lifetime Customer
Support
Share
View full details
Description

Includes
Specifications
FAQ
Downloads
Reviews
ROCKSOLAR Weekender MAX 80W 111Wh Portable Solar Generator Kit
Experience a perfect synergy of power and portability with the combined package of the ROCKSOLAR Weekender 80W 111Wh Portable Power Station and the 30W Foldable Solar Panel. Whether you're camping, traveling, or just prepping for emergency situations, this duo ensures you're always powered up, even off-the-grid.
Weekender MAX 80W 111Wh Portable Power Station Features
High-Efficiency Power:

 

With an enviable 80W output, this power station pledges reliable and steady energy, addressing a gamut of requirements.

Revolutionary Battery Management:

 

Equipped with an avant-garde battery management system, it assures safety against overcurrent, overheating, and other potential risks, offering you peace of mind.
Compact Yet Mighty:

 

Despite its compact size, the RS81 MAX houses a massive 30000mAh/111Wh lithium battery, ensuring you're never short on power.
Ultra-Light weight & Compact:

 

Tipping the scales at only 2.9lbs, it stands as a testimony to the seamless blend of power and portability, ready to be a part of all your escapades.
Multipurpose Port Array:

 

From AC outputs to USB ports, including Qualcomm QuickCharge 3.0, it's tailored to charge a multitude of devices, ensuring you're always connected.
Rapid Solar Recharge Capability:

 

Compatible with ROCKSOLAR's range of solar panels, it's your solar power station ensuring swift recharges under the sun.
30W 12V Foldable Solar Panel Features
Elevate your power solutions with the ROCKSOLAR RSSP30 30W Foldable Solar Panel. Efficient, versatile, and highly portable, it is the ideal solar charging solution for a myriad of electronic devices. Whether you're hiking, camping, or on a road trip, harness the power of the sun effortlessly.
Wide Compatibility: Can charge a plethora of devices from smartphones to portable power stations. Plus, with 10 DC connectors, it's more adaptable than ever.
Highly Portable: With a laptop-like size and weight when folded, it easily fits into a backpack, making it travel-friendly.
Weather Resilient: Even under heavily cloudy skies, the ultra-high-efficiency solar cells ensure you receive 20-30% of the panel's rated power. An indispensable asset during emergencies.
Tech Specs: Rated at 30W with a conversion efficiency of ≥20%. It boasts PET Monocrystalline Solar Panels enclosed in a durable Polyester Spray Proof Fabric.
Dimensions:
Weekender Power Station: 14 x 8 x 10 cm; Weight: 1.9 pounds
Foldable Solar Panel: Unfolded: 885mm x 355mm x 35mm; Folded: 355mm x 250mm x 45mm; Weight: 2.9lbs / 1.33kg
ROCKSOLAR Weekender 80W 111Wh Portable Power Station

1 x ROCKSOLAR Weekender Max 80W 111Wh Power Station
1 x Charger
1x Power Adapter
1x Cigarette Lighter Adapter
1 x User Manual for the Portable Power Station

ROCKSOLAR 30W Foldable Solar Panel

1 x 30 Watt Foldable Solar Charger
1 x 10-inch Connector Cable
1 x 78-inch DC5521-to-DC5521 Cable
1 x MC4 Connectors
4 x Carabiners
1 x User Manual for the Solar Panel
Technical Specifications
Weekender Max 80W 111Wh Power Station Specification
Details
Manufacturer
ROCKSOLAR TECHNOLOGY LLC
Place of Business
ROCKSOLAR 60 Baffin Place, Unit 5 Waterloo, ON N2V 1Z7 Canada
Part Number
1
Product Dimensions
14.48 x 7.62 x 10.41 cm; 1.04 Kilograms
Batteries
1 Lithium Ion batteries required. (included)
Item model number
RS81MAX
Colour
Black & Orange
Style
RS81 Max (111Wh)
Material
Plastic
Power Source
Battery Powered
Voltage
12 Volts
Wattage
111 Watt-hours
Item Package Quantity
1
Certification
UL
Special Features
Portable, Quickcharge, Large Capacity
Included Components
RS81 MAX Power Station
Batteries Included?
Yes
Batteries Required?
Yes
Battery Cell Type
Lithium Ion
Warranty Description
1 Year From Date Of Purchase
Item Weight
1.04 kg
30W Foldable Solar Panel Specification
Details
Rated Power
30W
Convert Efficiency
≥20%
Peak Power Voltage (Vmp)
18V
Peak Power Current (Imp)
1.6A Max
Open Circuit Voltage (Voc)
21.6V
Short Circuit Current (Isc)
1.8A
Panel Type
PET Monocrystalline Solar Panel
Material
Polyester Spray Proof Fabric
QC3.0 Output
5V/3A, 9V/2A,12V/1.5A Max
USB Output
5V/3.0A Max
Type-C Output
5V/3.3A, 9V/3.3A,12V/3.3A, 20V/3.3A Max
5.5mm/2.1mm DC Output
DC18V 1.60A (Max)
Size - Unfolded
885mm x 355mm x 35mm
Size - Folded
355mm x 250mm x 45mm
Item Weight
2.9lbs / 1.33kg
The Weekender MAX boasts an enhanced 111Wh capacity, which means longer run times. Depending on the device, it can charge a smartphone up to 7 times, a tablet up to 3 times, and provide ample power for laptops and other electronics.
Absolutely! The Weekender MAX is designed to be used while charging, ensuring continuous power supply for your devices.
Yes, the enhanced capacity of the Weekender MAX makes it even more suitable for charging laptops, as well as other electronic devices.
For prolonged storage, charge the Weekender MAX to between 60-80% and keep it in a cool, dry location. It's recommended to recharge the battery every 3 months to maintain its health.
The Weekender MAX can be powered up using a wall outlet or efficiently charged with ROCKSOLAR Solar Panels like the 30W, 60W, or 100W variants.
Yes, the Weekender MAX is equipped with rapid charging capabilities to ensure your devices are powered up swiftly.
The Weekender MAX has a 111Wh capacity. It's always best to check with your airline regarding their battery capacity restrictions. However, it generally falls within the FAA's safety standards for lithium-ion batteries.
Both the ROCKSOLAR Weekender MAX and the 30W Solar Panel come with a 12-month warranty, offering you confidence in your investment.
The 30W Foldable Solar Panel from ROCKSOLAR features top-tier solar cells that ensure optimal sunlight conversion. This makes it a reliable energy source for the Weekender MAX during your outdoor escapades.
While the Weekender MAX is best paired with ROCKSOLAR panels, it can also work with other solar panels. Just ensure you verify compatibility based on input specifications before connection.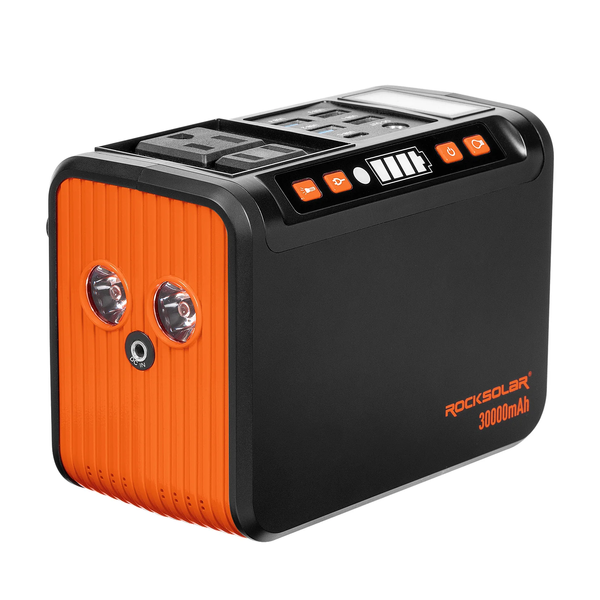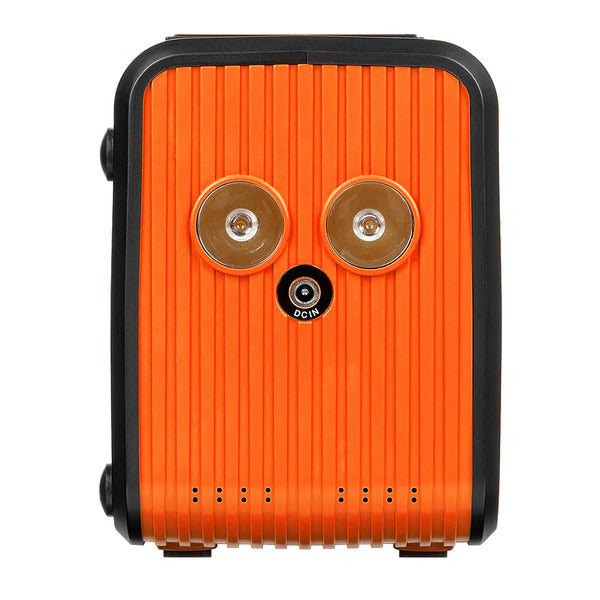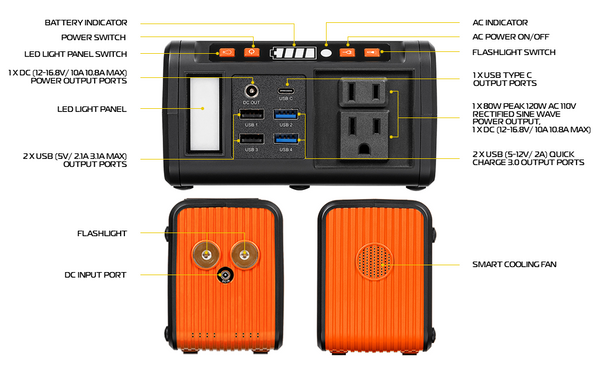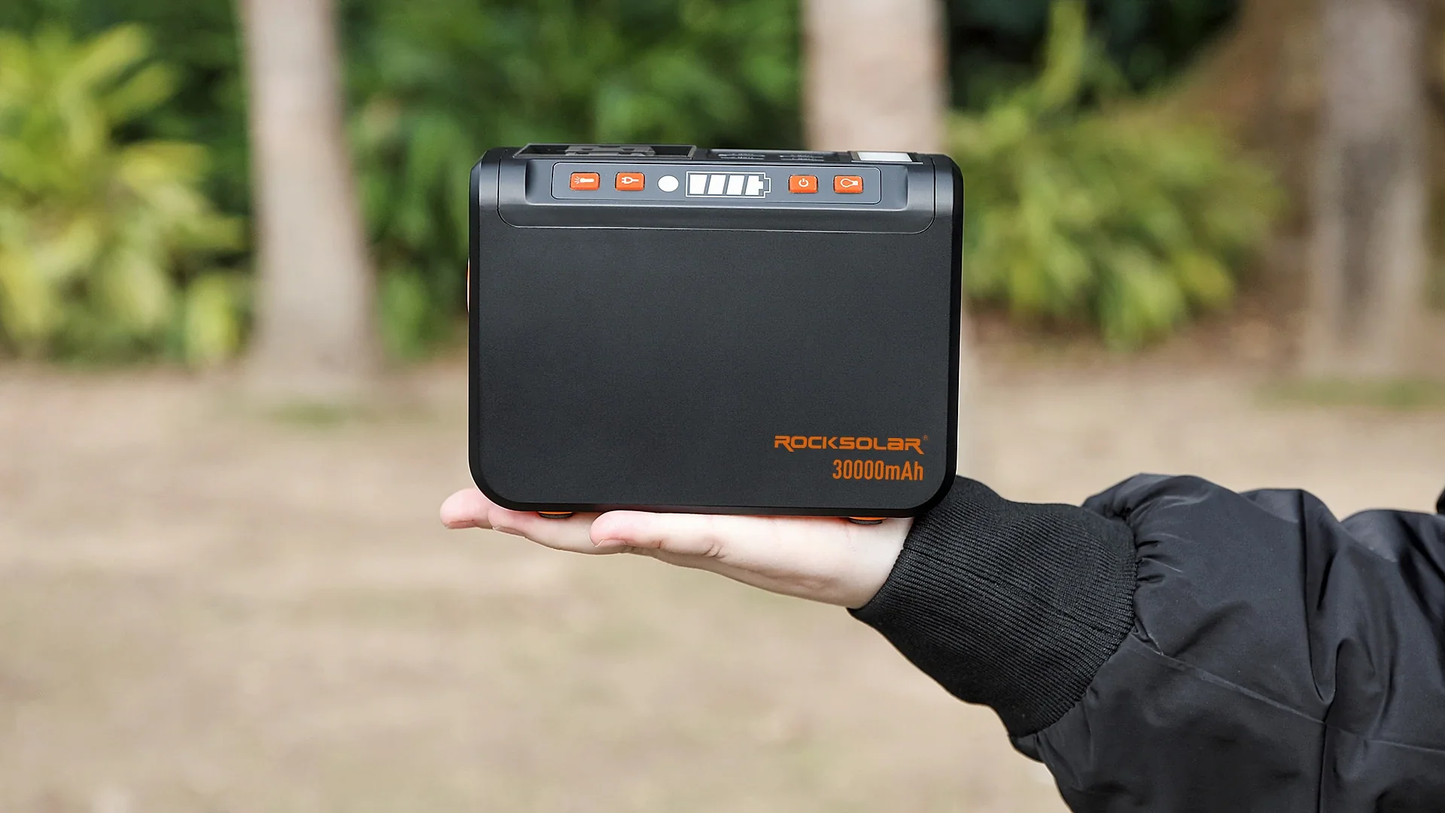 Well built, versatile, seamless to operate in campsite.
I purchased this for when I go camping and need to charge my phone or use any electronics but when it arrived, I just impressed with it power backup and charging speed with portable solar panel.
Great Product for Outdoor Life!
I ordered this for my dad who is keen on outdoor activities, such as stand-up paddle board (SUP) and boating. He used it all summer and loves the product! It charges everything and is super convenient. The portable power station and portable solar panel have good quality and a nice design. It is also very efficient. Great gift for outdoor lovers!
Great little solar generator kit
Very pleased with this little solar generator kit. Perfect for camping trips. would buy it again in future for sure.
Very portable, convenient solar generator kits.
Very portable, and convenient. It has outstanding power output and great solar charging speed at low light also. i recommended this nice solar generator kit.
Just what I needed for my camping trip.
This portable solar generator kit is just amazingly works at my camping tent. now I am able to charge my all devices perfectly. just what i needed for my camping trip.