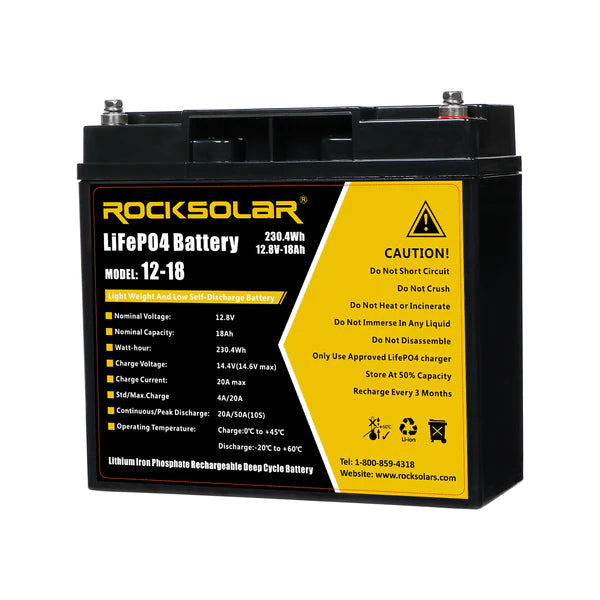 12V 18Ah Deep Cycle LiFePO4 Ice Fishing Battery
The 12V 18Ah Deep Cycle LiFePO4 Battery from ROCKSOLAR, the perfect solution for all your power needs. Whether you're looking for a reliable source of backup power for your home or on-the-go power for your outdoor adventures, our state-of-the-art battery has got you covered. With a high capacity of 18Ah and a stable 12V output, our LiFePO4 battery delivers consistent, reliable power that you can count on.
Shop Now
ROCKSOLAR Ice Fishing Batteries for Your Ice Fishing Needs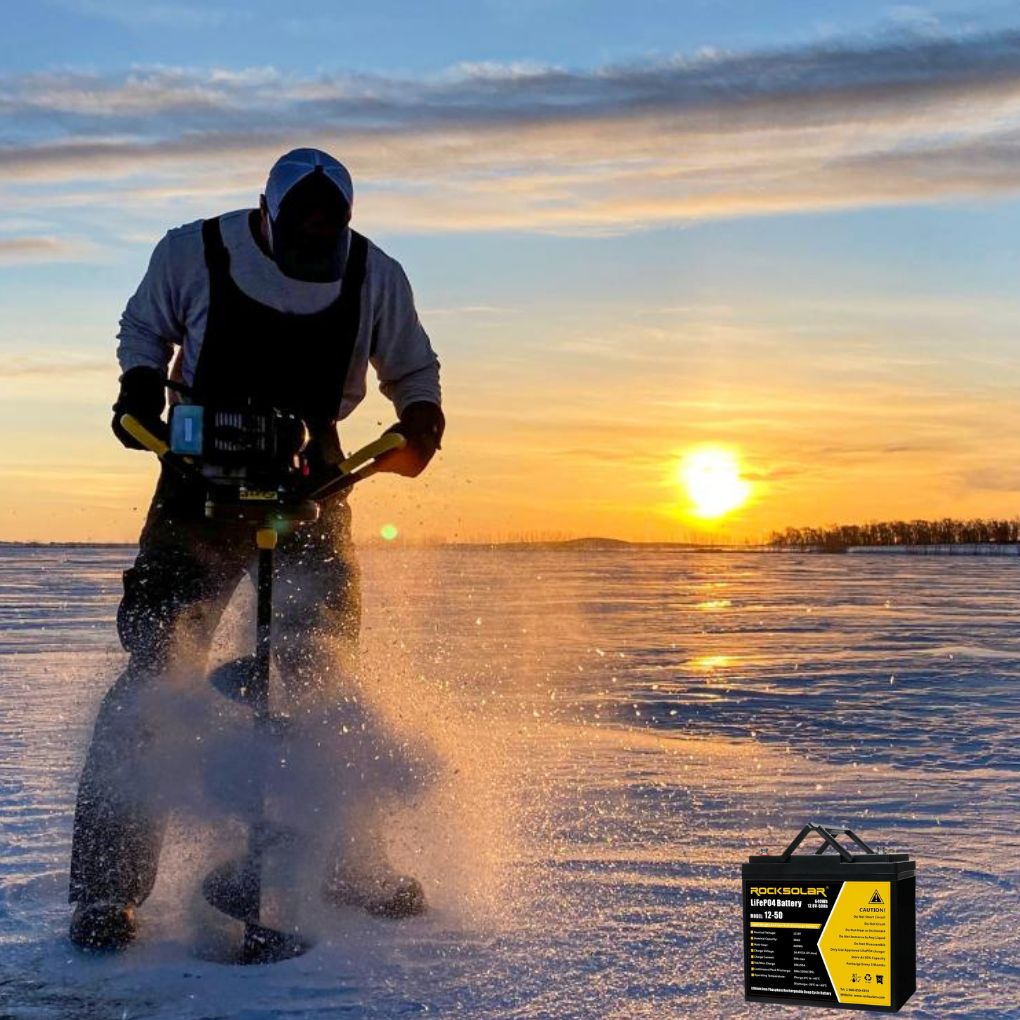 Reliable Performance
Our Lithium Iron Phosphate Deep Cycle LiFePO4 batteries are designed to provide reliable power to your ice fishing equipment, so you can enjoy a hassle-free fishing experience. With a built-in BMS (Battery Management System), our batteries ensure safe and efficient operation.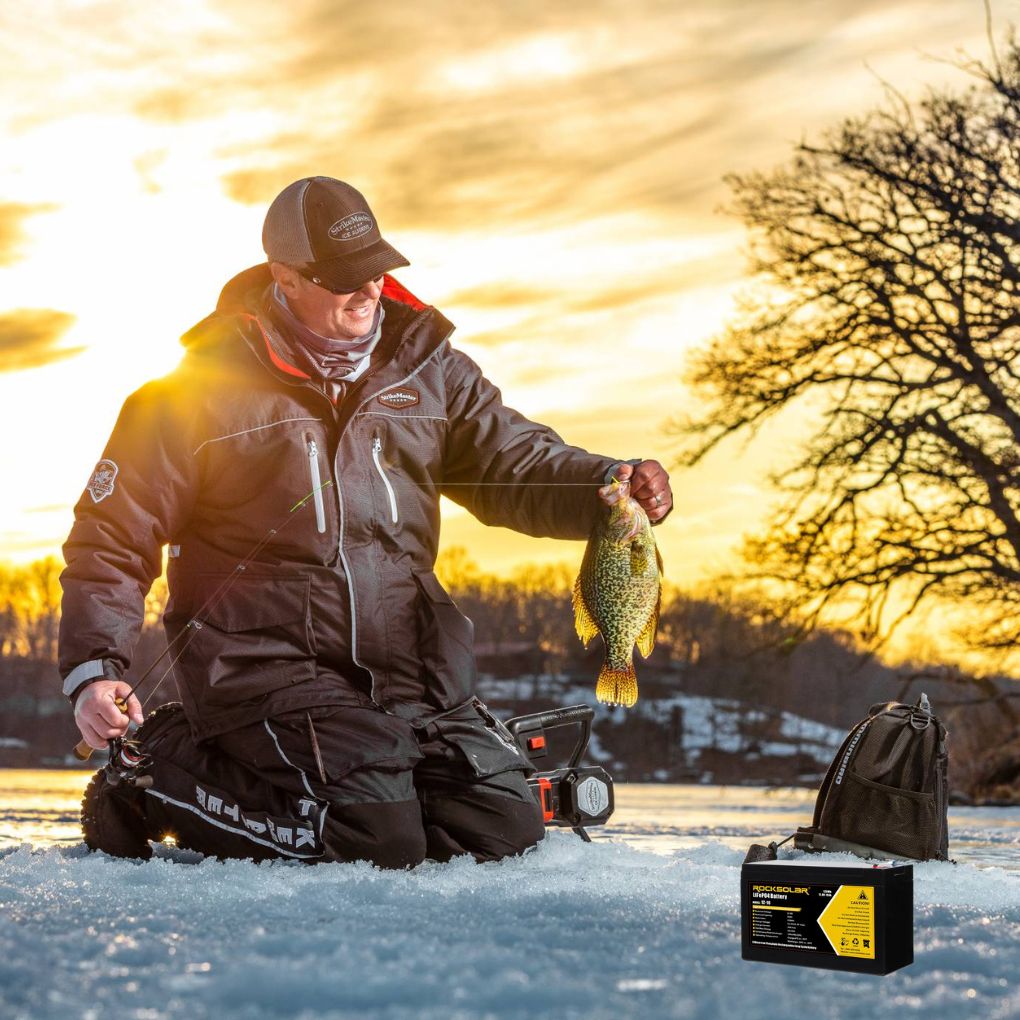 Lightweight
Our batteries are significantly lighter than traditional lead-acid batteries, making them ideal for use in ice fishing equipment. With less weight to carry, you can easily transport your equipment to your favorite fishing spot without worrying about the added weight.
Long-Lasting Power
Our batteries provide long-lasting power, allowing you to spend more time fishing without worrying about running out of power. This means you can focus on catching fish instead of constantly worrying about your battery life.
Environmentally Friendly
Our batteries are an environmentally friendly option compared to traditional lead-acid batteries. Our Lithium Iron Phosphate batteries do not contain any hazardous chemicals, making them safer for the environment.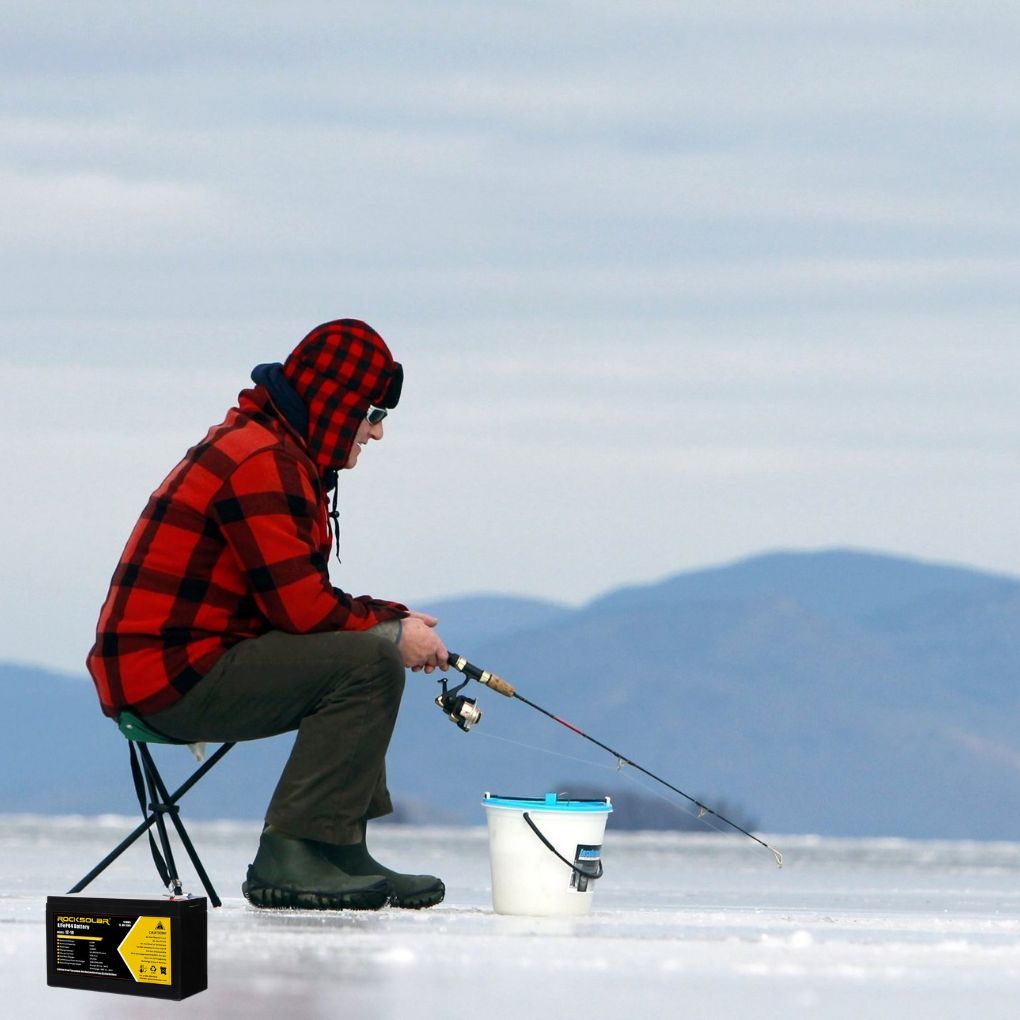 Cost-effective
Our batteries have a longer lifespan than traditional lead-acid batteries, meaning you will not need to replace them as often. This makes our batteries a more cost-effective option in the long run.
12V 10Ah LiFePO4 Battery

12V 18Ah LiFePO4 Battery

12V 50Ah LiFePO4 Battery

Manufacturer
ROCKSOLAR
ROCKSOLAR
ROCKSOLAR
Model
LiFePO4 Battery 12V 10Ah
LiFePO4 Battery 12V 18Ah
LiFePO4 Battery 50Ah
Product Dimensions
5.9 x 2.6 x 3.7 Inches; 1.27 Kilograms
7.1 x 3 x 6.6 Inches; 2.04 Kilograms
9 x 5.4x 8.2 Inches; 5.9 Kilograms
Batteries
1 Lithium Ion battery
1 Lithium Ion batteries required. (included)
1 Lithium Ion batteries required. (included)
Is Discontinued By Manufacturer
No
No
No
Special features
UB1280 replacement, fish finder battery, wide operating temperature:
Discharge: -20C -60C, Charge: 0C- 40C, 12V Lithium Iron Phosphate, Deep cycle
Best fish finder battery, wide working temperature: -20C -60C, SLA
replacement battery, Light weight, best ham radio battery
Boat battery, Marine battery, Deep cycle, Wide working temperature:
-20C -60C, Best trolling motor battery
Voltage
12 Volts (DC)
12 Volts
12 Volts (DC)
Item Weight
1.27 kg
2.04 kg
5.9 kg