Up to 50% off already applied. Use code HOLIDAY23 for an extra 15% off!
Regular price
$136.00 USD
Regular price
$196.00 USD
Sale price
$136.00 USD
Unit price
per
Sale
Sold out
Optimized Efficiency: High-grade monocrystalline silicon cells.
Light & Slim: Weighs 3.42 pounds, 20mm thick.
Flexible: Adapts to different surfaces.
Weatherproof: IP68 rating and PET film protection.
Stable Voltage: 23.4V open circuit, 18V peak.
Multi-Use: Ideal for RVs, boats, and off-grid.
Compact: Measures 1025x510x20 mm.
Temperature Resilience: Operates from -20°C to 70°C.
5-Year Warranty: Assured product quality.
Free
Local Shipping
5-year Hassle Free
Warranty
Lifetime Customer
Support
Share
View full details
Description

Includes
Specifications
FAQ
Downloads
Reviews
Introducing the ROCKSOLAR 100W 12V Flexible Solar Panel: a cutting-edge solution for all your green energy needs. This advanced panel is crafted for those who demand superior efficiency and adaptability. Built with top-tier monocrystalline silicon and an ETFE surface, it delivers unmatched solar performance while being adaptable to various applications.
Product Features
Optimized Efficiency: Features high-performance monocrystalline cells, offering a conversion rate of over 22% for top-tier energy harvesting.
Ultra-Light & Compact: Weighing a mere 3.42 pounds with dimensions of 39.76in x 20.08in x 0.78in, making it easy to integrate and transport.
Weather-Resilient Design: IP68 rated with a frosted PET film, ensuring consistent operation in diverse environments.
Broad Application Spectrum: From RVs and marine vessels to off-grid setups and fieldwork charging, this panel is the go-to solution.
Adaptable Flexibility: Capable of bending up to 30 degrees, allowing for versatile installations on contoured and irregular surfaces.
ETFE Surface: Known for its durability and high light transmittance, ensuring longevity and peak efficiency.
Multiple Connectors Included: Catering to diverse charging needs with a plethora of connectors and cables.
Intuitive Charging: Simple placement in direct sunlight provides power to 12V-22V devices, emphasizing user-friendly operation.
Safe Device Charging: Designed to keep your device cool, mitigating overheating risks.
Over 15 Year Service Life

 

guaranteed and 5 Year Manufacturer Warranty.
Experience the ROCKSOLAR Promise
With ROCKSOLAR's 100W Flexible Solar Panel, sustainability meets unparalleled efficiency. It embodies the brand's commitment to reliable, high-performance renewable energy solutions. Whether you're an adventurer, a boating enthusiast, or someone keen on sustainable living, this solar panel ensures uninterrupted green energy.
Suitable for:
RVs & Marine Vessels
Off-Grid & Fieldwork Charging
Camping & Outdoor Adventures
Battery Maintenance & Trickle Charging
Emergency Power Solutions
Green Energy Initiatives
1 x ROCKSOLAR 100W 12V Flexible Monocrystalline Solar Panel
1 x MC4 to Battery Clips Cable
1 x 50cm long MC4 to DC5521 Cable
4 x Carabiners
4 x Cupulas/Suction Cups
1 x DC5.5/2.1 to DC3.5/1.35 Connector
1 x DC5.5/2.1 to DC5.5/2.5 Connector
1 x DC5.5/2.1 to DC8.0*5.5*0.8 Connector
1 x User Manual for the Solar Panel
Technical Specifications
| 100W 12V Flexible Monocrystalline Solar Panel Specification | Details |
| --- | --- |
| Model | RSF100W |
| Type | ETFE Monocrystalline silicon |
| Rated Power | 100W |
| Open Circuit Voltage(Voc) | 23.4V |
| Peak Power Voltage(Vmp) | 18V |
| Convert Efficiency | ≥22% |
| Short Circuit Current(Isc) | 6.1A |
| Current at Maximum Power (Imp) | 5.56A |
| Size | 1025x510x20 mm |
| Weight | 3.42 pounds (1.85kg) |
| Operating Temperature | -20~70 °C |
| Material | ETFE surface monocrystalline silicon integrated laminated solar panel |
The ROCKSOLAR 100W panel employs advanced high-efficiency monocrystalline silicon technology. This ensures premier energy conversion rates and superior solar absorption.
The ROCKSOLAR 100W Flexible Solar Panel boasts a lightweight design, weighing only 3.42 pounds (1.85kg) and featuring dimensions of 1025x510x20 mm, making it both portable and efficient.
Yes, the 100W panel is expertly crafted with a weather-resistant frosted PET film and holds an IP68 rating. This ensures its optimal performance across a temperature range of -20 to 70 °C, even in challenging weather scenarios.
Absolutely! The inherent flexibility of the ROCKSOLAR 100W Panel allows for installations on a variety of non-flat surfaces, making it a versatile choice for applications such as boats, RVs, and more.
The panel is bundled with user-friendly MC4 connectors and a range of cables and adapters for a seamless integration process. Although it's tailored for optimal performance with ROCKSOLAR devices, always ensure compatibility if integrating with other systems.
By utilizing the sun's energy, the ROCKSOLAR 100W Panel promotes eco-friendly power generation. Adopting this panel aids in the reduction of non-renewable energy consumption, contributing to a smaller carbon footprint and a greener planet.
The ROCKSOLAR 100W Flexible Solar Panel is backed by a comprehensive 5-year warranty, underscoring our dedication to quality and ensuring users have added peace of mind.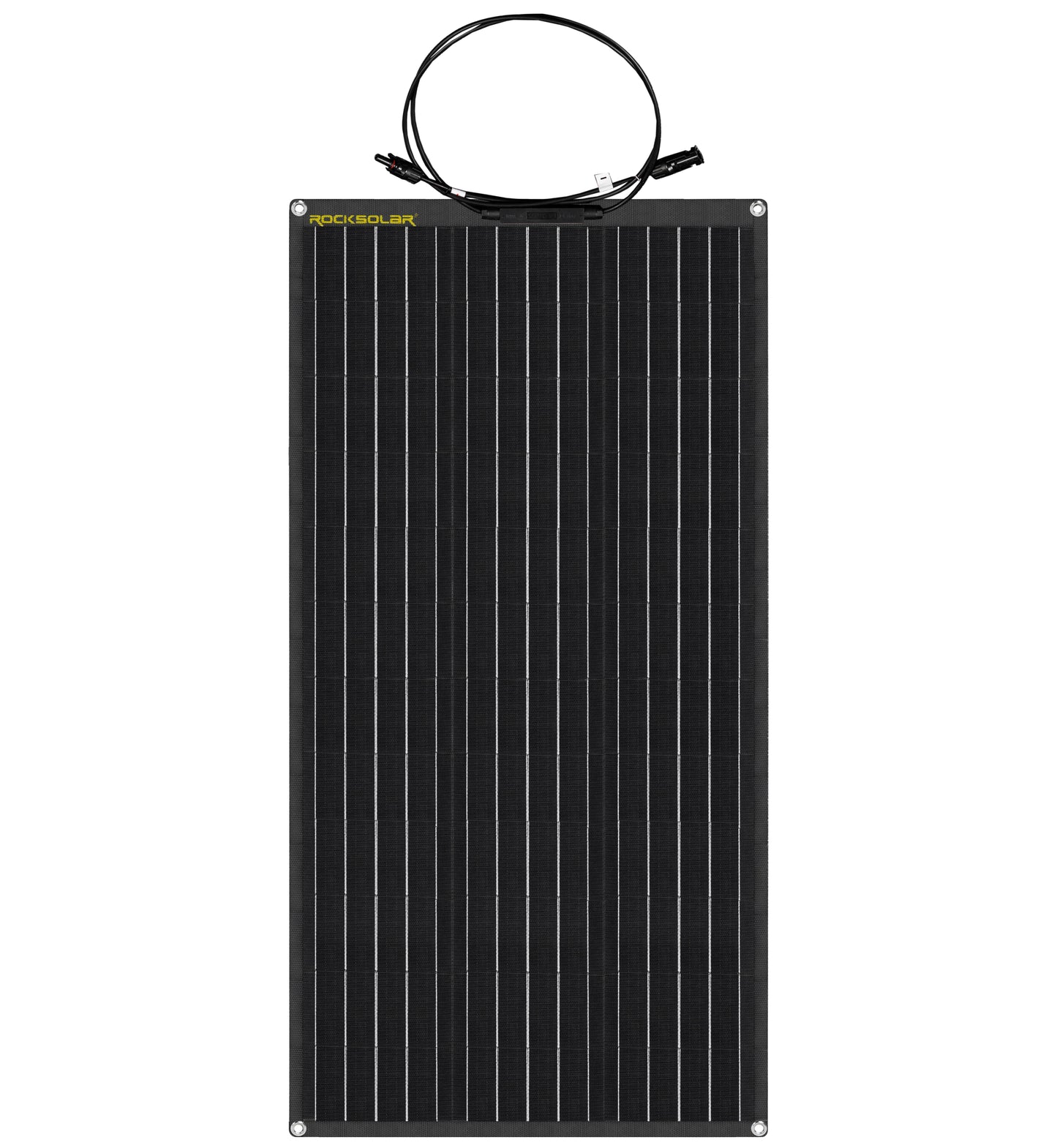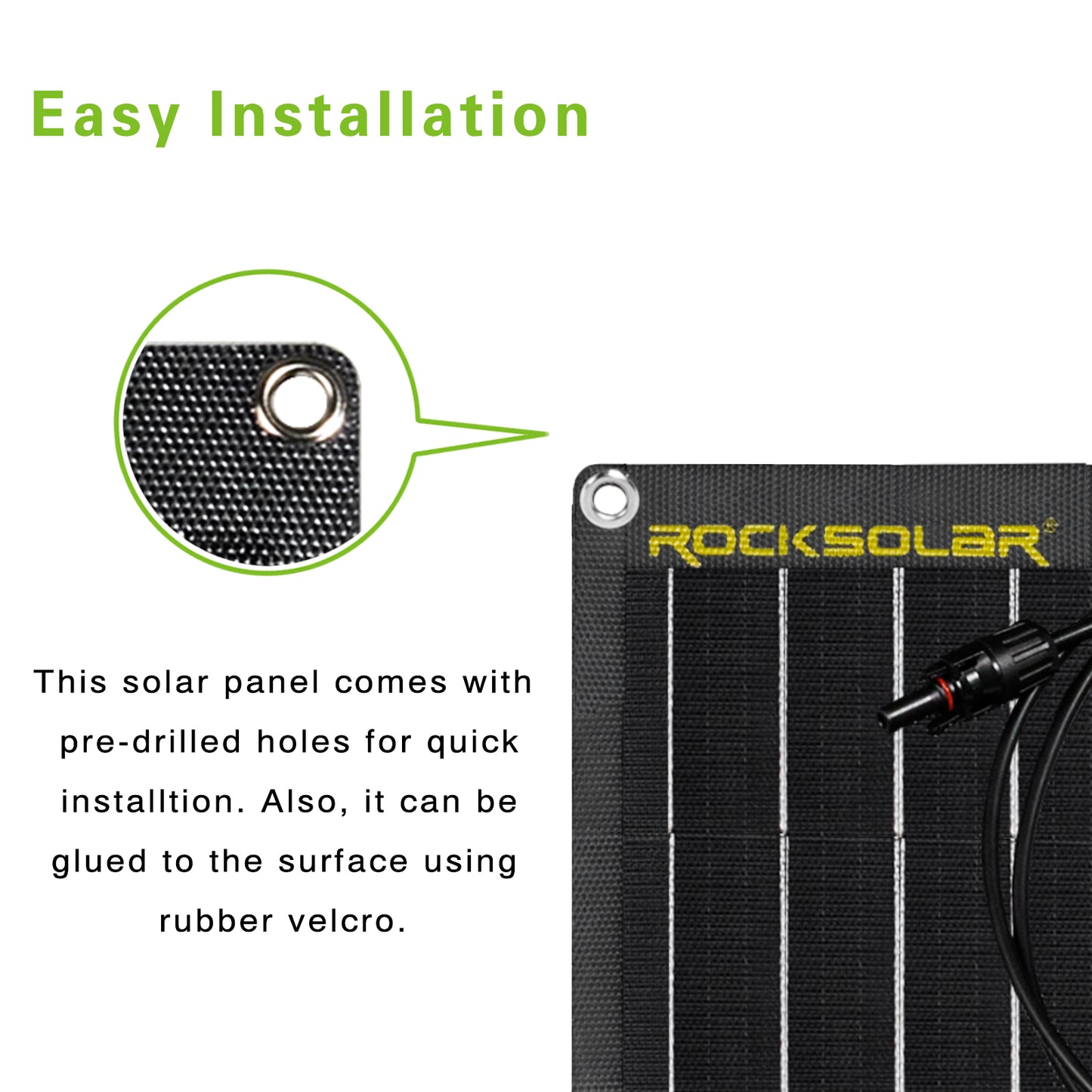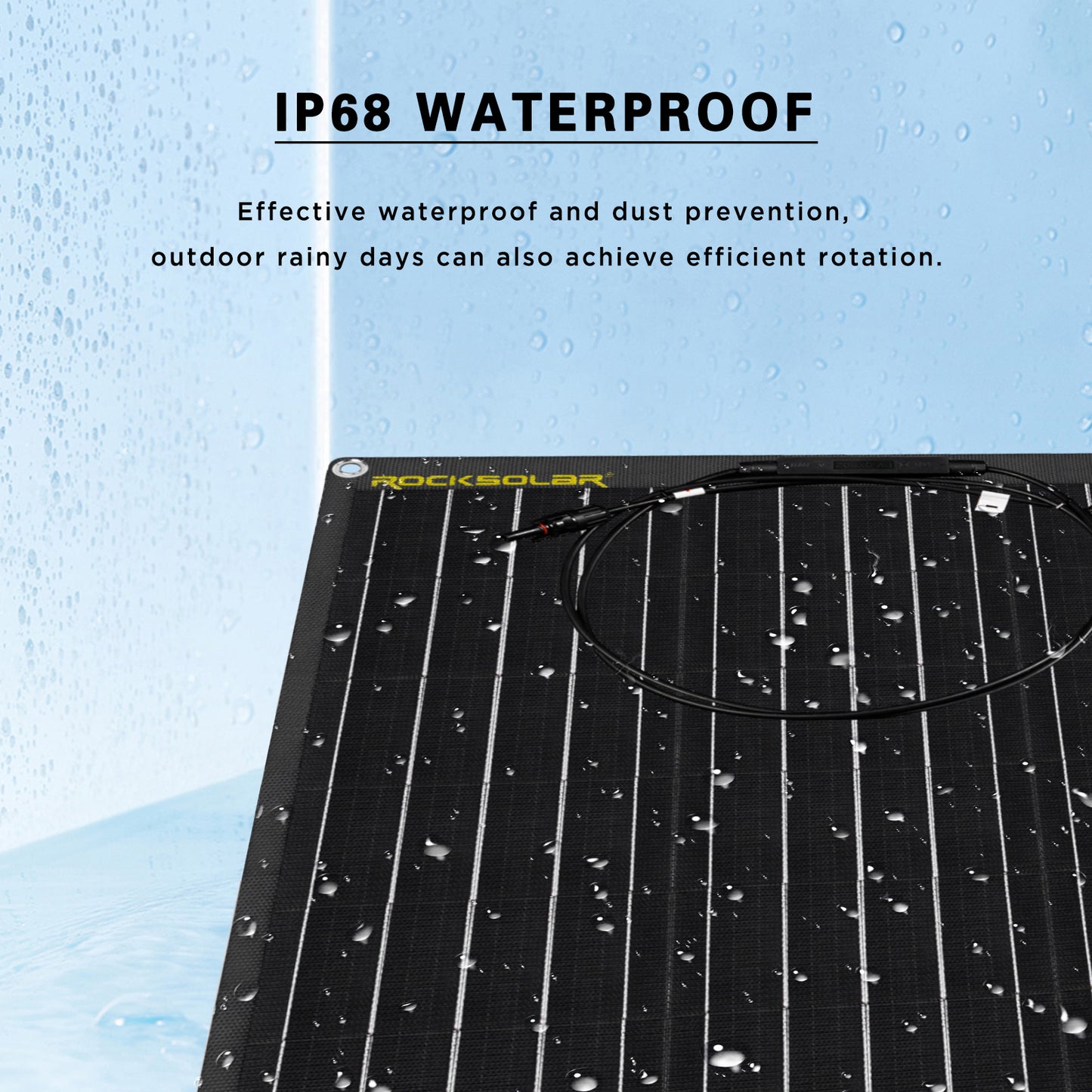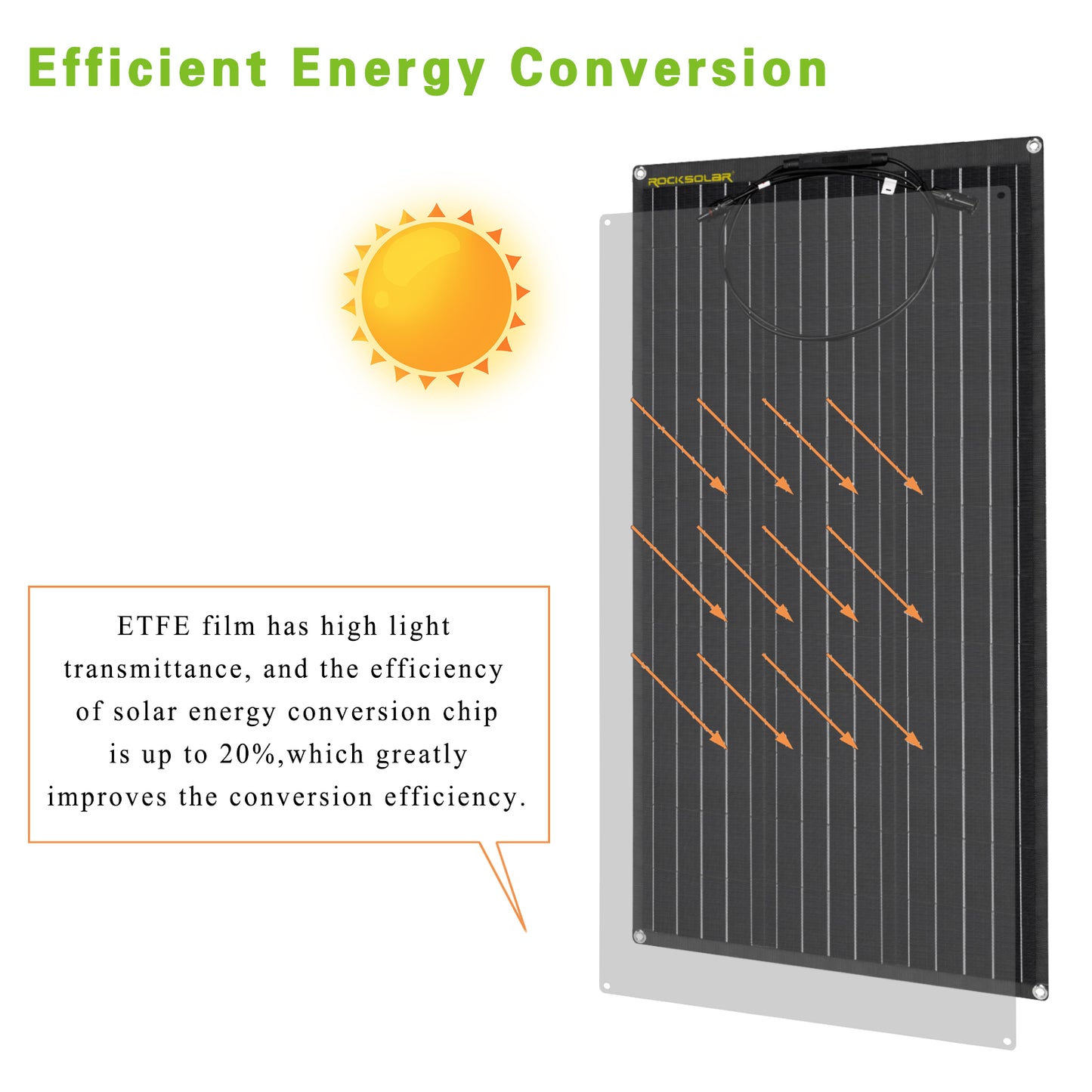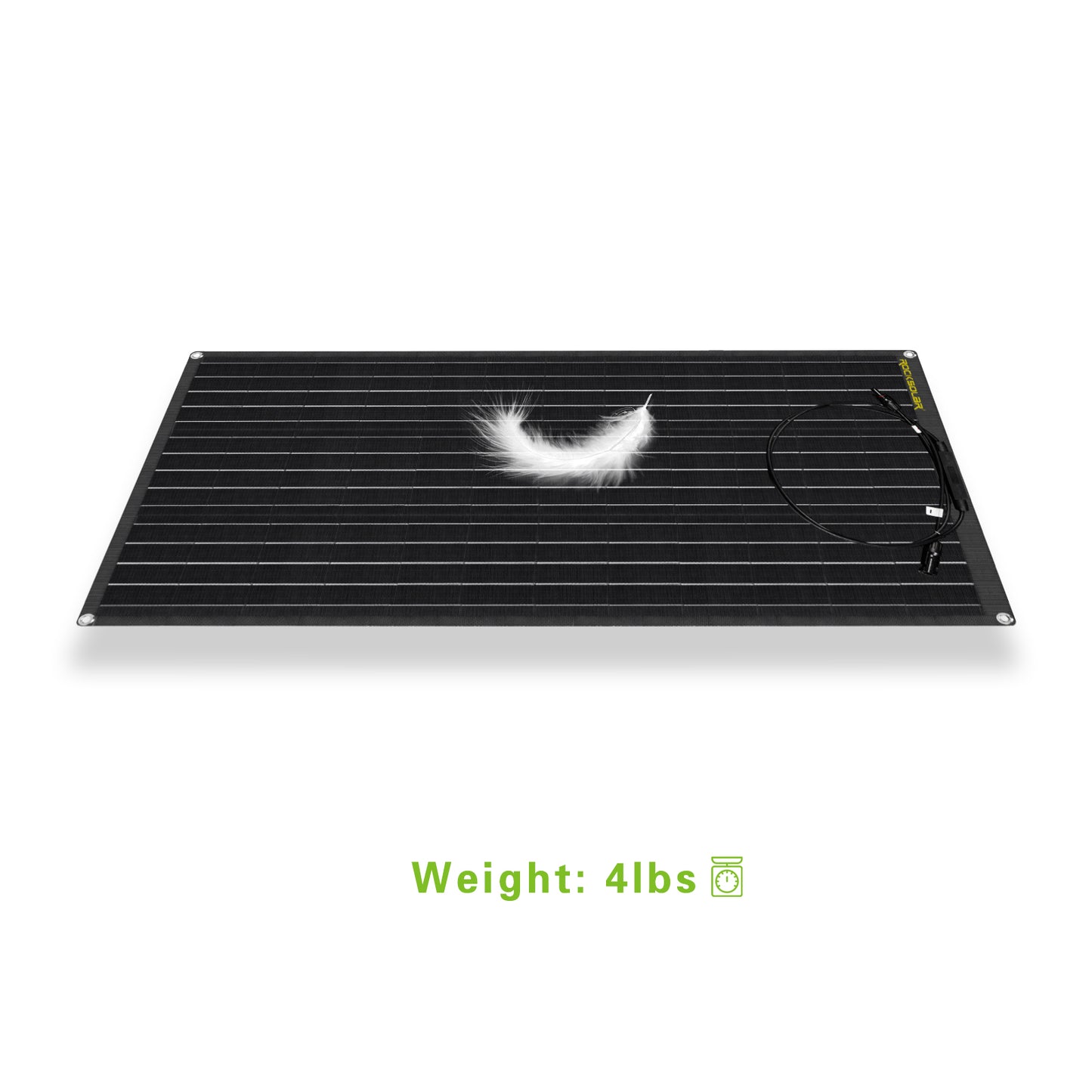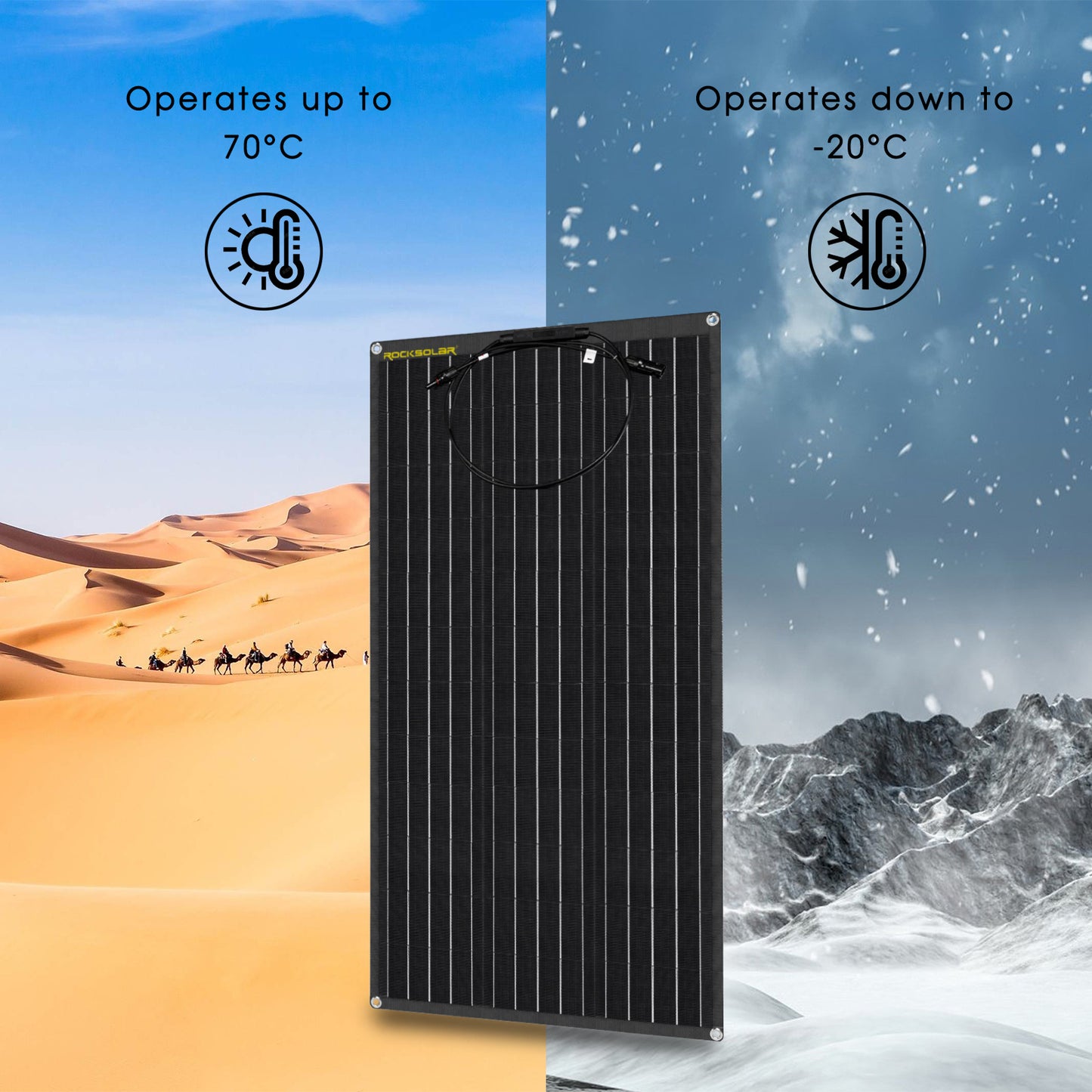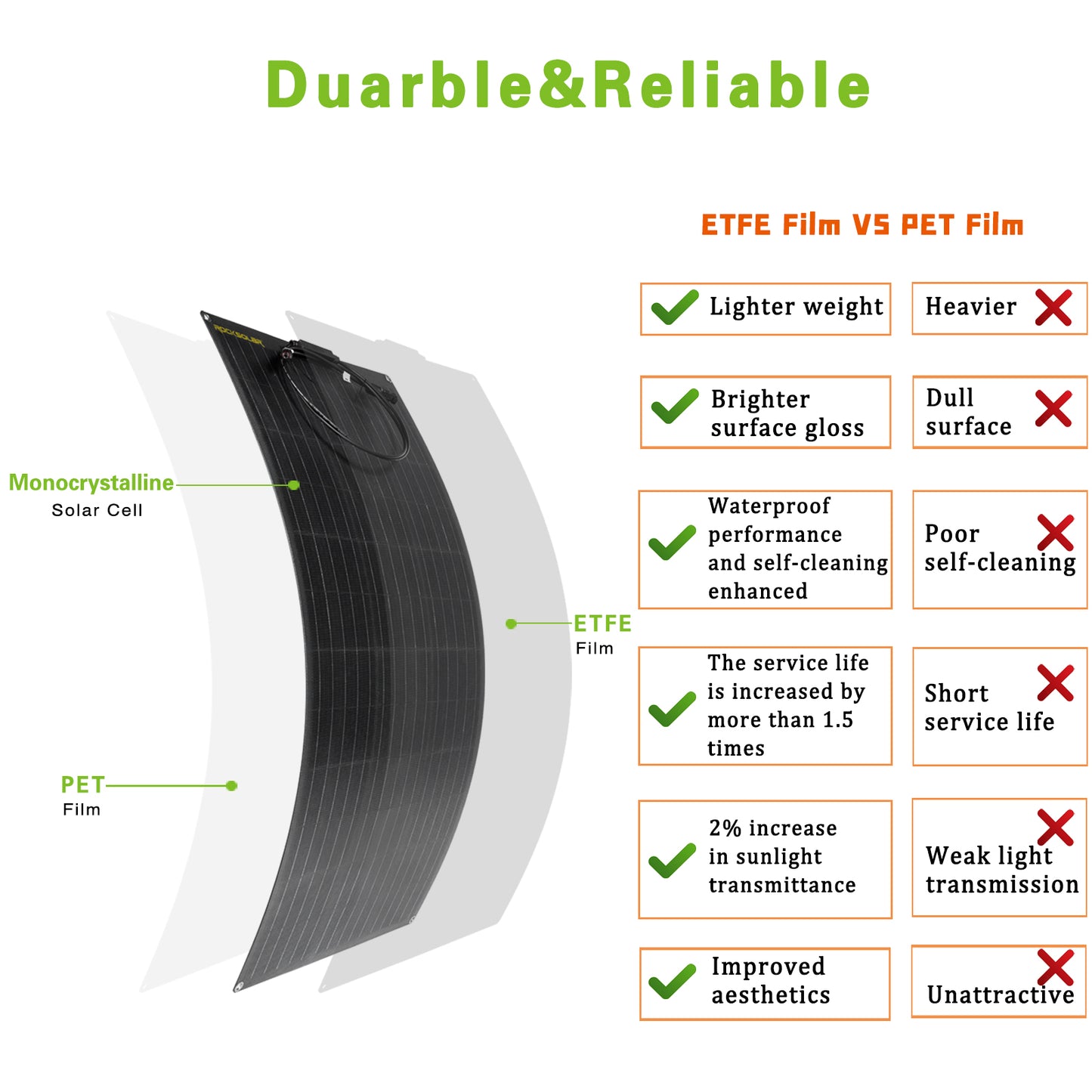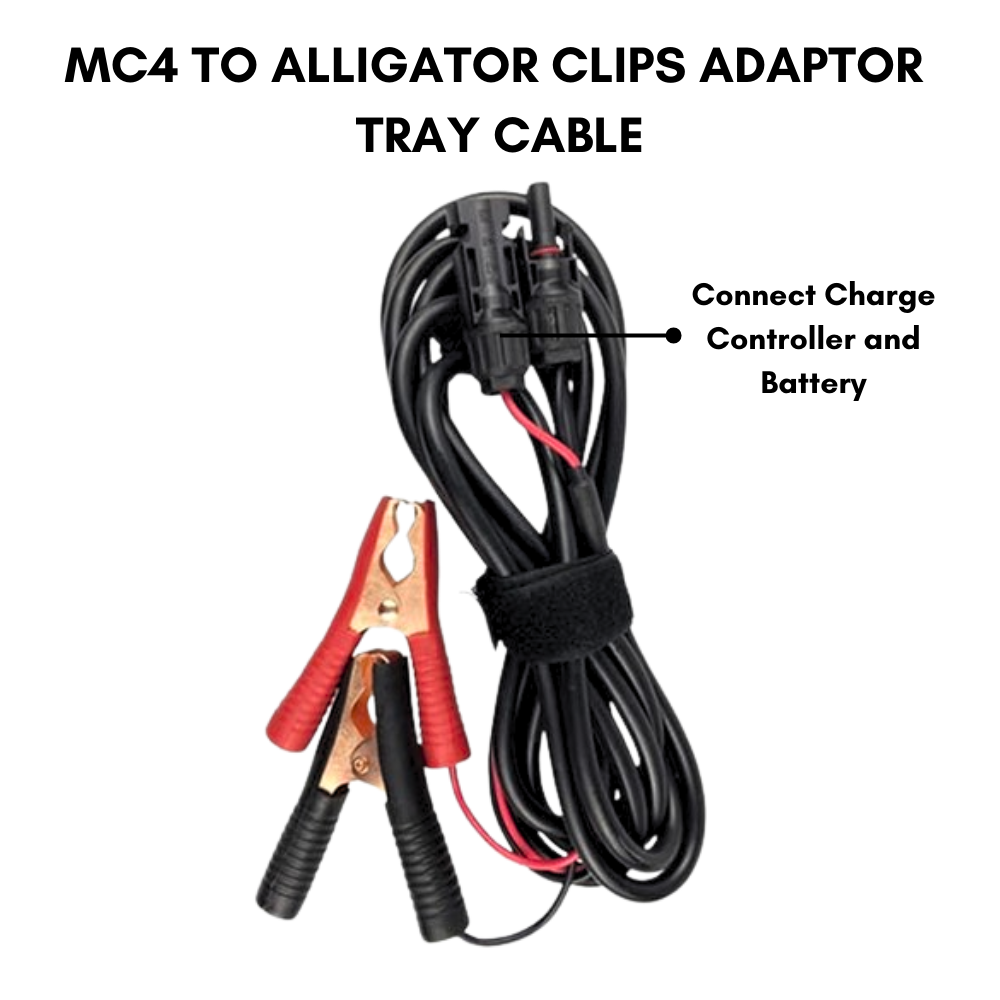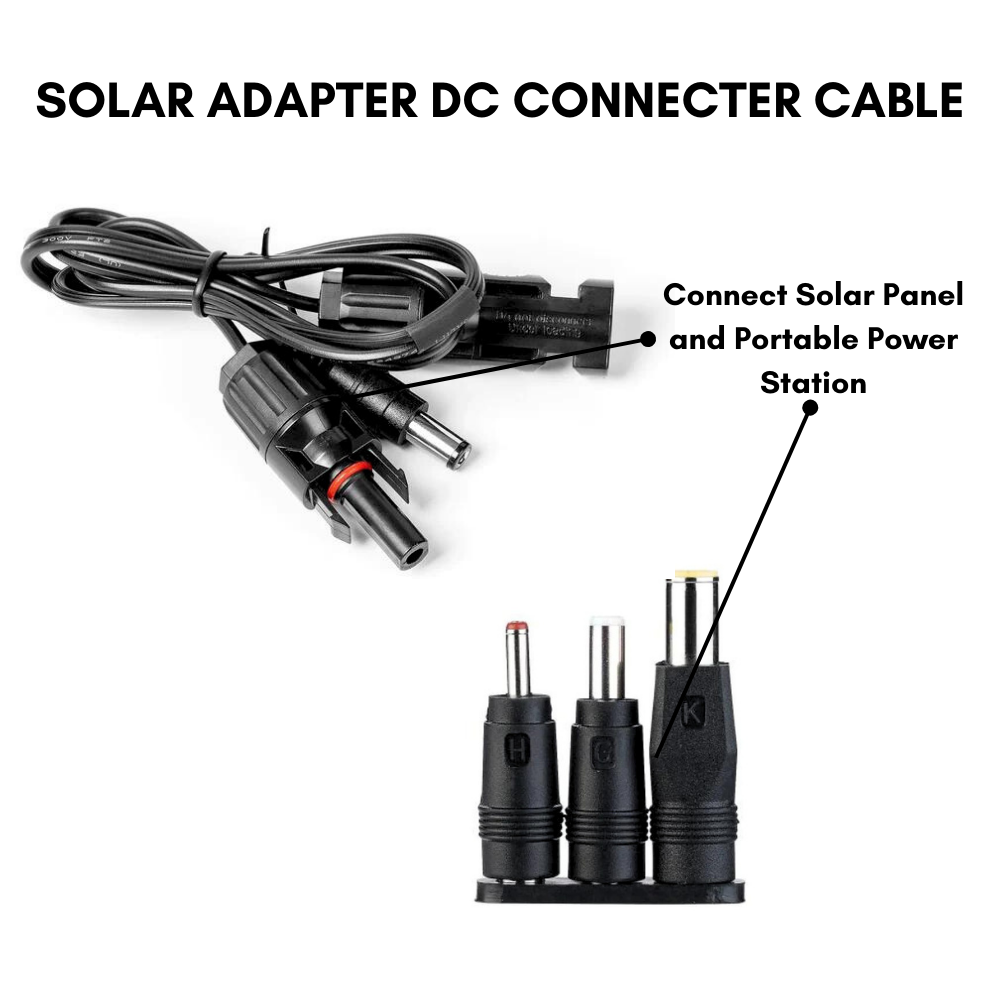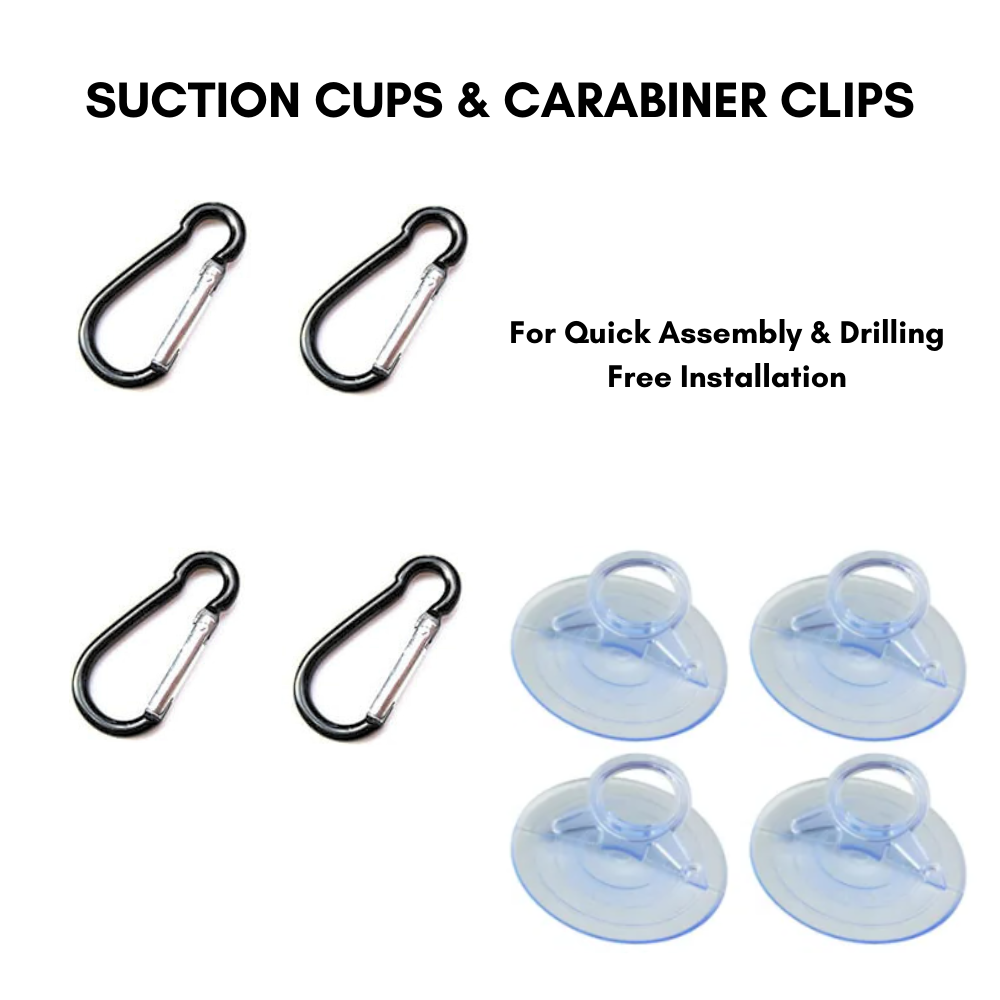 100 W system for my Boat
I was excited to get going on this as summer is approaching and my experience at the Toronto Boat show - showed me what I can do and how it can help. I have ordered everything but some cables are on back order - the company has been great so far with follow up and the products that I did receive were delivered timely and in good condition. I am excited to get it up and running.
Great quality/price ratio
Solid product for solar projects. Lightweight and versatile enough.[
Husband loves it!
Got this for my husband for his off grid adventures. He absolutely loves it and insist on getting more. We'll see. I'm not really tech savvy as my husband, but the quality I must admit is a lot better than any other one of his solar panels.
As expected
Works great! Good output on sunny day!
Happy with this purchase!
Simple, plugs in, fits anywhere. Extremely thin and easy to use. It keeps my 12v battery charged.