Up to 50% off already applied. Use code HOLIDAY23 for an extra 15% off!
Regular price
$166.00 USD
Regular price
$226.00 USD
Sale price
$166.00 USD
Unit price
per
Sale
Sold out
Ultra-Portable: Weighing just 1.9 pounds, the Adventurer is easy to carry on all your travels.
High Capacity: Boasts a 24000mAh lithium battery with 88Wh capacity for prolonged usage.
Multiple Outputs: Designed with AC, DC, and varied USB ports to accommodate all your charging needs.
Efficient Recharging: Rapidly powers up via wall chargers or solar panels, ensuring minimal downtime.
Advanced Safety Tech: Integrated BMS offers multiple protection mechanisms for safe usage.
Ready for Emergencies: Features a built-in LED panel and flashlight for unexpected situations.
Smart Design Elements: Equipped with a silent cooling fan and an LED charge status indicator.
Travel Approved: Sized perfectly for road trips & camping, making it an ideal travel companion.
Long-Lasting: Designed for longevity with over 1000 charge cycles.
Warranty Assurance: Backed by a 1-year warranty for reliability and trustworthiness.
Free
Local Shipping
1-year Hassle Free
Warranty
Lifetime Customer
Support
Share
View full details
Description

Includes
Specifications
FAQ
Downloads
Reviews
Meet the ROCKSOLAR Adventurer 100W Portable Power Station – the quintessential solution for outdoor enthusiasts and emergency power source. This versatile solar power station effortlessly fuses utility with convenience, making it an invaluable companion for camping excursions, road trips, power outages, and more. Equipped with an advanced battery management system and an array of diverse ports, the Adventurer as an outdoor power generator is engineered to keep your devices powered and your adventures uninterrupted.
Product Features
Light weight and Compact Design: Boasting a collapsible handle and a weight of just 2.65lbs, the Adventurer is your compact power buddy. Its 36000mAh, 133.2Wh lithium-ion battery ensures prolonged power backup.
Advanced BMS: Integrated with a top-tier battery management system, the Adventurer prioritizes your safety with features like overcurrent and short-circuit protection.
Varied Charging Ports: From 1 AC Output, 1 DC In, 3 DC Out, to multiple USB and USB C ports, this power station ensures compatibility with a wide range of devices.
Illuminate and Indicate: A LED Display keeps you updated on the battery status, while an additional LED light panel can light up your surroundings or act as an emergency light source.
Longevity Assured: Designed to last, the Adventurer promises a lifecycle of over 1000 charges.
Swift Recharge: With options to recharge via wall outlets, car charging cables, or ROCKSOLAR solar panels, you're always ready for the next adventure.
Experience the ROCKSOLAR Distinction
The ROCKSOLAR Adventurer is not just another mobile power station; it's a testament to precision engineering and thoughtful design. Beyond providing power, this battery powered generator features like the LED light panel and compatibility with ROCKSOLAR solar panels position it as a multi-faceted tool for varied backup power supply needs.
Suitable for:
Camping, RV, Tailgating & Hiking Adventures
Emergency & Backup Power
On-the-road Device Charging
Powering Business Stalls & Outdoor Booths
Small Appliances & Tools
Solar Charging (Pairs seamlessly with ROCKSOLAR 30W, 60W, and 100W Solar Panels)
Additional Information:
Driven by a commitment to quality, ROCKSOLAR's Adventurer power station comes with Canadian technical support, ensuring that you have access to assistance whenever needed. With its robust capabilities, safety features, and easy portability, the Adventurer stands as a testament to ROCKSOLAR's dedication to excellence.
1x Adventurer 100W 133.2Wh Portable Power Station: Your reliable source for on-the-go power.
1x Power Adapter: For quick and convenient charging.
1x Cigarette Lighter Adapter: For versatile power options.
1x User Manual: All the information you need for operation and safety.
Technical Specifications
| Specification | Details |
| --- | --- |
| Manufacturer | ROCKSOLAR TECHNOLOGY LLC |
| Place of Business | Waterloo, Ontario |
| Part Number | RS328L |
| Product Dimensions | 11.25 x 10.5 x 6 cm; 2 Kilograms |
| Batteries | 1 Lithium Polymer battery required. |
| Item model number | RS328L |
| Size | 100W |
| Colour | Black & Yellow |
| Style | Power Station |
| Pattern | Power Station |
| Power Source | Battery Powered |
| Voltage | 110 Volts (AC) |
| Wattage | 100 watts |
| Item Package Quantity | 1 |
| Type of Bulb | LED |
| Special Features | Portable, Easy to Install, Rechargeable Battery, Quiet |
| Usage | Outdoor, Camping, Power outage, cpap, 12V power supply, Backup power supply, solar ready, solar power, fishing, ice fishing, residential, portable power station |
| Included Components | Car Charger, Car Cigarette Adaptor, Charger |
| Batteries Included? | No |
| Batteries Required? | No |
| Battery Cell Type | Lithium Ion |
| Battery Capacity | 36000 Milliamp Hours |
| Warranty Description | One year |
| Item Weight | 4.40925 lbs |
The ROCKSOLAR Adventurer 100W features a 60000mAh lithium battery, which offers a 100W power output capacity.
Yes, the ROCKSOLAR Adventurer 100W can be used to power CPAP machines and other small devices during power outages. Always check your device's power requirements to ensure compatibility.
The charging time for the ROCKSOLAR Adventurer 100W varies based on the input source. Typically, it takes around 6-8 hours using an AC wall charger. Solar charging times may vary based on sunlight conditions.
Yes, the ROCKSOLAR Adventurer 100W is solar-ready. You can pair it with a compatible solar panel to harness solar energy for recharging, making it perfect for outdoor adventures.
The ROCKSOLAR Adventurer 100W is versatile and can charge a range of devices including smartphones, tablets, laptops, cameras, drones, CPAP machines, and more. Always ensure that the device's power requirement matches the output capability of the power station.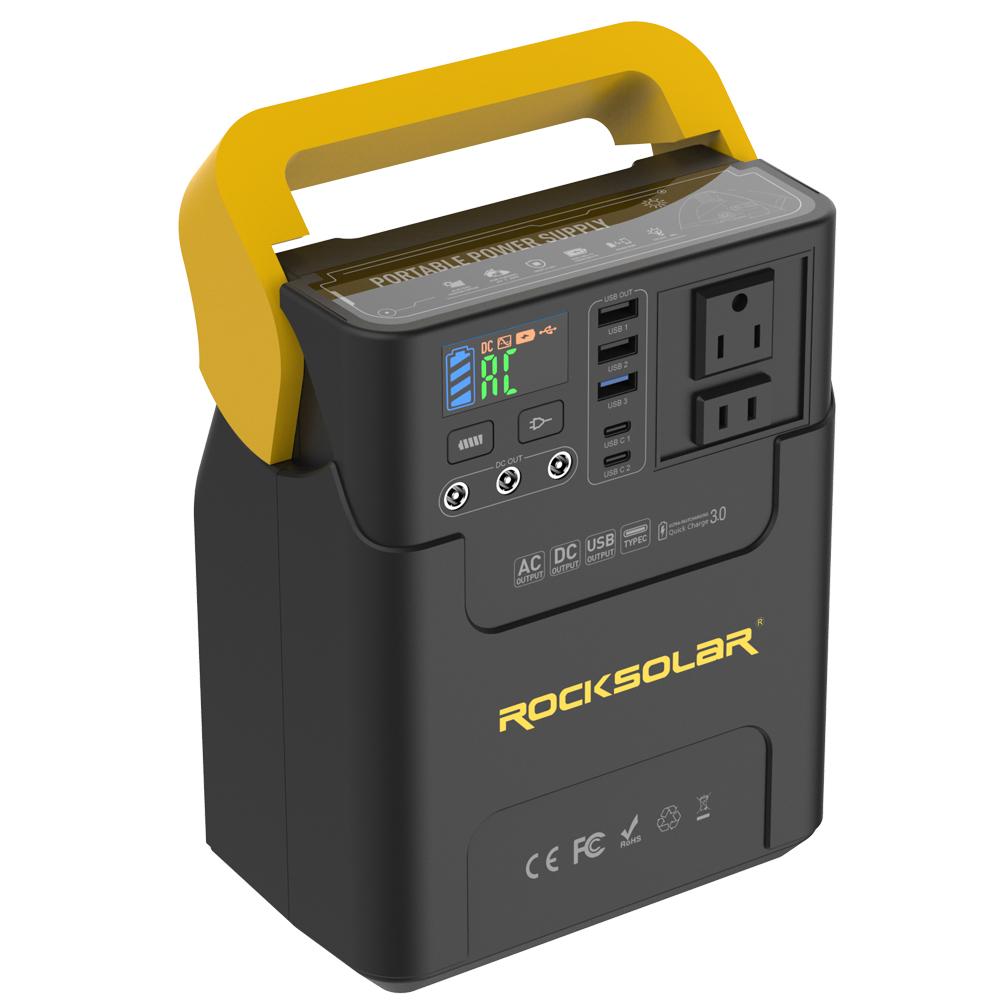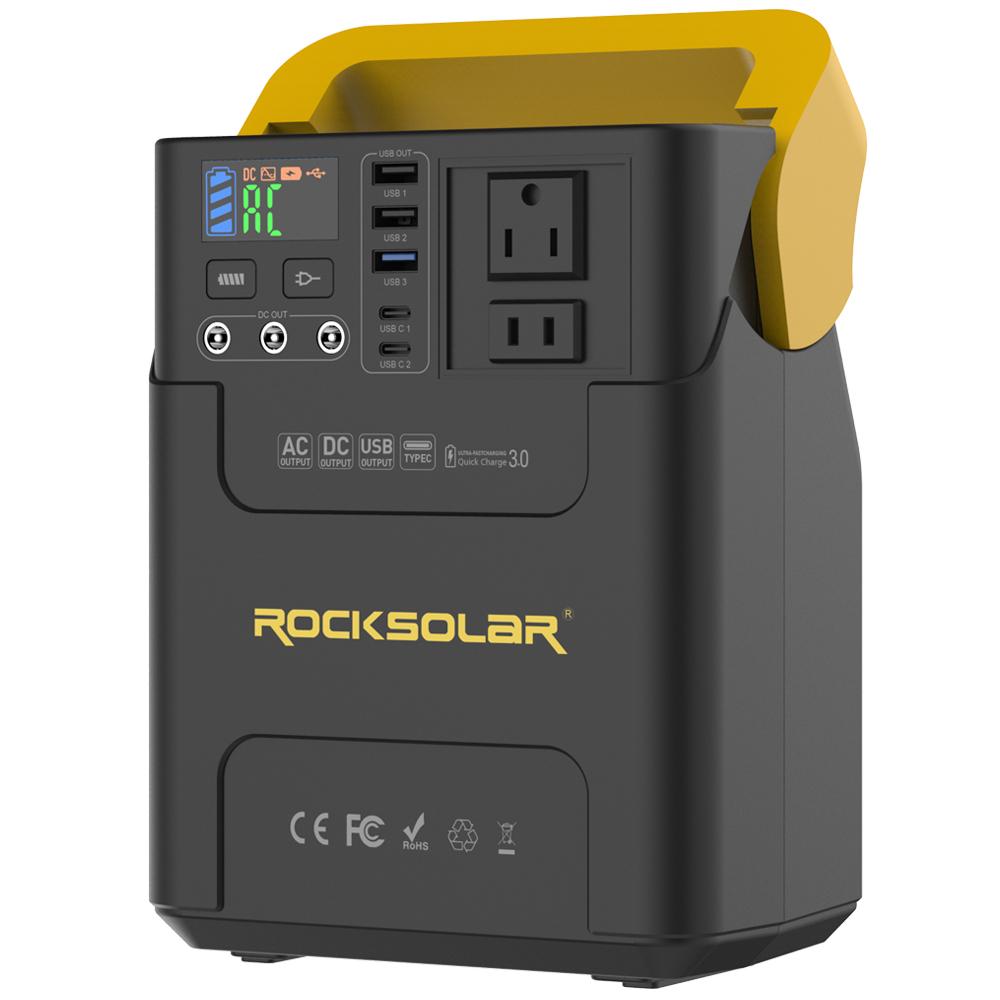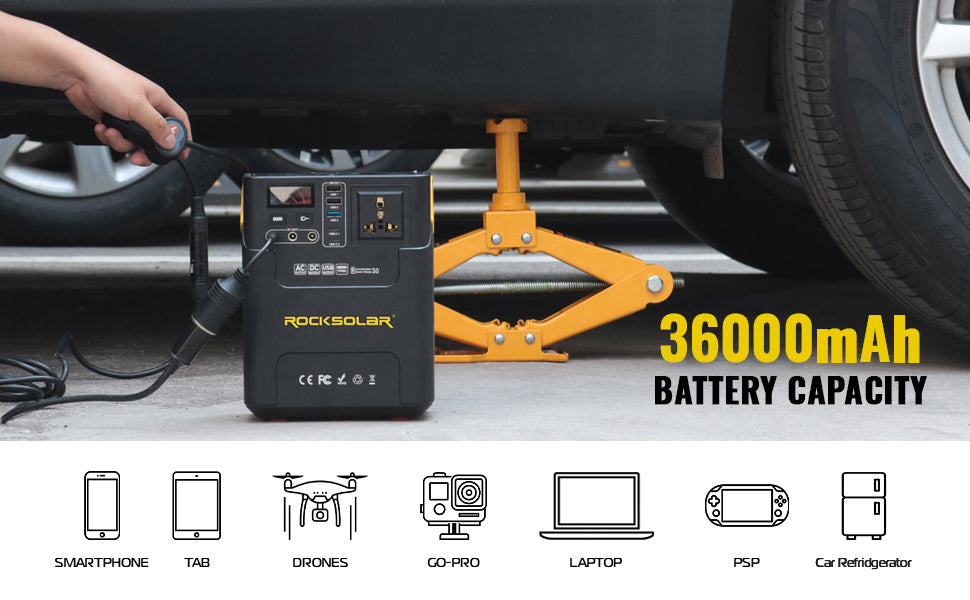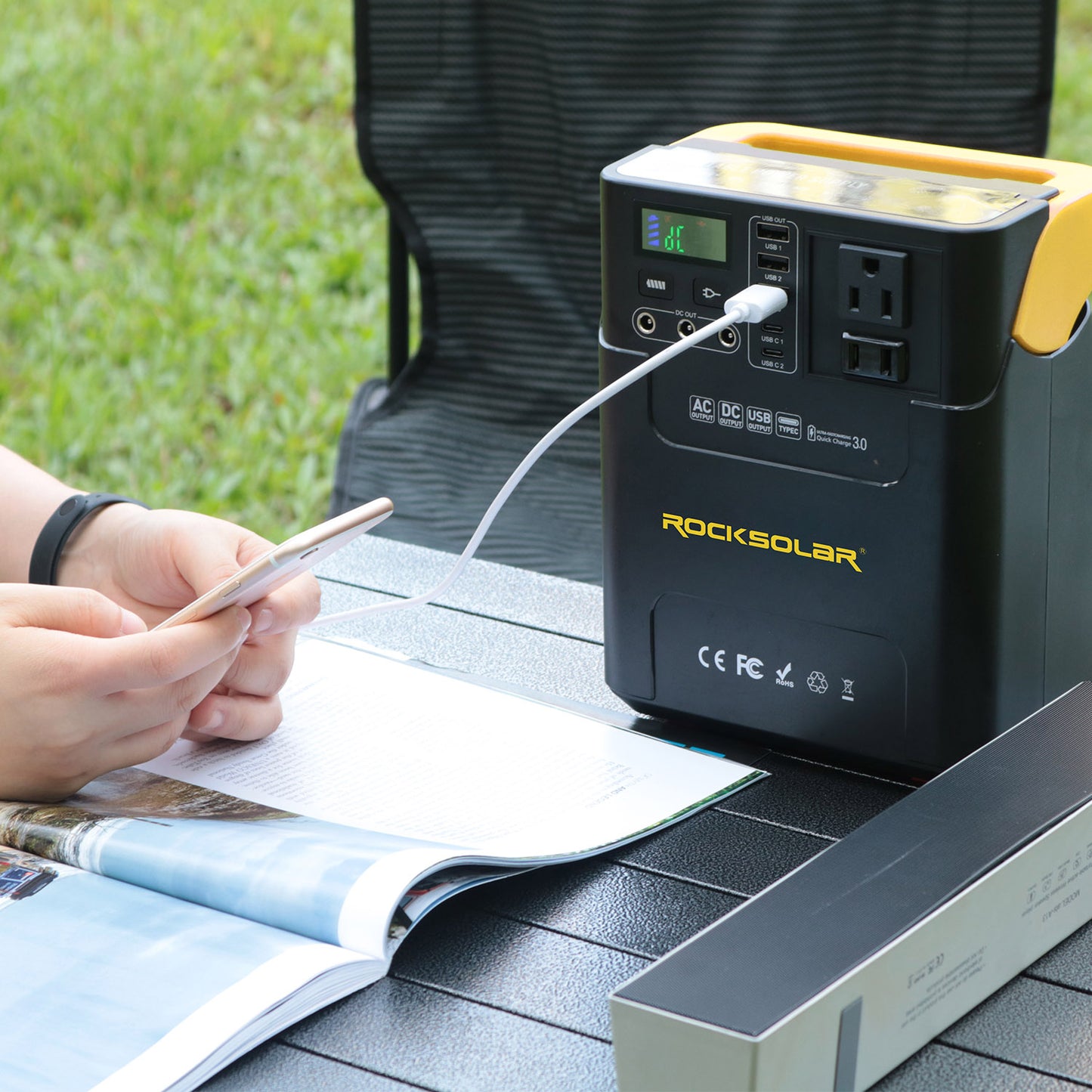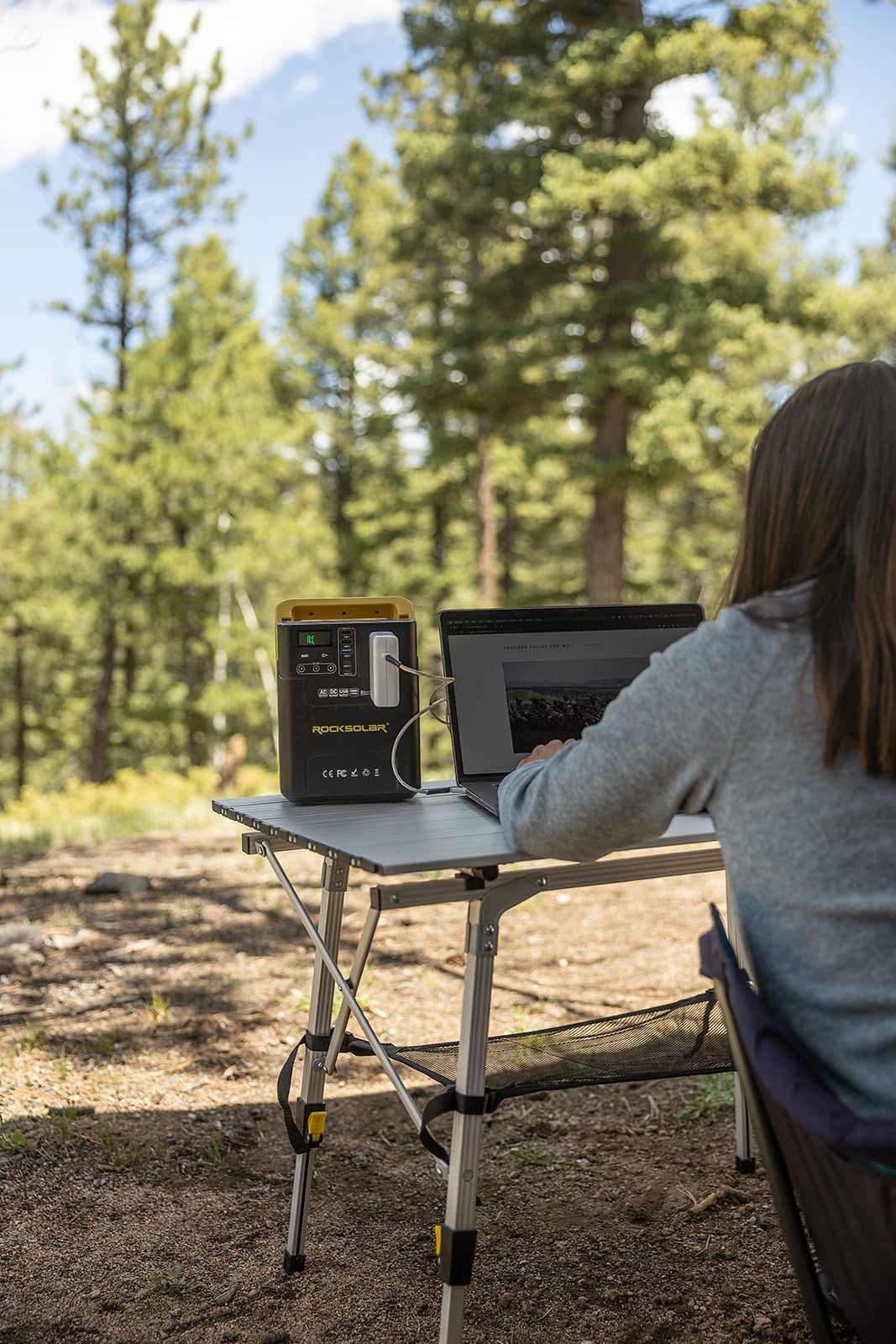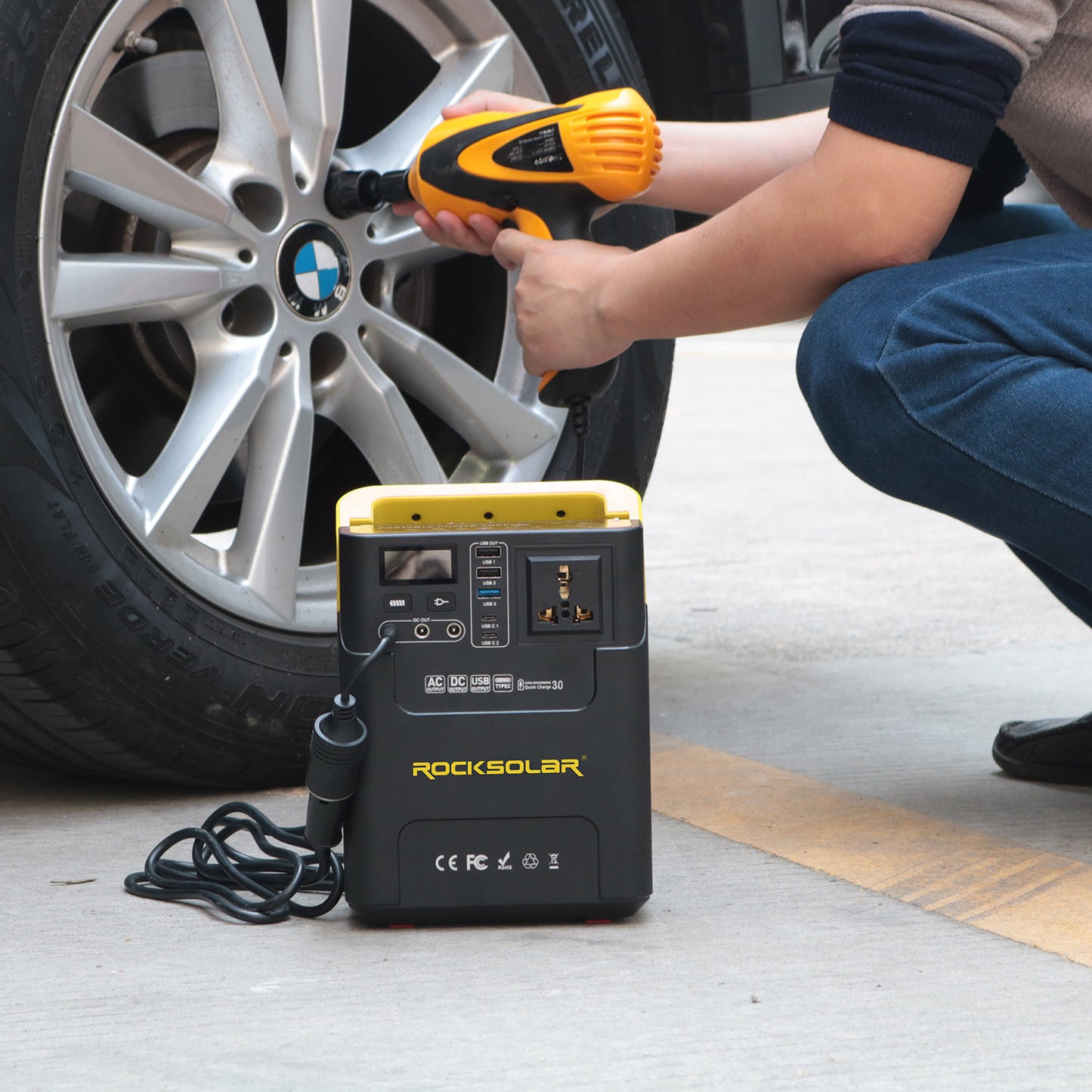 Working as advertised
Bought the generator to use with a cpap machine. So far it has enough power to last the night when you turn off the humidifier component.
Good value for the price if you compare the spec to other. light and portable for most use on the go, like camping. Rocksolars is a brand i recognized.
Great storage size, easy to carry and use for camping or working out or anything else!
Battery power last a long time. Great Product.
This is an easy to understand power station.It arrived mostly charged. I bought this in case power goes out from a storm.So far I've tried operating a fan with it with no problem.The unit is light weight, which I like.
Tiny but powerful
Awesome Power Station !!!!! This is my second power station from RockSolar, own a different one, always a great Product would Recommend !!!!!!!