Regular price
$53.00 USD
Sale price
$31.00 USD
Unit price
per
Sale
Sold out
PWM Technology: Efficient battery charging for longer life.
Broad Compatibility: Suitable for AGM, GEL, Lithium-ion, LiFePo4 batteries.
Maximized Solar Efficiency: Converts solar energy effectively for battery protection.
LCD Display: Real-time monitoring and easy system management.
Protective Safeguards: Overcharge, short-circuit, reverse polarity protection.
Versatile Application: Ideal for home, outdoor, and RV solar setups.
Durable Design: Reliable, compact, and easy to install.
Weather-Resistant: IP30 protection for diverse conditions.
Efficient Charging: Sustainable 3-stage charging process.
Quality Support: Backed by ROCKSOLAR's customer commitment.
Free
Local Shipping
1-year Hassle Free
Warranty
Lifetime Customer
Support
Share
View full details
Description

Includes
Specifications
FAQ
Downloads
Reviews
Efficient Solar Energy Management: Our ROCKSOLAR 10A Solar Charge Controller is an essential component for your solar power system. It is expertly designed to offer a 5V/2A dual USB output, making it perfect for charging small electronics like smartphones and tablets. This feature-rich controller is ideal for outdoor enthusiasts and homeowners seeking reliable solar power solutions.
Optimized Charging with 3-Stage PWM Charge Management: This advanced controller utilizes a 3-stage PWM (Pulse Width Modulation) charge management system, ensuring the most efficient and safe charging for your batteries. It's engineered to maximize the life and performance of your solar setup.
Versatile Battery Compatibility: Whether you're using AGM, GEL, Lithium-ion, or LiFePo4 batteries, our controller is versatile enough to handle various battery types. It connects seamlessly between your solar panels and batteries, providing optimal charging regardless of your setup.
Intuitive LCD Display: The clear LCD display gives you all the critical information about your solar charging and battery status at a glance. You can easily program your desired settings, removing any guesswork from solar power management.
Robust Specifications for Superior Performance: With a charging voltage of 14.3V and an operational temperature range of -35°C to +60°C, this lightweight controller (274g) is built for efficiency and durability.
Safety and Reliability: Safety is our priority. The controller offers multiple protections, including short-circuit, reverse, over-load, overcharge, and low voltage, ensuring your solar power system's safety and longevity. Plus, it comes with a 1-year warranty for peace of mind.
1x ROCKSOLAR 10A PWM Solar Charge Controller: Efficiently manages solar power for optimal battery charging and longevity.
1x User Manual: Detailed instructions for setup, operation, and maintenance, ensuring you get the most out of your solar charge controller.
Technical Specifications
| Specification | Details |
| --- | --- |
| Model | POW-Keeper1220 |
| PV Input | Max Open Voltage of PV Module: 55Vdc |
| Light Control Voltage | 5V |
| Charge Mode | 3 Stage |
| Battery Type | Lithium and Lead Acid Battery |
| Nominal System Voltage | 12/24V |
| Rated Charging Current | 20A |
| Battery Voltage Range | 8~32V |
| High Voltage Disconnection | 16V (24V x 2) |
| Duration for Absorption Charging | 2 hours |
| Charge Loop Voltage Drop | ≤0.29V |
| Self-consumption | ≤ 9.2mA 12V; ≤ 11.7mA 24V |
| Equalized Charging Voltage | AGM: 14.6V; GEL: No; FLd: 14.8V |
| Absorption Charging Voltage | AGM: 14.4V; GEL: 14.2; FLd: 14.6V |
| Floating Charging Voltage | AGM/ GEL/ FLd: 13.8V |
| Low Voltage Re-connection (LVR) | AGM/ GEL/ FLd: 12.6V |
| Low Voltage Disconnection (LVD) | AGM/ GEL/ FLd: 10.8V |
| Operating Temperature Range | -20℃~55℃ (To run at full rated current continuously) |
| LCD Temperature Range | -20℃~70℃ |
| Humidity Range | ≤95% No condensation |
| Protection Class | IP30 |
| Dimensions | 123*178*48 mm |
| Installation Hole | 108*120 ∅5 |
| Weight | Approx. 274g |
The ROCKSOLAR 10A PWM Solar Charge Controller is versatile and compatible with AGM, GEL, Lithium-ion, and LiFePo4 batteries, making it suitable for a wide range of solar power systems.
PWM (Pulse Width Modulation) technology in the ROCKSOLAR Charge Controller ensures efficient charging by reducing the current gradually as the battery reaches full charge. This extends battery life and improves system performance.
The ROCKSOLAR 10A Controller can support solar panels up to a maximum open voltage of 55Vdc. Ensure that the combined wattage of your solar panels does not exceed the controller's capacity for optimal performance.
Yes, the ROCKSOLAR 10A PWM Solar Charge Controller includes multiple protective features such as overcharge, short-circuit, reverse polarity, and overload protection, ensuring the safety of your solar power system.
The ROCKSOLAR 10A Controller, with its durable design and IP30 protection class, is suitable for various outdoor applications. However, it should be installed in a protected area to avoid direct exposure to extreme weather conditions.
The ROCKSOLAR 10A PWM Solar Charge Controller features an intuitive LCD display that shows important charging information and system status, allowing for easy monitoring and adjustment of settings.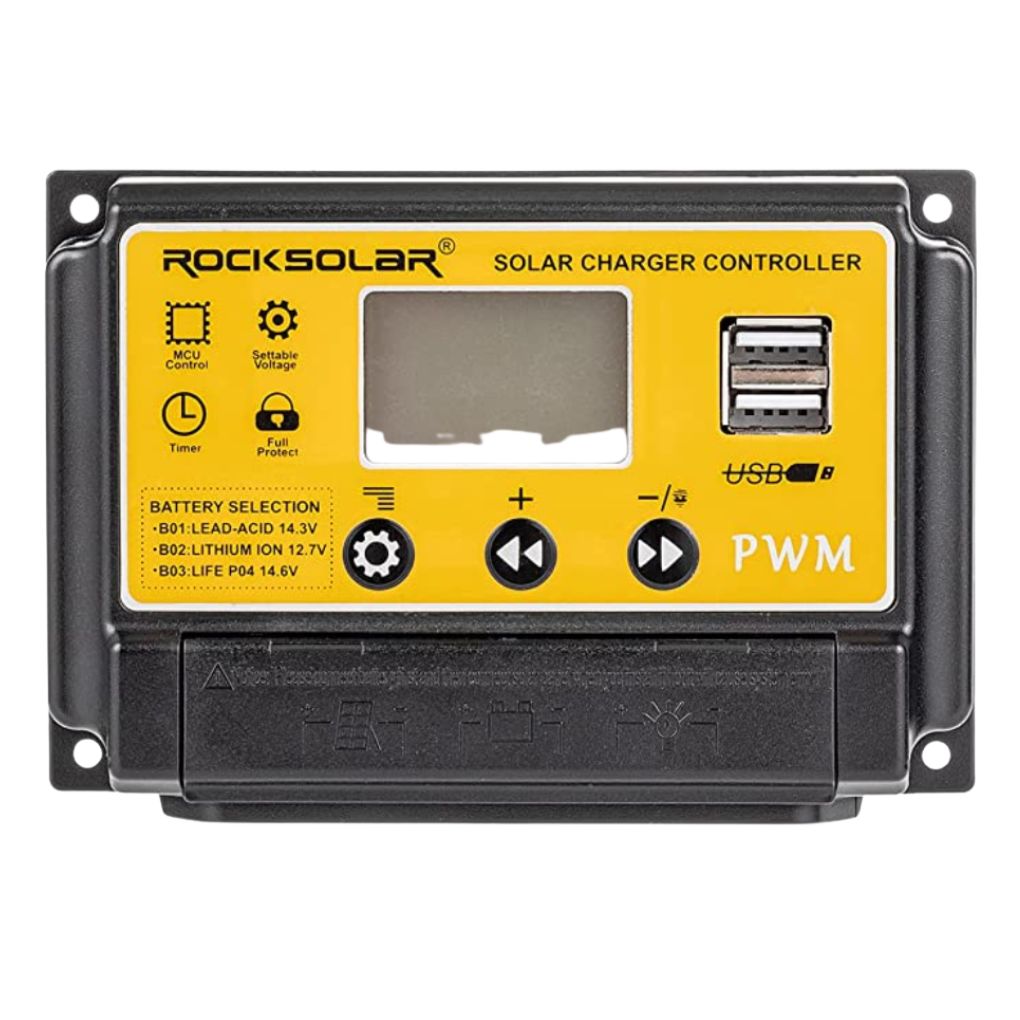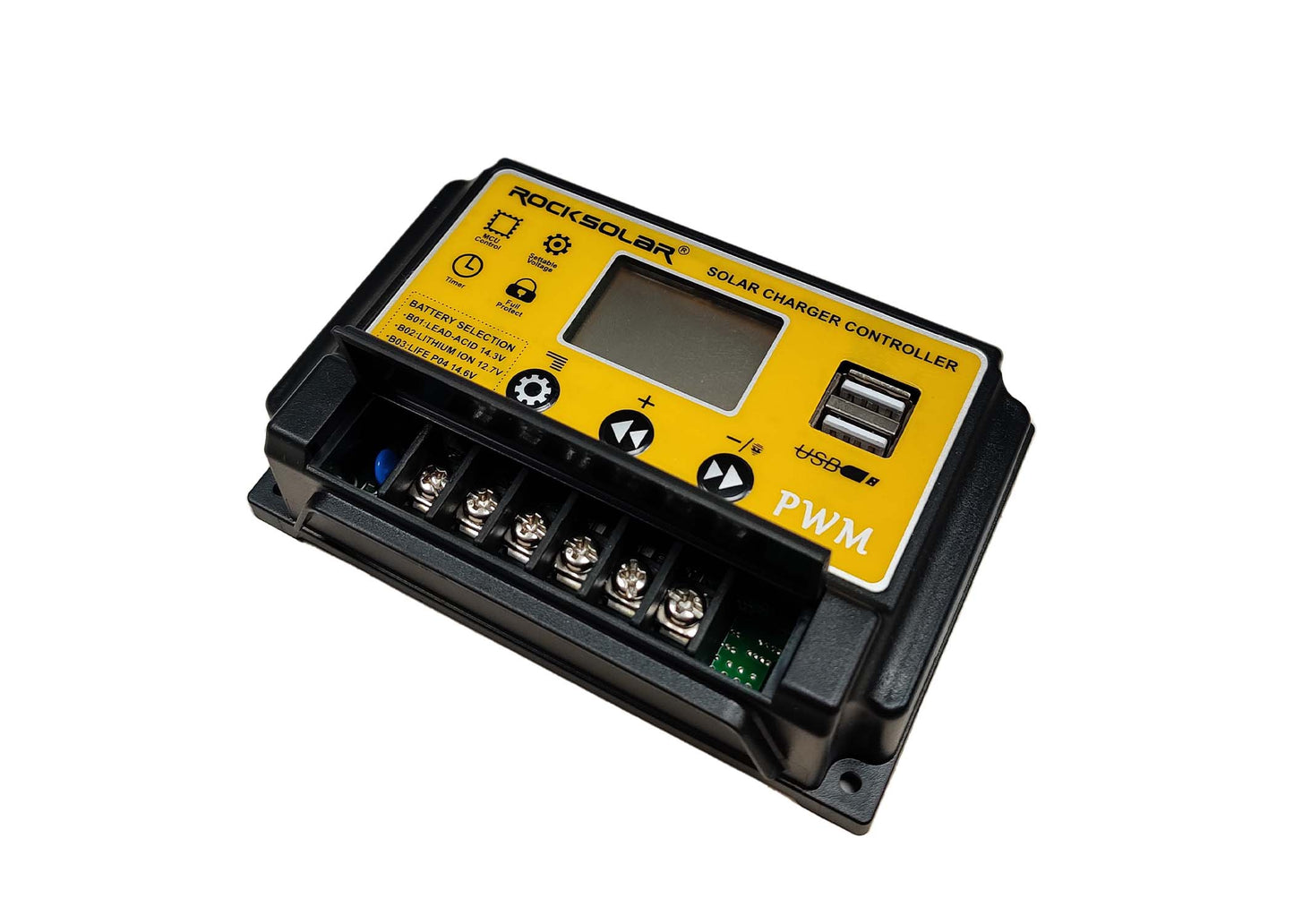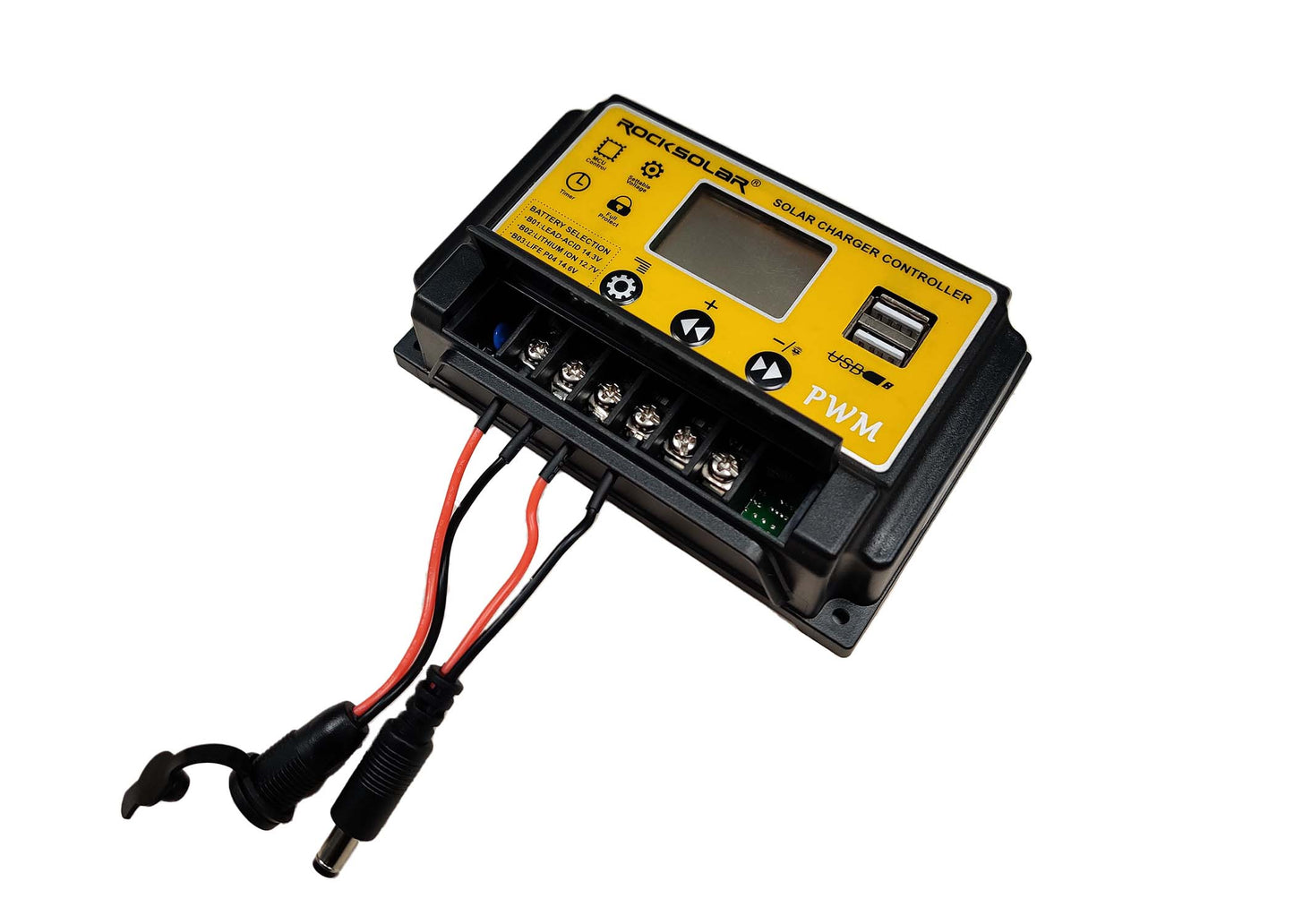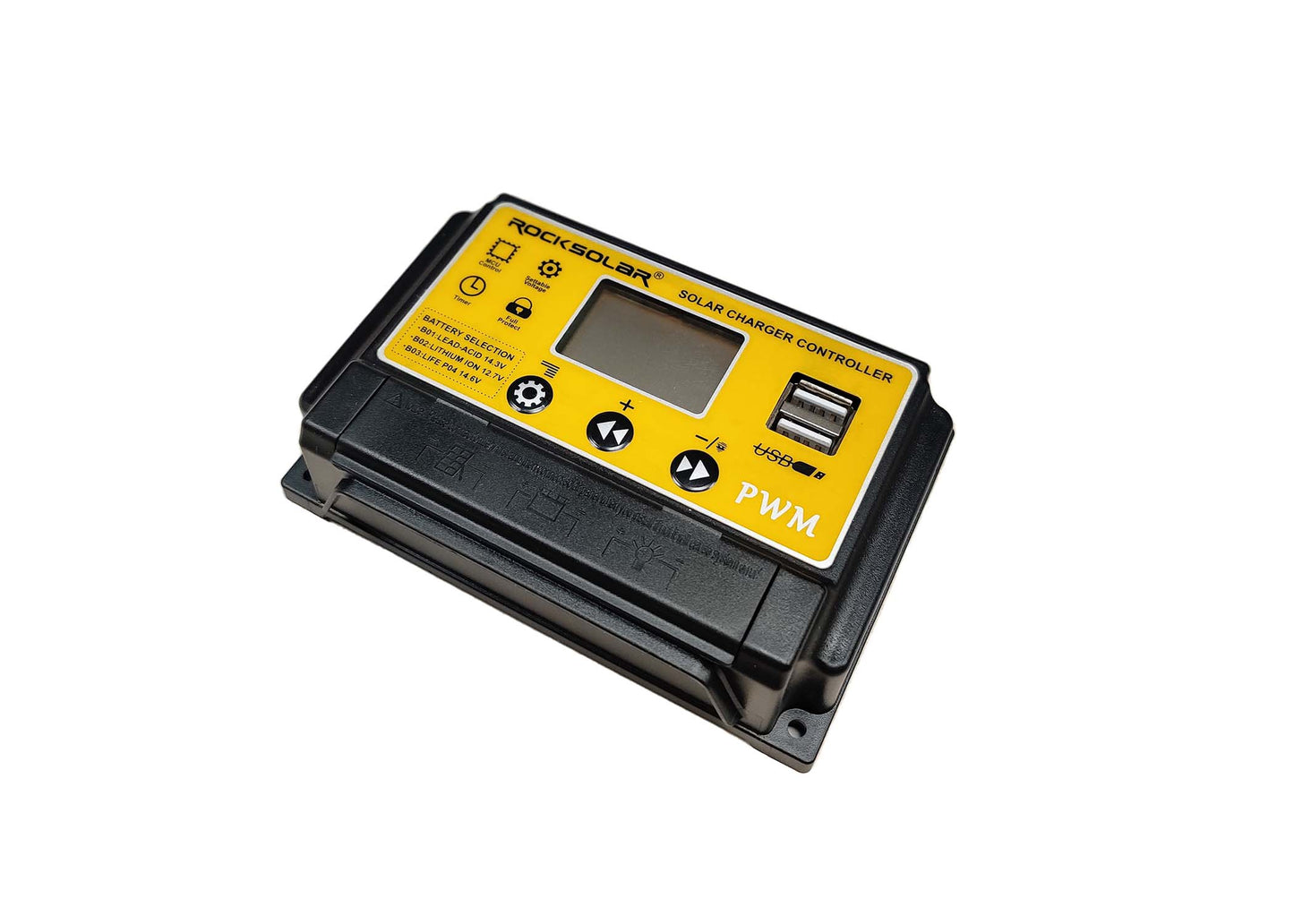 Terrible customer service
I bought a Rock Solar panel from Canadian Tire, noting it did not have the proper connectors to a battery I called and had to order a controller that they promised would be what I needed. Upon receiving it, there were no alligator clips to charge a battery. After continuous phone calls and emails I finally contacted this company, received a return label. It's been 2 weeks and I have been unable to contact them, and no refund yet, as promised.
Great charge control
Perfect for charging deep cycle batteries and with the dual usb output is great for phone charging. Will not do damage if contacts touch each other.
Can't go wrong with this one
Solid little unit! happy purchase.
Very happy so far! Replaced a failed cheapy China unit that failed just shy of a year. Once you understand the screens and navigation this device is pretty easy to use.
It does what it says! i am happy!
It does EXACTLY what it says it does. Very efficient solar charge controller that I was looking for a long time for my solar setup.
Great Charge Controller
This charge controller does the job efficiently, and reliably! The instructions a basic, but clear enough. Highly recommended to anyone who is looking for a durable charge controller.