Up to 50% off already applied. Use code HOLIDAY23 for an extra 15% off!
Regular price
$331.00 USD
Regular price
$413.00 USD
Sale price
$331.00 USD
Unit price
per
Sale
Sold out
High Output: 2000W continuous power, 4000W peak.
Multiple Outlets: 2x 110V AC and 1x Smart 2.1A USB port.
Efficient Performance: Up to 93% maximum efficiency.
Comprehensive Safety: Full protection for connected devices.
Broad Applications: Ideal for RVs, camping, and emergencies.
Silent Cooling: Smart fan for efficient and quiet operation.
Extended Warranty: 12-month coverage for peace of mind.
User-Friendly: Easy to use with included user manual.
Versatile Power Range: Powers a wide range of appliances.
Durable Design: Built to withstand regular use.
Free
Local Shipping
1-year Hassle Free
Warranty
Lifetime Customer
Support
Share
View full details
Description

Includes
Specifications
FAQ
Downloads
Reviews
High-Capacity Power Solution: The ROCKSOLAR 2000W 24V Pure Sine Wave Inverter delivers a robust 2000W continuous power with a peak of 4000W, ensuring reliable power for a wide range of applications.
Enhanced Safety Features: Equipped with full protection against short circuits, overload, over-voltage, low voltage, and high temperature, this inverter keeps your appliances safe.
Versatile Applications: Perfect for use in RVs, trucks, during camping, in emergencies, and for off-grid solar power solutions, offering broad application potential.
Efficient and Quiet Operation: With a smart fan system, the inverter operates efficiently and silently, maintaining an ideal temperature.
Comprehensive Warranty: Comes with a reassuring 12-month warranty, ensuring peace of mind for your investment. Includes the inverter and a user manual.
What Can It Power?
LED Lights: Multiple bulbs (20-60W)
Laptop: Approx. 45-85W
Smartphone: Approx. 5-10W
Tablet: Approx. 10-30W
Fan: Approx. 50-100W
LED TV less than 100': Approx. 30-150W
Gaming Desktop PC: 500-850W
Full Size Refrigerator (Less than 26 cu ft): 400-600W
Air Fryer: 800-1500W
Power Tools: Approx. 300-1500W
CPAP: Varies
Air Conditioner: Approx. 500-2000W
Hair Dyer: 1800W
Coffee Machine: 1500W
Waterloo Kettle: 1500W
Microwave: 1000W
Portable Heater: 1000W
1x 2000W 24V Pure Sine Wave Power Inverter: The Pure Sine Wave Power Inverter designed for longevity and performance.
1x User Manual: Detailed instructions on usage, installation, and maintenance for optimal performance.
Technical Specifications
| Specification | Details |
| --- | --- |
| Model | RSINV2000-001 |
| Output Rated Power | 2000W |
| AC Voltage | 120Vac (100/110/120Vac set through menu) |
| Frequency | 60Hz (50Hz/60Hz set through menu) |
| Wave Form | Pure Sine Wave |
| Input Battery Voltage | 24Vdc |
| Voltage Range | 18V-32V |
| Maximum Efficiency | 91% |
| USB | Dual USB output 5V, 2.1A |
| Working Temperature | -20~40℃ |
| Weight | Net weight: 5.01Kg |
| Size | 420.4*208.9*110mm (L*W*H) |
The ROCKSOLAR 2000W Inverter offers a continuous output of 2000 watts and a peak output of 4000 watts, suitable for various appliances and devices.
Yes, the ROCKSOLAR 2000W Inverter can power large appliances like refrigerators, air conditioners, and power tools, with its high-capacity output.
Yes, it's ideal for outdoor use such as camping, RVs, and trucks, thanks to its durability and portability.
The inverter offers full protection against short circuits, overloads, over-voltage, low voltage, and high temperatures, ensuring the safety of your appliances.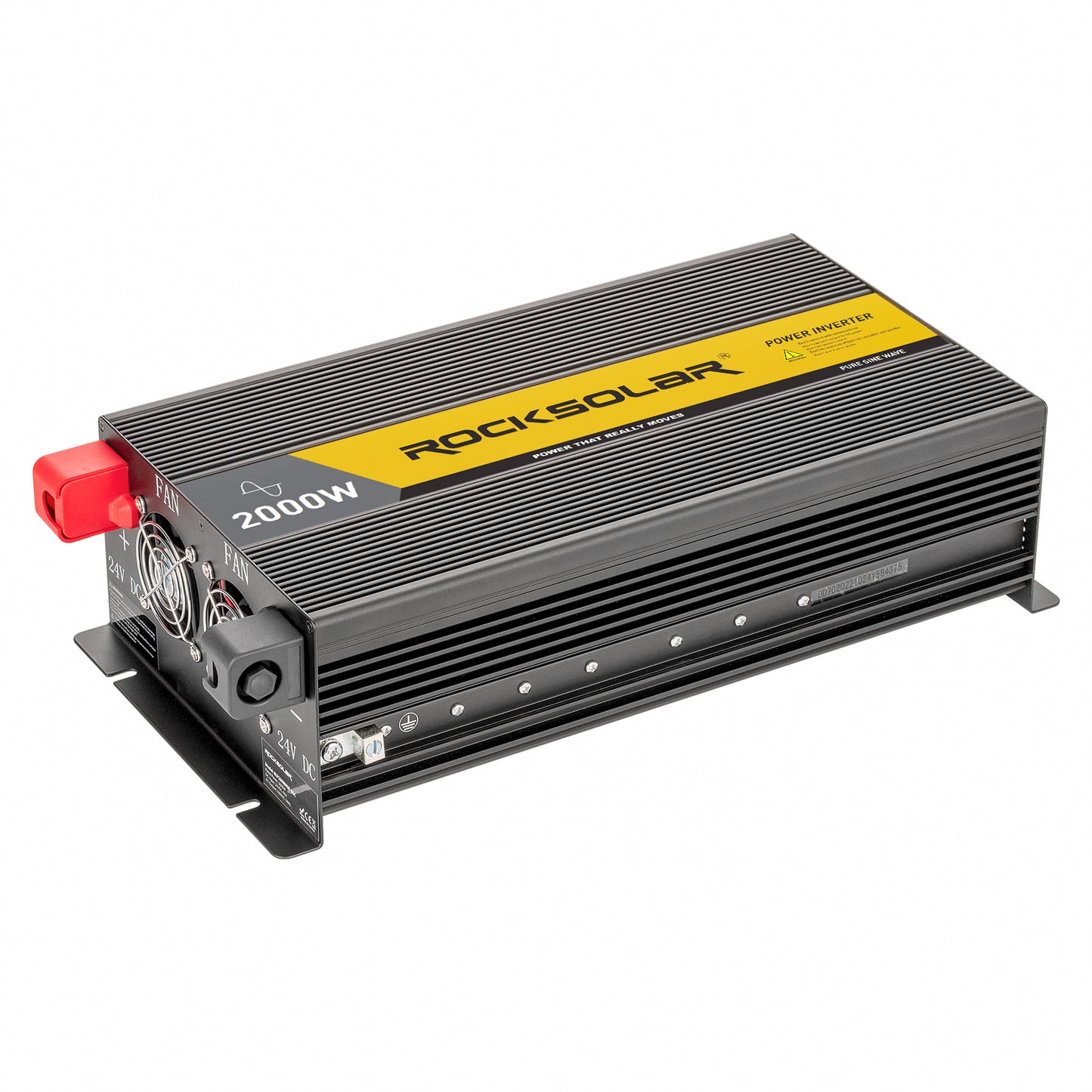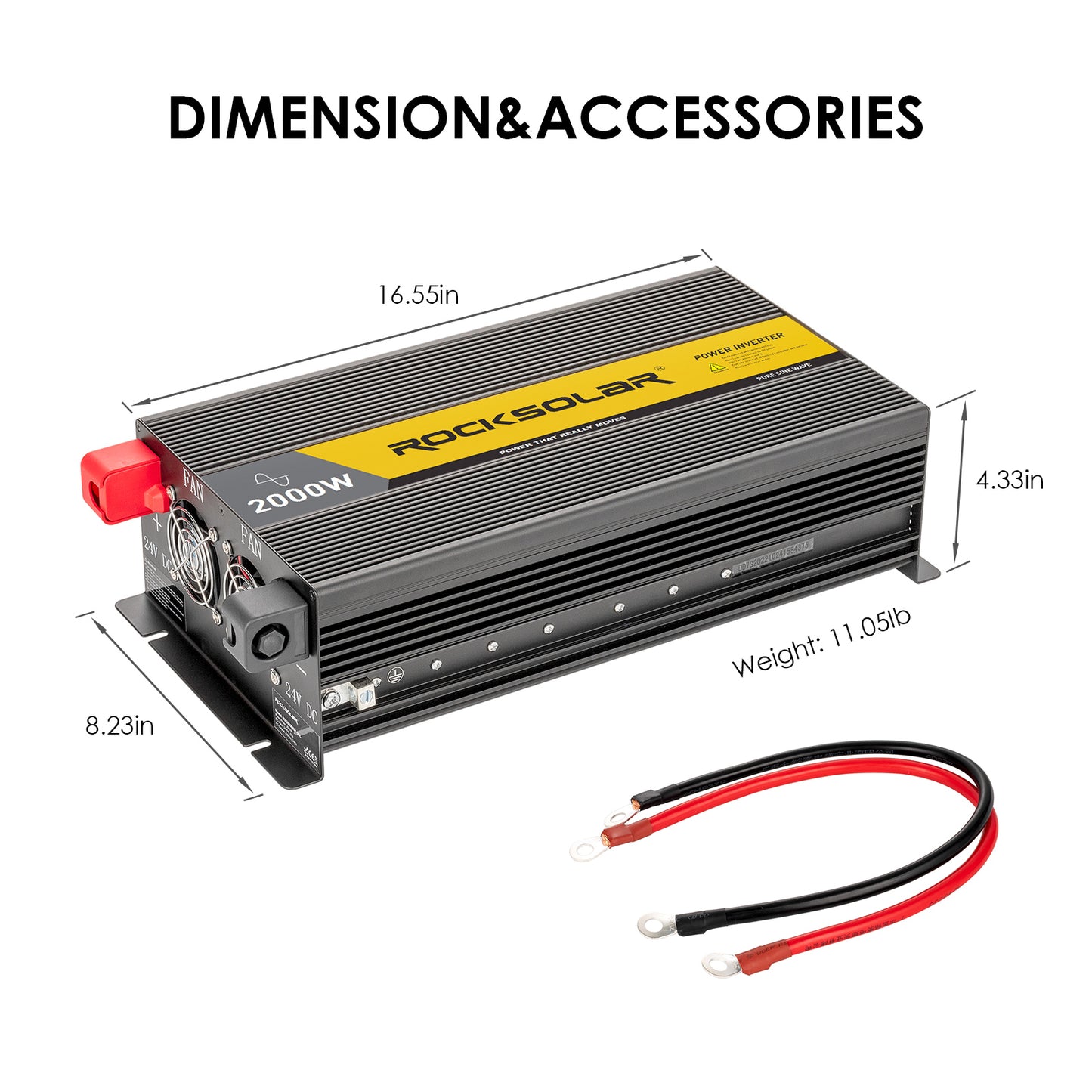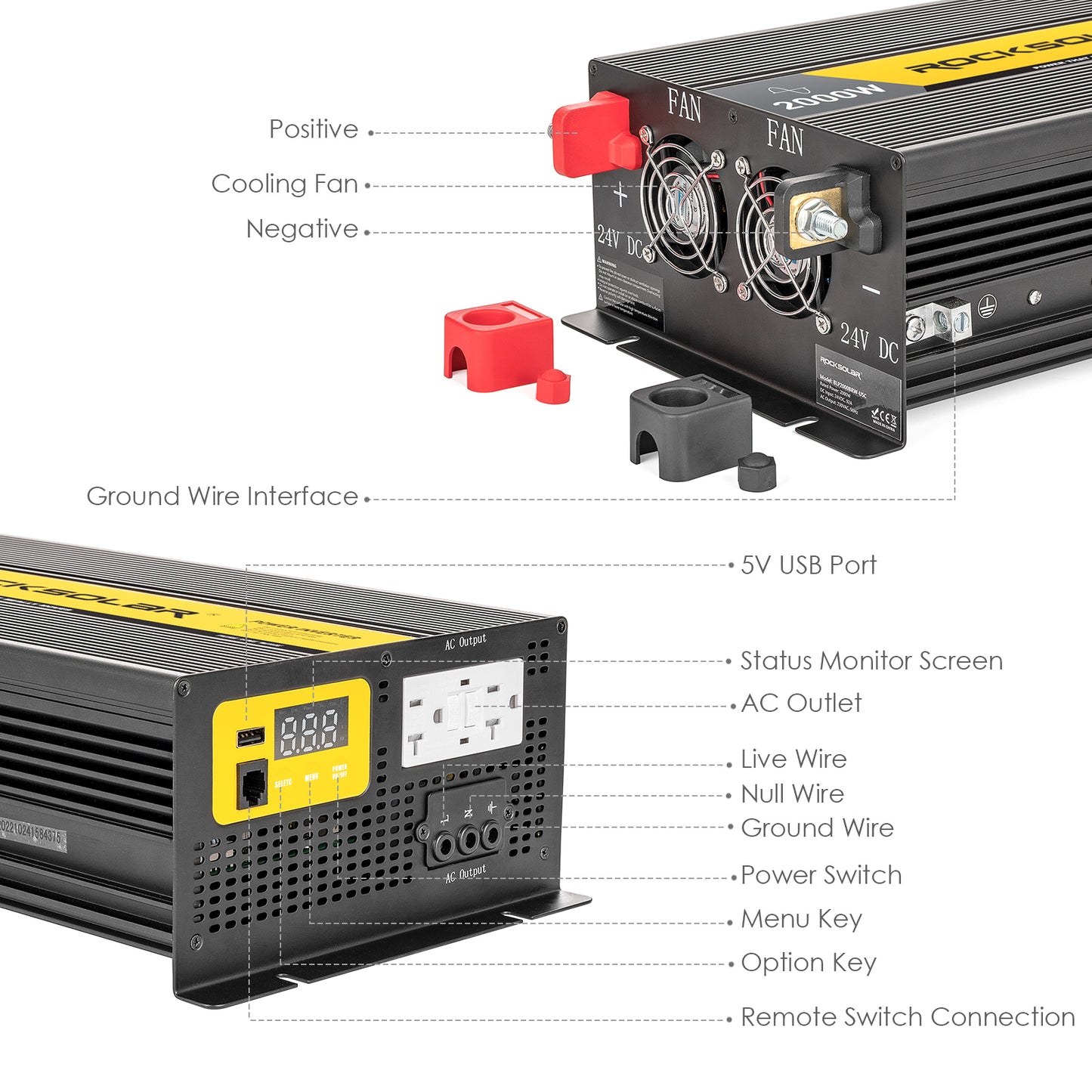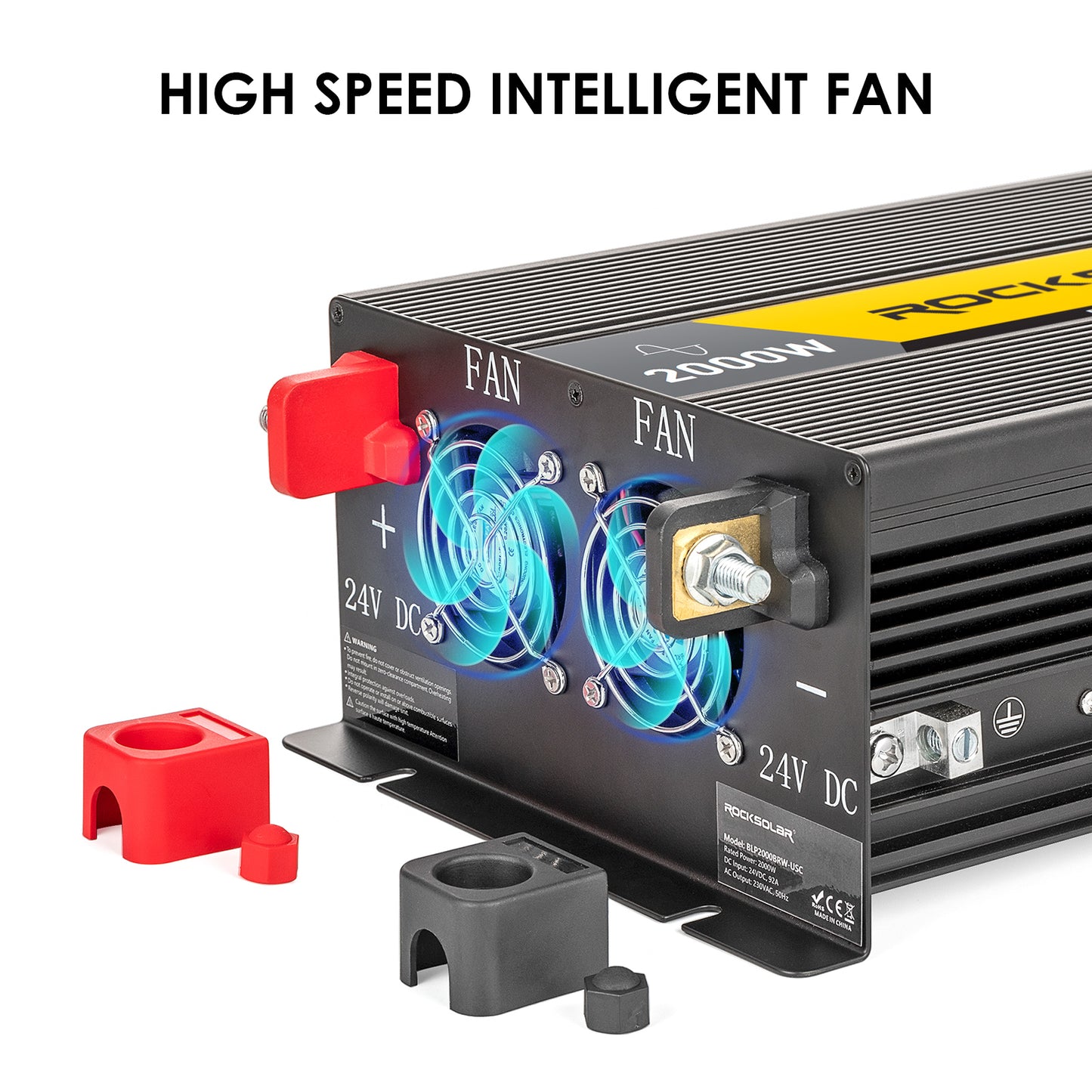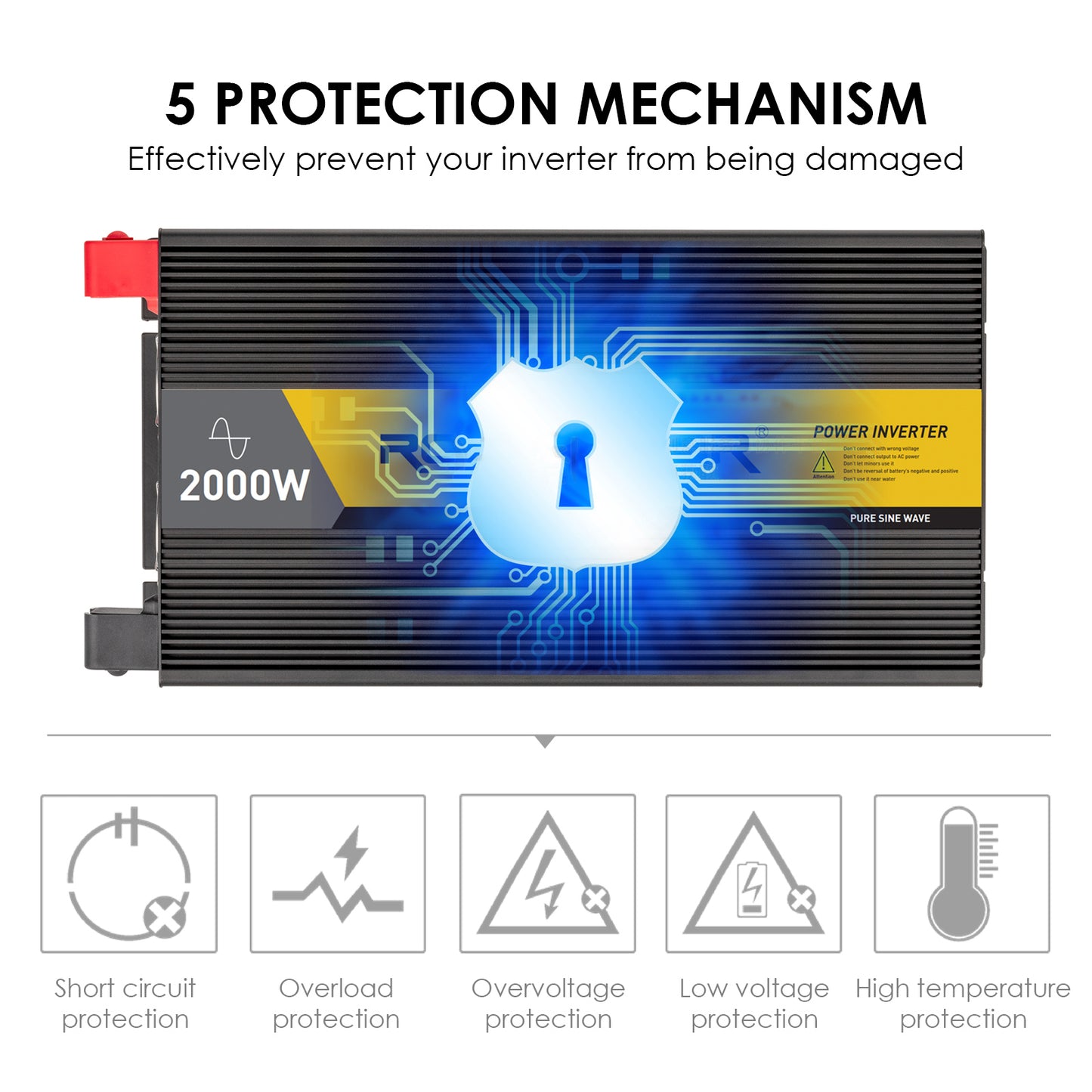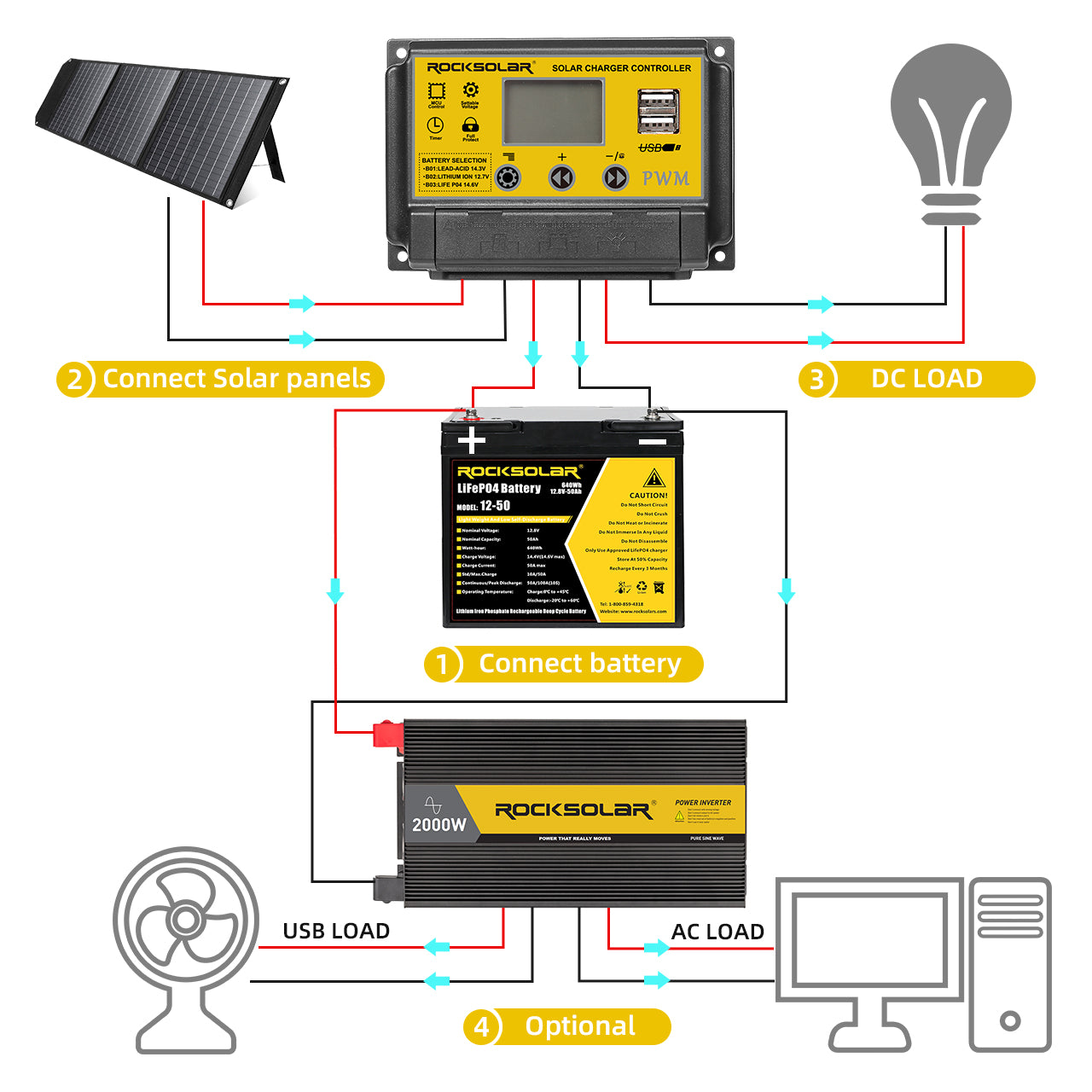 Great for use in our camping
Great for my LiFePO4 home backup power system. Would purchase again if i need one in near future.l
Great product
Works great! Very quiet, very pleased with this Power Inverter. I am very happy with this.
Great for the money
Worked as advertised and the price was great. I would recommend this.
Powerful inverter
Very compact design. Works great for charging up my portable power station and also my Lifepo4 home backup power system and all small essential devices.
Powerful inverter!
This inverter has been a solid purchase so far and has powered the devices. I've connected it to its AC and USB plugs. The power switch is well-placed and the device is much quieter.