Up to 50% off already applied. Use code HOLIDAY23 for an extra 15% off!
Regular price
$256.00 USD
Regular price
$451.00 USD
Sale price
$256.00 USD
Unit price
per
Sale
Sold out
Peak Efficiency: Over 22% conversion with monocrystalline cells.
Light & Slim: Each panel is 3.42 pounds and 20mm thick.
Flexibility: Suitable for curved surfaces.
Weatherproof: IP68 rating and protective PET film.
Voltage Stability: 23.4V open circuit, 18V peak.
Multi-Use: Great for RVs, boats, off-grid setups.
Size: 1025x510x20 mm per panel.
Temperature Range: -20°C to 70°C operation.
Bundle: Includes 2x 100W panels.
Warranty: 5-year coverage.
Free
Local Shipping
5-year Hassle Free
Warranty
Lifetime Customer
Support
Share
View full details
Description

Includes
Specifications
FAQ
Downloads
Reviews
Unlock the potential of sustainable energy with ROCKSOLAR's 200W 2X100W 12V Flexible Monocrystalline Solar Panels. This bundle offers a combination of top-tier efficiency and adaptability, setting new standards in renewable energy solutions.
Product Features
Optimized Efficiency: Equipped with high-performance monocrystalline cells, these panels boast a conversion rate of over 22%, ensuring maximum energy harvesting.
Ultra-Light & Compact: With each panel weighing just 3.42 pounds and measuring 39.76in x 20.08in x 0.78in, they offer portability without compromising on power.
Weather-Resilient Design: Crafted with a protective frosted PET film and IP68 rating, these panels promise unwavering performance in various weather conditions.
Adaptable Flexibility: Designed to bend up to 30 degrees, they seamlessly integrate with contoured surfaces, perfect for RVs, boats, and more.
ETFE Surface: Renowned for its durability and excellent light transmittance, ensuring prolonged efficiency and resilience.
Multiple Connectors Included: A range of connectors and cables included, catering to a diverse array of charging requirements.
Intuitive Charging: Simply place under direct sunlight and power your 12V-22V devices effortlessly and safely.
Safe Device Charging: Ingeniously designed to prevent device overheating during the charging process.
Suitable for:
RVs & Marine Vessels
Off-Grid & Fieldwork Charging
Camping & Outdoor Expeditions
Battery Maintenance & Trickle Charging
Emergency Power Back-ups
Green Energy Endeavors
Connecting Your Panels for 200W Output
Maximizing the power output of your ROCKSOLAR panels is simple. To harness the full 200W from the 2-pack bundle, follow these steps:
Parallel Setup: Use MC4 Y-branch connectors to link both panels. This keeps voltage constant while increasing current for maximum power.
Ensure Uniform Sunlight: Position panels to avoid shadows or obstructions for steady power generation.
Controller Connection: Connect the panels to the solar charge controller with the supplied cables to regulate the energy sent to your devices or batteries.
Regular Checks: Ensure secure connections and optimal panel angle for consistent sunlight exposure.
Note: Always refer to the user manual for specific guidelines and safety precautions when setting up and connecting your solar panels.
2 x ROCKSOLAR 100W 12V Flexible Monocrystalline Solar Panel
2 x 1m long MC4 to Battery Clips Cable
2 x 50cm long MC4 to DC5521 Cable
8 x Carabiners
8 x Cupulas/Suction Cups
2 x DC5.5/2.1 to DC3.5/1.35 Connector
2 x DC5.5/2.1 to DC5.5/2.5 Connector
2 x DC5.5/2.1 to DC8.0*5.5*0.8 Connector
1 x User Manual for the Solar Panel
Technical Specifications
| 100W 12V Flexible Monocrystalline Solar Panel Specification | Details |
| --- | --- |
| Model | RSF100W |
| Type | ETFE Monocrystalline silicon |
| Rated Power | 100W |
| Open Circuit Voltage(Voc) | 23.4V |
| Peak Power Voltage(Vmp) | 18V |
| Convert Efficiency | ≥22% |
| Short Circuit Current(Isc) | 6.1A |
| Current at Maximum Power (Imp) | 5.56A |
| Size | 1025x510x20 mm |
| Weight | 3.42 pounds (1.85kg) |
| Operating Temperature | -20~70 °C |
| Material | ETFE surface monocrystalline silicon integrated laminated solar panel |
These panels employ advanced high-efficiency monocrystalline silicon technology, ensuring top-tier energy conversion rates and maximizing solar absorption.
Both panels combined weigh 6.84 pounds (3.70kg) with dimensions of 1025x510x20 mm each, offering a perfect balance between portability and performance.
Absolutely. Each panel is crafted with a weather-resistant frosted PET film and has an IP68 rating, ensuring optimal operation from -20 to 70 °C, even in challenging weather conditions.
Yes, their flexible design allows installations on non-flat or curved surfaces, making them versatile for setups like boats, RVs, and irregular terrains.
The panels come with user-friendly MC4 connectors, as well as a diverse range of cables and adapters to ensure a smooth and efficient setup process. It's essential to verify compatibility when pairing with non-ROCKSOLAR systems.
By harnessing solar energy, these panels present an eco-conscious power solution. Using them aids in minimizing reliance on non-renewable energy, promoting a cleaner environment and sustainable living.
Both panels in the ROCKSOLAR 200W 2-Pack bundle come with a comprehensive 5-year warranty, showcasing our commitment to reliability and customer satisfaction.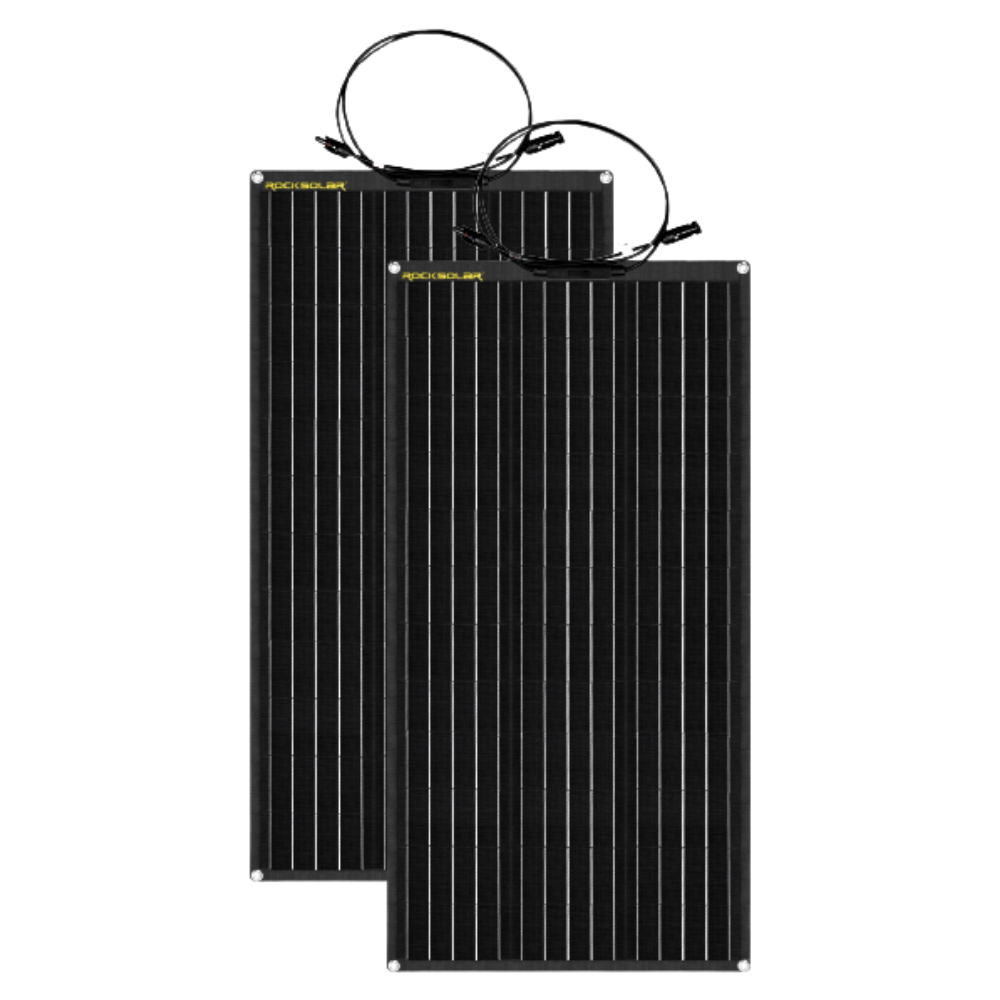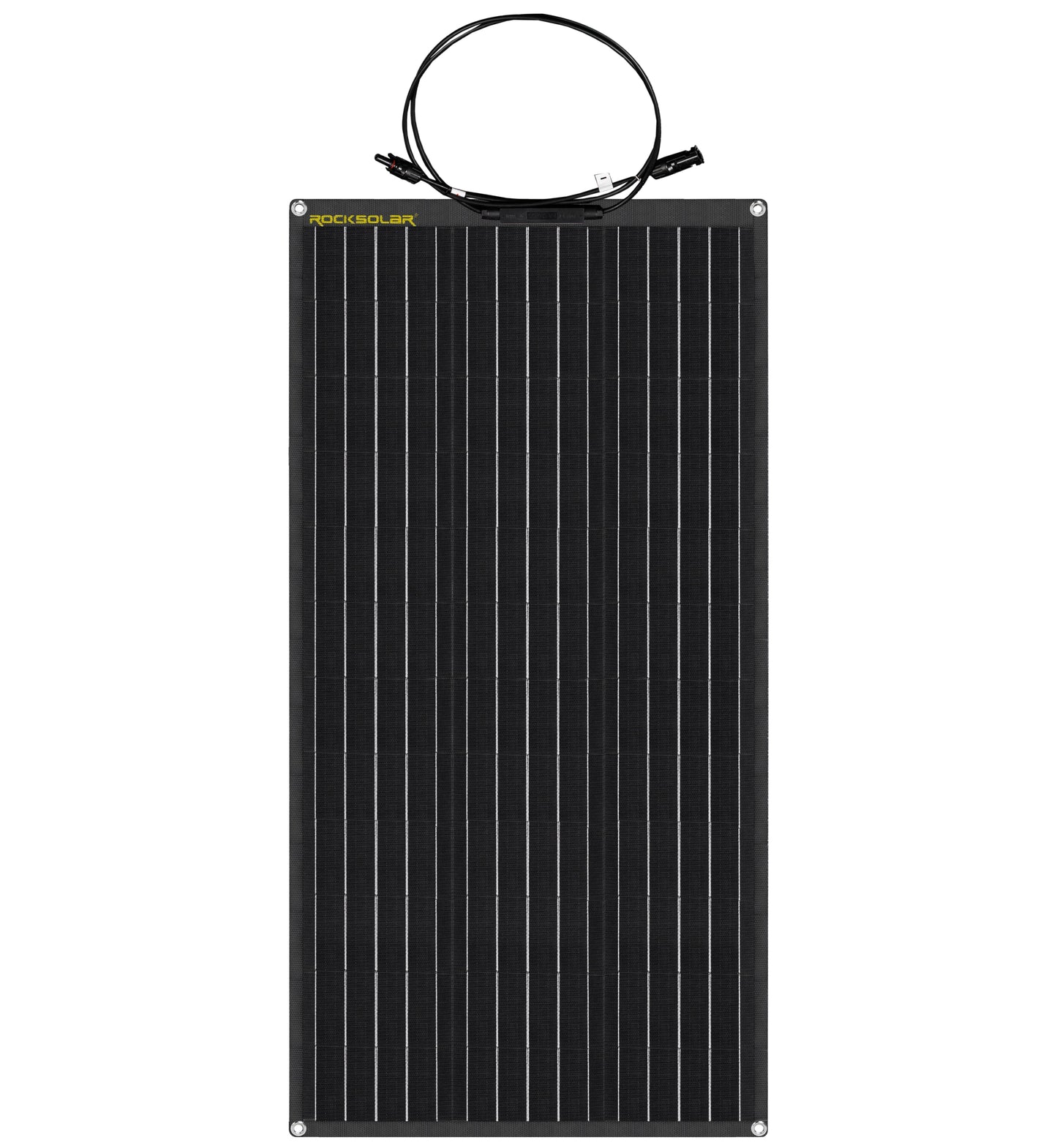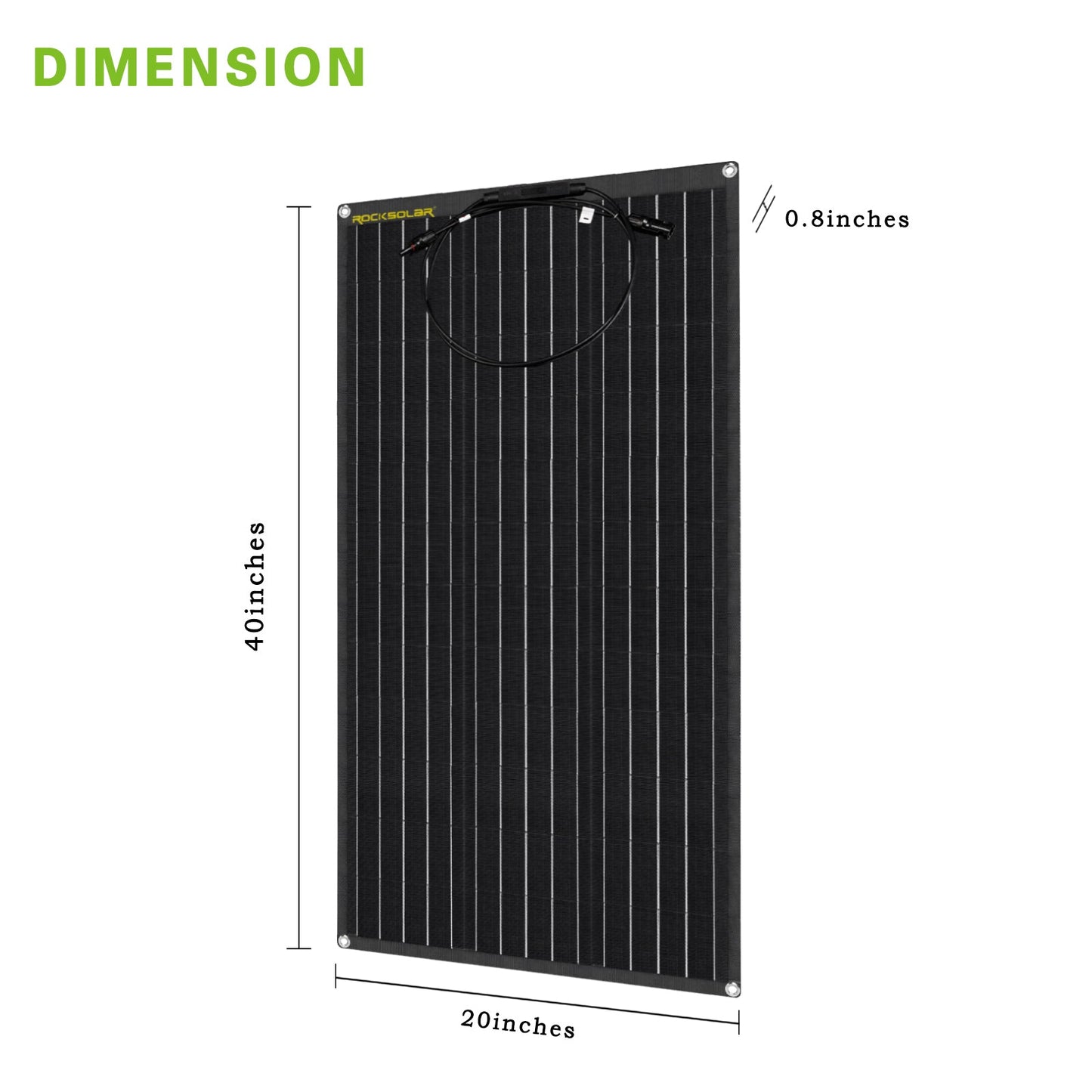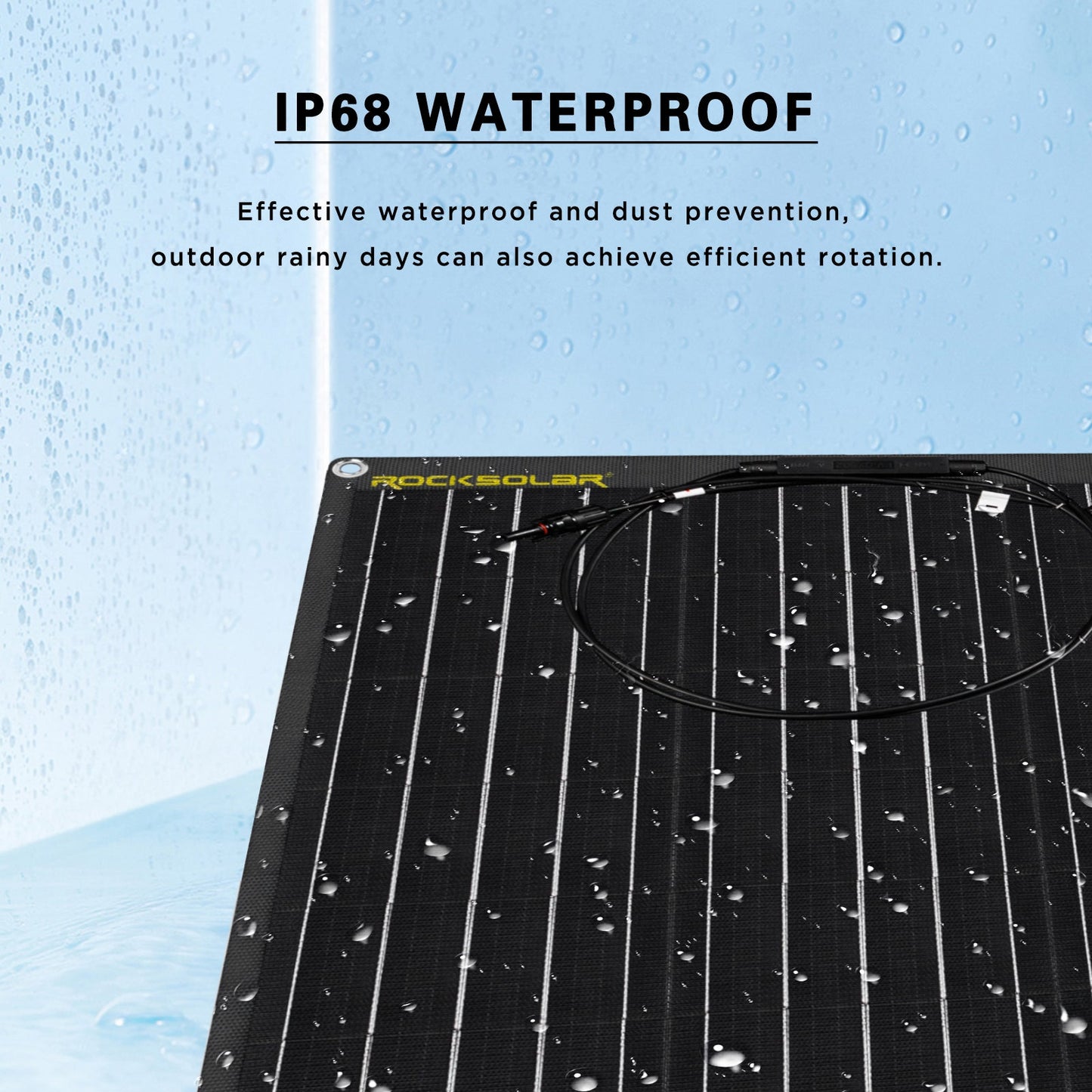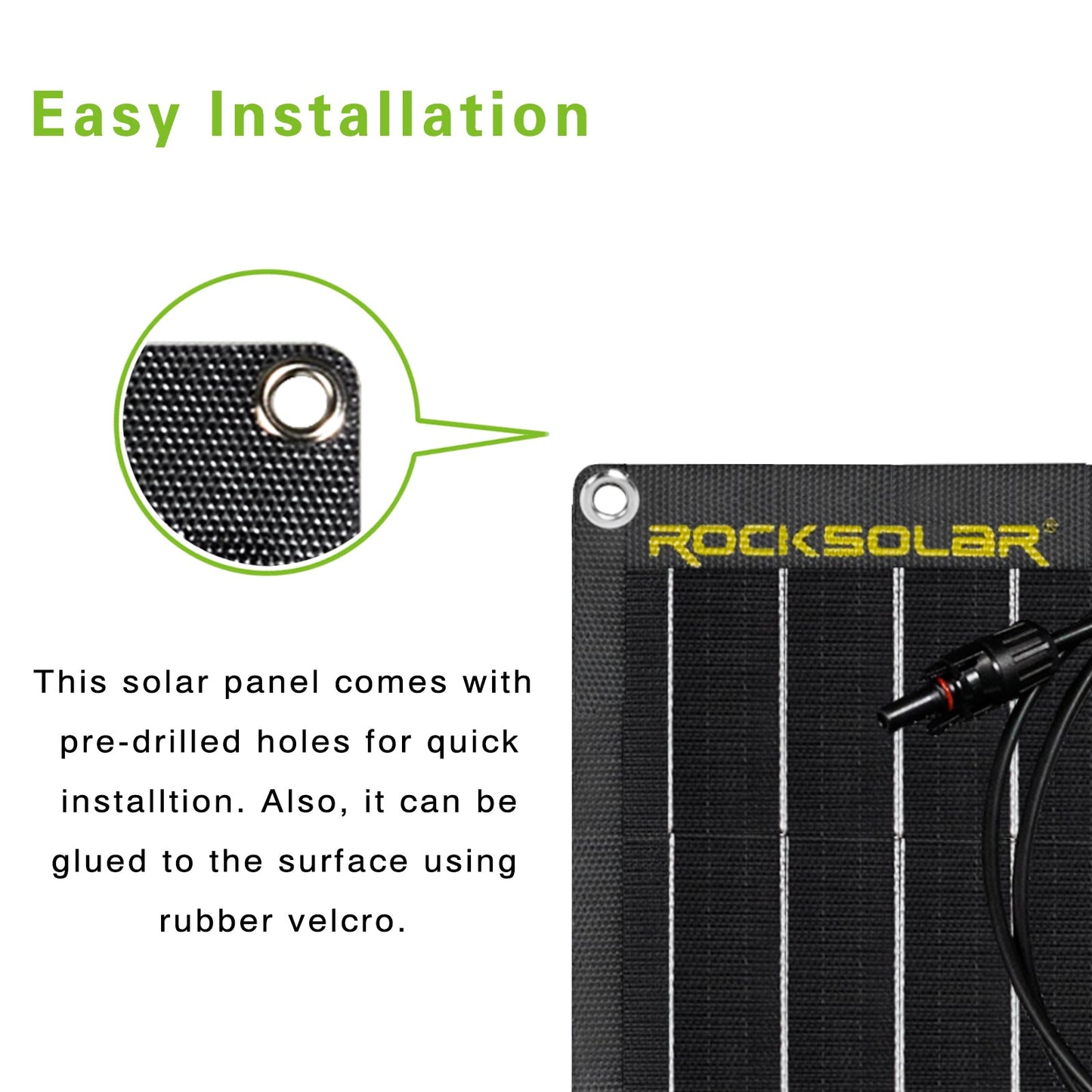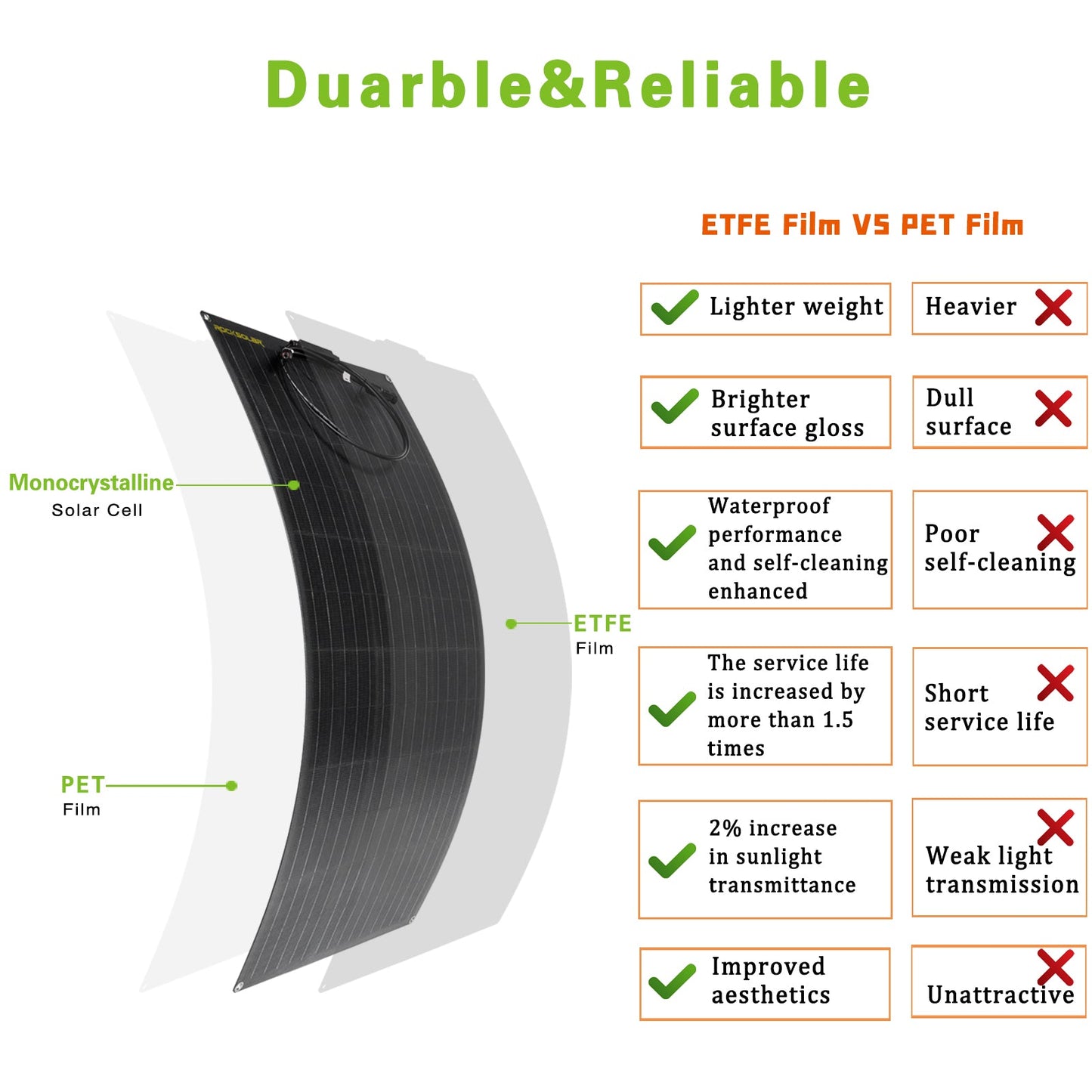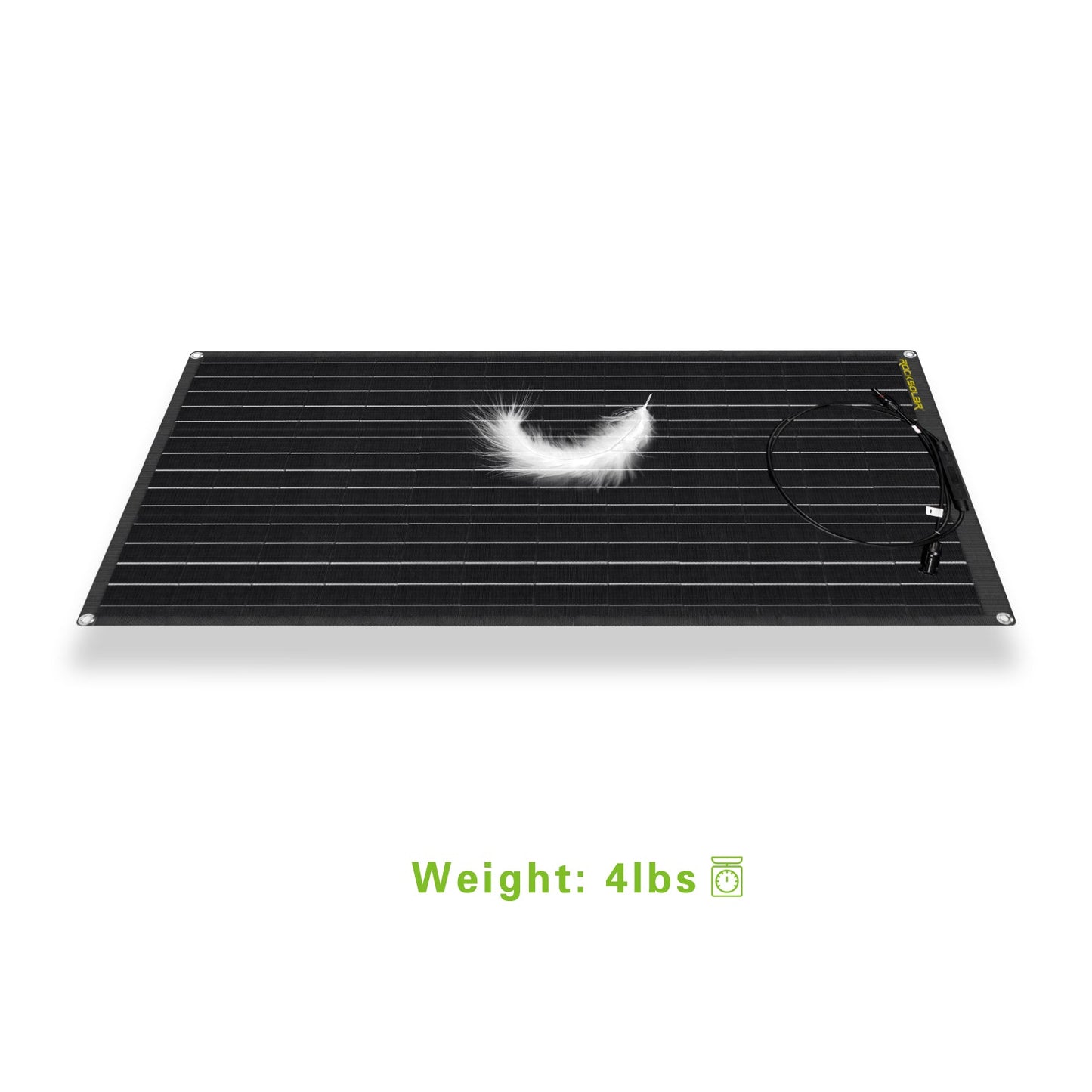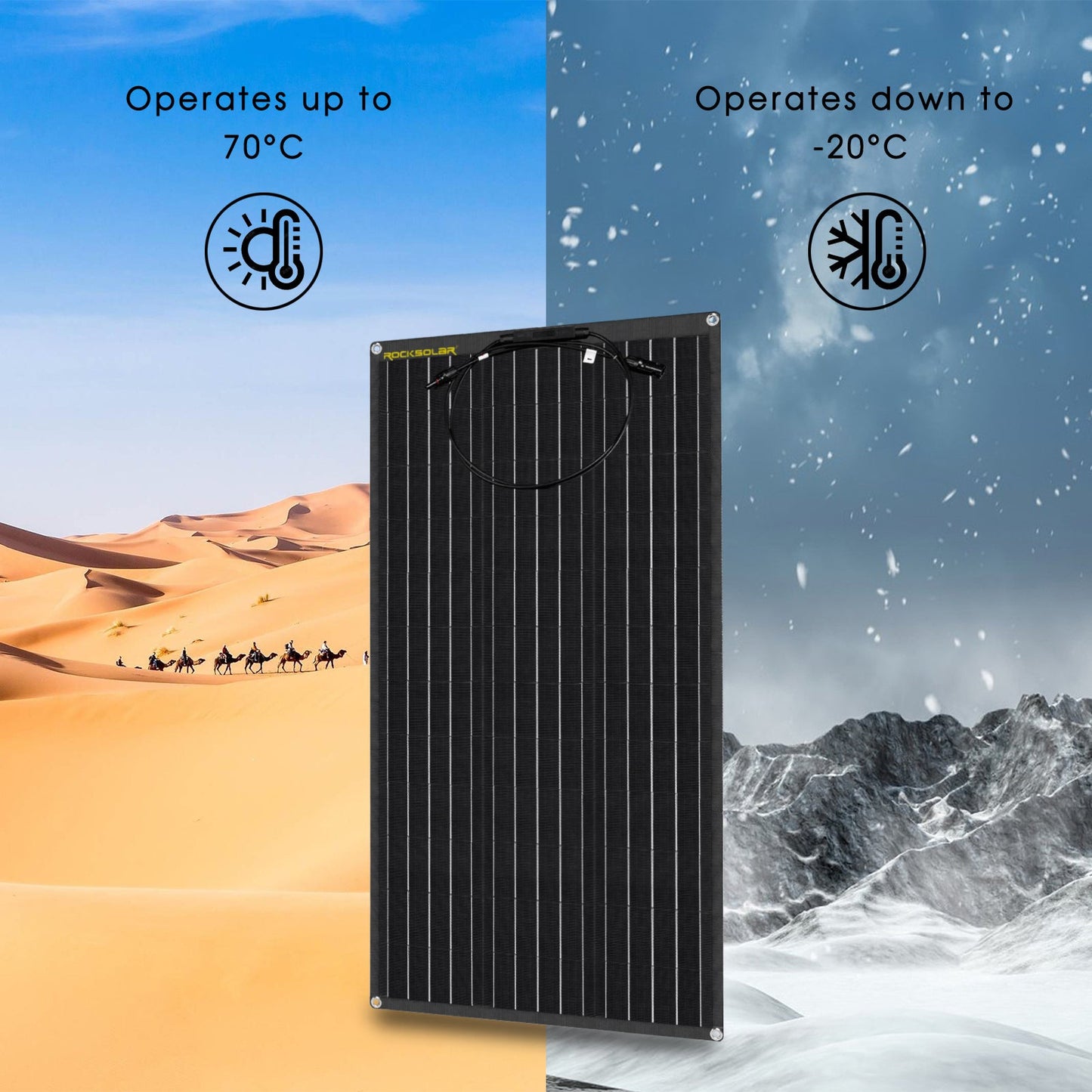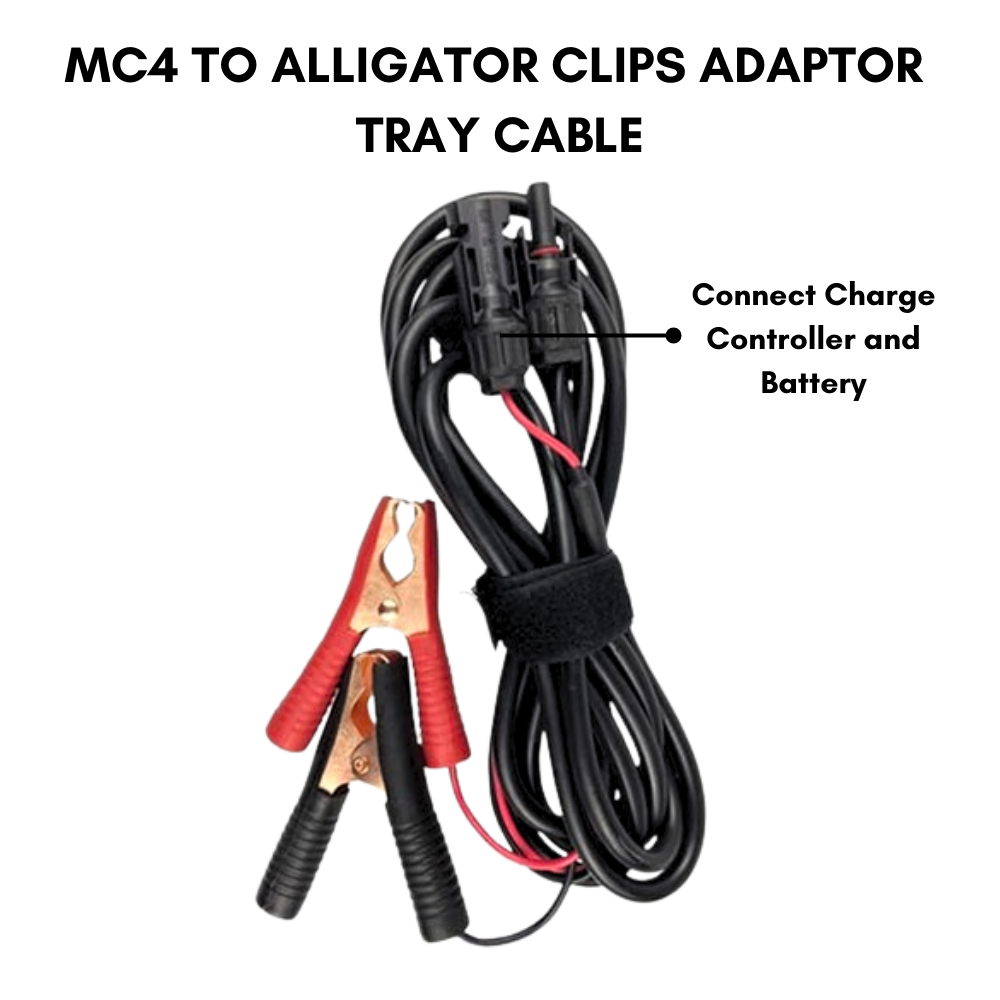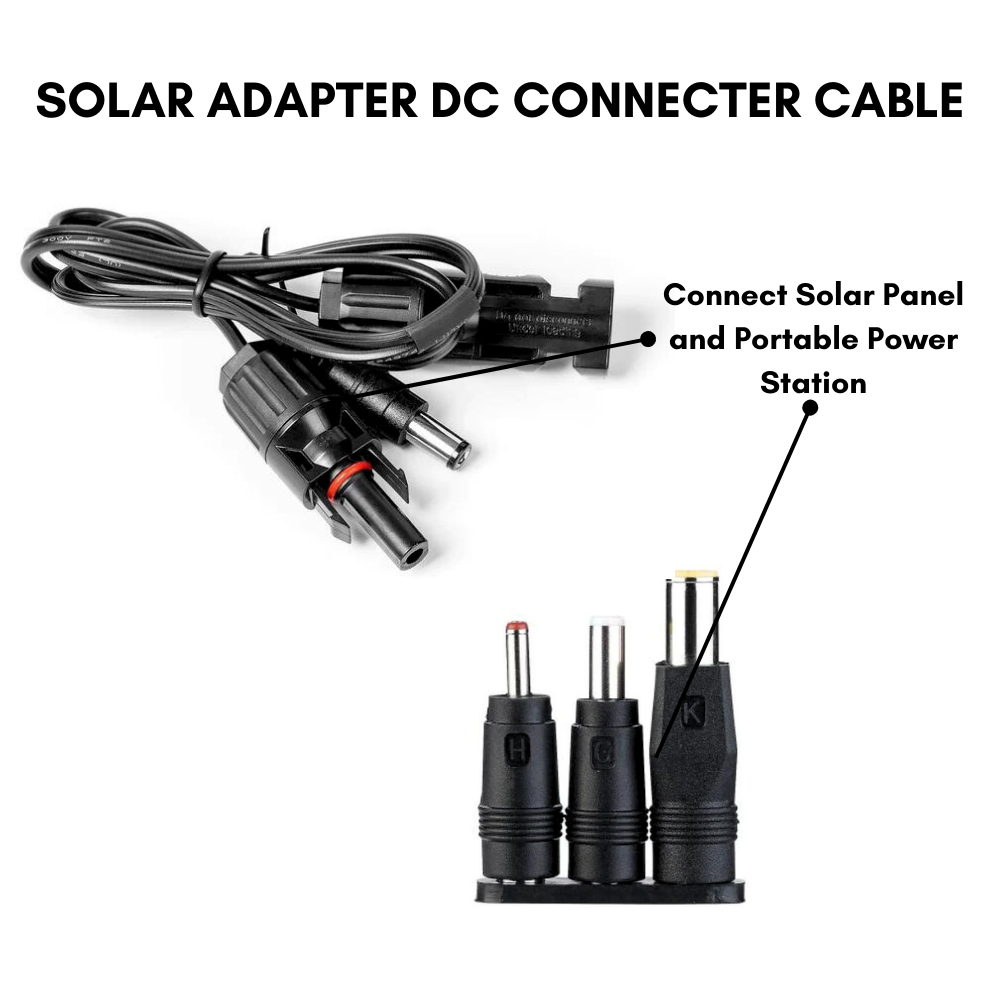 ROCKSOLAR 200W Flexible Solar Panel
The ROCKSOLAR 200W flexible solar panel is pretty awesome for any off-grid setup. It's got a high-efficiency design that's great for charging in different situations. It's super lightweight and portable, so it's perfect for camping, field work, or even on a boat. It's weather-resistant and has an IP68 rating, so it'll work well even when the weather's not so great. It comes with all the stuff you need like mounting buckles, adapter cables, and a user manual, so it's ready to go right out of the box.
ROCKSOLAR 200W 2Pcs Solar Panel Kit
The ROCKSOLAR 200W 2Pcs 12V flexible solar panel is an amazing choice if you're looking for a lightweight, efficient, and versatile solar charging solution. It only weighs 3.42 pounds, so it's super easy to carry around and use in all kinds of off-grid situations like camping, RVs, and boats. It's weather-resistant and has an IP68 rating, so it'll keep working even in tough environments. The package comes with all the necessary accessories, making it a one-stop-shop for anyone wanting to tap into the power of the sun.
ROCKSOLAR 200W Solar Panel Combo
This ROCKSOLAR 200W flexible solar panel is a sweet mix of efficiency and portability. It's super lightweight, making it easy to carry and use in all kinds of off-grid situations like RVs or boats. It's weather-resistant and has an IP68 rating, so it'll work well no matter what the weather's like. The package has everything you need to get started, like cables, mounting stuff, and a helpful user manual. All in all, this solar panel is a great investment if you're looking for a dependable and portable solar charging solution.