Additional 15% off applied at checkout. Use code - SAVEMORE
Regular price
$303.00 USD
Regular price
$333.00 USD
Sale price
$303.00 USD
Unit price
per
Sale
Sold out
ROCKSOLAR 200W 12V Rigid Solar Panel Features:
High Output: 200W monocrystalline panels, delivering 800-1000 Wh/day.
Low-Light Performance: Integrated bypass diodes for reduced shade impact.
Robust Build: Anti-corrosive frame, superior panel encapsulation.
All-Weather Ready: IP65 rating, works from -20°C to +50°C.
Mounting Ease: Comes with pre-drilled holes for fast setup.
Controller Sync: Ideal match for 12V 60A MPPT controllers.
Diverse Uses: Great for RVs, boats, homes, and off-grid living.
Green Power: Clean, renewable energy solution.
Assured Quality: 10-year warranty, 90% output guarantee.
ROCKSOLAR 20A MPPT Charge Controller Features:
Advanced MPPT: Optimizes solar harvesting.
Powerful Capacity: 20A output for extensive solar arrays.
Universal Fit: Works with various battery models.
Safe & Secure: Features overcharge and short-circuit protection.
Efficient Tracking: Auto-adjusts for peak charging efficiency.
User-Friendly Interface: Easy monitoring and control.
Space-Saving: Compact, sleek design.
Reliable Performance: 1-year warranty with a 90% efficiency promise.
Free
Local Shipping
10-year Hassle Free
Warranty
Lifetime Customer
Support
Share
View full details
Description

Includes
Specifications
FAQ
Downloads
Reviews
ROCKSOLAR 200W 12V Rigid Solar Panel Kit with 20A MPPT Charge Controller
Introducing the ROCKSOLAR 200W 12V Rigid Monocrystalline Solar Panel, a high-performance and eco-friendly solution for your energy needs. Designed with durability in mind, this solar panel features a rigid, weather-resistant aluminum frame and anti-reflective tempered glass to ensure maximum efficiency. The monocrystalline cells provide excellent performance, even in low-light conditions, making it a reliable energy source for off-grid living, camping, or emergency backup power. Easy to install and compatible with a wide range of applications, the ROCKSOLAR 200W 12V Solar Panel will help you harness the power of the sun and reduce your carbon footprint.
Product Features
High-efficiency monocrystalline cells: These solar cells offer excellent performance in low light conditions and higher energy output compared to polycrystalline cells.

200W power output: This solar panel provides 200 watts of power, making it suitable for various applications such as RVs, boats, cabins, and off-grid systems.

12V system compatibility: The solar panel is designed to work with 12V battery systems, making it ideal for use in remote or off-grid locations.

Rigid aluminum frame: The panel features a durable, corrosion-resistant aluminum frame that ensures long-lasting performance and easy mounting.

Weather-resistant design: The solar panel is built to withstand harsh environmental conditions, including heavy rain, snow, and strong winds.

High light transmittance glass: The panel features a high-quality, low-iron tempered glass that offers high light transmittance and improved energy output.

Pre-drilled mounting holes: The panel comes with pre-drilled holes for easy mounting and installation.

Bypass diodes: Integrated bypass diodes minimize the impact of shading on the panel's performance, ensuring consistent energy output.

MC4 connectors: The solar panel is equipped with industry-standard MC4 connectors for easy and secure connections to your solar system.

Long service life: Over 25 year service life and 10 year manufacturer warranty.

Easy installation: The solar panel can be easily installed on various mounting systems, including roof, ground, and pole mounts.

Eco-friendly power source: Harnessing solar energy is a clean, sustainable, and environmentally friendly way to generate electricity.
20A MPPT Solar Charge Controller Features
Explore the advanced features of the 20A MPPT Solar Charge Controller, a high-efficiency, IP30 rated device designed for optimizing your solar panel system. This controller not only promises compatibility with both Lithium and Lead Acid batteries but also boasts an impressive maximum open voltage of 75Vdc. Its state-of-the-art MPP tracking efficiency of 99.5% ensures that you get the most out of your solar energy.
Advanced MPPT Technology: Delivers a maximum power point tracking efficiency of 99.5%, maximizing the energy harvested from the solar panels.
Versatile Battery Compatibility: Seamlessly works with Lithium and Lead Acid batteries, catering to a broad spectrum of energy storage needs.
Intelligent 3-Stage Charging: Implements a smart 3-stage charge algorithm, ensuring batteries are charged efficiently and safely.
Optimal Voltage Capacity: Supports a nominal system voltage of 12/24V and operates efficiently across a battery voltage range of 8-32V.
Secure Voltage Parameters: Features high voltage disconnection at 16V and low voltage disconnection at 10.8V, protecting your battery from overcharging and deep discharge.
High Voltage Input: Accommodates a maximum open voltage of 75Vdc, allowing for flexible solar panel configurations and higher voltage inputs.
Durable Operating Range: Reliable performance guaranteed with an operating temperature range of -20°C to 55°C, suitable for a variety of environmental conditions.
Efficient Charge Control: Rated charging current of 20A for optimal control and maximization of solar energy usage.
Environmentally Adaptable: Designed to withstand and perform consistently in diverse weather conditions with its IP30 rating.
Compact & Practical Design: Sleek and user-friendly, this controller is ideal for both professional and DIY solar power setups.
Dimensions:
200W 12V Rigid Solar Panel: 1480mm x 670mm x 30mm; 10.65 Kilograms
20A MPPT Solar Charge Controller: 123 x 178 x 48mm; Weight: 2.86 lbs.
ROCKSOLAR 200W 12V Rigid Monocrystalline Solar Panel

1 x 1 x ROCKSOLAR Black Diamond 200W 12V Monocrystalline Rigid Solar Panel
1 x MC4 Connectors
1 x User Manual for the Rigid Solar Panel

ROCKSOLAR 20A MPPT Solar Charge Controller

1 x ROCKSOLAR 20A MPPT Solar Charge Controller
1 x User Manual for the Charge Controller
Technical Specifications
ROCKSOLAR Black Diamond 200W 12V Monocrystalline Rigid Solar Panel Specification
Details
Panel Type
Monocrystalline
Power Output
200W
System Voltage
12V
Cell Efficiency
20-22%
Frame Material
Aluminum
Dimensions
 1480mm x 670mm
Weight
approx. 25-30 lbs
Operating Temperature
-40°C to +85°C
Waterproof Rating
IP65 
Front Glass
High light transmittance, low-iron tempered glass
Bypass Diodes
Integrated
Connectors
MC4
Cable Length
Varies depending on the brand (approx. 3-6 ft)
Mounting Hole Locations
Pre-drilled
Service Life
25 years or more
Warranty
10 years
20A MPPT Solar Charge Controller Specification
Details
Model
POW-Keeper1220
PV Input
Max Open Voltage of PV Module: 75Vdc
MPP Tracking Efficiency
99.50%
Max PV Power
260W for 12V system, 520W for 24V system
Charge Mode
Charge Algorithm: 3 Stage
Battery Type
Lithium and Lead Acid Battery
Nominal System Voltage
12/24V
Rated Charging Current
20A
Battery Voltage Range
8~32V
High Voltage Disconnection
16V (24V x 2)
Duration for absorption charging
2 hours
Charge Loop Voltage Drop
≤0.29V
Self-consumption
≤ 9.2mA 12V; ≤ 11.7mA 24V
Equalized Charging Voltage
AGM: 14.6V; GEL: No; FLd: 14.8V
Absorption Charging voltage
AGM: 14.4V; GEL: 14.2; FLd: 14.6V
Floating Charging voltage
AGM/ GEL/ FLd: 13.8V
Low Voltage re-connection (LVR)
AGM/ GEL/ FLd: 12.6V
Low Voltage Disconnection (LVD)
AGM/ GEL/ FLd: 10.8V
Operating Temperature Range
-20℃~55℃
LCD Temperature Range
-20℃~70℃
Humidity Range
≤95% No condensation
Protection Class
IP30
Dimension
123*178*48
Installation Hole
108*120 ∅5
The kit contains a 200W 12V rigid solar panel, an MPPT solar charge controller, necessary connecting cables, and mounting hardware for a complete solar energy system.
Yes, the included MPPT controller is versatile, supporting a variety of battery types including Lithium, AGM, Gel, and lead-acid, providing flexibility in your energy storage solution.
The MPPT controller offers higher efficiency in solar energy conversion compared to PWM controllers. It optimizes the power output from the solar panel, ensuring maximum charge is delivered to the battery.
Yes, the 200W solar panel is built to endure various environmental conditions, including high temperatures, ensuring consistent performance and longevity.
The 200W solar panel typically requires a space around 1580mm x 808mm. It's essential to have a clear, unobstructed area for installation to maximize solar exposure.
Yes, the MPPT controller ensures the battery is charged in the most efficient way, which can help in extending the overall life of your battery.
Absolutely. This kit is an excellent choice for off-grid applications like remote cabins, RVs, and boats, providing a reliable power source in areas without grid access.
Maintenance generally involves regular cleaning of the panel's surface to keep it free of debris, dirt, and snow. Ensure the panel is not shaded to maximize efficiency.
The solar panel itself can last for more than 25 years with proper maintenance. The lifespan of the other components, like the MPPT controller, can vary but typically lasts several years.
Yes, the kit is designed for eco-friendly energy generation, helping to reduce carbon footprint by leveraging renewable solar power.
During installation, ensure all connections are secure and the panel is firmly mounted. Follow all guidelines in the manual, and consider professional assistance if you are unfamiliar with solar panel installations.
While solar panel efficiency decreases in cloudy conditions, the MPPT controller in this kit helps in extracting maximum possible energy from the panel during such conditions.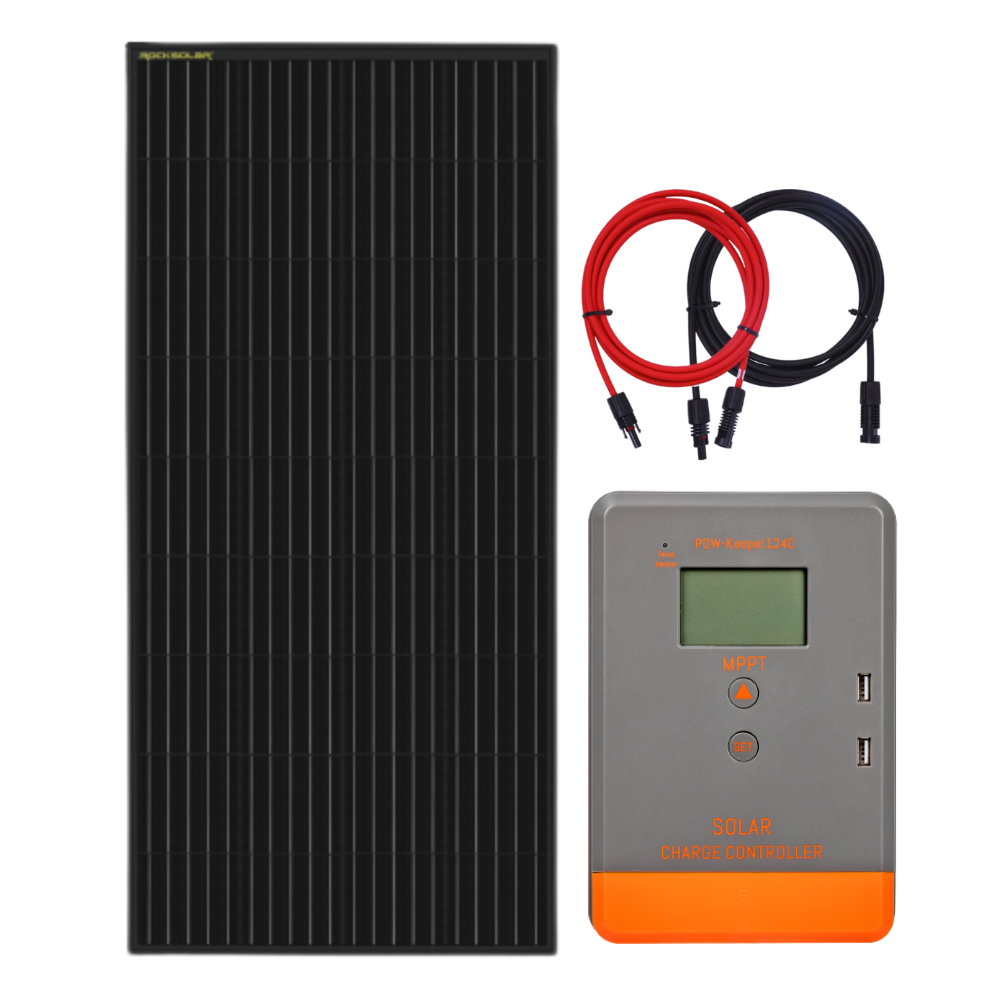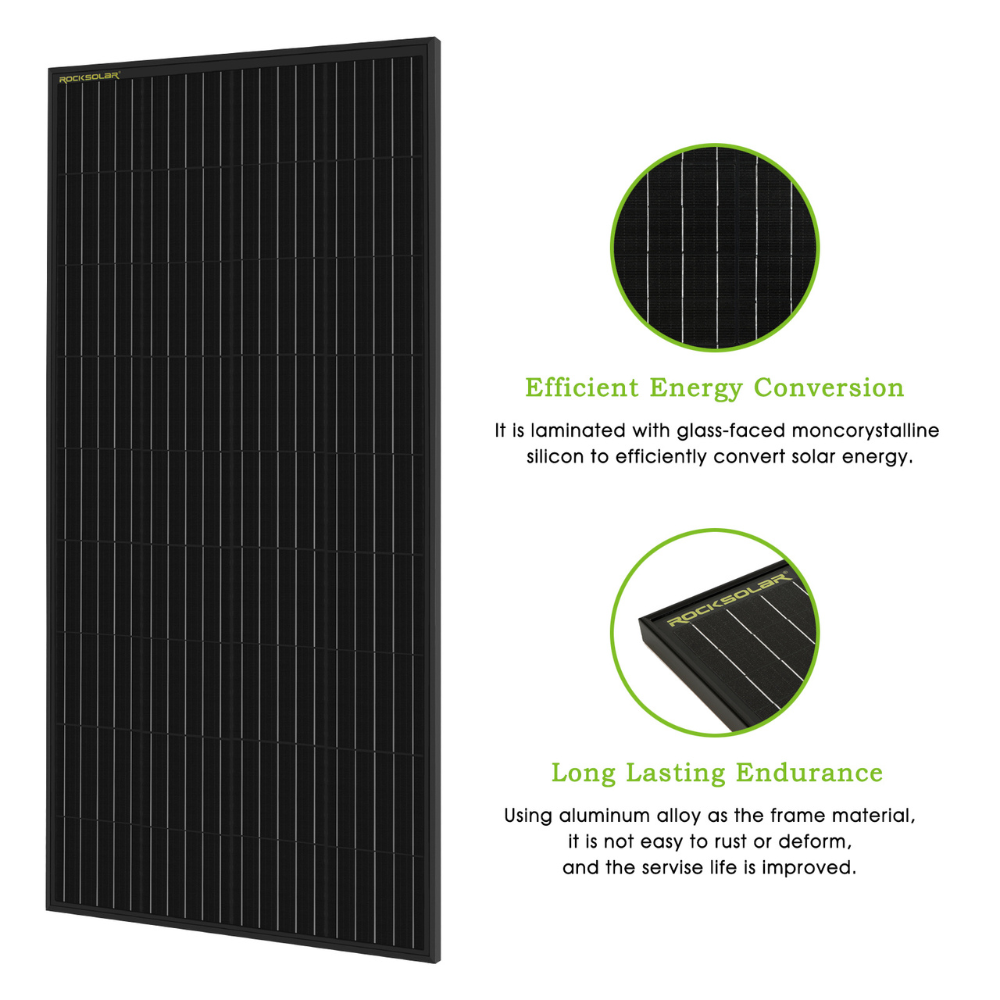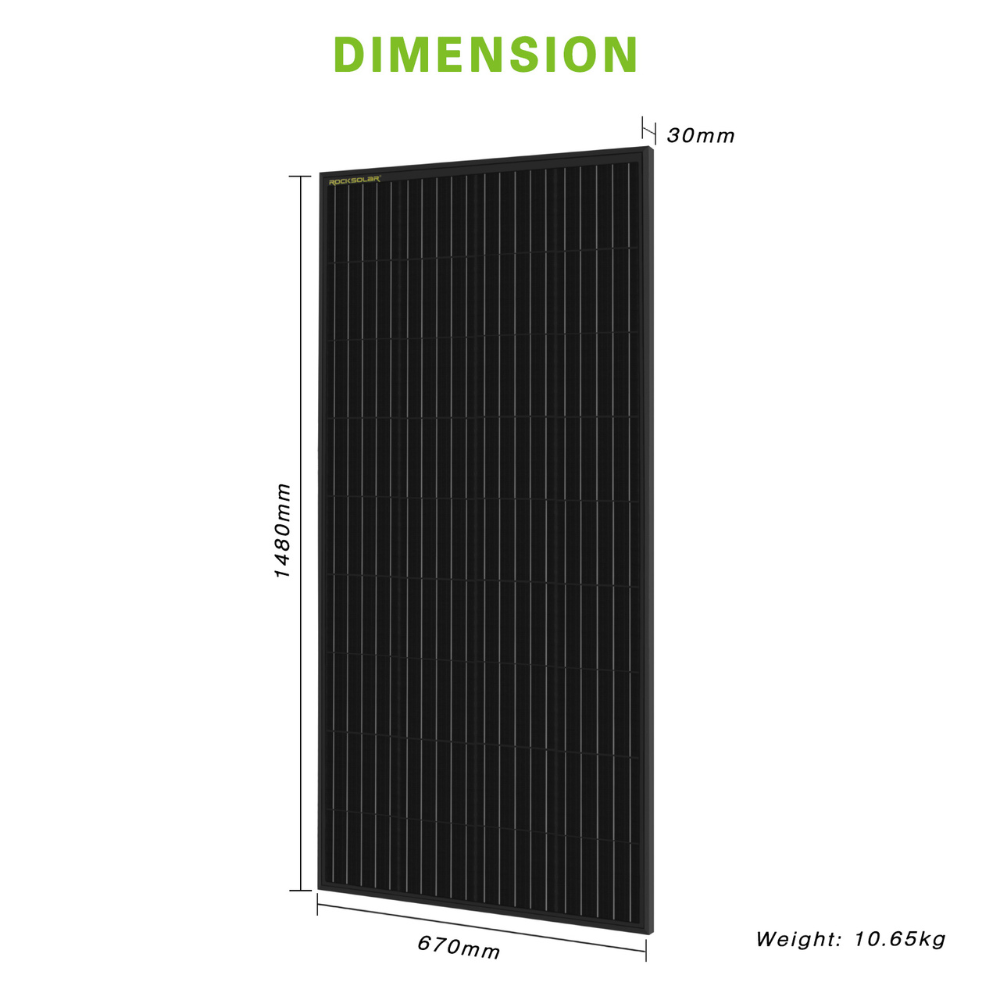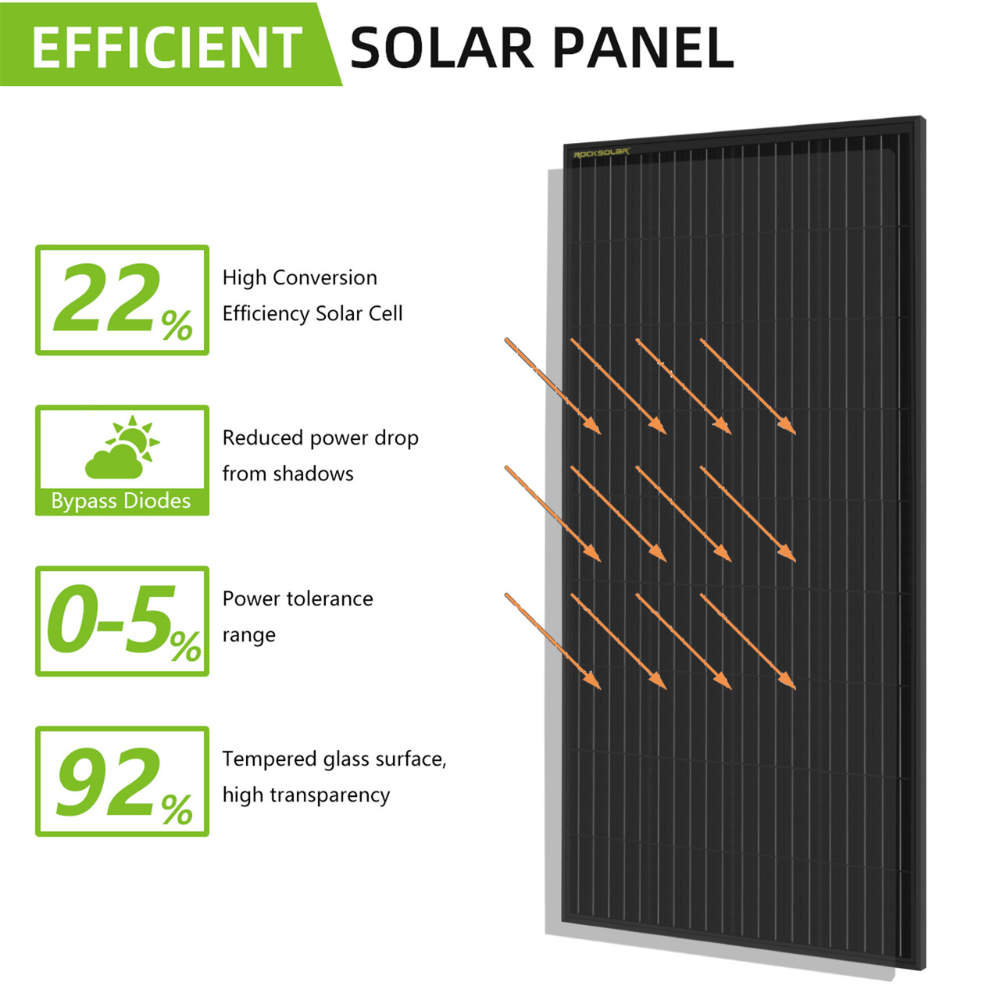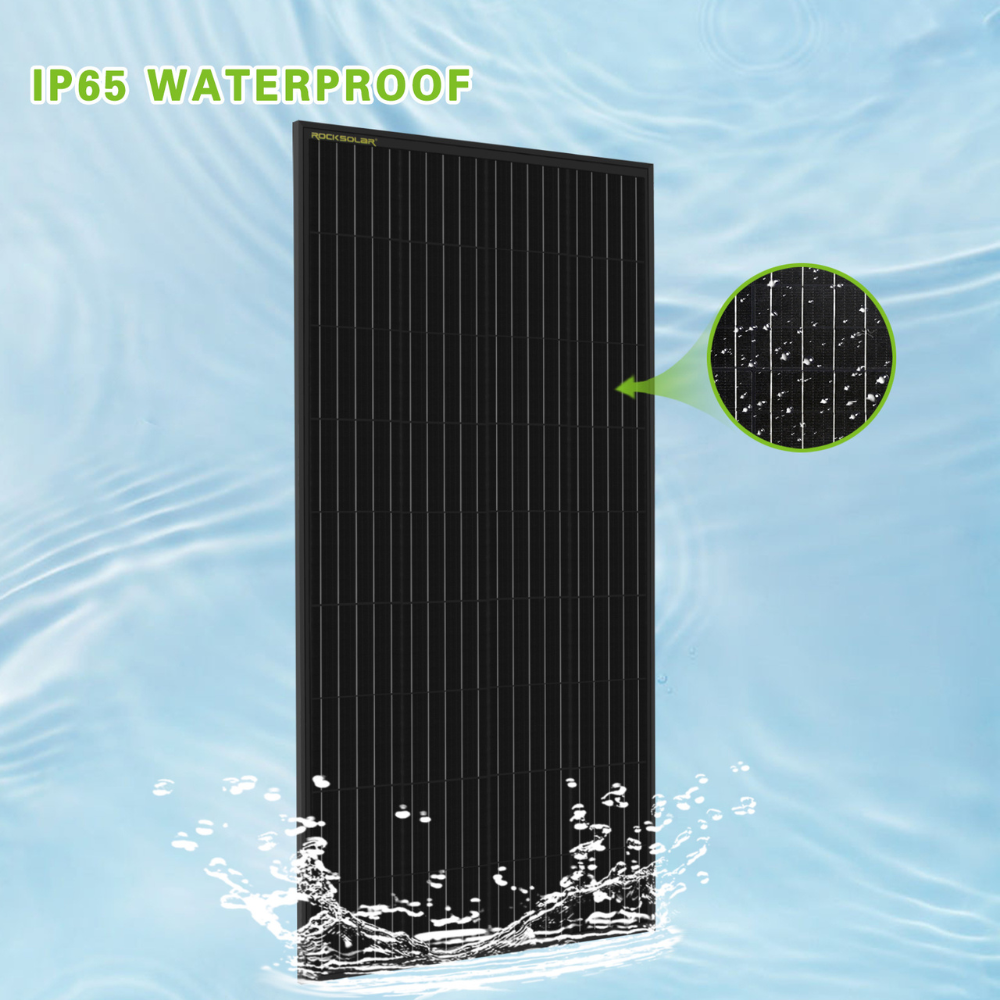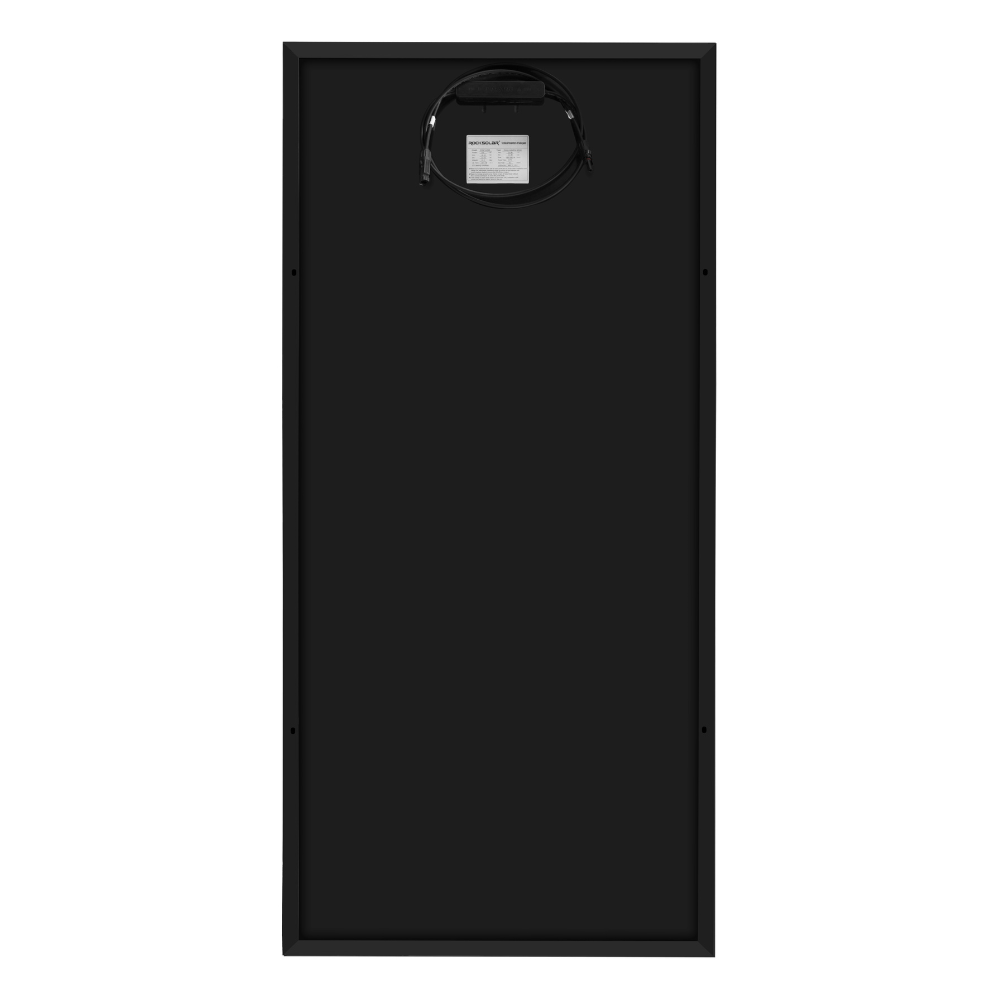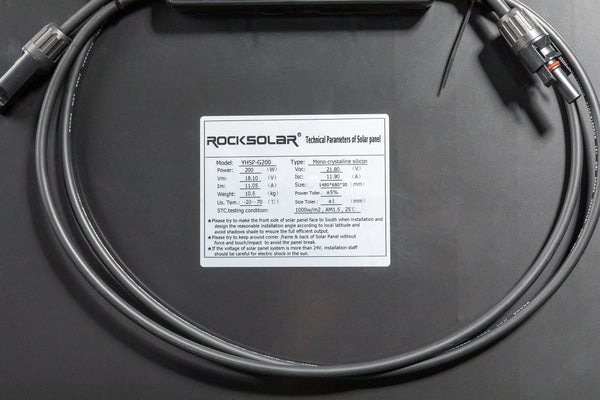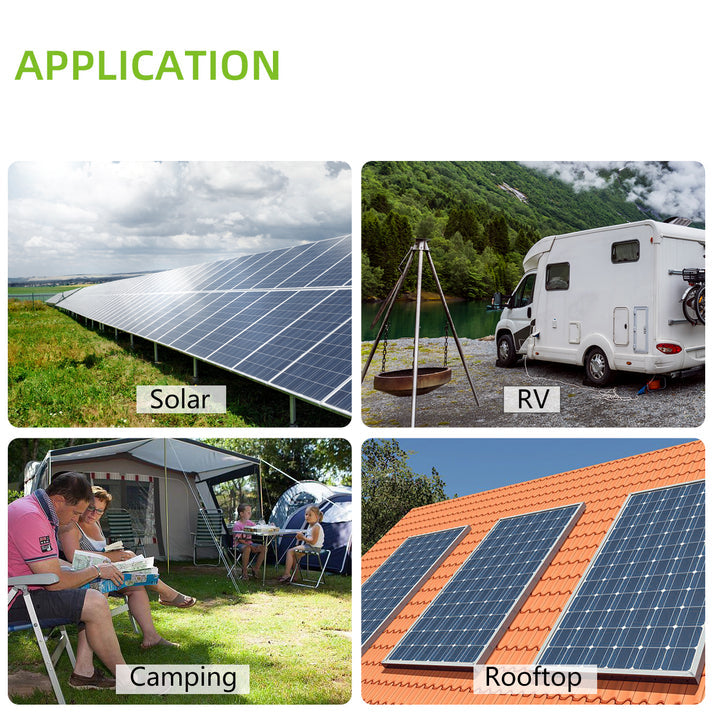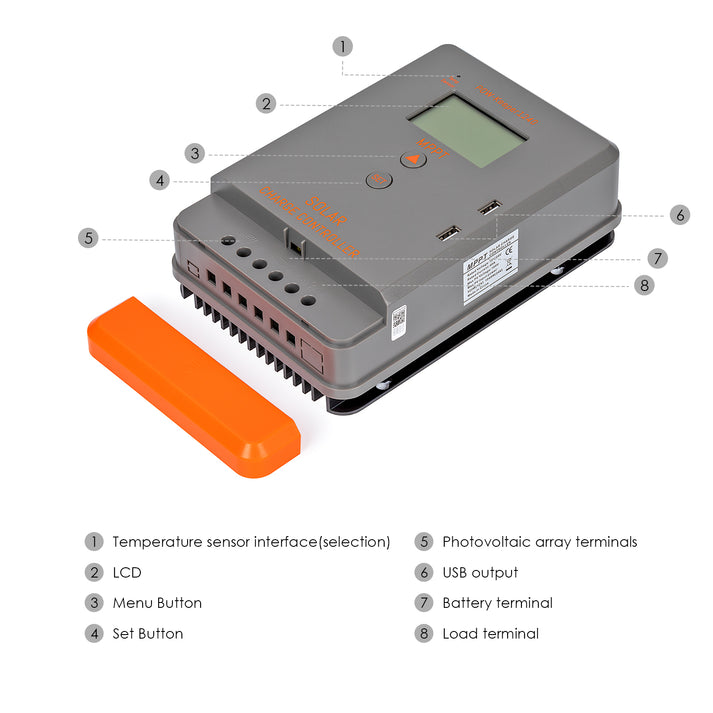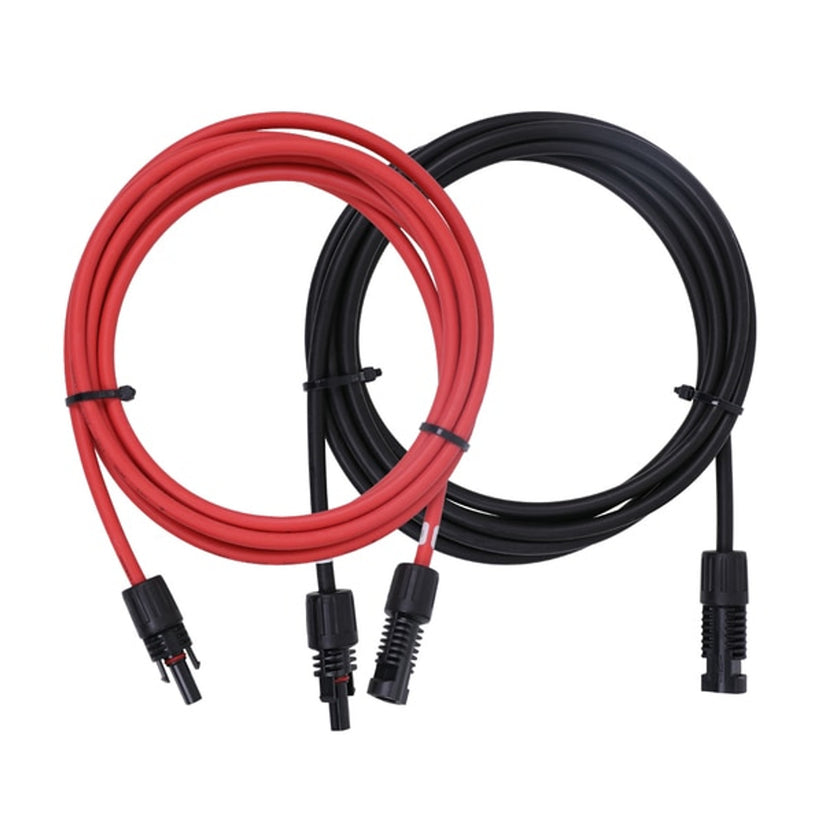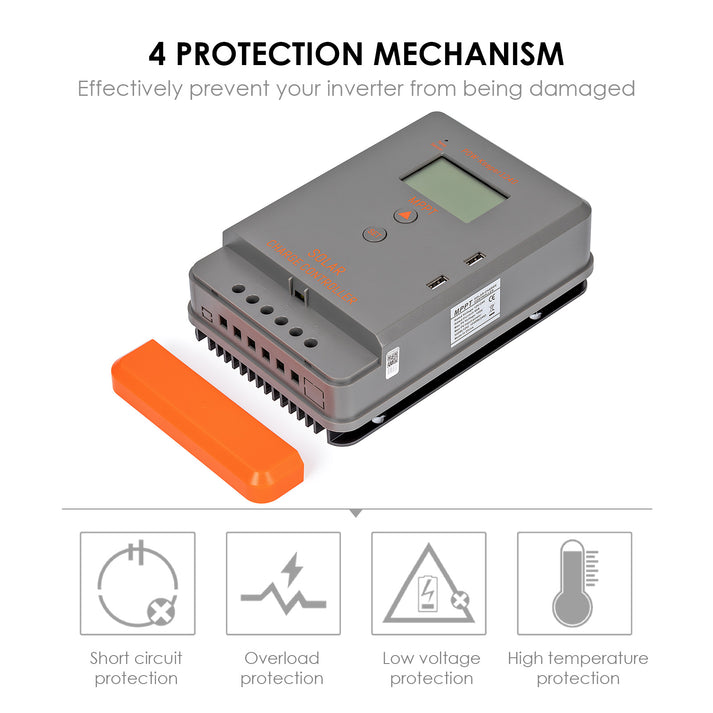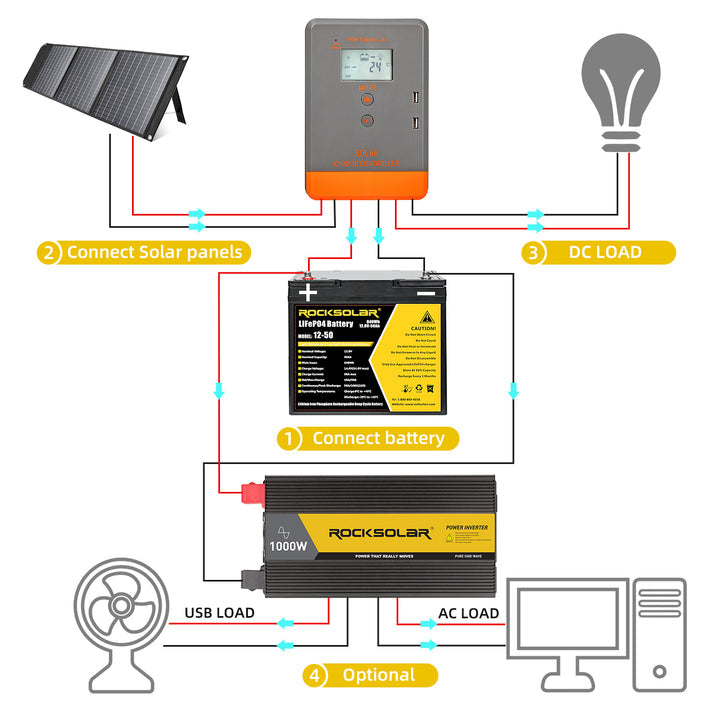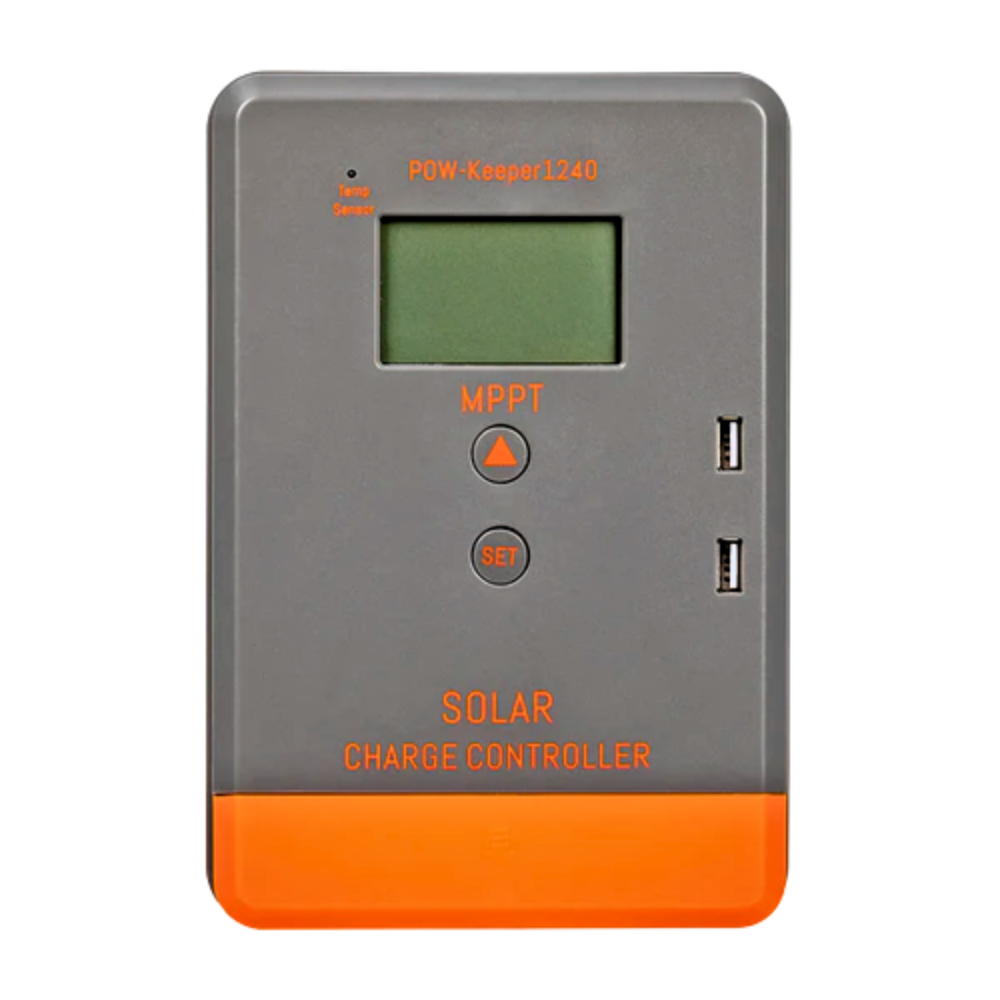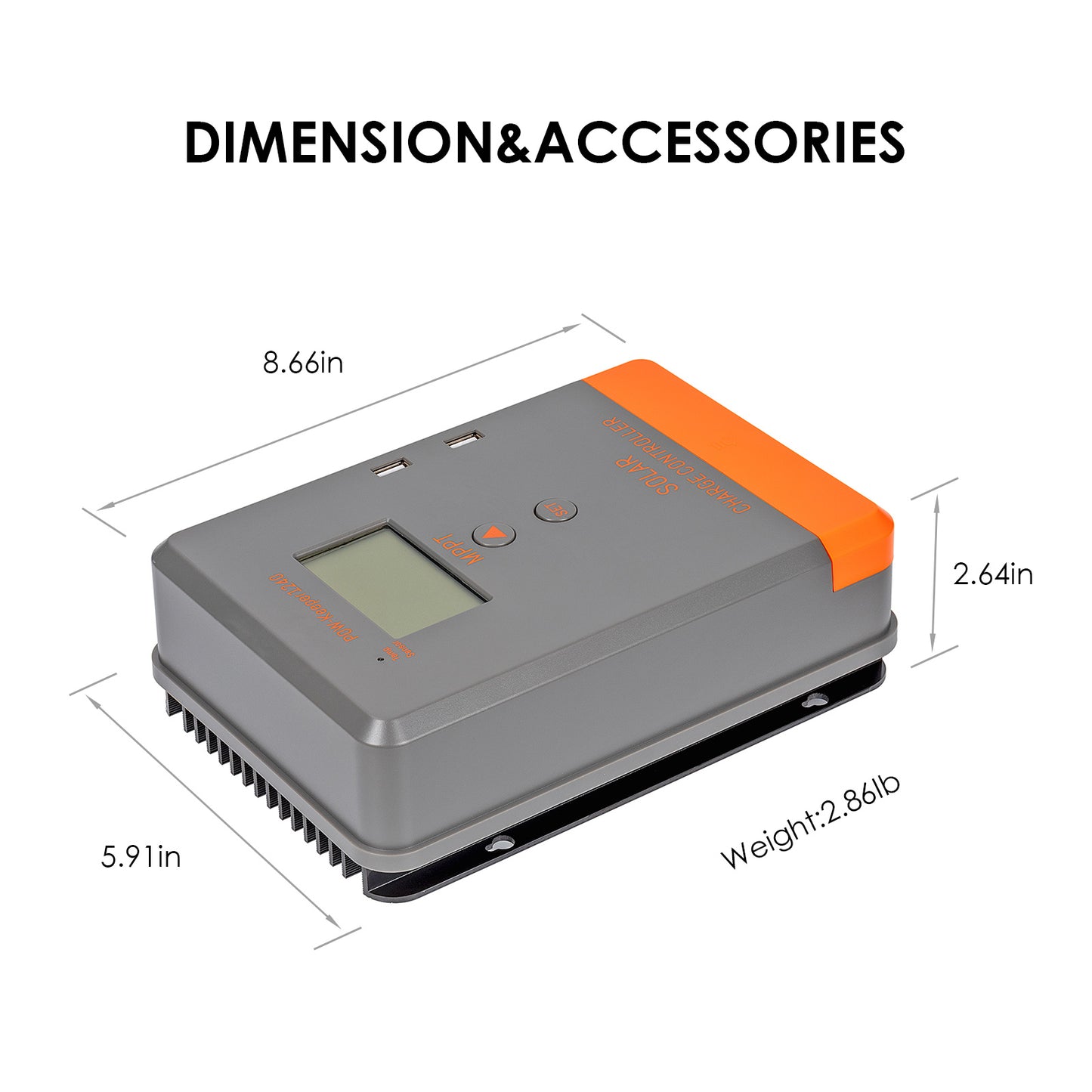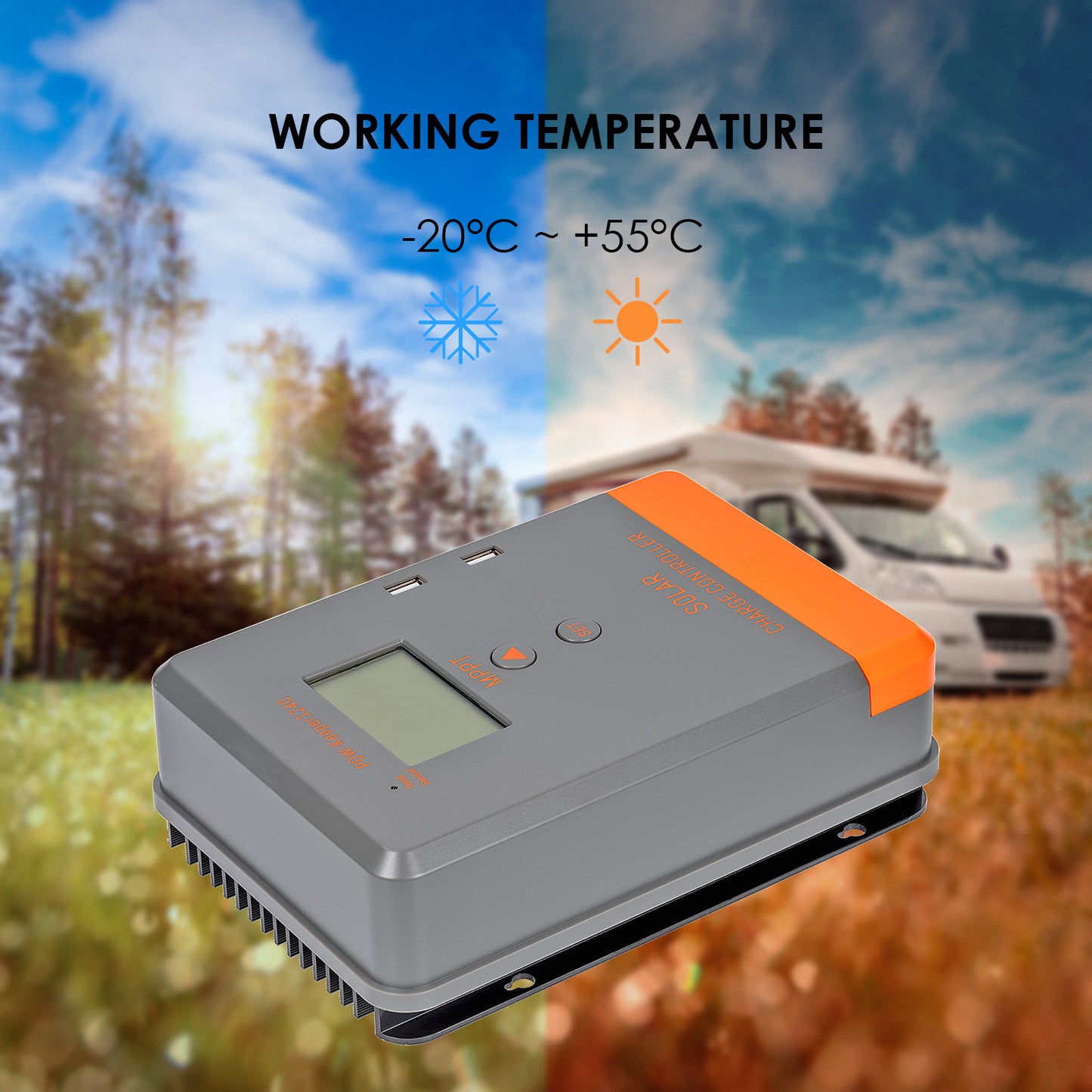 Hassle-Free Installation
The installation process was hassle-free, thanks to the detailed instructions provided. It took no time at all to set up the entire kit and start generating solar power.
Great for Our Tiny Home
We live in a tiny home, and this solar kit is perfect for our power needs. It keeps our batteries charged, allowing us to live comfortably off-grid.
Best Solar Investment
I did my research before purchasing this solar kit, and it has proven to be the best investment. It's reliable, efficient, and has a great build quality.
Excellent for Off-Grid Camping
I'm an avid camper, and this solar panel kit has been a game-changer. It provides me with the power I need to stay connected and keep my devices charged while camping.
Perfect Solar Solution for My Boat
ROCKSOLAR's solar panel kit is the perfect solution for my boat. It's compact, efficient, and provides enough power for all my electronic devices on board.