Regular price
$106.00 USD
Sale price
$76.00 USD
Unit price
per
Sale
Sold out
Powerful Output: 500W continuous, 1000W peak.
High Efficiency: Up to 91% maximum.
Full Protection: Against shorts, overloads, and temperature extremes.
Wide Use: Ideal for RVs, trucks, camping, and emergencies.
Lightweight: Only 0.94 kg for portability.
Silent Fan: Smart cooling without noise.
USB Port: Convenient 2.1A charging.
Stable Power: Pure Sine Wave for smooth operation.
12-Month Warranty: For reliability and trust.
Versatile Compatibility: Suits various devices and appliances.
Free
Local Shipping
1-year Hassle Free
Warranty
Lifetime Customer
Support
Share
View full details
Description

Includes
Specifications
FAQ
Downloads
Reviews
High-Performance Power Solution: Experience the exceptional efficiency of the ROCKSOLAR 500W 12V Pure Sine Wave Power Inverter. Offering 500W continuous DC to AC power with a peak of 1000W, it's perfectly equipped for your energy needs.
Enhanced Safety Features: With full protection against short circuits, overloads, overvoltage, low voltage, and high temperature, the ROCKSOLAR 500W inverter ensures the safety of your devices. Its silent, smart fan further enhances this by maintaining an ideal temperature.
Versatile Applications: Whether it's for use in an RV, truck, car, boat, during camping, or as an off-grid power solution, this inverter is incredibly versatile. It's also ideal for emergency situations or as a home power solution.
Robust Warranty and Contents: Your investment is protected with a comprehensive 12-month warranty. The package includes 1x 500W Power Inverter and a user manual, providing everything you need to get started.
What Can It Power?
LED Lights: Multiple bulbs (20-60W)
Laptop: Approx. 45-85W
Smartphone: Approx. 5-10W
Tablet: Approx. 10-30W
Small Fan: Approx. 20-40W
LED TV less than 100': Approx. 30-150W
Office Desktop PC: 300-500W
Standard Refrigerator (Less than 18 cu ft): 300-400W
Power Tools: Approx. 100-300W
CPAP: Varies
Stay Powered and Prepared with the ROCKSOLAR 500W Inverter, your go-to source for reliable and versatile power!
1x 500W 12V Pure Sine Wave Power Inverter: The Pure Sine Wave Power Inverter designed for longevity and performance.
1x User Manual: Detailed instructions on usage, installation, and maintenance for optimal performance.
Technical Specifications
Specification
Details
Model
RSINV500-001
Output
Rated Power: 500W
AC Voltage: 120V
Frequency: 60HZ
Resistive Load Continuous Output Power: 500W
Inductive Load Continuous Output Power: 450W
Capacitive Load Continuous Output Power: 150±30W,PF:0.6
Waveform: Pure Sine Wave
Waveform Distortion (THD): ≤5%
Input
Battery Voltage: 12Vdc
Voltage Range: 10~15.5Vdc
DC Current: 52.1A
No Load Loss: ≤0.8A
Shutdown Mode Static Current: 15mA
Maximum Efficiency: 91%
Battery Type: All 12V batteries
Output Protection
Over Temperature, Output Short Circuit, Overload
USB Output: 5V, 2.1A
Environmental Conditions
Operating Temperature: 0~40℃
Operating Humidity: 10~90%RH
Storage Temperature/Humidity: -30℃~70℃, 10~95%RH
Physical Characteristics
Weight: Net Weight: 0.94Kg
Size: 250.6*118*56mm (L*W*H)
The ROCKSOLAR 500W Inverter offers a continuous power output of 500 watts and a peak output of 1000 watts, suitable for a wide range of devices.
Yes, the ROCKSOLAR 500W Inverter can efficiently power laptops, with its capability to handle devices requiring up to 85 watts.
Yes, the ROCKSOLAR 500W Inverter is designed for portability and can be used outdoors, making it ideal for camping, RVs, and other outdoor activities.
Absolutely, the inverter can power a standard refrigerator under 18 cubic feet, which typically requires between 300-400 watts.
The ROCKSOLAR 500W Inverter features built-in protection against overloads, short circuits, overvoltage, and low voltage, effectively safeguarding against power surges.
Yes, this inverter can be used with solar power systems as it is compatible with all 12V batteries, making it a versatile option for off-grid power solutions.
The inverter comes with a 12-month warranty, ensuring reliable performance and customer satisfaction.
Yes, the ROCKSOLAR 500W Inverter is suitable for running CPAP machines and other medical devices, as long as their wattage falls within the inverter's output capacity.
The inverter features a smart fan that operates silently, ensuring efficient cooling without creating noise disturbances.
With a net weight of 0.94 kg, the inverter is lightweight, enhancing its portability and ease of use in various settings.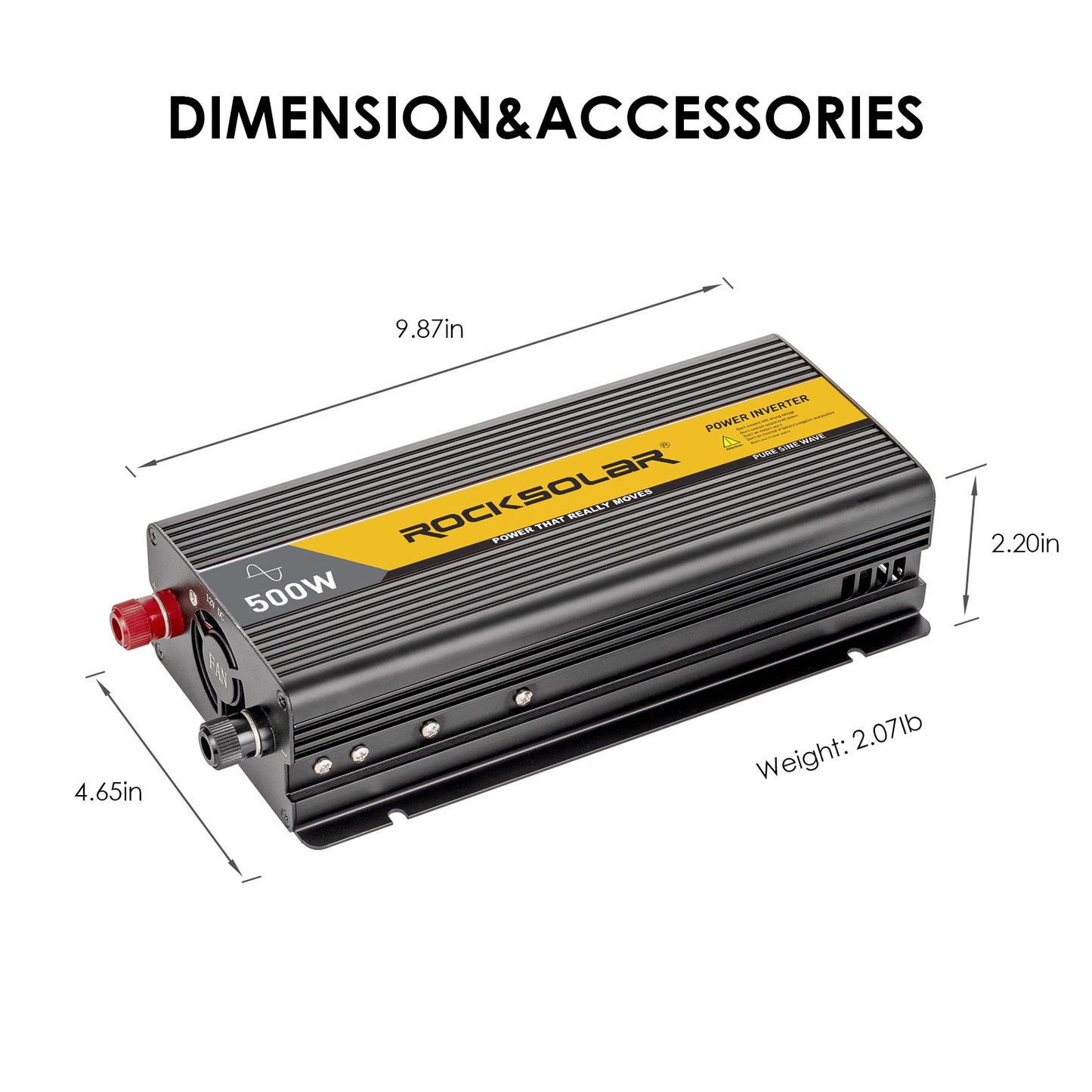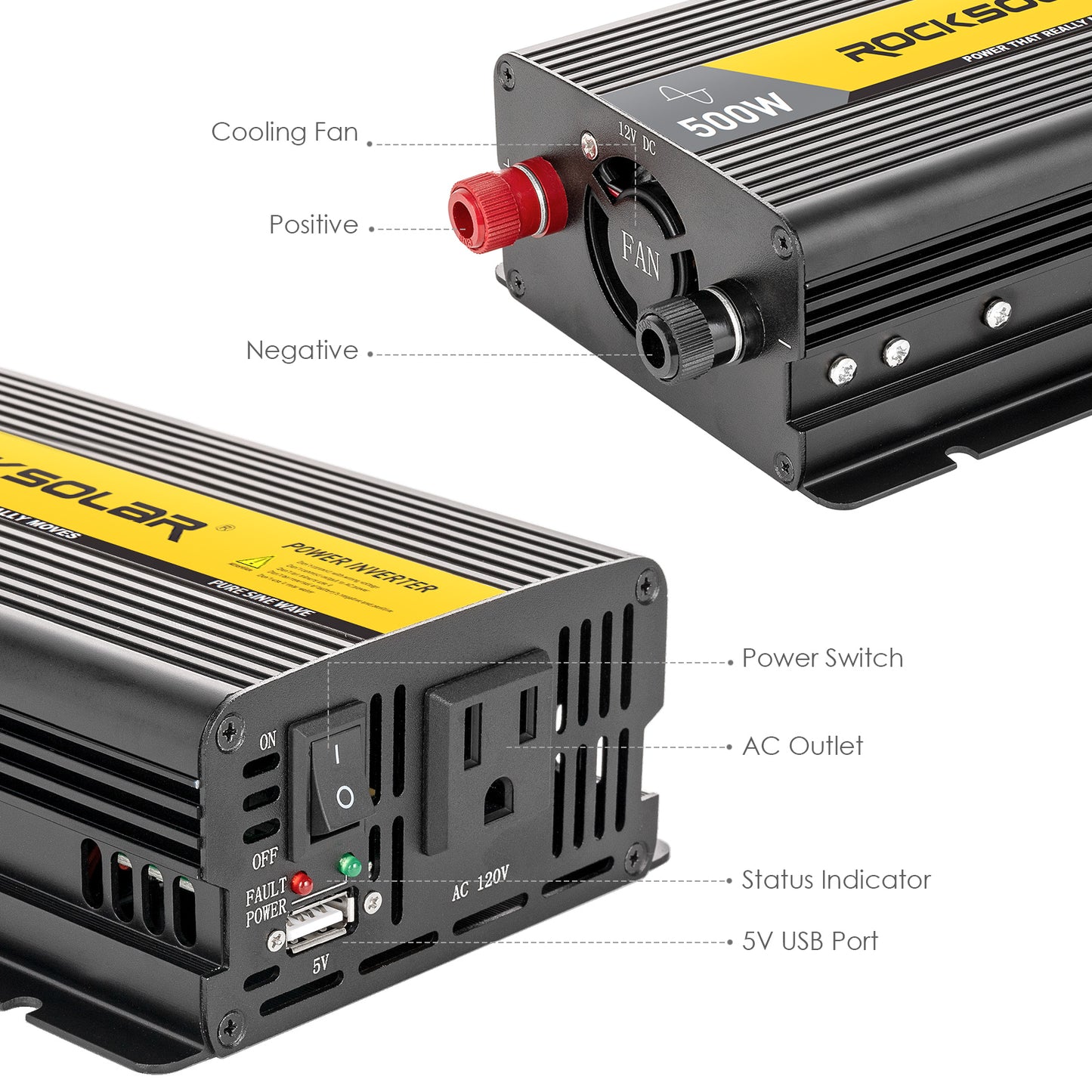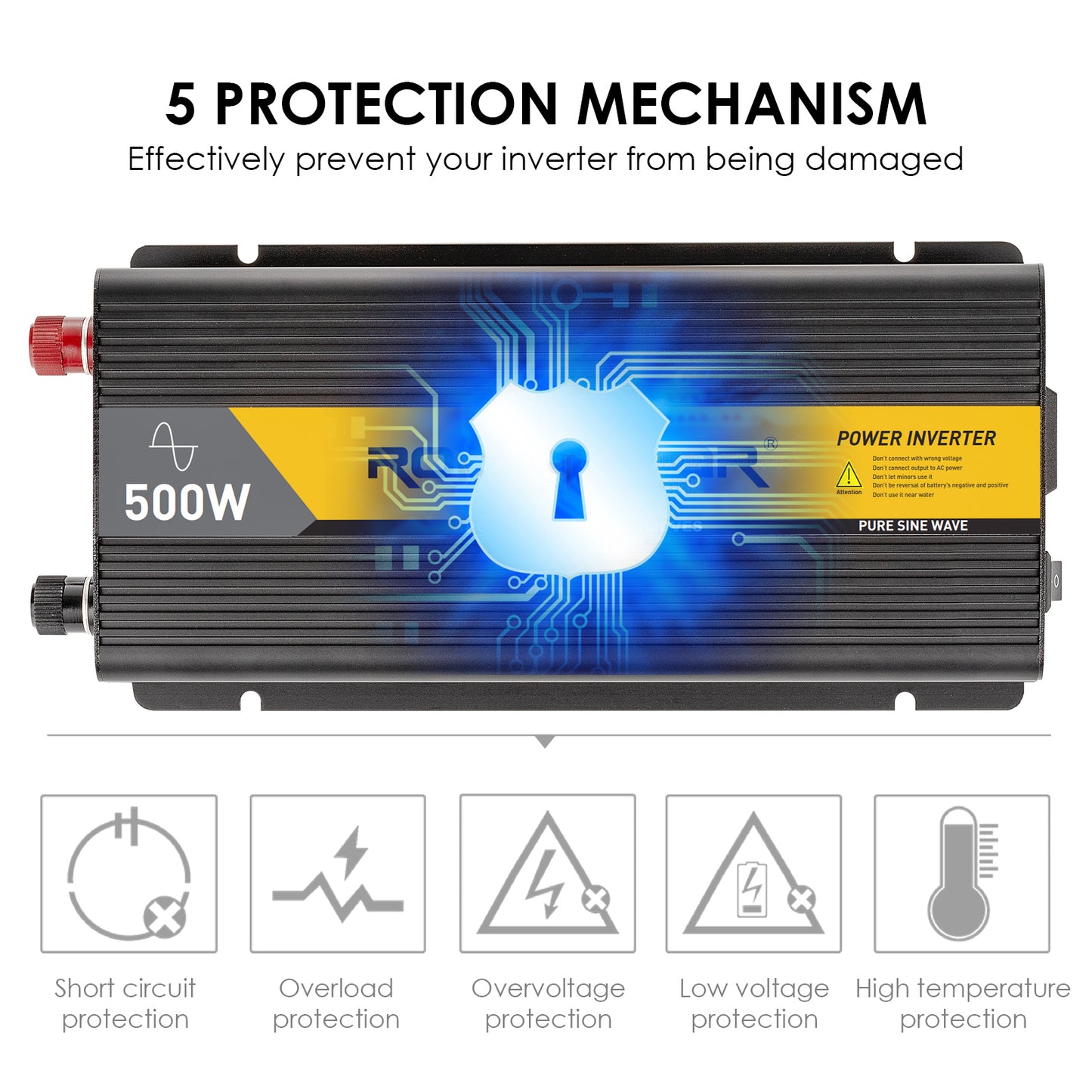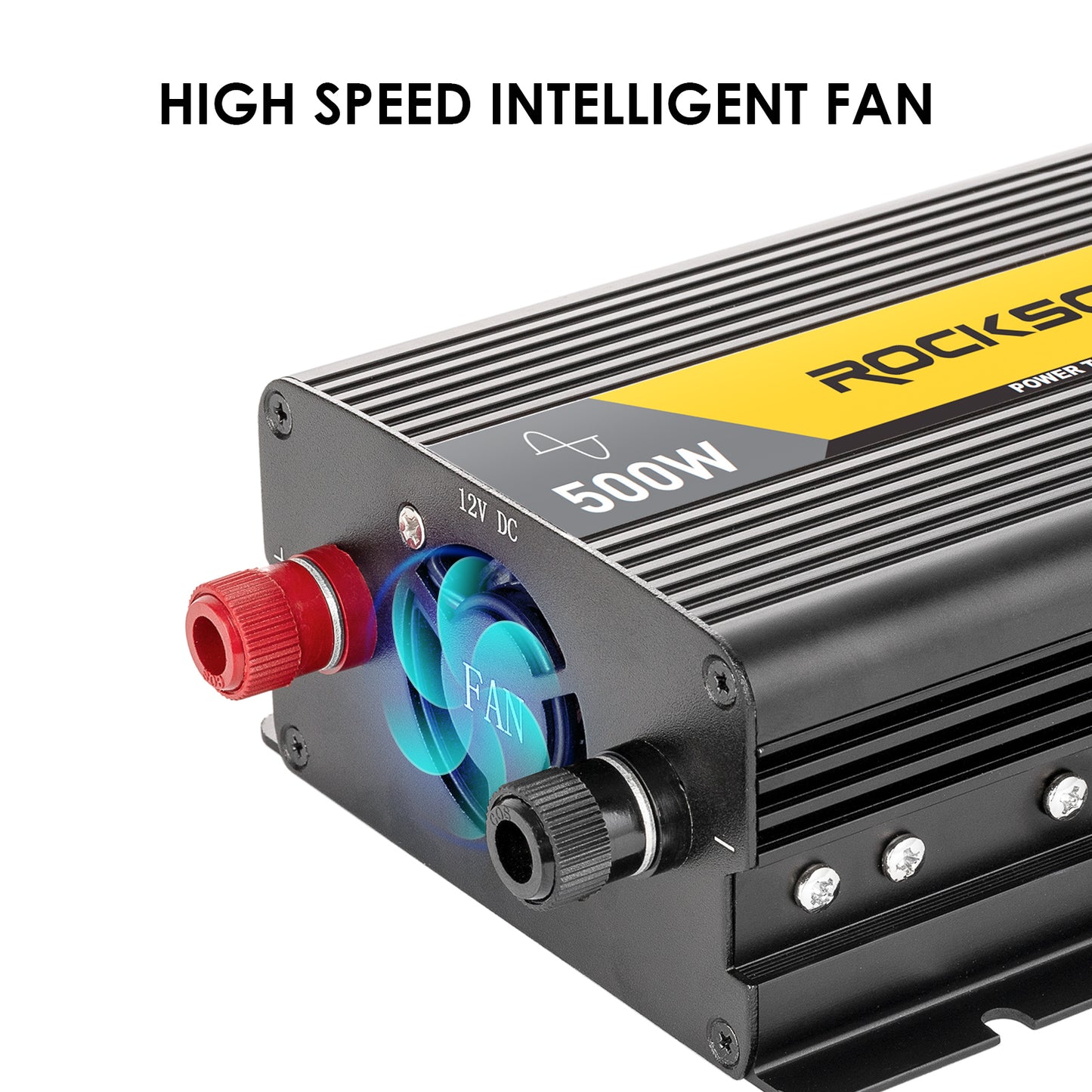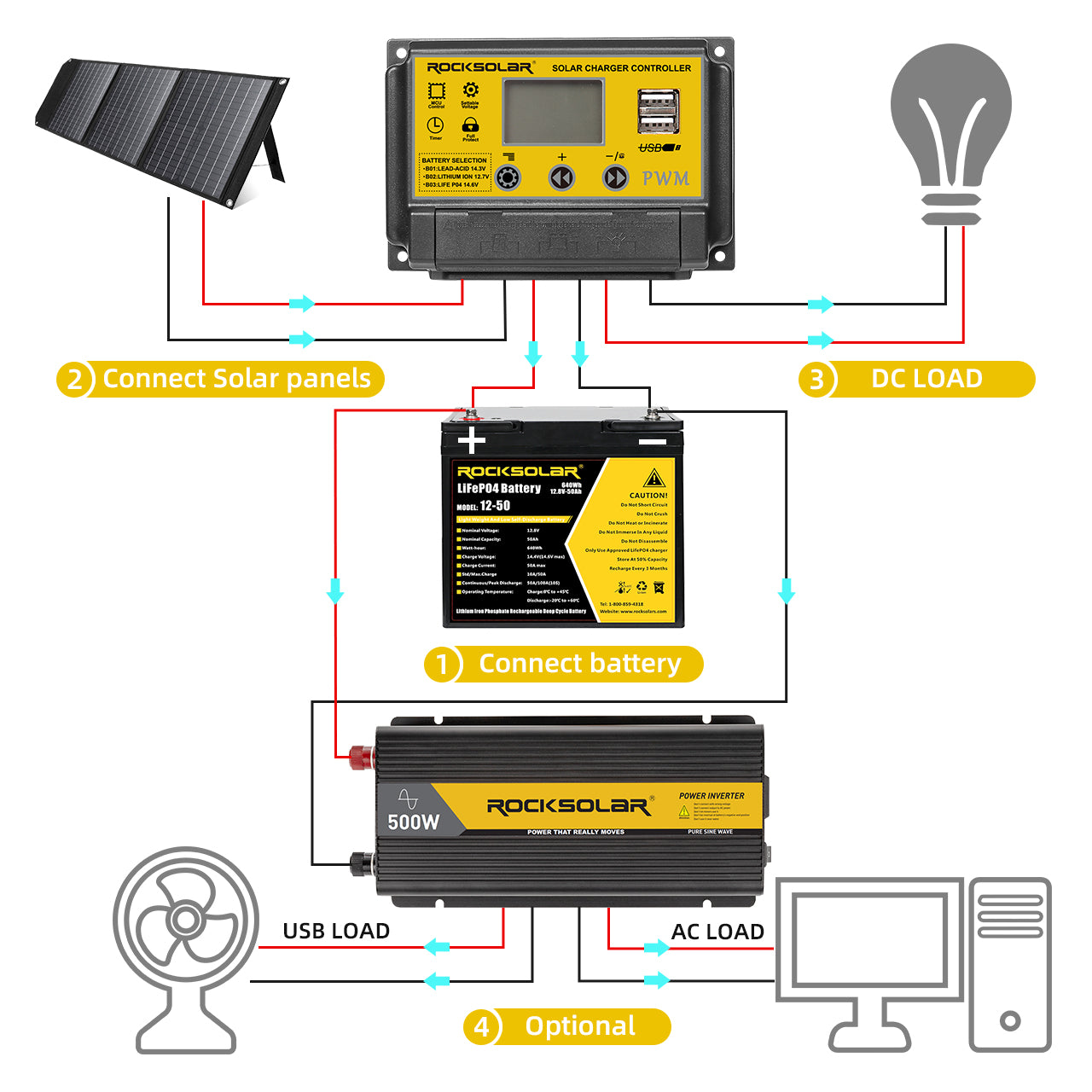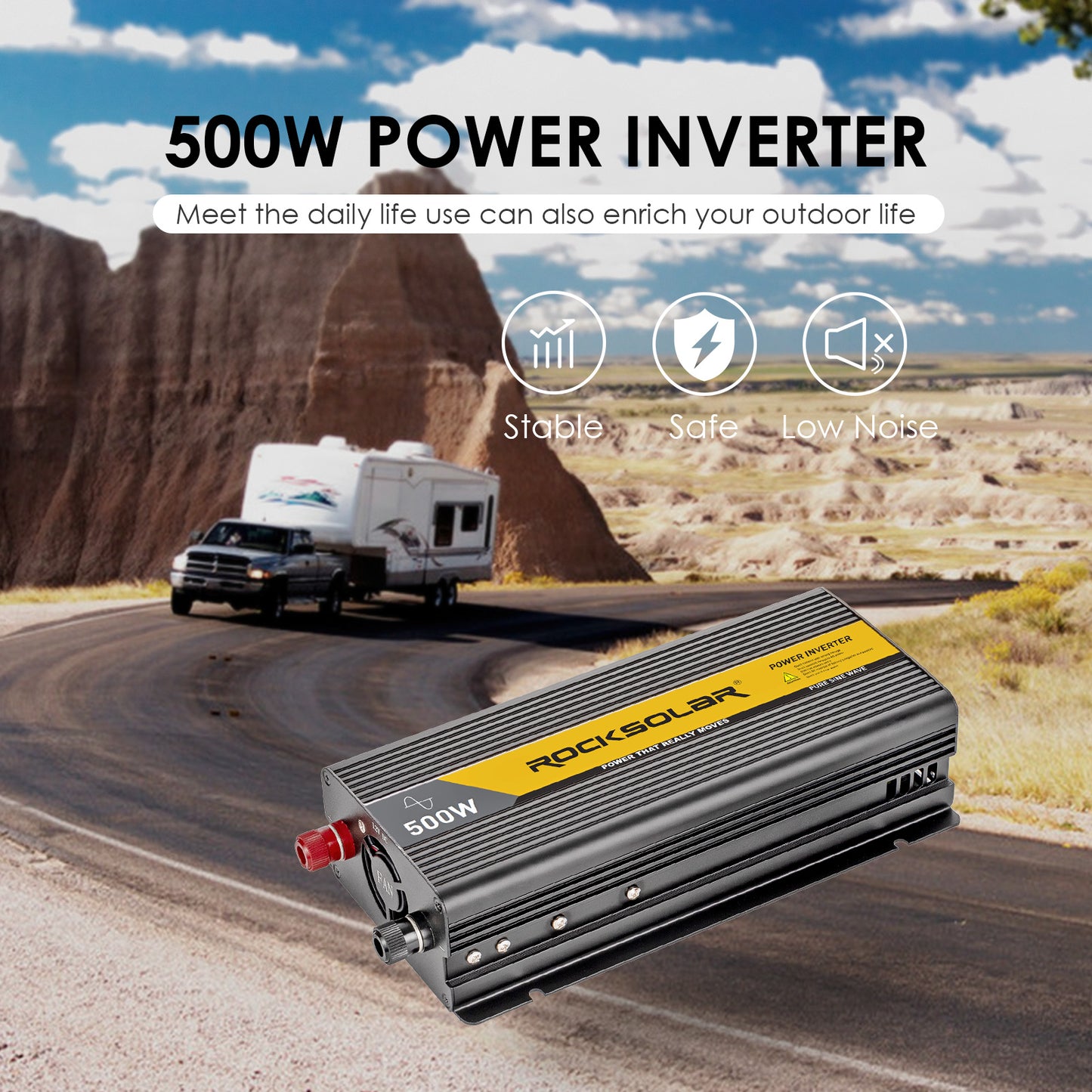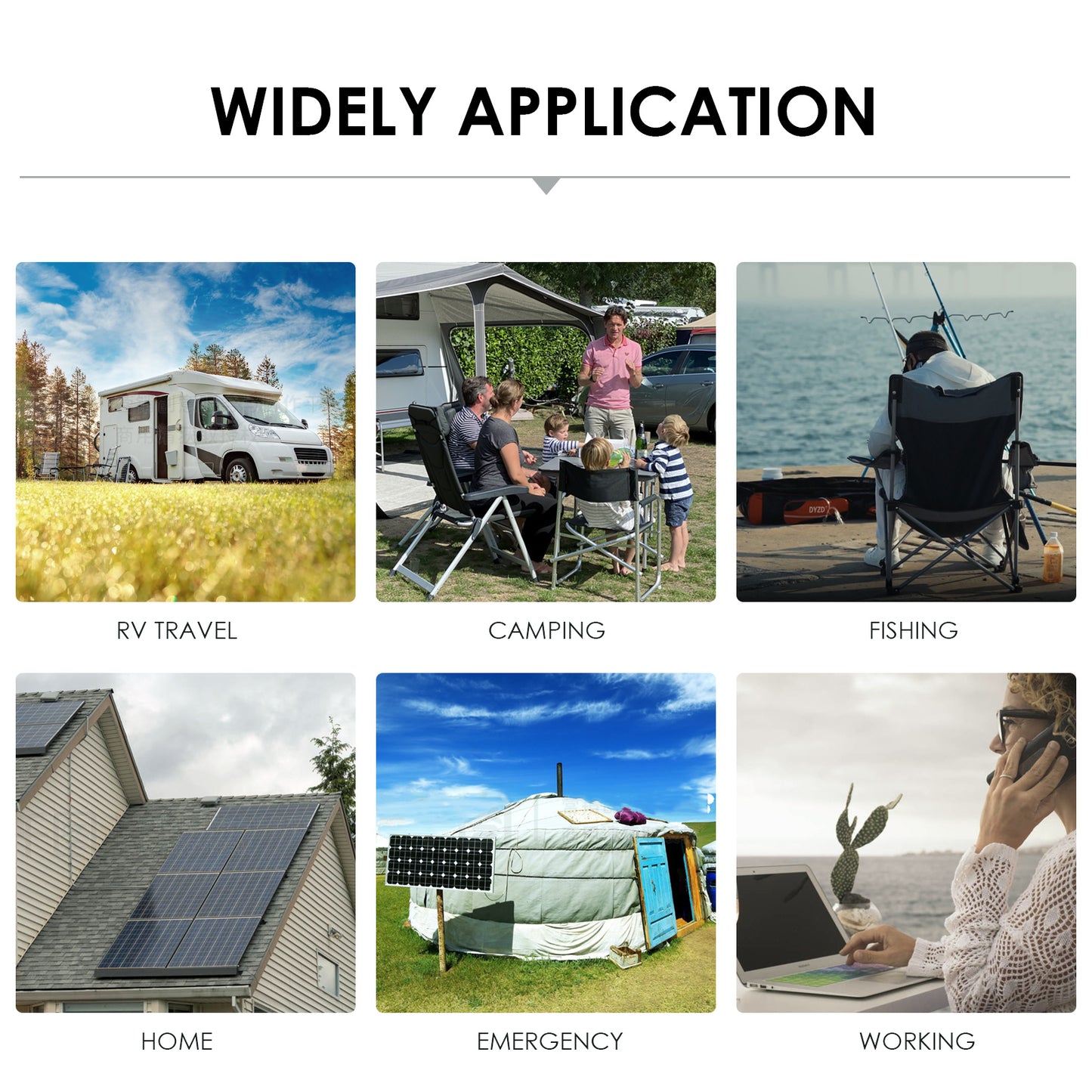 The Power to Change Lives
This inverter has the power to change lives. It's reliable, efficient, and can power all of your devices and appliances without any issues. Whether you're living off the grid or just need a backup power source, this inverter is a game-changer. Highly recommend this product to anyone who wants to take control of their power needs.
Compact and Powerful Inverter!
This inverter is perfect for my outdoor adventures. It's powerful enough to fit in my needs also efficient enough to charge my power station and other devices. The pure sine wave technology ensures that my electronics are safe and won't get damaged.
Impressive Performance
I was pleasantly surprised by how well this inverter performs. It powers all of my appliances and devices flawlessly. The built-in pure sine wave technology keeps it from overheating, which is a big plus. Overall, a great investment for anyone who needs reliable power on-the-go.
Game-Changing Inverter!
This inverter has been a game-changer for me. I can now take my work on the road and not worry about losing power. The pure sine wave technology ensures that my laptop and other electronics are safe and won't get damaged. Highly recommend!
A Must-Have for outdoors!
I've taken this inverter on several camping trips now and it's been a life-saver. It charges my phone, laptop, and other power storage devices without any issues. The compact design makes it easy to pack and carry around. A must-have for any serious camper!