Up to 50% off already applied. Use code HOLIDAY23 for an extra 15% off!
Regular price
$263.00 USD
Regular price
$376.00 USD
Sale price
$263.00 USD
Unit price
per
Sale
Sold out
Adventurer Power Station Features:
High Capacity: 36000mAh, 133.2Wh battery.
Versatile Ports: AC, DC, USB, and Type-C.
Multiple Charges: Power smartphones 8x, tablets 3x, laptop 1x.
Quick Recharge: Via wall, car, or solar.
Enhanced Safety: Advanced BMS and protections.
Built-In LED: For emergencies and dark settings.
Silent & Intuitive: Cooling fan and LED indicators.
Travel-Friendly: Apt size for air journeys.
Durable: Over 1000 charge cycles.
1-Year Warranty: Assures quality.
60W Foldable Solar Panel Features:
Efficient Charging: 60W with 3 USB ports, including QC3.0 and USB-C PD 60W.
Optimized Sunlight Absorption: Adjustable kickstands for up to 20% more sunlight.
Emergency Ready: Reliable power for hiking, camping, RVs, and trips.
Water Resistance: Protected against splashing water.
Compact & Portable: Size of a laptop and weighs 2.88 kg.
Multiple Connectors: 10 varied DC connectors included.
Easy Attachment: 4 carabiner rings for versatile hanging.
Durable Material: Made from quality monocrystalline silicon.
1-Year Warranty: Assures quality.
Free
Local Shipping
1-year Hassle Free
Warranty
Lifetime Customer
Support
Share
View full details
Description

Includes
Specifications
FAQ
Downloads
Reviews
ROCKSOLAR Adventurer Pro 100W 133.2Wh Portable Solar Generator Kit
Experience unmatched power and convenience with the synergy of the ROCKSOLAR Adventurer 100W Portable Power Station and the advanced 60W Foldable Solar Panel. Tailored for the modern adventurer, whether you're venturing into the wilderness, embarking on a road trip, or simply ensuring you have backup power during emergencies, this combination ensures you never run out of juice.
Adventurer 100W Portable Power Station Features
Compact Power Dynamo:

The Adventurer, with its ergonomic collapsible handle and a mere weight of 2.65lbs, is your perfect travel companion. Its robust lithium-ion battery, boasting 36000mAh and 133.2Wh capacity, promises enduring power delivery.

Safety First with Advanced BMS:

Prioritizing your safety, our Adventurer integrates an avant-garde battery management system, safeguarding against overcurrent and short-circuit scenarios.

Multiple Charging Outlets:

A plethora of ports ensures you're never left wanting - 1 AC Output, 1 DC In, 3 DC Out, and a suite of USB and USB C ports. Thus, the Adventurer flawlessly integrates with a multitude of devices.

Stay Informed & Illuminated:

With its intuitive LED Display, remain apprised about battery status. The added LED light panel serves as both an ambient light source and an indispensable beacon during emergencies.

Durable & Long-lasting:

The Adventurer is a testament to durability, providing over 1000 charge cycles, ensuring it stands the test of time.

Flexible Charging Options:

With the flexibility of recharging via wall outlets, car chargers, or ROCKSOLAR panels, the Adventurer adapts to your charging preferences.
ROCKSOLAR 60W Foldable Solar Panel Features
Embrace solar efficiency with the ROCKSOLAR 60W Foldable Solar Panel. Beyond its portability, it stands as a beacon of adaptability, making solar charging a breeze irrespective of your device. Whether it's a deep forest trek, a leisurely camping trip, or an extensive road journey, tap into the sun's limitless power seamlessly.
Universal Charging: Equipped with 3 USB ports including a USB-C PD 60W and QC3.0 Quickcharge, it's designed to power everything from smartphones to large power stations. The 10 diverse DC connectors further enhance its compatibility.
Compact and Portable: With a size similar to a folded laptop, it easily slips into backpacks, offering convenient portability.
Weather-Resilient Performance: High-efficiency monocrystalline cells ensure 20-30% power output even during cloudy days. IPX4 water resistance adds another layer of protection.
High-Quality Build: Boasting 60W power with an efficiency over 20%, it's crafted using premium Monocrystalline Silicon encased in durable Polyester Spray Proof Fabric.
Optimal Sunlight Absorption: The adjustable kickstand can be positioned from 0-180 degrees, ensuring the panel gets the best sun exposure.
Dimensions:
Adventurer 100W Power Station: 11 x 10 x 6 cm; Weight: 4.5 pounds
60W 12V Foldable Solar Panel: Unfolded: 1275mm x 415mm x 30mm; Folded: 415mm x 370mm x 45mm; Weight: 5.6lbs / 2.55kg
ROCKSOLAR Adventurer 100W 133.2Wh Portable Power Station

1 x ROCKSOLAR Adventurer 100W Power Station
1 x Charger
1x Power Adapter
1x Cigarette Lighter Adapter
1 x User Manual for the Portable Power Station

ROCKSOLAR 60W Foldable Solar Panel

1 x 60 Watt Foldable Solar Charger
1 x 10-inch Connector Cable
1 x 78-inch DC5521-to-DC5521 Cable
1 x MC4 Connectors
4 x Carabiners
1 x User Manual for the Solar Panel
Technical Specifications
Adventurer 100W 133.2Wh Portable Power Station Specification
Details
Manufacturer
ROCKSOLAR TECHNOLOGY LLC
Place of Business
Waterloo, Ontario
Part Number
RS328L
Product Dimensions
11.25 x 10.5 x 6 cm; 2 Kilograms
Batteries
1 Lithium Polymer battery required.
Item model number
RS328L
Size
100W
Colour
Black & Yellow

Style
Power Station
Pattern
Power Station
Power Source
Battery Powered
Voltage
110 Volts (AC)
Wattage
100 watts
Item Package Quantity
1
Type of Bulb
LED
Special Features
Portable, Easy to Install, Rechargeable Battery, Quiet
Usage
Outdoor, Camping, Power outage, cpap, 12V power supply, Backup power supply, solar ready, solar power, fishing, ice fishing, residential, portable power station
Included Components
Car Charger, Car Cigarette Adaptor, Charger
Batteries Included?
No
Batteries Required?
No
Battery Cell Type
Lithium Ion
Battery Capacity
36000 Milliamp Hours
Warranty Description
One year
Item Weight
4.40925 lbs
60W Foldable Solar Panel Specification
Details
Rated Power
60W
Convert Efficiency
≥20%
Peak Power Voltage (Vmp)
18V
Peak Power Current (Imp)
3.3A Max
Open Circuit Voltage (Voc)
21.6V
Short Circuit Current (Isc)
3.6A
Panel Type
PET Monocrystalline Solar Panel
Material
Polyester Spray Proof Fabric
QC3.0 Output
5V/3A, 9V/2A,12V/1.5A Max
USB Output
5V/3.0A Max
Type-C Output
5V/3.3A, 9V/3.3A,12V/3.3A, 20V/3.3A Max
5.5mm/2.1mm DC Output
DC18V 3.30A (Max)
Size - Unfolded
1275mm x 415mm x 30mm
Size - Folded
415mm x 370mm x 45mm
Item Weight
5.6lbs / 2.55kg
The Adventurer features a robust 36000mAh lithium-ion battery with a 133.2Wh capacity. Depending on the device being charged, it can power a smartphone up to 8 times, a tablet about 3 times, or give a full charge to a laptop once.
Yes, you can! The ROCKSOLAR Adventurer is designed to provide power while it's being charged, ensuring continuous power supply when you need it most.
Absolutely. With a 100W output capability, the Adventurer is ideal for charging laptops, tablets, and other electronic devices, making it an indispensable power source for various scenarios.
For optimal storage, charge the Adventurer to between 60-80% and store it in a cool, dry place. To keep the battery in top condition, it's advised to recharge it every 3-4 months.
The Adventurer offers various charging methods: you can charge it using a standard wall outlet, car chargers, or ROCKSOLAR solar panels, giving users flexibility based on their circumstances.
The ROCKSOLAR 60W Foldable Solar Panel boasts a conversion efficiency rate of ≥20%. Its PET Monocrystalline Solar Cells are designed to ensure maximum sunlight conversion, offering reliable energy during your outdoor adventures.
While the ROCKSOLAR Adventurer is optimized for ROCKSOLAR panels, it's adaptable to other solar panels that match its input requirements. Always make sure to check compatibility before connecting to guarantee safety and efficiency.
Both the ROCKSOLAR Adventurer and the 60W Foldable Solar Panel are covered by a 12-month warranty, giving you assurance with your purchase.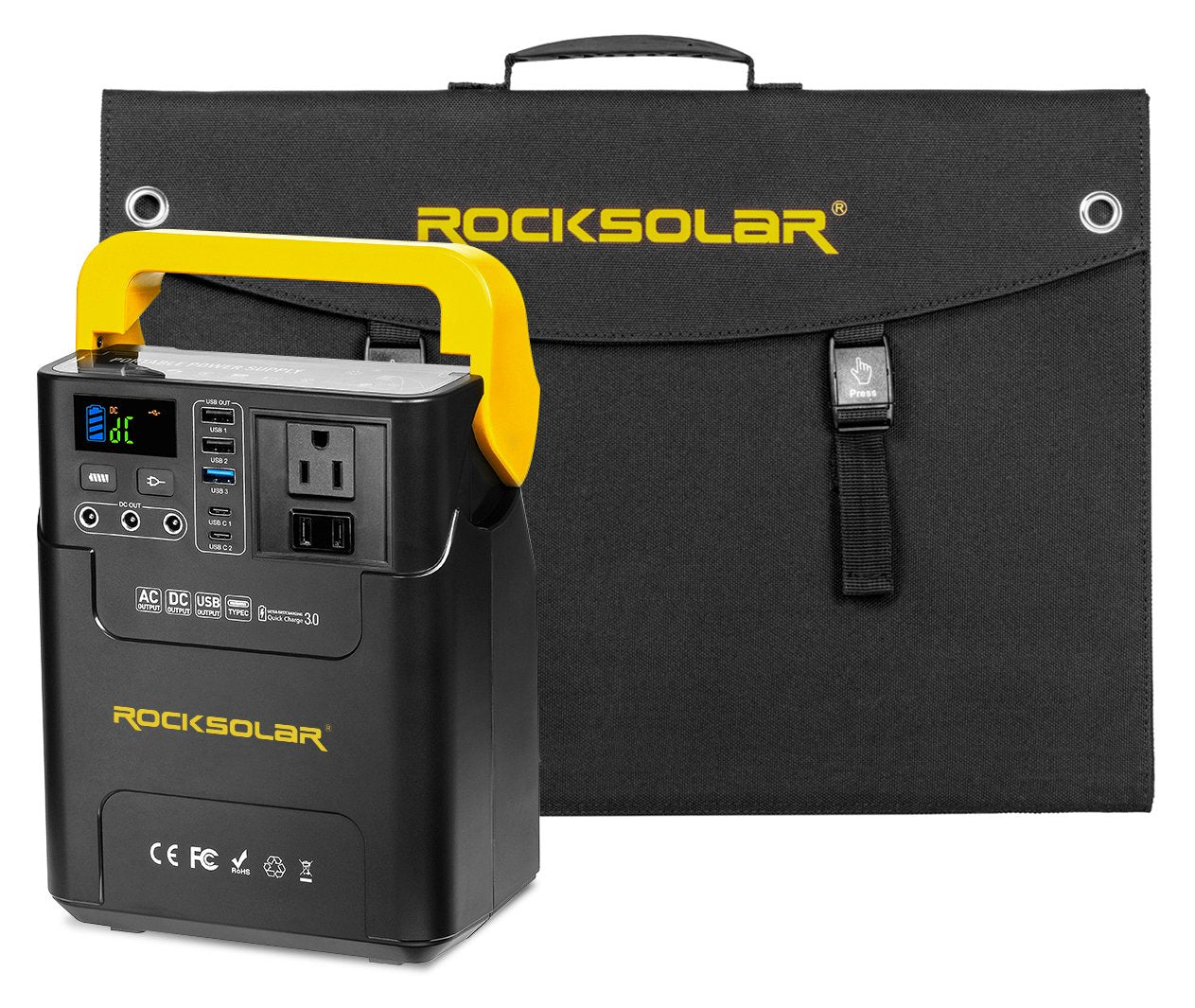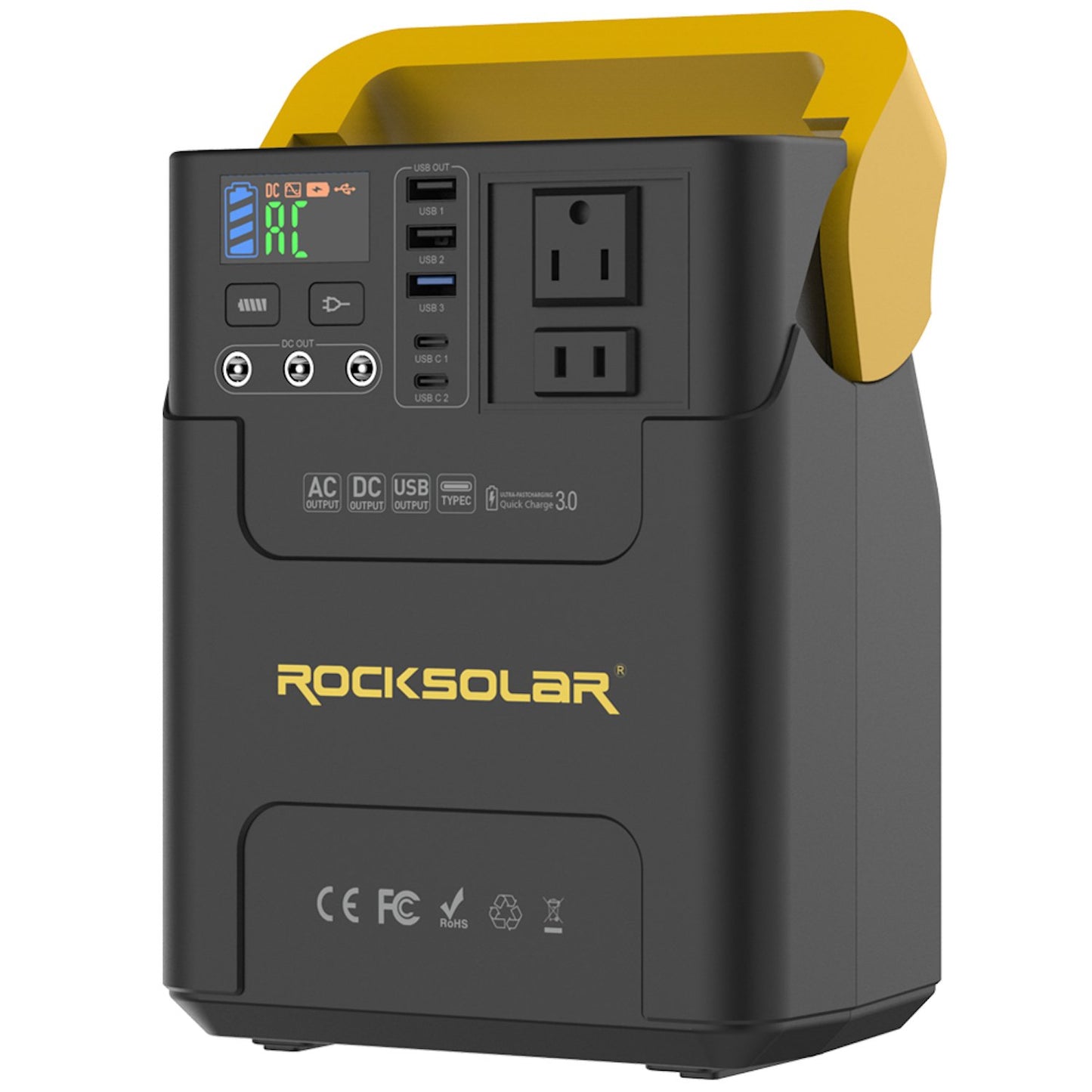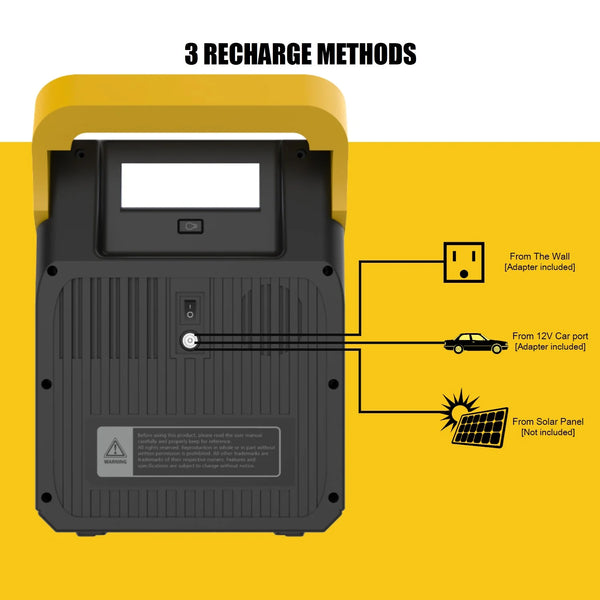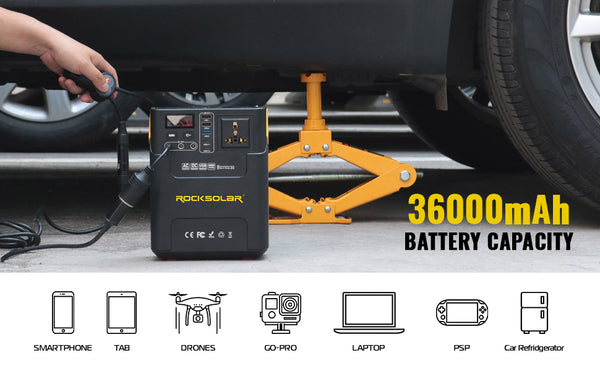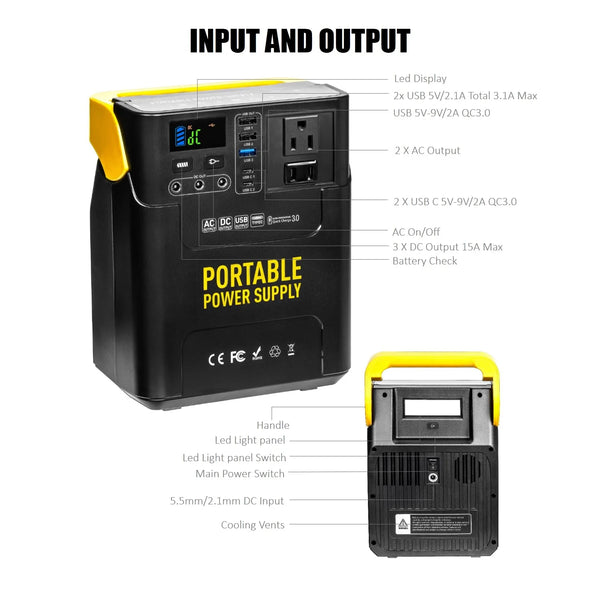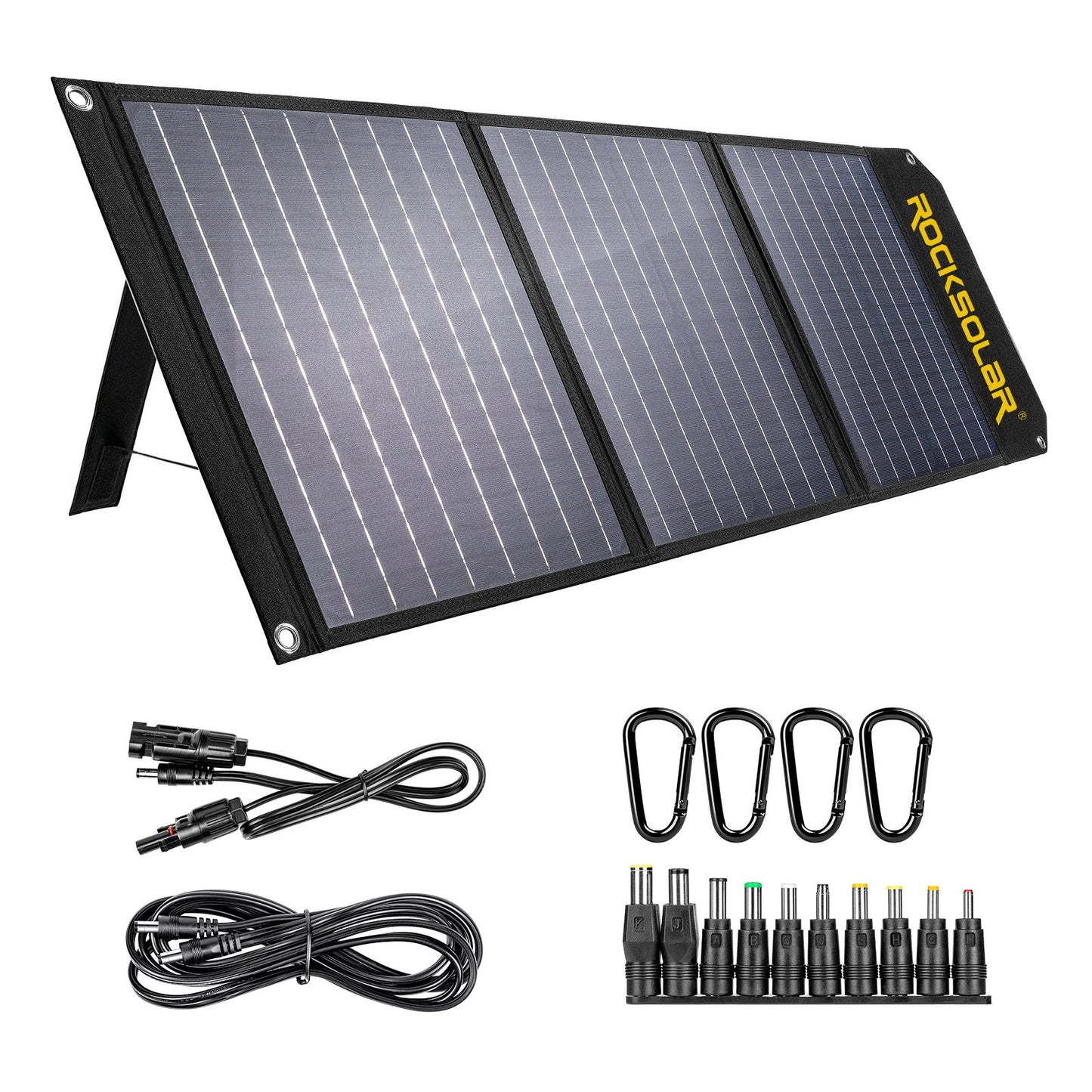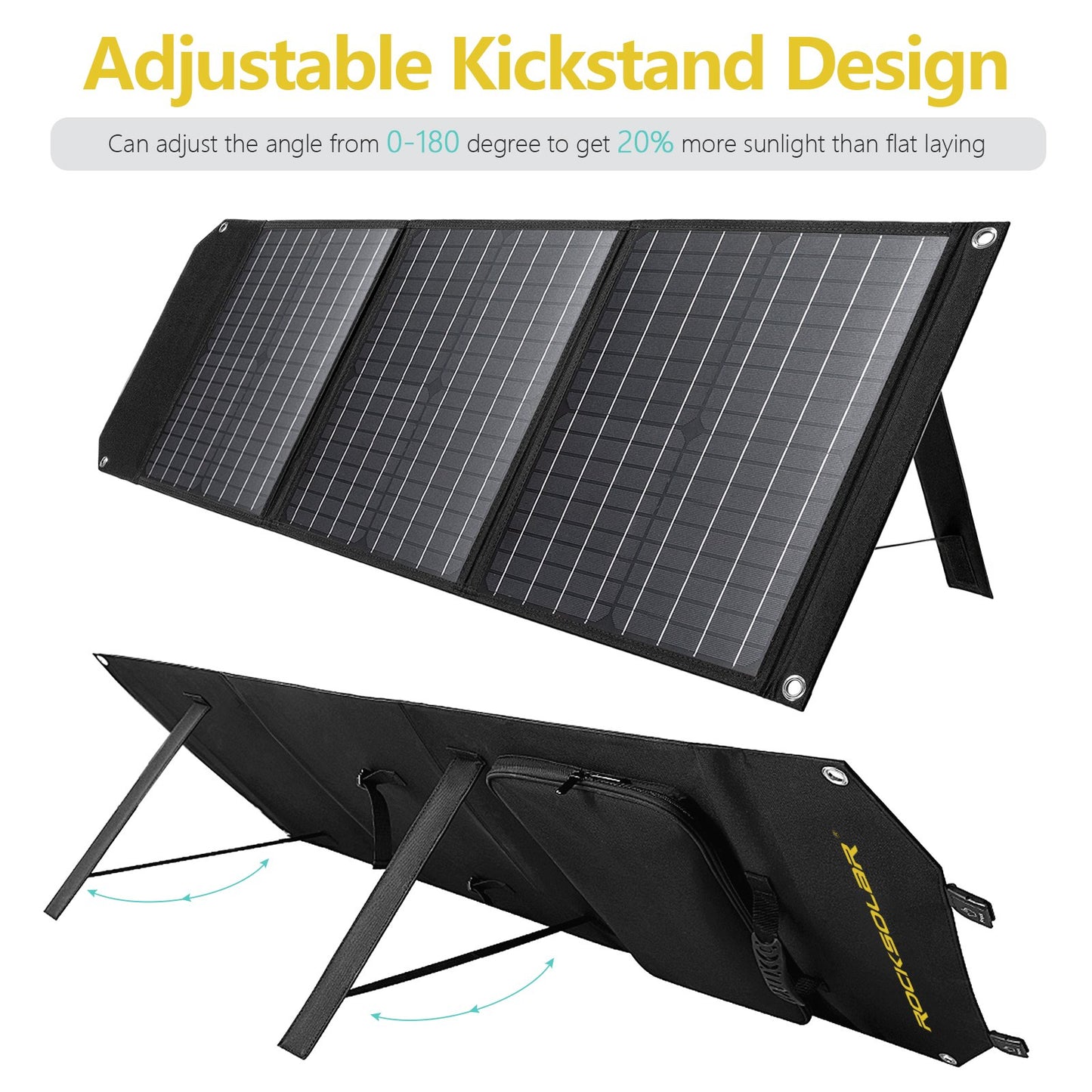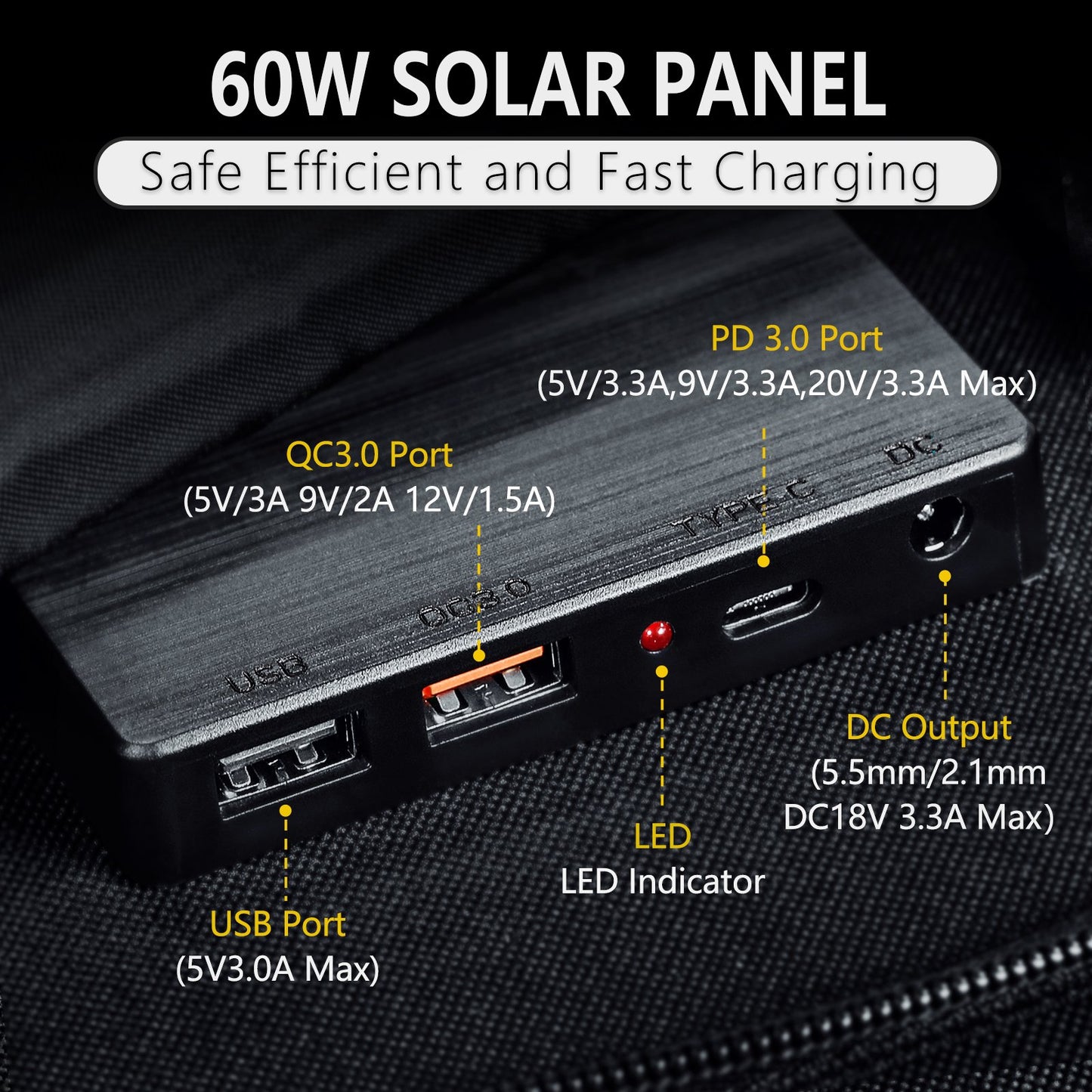 A Must-Have for Disaster Preparedness
live in an area that is prone to natural disasters, so having this solar generator kit is a must. It gives me peace of mind knowing that I have a reliable source of power in case of an emergency.
Great Value for the Money
I'm impressed with the quality of the Adventurer Solar Generator Kit. It's a great value for the money and has exceeded my expectations.
Sustainable and Dependable
The Adventurer Solar Generator Kit is a sustainable and dependable source of power. I'm glad to have a reliable source of power that doesn't harm the environment.
Eco-Friendly Power Solution
I love that this solar generator kit is an eco-friendly power solution. It allows me to use renewable energy to power my devices.
Compact and Portable
This solar generator kit is compact and portable, making it easy to take with me on the go. It fits easily in my backpack and doesn't take up much space.