Additional 30% off applied at checkout. Use code - SAVE30
Regular price
$646.00 USD
Regular price
$976.00 USD
Sale price
$646.00 USD
Unit price
per
Sale
Sold out
Ultra-Long Life: Offers over 3500+ service cycles, surpassing conventional batteries.
Capacity: Deep cycle 100Ah, ensuring you get power-packed performance throughout.
Lightweight Design: Weighs only 27 Lb, ensuring portability without compromising on power.
Consistent Output: Flat voltage curve technology delivers unwavering energy till the last drop.
Advanced BMS: Patented system offering temperature, over-discharge, over-charge, and short circuit protection.
Operational Resilience: Efficiently operates between -20°C to 60°C, perfect for demanding environments.
Charging: Temperature range from 0°C to 45°C with auto shut-off outside the working range.
Protection: Features safeguards like cell balancing and over-current protection.
Global Standards: Adherence to UN38, IEC62133, and ISO 9001:2015 certifications.
Warranty: Trustworthy 11-year warranty, showcasing its robust build and reliability.
Versatility: Ideal for marine use, solar power systems, RVs, and other high-capacity power requirements.
Free
Local Shipping
11-year Hassle Free
Warranty
Lifetime Customer
Support
Share
View full details
Description

Includes
Specifications
FAQ
Downloads
Reviews
Welcome to the unmatched world of the ROCKSOLAR 12V 100Ah Deep Cycle LiFePO4 Battery with a state-of-the-art BMS System. Crafted with groundbreaking LiFePO4 technology, this ROCKSOLAR battery promises unparalleled performance and consistent energy delivery. From marine adventures to remote off-grid experiences, anticipate long-lasting power, and durability that truly stands out. Encased in a robust shell and equipped with an advanced Battery Management System, it promises exceptional safety and reliability in every scenario.
Product Highlights
Confidence of an 11-Year Warranty: Reflecting its premium construct and reliability, it is backed by a robust 11-year warranty against manufacturing defects.

Exceptionally Lightweight: Tipping the scales at a mere 27 Lb., enjoy the perfect blend of portability and performance.

Steady 100Ah Power Output: Benefit from continuous power throughout its discharge cycle, ensuring you harness every ounce of energy stored.

Long-Lasting Cycle Life: Experience enduring performance with over 3500+ cycles, drastically outlasting traditional SLA batteries.

Unyielding Performance: Tailored for extreme conditions, it functions seamlessly between -20°C to 60°C discharge temperatures.

Adaptable Multi-System Compatibility: Join with other batteries to establish 24V, 36V, or 48V configurations, catering to varied power needs.

Innovative BMS Protection: Embedded Battery Management System guarantees cell balancing, temperature monitoring, over-current protection, over-discharge security, and defense against short-circuits and over-charging.

Global Certifications: Meets international benchmarks with UN38, IEC62133 certifications and adheres to the ISO 9001:2015 manufacturing standards.

Versatile Applications: Ideal for marine equipment, RVs, off-grid solar systems, robotics, backup power, and as a superior SLA replacement.

Effortless Charging: While tailored for LiFePO4 chargers, it also syncs well with many standard SLA chargers, ensuring maximum battery life.

Green Energy Solution: Beyond sheer performance, it signifies a sustainable battery choice, balancing ecological considerations with optimal power delivery.
1x ROCKSOLAR 12V 100Ah Battery: The high-capacity LiFePO4 battery designed for longevity and performance.
1x Battery Manual: Detailed instructions on usage, installation, and maintenance for optimal performance.
1x Charging Cable: Durable and efficient cable for easy and fast charging.
Technical Specifications
Specification
Details
Battery Type
LiFePO4 (Lithium Iron Phosphate)
Capacity
100Ah
Voltage
12V
Life Cycles
3,500 cycles
Dimensions
12.99" x 6.81" x 8.66"
Weight
27 Lb
Operating Temperature (Discharge)
-20°C∽60°C
Operating Temperature (Charge)
0°C∽45°C
Terminal Type


Maximum Continuous Discharge
100A
Recommended Charge Voltage
14.6±0.2V
Built-in BMS
Yes (With multiple safety features)
Certifications
UN38 and IEC62133
Warranty
11 years
The ROCKSOLAR battery boasts a deep cycle capacity of 100Ah, ensuring long-lasting performance for your devices and applications.
The battery utilizes LiFePO4 (Lithium Iron Phosphate) technology, known for its exceptional cycle life, stability, and safety.
You can expect over 3,500 service cycles from the ROCKSOLAR battery, ensuring value for your investment over the years.
Absolutely! The battery is designed with high-demand scenarios in mind, offering a 20A max continuous discharge rate.
For optimal performance, the battery efficiently operates between temperatures of -20°C to 60°C, making it suitable for diverse conditions.
For optimal longevity, charge the battery to between 40%-60% and store it in a cool, dry place. Periodically check its charge level every 3-6 months.
The battery is equipped with an advanced BMS (Battery Management System) which provides protections like over-charge, over-discharge, temperature protection, and more.
Charging time can vary based on the charger's capacity. However, with a standard charger, it might take several hours for a full charge.
Yes, the battery is solar-ready. Ensure your solar setup, especially the charge controller, aligns with the battery's recommended charge voltage of 14.4V.
The battery comes with a trustworthy 11-year warranty, underlining its quality and longevity.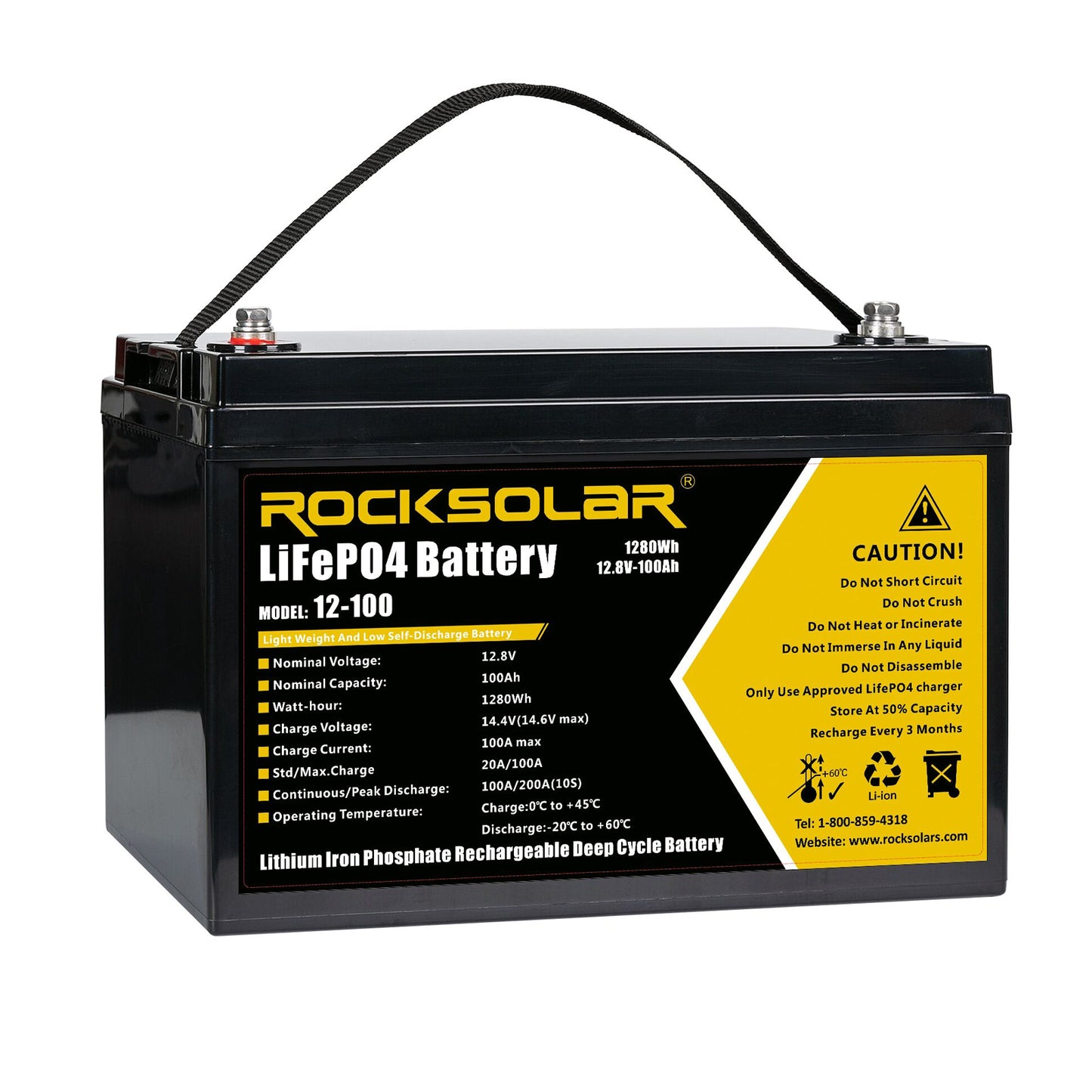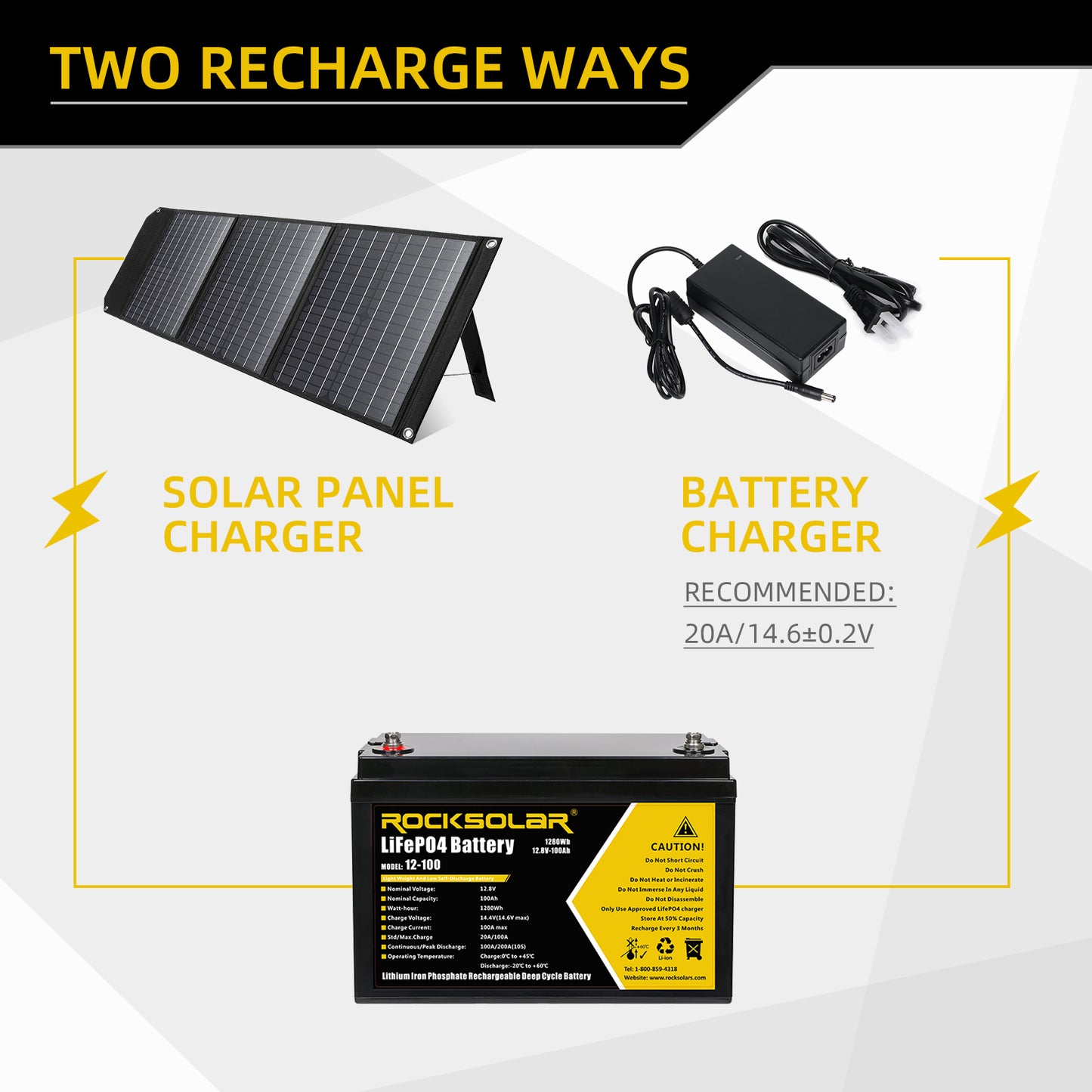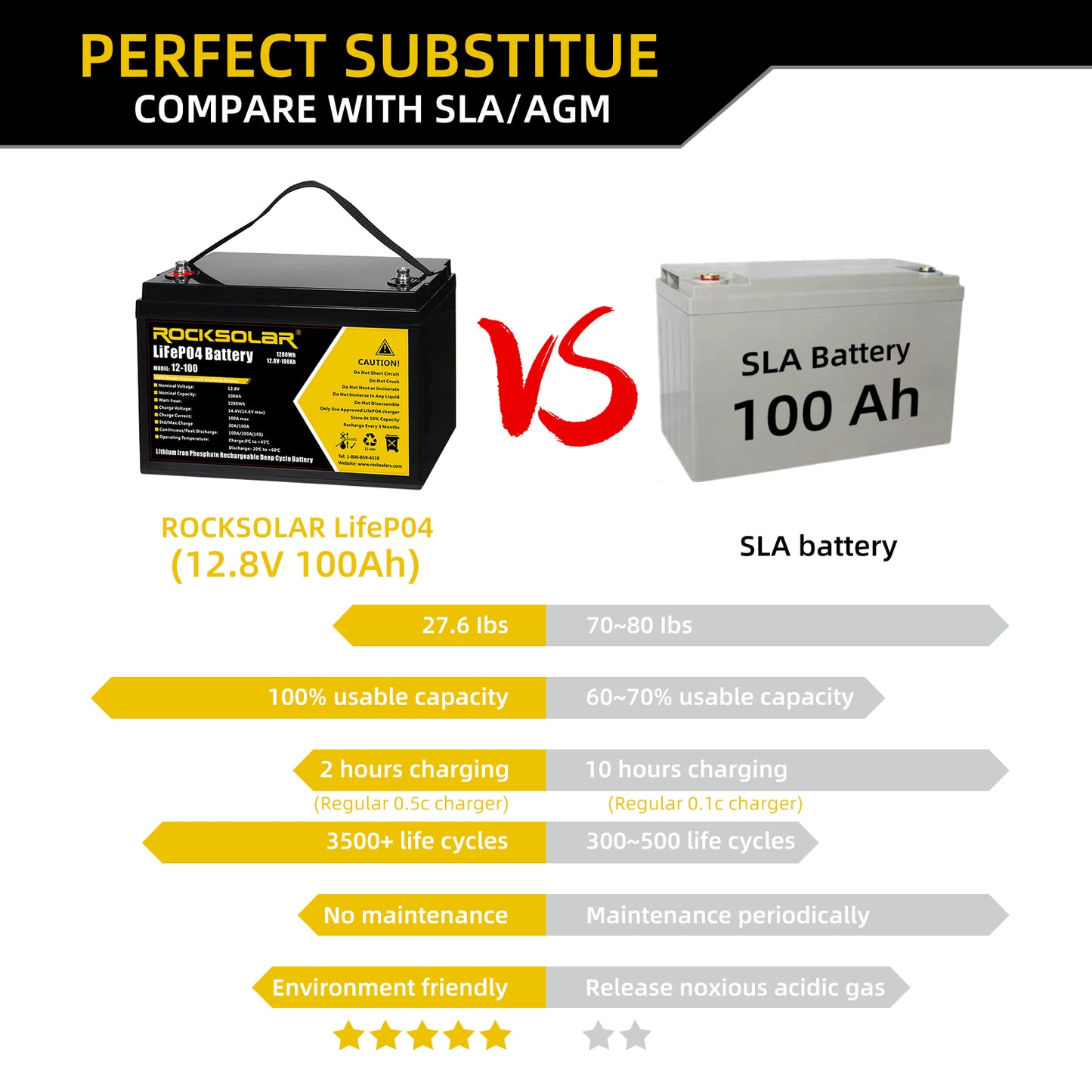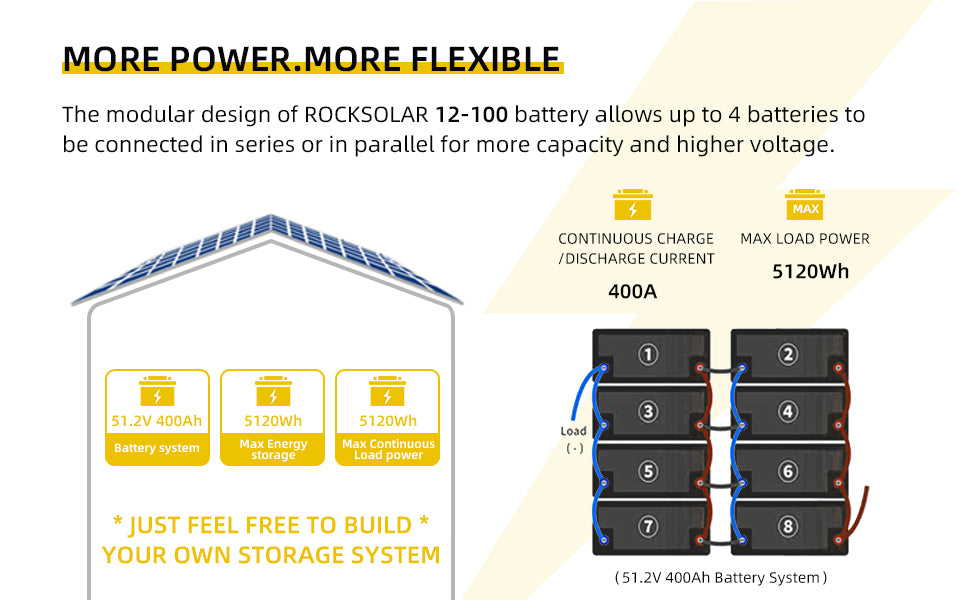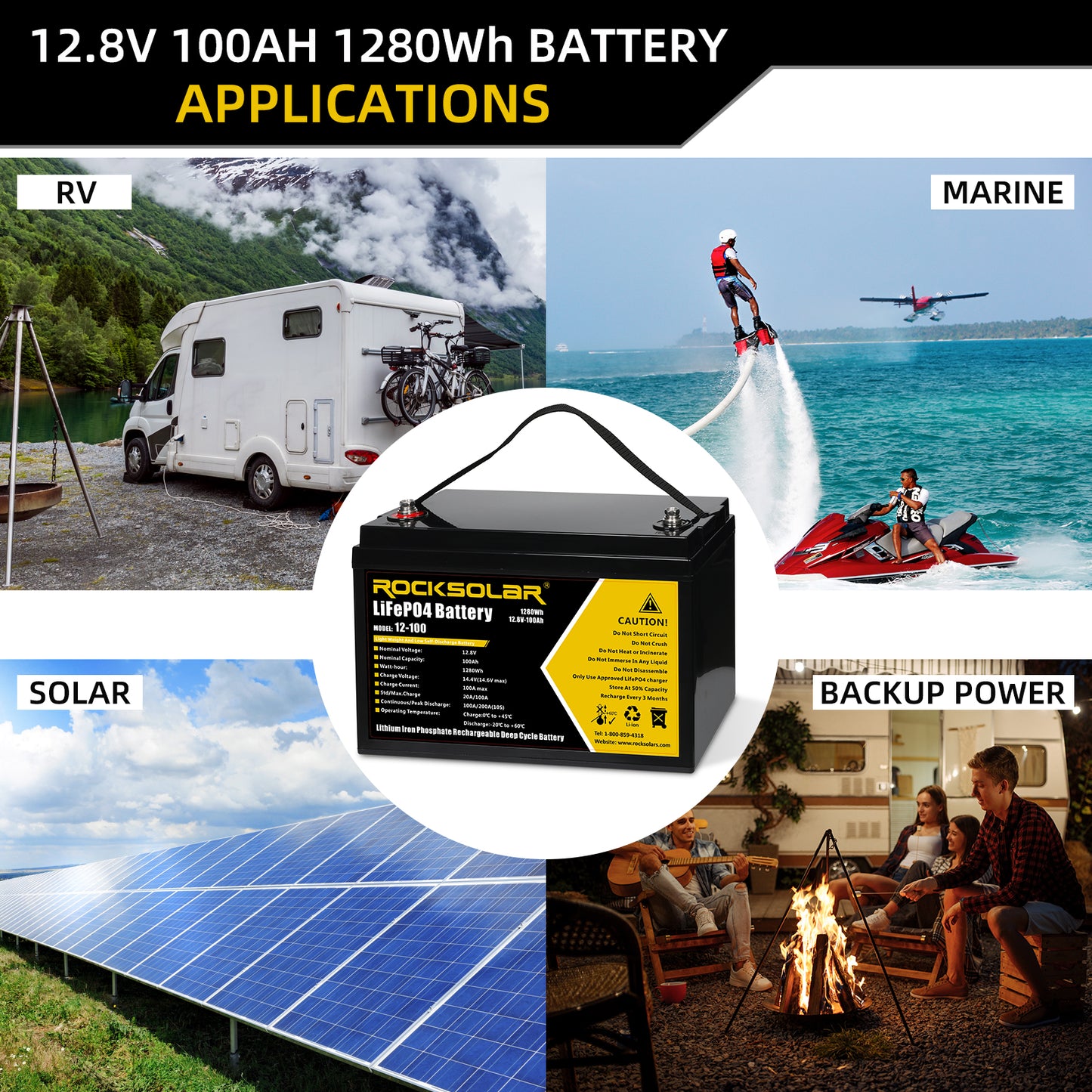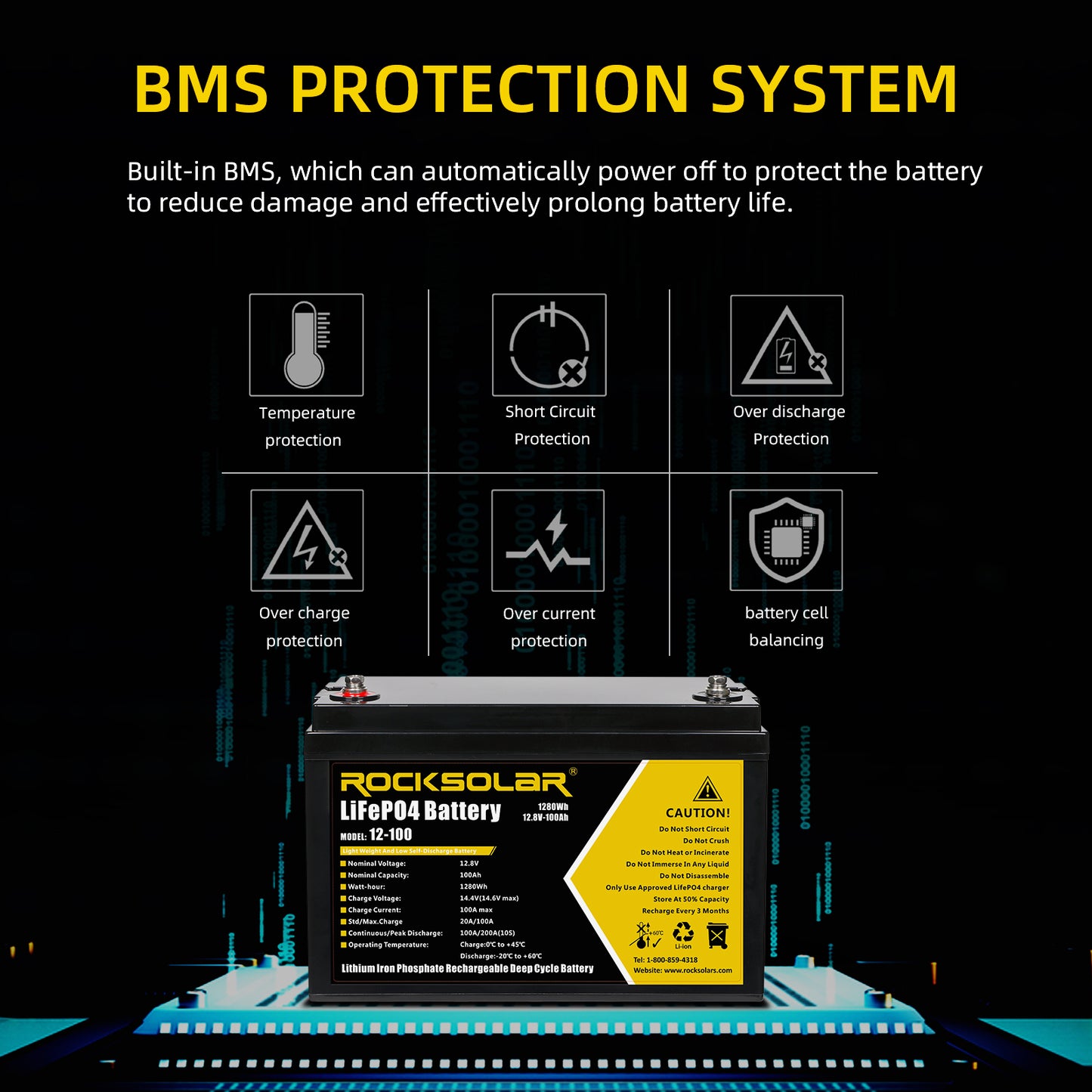 Solid product, quality built - impresive
Amazing customer serive, Fast shipping. Very well packed items. Love our Rocksolar Battery, Inverter and Solar panel
Thank you, Daryl Vancity, for leaving us a review! We're thrilled to hear that you had a great experience with our ROCKSOLAR 12V 100Ah Deep Cycle LiFePO4 Battery with BMS System, inverter, and solar panel. We take pride in providing top-quality products that are built to last, and we're glad that you found our battery to be a solid and quality-built product. We're also happy to hear that our customer service exceeded your expectations, and that you received your order quickly and in great condition. Thank you for choosing ROCKSOLAR, and we appreciate your business and recommendation.
support
Very happy with support before bying items, and after.
14 days later, still no delivery
Estimated delivery times are way off
No Regrets for this battery
No problems at all with sealed battery.Using inside my Astro Van as my house battery. Use with electric fan in summer and diesel heater in winter.Also with inverter PS4 and 24" TV plus charges iPhone iPad and more. Bought a battery isolator so it recharges while driving. Plan to ad solar panel and electric cooler soon.
As advertised
Battery was as advertised. This is my 2nd ROCKSOLAR LiFeP04 Battery and have been happy with both.