Additional 30% off applied at checkout. Use code - SAVE30
Regular price
$333.00 USD
Regular price
$454.00 USD
Sale price
$333.00 USD
Unit price
per
Sale
Sold out
Capacity: Generous 50Ah, ensuring lengthy operational hours.
Type: Sturdy LiFePO4 (Lithium Iron Phosphate) technology.
Nominal Energy: Delivers a powerful 640Wh for your essential needs.
High-drain: Perfectly tailored for demanding applications with a 50A max continuous discharge.
Optimal Charging: Precise charging at 14.6±0.2V for optimal performance and lifespan.
Temperature Efficiency: Works seamlessly between -20℃ to 60℃, ideal for diverse conditions.
Peak Bursts: Manages peak currents up to 150A, serving high-demand scenarios.
Protection: Designed with low internal resistance & optimal storage conditions for longer battery life.
Solar Ready: Fully compatible for solar charging setups.
Warranty: Reliable 11-year warranty.
Free
Local Shipping
11-year Hassle Free
Warranty
Lifetime Customer
Support
Share
View full details
Description

Includes
Specifications
FAQ
Downloads
Reviews
Welcome to the power-packed ROCKSOLAR 12V 50Ah Deep Cycle Lithium Battery (LIFEPO4). Precision-engineered for superior performance, this ROCKSOLAR battery integrates advanced LiFePO4 technology to deliver consistent, long-lasting battery power for diverse applications such as trolling motor, fish finder, ham radio, robotics, RV and solar energy storage. Housed in a robust casing and boasting a revolutionary battery management system, expect unmatched reliability and safety in all conditions.
Product Highlights
Industry-leading 11-Year Warranty: Demonstrating its premium quality and endurance, it comes with an unmatched 11-year warranty against manufacturer defects.

Ultra-Durable and Lightweight: Weighing just 5.9 kg, this battery ensures portability without compromising on capacity or performance.

Consistent 50Ah Power Output: Experience smooth power delivery through its entire discharge cycle, with no abrupt drops, ensuring you extract every bit of energy.

Extended Lifecycles: Stay powered for longer with 3500+ cycles, offering significant longevity over conventional SLA batteries.

Built for Tough Conditions: Whether freezing cold or scorching heat, it performs consistently between -20°C to 60°C discharge temperatures.

Flexible System Compatibility: Link with other units effortlessly to set up 24V, 36V, or 48V systems, adapting to diverse power requirements.

Smart BMS Protection: With its in-built Battery Management System, benefit from cell balancing, temperature, over-current, over-discharge, short-circuit, and over-charge safeguards.

Internationally Certified: Adhering to global standards, it's UN38 and IEC62133 certified and is produced following ISO 9001:2015 guidelines.

Multifunctional Use: From marine applications like trolling motors, fish finders, and GPS to RVs, robotics, EVs, UPS, and SLA replacement - it's versatility redefined.

Best Lithium battery for trolling motors : It is one the best lithium batteries for trolling motor 50LB or under.

Eco-Friendly Powerhouse: Beyond performance, it's a green battery solution, minimizing environmental impact while maximizing energy delivery.
1x ROCKSOLAR 12V 50Ah Deep Cycle LiFePO4 Battery: Premium, long-lasting battery unit.
Integrated BMS: Advanced protection and performance system.
Standard F2 Terminals: For broad device compatibility.
User Manual: Guidelines for safe and efficient usage.
Note: Charger not included. Use a LiFePO4-compatible charger for optimal performance.
Technical Specifications
Specification
Details
Battery Type
LiFePO4 (Lithium Iron Phosphate)
Capacity
50Ah
Voltage
12V
Life Cycles
3,500 cycles
Dimensions
9" x 5.4" x 8.2"
Weight
5.9 kg
Operating Temperature (Discharge)
-20°C∽60°C
Operating Temperature (Charge)
0°C∽45°C
Terminal Type


Maximum Continuous Discharge
50A
Recommended Charge Voltage
14.6±0.2V
Built-in BMS
Yes (With multiple safety features)
Certifications
UN38 and IEC62133
Warranty
11 years
This battery boasts a capacity of 50Ah, which means it can deliver 50 amps for 1 hour or 1 amp for 50 hours.
The 50Ah battery is of the LiFePO4 (Lithium Iron Phosphate) type, which is celebrated for its long cycle life and stability.
This battery offers up to 3,500 cycles when used and maintained correctly.
Absolutely! With its maximum continuous discharge rate of 20A, it is suitable for high-drain devices. Always verify that the device's specifications match the battery's capabilities.
The ideal charging temperature is between 0°C∽45°C, while the discharging temperature range is -20°C∽60°C.
For prolonged storage, it's advised to charge the battery to 40%-60% and keep it in a cool, dry environment. Periodically (every 3-6 months) check the battery's charge level.
Yes, the ROCKSOLAR battery comes equipped with a BMS (Battery Management System) offering various safety features, including over-discharge, overcharge, and thermal protection.
The duration of charging is influenced by the capacity of the charger. With a standard charger, it might take several hours to achieve a full charge.
Certainly! Ensure that the solar panel and the charge controller align with the battery's specs, especially the recommended charge voltage of 14.4V.
The ROCKSOLAR battery offers an 11-year warranty, testifying to its premium quality and longevity.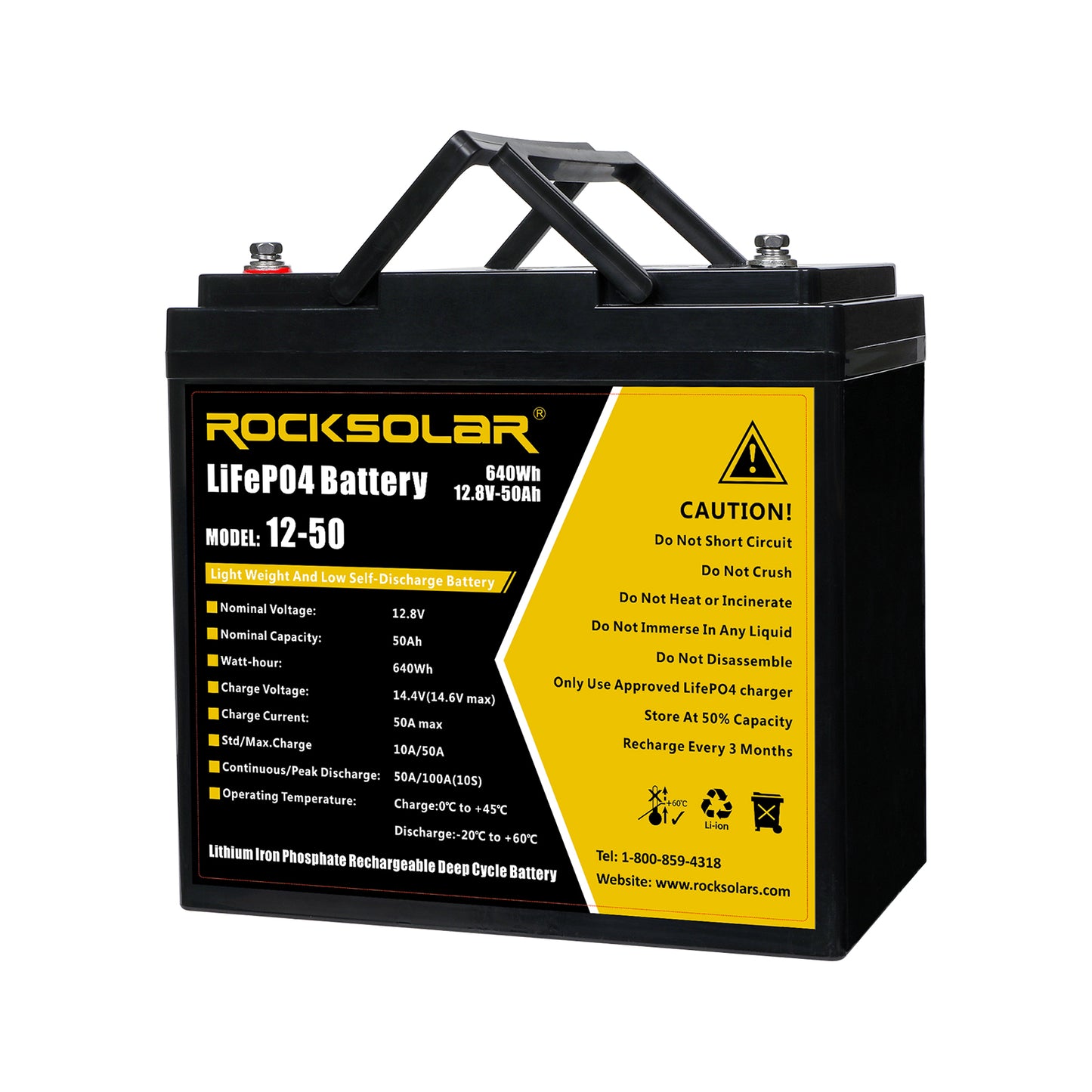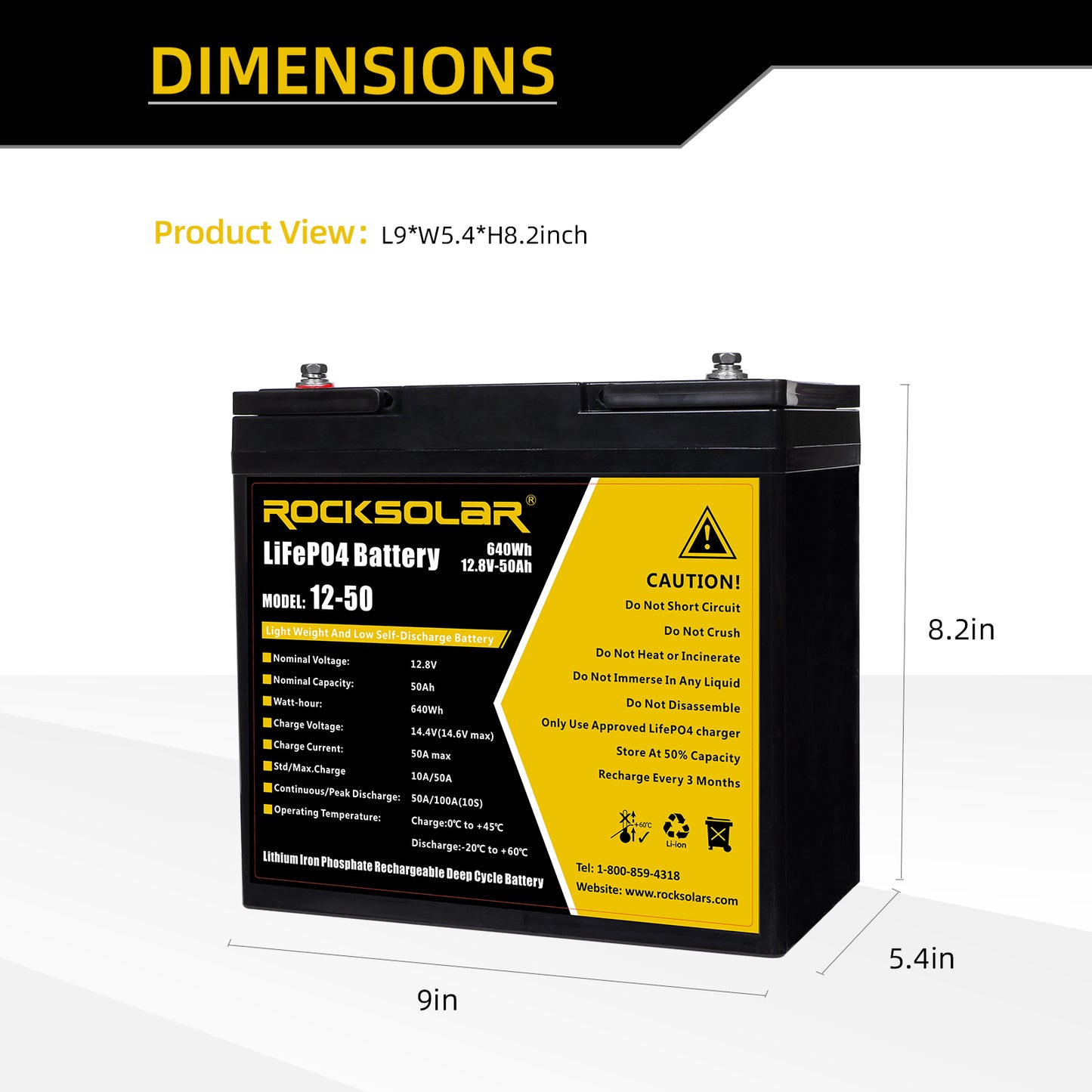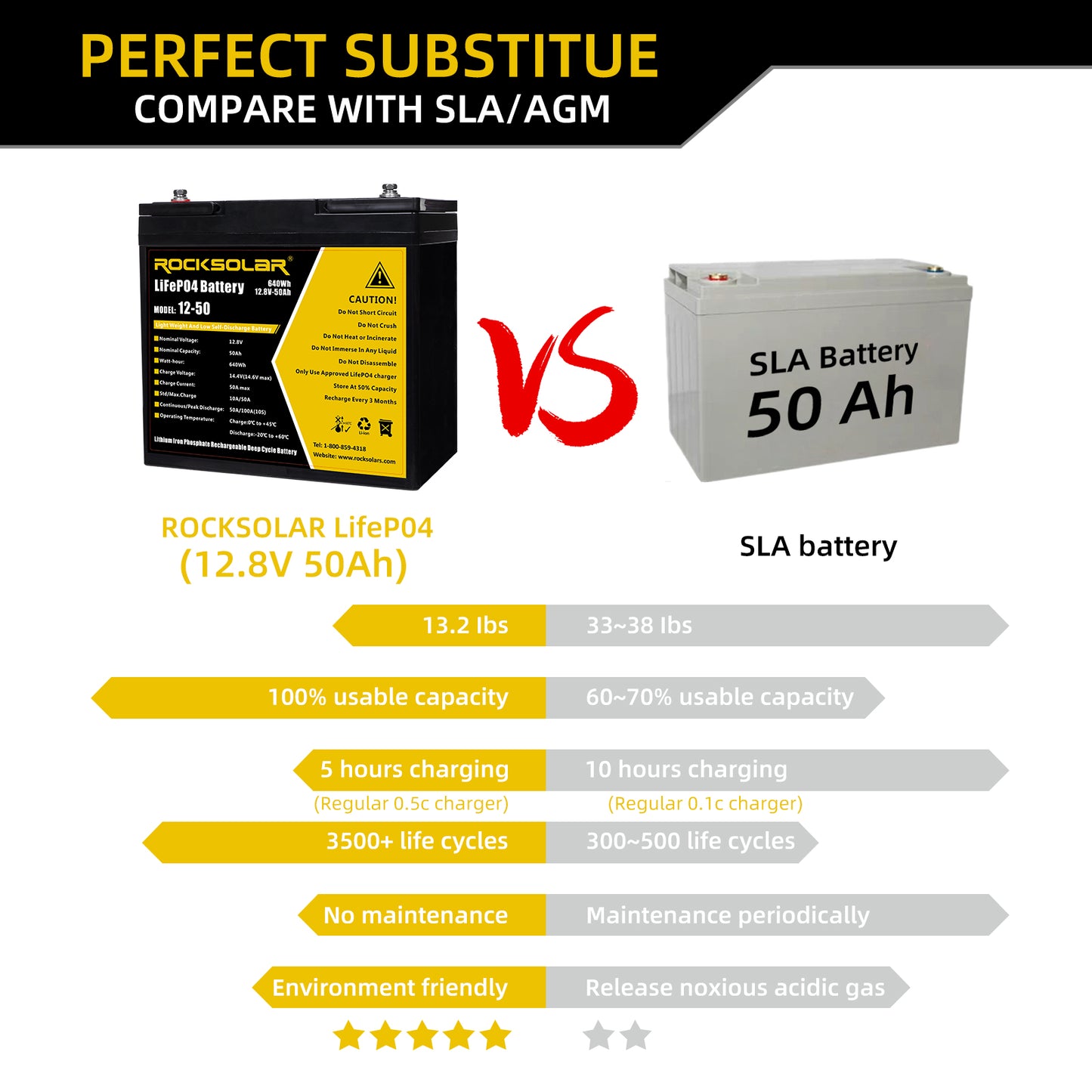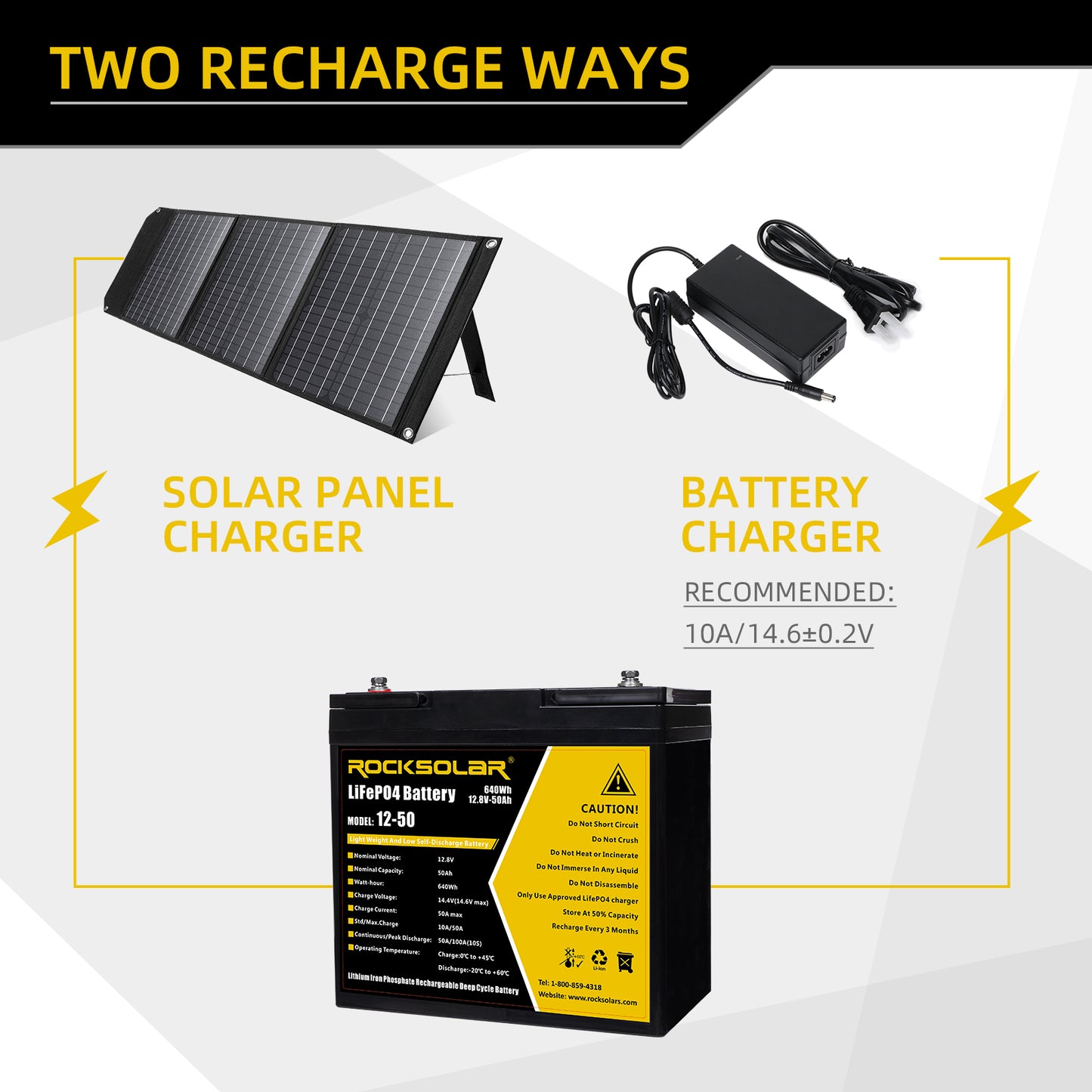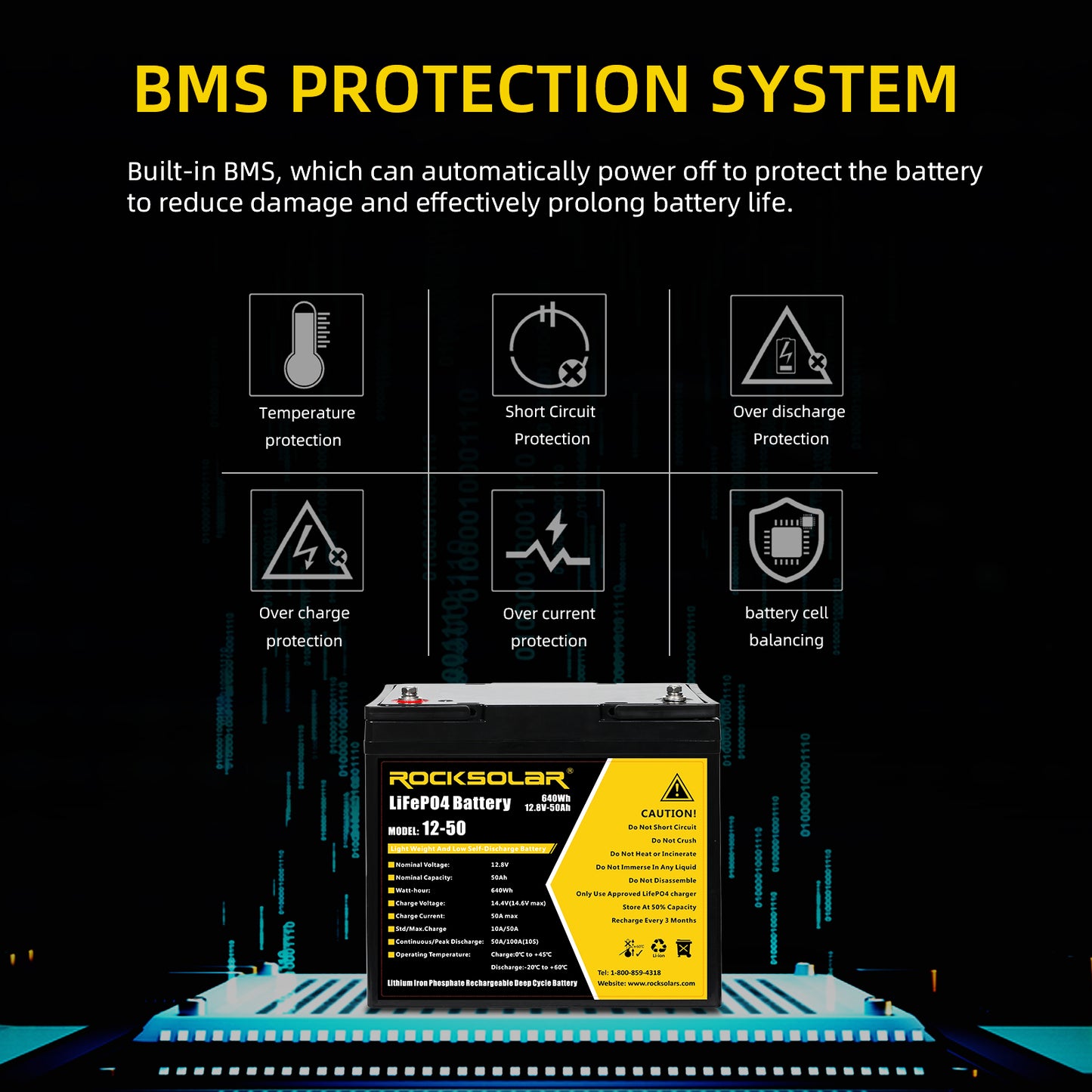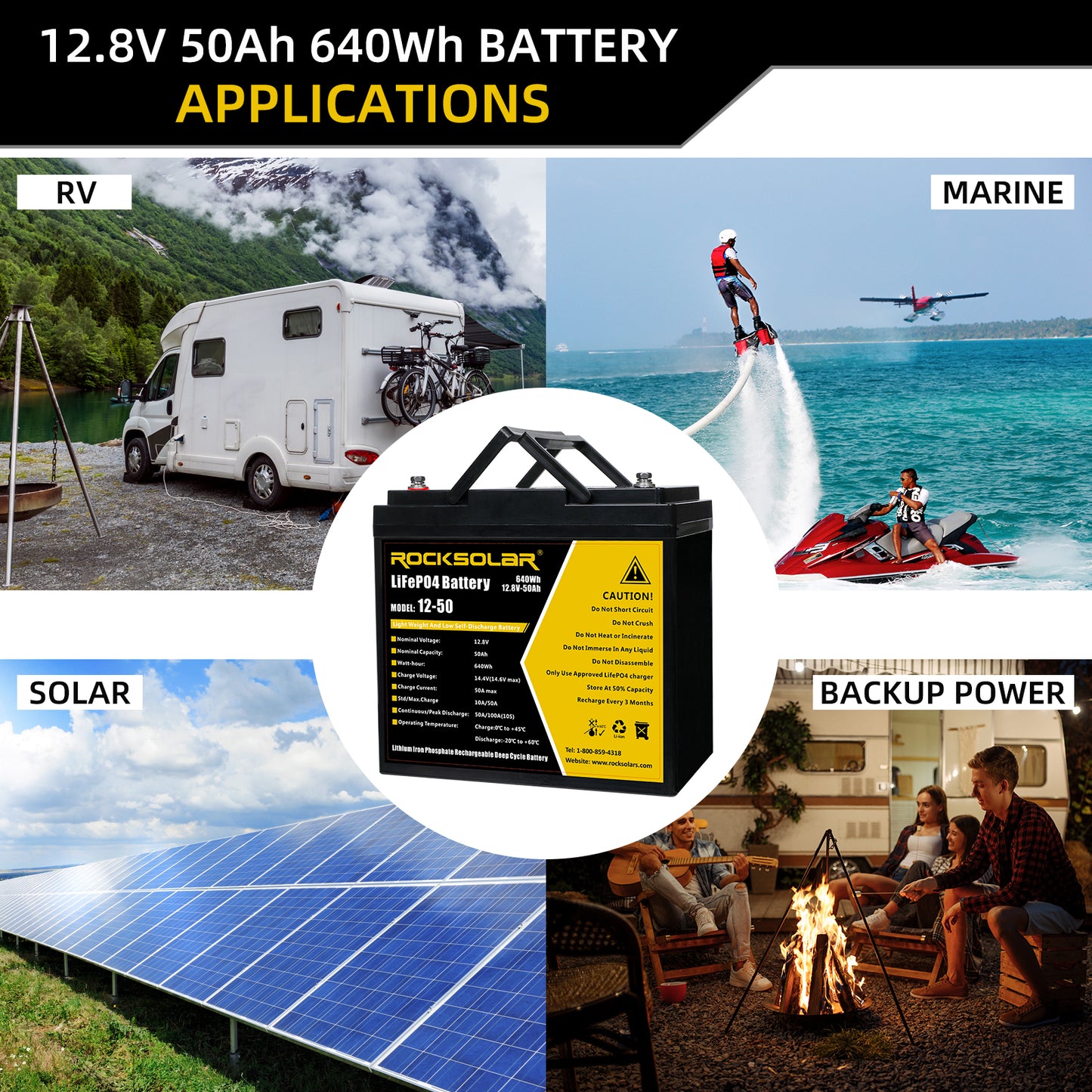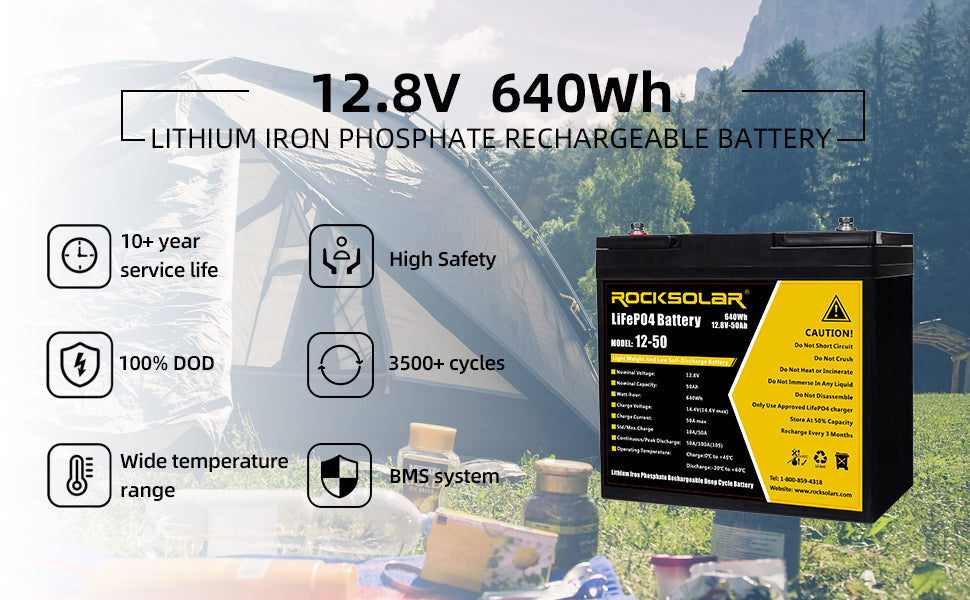 Great Experience
Doing business with Rocksolar was a pleasure and easy. They are my go to for any further purchases.
POWER WHEN I NEEDED IT MOST!
ROCKSOLAR 50AH Running my sump pump during the 2023 Ice storm, no floods over here! +10min of solid run time with still half a charge left
Thank you so much for taking the time to share your experience with our ROCKSOLAR 12V 50Ah Deep Cycle LiFePO4 Battery with BMS System. We're thrilled to hear that it performed so well for you during the recent ice storm, and that you were able to run your sump pump without any issues. It's always great to hear when our products are able to meet our customers' needs, especially when it matters most. Thanks again for your feedback, and please don't hesitate to reach out if you have any questions or concerns in the future.
One of the Best company I dealt with.
The ROCKSOLAR provides high-quality LiFePO4 battery. Power backup is amazing. incredible life span. Highly recommended! would buy again from this company.
Works fantastic! I'm impressed.
Bought this for my electric trolling motor and it's working exactly as I'd hoped!
The best battery ever!
Works fantastic , fast delivery. would recommend.Thanks for sending me that outstanding battery!