Up to 50% off already applied. Use code HOLIDAY23 for an extra 15% off!
Regular price
$113.00 USD
Regular price
$151.00 USD
Sale price
$113.00 USD
Unit price
per
Sale
Sold out
50W 12V Rigid Solar Panel Features:
High Efficiency: 22% conversion with monocrystalline cells.
Weather-Resistant: Glass-laminated, IP65 rated design.
Easy Installation: Pre-drilled holes for mounting.
Multi-Purpose: Suitable for RVs, camping, marine, and off-grid use.
Compact & Lightweight: 67.01 x 41 x 2.49 cm, weighs 3.48 kg.
Shade Tolerant: Integrated bypass diodes.
Broad Operating Range: Efficient from -20°C to +50°C.
10-Year Warranty: Reliable and durable product assurance.
30A PWM Charge Controller Features:
PWM Charging: Efficient 3-stage battery charging.
Multi-Battery Support: Compatible with AGM, GEL, and Lithium-ion.
LCD Display: Clear system monitoring.
Enhanced Safety: Overcharge and short circuit protection.
Dual USB Ports: For device charging.
Compact: Space-saving design.
1-Year Warranty: Reliable and durable product assurance.
Free
Local Shipping
10-year Hassle Free
Warranty
Lifetime Customer
Support
Share
View full details
Description

Includes
Specifications
FAQ
Downloads
Reviews
ROCKSOLAR 50W 12V Rigid Solar Panel Kit with 30A PWM Charge Controller
Introducing the ROCKSOLAR 50W Rigid Solar Panel: a state-of-the-art solution for all your off-grid power needs. This high-performance solar panel combines the latest in solar technology with robust design to provide dependable, clean energy. It's perfect for outdoor enthusiasts, remote applications, and anyone looking to harness the power of the sun efficiently and effectively.
50W 12V Rigid Solar Panel Features
High-Efficiency Monocrystalline Cells: With a remarkable 22% conversion efficiency, these solar cells ensure more power generation per square inch, making them ideal for limited space.
Compact and Durable: Measuring 67.01 x 41 x 2.49 cm and weighing only 3.48 kilograms, this panel is designed for longevity and ease of use. Its rigid form factor ensures durability in various environments.
Weather Resistant: Laminated with glass-faced silicon and an IP65 rating, the panel is built to withstand diverse weather conditions, ensuring reliable performance from -20 to +50°C.
Easy to Install: The inclusion of pre-drilled holes on the panel's back allows for quick, secure mounting on various surfaces, facilitating a hassle-free installation process.
Versatile Usage: Ideal for numerous applications including RVs, camping, fieldwork charging, off-grid setups, and marine use, this solar panel is as versatile as your energy needs.
All-Inclusive Kit: Comes equipped with a 50W rigid solar panel, MC4 adapter cable, and a user manual - everything you need to start harnessing solar energy right out of the box.
Canadian Support: Enjoy peace of mind with dedicated technical support and customer service from ROCKSOLAR's Canadian center, ensuring assistance throughout the product's lifespan.
Eco-Friendly Certification: Proudly carrying the Energy Star certification, this product meets high energy efficiency and environmental standards.
Over 25 Year Service Life

 

guaranteed and 10 Year Manufacturer Warranty.
30A PWM Solar Charge Controller Features
Introducing the ROCKSOLAR 30A PWM Solar Charge Controller – a quintessential element for ensuring the longevity of your battery and the optimization of your solar system. With its cutting-edge 3-stage PWM charging technique, it guarantees superior energy conversion and management. This controller is exceptionally versatile, being compatible with a broad array of 12V/24V batteries, including Lithium, and offers manual voltage adjustments for Lithium users.
Extensive Battery Compatibility: Crafted for 12V/24V setups, it's compatible with AGM, Gel, Lithium, and more. Manual voltage adjustments are available for Lithium batteries.
3-Stage PWM Charging Prowess: Incorporates 3 charging modes, ensuring efficient energy absorption and prolonged battery life. Its temperature compensation attribute ensures top-notch performance across varying conditions.
Robust Safety Protocols: Armed with safeguards against reverse polarity, overcharging, short-circuits, and reverse current.
LCD Display Benefits: Sports a backlit LCD that provides insights into system operations, load controls, and error diagnostics, simplifying user interactions.
USB Integration: Features dual 5V/2A USB ports, perfect for charging USB-compatible devices on-the-go.
Sleek & User-Oriented Design: Its compact design ensures a straightforward installation in varied setups.
Revitalizing Lithium Batteries: Masterfully designed to recover over-discharged lithium batteries.
Dimensions:
50W 12V Rigid Solar Panel: 67.01 x 41 x 2.49 cm; 3.48 Kilograms
30A PWM Solar Charge Controller: 123 x 178 x 48mm; Weight: 274g
ROCKSOLAR 50W 12V Rigid Monocrystalline Solar Panel

1 x ROCKSOLAR Black Diamond 50W 12V Monocrystalline Rigid Solar Panel

1 x MC4 Connectors
1 x User Manual for the Rigid Solar Panel

ROCKSOLAR 30A PWM Solar Charge Controller

1 x ROCKSOLAR 30A PWM Solar Charge Controller
1 x User Manual for the Charge Controller
Technical Specifications
ROCKSOLAR Black Diamond 50W 12V Monocrystalline Rigid Solar Panel Specification
Details
Manufacturer
ROCKSOLAR TECHNOOGY LLC
Place of Business
1-800-858-4318
Part Number
1
Product Dimensions
67.01 x 41 x 2.49 cm
Item model number
RSRIG50-001
Size
50W Rigid Solar Panel
Style
Compact
Material
Monocrystalline Silicon
Voltage
12 Volts (DC)
Amperage Capacity
2.78 Amps
Maximum Power
50 Watts
Certification
Energy Star
Usage
Residential, Commercial, industrial, off grid, solar energy, RV, cottage, Boat, solar ventilation, solar powered pump, solar lighting
Included Components
50W Rigid Solar Panel, MC4 Connectors
Batteries Required?
No
Warranty Description
10 Years From Date Of Purchase
Item Weight
3.48 kg
30A PWM Solar Charge Controller Specification
Details
Model
POW-Keeper1220
PV Input
Max Open Voltage of PV Module: 55Vdc
Light Control Voltage
5V
Charge Mode
3 Stage
Battery Type Compatibility
Lithium and Lead Acid Battery
Nominal System Voltage
12/24V
Rated Charging Current
30A
Battery Voltage Range
8~32V
High Voltage Disconnection
16V (24V x 2)
Duration for absorption charging
2 hours
Charge Loop Voltage Drop
≤0.29V
Self-consumption
≤ 9.2mA 12V; ≤ 11.7mA 24V
Equalized Charging Voltage
AGM: 14.6V; GEL: No; FLd: 14.8V
Absorption Charging voltage
AGM: 14.4V; GEL: 14.2; FLd: 14.6V
Floating Charging voltage
AGM/ GEL/ FLd: 13.8V
Low Voltage re-connection (LVR)
AGM/ GEL/ FLd: 12.6V
Low Voltage Disconnection (LVD)
AGM/ GEL/ FLd: 10.8V
Operating Temperature Range
-20℃~55℃
LCD Temperature Range
-20℃~70℃
Humidity Range
≤95% No condensation
Protection Class
IP30
Dimension
123*178*48
Installation Hole
108*120 ∅5
Weight
274g
The ROCKSOLAR 50W Rigid Solar Panel Basic Kit stands out with its high-efficiency monocrystalline cells and durable, weather-resistant construction. Coupled with an easy-to-use PWM controller, it offers a reliable and straightforward way to harness solar energy for various applications.
Installation is very user-friendly thanks to pre-drilled holes on the back of the panel and a simple plug-and-play interface with the PWM controller. Even beginners can set it up with minimal effort.
Absolutely! This solar panel kit is ideal for RVs, boats, and other mobile or off-grid setups, offering a compact, efficient solution for power needs on the move.
The kit is compatible with various 12V battery types, including lead-acid, AGM, Gel, and lithium batteries, providing flexibility for different energy storage solutions.
Yes, the panel is built with a weather-resistant design and materials, enabling it to perform effectively in various environmental conditions, ranging from sunny to cloudy and even light rainy weather.
The PWM controller comes with multiple safety protections, including overcharge protection, short-circuit protection, and reverse polarity protection, ensuring a safe and stable solar charging experience.
The solar panel requires minimal maintenance. Keeping the panel surface clean from dust and debris will help maintain its efficiency. Inspecting the cables and connections periodically for wear and tear is also recommended.
The ROCKSOLAR 50W Rigid Solar Panel comes with a 10-year warranty from the date of purchase, covering defects in materials and workmanship, ensuring peace of mind and reliable service.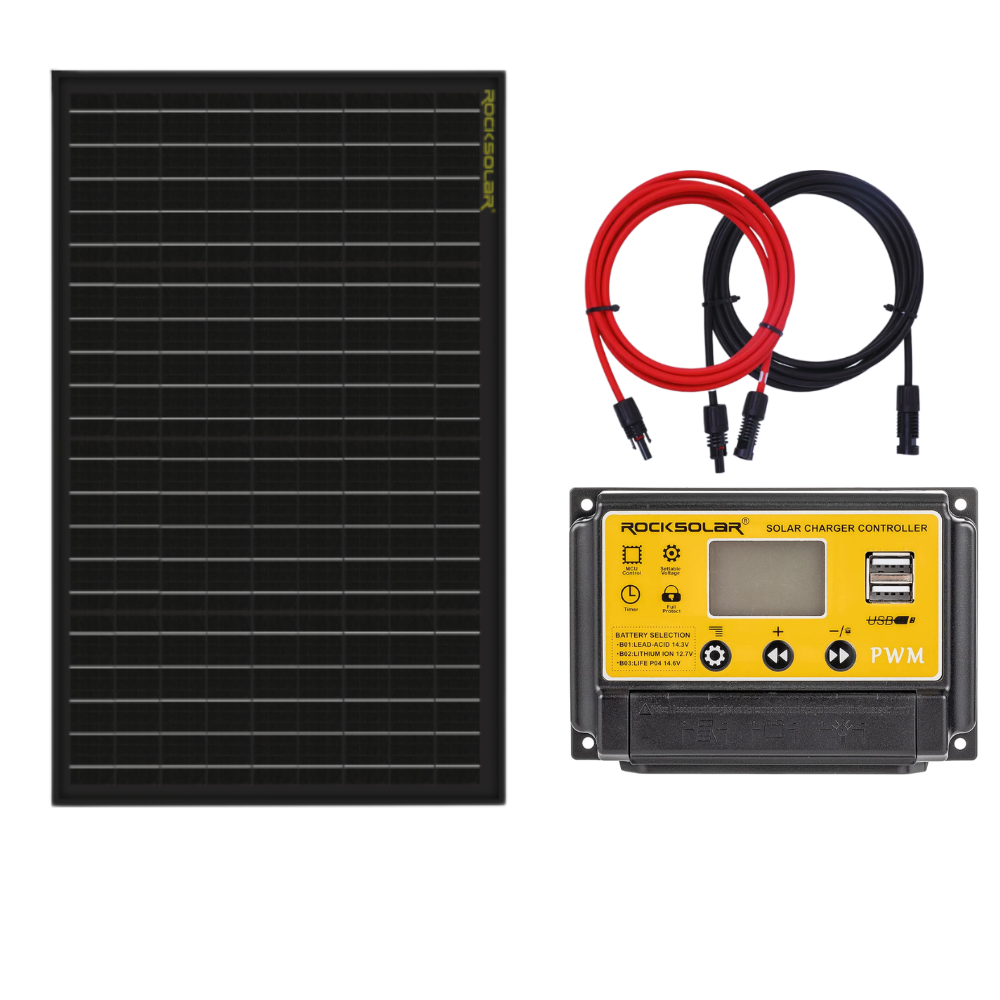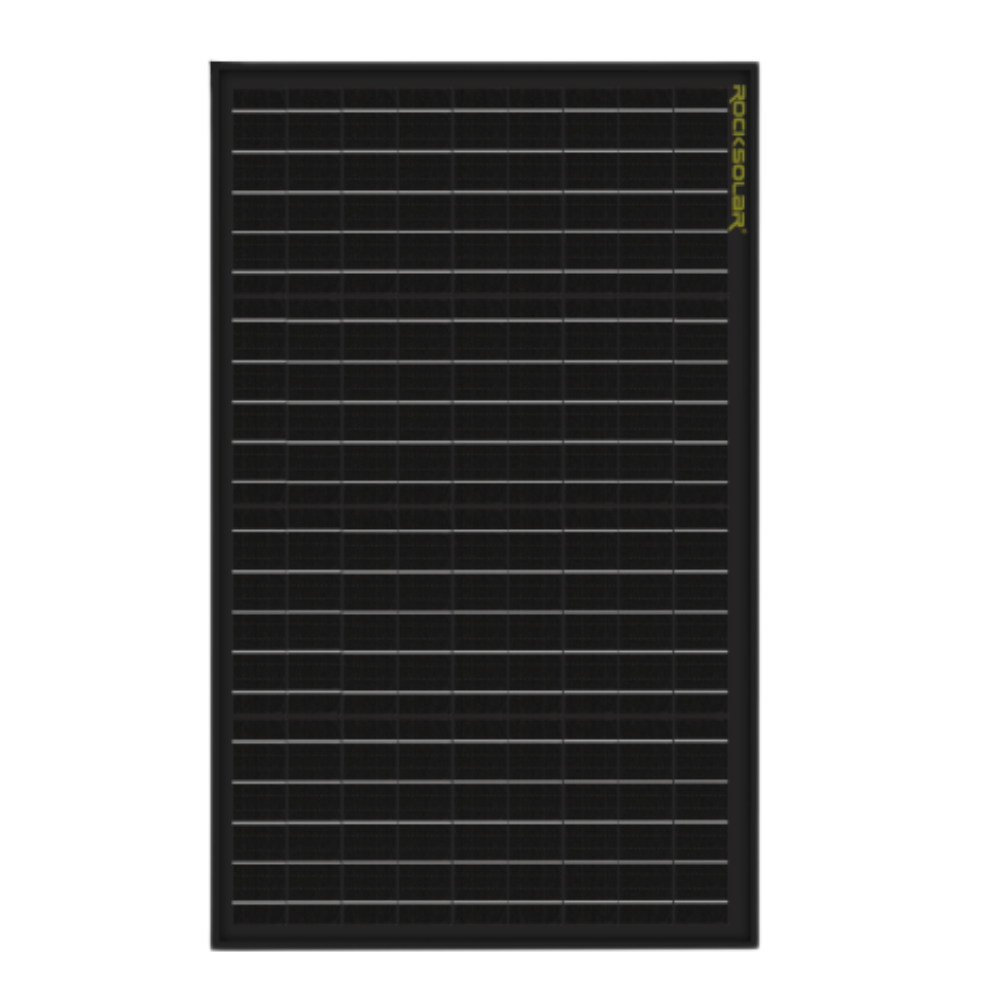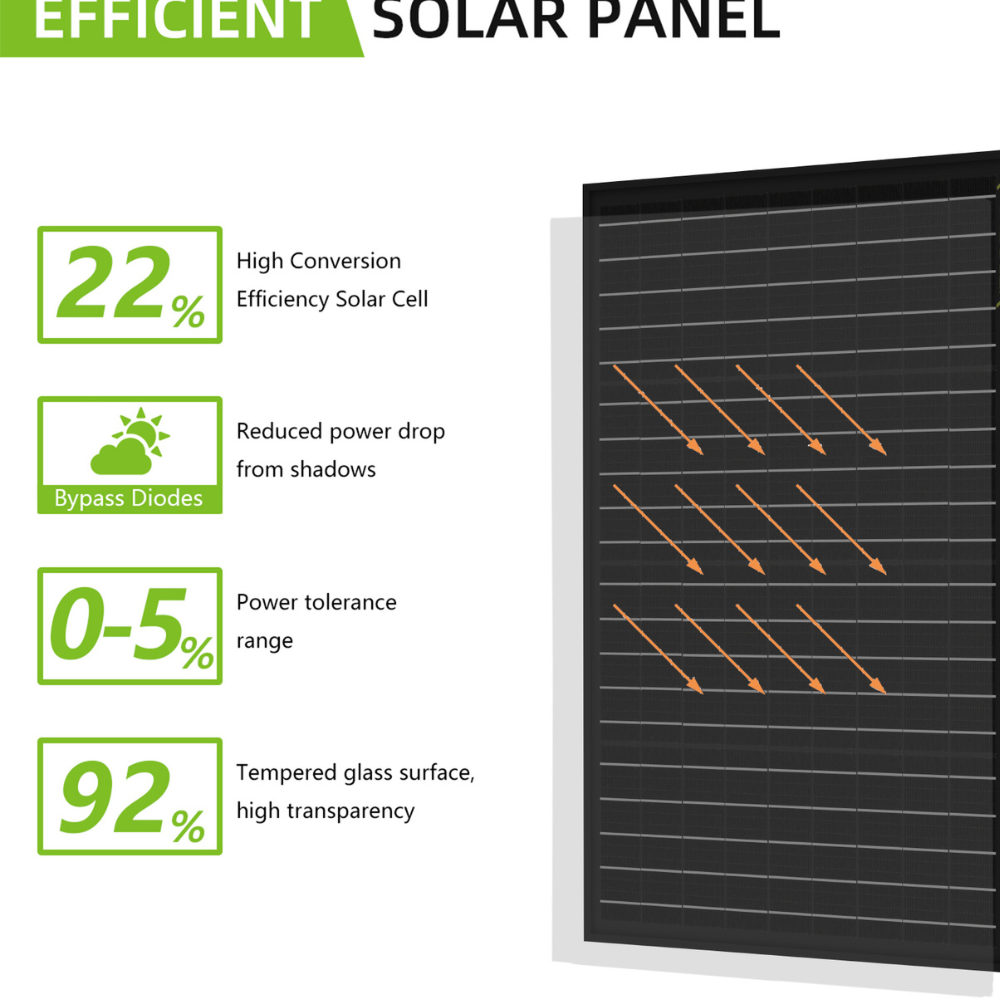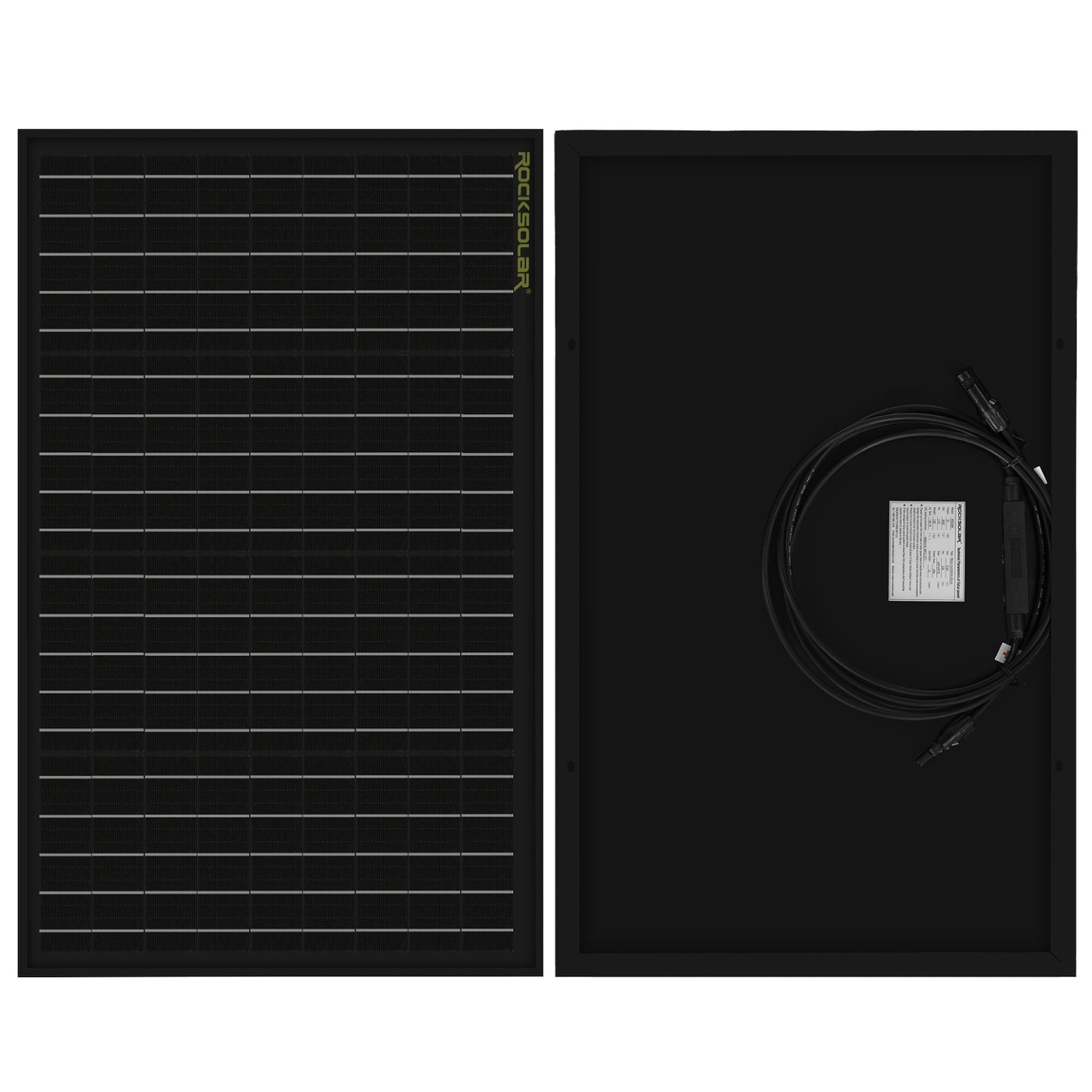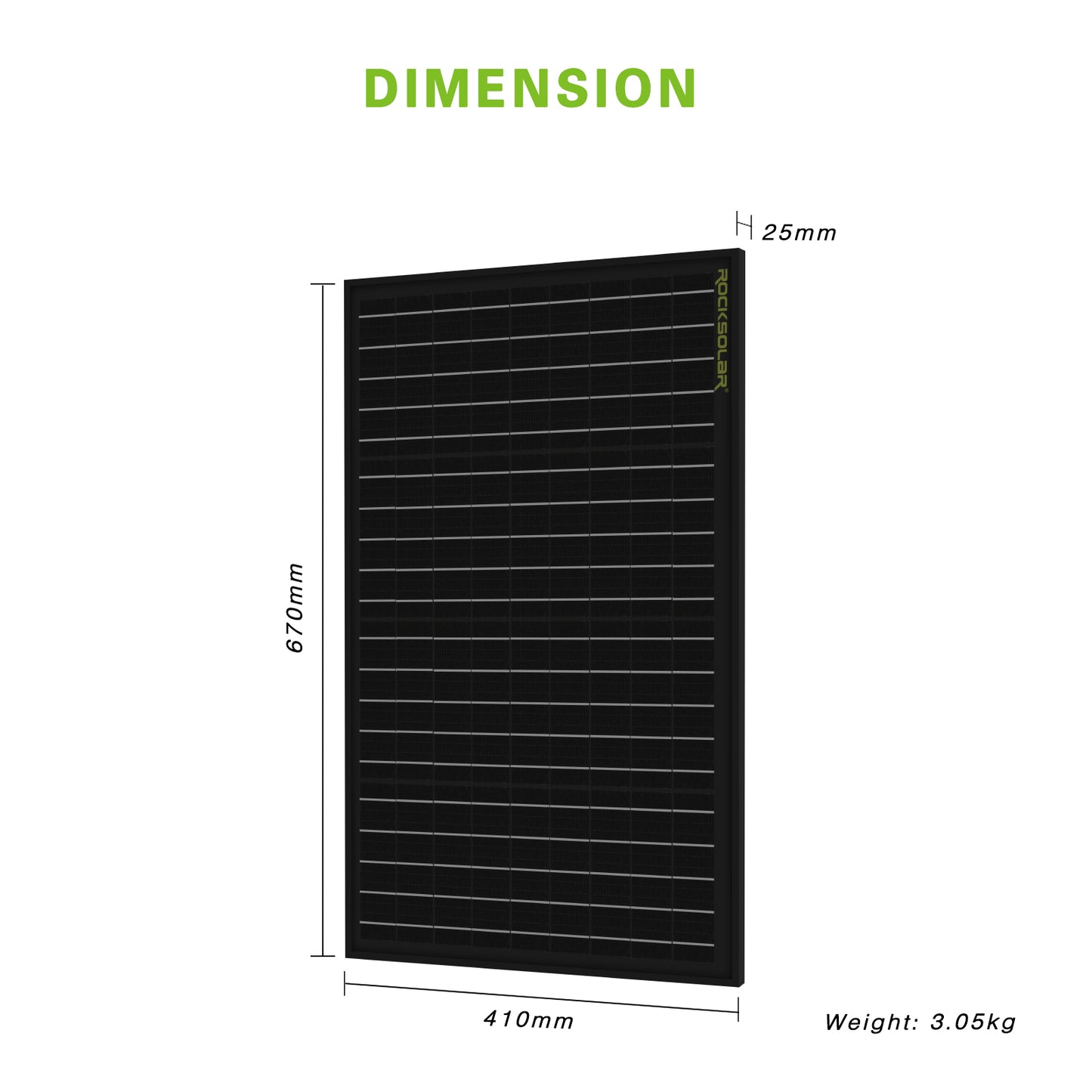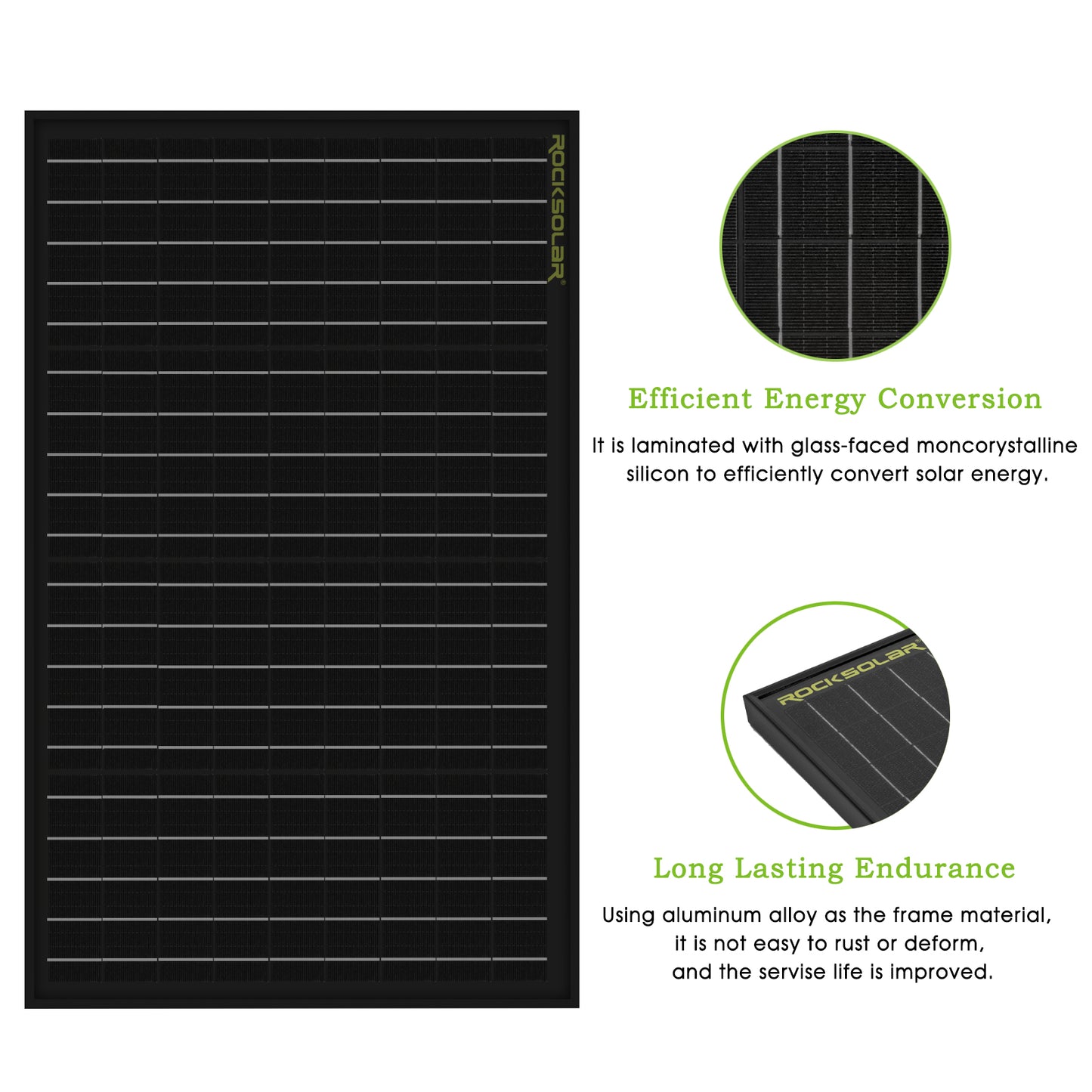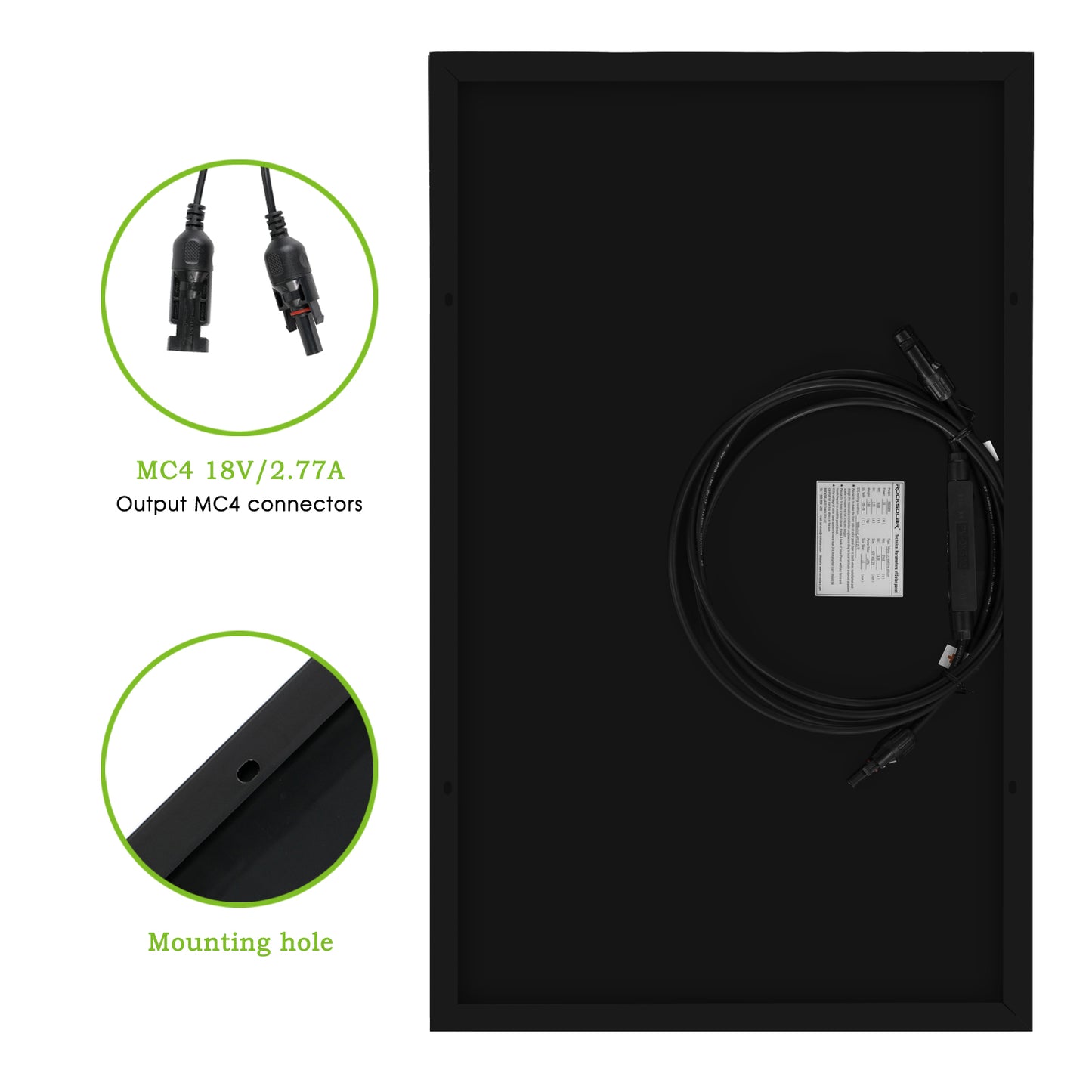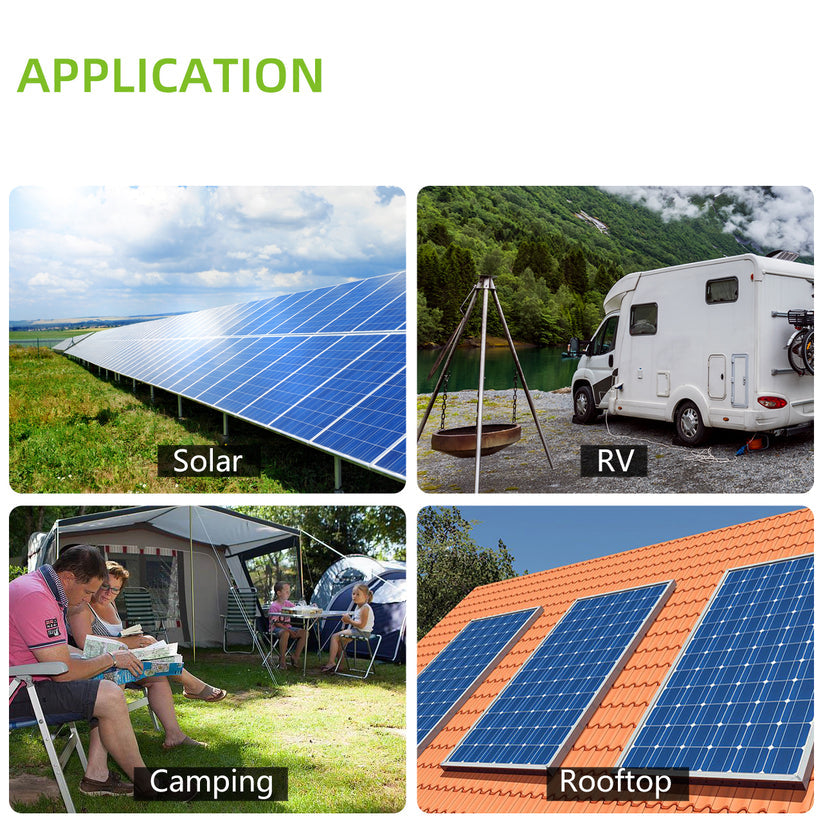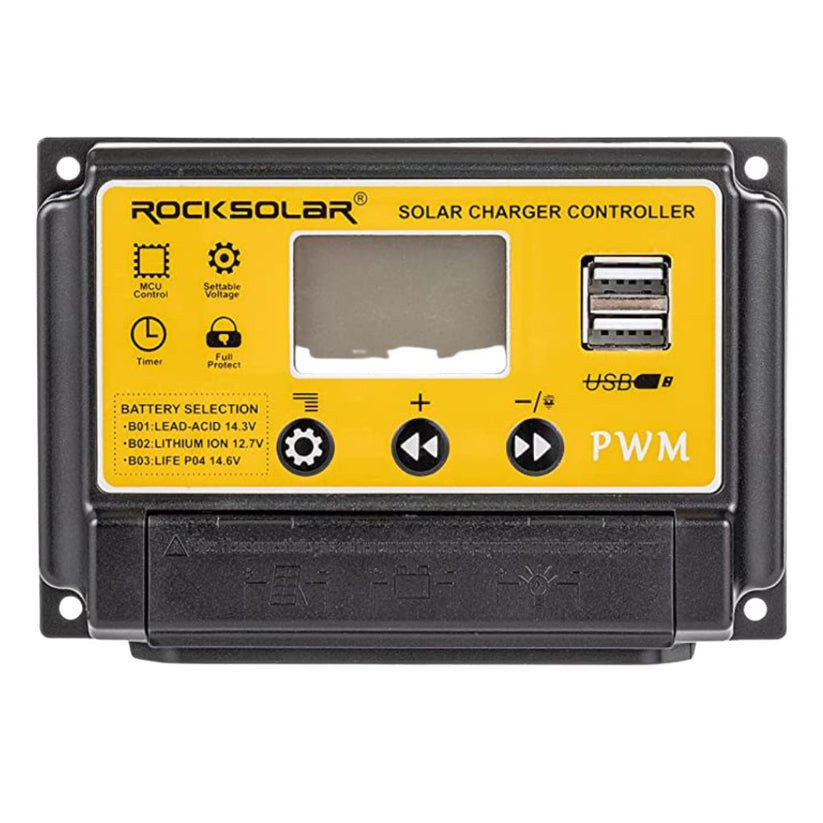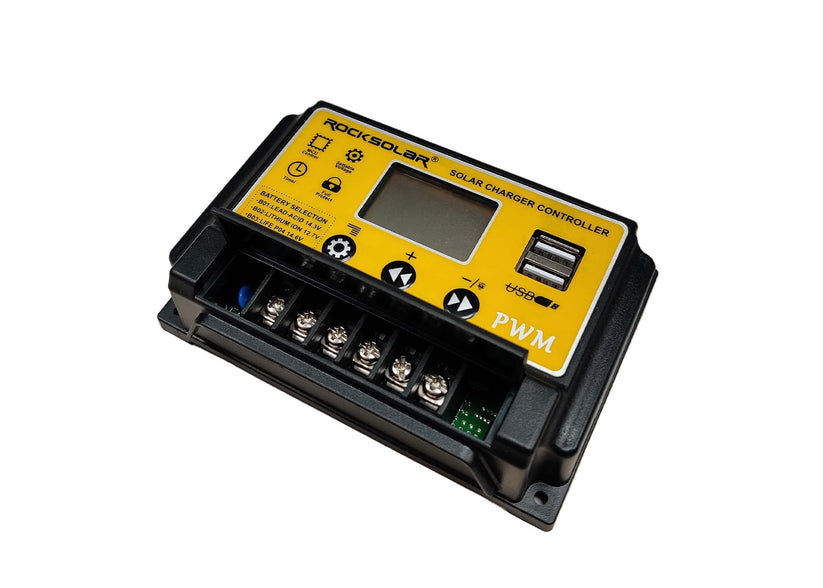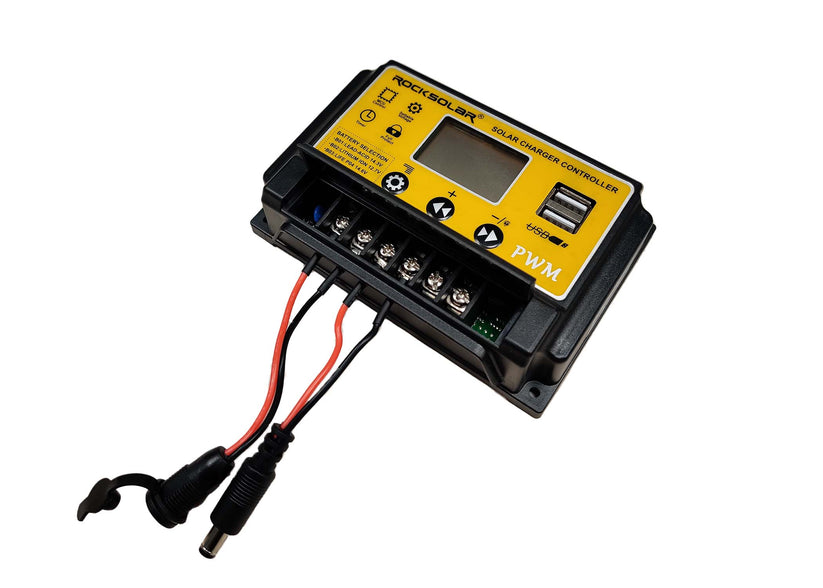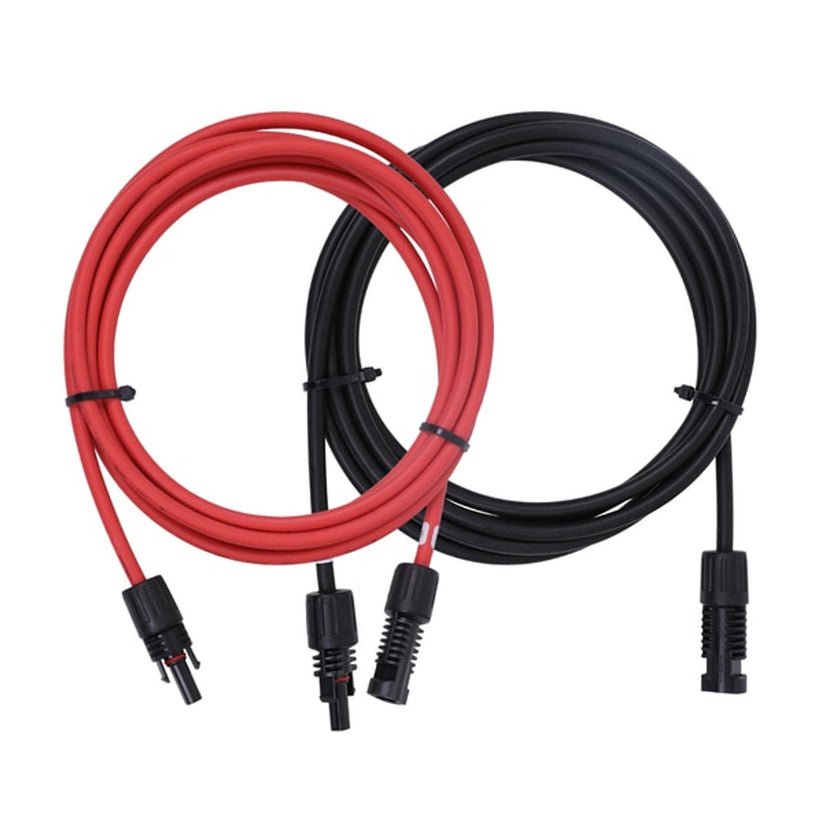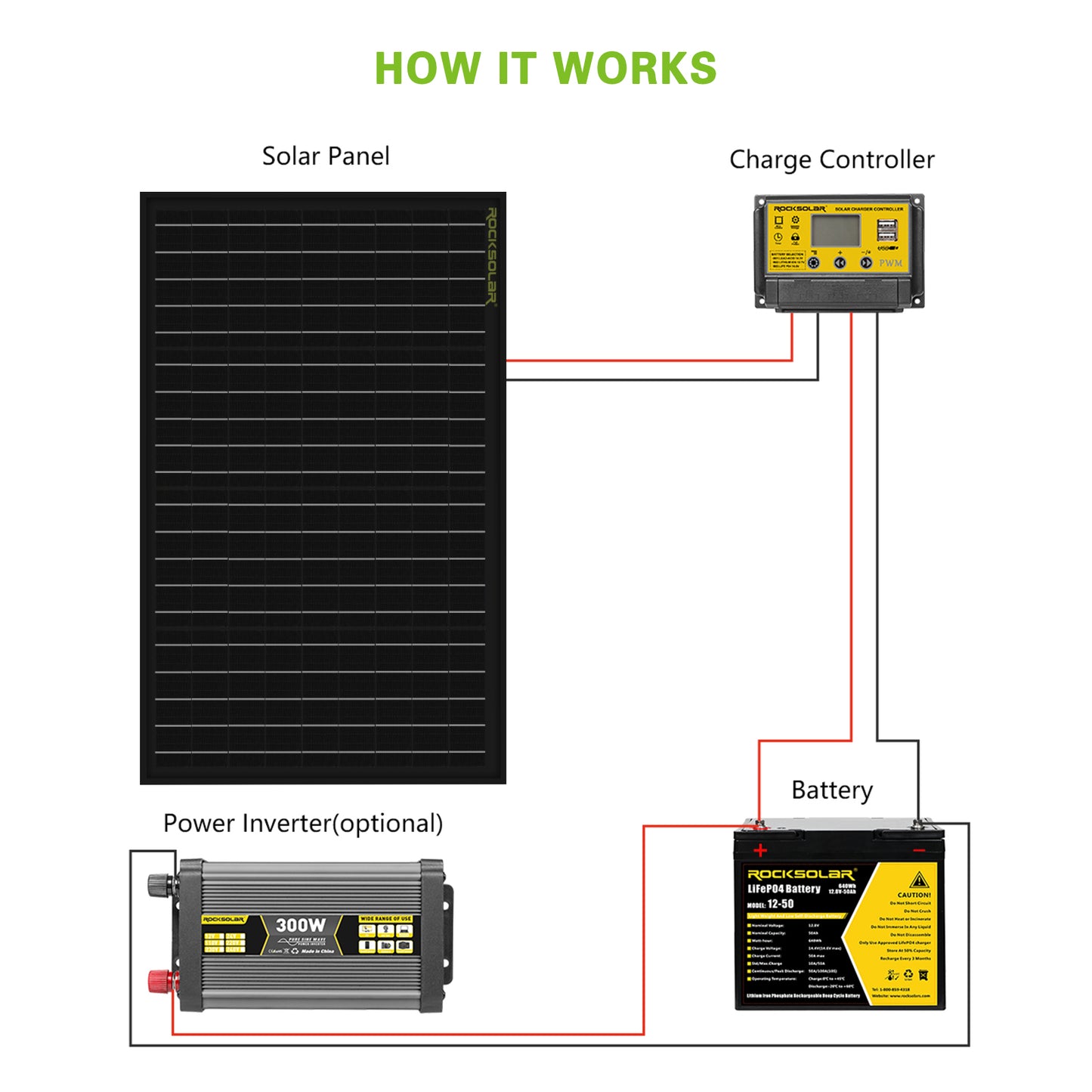 antastic Starter Kit
This ROCKSOLAR 50W kit is a great starter kit for anyone interested in solar power. Installation was straightforward and it works perfectly for our RV.
Good Quality and Price
The kit is of good quality and provides reliable power output. It's an excellent addition to our off-grid cabin.
Perfect for Boating
Installed this on our boat, and it has been a lifesaver. The PWM controller works efficiently, and the power output is consistent.
Reliable and Efficient
The ROCKSOLAR 50W 12V Basic Kit has been a reliable and efficient power source for our RV. We're thoroughly impressed!
Great Basic Kit
This is a great basic solar kit. The PWM controller works well, and the power output is steady. Perfect for our off-grid living.