Up to 50% off already applied. Use code HOLIDAY23 for an extra 15% off!
Regular price
$113.00 USD
Regular price
$151.00 USD
Sale price
$113.00 USD
Unit price
per
Sale
Sold out
Compact Yet Powerful: 80W output in a 1.9 lbs frame.
Multiple Charging Options: AC, DC, and various USB ports.
Large Battery, Small Size: 24000mAh lithium battery with 88Wh capacity.
Quick Recharge: Fast charging via wall outlet or solar panel.
Advanced Safety: Built-in BMS with multiple protections.
Emergency Features: Includes LED panel and flashlight.
Smart Functionality: Silent cooling fan and LED charge indicator.
Flight-Friendly: Compact enough for air travel.
Durable Lifecycle: Offers 1000+ charge cycles.
1-Year Warranty: Comes with a one-year warranty for added peace of mind.
Free
Local Shipping
1-year Hassle Free
Warranty
Lifetime Customer
Support
Share
View full details
Description

Includes
Specifications
FAQ
Downloads
Reviews
Introducing the ROCKSOLAR Weekender 80W Portable Power Station, a compact yet powerful backup power supply for your camping and emergency power needs. Whether you're camping, traveling, or dealing with a power outage, the Weekender as a outdoor power generator has got you covered. Benefit from the advanced battery management system and a variety of charging ports all in a device, it is a very few battery powered generators allowed to carry on a plane.
Product Features
Compact and light weight solar power station: Weighing just 1.9lbs, the Weekender is solar ready with a 24000mAh, 88Wh lithium-ion battery.
Advanced BMS: Comes with an in-built battery management system that offers multiple layers of protection, including overcurrent and short-circuit safeguards.
Quick and Versatile Charging: Features multiple ports including 1 AC Output, 1 DC In/Out, 2 Quick Charge USB Ports, 2 USB 3.0 Ports, and 1 USB C port.
Dual Lighting Features: Equipped with an LED light panel and a dual flashlight for emergency situations.
Long Lifecycle: Built for the long haul, the Weekender promises a lifecycle of 1000+ charges.
Smart Functionality: Comes with a silent smart cooling fan and an LED Display to indicate the power station's charge level.
Experience the ROCKSOLAR Advantage
Designed to offer more than just power, the ROCKSOLAR Weekender includes additional features like an LED light panel and a dual flashlight for emergencies. The built-in smart cooling fan and LED Display further enhance user experience, making it a smart and silent power station. Better than most lithium portable power banks, this outdoor power generator provides multiple AC and DC outputs.
Suitable for:
RV, tailgating, Outdoor Adventures & Camping
Emergency Backup Power
Travel & Mobile Workspaces
Small Appliances and Devices
Air Travel
Solar Panel Charging (Compatible with ROCKSOLAR 30W, 60W, and 100W Solar Panels)
1x ROCKSOLAR Weekender 80W Portable Power Station: Your reliable source for on-the-go power.
1x Power Adapter: For quick and convenient charging.
1x Cigarette Lighter Adapter: For versatile power options.
1x User Manual: All the information you need for operation and safety.
Technical Specifications
Specification
Details
Manufacturer
ROCKSOLAR TECHNOLOGY LLC
Place of Business
1-800-858-4318
Part Number
1
Product Dimensions
14 x 8 x 10 cm; 1.9 pounds
Batteries
1 Lithium Ion battery.
Item model number
RS81
Size
small
Colour
Yellow & Black
Style
Power Station
Pattern
Power Station
Power Source
Battery Powered
Volume
68.4 Cubic Inches
Voltage
110 Volts (AC)
Wattage
88 Watt-hours
Item Package Quantity
1
Type of Bulb
LED
Special Features
Automatic Shut-Off
Usage
Portable Camping generator, off-grid, outdoor, fishing, power outage, backup lithium battery pack, UPS, CPAP, Laptop, Macbook, RV, cottage portable power generator, solar ready, portable solar generator
Included Components
Charger
Batteries Included?
No
Batteries Required?
No
Battery Cell Type
Lithium Ion
Battery Capacity
24000 Milliamp Hours
Warranty Description
12 months from the date of the purchase
Item Weight
1.9 pounds
The Weekender has a large 24000mAh lithium battery with an 88Wh capacity, allowing you to charge your phone up to 6 times, a tablet up to 2 times, and even provide a full charge for your laptop.
Yes, you can use the Weekender even while it is charging. It's designed for safe operation during the charging process.
Yes, the Weekender is ideal for charging laptops and other small appliances, making it a versatile solution for both work and leisure.
For extended storage, it's best to charge it to 60-80% of its capacity and store it in a cool, dry place. Check and charge the battery every 3 months for optimal health.
The Weekender can be charged via wall outlet or using ROCKSOLAR Solar Panels (30W, 60W, and 100W, sold separately).
Yes, the Weekender supports quick recharging, enabling you to get back to full capacity in less time.
Yes, with its 88Wh capacity, the Weekender is within the FAA's safety limit for lithium-ion batteries, making it safe to bring on flights.
The ROCKSOLAR Weekender comes with a 12-month warranty, giving you peace of mind for your purchase.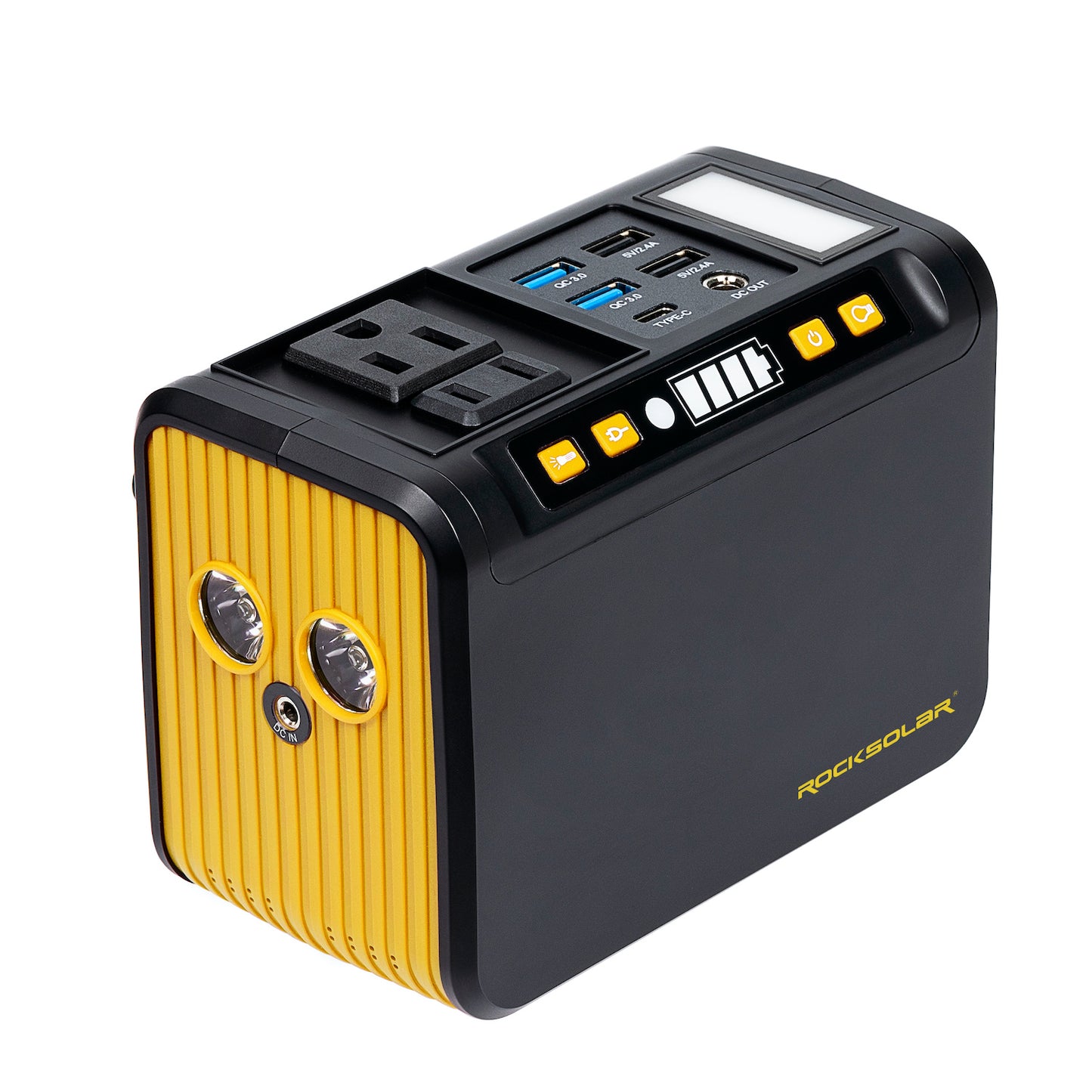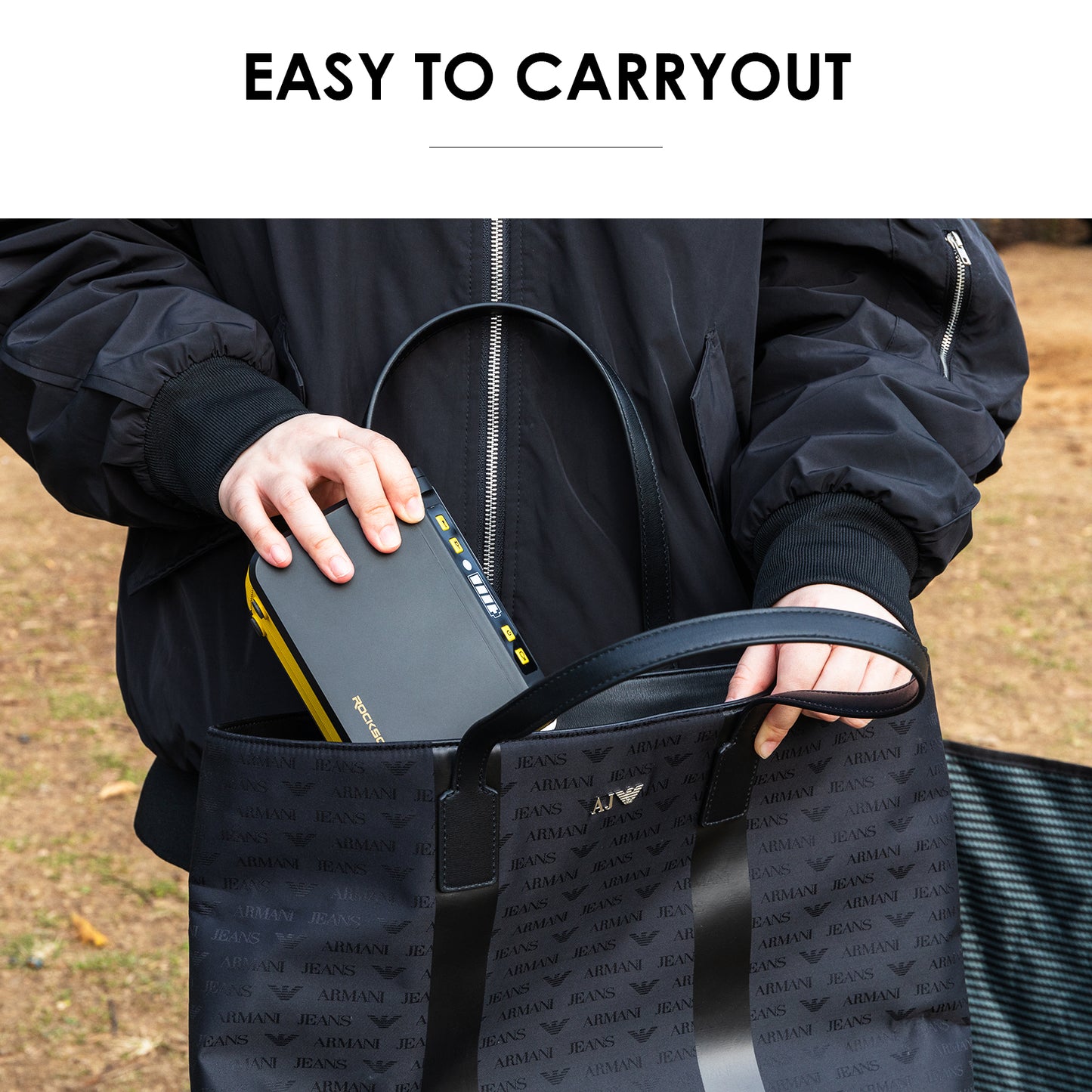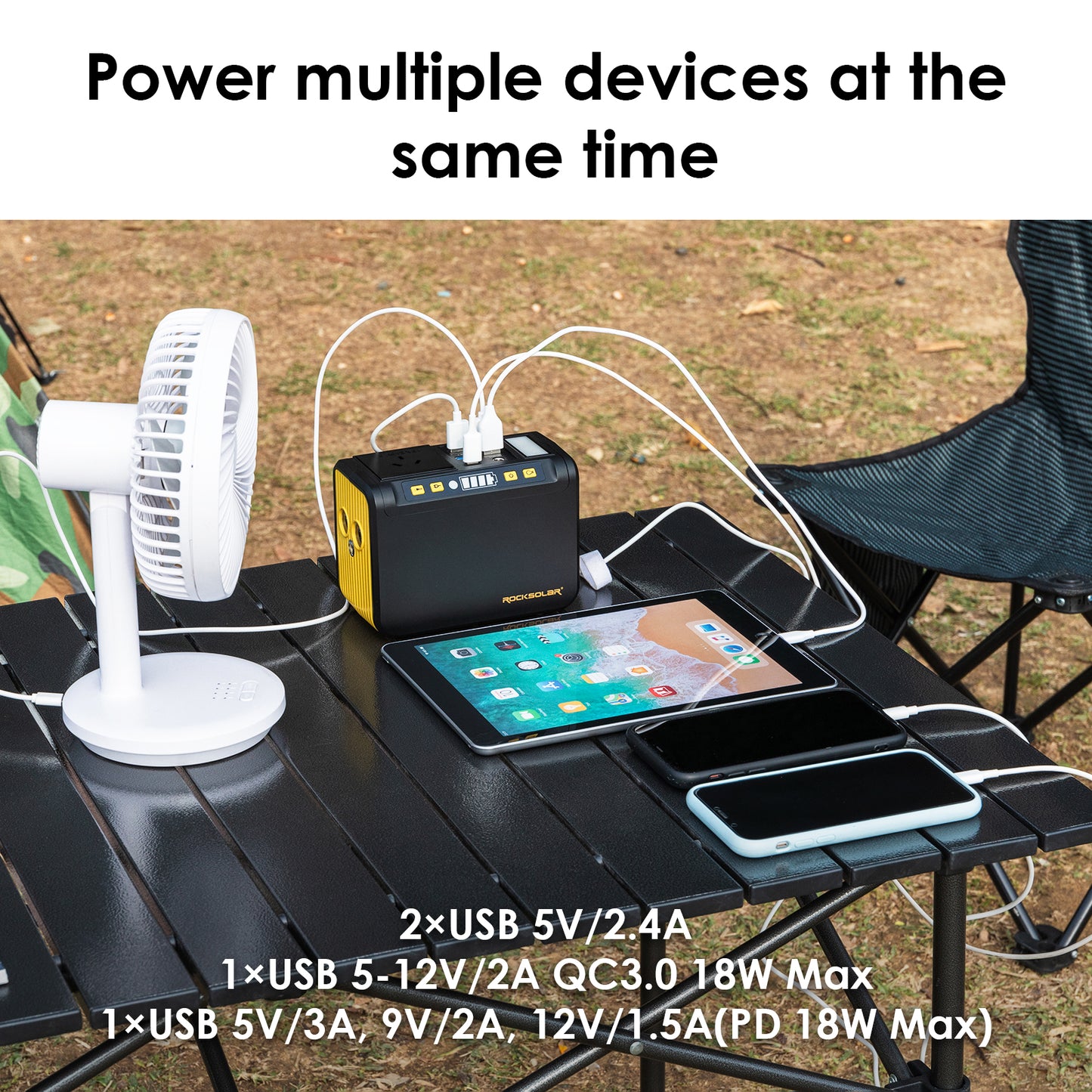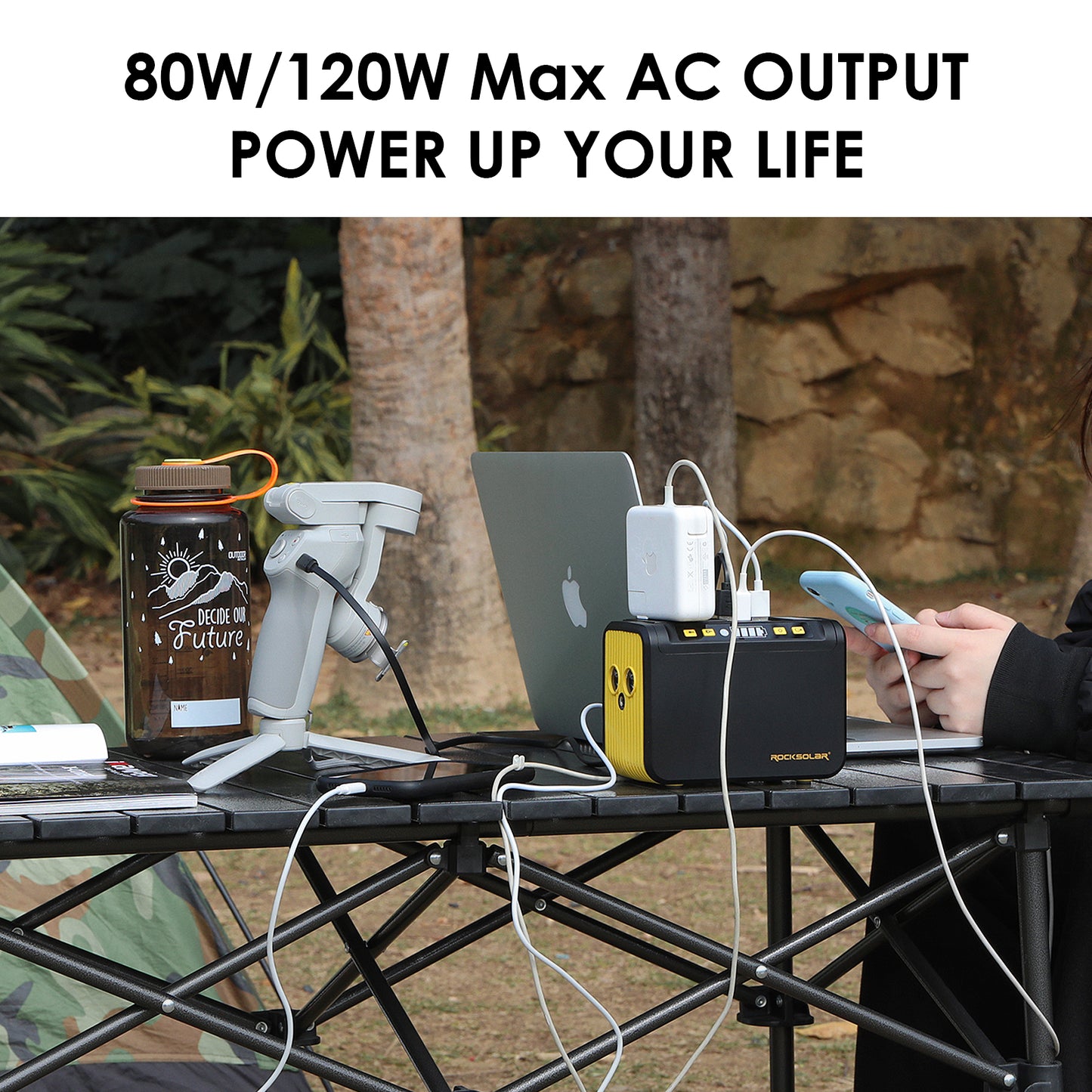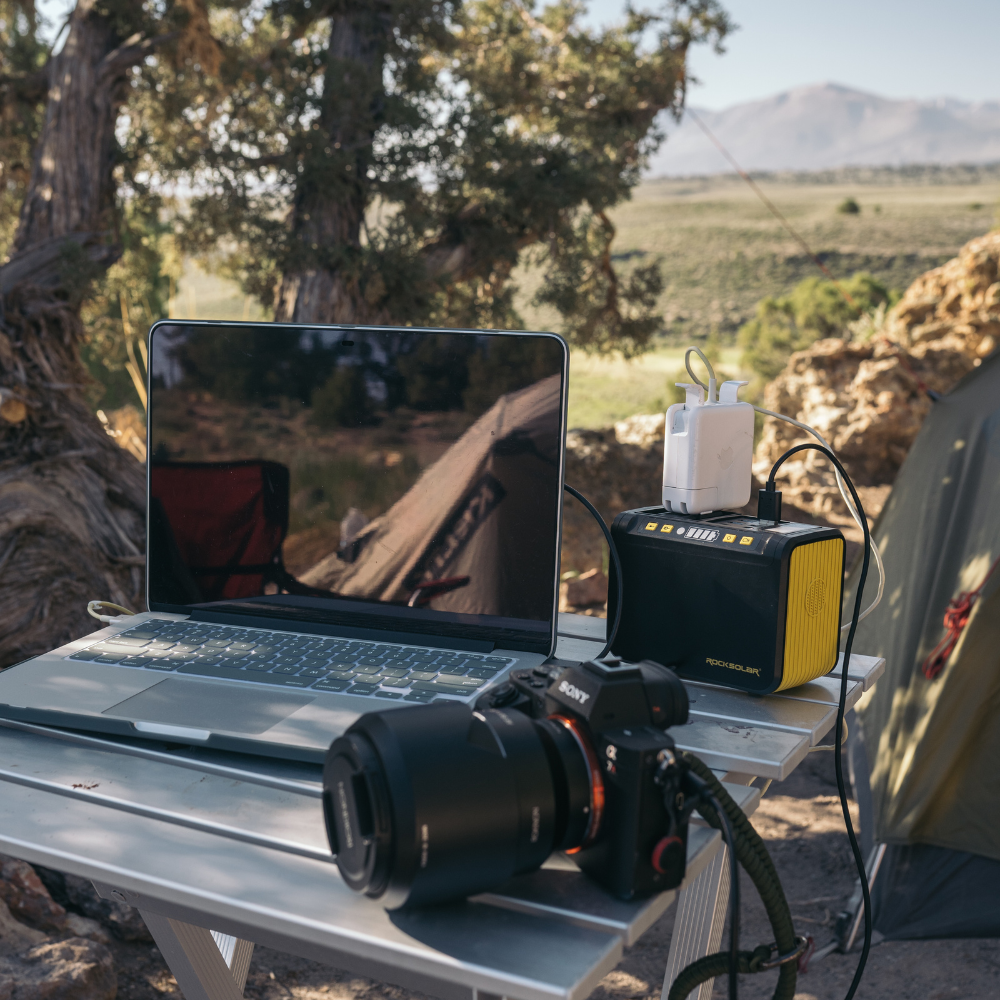 Happy so far
Haven't really used it yet but build quality seems up to standards and I really love the size and look!
Rocksolar Weekender
Awesome! Lightweight and compact but don't letvthat fool you, it packs a punch. Great for cabin time. Even runs a fan and mini fridge! Two thumbs way up! I would buy here again 100%
Weekender 80W
Unfortunately, mine seems defective, it only charged my laptop about 20% when plugged into the top outlet and it should be able to charge it 1.3 times. After recharging, it did charge my laptop fully but from the bottom outlet, with half power left. When I used it next, I plugged a selfie circle light into the top outlet, and it used 25% in like 5 or 10 min then I plugged it into the regular USB port and surprisingly it did not last long from it being a quarter full only maybe 10min and the light only takes 5V 1A. It has not been too reliable. I used it by the instructions.
Fantastic Little Power Station
Bought this for camping, used it to charge our phones, laptops and to watch movies with
A beast of a power bank
This is a beast of a power bank. We really like that it has a large capacity and can power home devices in a pinch.