Up to 50% off already applied. Use code HOLIDAY23 for an extra 15% off!
Regular price
$133.00 USD
Regular price
$226.00 USD
Sale price
$133.00 USD
Unit price
per
Sale
Sold out
Compact Yet Robust: 80W output packed in a 2.9 lbs device.
Varied Charging Ports: Includes AC, DC, and multiple USB outlets.
High Capacity in Compact Design: Houses a 30000mAh/111Wh lithium battery.
Rapid Recharge: Quick charging capabilities through wall outlet and compatible solar panels.
Top-Notch Safety: Features an advanced battery management system and smart cooling fan.
Ready for Emergencies: Equipped with an ultra-bright LED light panel.
Intelligent Features: Whisper-quiet operation and a clear LED display for battery life.
Modified Sinewave Output: Offers a peak wattage of 120W.
Extended Lifecycle: Designed to exceed 1000 charge cycles.
1-Year Warranty: Backed by a one-year warranty from the date of purchase.
Free
Local Shipping
1-year Hassle Free
Warranty
Lifetime Customer
Support
Share
View full details
Description

Includes
Specifications
FAQ
Downloads
Reviews
Introducing the ROCKSOLAR RS81 MAX 80W 111Wh Portable Power Station – one of the most light weight and compact power station for camping. Whether you're venturing into uncharted territories, camping under starlit skies, or simply desiring a trustworthy power companion for everyday life, the RS81 MAX emerges as the top outdoor power generator, with its state-of-the-art battery management system and lightweight design, it promises not just performance, but safety and convenience too.
Product Features
High-Efficiency Power: With an enviable 80W output, this power station pledges reliable and steady energy, addressing a gamut of requirements.
Revolutionary Battery Management: Equipped with an avant-garde battery management system, it assures safety against overcurrent, overheating, and other potential risks, offering you peace of mind.
Compact Yet Mighty: Despite its compact size, the RS81 MAX houses a massive 30000mAh/111Wh lithium battery, ensuring you're never short on power.
Ultra-Light weight & Compact: Tipping the scales at only 2.9lbs, it stands as a testimony to the seamless blend of power and portability, ready to be a part of all your escapades.
Multipurpose Port Array: From AC outputs to USB ports, including Qualcomm QuickCharge 3.0, it's tailored to charge a multitude of devices, ensuring you're always connected.
Rapid Solar Recharge Capability: Compatible with ROCKSOLAR's range of solar panels, it's your solar power station ensuring swift recharges under the sun.
Ideal For:
RV, tailgating & Camping Expeditions
Backyard Events & Outdoor Gatherings
Emergency Power Solutions & Home Backups
On-the-Go Digital Nomads & Content Creators
Sports Events, Picnics & Recreational Activities
DIY Projects, Workshops & Outdoor Enthusiasts
Remote Work, Study & Entertainment Sessions
1x ROCKSOLAR Weekender MAX 80W 111Wh Portable Power Station: Your reliable source for on-the-go power.
1x Power Adapter: For quick and convenient charging.
1x Cigarette Lighter Adapter: For versatile power options.
1x User Manual: All the information you need for operation and safety.
Technical Specifications
Specification
Details
Manufacturer
ROCKSOLAR TECHNOLOGY LLC
Place of Business
ROCKSOLAR 60 Baffin Place, Unit 5 Waterloo, ON N2V 1Z7 Canada
Part Number
1
Product Dimensions
14.48 x 7.62 x 10.41 cm; 1.04 Kilograms
Batteries
1 Lithium Ion batteries required. (included)
Item model number
RS81MAX
Colour
Black & Orange
Style
RS81 Max (111Wh)
Material
Plastic
Power Source
Battery Powered
Voltage
12 Volts
Wattage
111 Watt-hours
Item Package Quantity
1
Certification
UL
Special Features
Portable, Quickcharge, Large Capacity
Included Components
RS81 MAX Power Station
Batteries Included?
Yes
Batteries Required?
Yes
Battery Cell Type
Lithium Ion
Warranty Description
1 Year From Date Of Purchase
Item Weight
1.04 kg
Yes, the ROCKSOLAR RS81 MAX can be charged using ROCKSOLAR 30W, 60W, or 100W Solar Panels, which are available separately.
The ROCKSOLAR RS81 MAX power station weighs 1.04 kilograms (approximately 2.9lbs).
The ROCKSOLAR RS81 MAX boasts multiple ports including 1*AC Output, 1*DC OUT, 2*USB 18W Port, 2*USB 5V/2.4A Ports, and 1*USB C Qualcomm QuickCharge 3.0 18W port.
Yes, the RS81 Max comes with an ultra-bright LED light panel, ensuring you're never left in the dark.
The RS81 MAX comes with a 1-year warranty from the date of purchase.
The RS81 Max features an LED Display which provides a clear indication of the remaining battery life.
Yes, due to its portable nature and robust 30000mAh/111Wh lithium battery, the ROCKSOLAR RS81 MAX is the perfect companion for on-the-go adventures.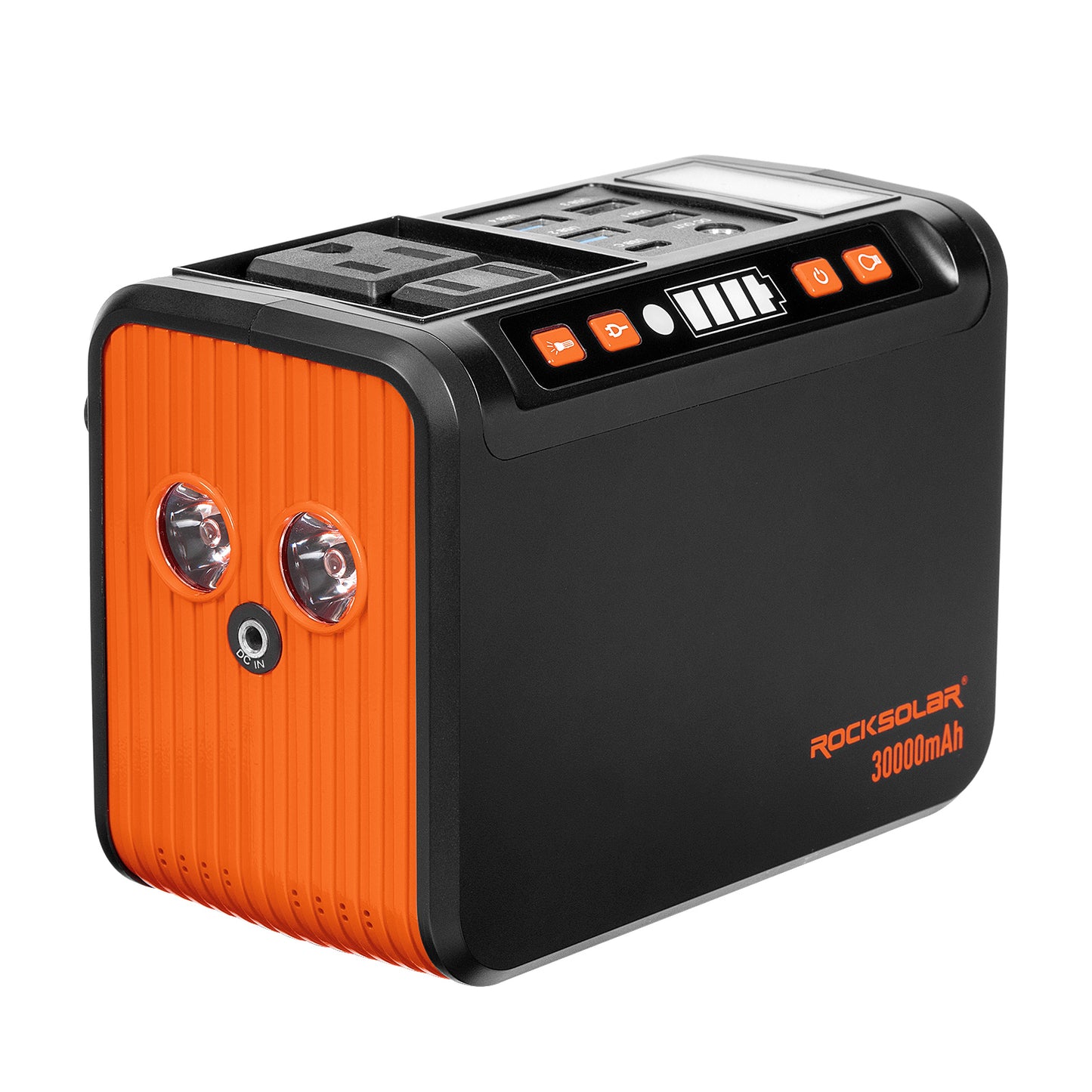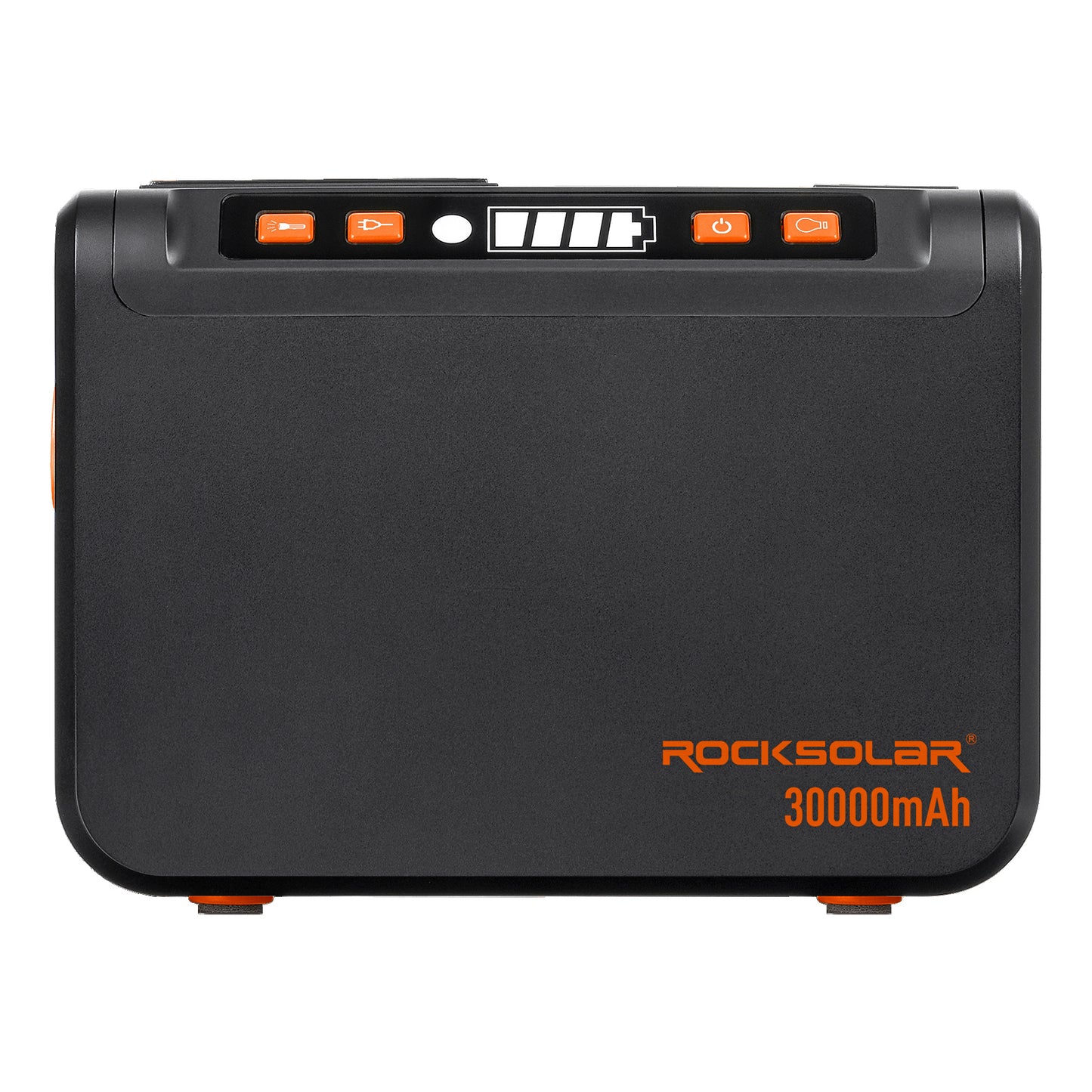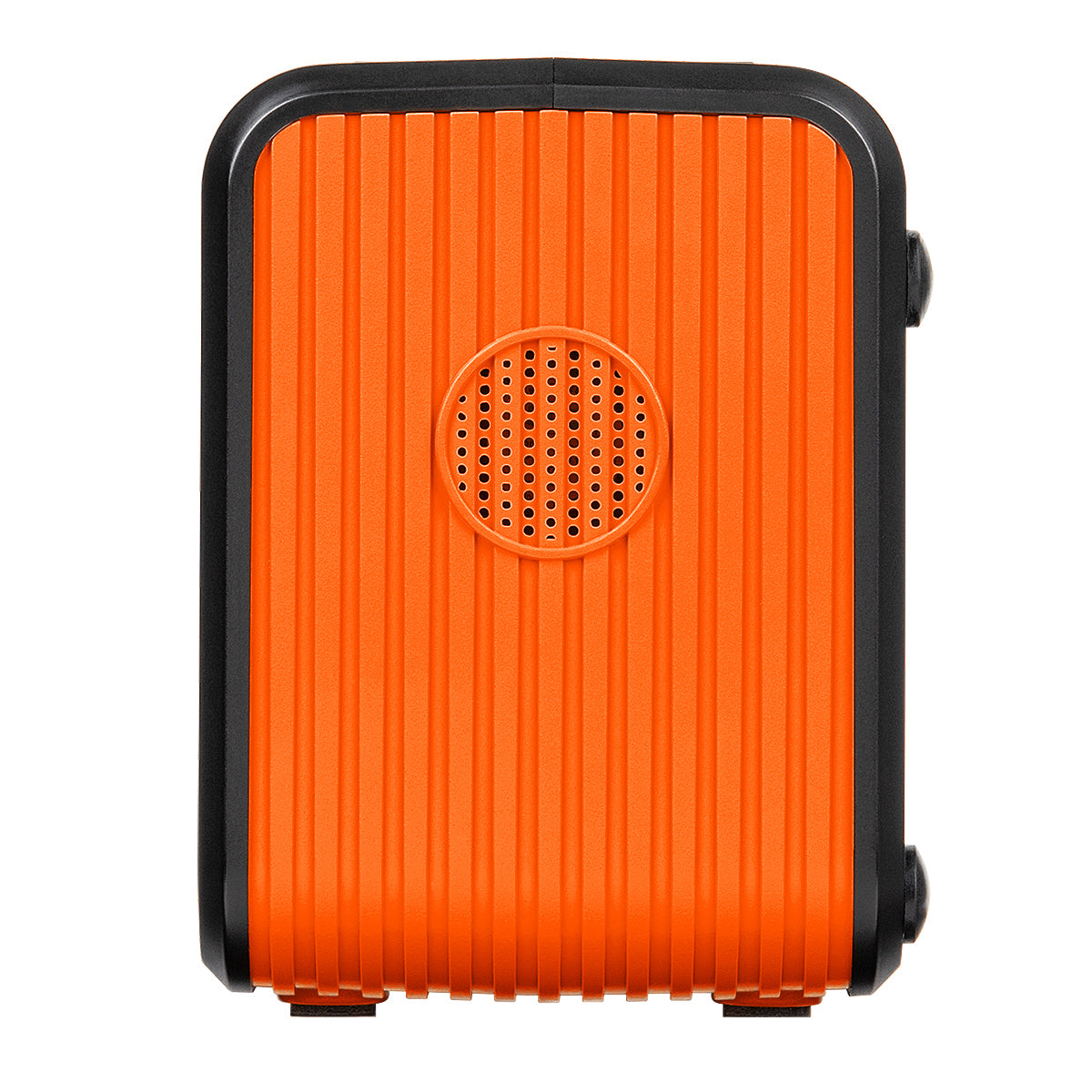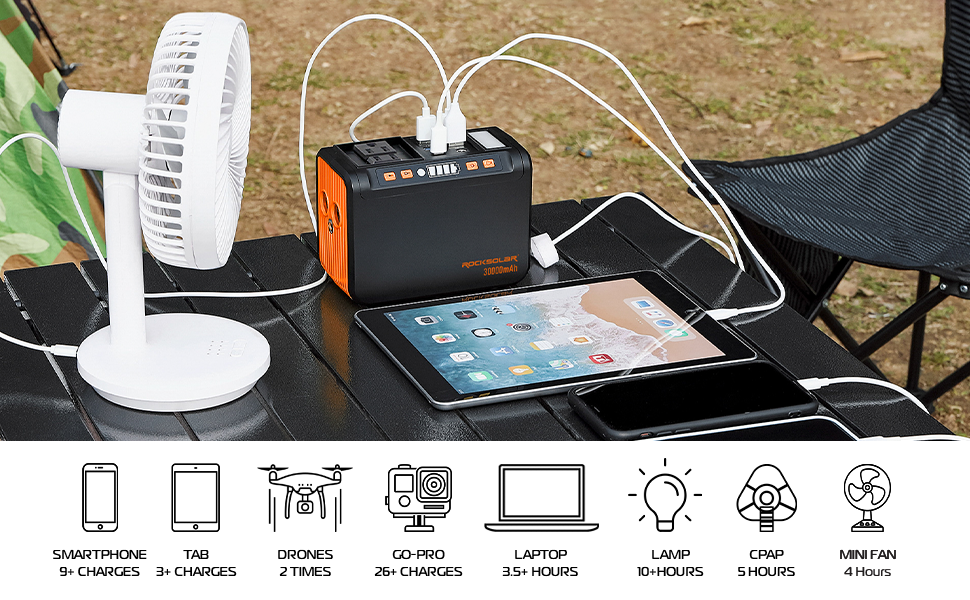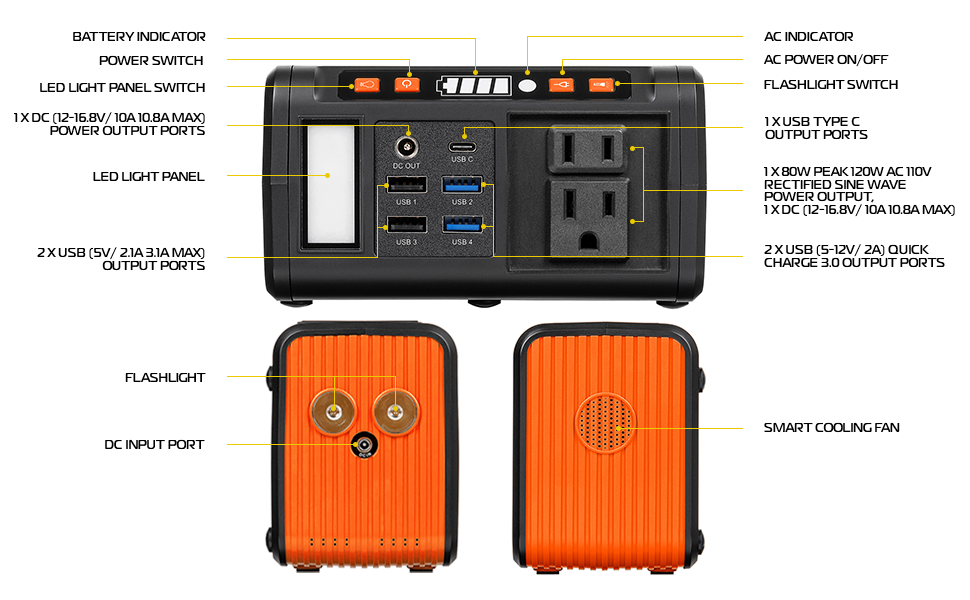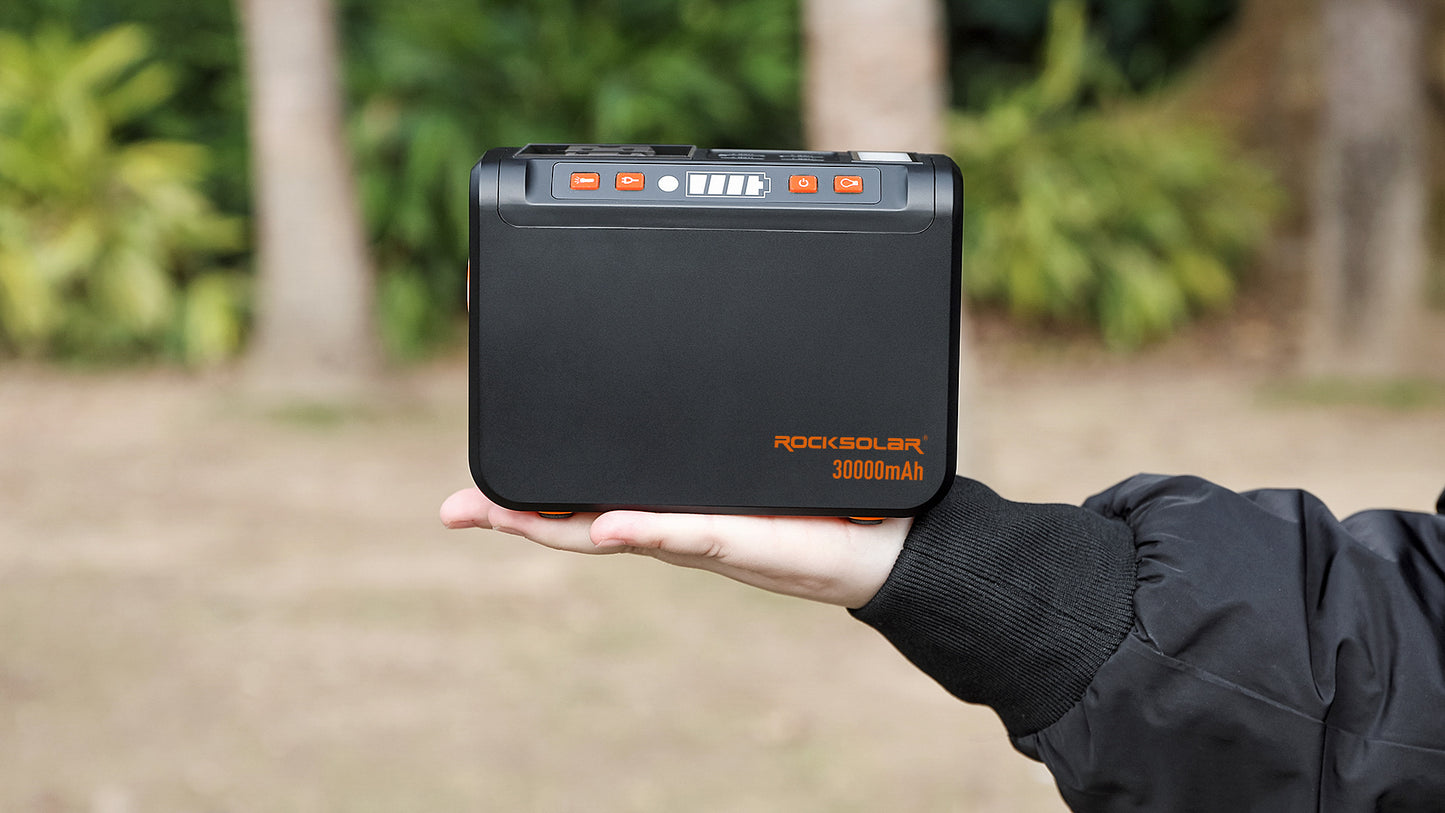 Works as I want it to
I bought this battery specifically for getting energy from places where there is no easy-to-reach wall-plug for power. This battery performs well with my Steam Deck and my Asus G14 Gaming laptop. This battery doesn't work with all laptops - especially with ones that require more wattage to operate. I give this 5 stars because the battery gave me ~4 hours of extra juice for the laptop that I own.
It's important to note that It takes more than 5 hours to recharge from its depleted state to the full capacity of 30,000 mAh battery, with the wall charger that came with the package.
very good service.
Whether at home or traveling can provide convenience.
Definitely recommended
I bought this for my camper this year. So far I've loved it. I've been able to charge my phones & power small appliances with out having to run our generator.
Best Portable for Laptop Battery Backup
Came the same day I ordered it and I love the flashlights on the device.First portable battery I have found that actually charges my gaming laptop so 5/5 for me. I'm wondering if I can take it on a plane. I have a trip coming up and I'd like to use it.
Very nice charger
This is prefect to keep handy incase power goes out and you need to charge phones etc.