Up to 50% off already applied. Use code HOLIDAY23 for an extra 15% off!
Regular price
$226.00 USD
Regular price
$301.00 USD
Sale price
$226.00 USD
Unit price
per
Sale
Sold out
All-in-One: Perfect for tasks, trips, and emergencies.
High Capacity: 277.5Wh Lithium-ion Polymer battery.
Varied Outputs: 2 AC, 1 DC, multiple USB ports.
Light & Compact: Weighs only 5.95lbs.
Fast Charging: Solar, AC outlet, or carport.
Advanced Safety: In-built BMS for protection.
Eco-Friendly: Quiet, clean, no gasoline needed.
Durable: 1000+ charge cycles.
Inclusive Kit: Adapter, cables, and guide included.
Canadian Support: Dedicated customer service.
Warranty: 1-year coverage for peace of mind.
Free
Local Shipping
1-year Hassle Free
Warranty
Lifetime Customer
Support
Share
View full details
Description

Includes
Specifications
FAQ
Downloads
Reviews
Introducing the ROCKSOLAR Weekender MAX PRO 250W Portable Power Station, your all-in-one off grid power solution and best power station for camping. Whether you're in an RV, on a camping trip, navigating a power outage, or at a worksite, the Max Pro as an outdoor power generator is designed to be your emergency power source and backup power supply. It is the go-to choice for outdoor enthusiasts, RV owners, and anyone seeking a reliable backup power source.
Product Features
All-in-One Solar Power Station: Powered with a Lithium-ion battery and solar ready, RS811 offers backup power supply and emergency power source for camping trips, power outages, and emergencies.
Multiple Charging Options: Equipped with 2 AC 110V Pure Sine Wave outputs, multiple DC and USB ports, including Quick Charge and USB C PD3.0, to cater to a vast array of devices.
Fast & Efficient Charging: Recharge using ROCKSOLAR 60W or 100W solar panels, an AC Wall Outlet within just 6 hours, or your carport, ensuring you're always ready to go.
Reliable and Silent Power Station : A solar generator with an advanced battery management system (BMS), it provides clean power similar to home outlets without noise or emissions.
Lightweight and Compact Design: Weighing only 5.95lbs, this power station is portable without compromising on power capacity.
Canadian Technical Support: Backed by ROCKSOLAR's dedicated Canadian technical and customer service center for unparalleled support and peace of mind.
Experience the ROCKSOLAR Commitments
Comparing with most lithium portable power banks, this battery powered generator with its light weight and compact design is named one of the best portable power generators. With its portable energy storage ability from an emergency outage to powering your van life dreams, trust the Max Pro to light up your world.
Suitable for:
RV's and Mobile Homes
Outdoor Adventures & Camping
Boats, Van Life & Off-grid Living
Emergency Power Outages and CPAP
Larger Jobs & Extended Trips
Solar Panel Charging (Compatible with ROCKSOLAR 60W and 100W Solar Panels)
1x ROCKSOLAR Weekender MAX PRO 250W Power Station: A powerful and dependable solution for diverse power needs, be it longer trips, larger jobs, or emergencies.
1x AC Adapter: Enables efficient charging right out of the box.
1x Car Charger Cable: Convenient for recharging on-the-go during road trips.
1x Cigarette Lighter Adapter: Expands your charging options, especially in outdoor settings or vehicles.
1x User Manual: Comprehensive guide detailing operations, safety precautions, and technical specifications.
Technical Specifications
Specification
Details
Manufacturer
ROCKSOLAR TECHNOLOGY LLC
Place of Business
ROCKSOLAR, 60 Baffin Place Unit 5, Waterloo, ON N2V 1Z7, CANADA. 1-800-858-4318
Part Number
RS811001
Product Dimensions
20.83 x 15.24 x 12.7 cm; 2.7 Kilograms
Item model number
S811
Colour
Black & Yellow
Style
RS81 Max PRO (277Wh)
Material
Plastic
Power Source
Battery Powered
Voltage
12 Volts
Wattage
277 Watt-hours
Special Features
Portable, Overload Protection, Short Circuit Protection, Lightweight
Included Components
User Manual, Charging Cables, Portable Power Station
Warranty Description
1 Year From Date Of Purchase
Item Weight
5.95 lbs
The Weekender MAX PRO 250W features a robust 277.5Wh Lithium-ion Polymer battery, designed to provide reliable power for longer durations.
You can charge multiple devices simultaneously using its variety of ports: 2 AC 110V outputs, 1 DC output, 4 USB ports (including quick charge and USB C), ensuring you stay connected and powered up on your adventures.
The Weekender MAX PRO 250W weighs approximately 5.95 lbs, making it a lightweight and portable power solution for your needs.
You can recharge the Weekender MAX PRO 250W using ROCKSOLAR 60W or 100W solar panels (sold separately), from an AC Wall Outlet within 6 hours, or through your carport. All necessary charging cables are included in the package.
Yes, the Weekender MAX PRO 250W is designed to be a dependable power solution during power outages. Its 277.5Wh capacity ensures that essential appliances and devices remain functional when you need them the most.
Yes, the Weekender MAX PRO 250W comes with a one-year warranty from the date of purchase, providing added peace of mind for your investment.
Yes, the Weekender MAX PRO 250W features a pass-through charging capability, allowing you to charge the power station while simultaneously powering your devices.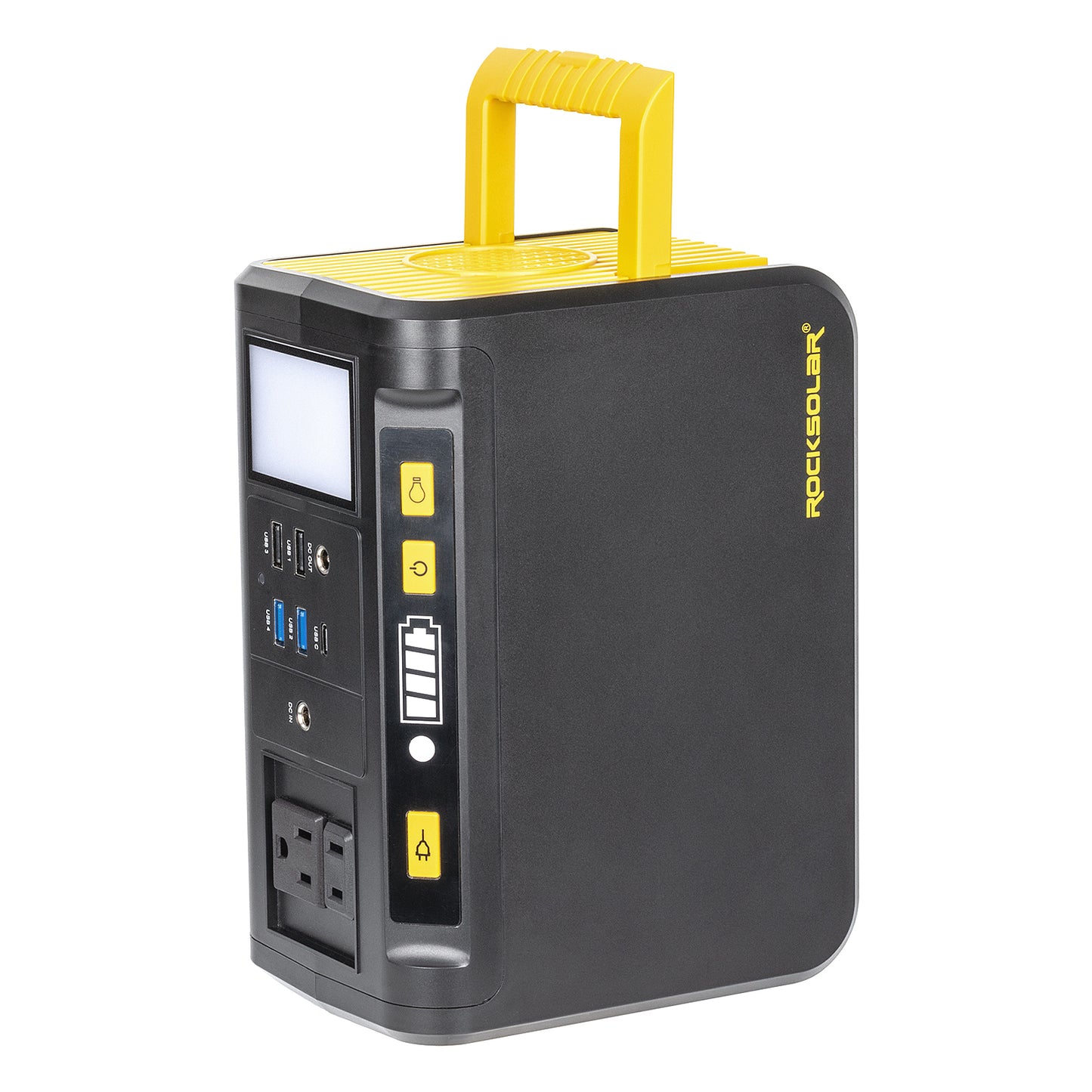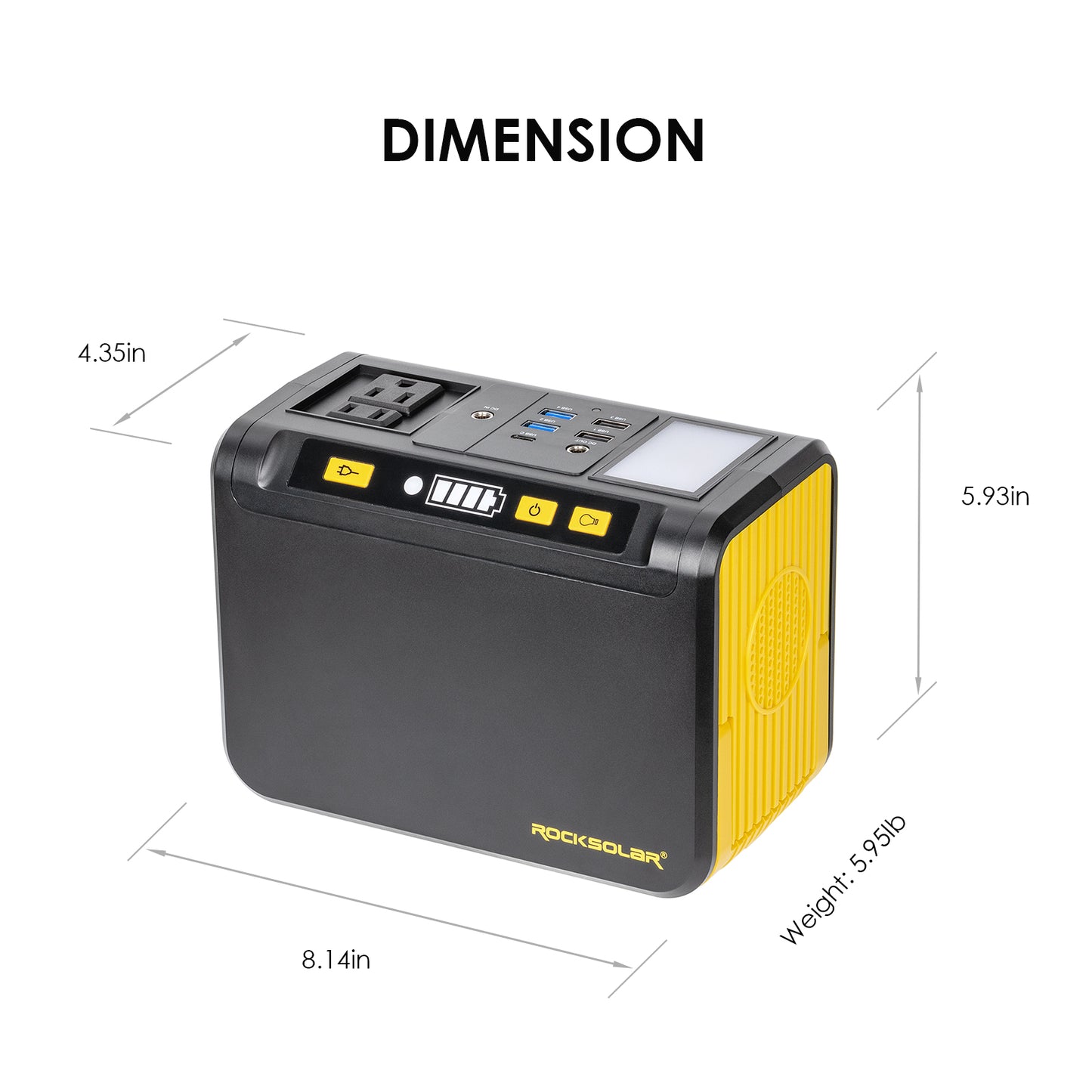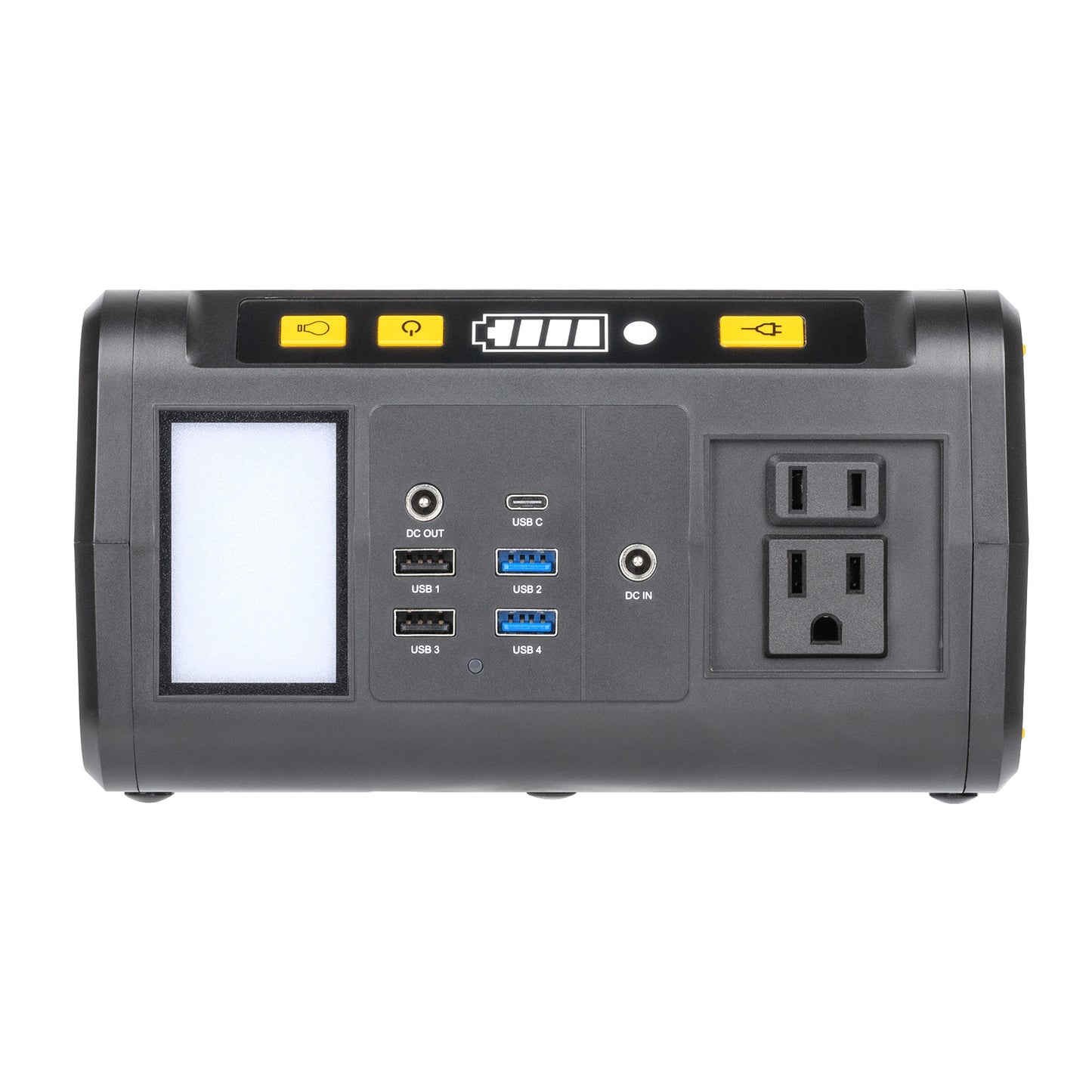 A fantastic battery
This little battery pack recharges and discharges wonderfully and feels very trustworthy , at least after the first two times I have used it.
E-Bike Battery Bank
I have 2 ebikes with aging batteries, the 2 companies are either out of stock for the last few years & the other company wants over $700 for a 250 watt. I had to give this 250 watt Weekender Pro a shot, more then 50% cheaper then replacing the ebike batteries & i am so jumping for joy happy i did. i used it for the 1st time last night & i am super amazed how many hours i rode & still had tons of juice left. i simply plugged my ebike charger into the bike battery then to this bank & strapped it on the back of the ebike. so simple, so ingenious. no more worrying about if i can make it home on the old batteries, watta relief. going to use this on the other ebike tonight, i am so confident that i'll get the same amazing results. i totally recommend this companys battery banks. Rocksolar really rocks! whoop whoop, happy dance.
Best features + best value = no brainer purchase
This has more battery power than other manufacturers claiming 300 watts. Takes 24 volt input, so my electric wheelchair can power it, or it accepts compatible solar panels. Can be charged while charging other devices. You will not find a lighter or more compact unit. I am more than pleased.
Power capacity
I run my cpap for two nights (8hrs a day) without humidifying. but still have 1bar left. And used it to charge my phone too while using cpap machine