What is a LiFePO4 - Lithium Iron Phosphate Battery?
Traditional lithium-ion batteries, which are the newer, most widely used option, have gained a reputation in recent years for catching on fire. This is why lithium batteries typically are not used to create large battery banks, but then lithium iron phosphate was discovered.
Also referred to as LiFePO4, these batteries are safer and more reliable for high-power applications, such as charging stations. Although they aren't new, they are now becoming more noticed - and finally being recognized as a greater alternative to lithium-ion. With ROCKSOLAR's eye always on the best technology that gives you the most for your money, it's natural that we carry various types of LiFePO4 batteries for you to choose from.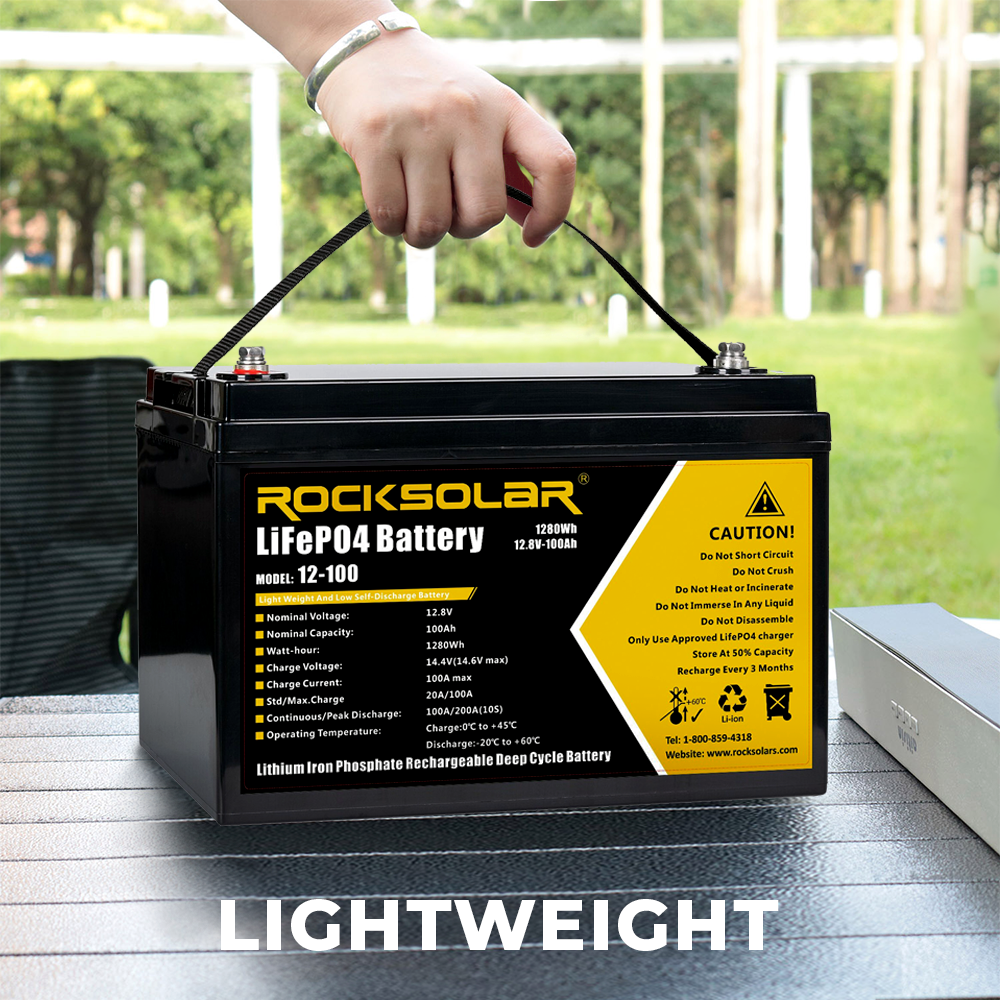 Lightweight
LiFePO4 is extremely efficient when it comes to saving space and being portable. These batteries are one-third of the weight of most lead-acid batteries and half the weight of popular batteries which are composed of manganese oxide. When using LiFePO4 while traveling, the lighter weight means less gas usage and more maneuverability, for a car, boat, or RV.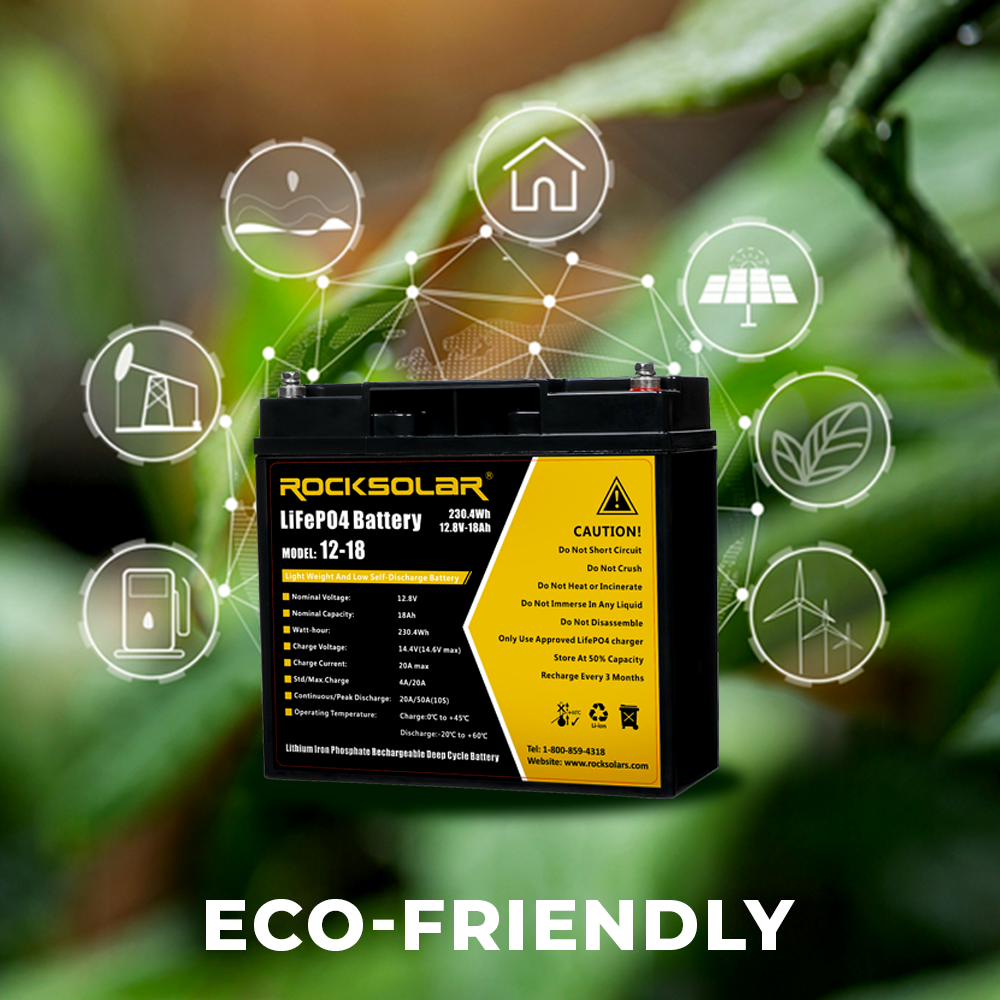 Eco-friendly
LiFePO4 batteries do not contaminate the earth like the batteries you're used to - they are non-toxic and contain no rare earth metals, making them the most environmentally friendly choiceyou can make. Most batteries, like lead-acid and nickel oxide lithium batteries, containchemicals that are not biodegradable and can leak toxic substances on whichever landfill they end up in.LiFePO4 batteries are also amazing for the planet because they are rechargeable - meaningthey won't even end up in a landfill in the first place. They are recyclable and extremely long-lasting - so when the time comes (far from now) to dispose of them, you can rest assuredknowing they will not harm wherever they land.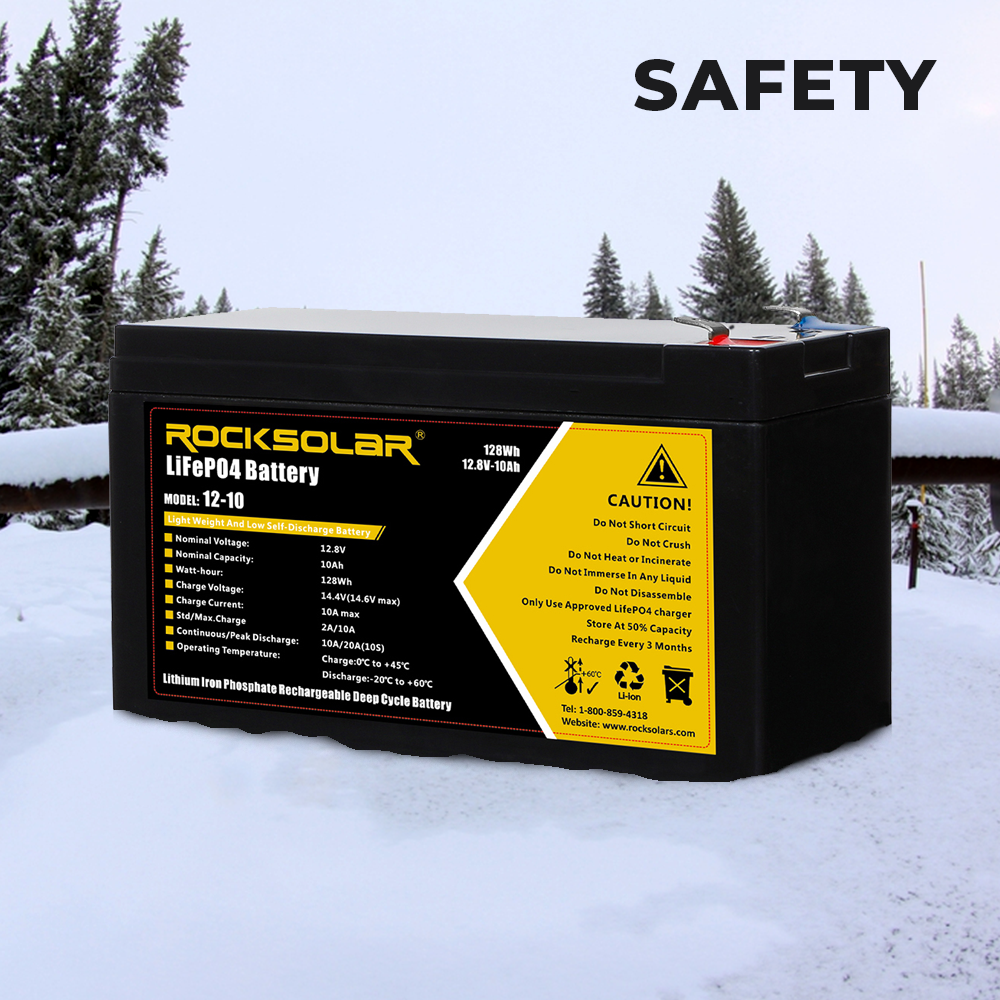 Safety
As mentioned before, a lot of people are making the switch to LiFePO4 batteries as traditionallithium-ion batteries have been known to cause fires and be extremely harmful when leftunattended or to charge devices on a larger scale. LiFePO4 batteries have great thermal andchemical stability, making their cells incombustible which means that they won't start a fire andthey can also withstand hard conditions, like blizzards, deserts, or rocky terrain.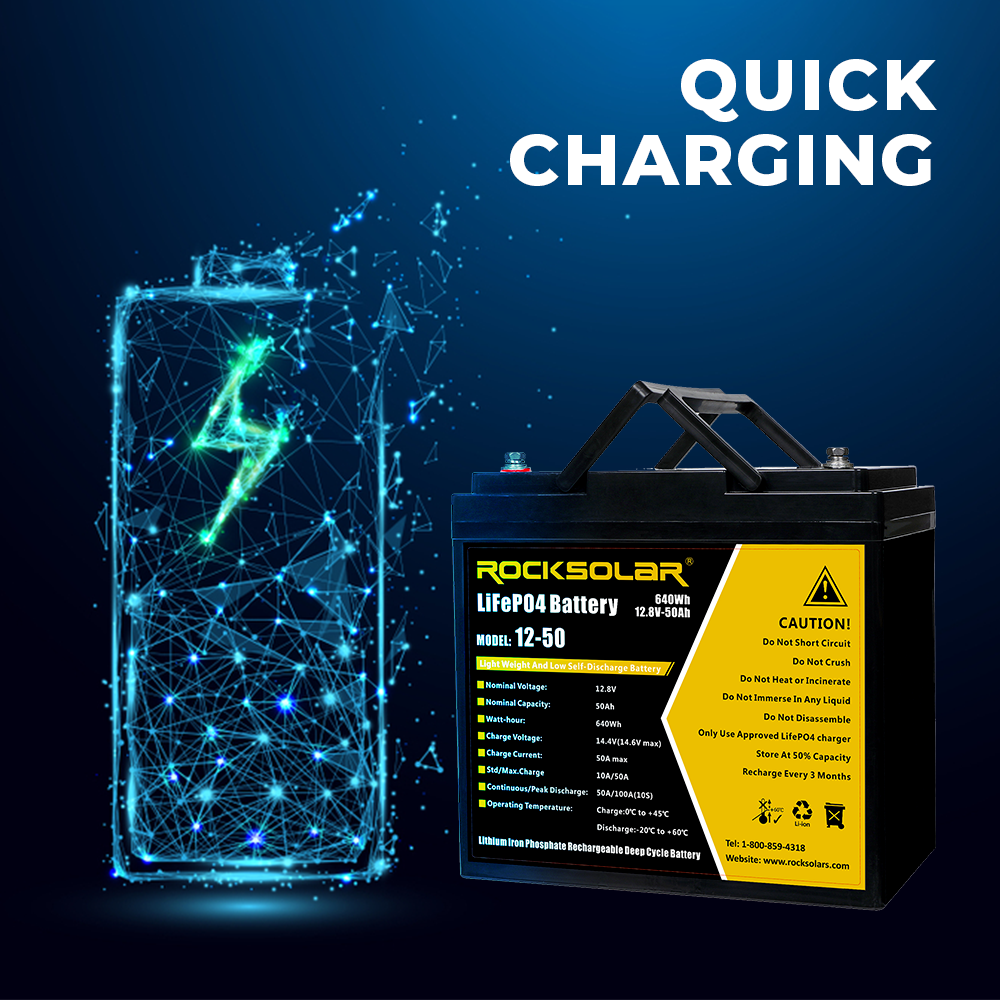 Quick Charging
When you purchase a battery you want it to last as long as possible. While LiFePO4 batteries are wonderfully rechargeable, they also have a long lifespan and recharge quickly because of their lightweight. The service life is around 10 years, and the runtime when using the batteries is longer than any lead-acid or other lithium formulated battery you can buy. If you want a battery that will both charge quickly and stand the test of time, LiFePO4 is the perfect choice.
| MODEL | RSLFP-0010-000-001 | RSLFP-0018-000-001 | RSLFP-0050-000-001 | RSLFP-0100-000-001 |
| --- | --- | --- | --- | --- |
| Product Dimensions | 14.99 x 6.6 x 9.4 cm; 1.27 Kilograms | 14.99 x 6.6 x 9.4 cm; 2.04 Kilograms | 14.99 x 6.6 x 9.4 cm; 5.9 Kilograms | 14.99 x 6.6 x 9.4 cm; 12.52 Kilograms |
| Batteries | 1 Lithium Ion batteries required. (included) | 1 Lithium Ion batteries required. (included) | 1 Lithium Ion batteries required. (included) | 1 Lithium Ion batteries required. (included) |
| Is Discontinued By Manufacturer | No | No | No | No |
| Special features | UB1280 replacement, fish finder battery, wide operating temperature: Discharge: -20C -60C, Charge: 0C- 40C, 12V Lithium Iron Phosphate, Deep cycle | Best fish finder battery, wide working temperature: -20C -60C, SLA replacement battery, Light weight, best ham radio battery | Boat battery, Marine battery, Deep cycle, Wide working temperature: -20C -60C, Best trolling motor battery | temperature, short circuit, over discharge, over current & over charge protection, light weight, quick charge, Wide working temperature range: -20C- 60C, Deep Cycle, Marine battery for trolling motor |
| Voltage | 12 Volts (DC) | 12 Volts (DC) | 12 Volts (DC) | 12 Volts (DC) |
| Item Weight | 1.27 kg | 2.04 kg | 5.9 kg | 12.5 kg |
FAQs
What is the service life of the ROCKSOLAR LiFePO4 battery?

The cycle life of the ROCKSOLAR LiFePO4 battery can reach 3500+ and it has a 10+ year service life.
Does the ROCKSOLAR LiFePO4 battery provide consistent power output?

Yes, the ROCKSOLAR LiFePO4 battery has a flat voltage curve that provides a steady power output as the battery discharges, which means you get all the juice down to the last drop.
What is a BMS system?

A BMS (Battery Management System) is an electronic system that manages and protects a battery by monitoring its status, controlling its charging and discharging, and ensuring its safe and efficient operation.
What are the advantages of a LiFePO4 battery over other types of batteries?

LiFePO4 batteries offer several advantages over other types of batteries, including a longer service life, higher cycle and discharge rates, lower weight, and better performance in rugged and harsh environments.
Is there a warranty for this battery?

Yes, this battery comes with a 10-year warranty that covers any defects or issues related to the battery's manufacturing or materials. Additionally, ROCKSOLAR offers dedicated technical and customer support in Canada for the entire product life, so you can get help and advice if you encounter any issues or questions.