Up to 50% off already applied. Use code HOLIDAY23 for an extra 15% off!
Regular price
$166.00 USD
Regular price
$263.00 USD
Sale price
$166.00 USD
Unit price
per
Sale
Sold out
High Efficiency: 100W rating; adjusts for 20% more sunlight.
Multifunctional Ports: 2 USBs, 1 USB C with QC3.0 & PD 60W.
Portable: Lightweight, foldable, laptop-sized.
Durable: Splash-resistant build.
Universal Compatibility: Multiple DC connectors.
User-Centric: 1690mm x 380mm x 50mm; 4 carabiners.
Quality Material: Monocrystalline Silicon.
Emergency Ready: Ideal for outdoor activities and emergencies.
Sleek Design: Modern black aesthetics.
Warranty: 1-year assurance.
Free
Local Shipping
1-year Hassle Free
Warranty
Lifetime Customer
Support
Share
View full details
Description

Includes
Specifications
FAQ
Downloads
Reviews
Introducing the ROCKSOLAR 100W 12V Foldable Solar Panel – your versatile and portable USB solar battery charger tailored for on-the-go needs. Whether you're backpacking through the mountains, RVing across the country, or preparing for unpredictable power interruptions, the ROCKSOLAR solar panel promises dependable and efficient power under the sun. Recognized for its sleek design and robust performance, it's an indispensable tool for outdoor enthusiasts and modern nomads alike.
Product Features
High-Efficiency Solar Panel: Rated at 100W, it ensures rapid and reliable charging with 2 USB Ports and 1 USB C, including QC3.0 Quickcharge Technology.
Adjustable Design: Features adjustable kickstands for 0-180 degrees positioning, ensuring up to 20% more sunlight absorption.
Durable & Water-Resistant: Crafted for longevity, it's also water-resistant, ensuring performance even in unpredictable weather.
Lightweight & Foldable: Designed for portability, it's as compact as a laptop when folded and comes with 10 diverse DC connectors.
Universal Compatibility: Perfectly charges all ROCKSOLAR Power Stations and is compatible with devices ranging from iPhones to Samsung Galaxy, Huawei, and LG.
Comprehensive Kit: Includes essential accessories like cables, carabiner, connector cables, and MC4 connectors for a hassle-free experience.
Experience the ROCKSOLAR Commitment
ROCKSOLAR has engineered this solar panel not just as a power source, but as a companion for your adventures. The adjustable design, water-resistance, and lightweight attributes make it a standout. Beyond just being a solar charger, it promises durability, versatility, and the peace of mind that comes with a trusted brand.
Suitable for:
Backpacking & Hiking Adventures
RVs, Camping & Road Trips
Emergency Preparedness
Off-Grid Living & Remote Workspaces
Charging Laptops, Phones, and Small Appliances
Compatibility with a Range of Devices including iPhone, Samsung Galaxy, Huawei, and LG
1x 100 Watt Foldable Solar Charger: Efficiently harness solar energy for your devices.
1x 10-inch Connector Cable: For short-range connections and quick setups.
1x 78-inch DC5521-to-DC5521 Cable: Longer reach for diverse setups and distances.
1x MC4 Connectors: Versatile connectors for interfacing with various solar-compatible devices.
4x Carabiners: Attach and secure your solar panel in the optimal position for sunlight exposure.
1x User Manual for the Solar Panel: Comprehensive guide for setup, operation, and maintenance.
Technical Specifications
Specification
Details
Manufacturer
ROCKSOLAR
Place of Business
1-800-858-4318
Part Number
RSSP90
Product Dimensions
53.34 x 40.01 x 6.99 cm; 4.15 Kilograms
Batteries
No batteries (Solar Panel)
Item model number
RSSP100
Size
100 Watt
Colour
Black
Style
Usb, Battery
Pattern
100 Watt
Power Source
Solar Powered
Volume
Not Provided
Voltage
12 Volts
Wattage
100 Watts (Maximum Power)
Item Package Quantity
1
Type of Bulb
N/A (Solar Panel)
Special Features
Lightweight Design, Travel, Water resistant, foldable
Usage
Solar Charger for devices and ROCKSOLAR Power Stations
Included Components
Cable, Caribineer, Connector Cable, MC4 Connectors, Charger
Batteries Included?
No
Batteries Required?
No
Battery Cell Type
N/A (Solar Panel)
Battery Capacity
N/A (Solar Panel)
Warranty Description
1 Year
Item Weight
4.15 kg
Yes, the ROCKSOLAR 100W 12V Foldable Solar Panel is designed to charge standard 12V batteries. Ensure to use the appropriate connectors and monitor the charging process to prevent overcharging.
The charging time depends on the battery's capacity and the amount of sunlight. On a sunny day, the panel can produce up to 100W, so a 100Wh battery could be charged in approximately 1 hour, although efficiency losses and other factors may extend this time.
The ROCKSOLAR 100W Panel is water-resistant, making it suitable for light rain or moist conditions. However, it's not fully waterproof, so it shouldn't be submerged in water or exposed to heavy rainfall.
The ROCKSOLAR 100W 12V Foldable Solar Panel can charge a variety of devices, including smartphones, tablets, laptops, cameras, and ROCKSOLAR power stations. Always ensure the device is compatible with the panel's output specifications.
Yes, the panel typically comes with connector cables and MC4 connectors, allowing for easy connection to various devices and power stations. Always check the product details to ensure you have the necessary connectors for your needs.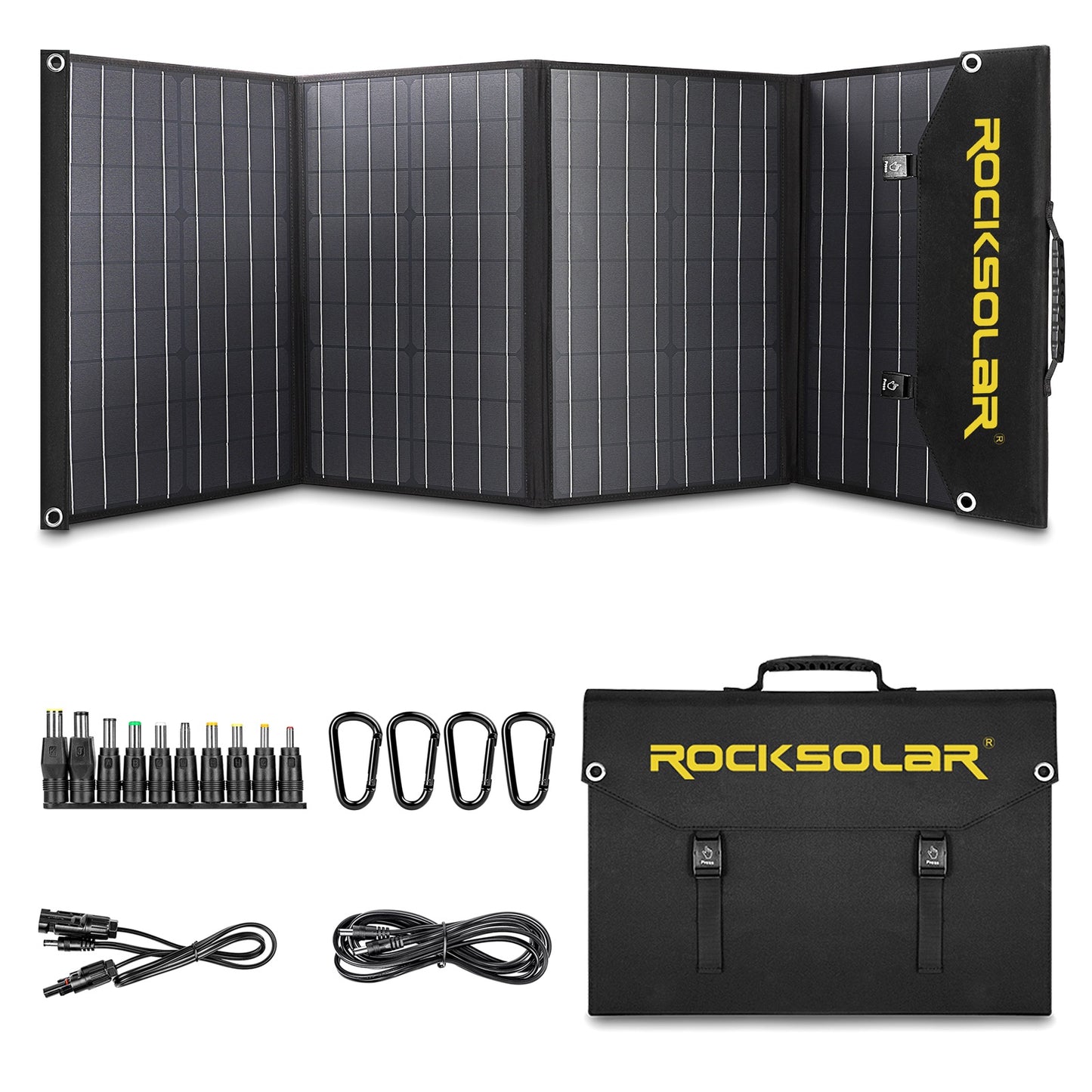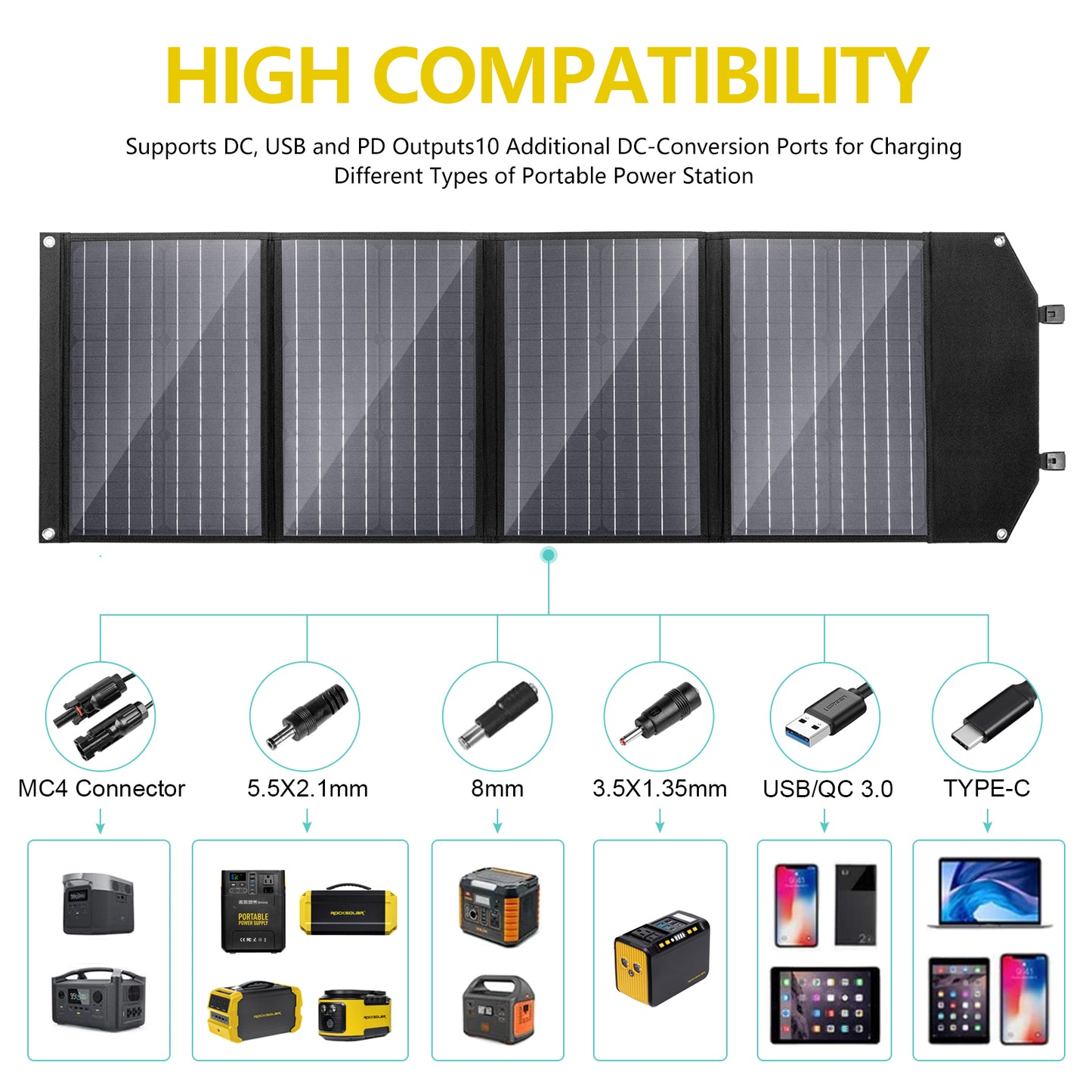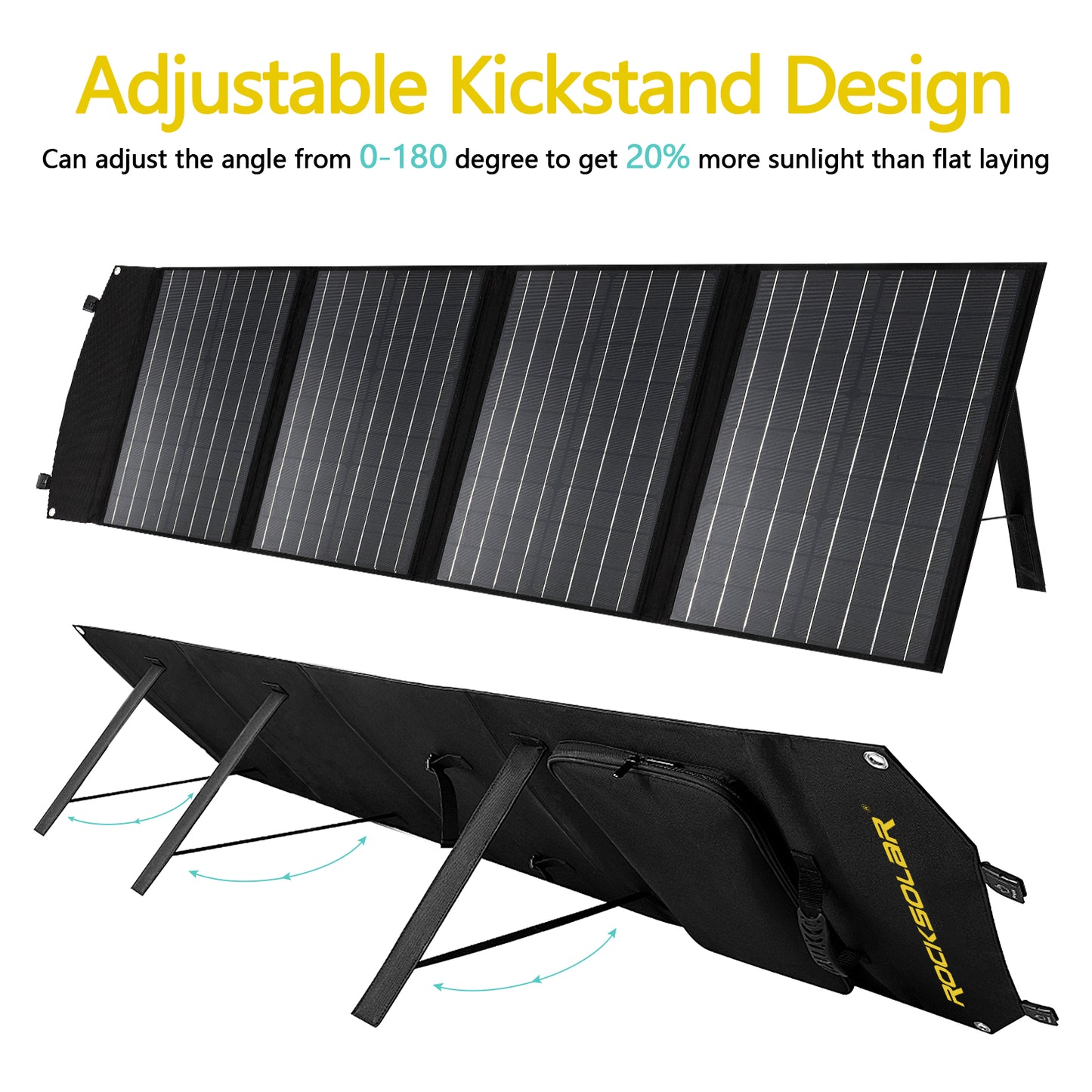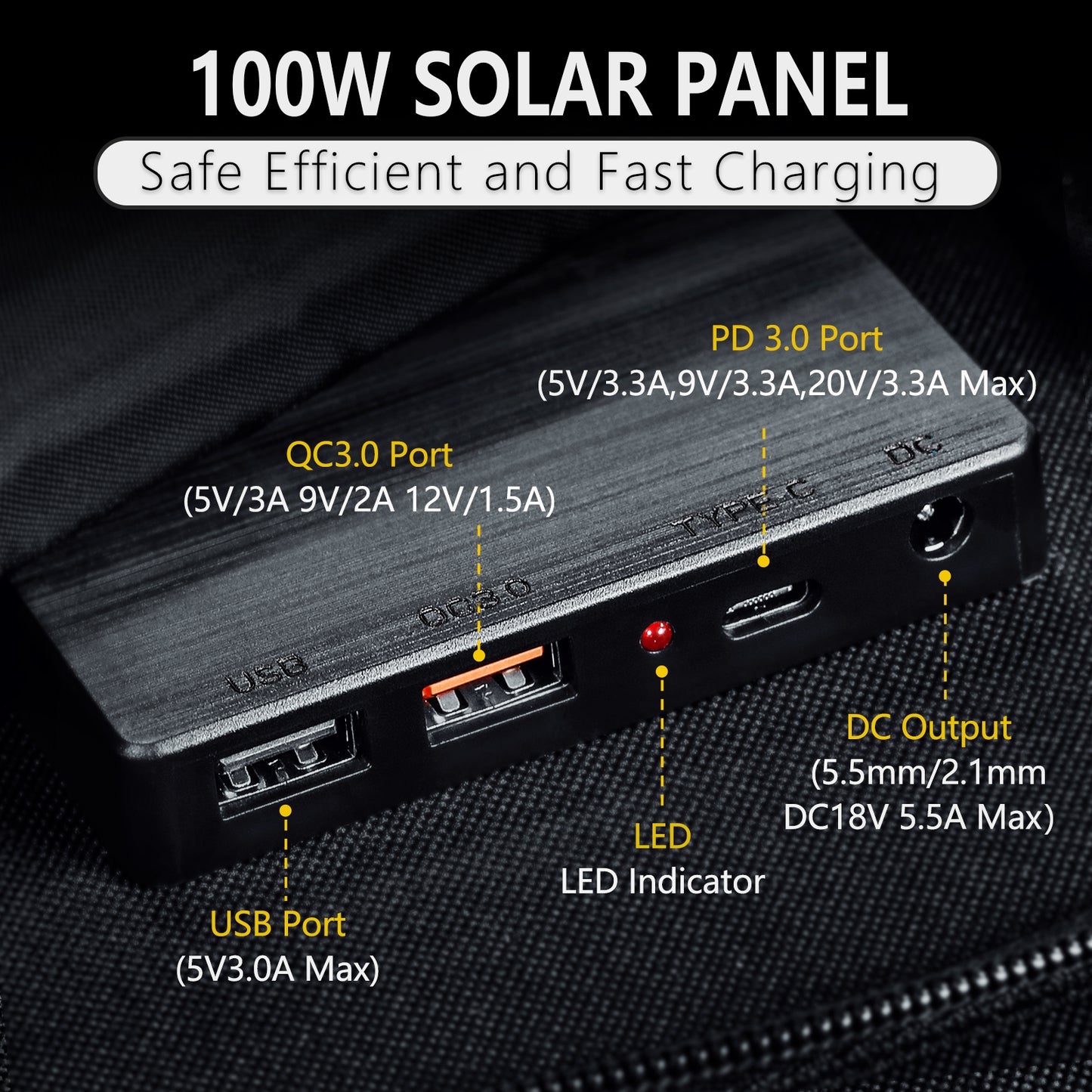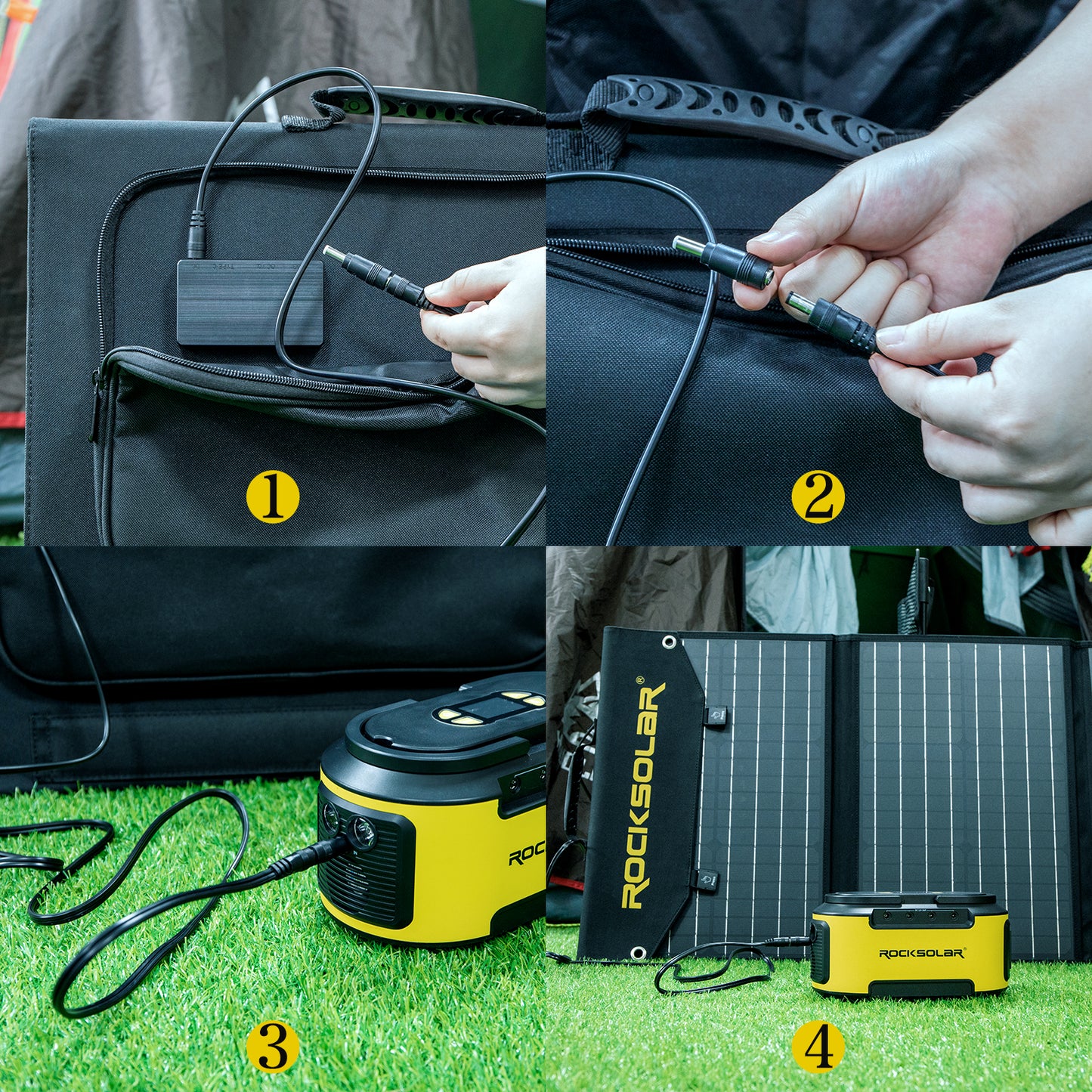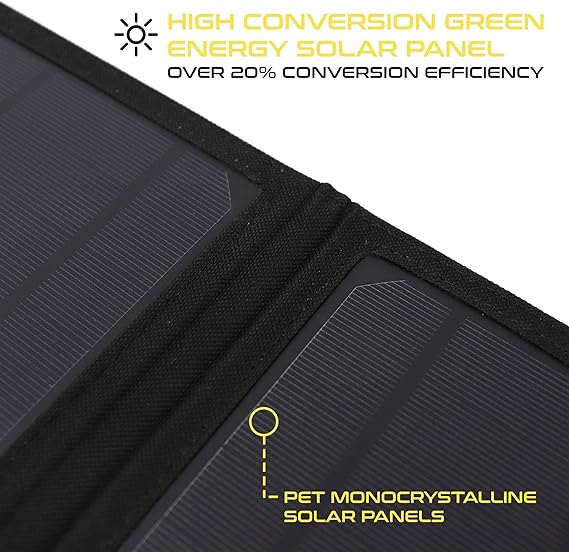 great solar panel and battery
We are really happy with the purchase
Rock solar 100 watts
Beautiful solar panel. Very Good price and Much better than the competition. Highly recommended
Beyond expectations
Most of the camping site where we setup don't have power ... the solar panels combined with the battery has provided us everything we need to charge up our electronic devices... totally thrilled with the outcome ! the ease of installation and the ease of moving it around is fantastic . I have no regrets with my purchases.
Solar relief
I installed my new solar on my boat and what a difference to daily life. . At the moment I'm collecting 5.8amps. I love being able
To monitor my battery as well. Takes away all my fear about battery use … such a great product.
works great in the sun but not later in evening