Additional 15% off applied at checkout. Use code - SAVEMORE
Regular price
$114.00 USD
Regular price
$152.00 USD
Sale price
$114.00 USD
Unit price
per
Sale
Sold out
Max 75Vdc PV Input: Wide range solar panel compatibility.
99.5% MPP Efficiency: Optimal energy utilization.
260W/520W Max PV Power: For 12V and 24V systems respectively.
3-Stage Charging: Efficient battery maintenance.
Lithium & Lead Acid Support: Versatile battery compatibility.
20A Rated Charge Current: Reliable power management.
IP30 Rated: Durable and safe design.
Extensive Voltage Range: 8~32V battery support.
Auto System Voltage Detection: 12/24V adaptability.
Intuitive LCD Display: Easy monitoring and control.
Free
Local Shipping
1-year Hassle Free
Warranty
Lifetime Customer
Support
Share
View full details
Description

Includes
Specifications
FAQ
Downloads
Reviews
Advanced MPPT Technology: The ROCKSOLAR 20A MPPT Solar Charge Controller features cutting-edge Maximum Power Point Tracking (MPPT) technology. It offers a remarkable MPP tracking efficiency of 99.5%, ensuring your solar panels capture the maximum energy possible, regardless of the environmental conditions.
Broad Voltage Compatibility: This controller can handle a maximum open voltage of 75Vdc, making it suitable for various solar panel configurations. Its versatility is further enhanced with a rated charging current of 20A and a battery voltage range of 8-32V.
Intelligent 3-Stage Charging: The 3-stage charge algorithm (Bulk, Absorption, Float) optimizes battery health and lifespan. It automatically adjusts to 12/24V nominal system voltage, accommodating different solar setups with ease.
Wide Battery Compatibility: Designed to work efficiently with both Lithium and Lead Acid batteries. Whether you're setting up a residential solar system or a mobile solar unit, this controller adapts to your specific battery type.
Safety and Protection: The ROCKSOLAR 20A MPPT Controller is IP30 rated, offering solid protection against environmental factors. It includes high voltage disconnection at 16V (24V x 2) and low voltage disconnection at 10.8V, ensuring your system operates within safe parameters.
Durable and Reliable: Engineered to function optimally within a wide range of temperatures, from -20°C to 55°C, this controller is built to withstand diverse climatic conditions, making it ideal for both indoor and outdoor applications.
Enhanced Solar Experience: The ROCKSOLAR 20A MPPT Controller is not just a component of your solar system; it's a significant upgrade, enhancing efficiency, reliability, and safety.

1x ROCKSOLAR 20A MPPT Solar Charge Controller: Efficiently manages solar power for optimal battery charging and longevity.
1x User Manual: Detailed instructions for setup, operation, and maintenance, ensuring you get the most out of your solar charge controller.
Technical Specifications
| Specification | Details |
| --- | --- |
| Model | POW-Keeper1220 |
| PV Input | Max Open Voltage of PV Module: 75Vdc |
| MPP Tracking Efficiency | 99.50% |
| MAX PV POWER | 260W for 12V system, 520W for 24V system |
| Charge Mode | 3 Stage Charge Algorithm |
| Battery Type | Lithium and Lead Acid Battery |
| Nominal System Voltage | 12/24V |
| Rated Charging Current | 20A |
| Battery Voltage Range | 8~32V |
| High Voltage Disconnection | 16V (24V x 2) |
| Duration for Absorption Charging | 2 hours |
| Charge Loop Voltage Drop | ≤0.29V |
| Self-consumption | ≤ 9.2mA 12V; ≤ 11.7mA 24V |
| Equalized Charging Voltage | AGM: 14.6V; GEL: No; FLd: 14.8V |
| Absorption Charging Voltage | AGM: 14.4V; GEL: 14.2; FLd: 14.6V |
| Floating Charging Voltage | AGM/ GEL/ FLd: 13.8V |
| Low Voltage Re-connection (LVR) | AGM/ GEL/ FLd: 12.6V |
| Low Voltage Disconnection (LVD) | AGM/ GEL/ FLd: 10.8V |
| Operating Temperature Range | -20℃~55℃ (Full rated current) |
| LCD Temperature Range | -20℃~70℃ |
| Humidity Range | ≤95% No condensation |
| Protection Class | IP30 |
| Dimensions | 123*178*48 mm |
| Installation Hole | 108*120 ∅5 |
The ROCKSOLAR 20A MPPT Solar Charge Controller can handle a maximum PV input voltage of 75Vdc, accommodating a wide range of solar panel configurations.
MPPT (Maximum Power Point Tracking) technology in the ROCKSOLAR 20A Controller maximizes the efficiency of solar energy conversion, enhancing the performance and battery life of your solar system.
Yes, the ROCKSOLAR 20A MPPT Controller is compatible with Lithium as well as Lead Acid batteries, offering versatile usage for different solar power setups.
The ROCKSOLAR 20A MPPT Solar Charge Controller has a rated charging current of 20A, providing efficient power management for your solar system.
Yes, the controller features an LCD display for real-time monitoring of system status, making it easy to manage and control your solar charging process.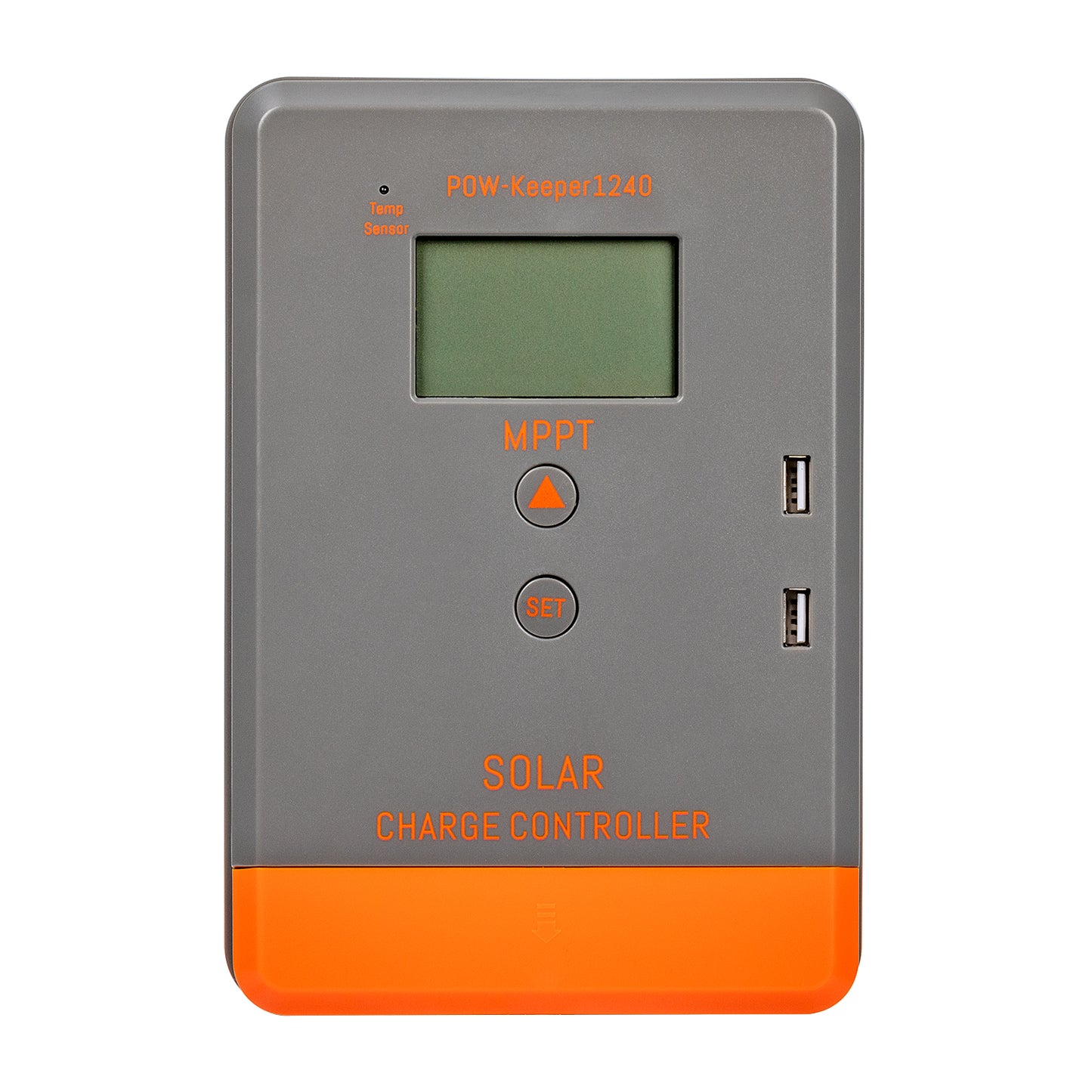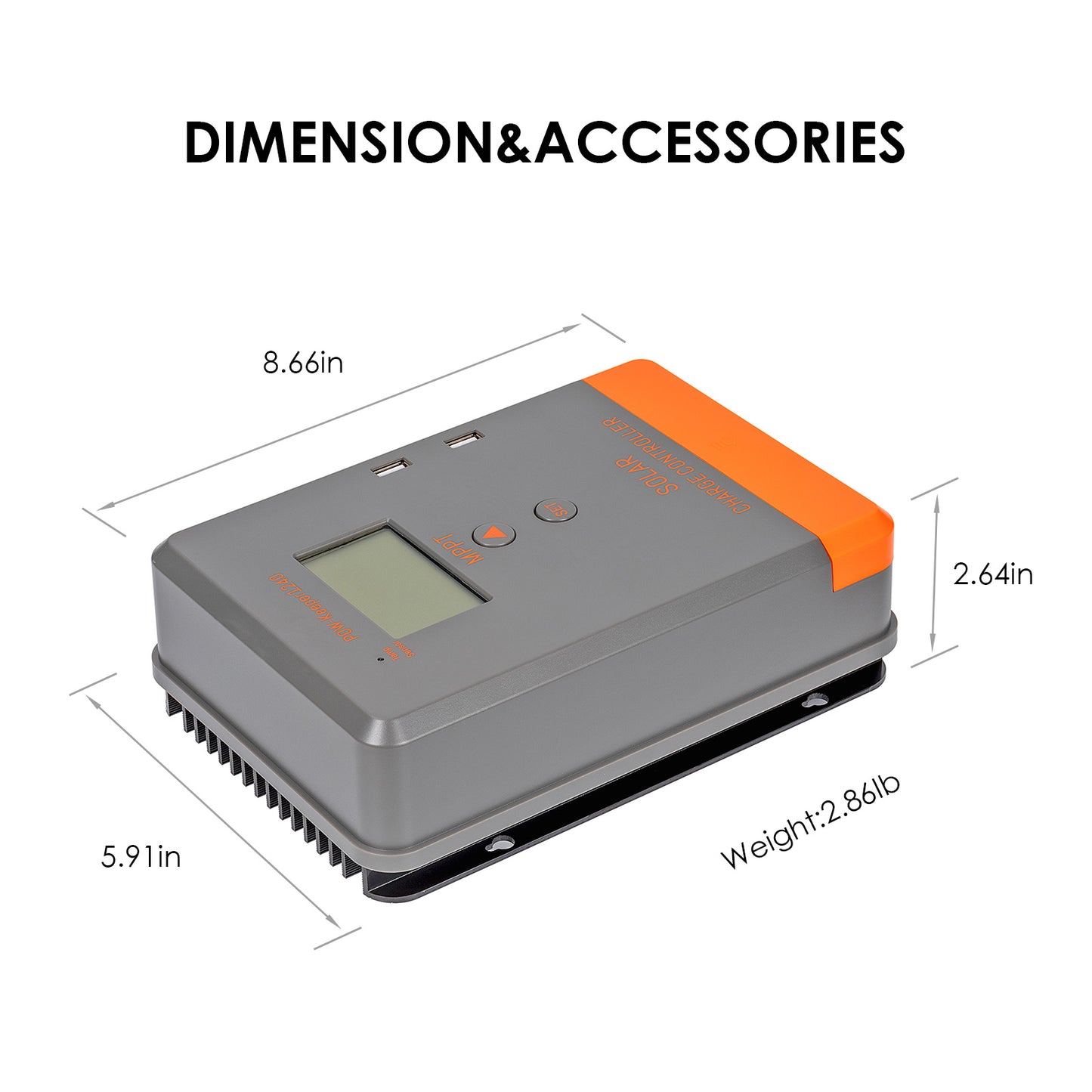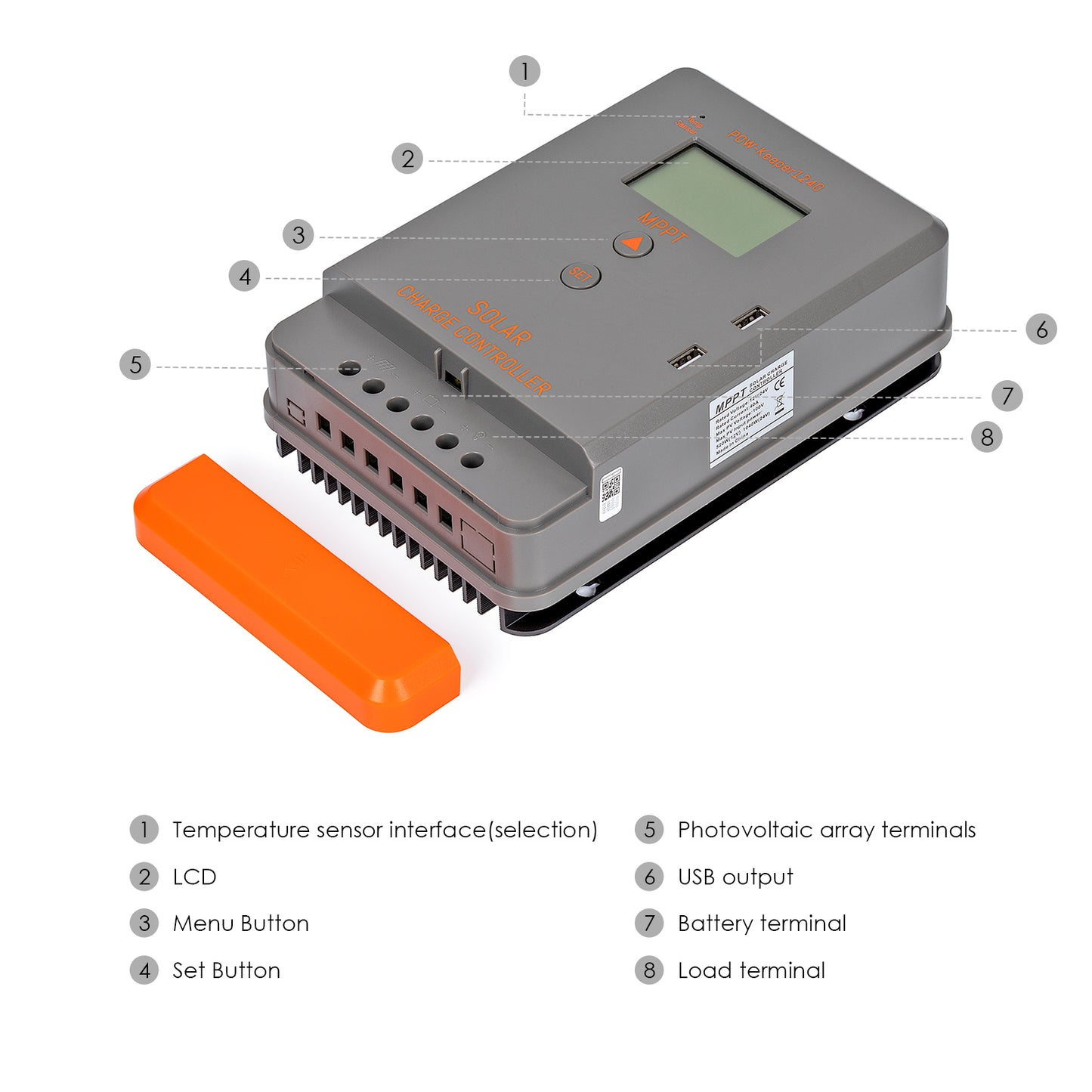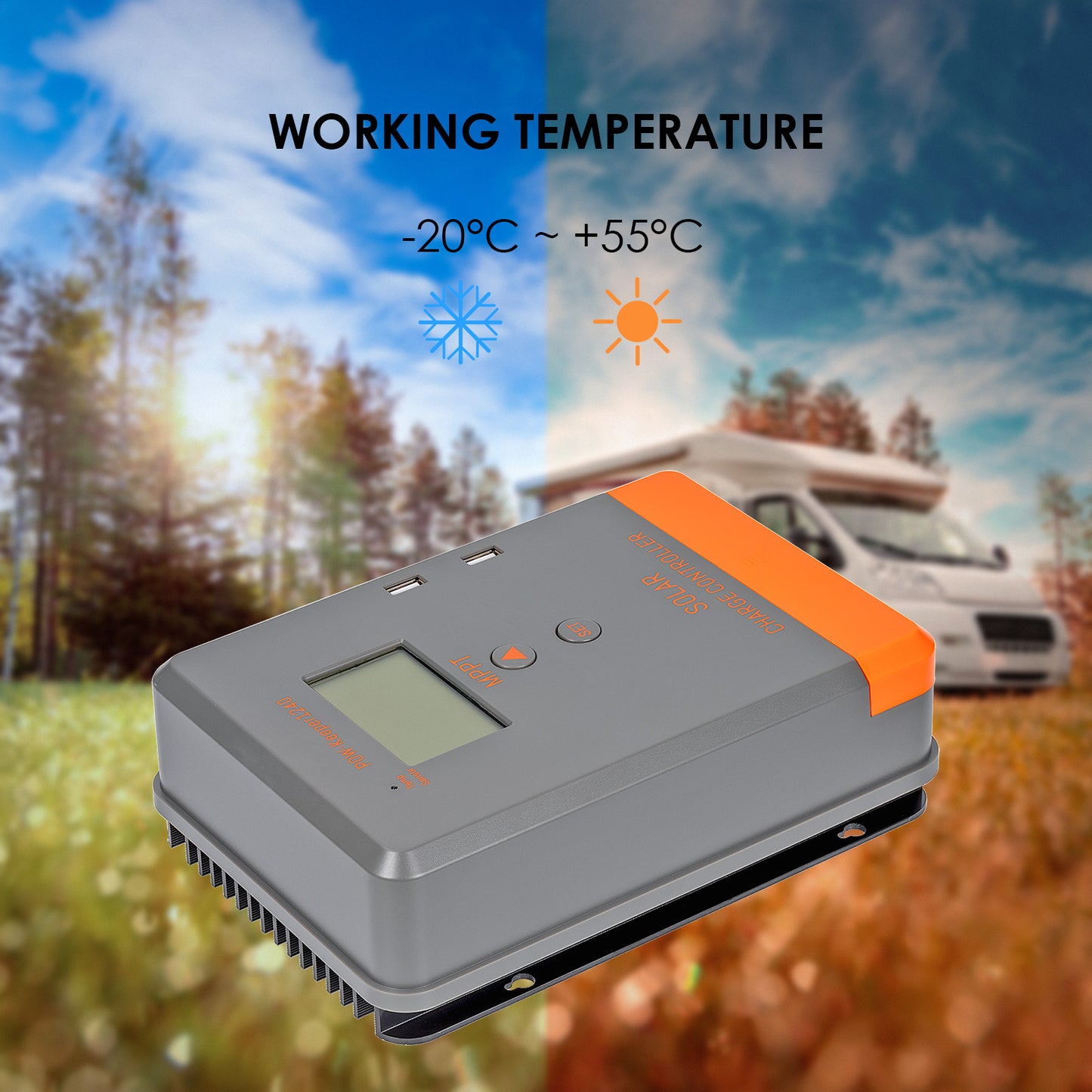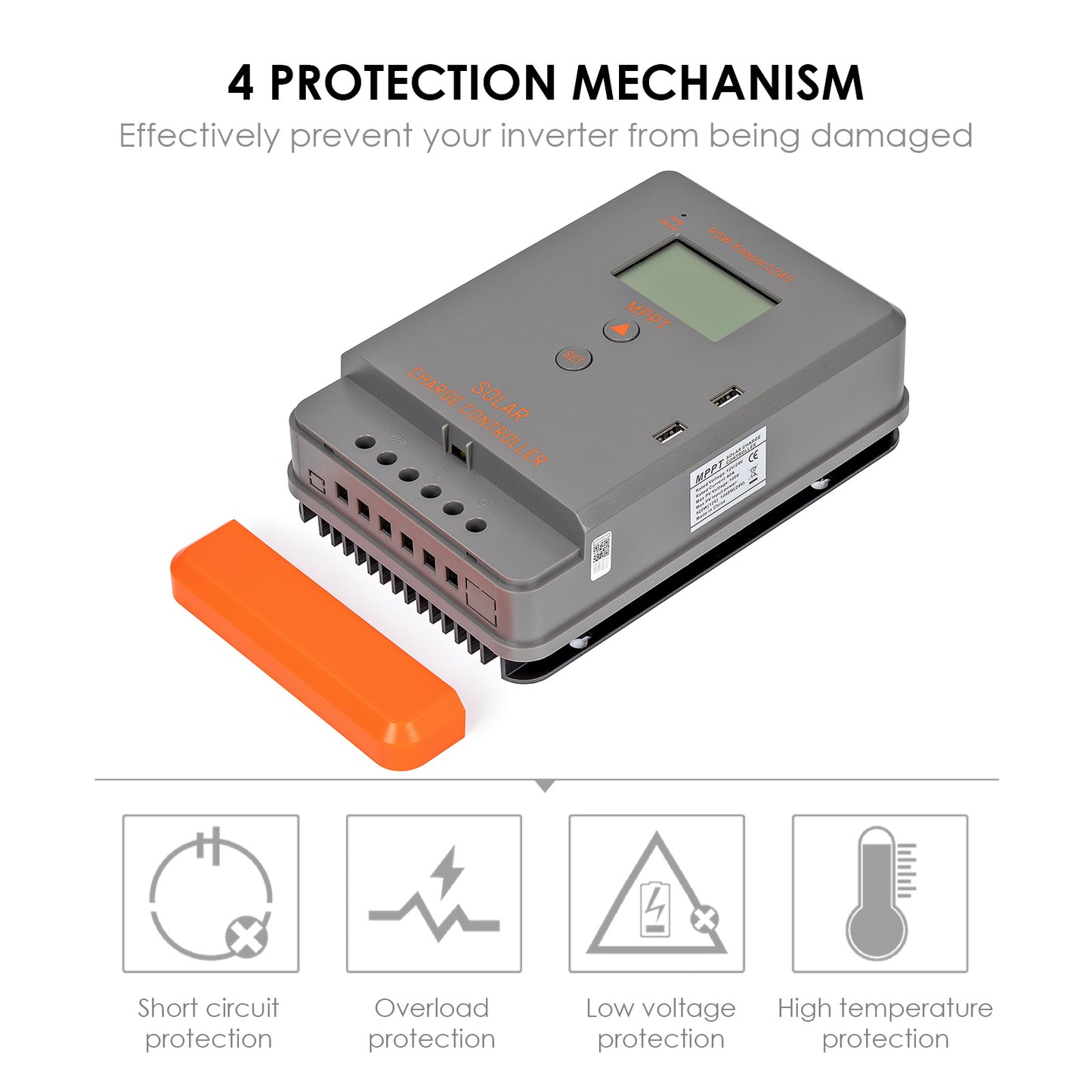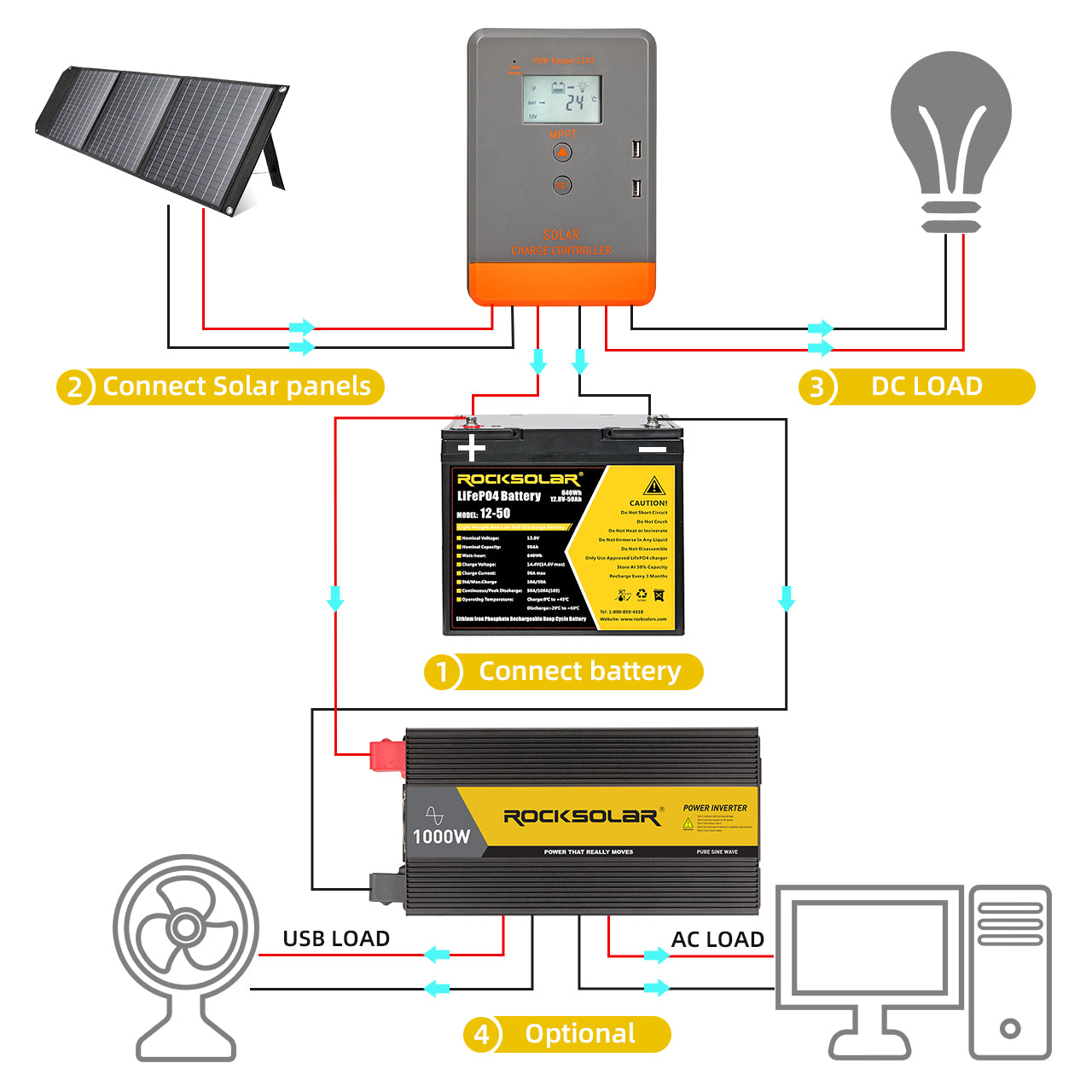 Nicest controller for the size and price.
I used it to charge a lithium battery, and it's amazing and better than my previous older solar charge controller. however, you can set it for a lead acid battery also.
This one actually works as advertised
I've gone through several solar charge controllers that have failed to meet expectations. I'm running a 12V electric fence charger with a lead-acid (small tractor) battery. After tried many solar charger controller then I switch to this charge controller. I've had it in service for 2 weeks now with the same solar panel and battery as before and it has kept the battery perfectly charged. very happy with this product.
Allows More Charge Power Than Previous Unit
Had issues with the previous charge controller. This unit was recommended by my RV Builder. Works providing more charge power than the unit it replaces. Recommended.
Didn't need tech support, works great.
Worked great, so didn't need any tech support or help. The installation process is so simple. highly recommended to anyone.
Great controller
This works great, didn't need Tech Support because the installation process is so simple and easy to implement. super efficient and fast.