Additional 30% off applied at checkout. Use code - SAVE30
Regular price
$1,201.00 USD
Regular price
$1,727.00 USD
Sale price
$1,201.00 USD
Unit price
per
Sale
Sold out
Exceptional Durability: Extended lifecycle with LiFePO4 technology.
Ample Energy: 50Ah capacity for extended run times.
Efficient Architecture: 16S structure for maximized energy efficiency.
Steady Power: Nominal energy of 2560Wh ensures consistent output.
Advanced BMS: Protection against over-discharge and short circuits.
Wide-Temperature Operation: Works effectively from -20°C to 60°C.
Safe Charging: Built-in safety thresholds and charge guidelines.
Low Resistance: Internal resistance at ≤80mΩ for reduced energy loss.
Optimized Storage: Ideal for both short and long-term needs.
Weight Balanced: Approximately 24kg, balancing power and portability.
Multi-Use: Great for solar storage, vehicles, motors, and more.
Free
Local Shipping
11-year Hassle Free
Warranty
Lifetime Customer
Support
Share
View full details
Description

Includes
Specifications
FAQ
Downloads
Reviews
Introducing the ROCKSOLAR 48V 50Ah Deep Cycle LiFePO4 Battery – a fusion of power, efficiency, and unparalleled performance. Designed to redefine your experience with high-demand electric applications, it promises durability, longevity, and supreme energy output.
Key Features:
Extended Lifespan: Up to 4 times longer than traditional batteries.
Optimal Performance: Delivers double the runtime for golf carts, electric vehicles, and outboard motors.
Maintenance-Free: Say goodbye to regular watering and frequent upkeep.
Swift Charging: Power up faster than lead-acid batteries, ensuring you're always ready to go.
Weight Advantage: Weighing in at just 24kg, experience a significant weight benefit over traditional options.
Flexible Installation: Install in any orientation without performance degradation.
High-Capacity Power: Packed with 2560Wh of deep cycle energy, perfect for sustained applications.
Perfect For:
48V Golf Carts – Play Longer
48V Electric Outboard Motors
48V Solar Energy Power Systems
48V Electric Vehicles
Direct 48V LiFePO4 Replacement for 6V, 8V, and 12V Batteries
Yamaha, Taylor-Dunn, Polaris, and Par Car Golf Carts
Wiring Two in Parallel for Extended Range
Unleash the power of innovation, durability, and unmatched efficiency with ROCKSOLAR's advanced battery technology.
1x ROCKSOLAR 48V 50Ah Battery: The high-capacity LiFePO4 battery designed for longevity and performance.
1x Battery Manual: Detailed instructions on usage, installation, and maintenance for optimal performance.
1x Charging Cable: Durable and efficient cable for easy and fast charging.
Technical Specifications
Specification
Details
Nominal capacity
50Ah
Mix. capacity
49Ah
Nominal energy
2560Wh
Combination structure of battery
16S
Nominal voltage
51.2V
End of discharge voltage
43.2V
Standard charge voltage
58.4±0.2V
Float charge voltage
55.2V
Standard charge current
10A
Recommended charge current
≤25A
Allowed Max. charge current
50A
Standard discharge current
10A
Recommended discharge current
≤50A
Allowed Max. discharge current
50A
Peak discharge current
100A,10Sec
Internal Resistance
≤80mΩ
Weight
Approx. 24kg
Ex-factory capacity
Approx.50% SOC
Operation temperature
Discharge: -20°C~60°C; Charge: 0°C~45°C
Storage environment
≤1Month:-20~+60°C、5~75%RH; ≤6Month: -10~+45°C、5~75%RH; Recommend environment: 15~+35°C、5~75%RH
The ROCKSOLAR 48V 50Ah Deep Cycle LiFePO4 Battery has a capacity of 50Ah, 2560Wh, offering dependable power for various applications.
The ROCKSOLAR 48V 50Ah Deep Cycle LiFePO4 Battery is designed to provide over 3500+ life cycles, ensuring long-term performance and value.
Yes, the ROCKSOLAR 48V 50Ah Deep Cycle LiFePO4 Battery features an integrated BMS that protects against overcharge, short-circuiting, and extreme temperature variations.
Yes, the ROCKSOLAR 48V 50Ah Deep Cycle LiFePO4 Battery is designed to withstand harsh conditions, making it suitable for marine applications.
Yes, despite its high power output, the ROCKSOLAR 48V 50Ah Deep Cycle LiFePO4 Battery is lightweight and has a compact design, making it easy to transport and install.
Yes, the ROCKSOLAR 48V 50Ah Deep Cycle LiFePO4 Battery can be linked in series to create 96V systems, providing flexibility for various power requirements.
The ROCKSOLAR 48V 50Ah Deep Cycle LiFePO4 Battery comes with an impressive 11-year warranty, giving you peace of mind and confidence in your purchase.
Yes, the ROCKSOLAR 48V 50Ah Deep Cycle LiFePO4 Battery is suitable for off-grid solar systems, allowing you to store and utilize solar energy efficiently.
The ROCKSOLAR 48V 50Ah Deep Cycle LiFePO4 Battery can operate in temperatures ranging from -20°C to 60°C during discharge and from 0°C to 45°C during charging.
The ROCKSOLAR 48V 50Ah Deep Cycle LiFePO4 Battery is an eco-friendly power solution as it utilizes clean, renewable energy and helps reduce carbon emissions, promoting a greener environment.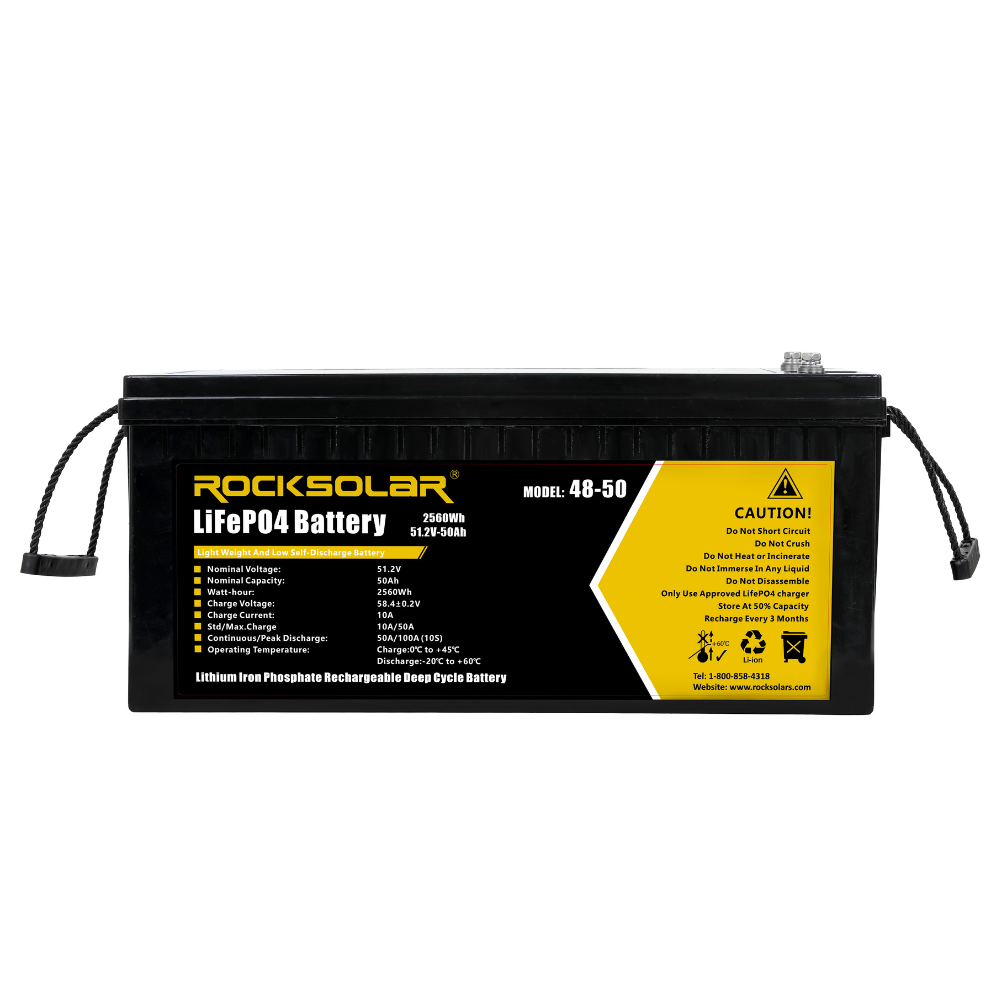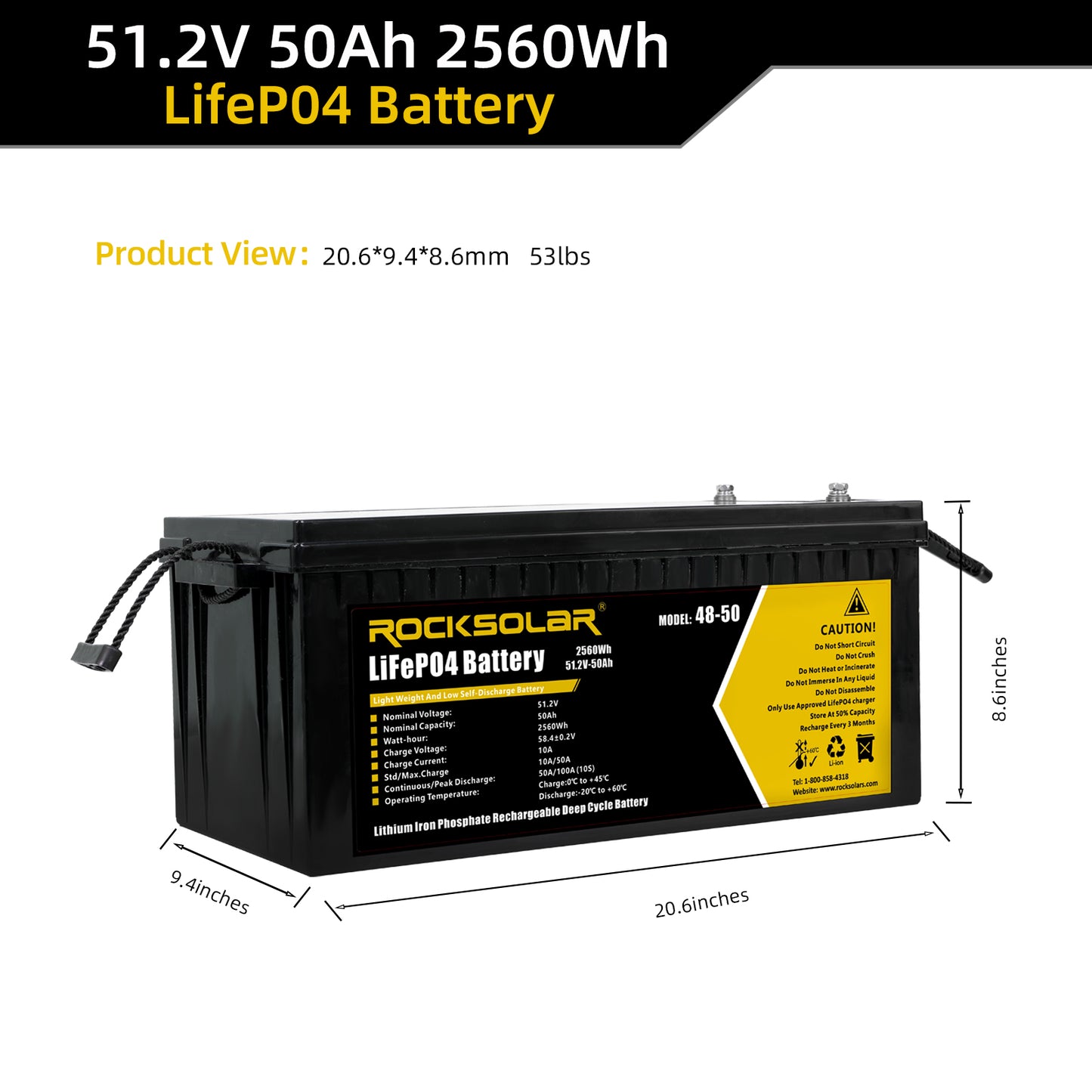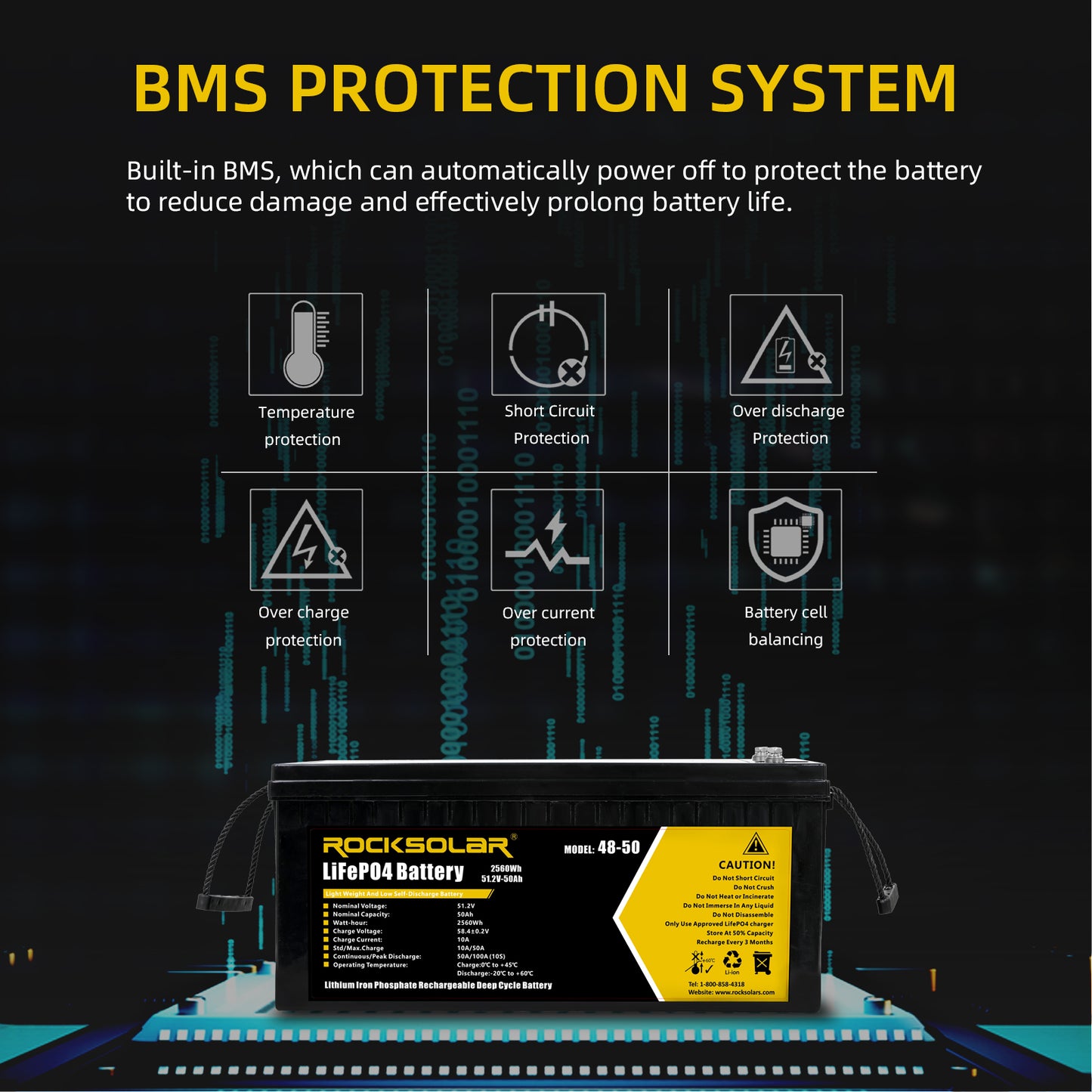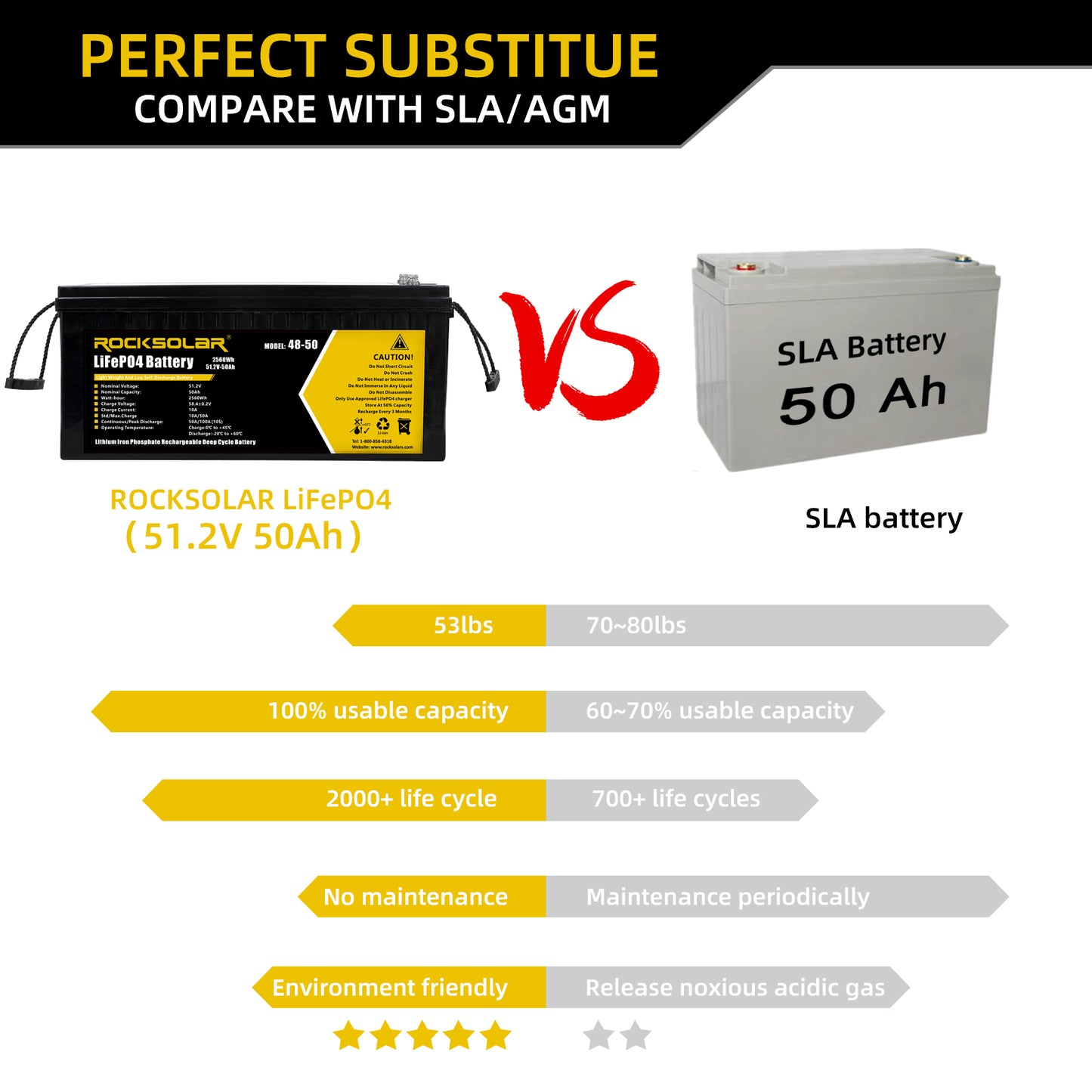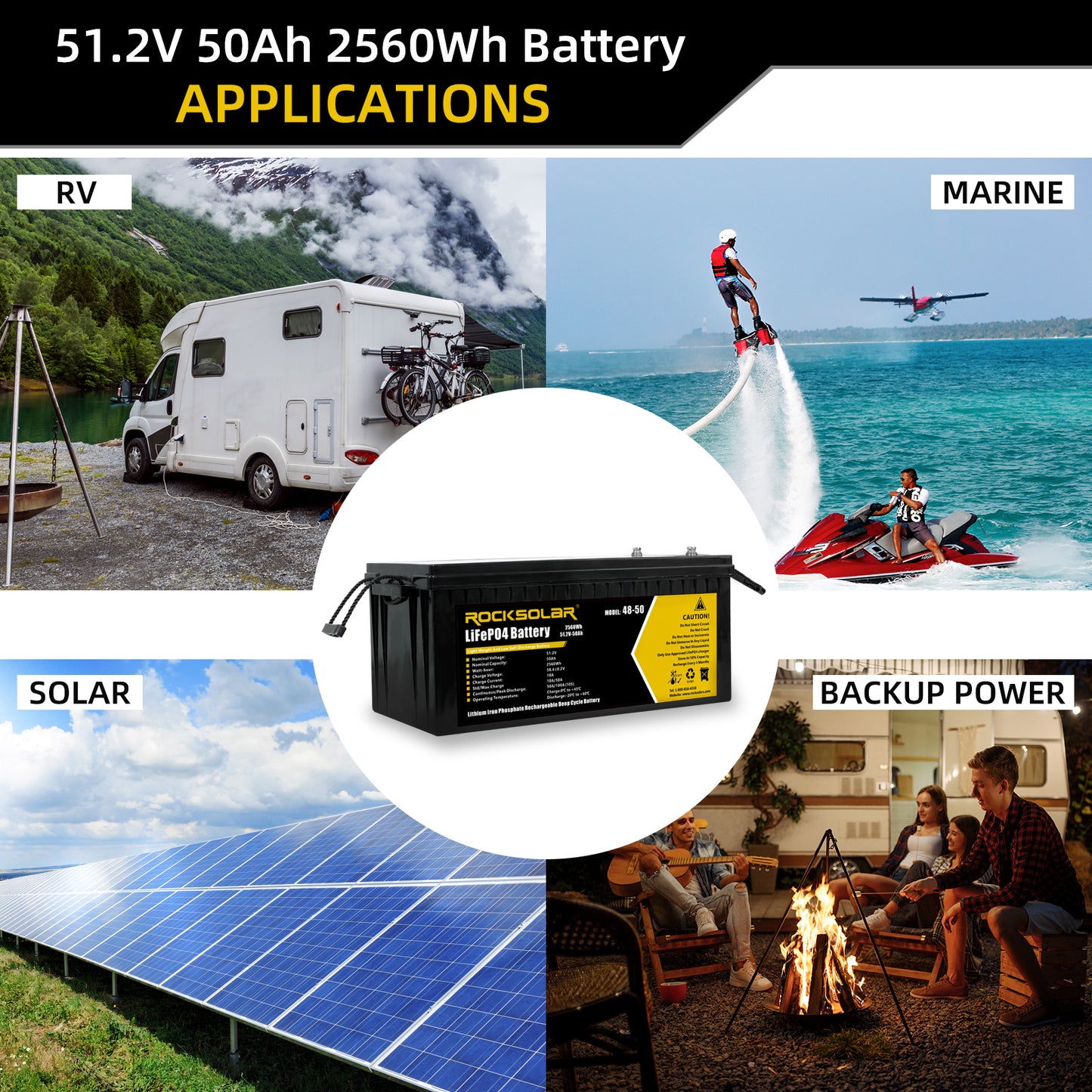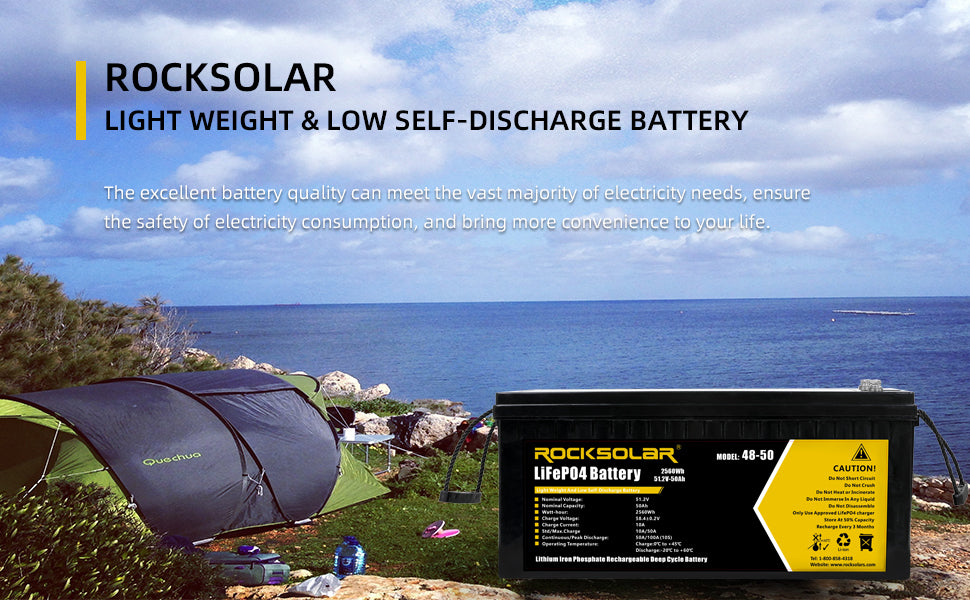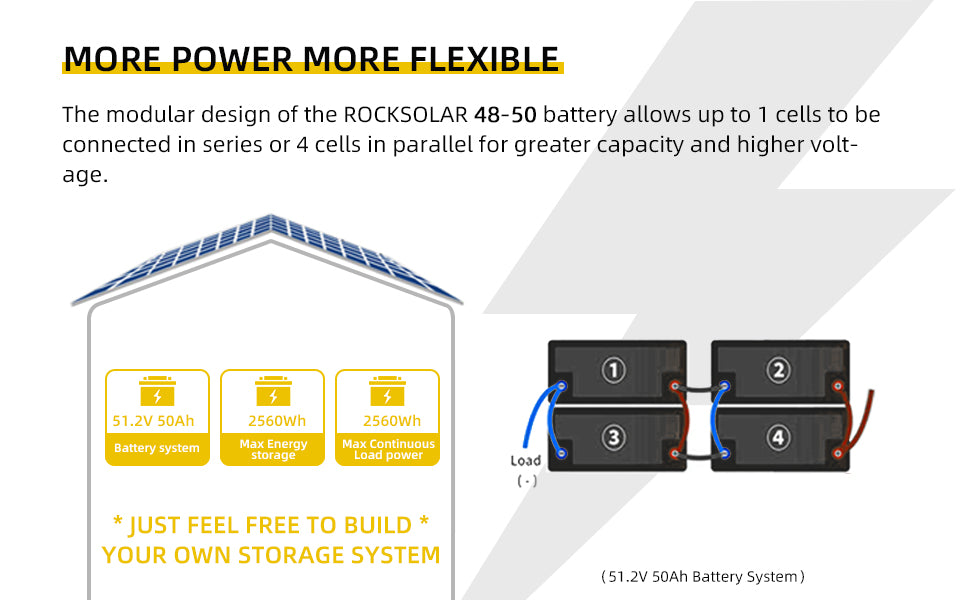 incredibly lightweight and long lasting.
Love my ROCKSOLAR Deep Cycle battery! It provides consistent power for my trolling motor and other electronics without fail.
Exceeded all my expectations!
I never thought a marine battery could bring so much peace of mind to my boating experience, but the ROCKSOLAR Deep Cycle LiFePO4 battery has done just that. With its dependable power supply and rugged design, I can focus on enjoying my time on the water, not on worrying about my electronics.
Great Deep cycle boat battery.
I was tired of constantly replacing my batteries, but the ROCKSOLAR Deep Cycle LiFePO4 battery has solved that problem. With its long-lasting power and rugged design, I finally have a dependable battery that can handle all my needs.
Worth every penny!
Just upgraded to the ROCKSOLAR Deep Cycle battery and I'm blown away by its performance. The battery holds a charge longer and provides more power than my previous battery. I highly recommend this product to any boater.
Plenty of power and light weight as well.
I've been using the ROCKSOLAR battery for a few months now and I must say, I'm thoroughly impressed. The battery is incredibly robust and has held up well even in rough conditions. A must-have for any serious boater.