Up to 50% off already applied. Use code HOLIDAY23 for an extra 15% off!
Regular price
$121.00 USD
Regular price
$151.00 USD
Sale price
$121.00 USD
Unit price
per
Sale
Sold out
Capacity: Powerful 18Ah for extended usage.
Type: Robust LiFePO4 (Lithium Iron Phosphate) build.
Life Cycles: Offers up to 3,500 cycles with proper maintenance.
High-drain: Can handle high-drain devices with a 20A continuous discharge.
Temperature Safety: Designed to charge safely from 0°C to 40°C.
Storage: Best stored at 40%-60% charge for prolonged life.
Protection: Comes with an advanced built-in BMS for heightened safety.
Solar Compatibility: Suitable for solar panel charging configurations.
Warranty: Secured with an 11-year warranty for peace of mind.
Free
Local Shipping
11-year Hassle Free
Warranty
Lifetime Customer
Support
Share
View full details
Description

Includes
Specifications
FAQ
Downloads
Reviews
Experience the next generation of lithiumt battery power with the ROCKSOLAR 12V 18Ah Deep Cycle Lithium Battery (LIFEPO4), specifically designed for high-performance applications such as fish finder, ham radio, home security, robotics, and trolling motor. Meticulously crafted to serve as a trusted companion in both serene and rugged environments, this battery not only ensures a consistent power output but also promises longevity, reliability, and optimal safety with its integrated BMS system.
Product Features
11-Year Unbeatable Warranty: Committed to quality, ROCKSOLAR proudly backs this battery with an unmatched 11-year warranty against manufacturing defects.

Enduring Capacity: With a potent 18Ah capacity, expect a stable 12V output for all your energy needs, from boating to hiking and beyond.

Long-Lasting Performance: Designed for longevity, this battery promises up to 80% capacity for 3,500 cycles, outlasting many contemporaries.

Conveniently Compact: With dimensions of 7.1 x 3 x 6.6 inches and weighing just 4.6 pounds, it is both lightweight and easy to transport.

Advanced BMS Integration: The built-in Battery Management System offers superior protection with features like cell balancing, high/low voltage cutoff, and thermal safeguards.

All-Weather Resilience: Designed to perform consistently in extreme conditions, it boasts a wide operating temperature range of -20°C to 60°C.

Steady Voltage Curve: This LiFePO4 battery ensures a uniform power output, delivering consistent energy down to the last drop.

Optimal Charging: For longevity and performance, a LiFePO4 compatible charger with a 14.4V output is recommended.

Model Excellence: Bearing the model number LiFePO4 Battery 12V 18Ah, this product stands as a testament to ROCKSOLAR's commitment to quality.

SLA Replacement & Special Features: Perfect for fish finders, ham radios, trolling motors and as an efficient SLA battery substitute. Its unique features also make it an optimal choice for a variety of applications.

Environmentally Conscious: Embrace a sustainable future with LiFePO4 batteries, ensuring high performance with a minimal environmental footprint.
1x ROCKSOLAR 12V 18Ah LiFePO4 Battery: Durable, high-capacity battery.
Integrated BMS: For battery protection and longevity.
Terminals: Ready for versatile connections.
User Manual: Usage guidelines.
Note: Charger not included. Use a LiFePO4-compatible charger for optimal performance.
Technical Specifications
Specification
Details
Battery Type
LiFePO4 (Lithium Iron Phosphate)
Capacity
18Ah
Voltage
12V
Life Cycles
3,500 cycles
Dimensions
7.1" x 3" x 6.6"
Weight
2.09 Kg (approx. 4.6 lbs)
Operating Temperature (Discharge)
-20°C to 60°C
Operating Temperature (Charge)
0°C to 40°C
Terminal Type
F2 (0.25" or 6.35mm wide)
Maximum Continuous Discharge
20A
Recommended Charge Voltage
14.4V
Built-in BMS
Yes (With multiple safety features)
Certifications
UN38 and IEC62133
Warranty
11 years
This battery has a capacity of 18Ah, meaning it can deliver 18 amps for 1 hour or 1 amp for 18 hours.
The 18Ah battery is a LiFePO4 (Lithium Iron Phosphate) type, renowned for its long cycle life and stability.
The battery can last up to 3,500 cycles with appropriate usage and maintenance.
Absolutely, with a maximum continuous discharge rate of 20A, it's suited for high-drain devices. Always ensure the device's requirements align with the battery's capabilities.
The suggested charging temperature range is 0°C to 40°C. Charging the battery outside of this range might impact its performance and longevity.
For prolonged storage, make sure the battery is charged between 40%-60% and placed in a cool, dry environment. It's advisable to check the battery charge every 3-6 months.
Indeed, the battery incorporates a BMS (Battery Management System) that offers a range of safety features, including protection against overcharging, over-discharging, and temperature anomalies.
Charging duration will depend on the charger used. With a typical charger, it might take several hours to charge the battery fully.
Certainly, provided the solar panel and its charge controller are compatible with the battery's specifications, especially the recommended 14.4V charge voltage.
The battery is backed by an 11-year warranty, emphasizing its quality and resilience.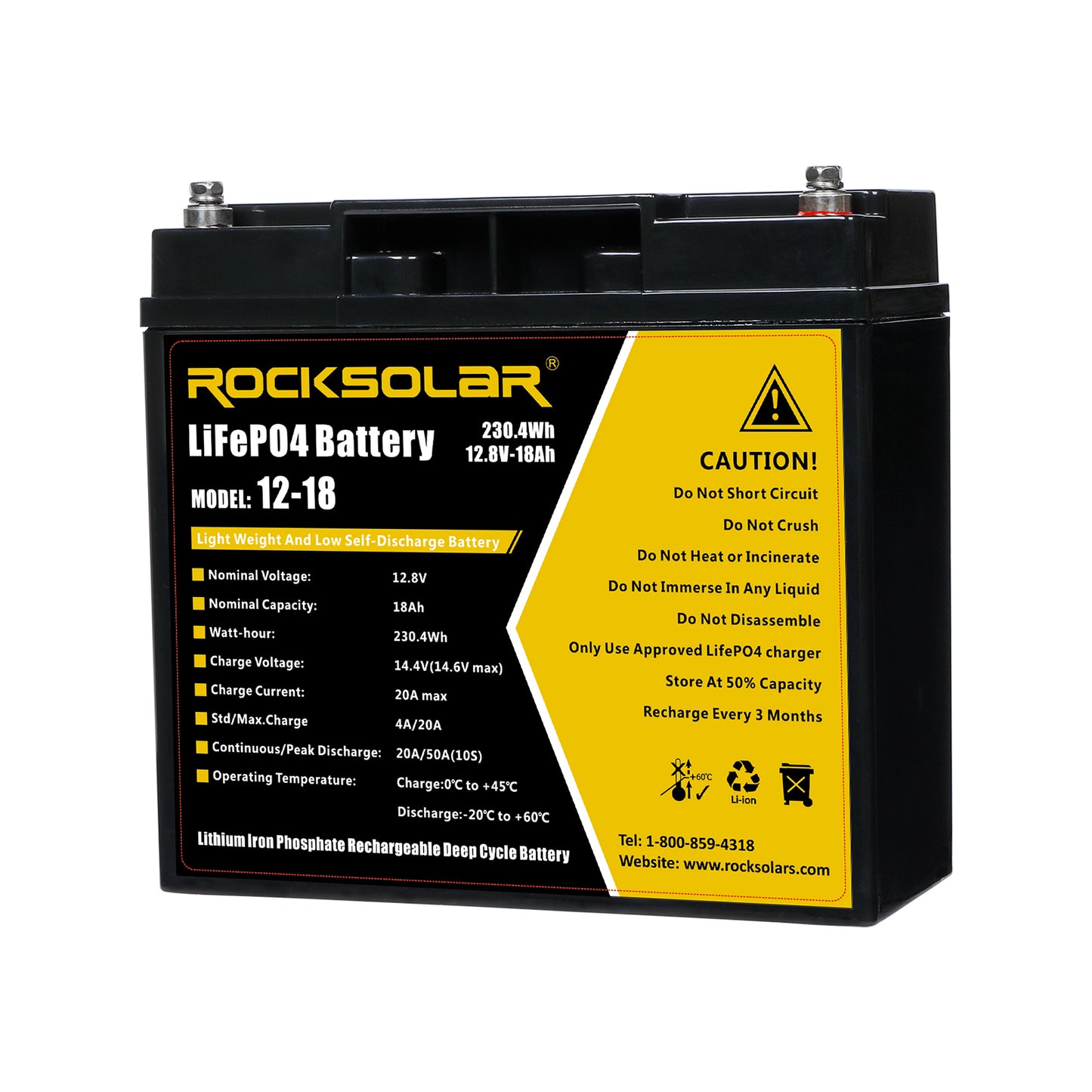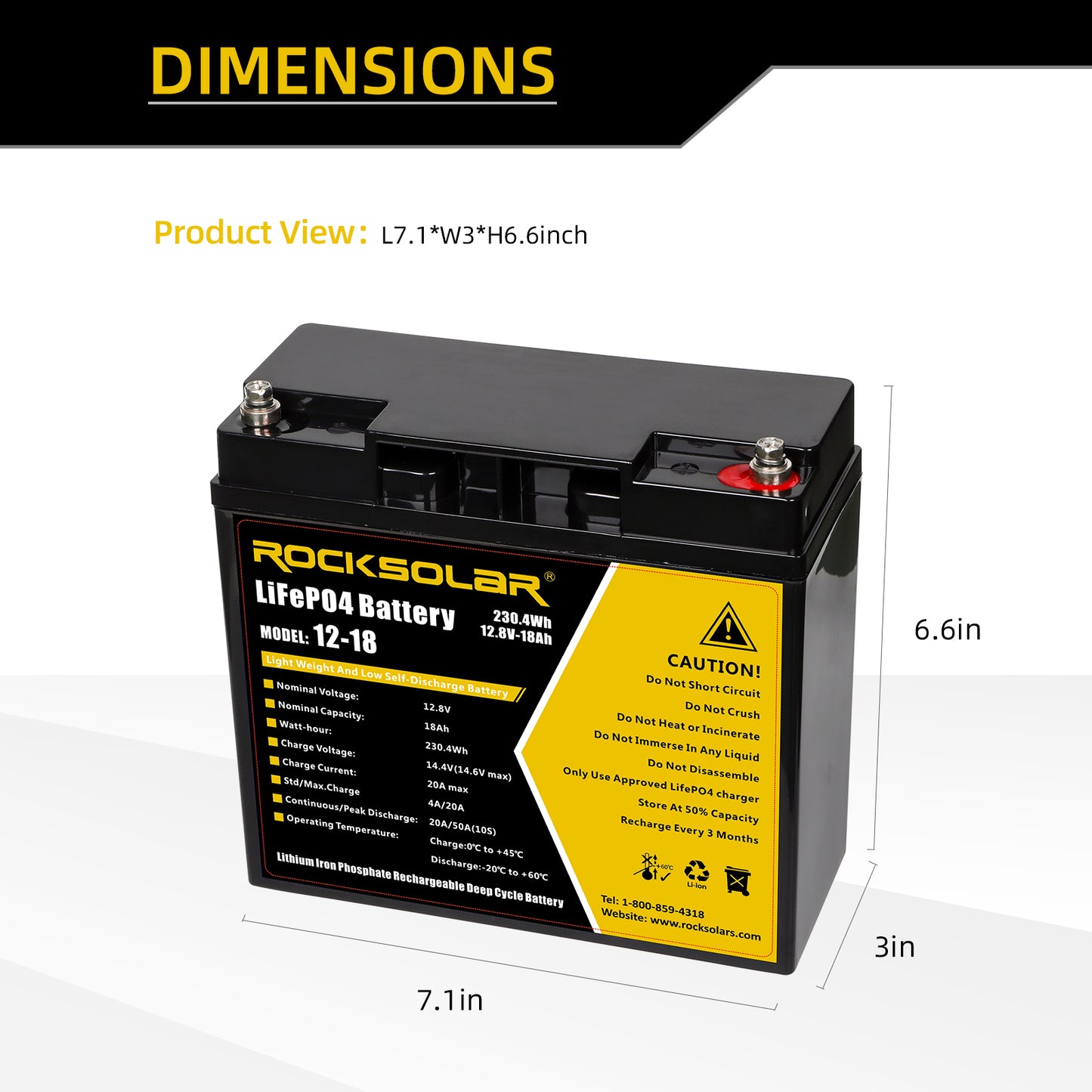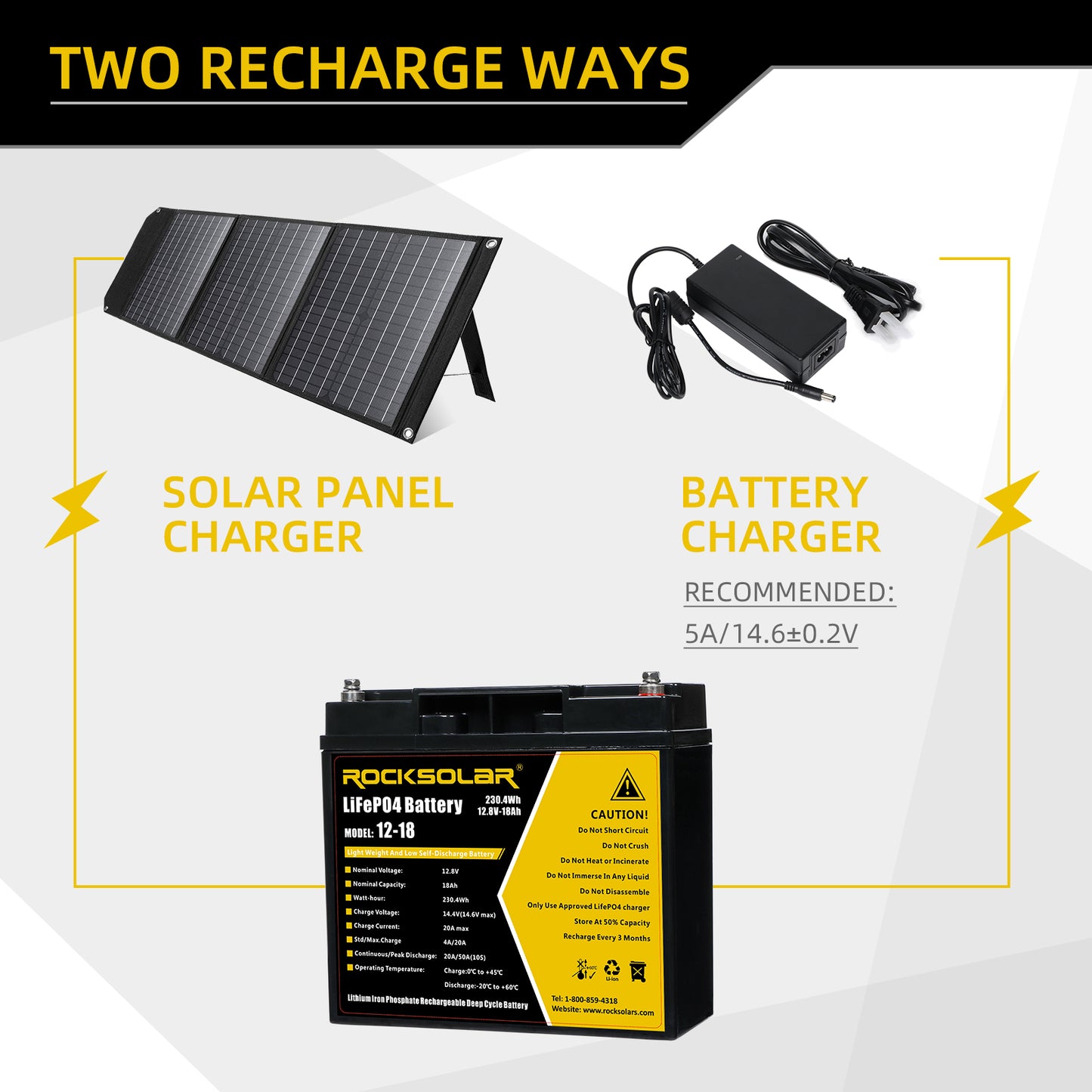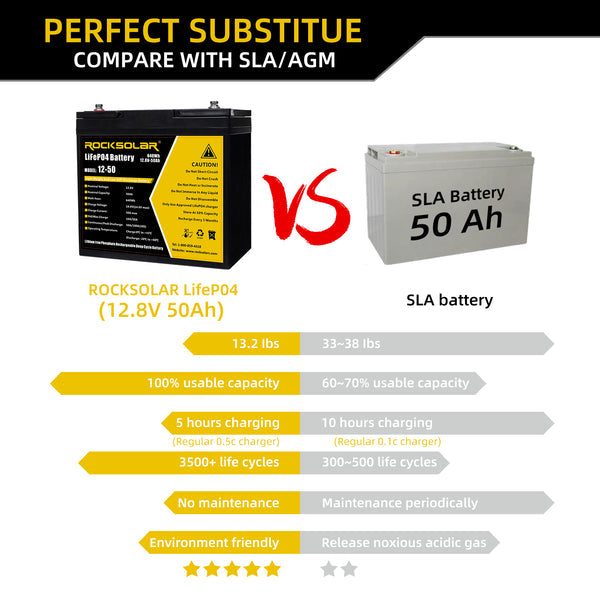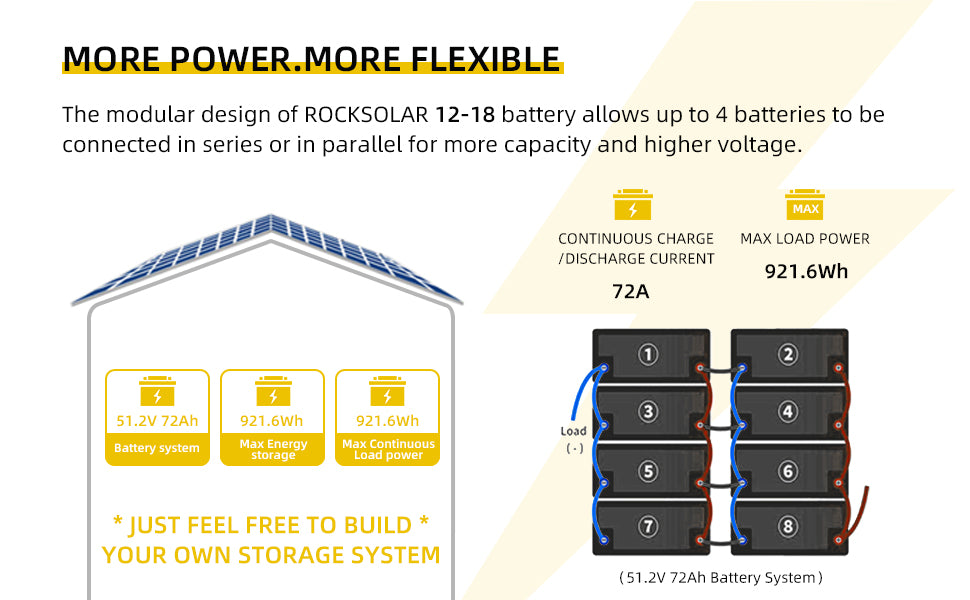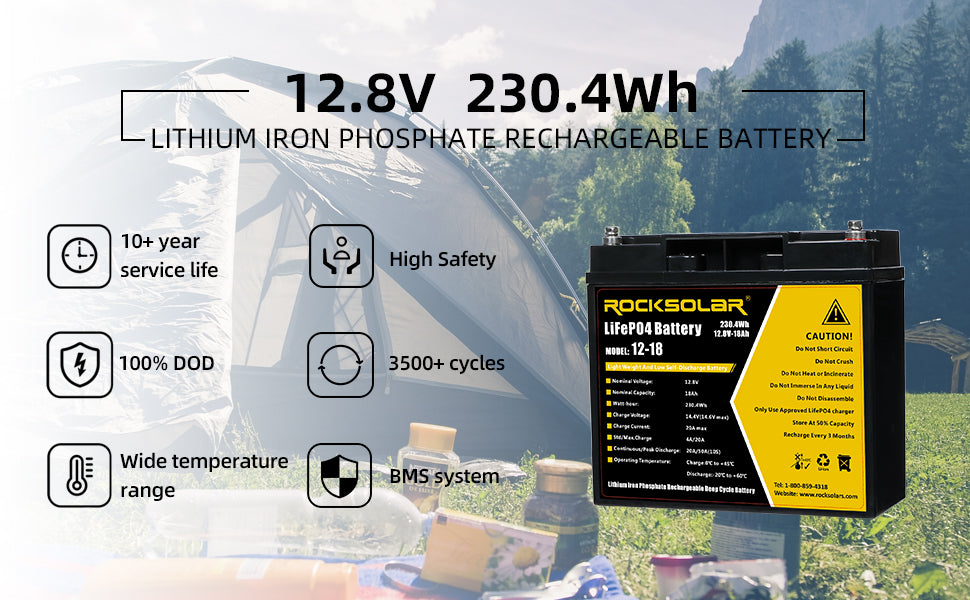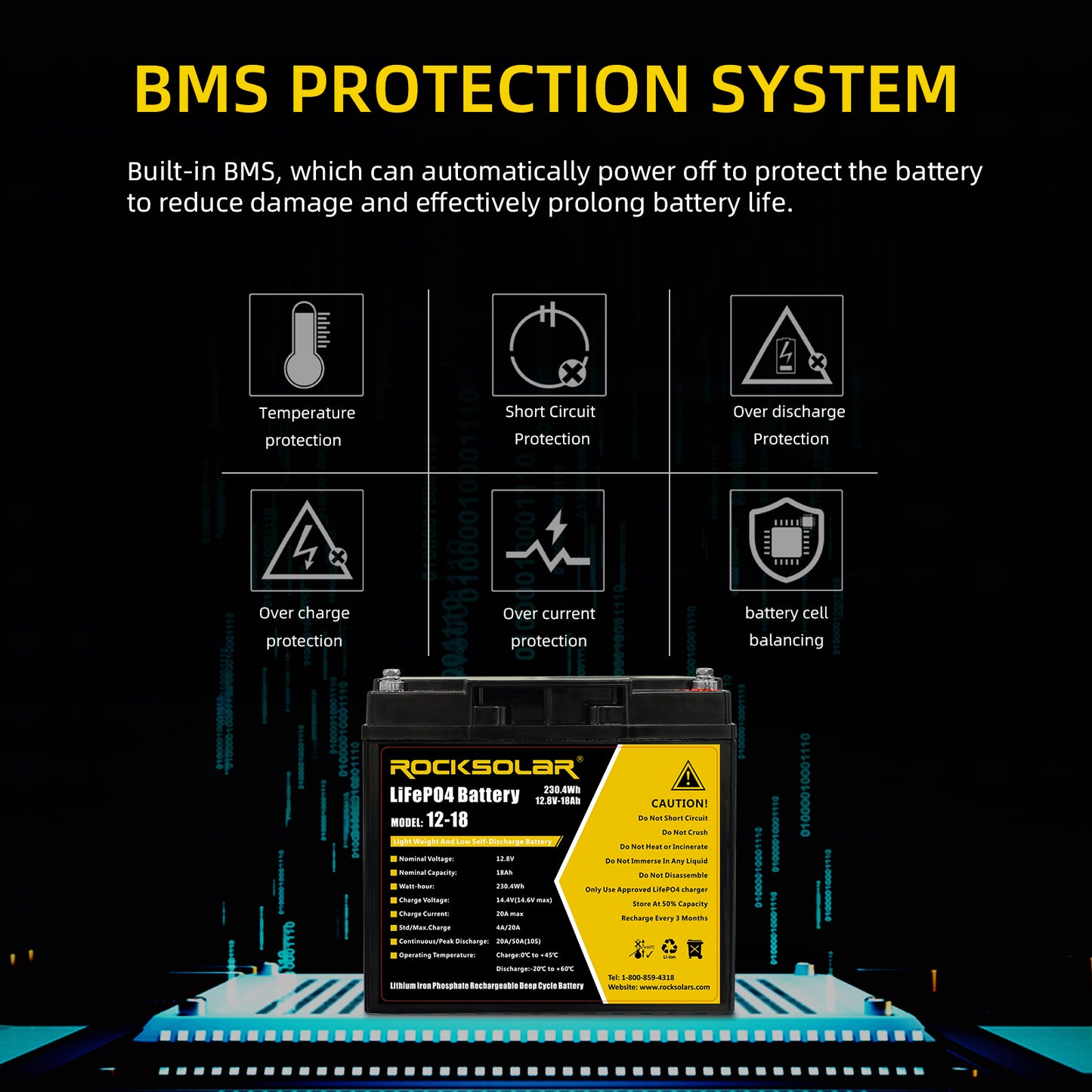 Not charging
It might be my set up, but the battery is not charging with the 200W solar panel.
Nice battery and great support
The battery was received fast and works exactly how it is supposed to: powering my marine electronics.
The size allowed me to fit the battery into a small console on the boat. Battery is very lightweight and holds charge very well when not in use.
Questions I had regarding charging with the older charger from the other supplier were quickly addressed by customer support so now I can get the battery charged properly although quite slow. I am thinking about buying specific charger from Rocksolar for much faster charging.
Haven't used it yet. Sent for the charger but now we need a manual/instructions on how to use them. Chat line said he would look one out later (holiday Monday). We haven't been able to download any info. Please can you follow upon this and send instructions on both the battery and how to use the charger. Thanks
Great battery!
Delivery was on time. Great product so far.
We appreciate your business, Keith Roy!
ROCKSOLAR 12V 18Ah Deep Cycle LiFePO4 Battery with BMS System