WHAT IS A SOLAR CHARGE CONTROLLER?
A solar charge controller is used to keep the battery from overcharging by regulating the voltage and current coming from the solar panel to the battery.
Solar charge controllers are an essential element of any solar electric panel system. At a most basic level, charge controllers prevent batteries from being overcharged and prevent the batteries from discharging through the solar panel array at night.
ROCKSOLAR Solar Charge Controllers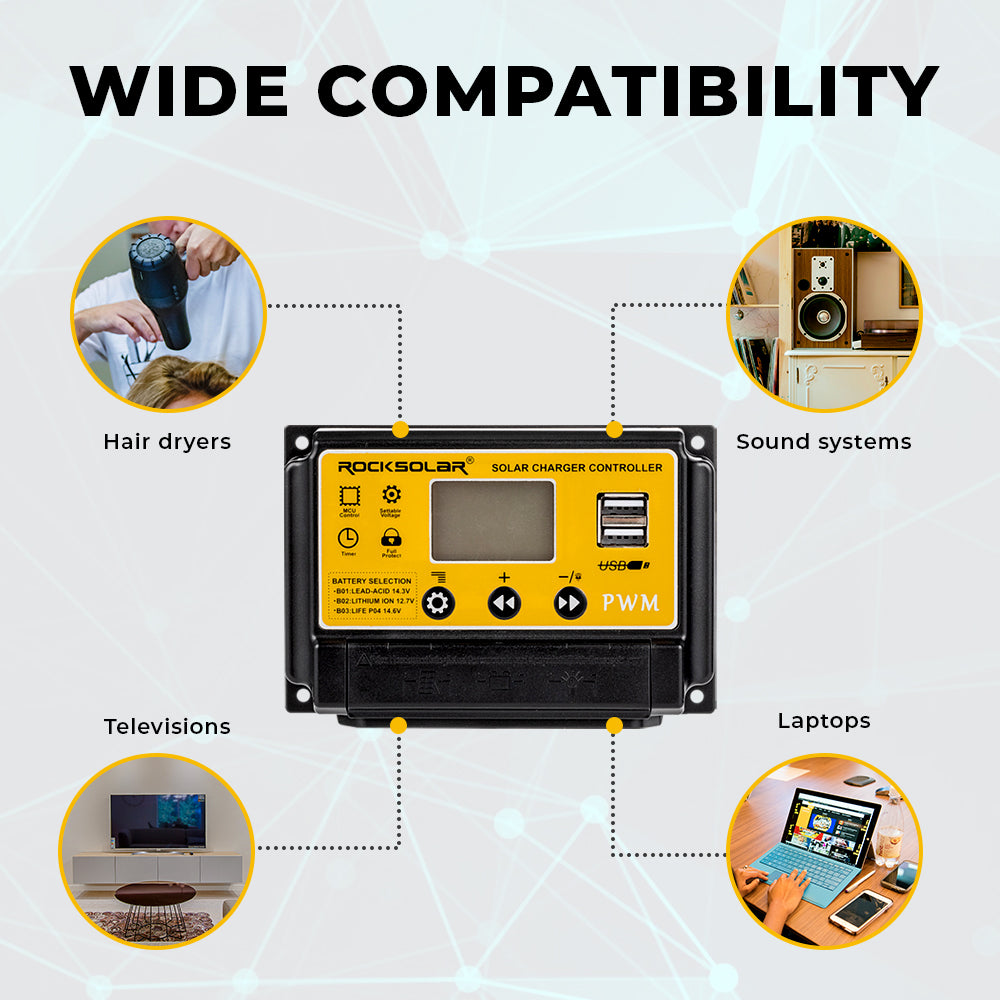 APPLICATIONS
Suitable for solar setups using AGM, GEL, Lithium-ion, LiFePo4 batteries. Our controller properly connects your solar panels to your batteries to provide the most efficient charging process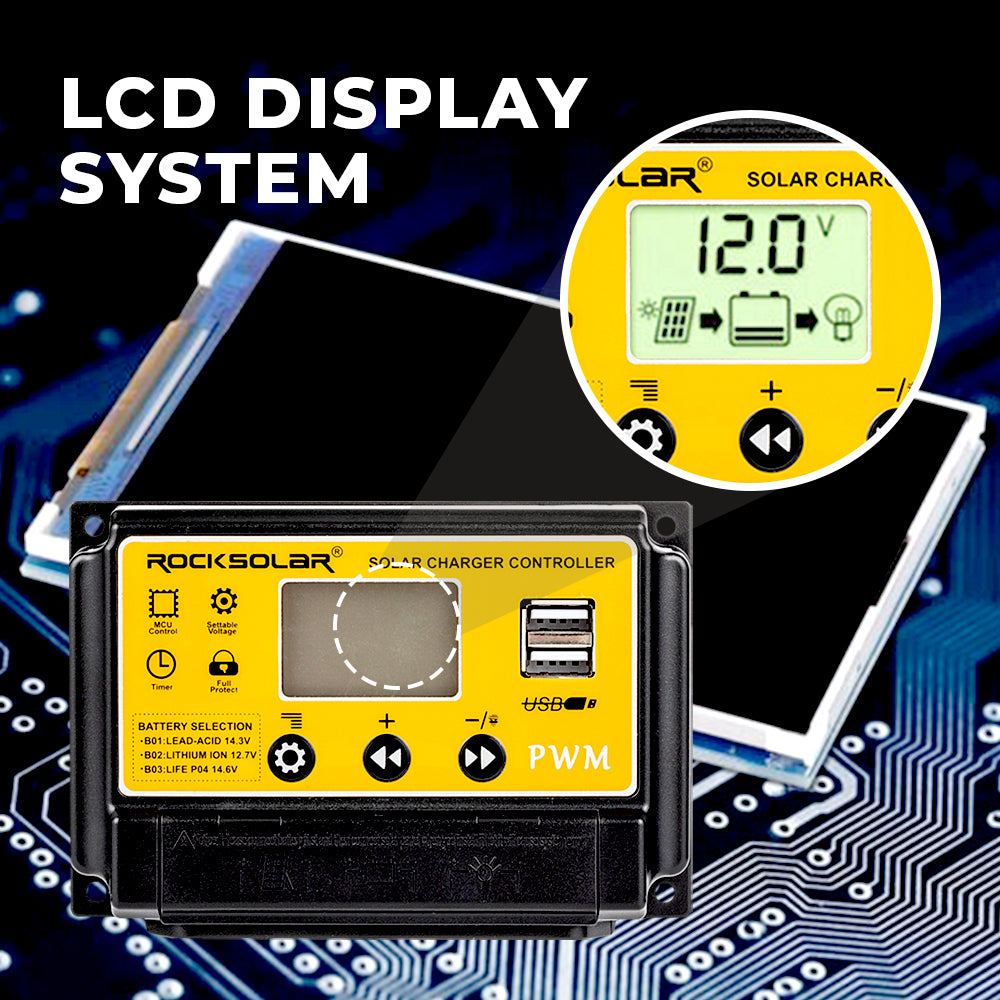 LCD DISPLAY
A Clear LCD display with all the solar charging and battery information displayed on it allowing you to avoid the guesswork. Easily program your desired setup.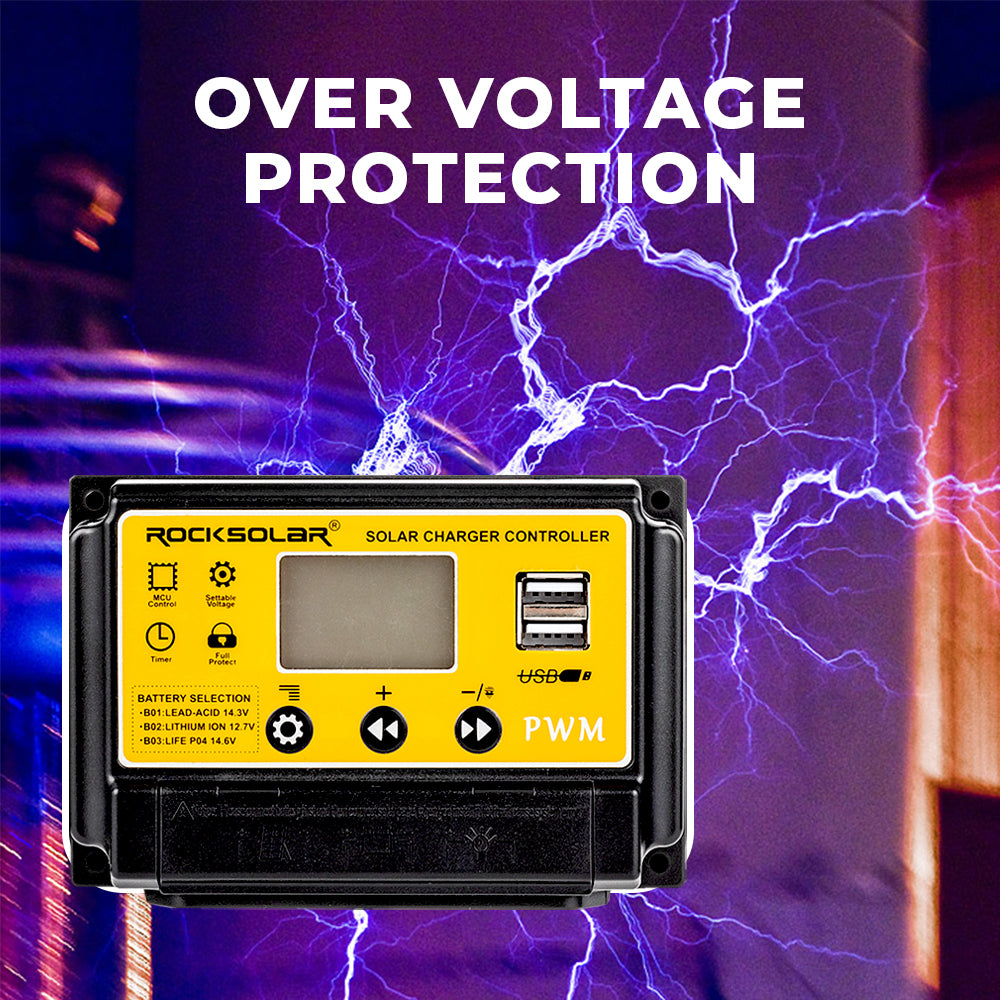 SAFETY
Our controller provides short-circuit, reverse, over-load, overcharge, and low voltage protections for ensuring maximum safety for your solar setup. 1 Year warranty for all our ROCKSOLAR products.
Choose your MPPT Solar Charger Controller
| | | | | |
| --- | --- | --- | --- | --- |
| | ROCKSOLAR 10A PWM Solar Charge Controller | ROCKSOLAR 20A PWM Solar Charge Controller | ROCKSOLAR 30A PWM Solar Charge Controller | ROCKSOLAR 30A PWM Solar Charge Controller |
| Model | POW-Keeper1220 | POW-Keeper1330 | POW-Keeper1240 | POW-M60-PRO |
| Max Open Voltage of PV Module | 55Vdc | 55Vdc | 55Vdc | 55Vdc |
| MPP Tracking Efficiency | 99.5% | 99.5% | 99.5% | 99.5% |
| Light Control Voltage | 5V | 5V | 5V | 5V |
| Charge Algorithm | 3 Stage | 3 Stage | 3 Stage | 3 Stage |
| Battery Type | Lithium and Lead Acid Battery | Lithium and Lead Acid Battery | Lithium and Lead Acid Battery | Lithium and Lead Acid Battery |
| Nominal System Voltage | 12/24V | 12/24V | 12/24V | 12/24V |
| Rated Charging Current | 20A | 30A | 40A | 60A |
| Battery Voltage Range | 8~32V | 8~32V | 8~32V | 8~32V |
| High Voltage Disconnection | 16V (24V x 2) | 16V (24V x 2) | 16V (24V x 2) | 16V (24V x 2) |
| Duration for absorption charging | 2 hours | 2 hours | 2 hours | 2 hours |
| Charge Loop Voltage Drop | ≤0.29V | ≤0.29V | ≤0.29V | ≤0.29V |
| Self-consumption | ≤ 9.2mA 12V; ≤ 11.7mA 24V | ≤ 9.2mA 12V; ≤ 11.7mA 24V | ≤ 9.2mA 12V; ≤ 11.7mA 24V | ≤ 9.2mA 12V; ≤ 11.7mA 24V |
| Equalized Charging Voltage | AGM: 14.6V; GEL: No; FLd: 14.8V | AGM: 14.6V; GEL: No; FLd: 14.8V | AGM: 14.6V; GEL: No; FLd: 14.8V | AGM: 14.6V; GEL: No; FLd: 14.8V |
| Absorption Charging voltage | AGM: 14.4V; GEL: 14.2; FLd: 14.6V | AGM: 14.4V; GEL: 14.2; FLd: 14.6V | AGM: 14.4V; GEL: 14.2; FLd: 14.6V | AGM: 14.4V; GEL: 14.2; FLd: 14.6V |
| Floating Charging voltage | AGM/ GEL/ FLd: 13.8V | AGM/ GEL/ FLd: 13.8V | AGM/ GEL/ FLd: 13.8V | AGM/ GEL/ FLd: 13.8V |
| Low Voltage re-connection (LVR) | AGM/ GEL/ FLd: 12.6V | AGM/ GEL/ FLd: 12.6V | AGM/ GEL/ FLd: 12.6V | AGM/ GEL/ FLd: 12.6V |
| Low Voltage Disconnection (LVD) | AGM/ GEL/ FLd: 10.8V | AGM/ GEL/ FLd: 10.8V | AGM/ GEL/ FLd: 10.8V | AGM/ GEL/ FLd: 10.8V |
| Operating Temperature Range | -20℃~55℃ (To run at full rated current continuously) | -20℃~55℃ (To run at full rated current continuously) | -20℃~55℃ (To run at full rated current continuously) | -20℃~55℃ (To run at full rated current continuously) |
| LCD Temperature Range | -20℃~70℃ | -20℃~70℃ | -20℃~70℃ | -20℃~70℃ |
| Humidity Range | ≤95% No condensation | ≤95% No condensation | ≤95% No condensation | ≤95% No condensation |
| Protection Class | IP30 | IP30 | IP30 | IP30 |
| Dimension | 123*178*48 | 123*178*48 | 123*178*48 | 123*178*48 |
| Installation Hole | 108*120 ∅5 | 108*120 ∅5 | 108*120 ∅5 | 108*120 ∅5 |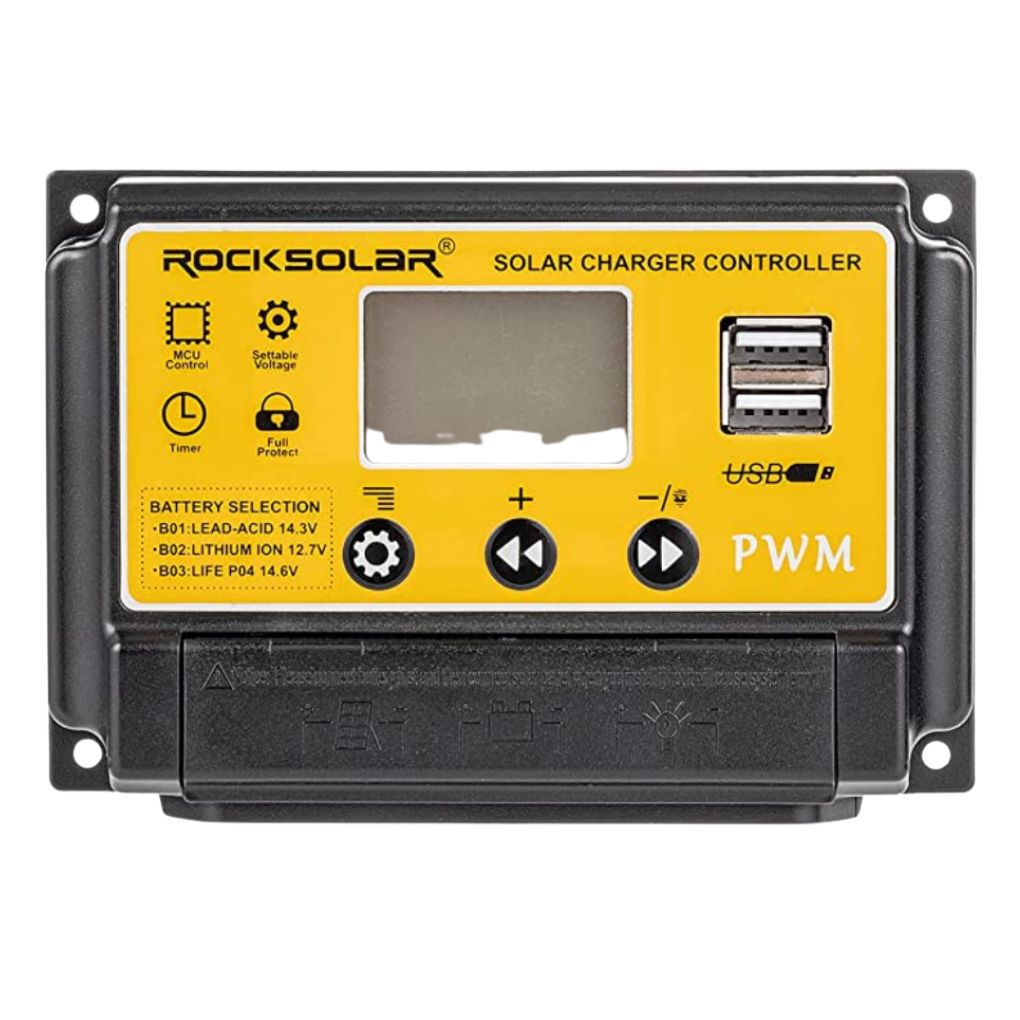 ROCKSOLAR 10A PWM Solar Charge Controller
Regular price
$53.00 USD
Sale price
$31.00 USD
Unit price
per
Sale
Sold out
Share
View full details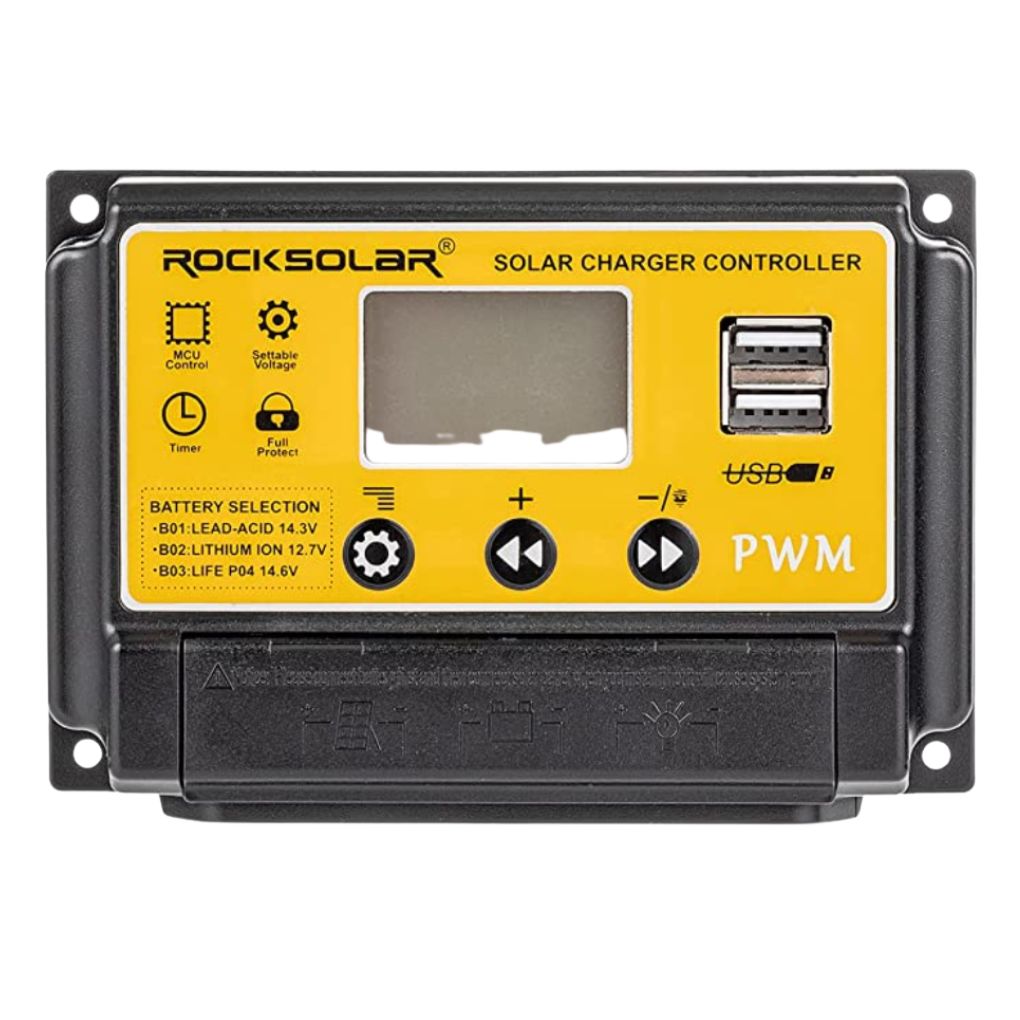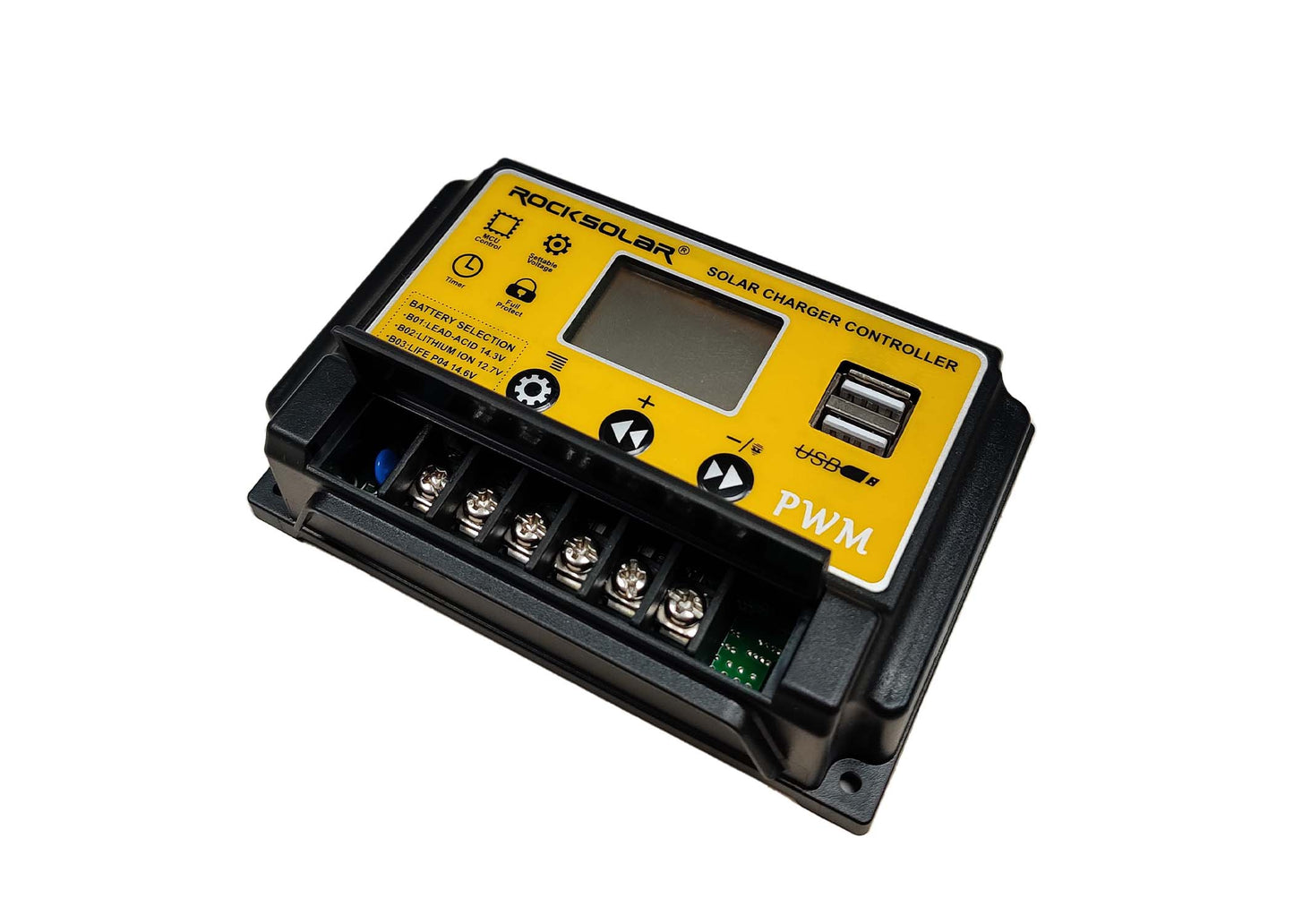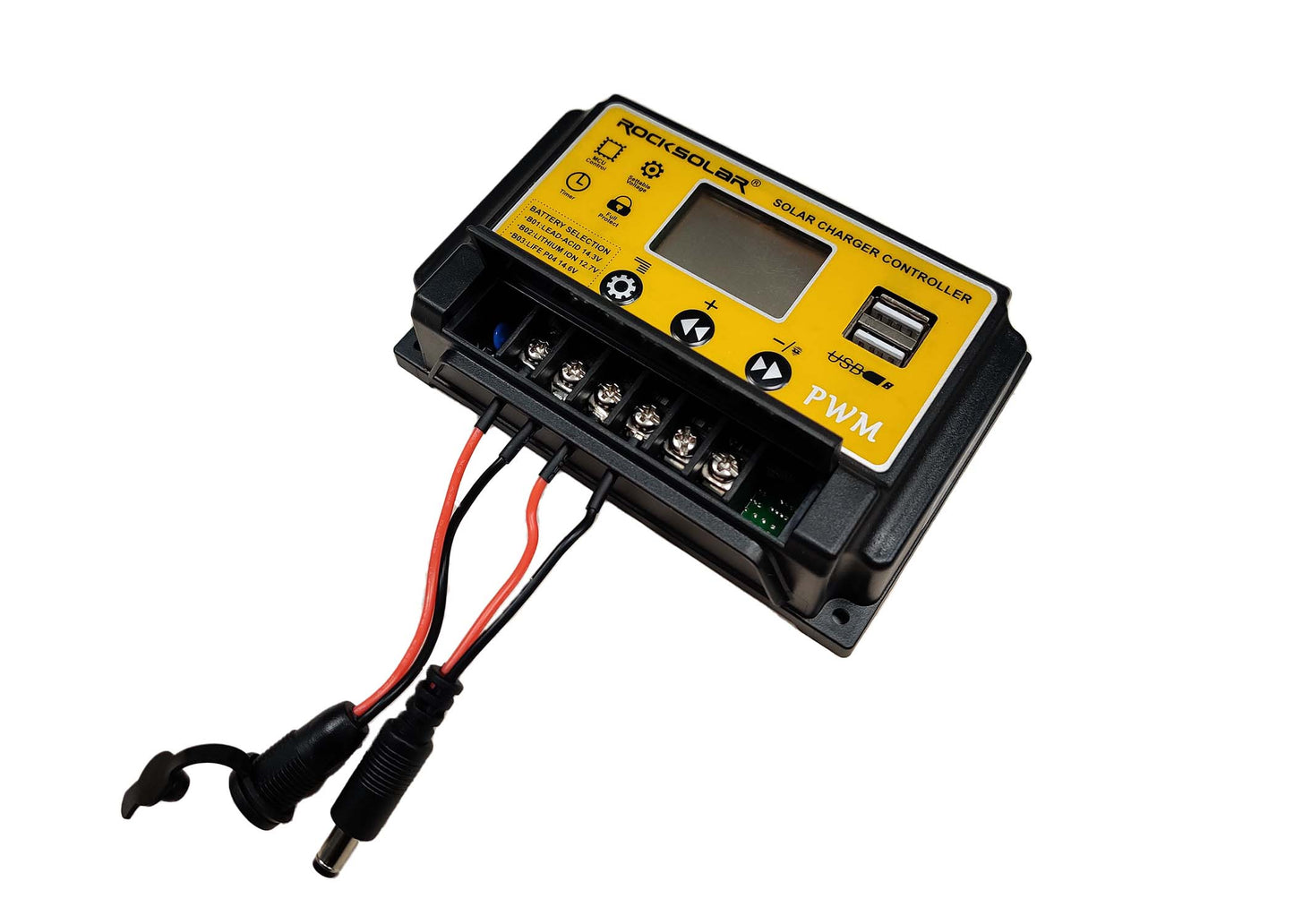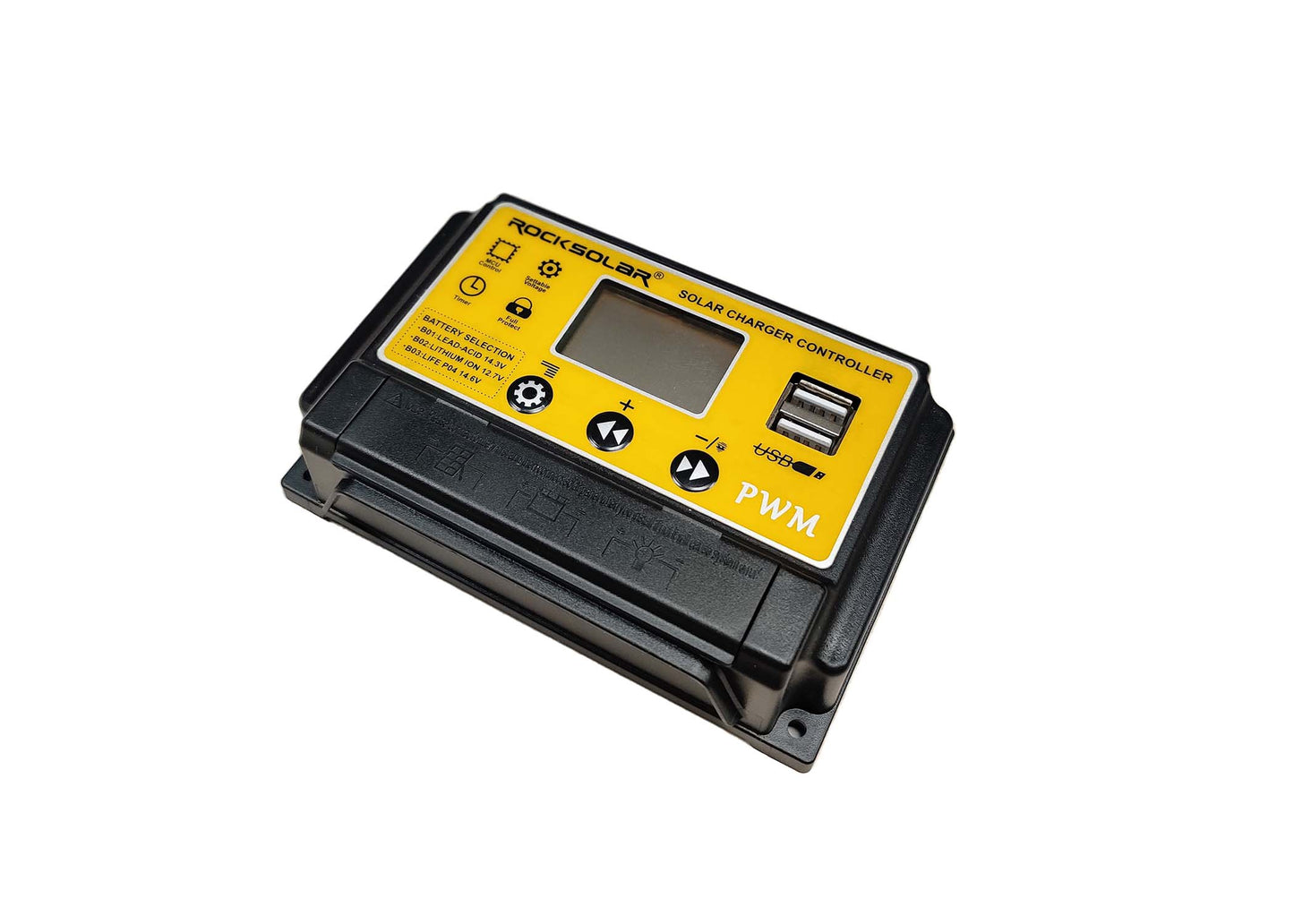 Steps to Install Your Solar Charge Controller
| | | | |
| --- | --- | --- | --- |
| | ROCKSOLAR 10A PWM Solar Charge Controller | ROCKSOLAR 20A PWM Solar Charge Controller | ROCKSOLAR 30A PWM Solar Charge Controller |
| Model | POW-Keeper1220 | POW-Keeper2220 | Model-W88-C |
| Max Open Voltage of PV Module | 55Vdc | 55Vdc | 55Vdc |
| MPP Tracking Efficiency | 99.5% | 99.5% | 99.5% |
| Light Control Voltage | 5V | 5V | 5V |
| Charge Algorithm | 3 Stage | 3 Stage | 3 Stage |
| Battery Type | Lithium and Lead Acid Battery | Lithium and Lead Acid Battery | Lithium and Lead Acid Battery |
| Nominal System Voltage | 12/24V | 12/24V | 12/24V |
| Rated Charging Current | 20A | 20A | 20A |
| Battery Voltage Range | 8~32V | 8~32V | 8~32V |
| High Voltage Disconnection | 16V (24V x 2) | 16V (24V x 2) | 16V (24V x 2) |
| Duration for absorption charging | 2 hours | 2 hours | 2 hours |
| Charge Loop Voltage Drop | ≤0.29V | ≤0.29V | ≤0.29V |
| Self-consumption | ≤ 9.2mA 12V; ≤ 11.7mA 24V | ≤ 9.2mA 12V; ≤ 11.7mA 24V | ≤ 9.2mA 12V; ≤ 11.7mA 24V |
| Equalized Charging Voltage | AGM: 14.6V; GEL: No; FLd: 14.8V | AGM: 14.6V; GEL: No; FLd: 14.8V | AGM: 14.6V; GEL: No; FLd: 14.8V |
| Absorption Charging voltage | AGM: 14.4V; GEL: 14.2; FLd: 14.6V | AGM: 14.4V; GEL: 14.2; FLd: 14.6V | AGM: 14.4V; GEL: 14.2; FLd: 14.6V |
| Floating Charging voltage | AGM/ GEL/ FLd: 13.8V | AGM/ GEL/ FLd: 13.8V | AGM/ GEL/ FLd: 13.8V |
| Low Voltage re-connection (LVR) | AGM/ GEL/ FLd: 12.6V | AGM/ GEL/ FLd: 12.6V | AGM/ GEL/ FLd: 12.6V |
| Low Voltage Disconnection (LVD) | AGM/ GEL/ FLd: 10.8V | AGM/ GEL/ FLd: 10.8V | AGM/ GEL/ FLd: 10.8V |
| Operating Temperature Range | -20℃~55℃ (To run at full rated current continuously) | -20℃~55℃ (To run at full rated current continuously) | -20℃~55℃ (To run at full rated current continuously) |
| LCD Temperature Range | -20℃~70℃ | -20℃~70℃ | -20℃~70℃ |
| Humidity Range | ≤95% No condensation | ≤95% No condensation | ≤95% No condensation |
| Protection Class | IP30 | IP30 | IP30 |
| Dimension | 123*178*48 | 123*178*48 | 123*178*48 |
| Installation Hole | 108*120 ∅5 | 108*120 ∅5 | 108*120 ∅5 |