Regular price
$333.00 USD
Regular price
$416.00 USD
Sale price
$333.00 USD
Unit price
per
Sale
Sold out
High Power Output: Provides 2000W of continuous power and 4000W of peak power, enough to power up various appliances and equipment.
Pure Sine Wave: Delivers clean and stable current similar to household electrical lines, ensuring smooth operation of sensitive electronics.
Advanced Digital Display: Offers real-time monitoring of power usage and status, promoting efficient energy management.
USB Charging Port: Features a 2.1A USB charging port for easy charging of mobile devices and other USB-compatible electronics.
Comprehensive Protection System: Provides a multitude of protections, including low and high battery voltage, output short circuit, overload, and over-temperature.
Broad Application: Ideal for appliances, power tools, office and portable equipment, vehicles, and yachts.
RS485 Wired Remote Control Panel: Enables separated control for added convenience.
1-Year Warranty: Ensures product reliability and a dependable customer service.
Adjustable Parameters: The AC voltage and frequency can be set from the menu, providing a customizable user experience.
High Efficiency: Boasts a maximum efficiency of up to 92%, translating to less wasted energy.
Free
Local Shipping
1-year Hassle Free
Warranty
Lifetime Customer
Support
Share
View full details
Revolutionary Power Innovation
ROCKSOLAR brings you the ultra-efficient 2000W Pure Sine Wave Power Inverter. This beast converts DC 12V power to 120V AC power with utmost precision, granting you a seamless electricity experience wherever you are. With a whopping peak power of up to 4000W, it promises unmatched power delivery for your appliances, power tools, office and portable equipment, vehicles, and yachts.
Digital Mastery & USB Charging Port
Keep track of your energy usage with the comprehensive digital display. It provides real-time updates and stats, allowing for better energy management. Moreover, with the added feature of a 2.1A USB Charging Port, you can keep your gadgets juiced up while on the move. This power inverter not only provides the electricity you need, but it also adds an element of convenience like no other.
Advanced Protection System
The ROCKSOLAR power inverter is equipped with a sophisticated protection system. Be it battery high and low voltage protection, output short circuit protection, over-load protection, or over-temperature protection; this power inverter has got you covered. Offering the peace of mind you need when running your precious appliances, the power inverter ensures nothing comes between you and a seamless power supply.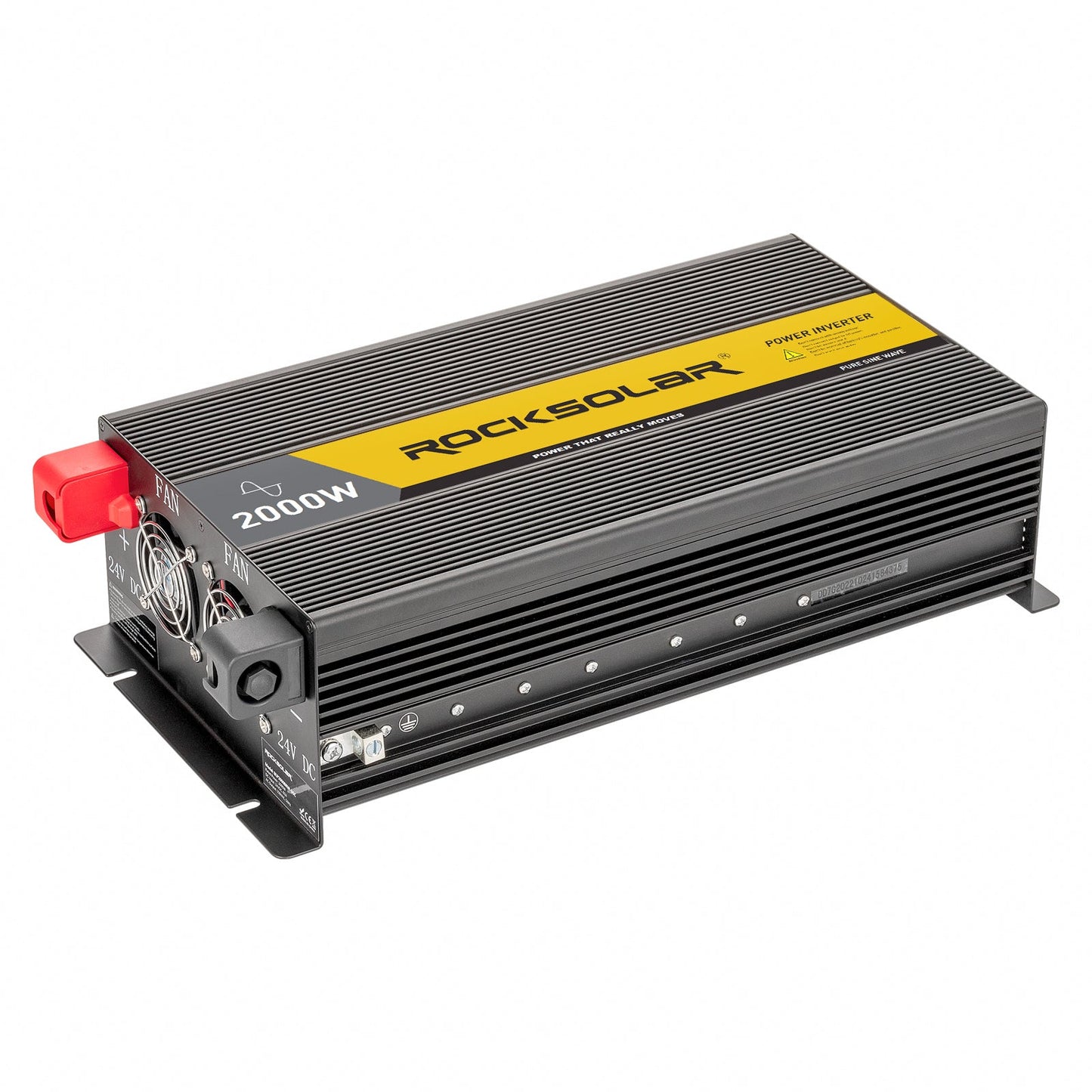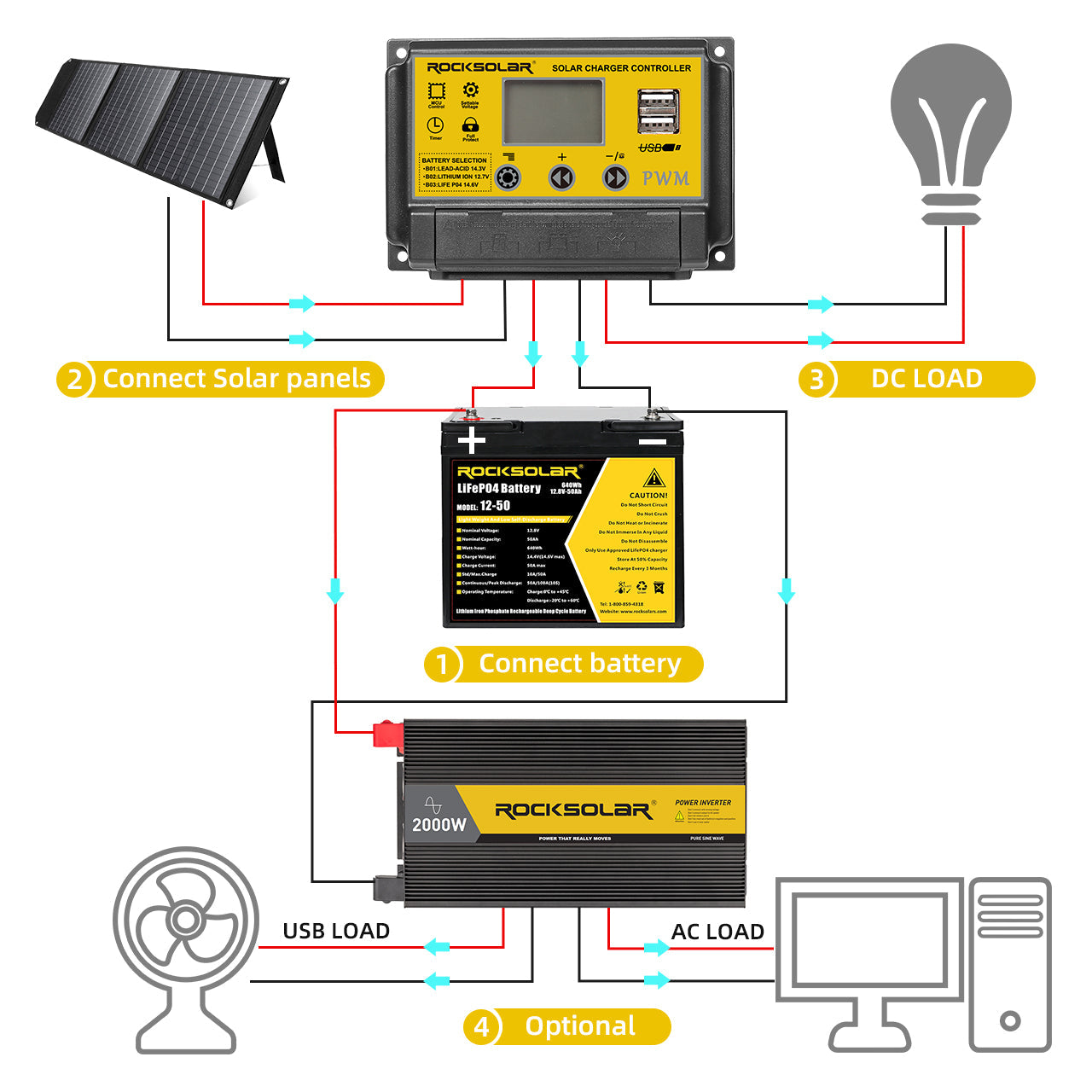 Reliable Power Companion
This inverter has been a lifesaver during power outages. It's robust and dependable, powering up my essential appliances without a hitch. The USB port is a nice touch for keeping devices charged. Highly recommended.
Power On the Go
I'm always on the road, and this inverter has become my travel companion. From charging laptops to using power tools, it does it all. The sleek digital display is a bonus, giving me real-time usage info.
Worth Every Penny
This inverter might be a bit pricey, but the quality justifies the cost. It's been running flawlessly for all my power needs, and the display helps me manage my consumption better. I'm thoroughly satisfied.
Exceptional Performance
I'm amazed by how well this inverter works. The pure sine wave output ensures that my electronics run smoothly, and the protection features give me peace of mind. It's a must-have for anyone needing reliable power.
Compact and Powerful
I was skeptical due to its size, but this inverter packs a punch. It's compact, yet it manages to power multiple devices without a hitch. The USB port is an added bonus for keeping my gadgets charged.