Up to 50% off already applied. Use code HOLIDAY23 for an extra 15% off!
Regular price
$436.00 USD
Regular price
$541.00 USD
Sale price
$436.00 USD
Unit price
per
Sale
Sold out
150W 12V Rigid Solar Panels (x2) Features:
Double Power: Two 150W panels for a combined 300W.
Durable: Long-lasting Monocrystalline Silicon.
Weatherproof: IP65 rated for all climates.
Compact: Easy-to-install size.
10-Year Warranty: Reliable with a decade-long guarantee.
40A MPPT Solar Charge Controller Features:
Max Efficiency: 40A MPPT for top solar performance.
Versatile: Fits 12V/24V systems, auto-detects voltage.
Easy Install: Quick setup, intuitive use.
Safe: Full protection against common risks.
1-Year Warranty: Assured quality and support.
Free
Local Shipping
10-year Hassle Free
Warranty
Lifetime Customer
Support
Share
View full details
Description

Includes
Specifications
FAQ
Downloads
Reviews
ROCKSOLAR 300W 12V Rigid Solar Panel Premium Kit with 40A MPPT Controller
Unlock the full potential of solar power with the ROCKSOLAR 300W Rigid Solar Panel Kit (2X150W). Perfect for high-demand applications, this kit offers top-tier efficiency and durability for both off-grid and on-grid setups, including homes, RVs, and boats.
Features of the 300W 12V Rigid Solar Panel
High-Efficiency Cells: Advanced monocrystalline cells ensure 22% higher conversion efficiency.
Durable Construction: Withstands harsh conditions with a robust design (Size: 111.99 x 67.01 x 3 cm; Weight: 9.64 kg).
Versatile Applications: Ideal for a variety of setups, including residential, commercial, and mobile installations.
Eco-Friendly Energy: Reduces carbon footprint with sustainable and clean energy production.
Over 25 Year Service Life

 

guaranteed and 10 Year Manufacturer Warranty.
The ROCKSOLAR 300W Solar Panel merges exceptional power with reliability, making it a smart choice for energy independence and eco-friendly living.
40A MPPT Solar Charge Controller Advantages
Maximum Power Point Tracking: Ensures optimal efficiency and power extraction from solar panels.
Wide Compatibility: Works with various battery types; suitable for 12V/24V systems.
Enhanced Safety Features: Equipped with protection against overcharging, short-circuiting, and reverse polarity.
Intelligent Monitoring: User-friendly interface with real-time display and control.
The 40A MPPT Charge Controller optimizes solar energy conversion, providing superior performance and extended battery life for your solar system.
Dimensions and Specifications
300W 12V Rigid Solar Panels: Four panels each with the dimensions of 111.99 x 67.01 x 3 cm; Weight: 9.64 kg
40A MPPT Solar Charge Controller: Size: 150 x 200 x 50 mm; Weight: 300 g
By pairing the ROCKSOLAR 300W Solar Panel with the 40A MPPT Charge Controller, you're equipped with a powerful, sustainable, and efficient solar solution, meeting today's high energy demands with an eye on the future.
ROCKSOLAR 300W 12V Rigid Monocrystalline Solar Panel

2 x ROCKSOLAR Black Diamond 150W 12V Monocrystalline Rigid Solar Panel
2 x MC4 Connectors
1 x User Manual for the Rigid Solar Panel

ROCKSOLAR 40A MPPT Solar Charge Controller

1 x ROCKSOLAR 40A MPPT Solar Charge Controller
1 x User Manual for the Charge Controller

Accessories

1 x 10-feet 10 AWG solar extension cable with MC4 connectors
1 x Y Branch Connectors MMF+FFM Pair
2 x Z-Bracket Mount System
Technical Specifications
ROCKSOLAR Black Diamond 150W 12V Monocrystalline Rigid Solar Panel Specification
Details
Manufacturer
ROCKSOLAR TECHNOLOGY LLC
Place of Business
1-800-858-4318
Part Number
1
Product Dimensions
111.99 x 67.01 x 3 cm
Item model number
RSRIG150-001
Size
150W Rigid Solar Panel
Style
Compact
Material
Monocrystalline Silicon
Shape
Rectangular
Voltage
12 Volts (DC)
Amperage Capacity
8.5 Amps
Maximum Power
150 Watts
Certification
Energy Star
Usage
Residential, Commercial, industrial, off grid, solar energy, RV, cottage, Boat, solar ventilation, solar powered pump, solar lighting
Included Components
150W Rigid Solar Panel, MC4 Connectors
Batteries Required?
No
Warranty Description
10 Years From Date Of Purchase
Item Weight
9.64 kg
40A MPPT Solar Charge Controller Specification
Details
Model
Sun-Chaser 1240MPPT
PV Input
Max Open Voltage of PV Module: 100Vdc
MPP Tracking Efficiency
>99.5%
Max PV Power
520W for 12V system, 1040W for 24V system
Charge Mode
Charge Algorithm: 3-Stage (Bulk, Absorption, Float)
Battery Type
Lithium, AGM, GEL, Flooded, and User (customizable)
Nominal System Voltage
12/24V Auto Recognition
Rated Charging Current
40A
Battery Voltage Range
9~32V
High Voltage Disconnection
16V for 12V system, 32V for 24V system
Duration for Absorption Charging
Adjustable
Charge Loop Voltage Drop
≤0.26V
Self-consumption
≤10mA @ 12V; ≤12mA @ 24V
Equalization Charging Voltage
AGM: 14.8V; GEL: No; Flooded: 15.0V; Lithium: Customizable
Absorption Charging Voltage
AGM: 14.6V; GEL: 14.4V; Flooded: 14.8V; Lithium: Customizable
Floating Charging Voltage
AGM/ GEL/ Flooded: 13.8V; Lithium: Customizable
Low Voltage Re-connection (LVR)
Adjustable
Low Voltage Disconnection (LVD)
Adjustable
Operating Temperature Range
-25℃~60℃
LCD Temperature Range
-20℃~70℃
Humidity Range
≤95%, Non-condensing
Protection Class
IP32
Dimension
220 x 154 x 52 mm
Installation Hole
198 x 118 mm ∅5
The kit contains two 150W 12V rigid solar panels, a 40A MPPT solar charge controller, necessary connecting cables, mounting hardware, and a user manual for a complete solar energy system setup.
Yes, the included 40A MPPT controller is versatile, capable of supporting various battery types such as Lithium, AGM, Gel, and lead-acid, providing flexibility for different energy storage needs.
The 40A MPPT controller enhances solar energy conversion efficiency significantly compared to PWM controllers. It maximizes the energy harvested from the solar panels, ensuring efficient battery charging.
The 300W solar panels are built to withstand various environmental stresses, including high temperatures. They are designed to offer consistent performance and durability across different climatic conditions.
Each 150W solar panel in the kit typically requires about 225 x 135 mm of space, so for the full 300W, ensure you have double this area available for an unobstructed installation.
Indeed, the MPPT controller is designed to charge batteries efficiently and safely, helping to prolong their overall lifespan by preventing overcharging and ensuring optimal charging profiles.
Yes, this kit is perfect for off-grid setups, including remote cabins, RVs, and boats. It provides a reliable and sustainable power source in areas without access to the electrical grid.
Maintenance typically involves periodically cleaning the solar panels to remove debris, dust, and snow. Regular inspection of the mounting system and electrical connections for safety and efficiency is also recommended.
Solar panels can last more than 25 years with proper care and maintenance. The MPPT controller and other components generally have a shorter lifespan but should function effectively for several years with proper usage.
Yes, the 300W solar panel kit contributes to sustainable and renewable energy use, significantly reducing carbon footprint and reliance on fossil fuels for energy generation.
Ensure all electrical connections are secure and the panels are solidly mounted. Always follow the safety guidelines provided in the manual. If you're unfamiliar with solar installations, professional installation is recommended for safety and optimal performance.
While solar panel output naturally decreases in cloudy conditions, the MPPT controller optimizes the available solar energy, ensuring that the batteries receive the maximum possible charge even on overcast days.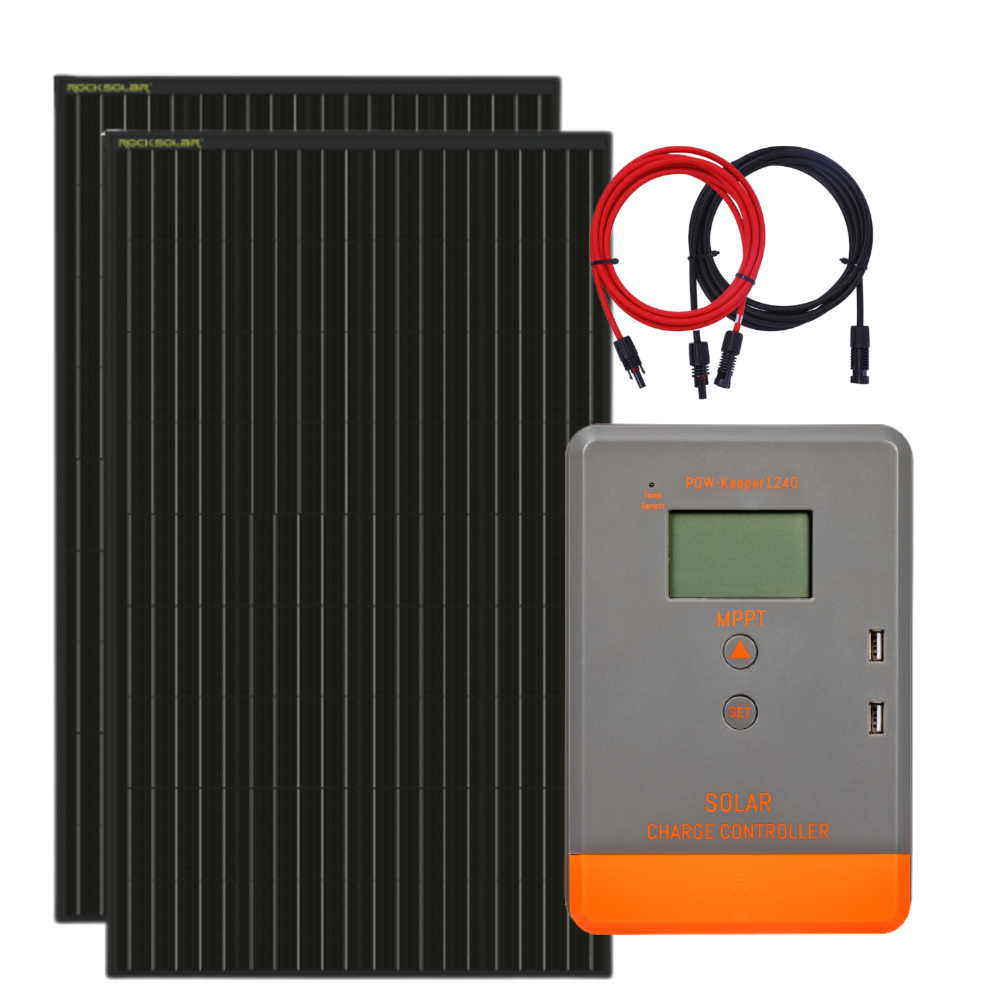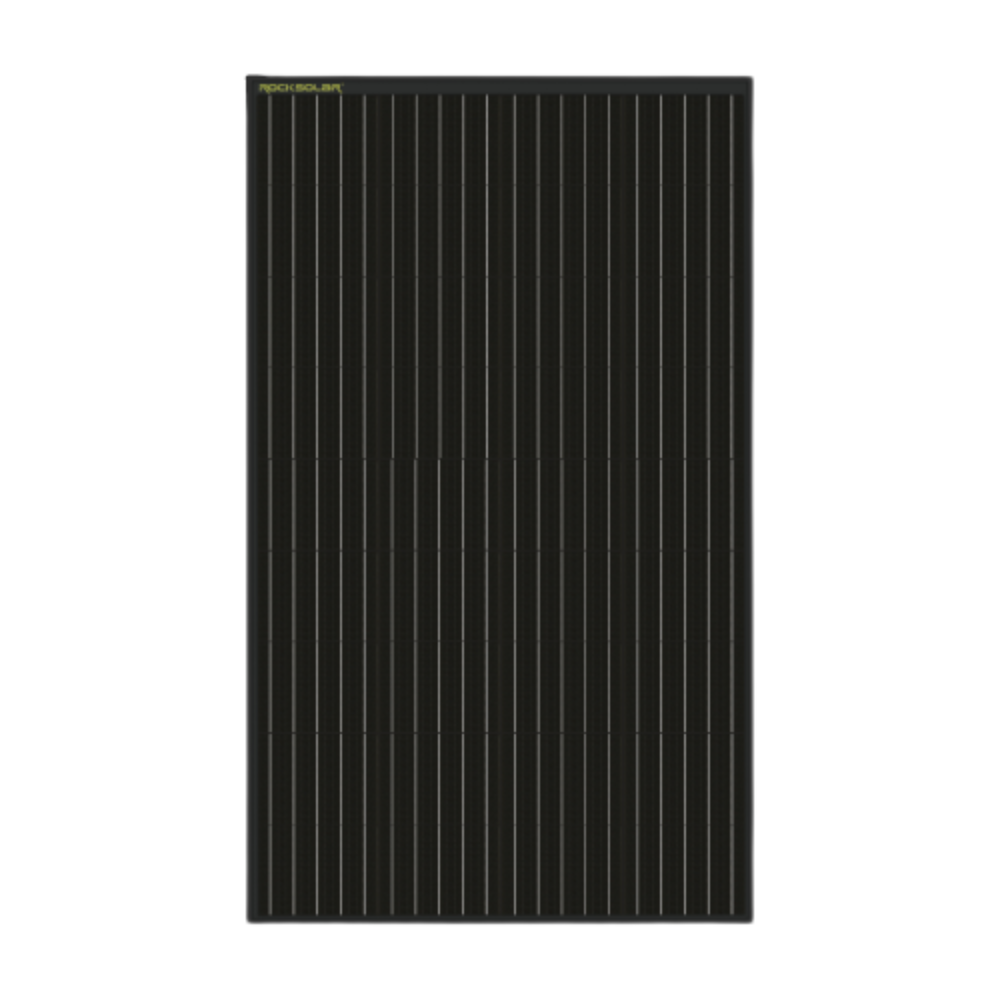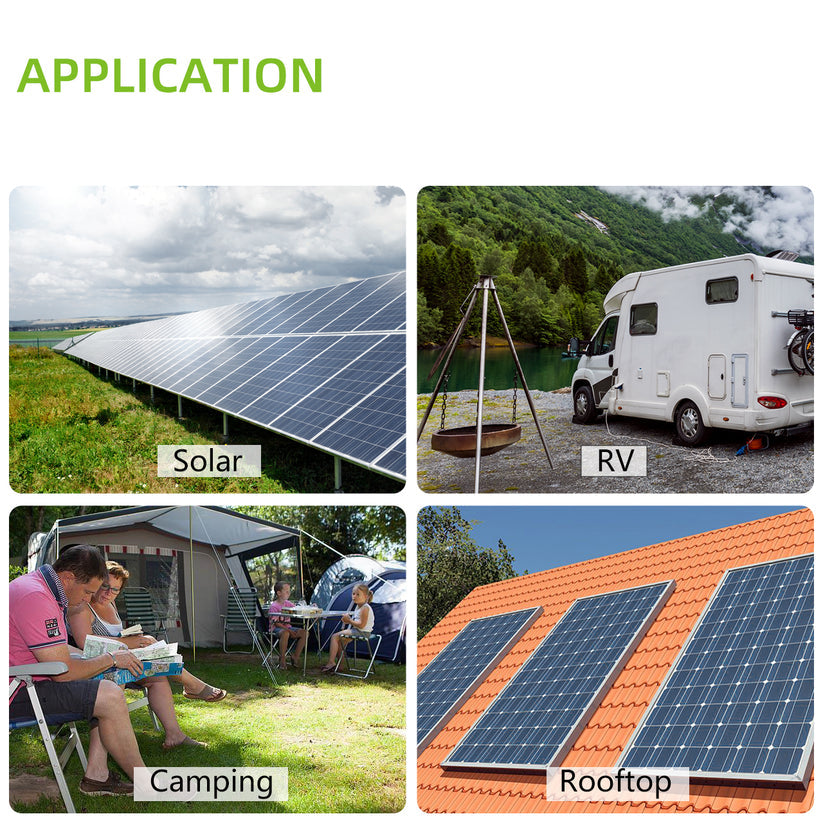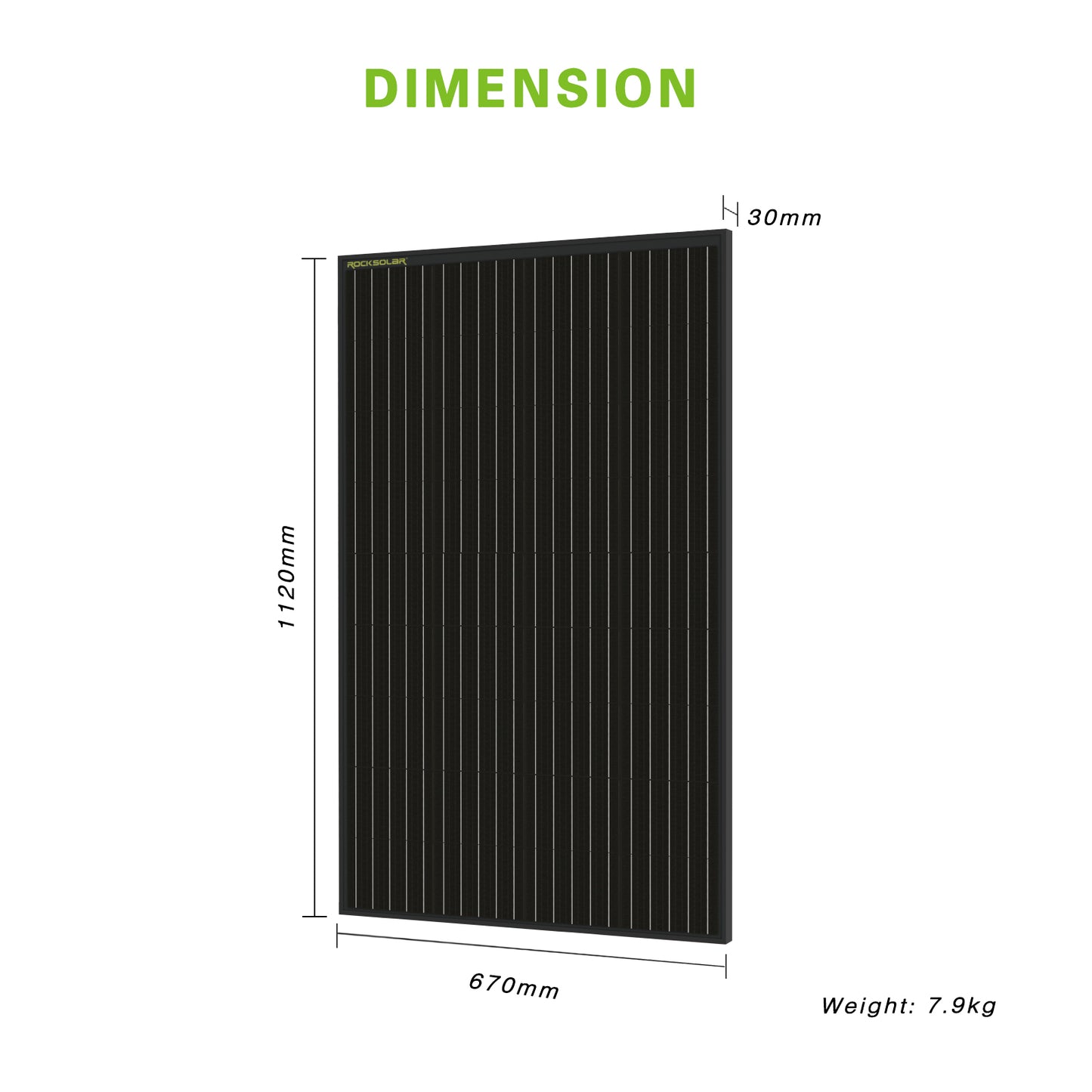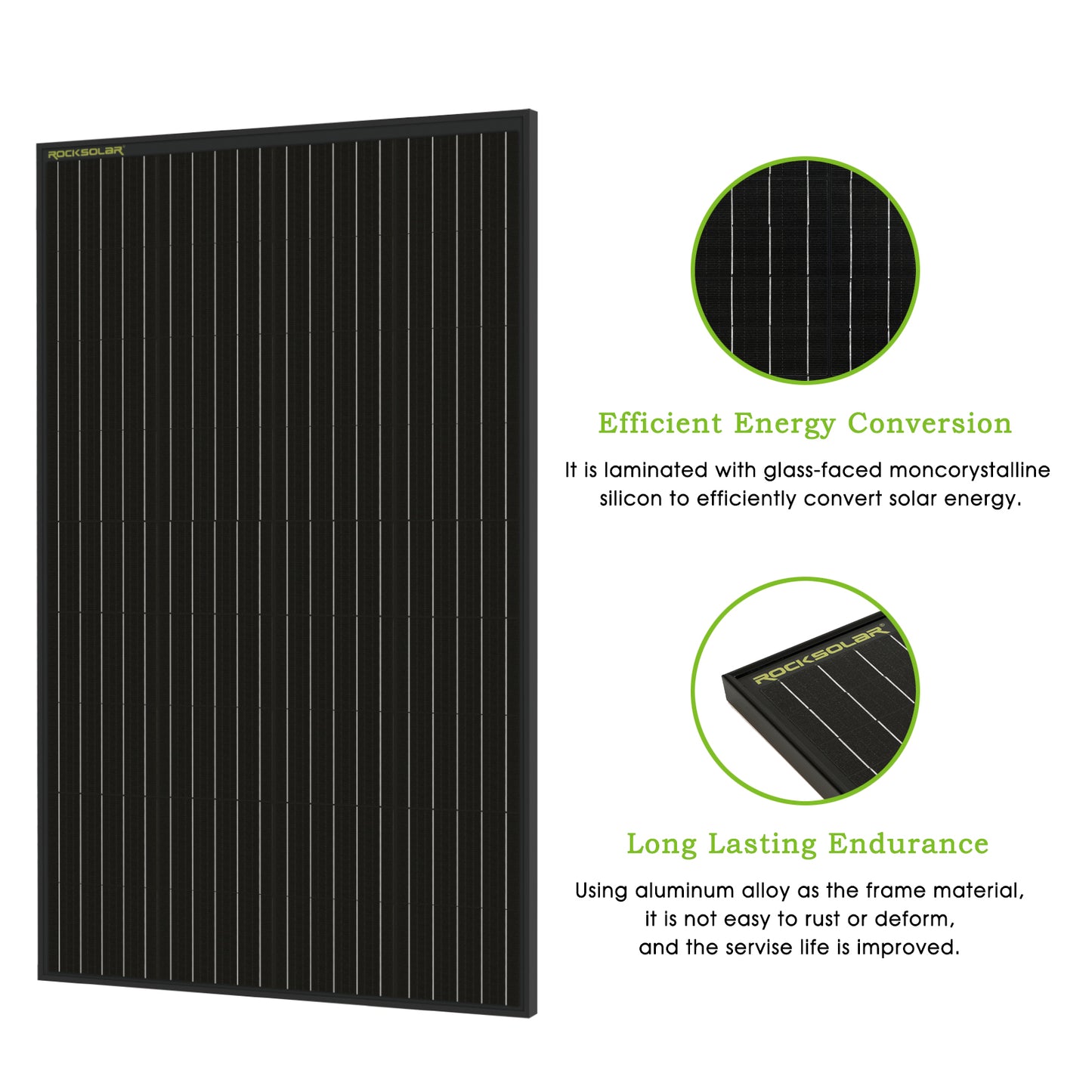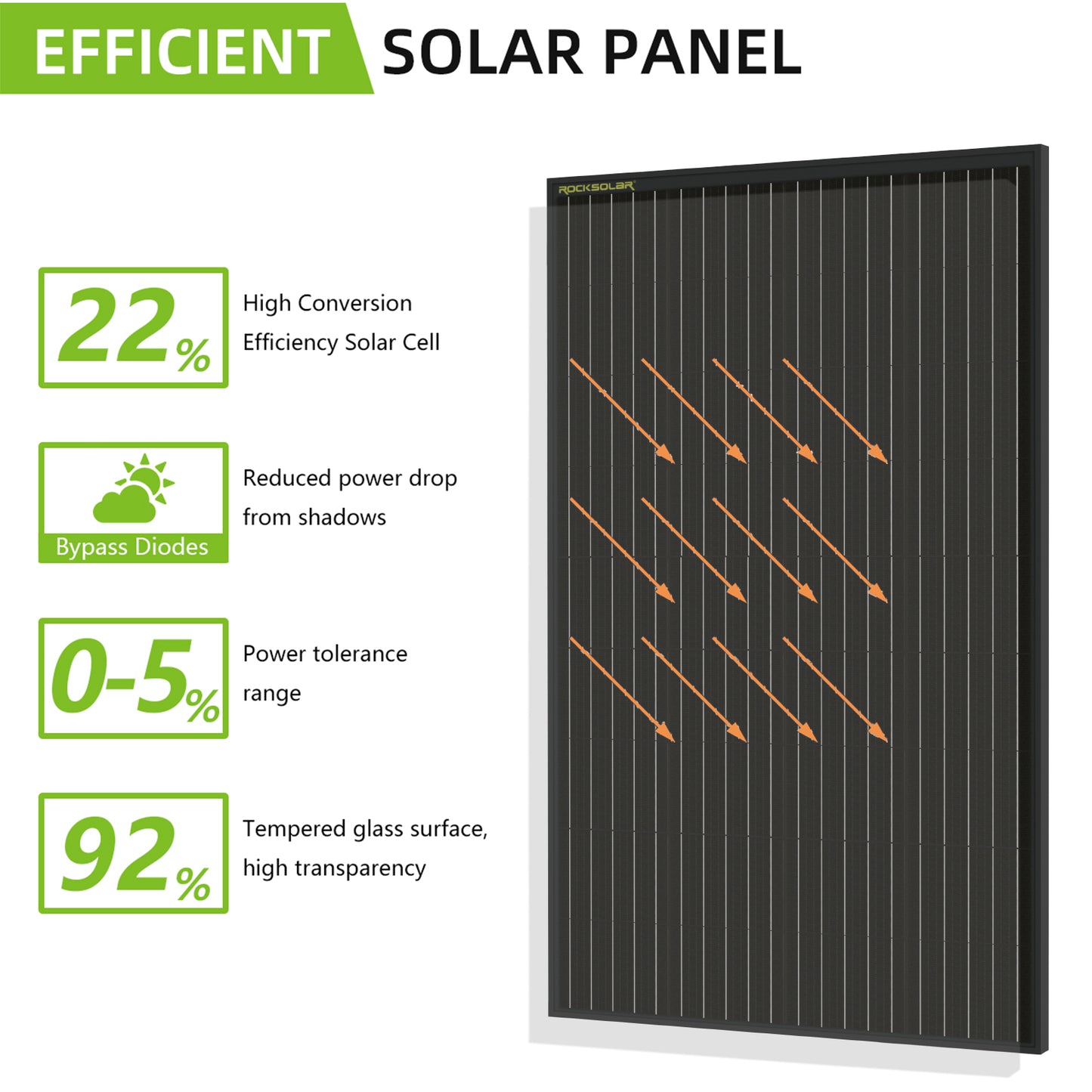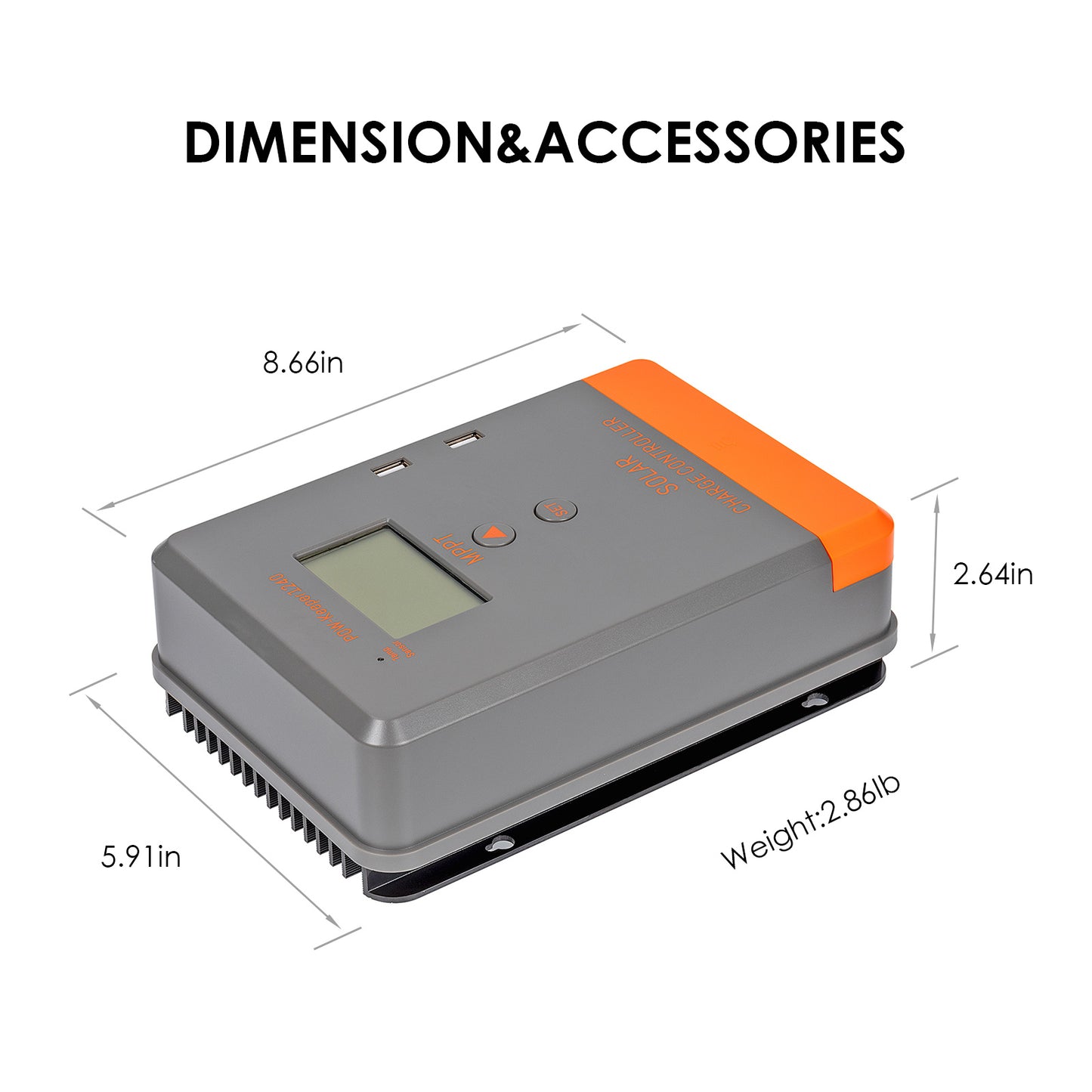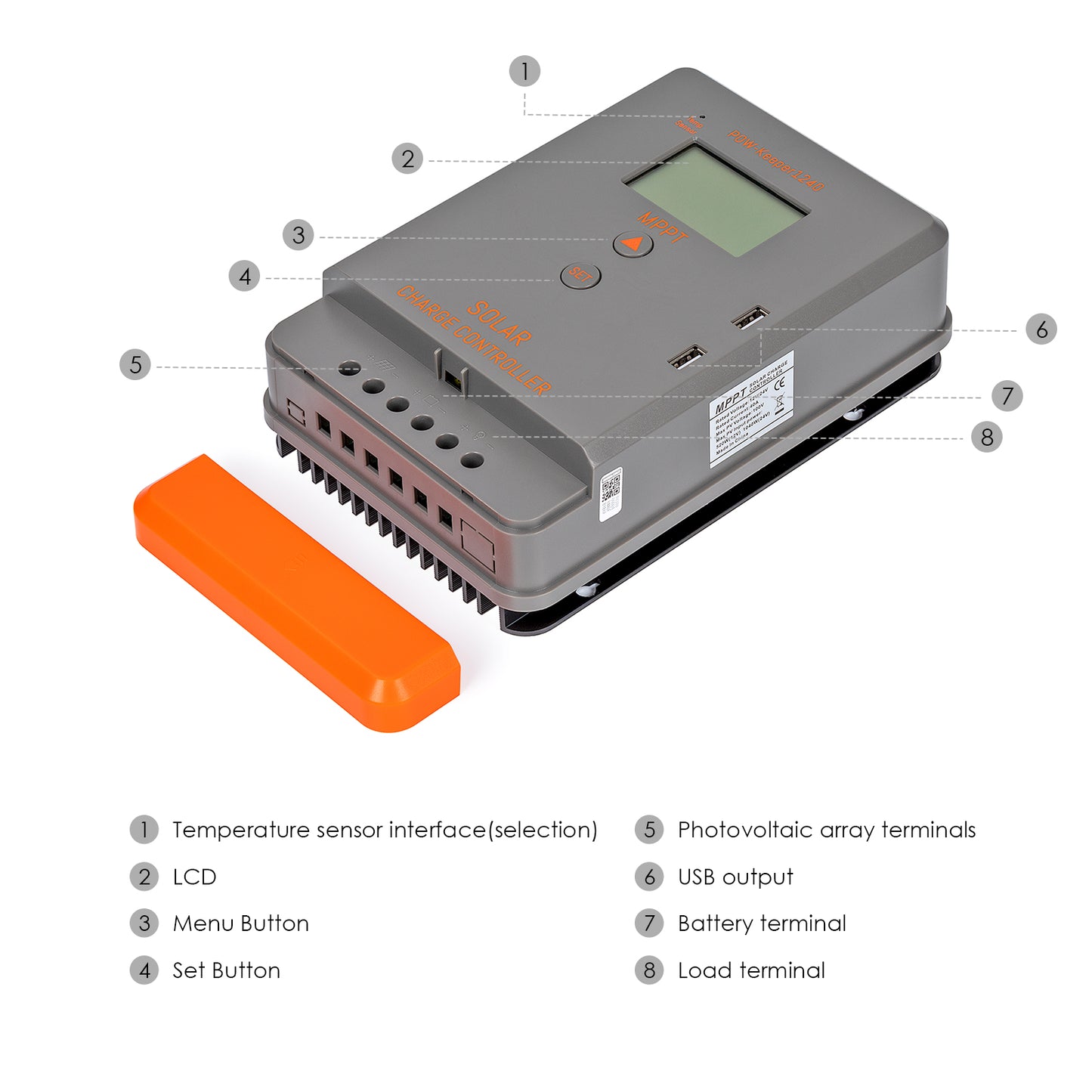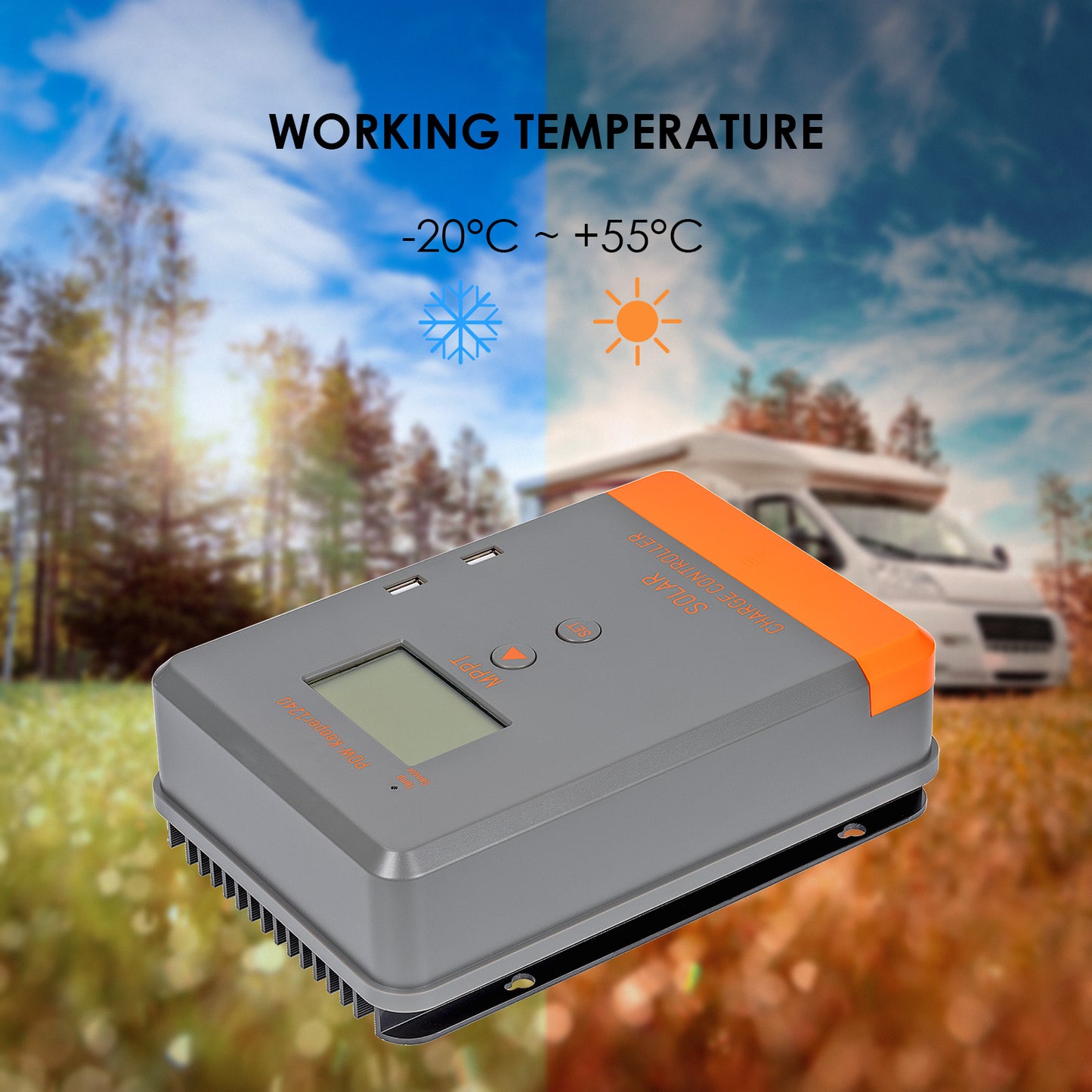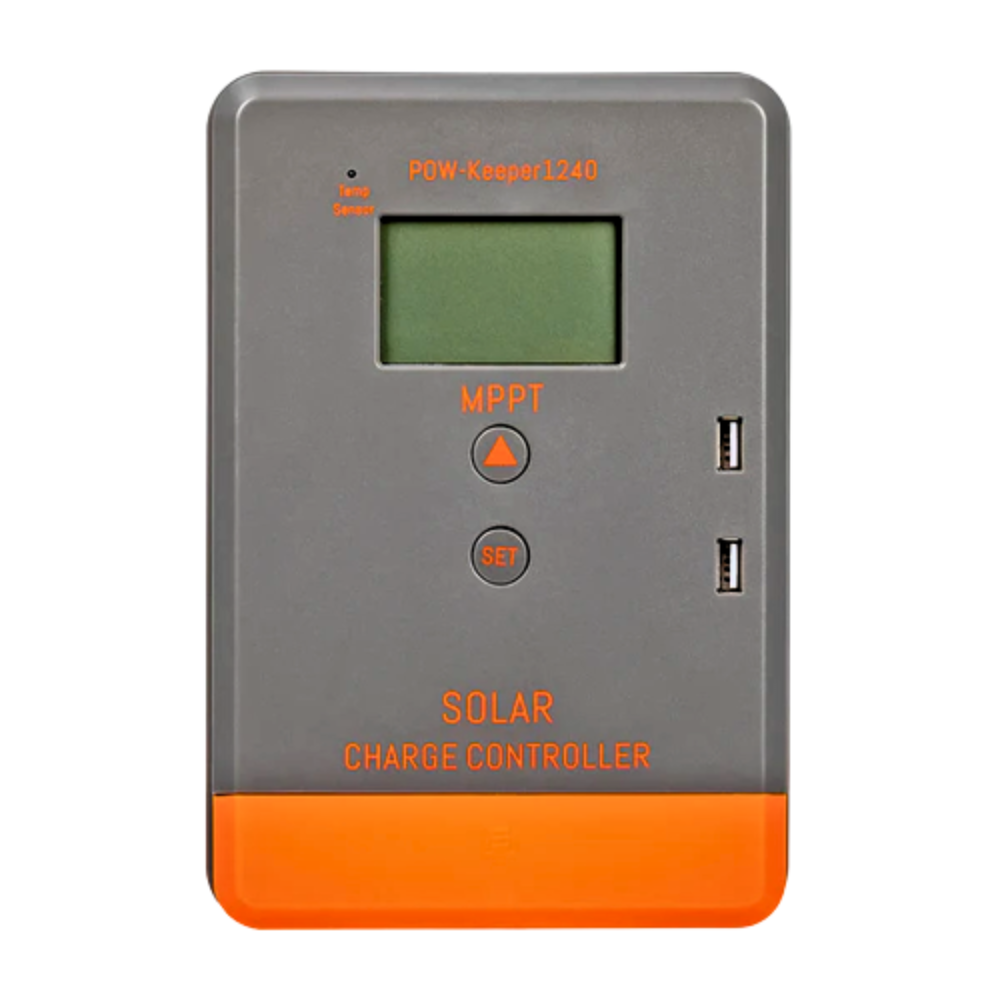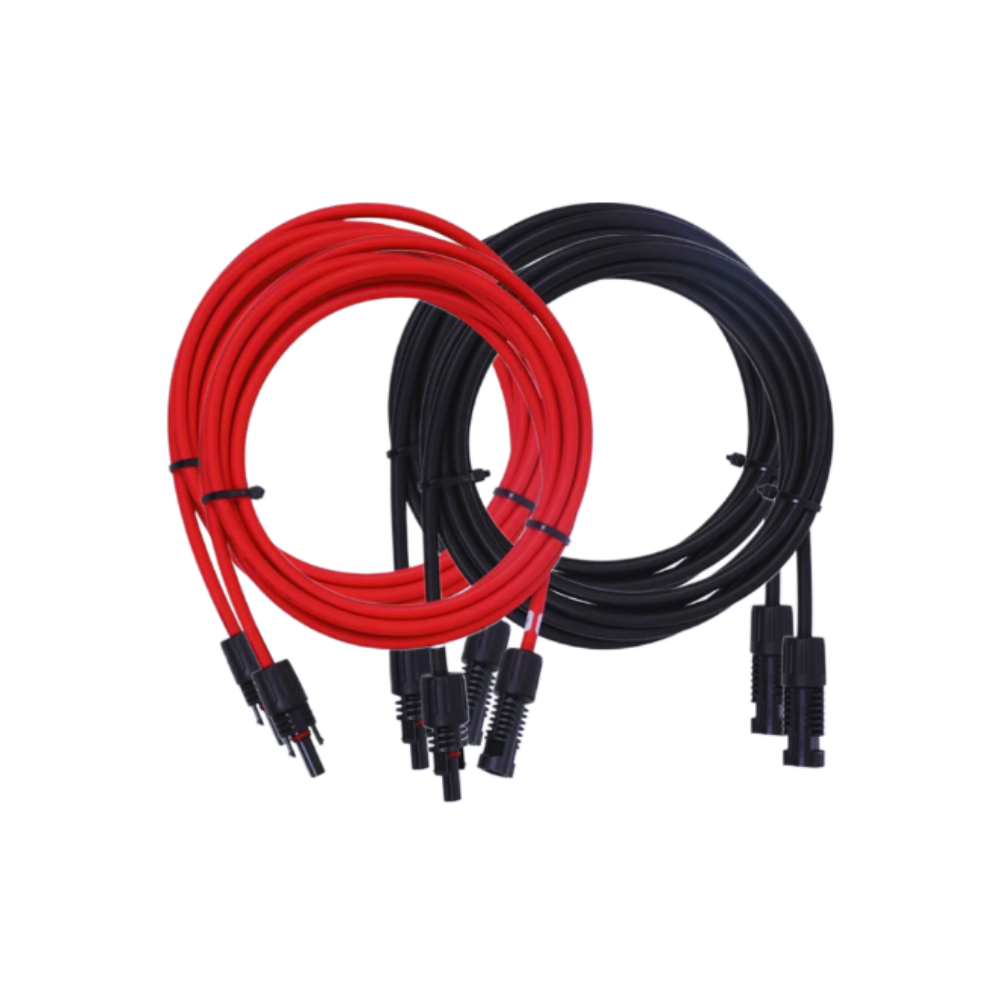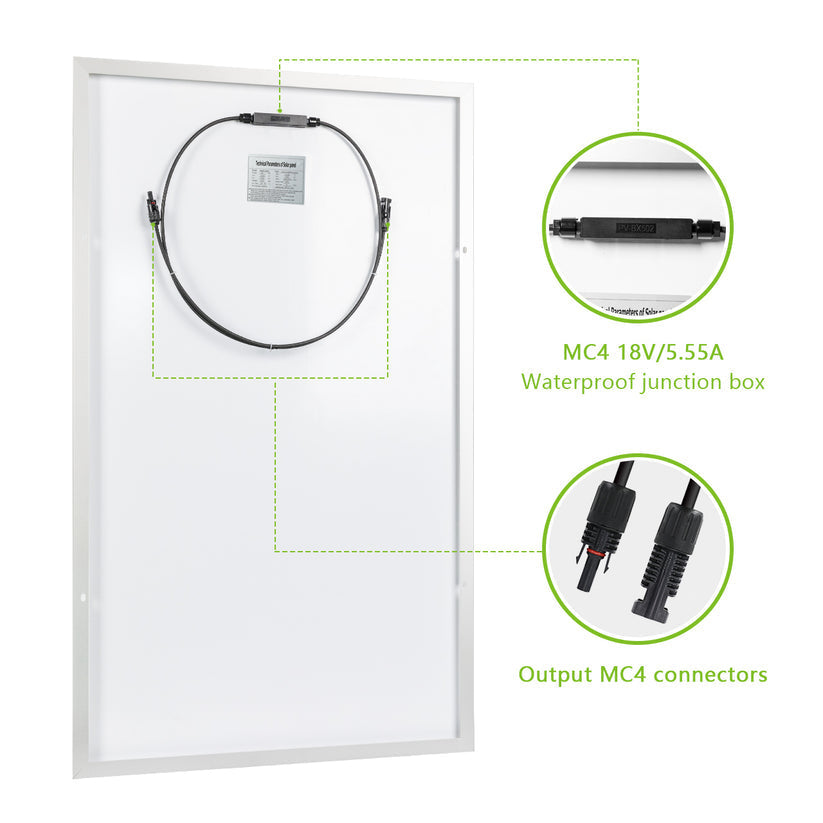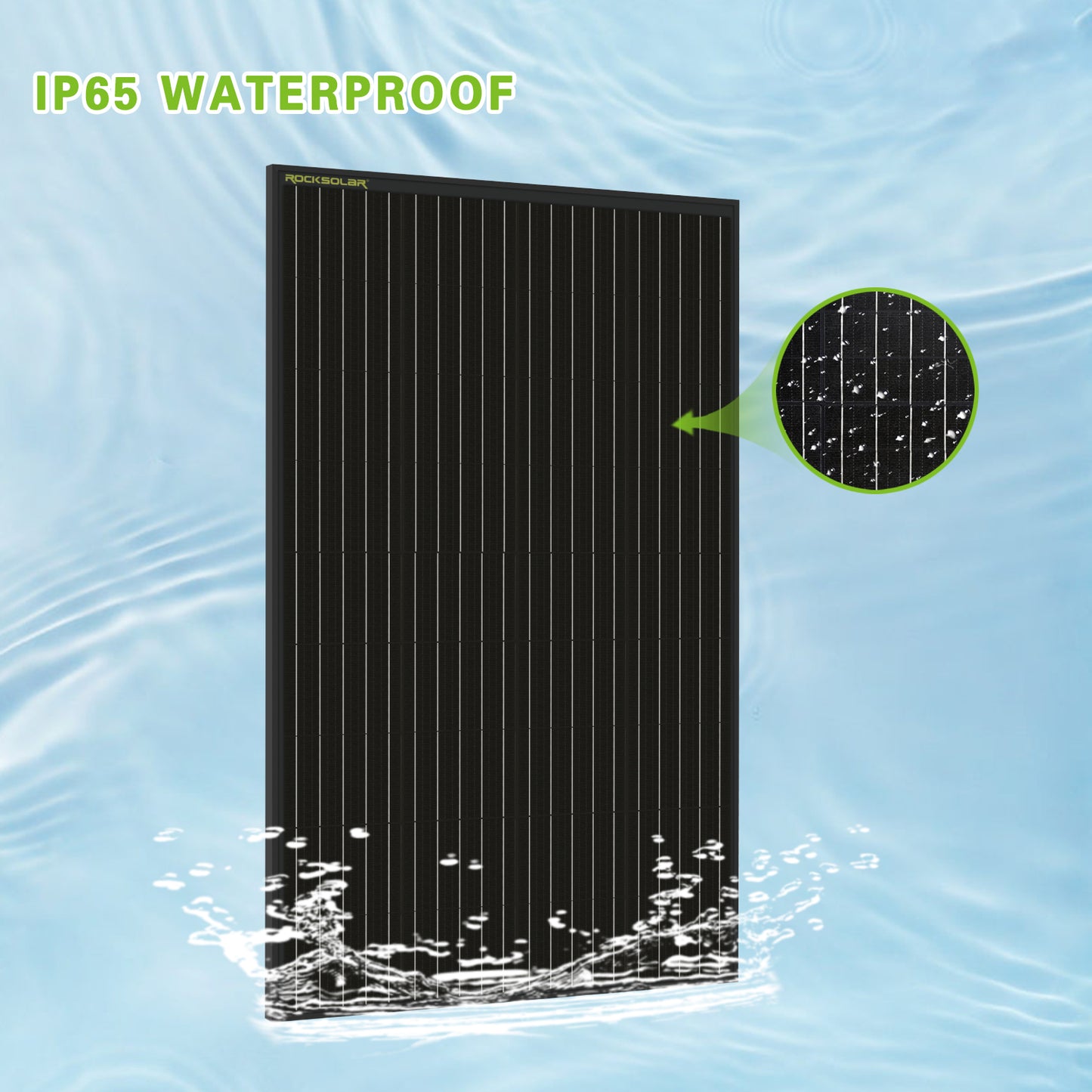 Fantastic Solar Kit!
This solar kit is fantastic! I installed it on my RV, and it works like a charm. Shipping was fast, and the price was reasonable. The panels are of premium quality and the MPPT controller is efficient. Highly recommend it!
Great Value for Money
I couldn't be happier with my purchase. The ROCKSOLAR kit is a great value for money. The installation was a breeze, and it's been powering my off-grid cabin flawlessly. A trustworthy product that I would buy again!
Reliable and Efficient
The ROCKSOLAR 300W kit is reliable and efficient. I use it for my boat, and it keeps the batteries charged without any issues. The MPPT controller optimizes the performance, and the panels feel durable. Great investment!
Must-Have for RV Owners
If you have an RV, this kit is a must-have! It's easy to set up and provides ample power for all our devices. The price is justified for the premium quality panels and the MPPT controller. Highly recommend this solar kit!
Love the Y Branch Connectors
The Y Branch Connectors in this kit are awesome! They make connecting the panels a breeze. The shipping was fast, and the price is competitive. I'm already seeing great results from the solar panels. Highly impressed!