Up to 50% off already applied. Use code HOLIDAY23 for an extra 15% off!
Regular price
$466.00 USD
Regular price
$676.00 USD
Sale price
$466.00 USD
Unit price
per
Sale
Sold out
Nomad 400W Power Station Features:
High-Capacity: 444Wh lithium polymer battery.
Multiple Outputs: 400W AC, 2 DC, 3 USB, and 12V cigarette lighter.
Portable: 11 lbs with ergonomic handle.
Fast Charging: 7-8 hours via solar, AC, or car charger.
Reliable: For power outages, camping, and outdoors.
Durable: Aluminum shell with rubber feet.
Silent: Cooling fan for quietness.
Versatile: Great for adventures, home, camping, RVs.
Stylish: Yellow & black with a user-friendly design.
1-Year Warranty: For peace of mind.
60W Foldable Solar Panel Features:
Optimized Charging: 60W with 3 USB ports.
Adjustable Kickstand: For best sun exposure.
Adventure Ready: Ideal for camping and RVs.
Water Resistant: Built for outdoor use.
Compact: Laptop-sized; weighs 5.6lbs.
Multiple Connectors: 10 DC types included.
Easy Setup: Comes with 4 carabiners.
Quality Build: Durable monocrystalline silicon.
1-Year Warranty: ROCKSOLAR's promise of quality.
Free
Local Shipping
1-year Hassle Free
Warranty
Lifetime Customer
Support
Share
View full details
Description

Includes
Specifications
FAQ
Downloads
Reviews
ROCKSOLAR Nomad 400W 444Wh Portable Solar Generator Kit
Introducing the ROCKSOLAR Nomad 400W Portable Power Station, a compact and light weight power station for all your adventures. Designed with the traveler, camper, and homeowner in mind, the Nomad ensures you have a mobile and reliable off grid power solution whenever and wherever you need it. Encased in a durable aluminum alloy shell and enhanced with a silent cooling fan, this unit promises both durability and discretion.
Product Features
Durable and Dependable: Built with a robust aluminum alloy shell, the Nomad comes with a lithium polymer battery boasting a 444Wh capacity.
Multiple Power Outputs: From 400W AC power to multiple DC and USB ports, this device ensures you can charge a wide range of electronics seamlessly.
Portable Compact Design: With an ergonomic handle and a weight of just 11 pounds, the Nomad is easy to transport and comes with anti-scuff rubber feet for stability.
Efficient Charging: Whether you're using a solar panel, an AC power adapter, or a 12V cigarette lighter, the Nomad charges fully in just 7 to 8 hours.
Emergency-Ready: Perfect for power outages, ensuring your essential household electronics like computers, cpaps, televisions, and lamps stay powered.
Silent power station: The built-in silent cooling fan ensures the unit remains cool without disturbing your peace.
Dimensions:
Nomad 400W 444Wh Power Station: 30.3 x 13.41 x 18.39 cm; 11.01 pounds
60W 12V Foldable Solar Panel: Unfolded: 1275mm x 415mm x 30mm; Folded: 415mm x 370mm x 45mm; Weight: 5.6lbs / 2.55kg
ROCKSOLAR Nomad 400W 444Wh Portable Power Station

1 x ROCKSOLAR Nomad 400W 444Wh Power Station
1 x Charger
1x Power Adapter
1x Cigarette Lighter Adapter
1 x User Manual for the Portable Power Station

ROCKSOLAR 60W Foldable Solar Panel

1 x 60 Watt Foldable Solar Charger
1 x 10-inch Connector Cable
1 x 78-inch DC5521-to-DC5521 Cable
1 x MC4 Connectors
4 x Carabiners
1 x User Manual for the Solar Panel
Technical Specifications
Nomad 400W 444Wh Power Station Specification
Details
Manufacturer
ROCKSOLAR
Place of Business
1-800-858-4318
Part Number
RS650
Product Dimensions
30.3 x 13.41 x 18.39 cm; 11.01 pounds
Batteries
1 Lithium Polymer batteries required. (included)
Item model number
RS650
Colour
Yellow & Black
Style
Power Station
Pattern
Power Station
Power Source
Solar Powered
Voltage
110 Volts
Wattage
400 watts
Item Package Quantity
1
Special Features
Portable, Easy to Install, Quiet
Usage
outdoor, residential, power outage, backup power supply, camping, rv, cpap
Included Components
Charger
Batteries Included?
Yes
Batteries Required?
Yes
Battery Cell Type
Lithium Polymer
Warranty Description
One Year
Item Weight
11.01 pounds
60W Foldable Solar Panel Specification
Details
Rated Power
60W
Convert Efficiency
≥20%
Peak Power Voltage (Vmp)
18V
Peak Power Current (Imp)
3.3A Max
Open Circuit Voltage (Voc)
21.6V
Short Circuit Current (Isc)
3.6A
Panel Type
PET Monocrystalline Solar Panel
Material
Polyester Spray Proof Fabric
QC3.0 Output
5V/3A, 9V/2A,12V/1.5A Max
USB Output
5V/3.0A Max
Type-C Output
5V/3.3A, 9V/3.3A,12V/3.3A, 20V/3.3A Max
5.5mm/2.1mm DC Output
DC18V 3.30A (Max)
Size - Unfolded
1275mm x 415mm x 30mm
Size - Folded
415mm x 370mm x 45mm
Item Weight
5.6lbs / 2.55kg
The Nomad 400W Portable Power Station takes approximately 7 to 8 hours for a full charge, ensuring quick readiness for your adventures or backup needs.
Yes, the Nomad 400W Power Station can be efficiently charged using solar panels, making it an eco-friendly and versatile power solution for outdoor activities and emergencies.
With a 444Wh capacity, the Nomad's lithium polymer battery exceeds the typical airline's allowed capacity for carry-on. Always check with your airline before traveling to ensure compliance.
The Nomad 400W Power Station is versatile and can power a range of household electronics like computers, televisions, mini fridges, lamps, cpaps and more. Its variety of power outputs ensures compatibility with numerous devices.
The duration the Nomad will last during a power outage depends on the total power consumption of the connected devices. With its 444Wh capacity, it can provide substantial backup for essential devices, ensuring continued function during outages.
The Nomad Power Station features a durable aluminum alloy shell, ensuring longevity and resilience against wear and tear.
Yes, the Nomad Power Station is equipped with advanced safety features, including overcharge protection, to ensure the longevity of the battery and safe operation.
No, the Nomad Power Station features a silent cooling fan, making it quiet during operation — ideal for both indoor and outdoor use.
Yes, the ROCKSOLAR 60W Foldable Solar Panel features high-efficiency monocrystalline cells, ensuring a power output of 20-30% even during cloudy days. However, optimal charging will always be under direct sunlight.
The 60W Foldable Solar Panel is crafted using premium Monocrystalline Silicon and is encased in durable Polyester Spray Proof Fabric. Additionally, it boasts an IPX4 water resistance rating, adding another layer of protection against the elements.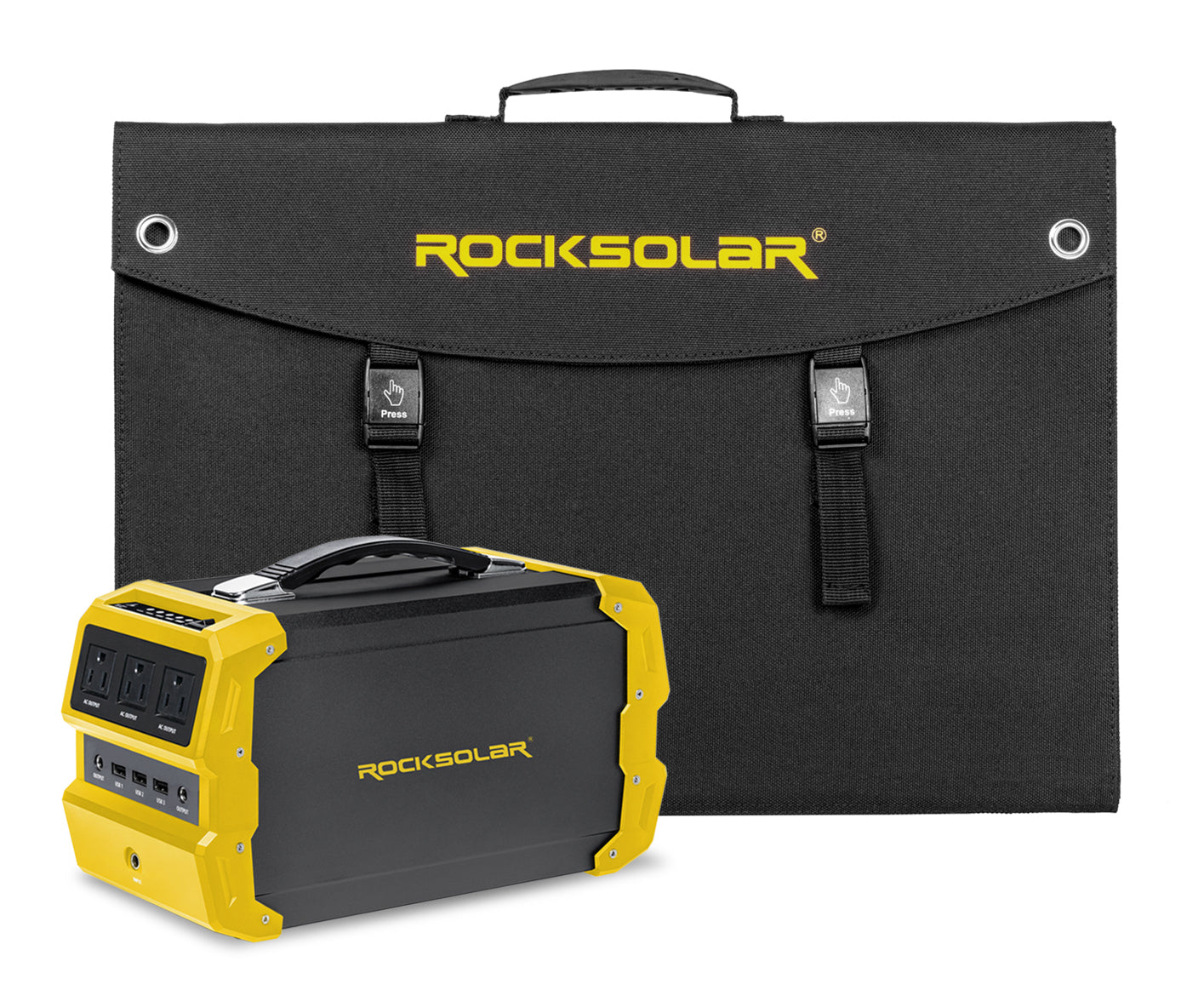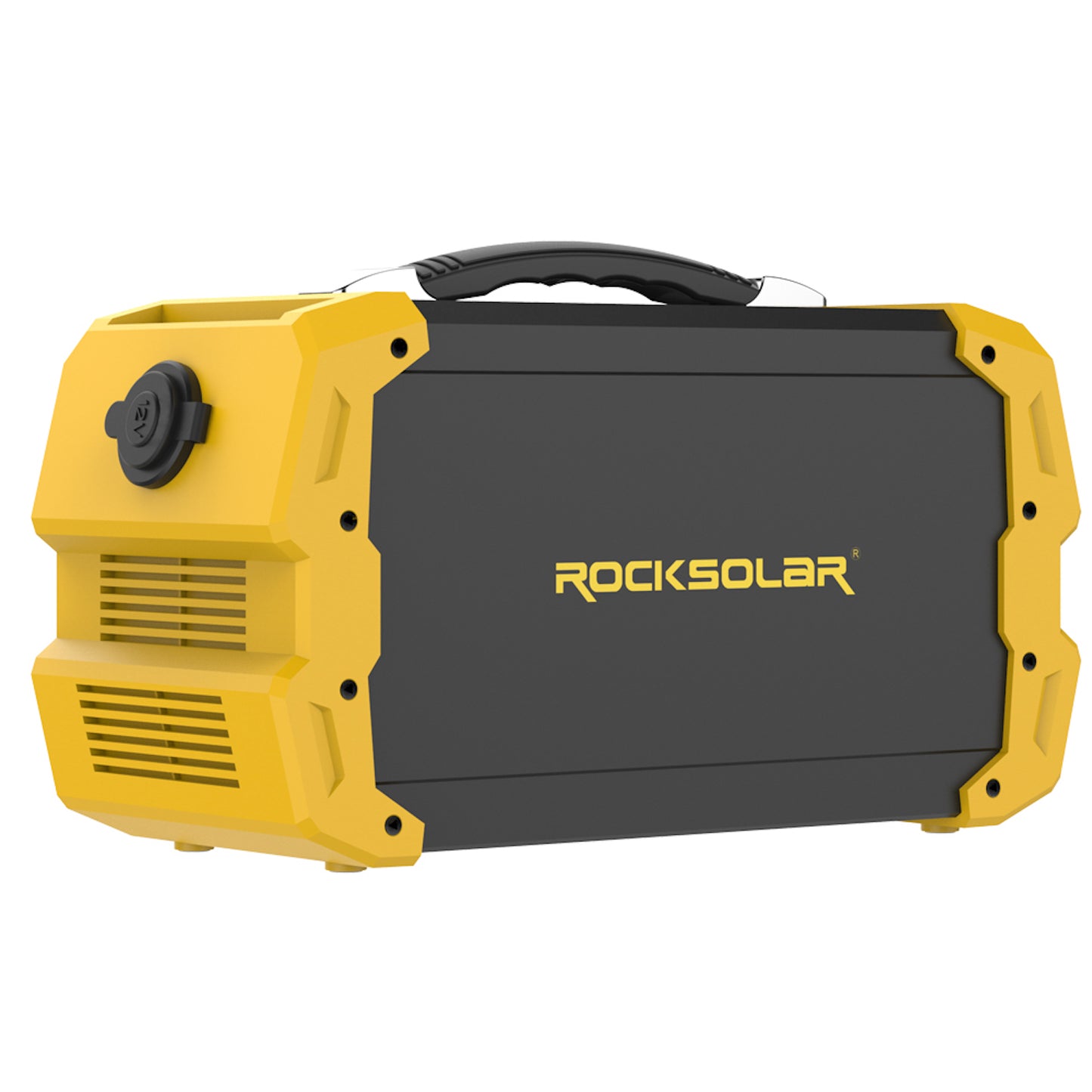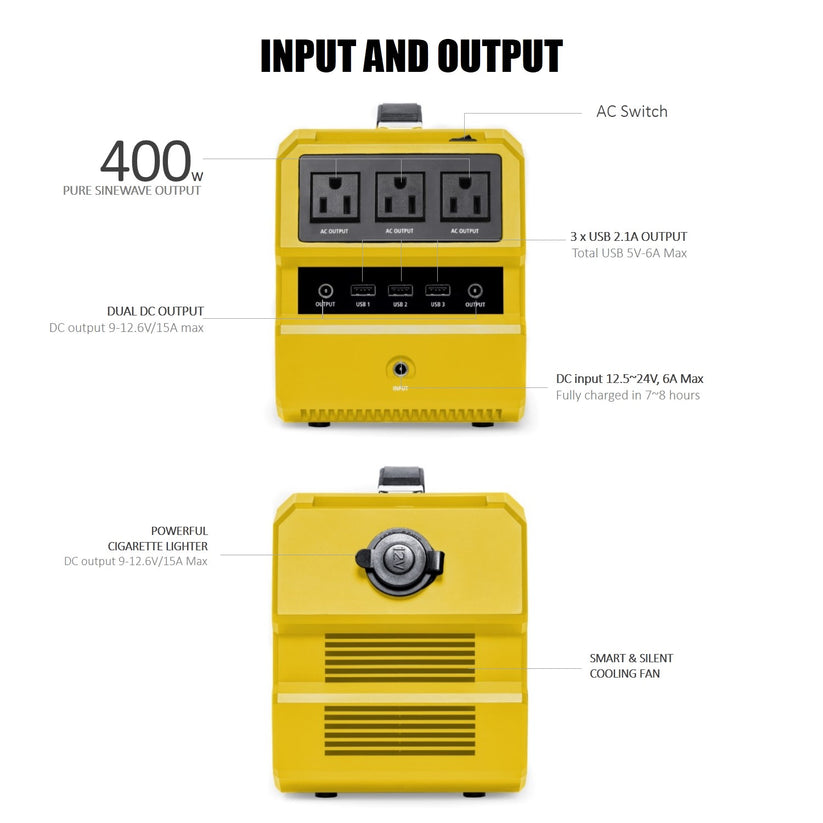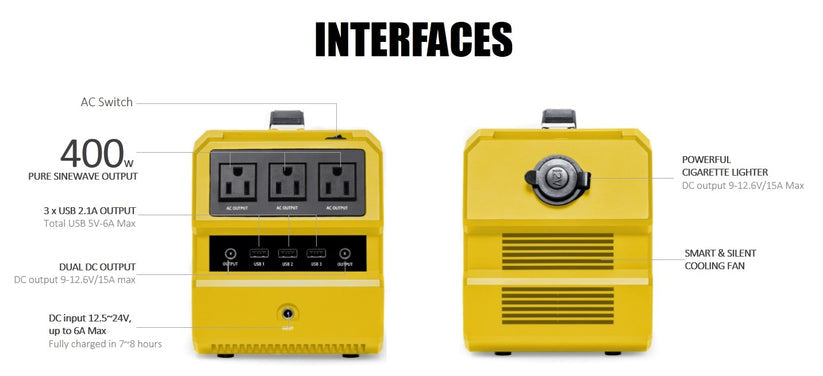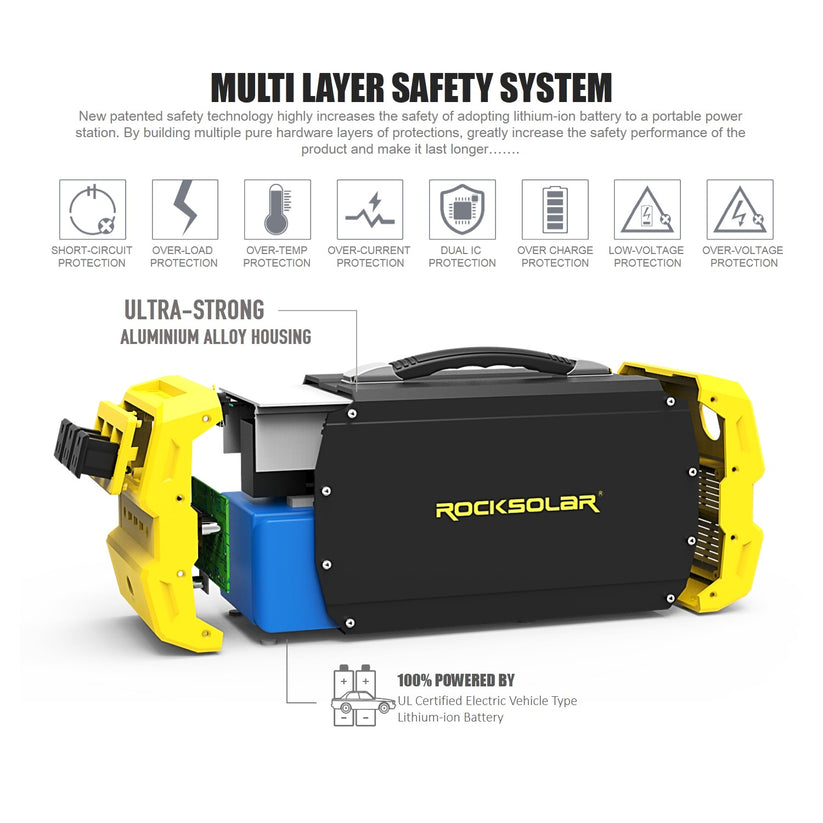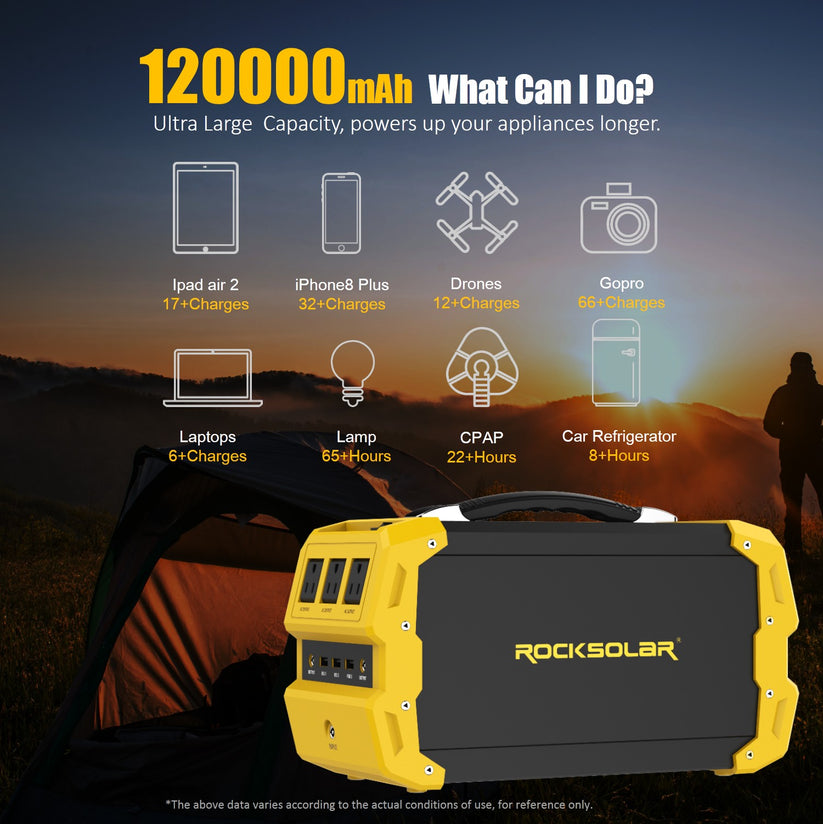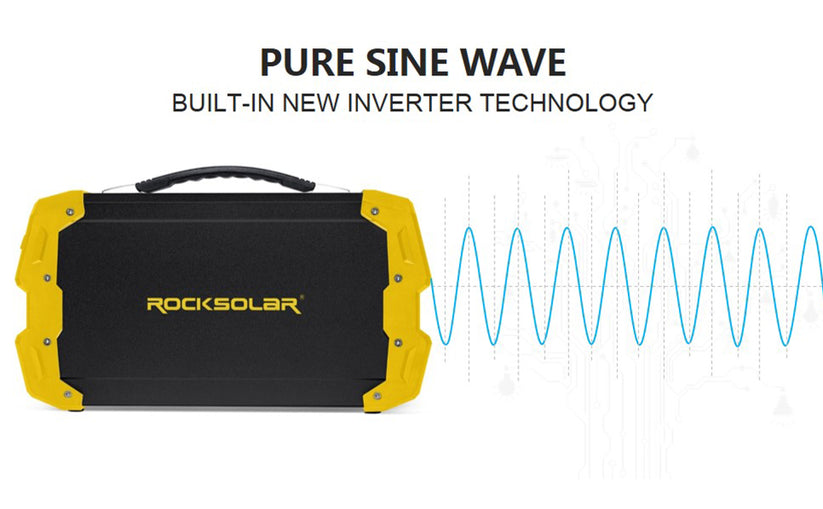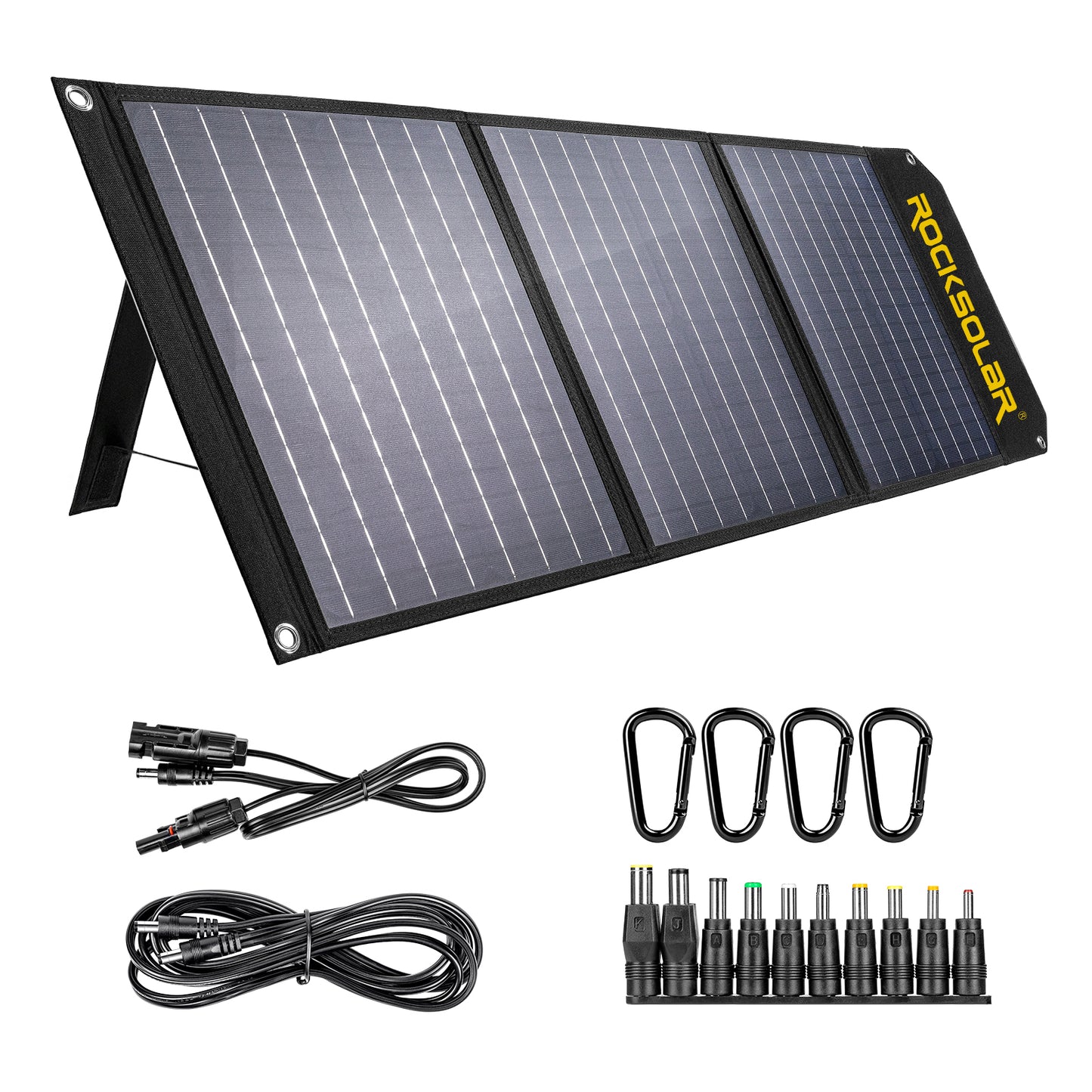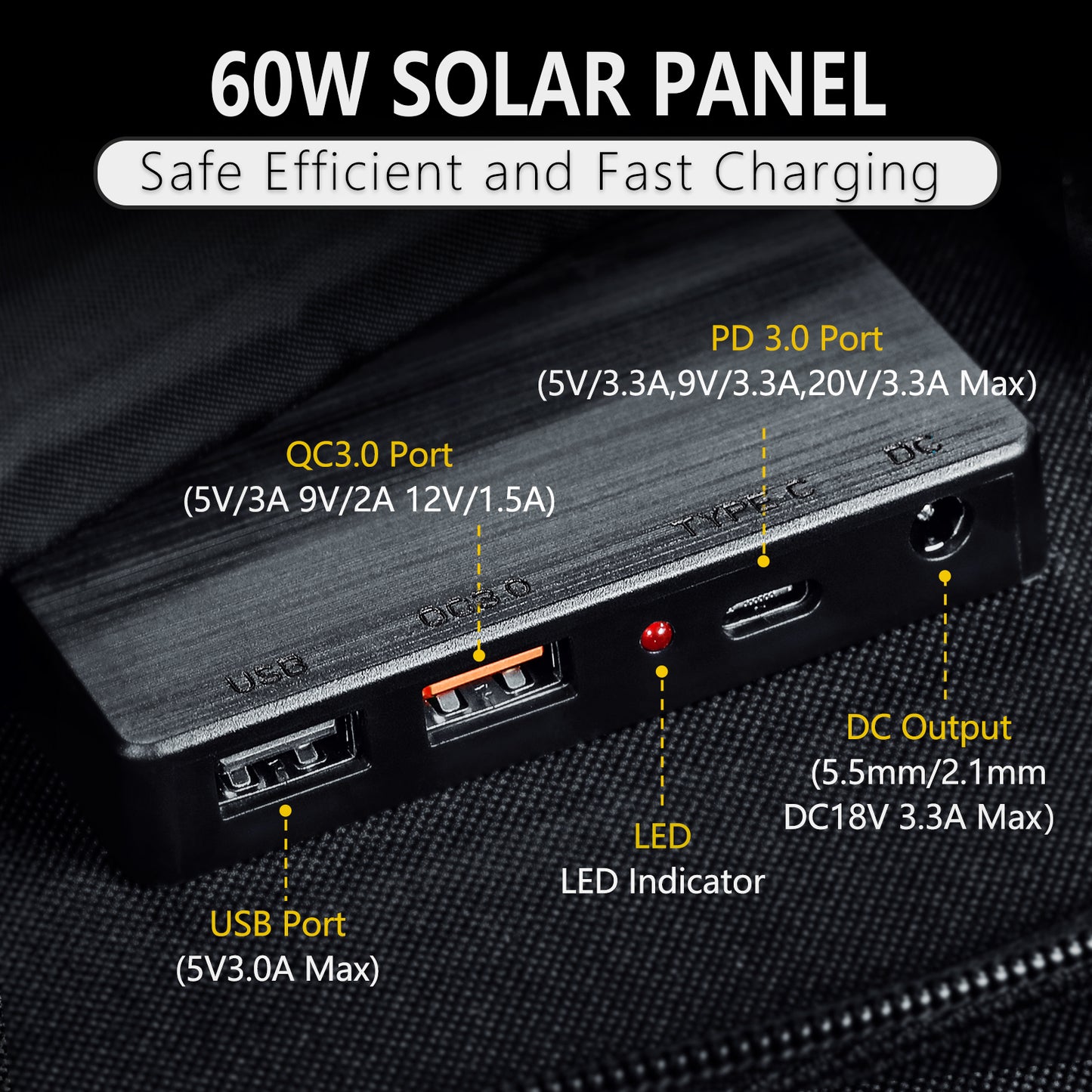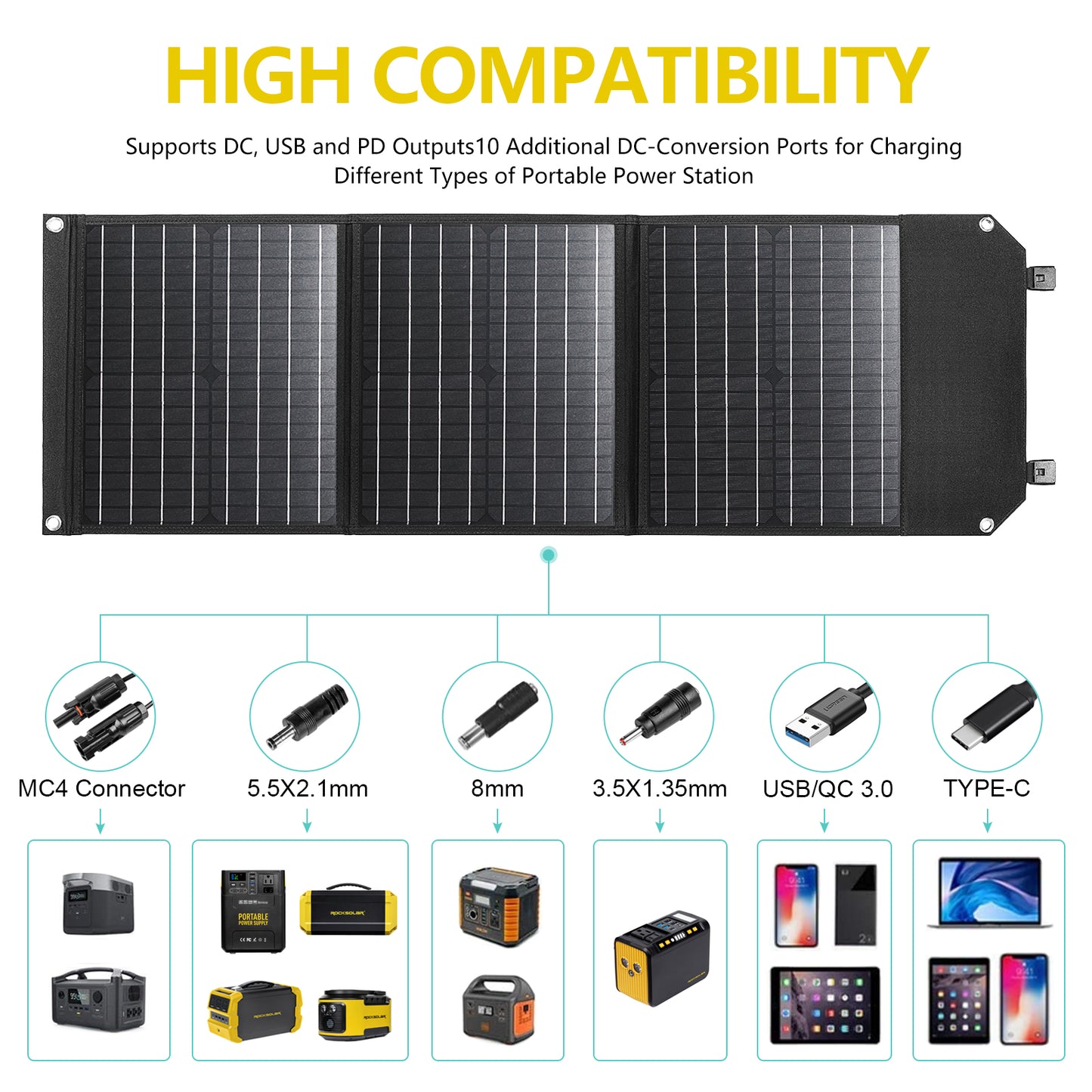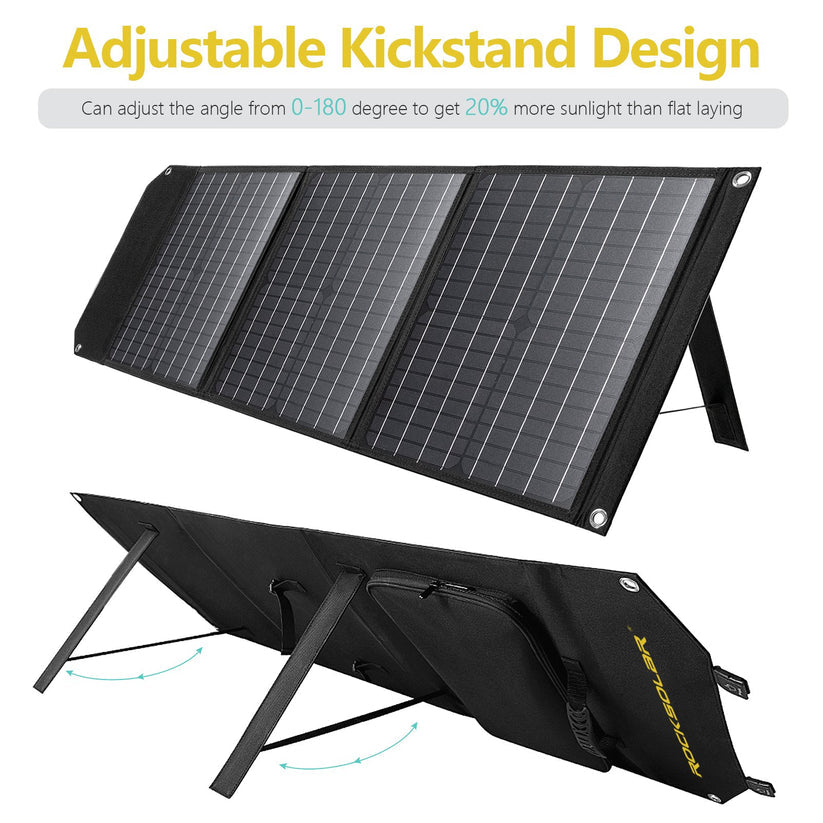 Perfect Camping Companion!
I am very impressed with this solar generator kit! It's small and easy to store, and it easy to pick up and go. We are super happy with our power station and solar panel!
Great for Camping!
This is a great portable solar genarator kit and perfect for camping. We use it all the time and it's held its charge well. I like the size of it.
Perfect for off-grid adventures
This ROCKSOLAR portable solar generato kit is perfect for our off grid adventures. We can charge our phones. cameras, and even laptop multiple times on a single ROCKSOLAR charge. I highly recommend this product to anyone.
Value for money product. Highly recommend.
As a professional travel photographer, I'm constantly on the road and frequently overlanding/car camping in rural locations. I needed something to charge my equipment and after purchasing this solar generator kit I was fully satisfied.
Holds charge for a very long time.
The solar panel is outstanding even in a low sunlight and the power statin is long lasting also.