Regular price
$463.00 USD
Regular price
$597.00 USD
Sale price
$463.00 USD
Unit price
per
Sale
Sold out
Utility 300W Power Station Features:
All-in-One: Lithium-ion battery and solar-ready.
High Capacity: 333Wh with multiple ports.
Pure Power: 2*AC 110V outputs; 300W peak.
Fast Charging: Via ROCKSOLAR panels, wall, or car.
Advanced Safety: Integrated BMS protection.
Quiet Operation: No noise or fumes.
Portable: Weighs under 10lbs.
Durable: Built for longevity.
1-Year Warranty: Quality assured.
100W Foldable Solar Panel Features:
High Efficiency: 100W rating; adjustable kickstands for optimal sunlight.
Multifunctional Ports: 2 USBs, 1 USB C with QC3.0 & PD 60W.
Portability: Lightweight, foldable, laptop-sized.
Durability: Water-resistant construction.
Wide Compatibility: Multiple DC connectors for various devices.
User Design: 1690mm x 380mm x 50mm; 4 carabiners included.
Material: Premium Monocrystalline Silicon.
Ready for Emergencies: Ideal for hiking, camping, RV, and home.
Stylish: Sleek black design.
Warranty: 1-year coverage.
Free
Local Shipping
1-year Hassle Free
Warranty
Lifetime Customer
Support
Share
View full details
Description

Includes
Specifications
FAQ
Downloads
Reviews
ROCKSOLAR Utility Pro 300W 333Wh Portable Solar Generator Kit
Introducing the ROCKSOLAR Utility 300W Portable Power Station, your all-in-one off grid power solution and best power station for camping. Whether you're in an RV, on a camping trip, navigating a power outage, or at a worksite, the Utility as an outdoor power generator is designed to be your emergency power source and backup power supply. With its advanced battery management system and a plethora of output ports, you can trust this device to keep all your gadgets running smoothly.
Utility 300W 333Wh Portable Power Station Features
All-in-One Solar Power Station: A Lithium-ion battery powered and solar ready design for extended use and longer journeys.
Compact and Light weight: Features 2*AC 110V Pure Sine Wave outputs with a peak capacity of 300W (and 500W max), as well as multiple DC and USB ports for diverse device compatibility.
Quick Charging: Recharge using ROCKSOLAR 60W or 100W solar panels (sold separately), an AC wall outlet within 8 hours, or on-the-go from your carport.
Reliable and Silent Power Station: The built-in advanced BMS offers protection against overcurrent, overvoltage, and over-temperature. Say goodbye to fumes, noise, and the hassle of gasoline with this clean energy solution.
Mobile and Portable: Weighing under 10lbs, it's the perfect companion for all your adventures and tasks.
100W Foldable Solar Panel Features
Introducing the ROCKSOLAR 100W 12V Foldable Solar Panel – your versatile and portable USB solar battery charger tailored for on-the-go needs. Whether you're backpacking through the mountains, RVing across the country, or preparing for unpredictable power interruptions, the ROCKSOLAR solar panel promises dependable and efficient power under the sun. Recognized for its sleek design and robust performance, it's an indispensable tool for outdoor enthusiasts and modern nomads alike.
Product Features
High-Efficiency Solar Panel: Rated at 100W, it ensures rapid and reliable charging with 2 USB Ports and 1 USB C, including QC3.0 Quickcharge Technology.
Adjustable Design: Features adjustable kickstands for 0-180 degrees positioning, ensuring up to 20% more sunlight absorption.
Durable & Water-Resistant: Crafted for longevity, it's also water-resistant, ensuring performance even in unpredictable weather.
Lightweight & Foldable: Designed for portability, it's as compact as a laptop when folded and comes with 10 diverse DC connectors.
Universal Compatibility: Perfectly charges all ROCKSOLAR Power Stations and is compatible with devices ranging from iPhones to Samsung Galaxy, Huawei, and LG.
Comprehensive Kit: Includes essential accessories like cables, carabiner, connector cables, and MC4 connectors for a hassle-free experience.
Dimensions:
Utility 300W 333Wh Power Station: 11.3 x 5.1 x 5.1 cm; 8.29 lbs.
100W 12V Foldable Solar Panel: 53.34 x 40.01 x 6.99 cm; 4.15 Kilograms
ROCKSOLAR Utility 300W 333Wh Portable Power Station

1 x ROCKSOLAR Utility 300W 333Wh Power Station
1 x Charger
1x Power Adapter
1x Cigarette Lighter Adapter
1 x User Manual for the Portable Power Station

ROCKSOLAR 100W Foldable Solar Panel

1 x 100 Watt Foldable Solar Charger
1 x 10-inch Connector Cable
1 x 78-inch DC5521-to-DC5521 Cable
1 x MC4 Connectors
4 x Carabiners
1 x User Manual for the Solar Panel
Technical Specifications
Utility 300W 333Wh Power Station Specification
Details
Manufacturer
ROCKSOLAR TECHNOLOGY LLC
Place of Business
18008584318
Part Number
1

Product Dimensions
11.3 x 5.1 x 5.1 cm; 3.76 Kilograms
Item model number
RS630A
Is discontinued by manufacturer
No
Size
333W Solar Panel
Colour
Yellow and Black
Style
Power Station
Material
Aluminium
Pattern
Power Station
Power Source
Battery Powered
Voltage
110 Volts (AC)
Wattage
300 watts
Handle/Lever Placement
Center
Display Style
LCD
Special Features
Portable, Quiet, BMS, light weight
Usage
camping, residential, power outage, backup power supply, Cpap, outdoor, RV
Included Components
Car cigarette adapter, Charger
Batteries Included?
Yes
Battery Cell Type
Lithium Ion
Warranty Description
one year
Item Weight
8.29 lbs
100W Foldable Solar Panel Specification
Details
Manufacturer
ROCKSOLAR
Place of Business
1-800-858-4318
Part Number
RSSP90
Product Dimensions
53.34 x 40.01 x 6.99 cm; 4.15 Kilograms
Batteries
No batteries (Solar Panel)
Item model number
RSSP100
Size
100 Watt
Colour
Black
Style
Usb, Battery
Pattern
100 Watt
Power Source
Solar Powered
Volume
Not Provided
Voltage
12 Volts
Wattage
100 Watts (Maximum Power)
Item Package Quantity
1
Type of Bulb
N/A (Solar Panel)
Special Features
Lightweight Design, Travel, Water resistant, foldable
Usage
Solar Charger for devices and ROCKSOLAR Power Stations
Included Components
Cable, Caribineer, Connector Cable, MC4 Connectors, Charger
Batteries Included?
No
Batteries Required?
No
Battery Cell Type
N/A (Solar Panel)
Battery Capacity
N/A (Solar Panel)
Warranty Description
1 Year
Item Weight
4.15 kg
The Utility 300W Power Station can be fully charged within 8 hours using an AC wall outlet. If you're using the ROCKSOLAR 60W or 100W solar panels, the charging time may vary based on sunlight conditions.
While the Utility 300W is optimized for use with ROCKSOLAR solar panels, it can also be charged using other solar panels that match the required input specifications. Make sure to use the correct adapters and connectors.
Thanks to its diverse output ports, you can power a wide range of devices, from smartphones, laptops, cameras, and drones to small appliances like fans or lights. Its 2*AC 110V Pure Sine Wave outputs, DC, and USB ports provide flexibility for various device compatibilities.
The Utility 300W Power Station weighs approximately 8.29 lbs, making it a lightweight and portable solution for your power needs on the go.
Yes, the ROCKSOLAR 100W Foldable Solar Panel features high-efficiency monocrystalline cells, ensuring a power output of 20-30% even during cloudy days. However, optimal charging will always be under direct sunlight.
The 100W Foldable Solar Panel is crafted using premium Monocrystalline Silicon and is encased in durable Polyester Spray Proof Fabric.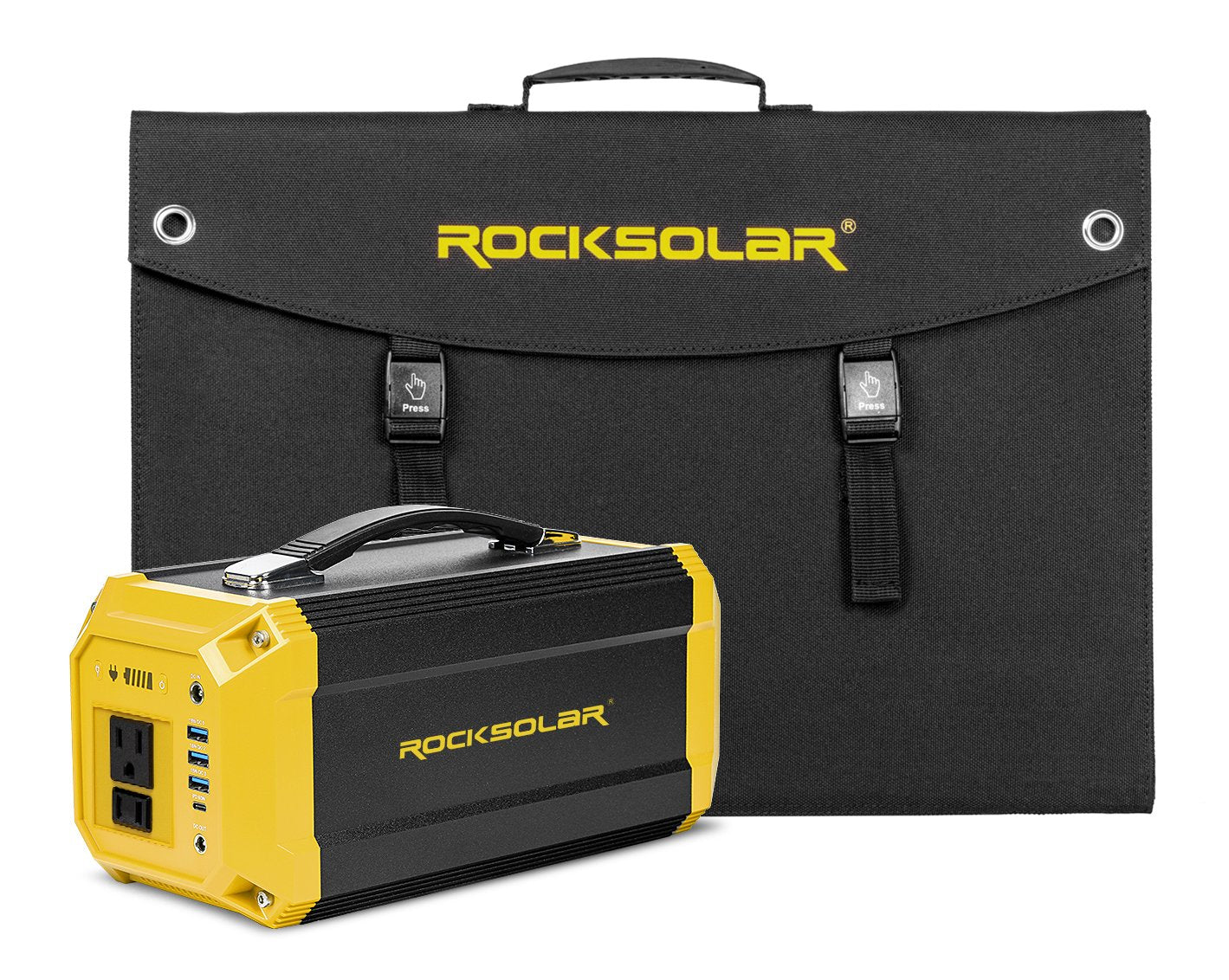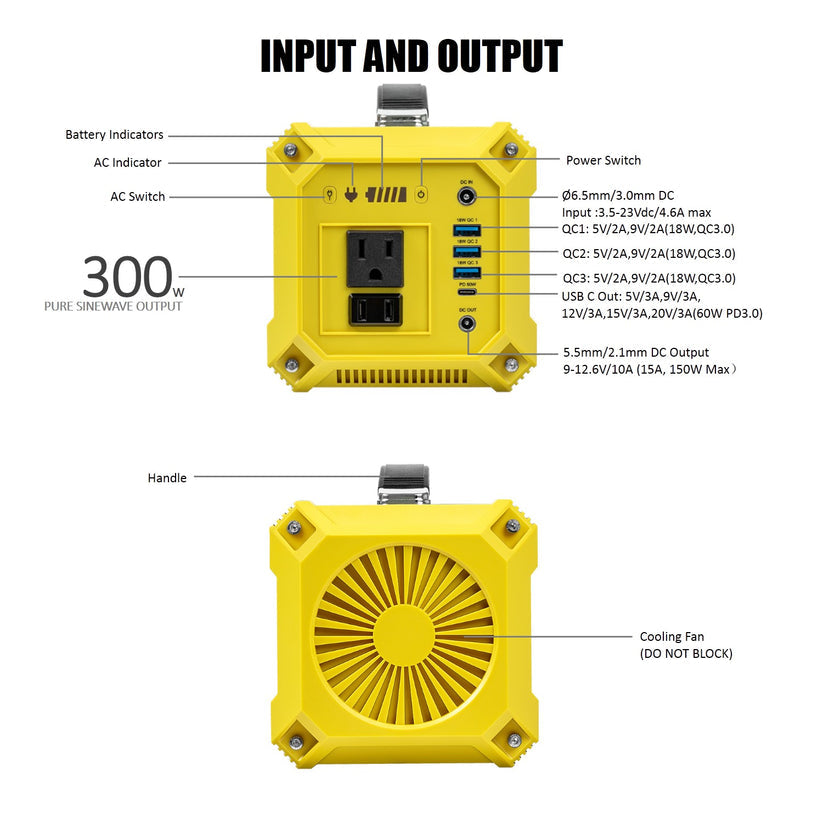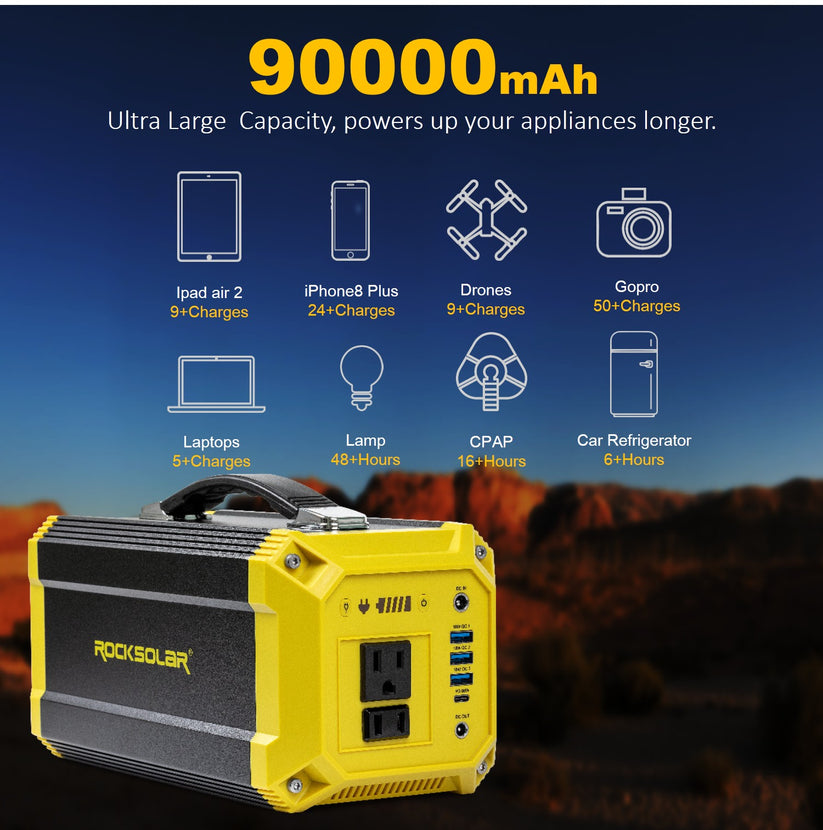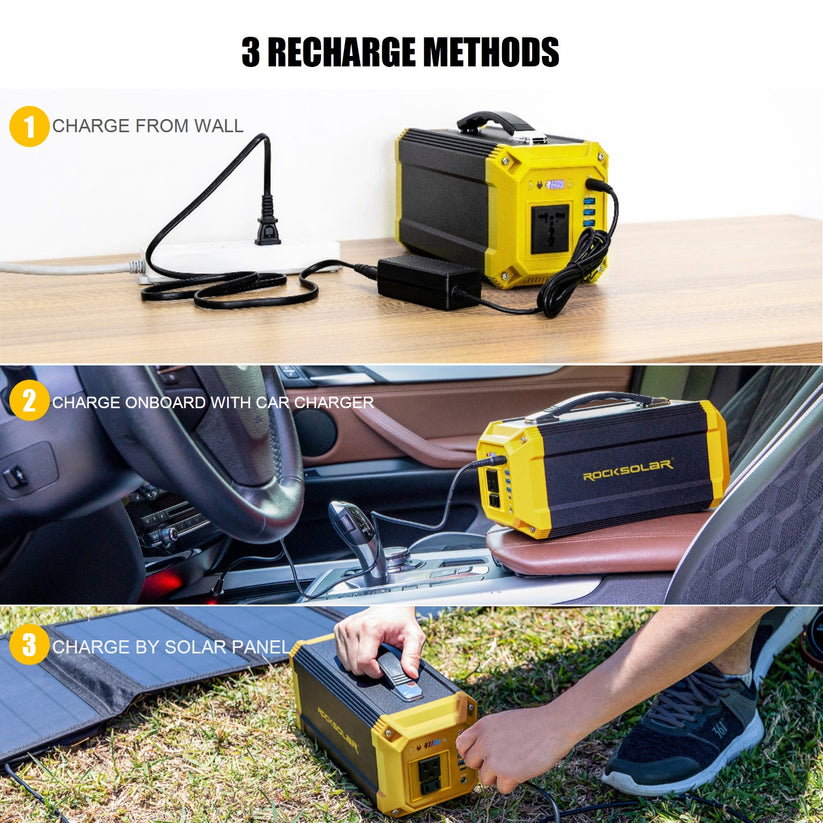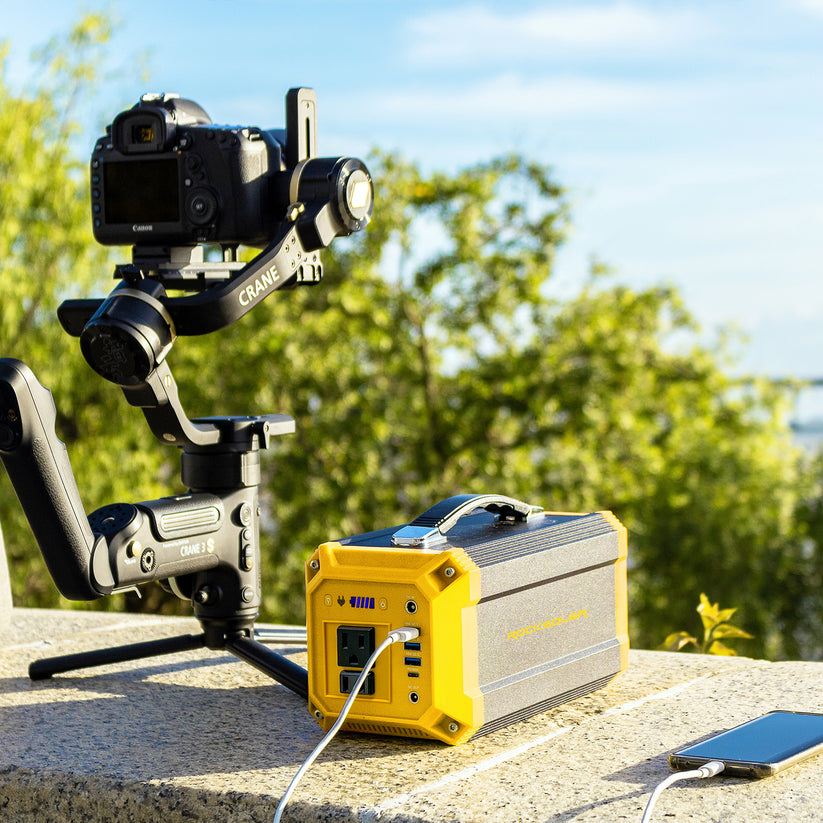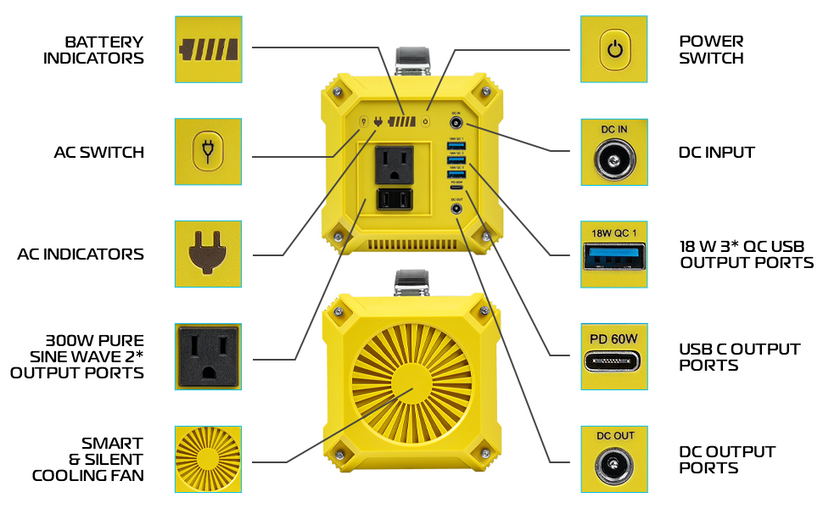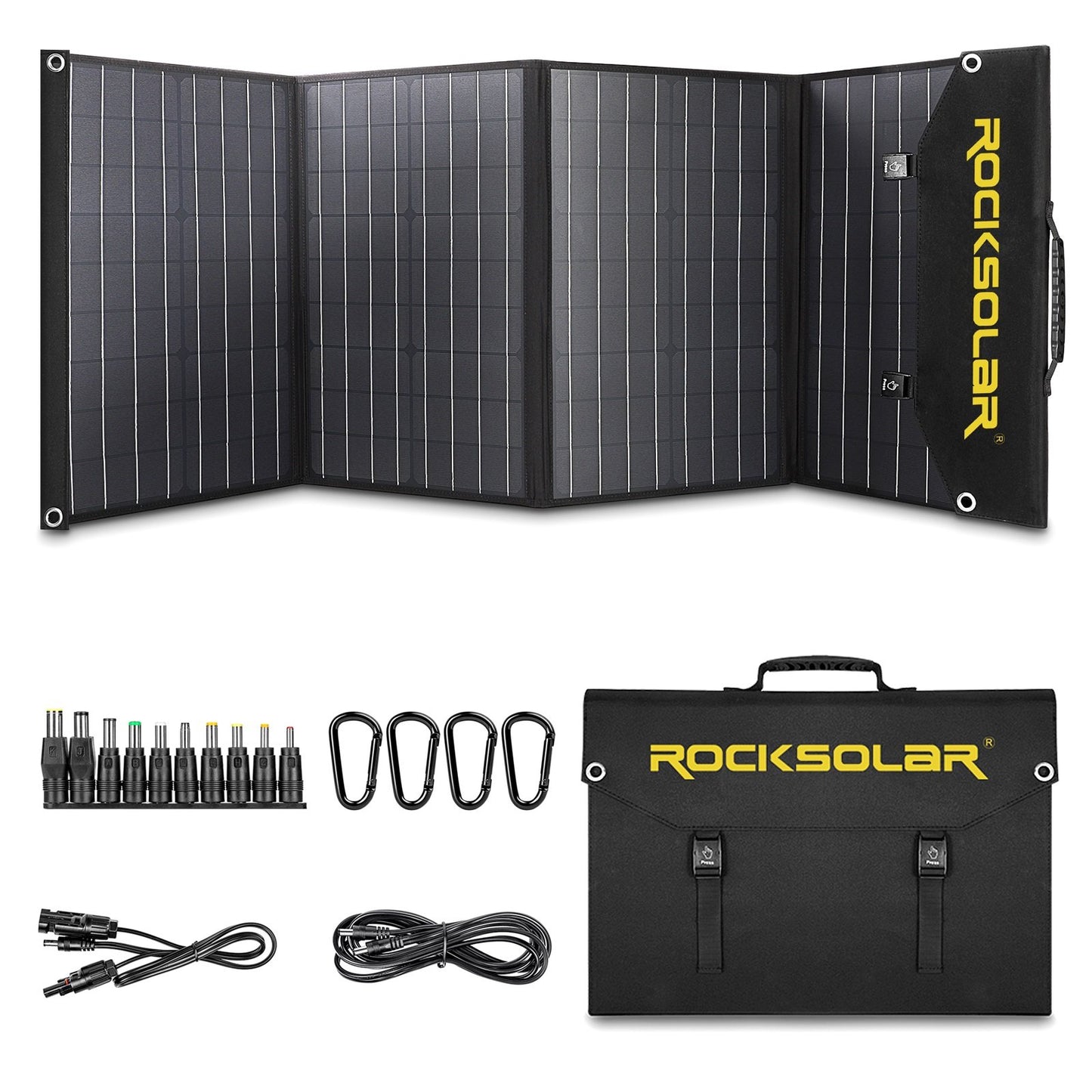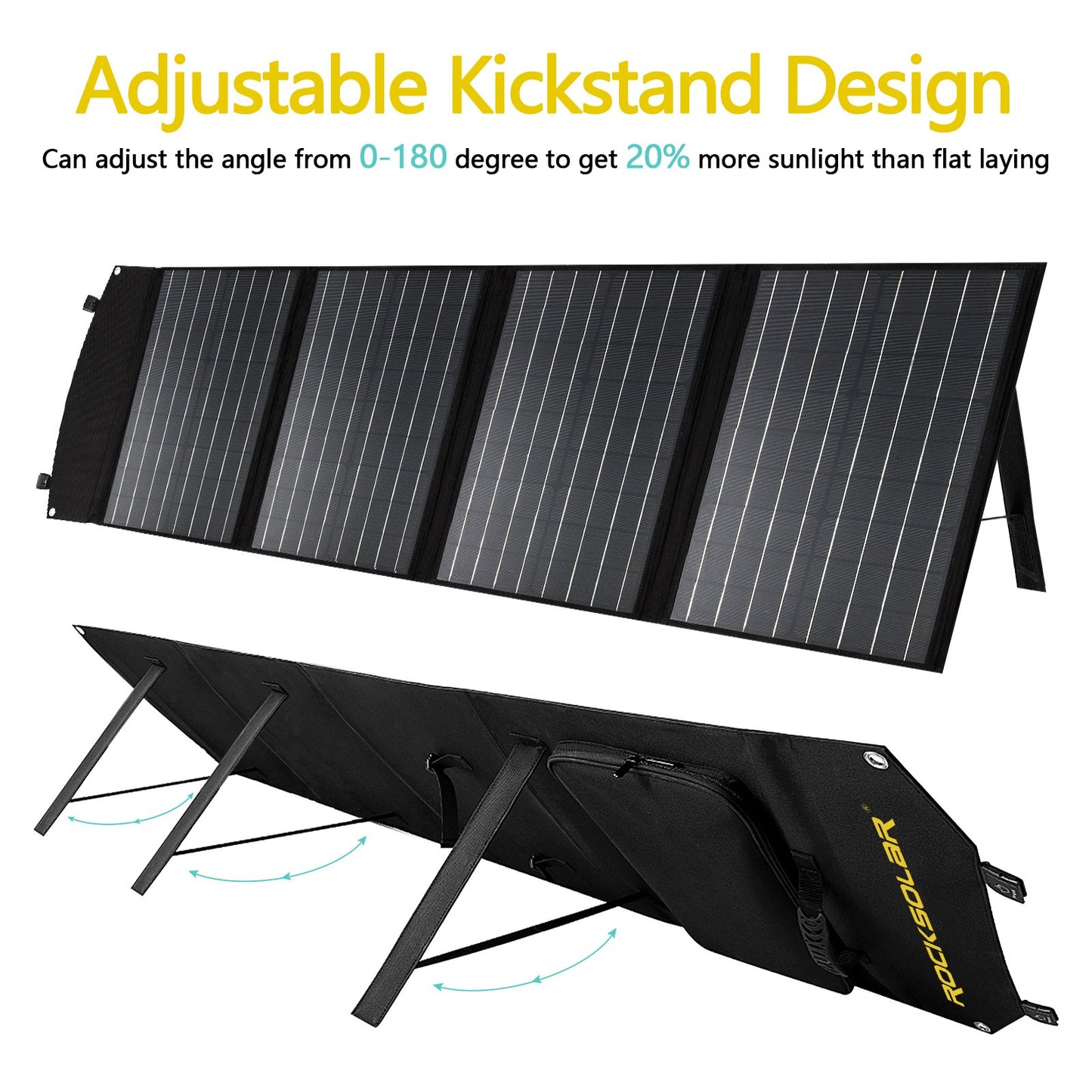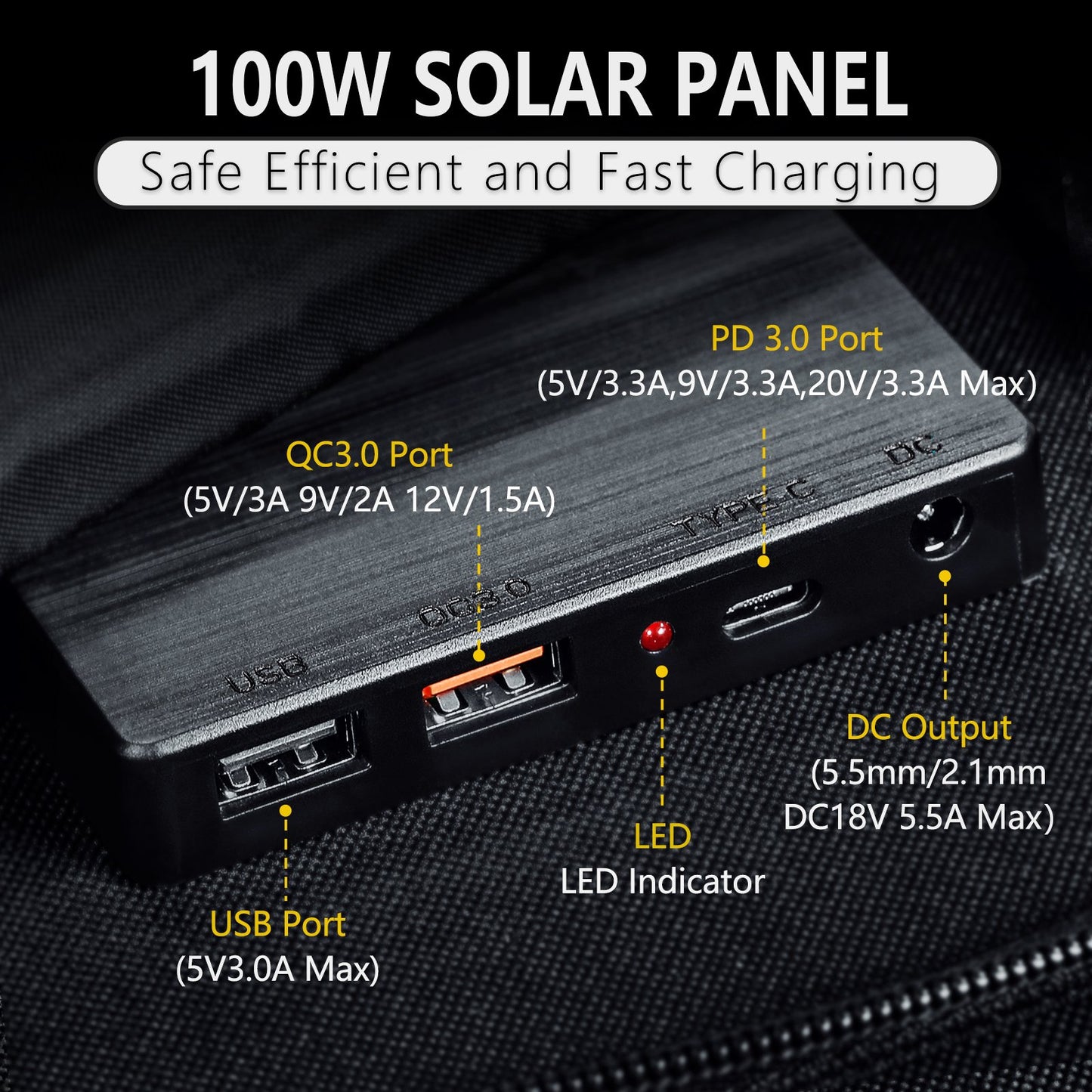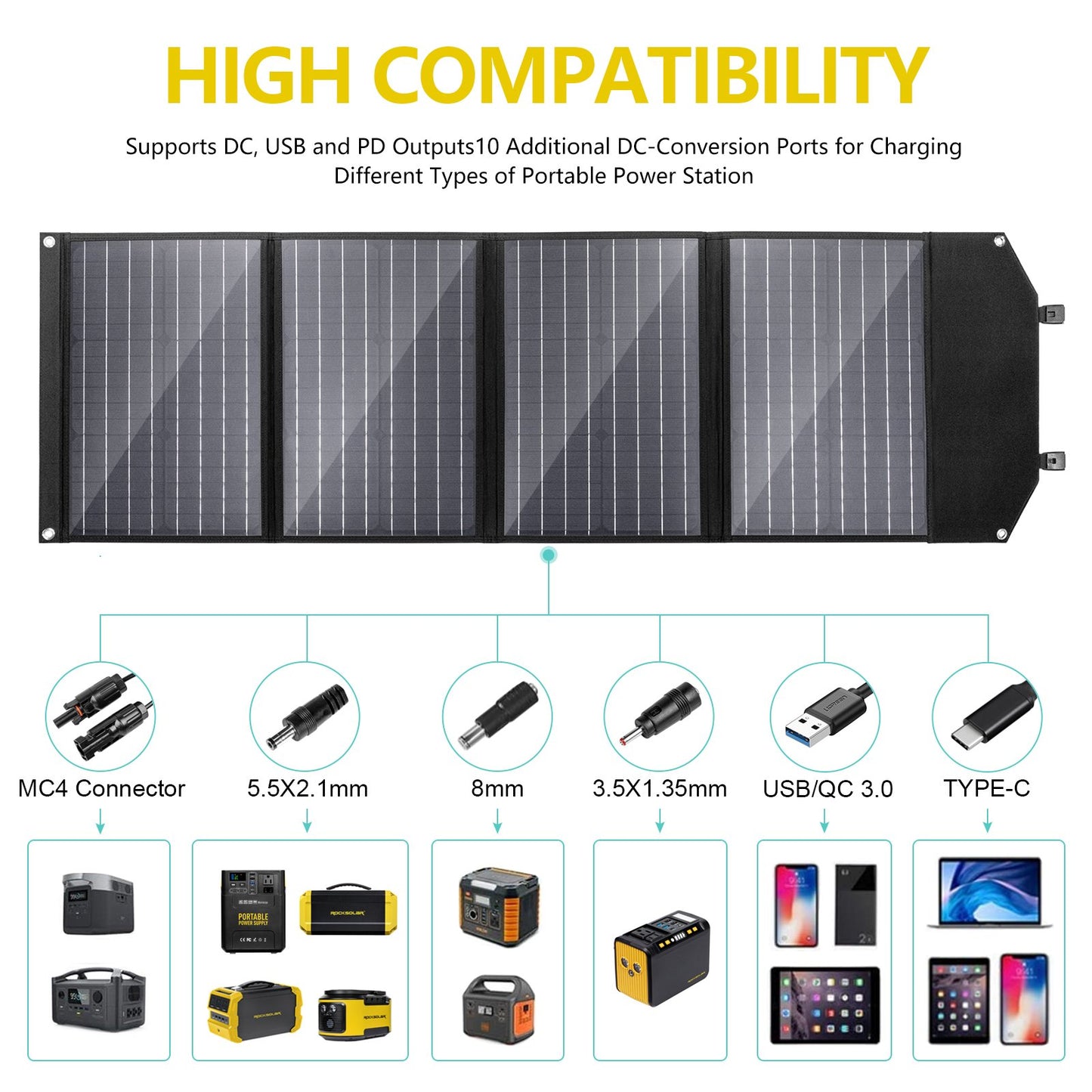 A true positive review
This is my first ever portable generator kit and I'm quite impressed. The price is reasonable. The battery life is strong and it does not die so fast. I tested the portable power station on our AC and it is super fastly charged with AC outlet. the with solar panel it is also charged well.
Incredible power suppy! happy with it.
This little power station is just awesome. I use it to power the basecamp radio I prepared for camping trips and charge my camera and lamps. The solar that is included in it is highly efficient. Enough amps to handle my radio. Very happy with it.
I finally made a proper power decision.
This little generator kit does everything I expect it to. I do van life. I use it at night to charge my phones and my laptop. In the morning I go out and do gig apps and charge it while I am out using this super efficient foldable solar panel. this works just wow.
Highly Recommended. Better Than Jackery!!
Everyone needs one. Long lasting power solution for indoor and outdoor. And this one is far better than my old solar generator kit.
Great for camping!
Amazing product for camping. Exactly what i needed for my camping experience.