Up to 50% off already applied. Use code HOLIDAY23 for an extra 15% off!
Regular price
$166.00 USD
Regular price
$248.00 USD
Sale price
$166.00 USD
Unit price
per
Sale
Sold out
Enhanced Performance: 150W Rigid Monocrystalline Panel.
Durable & Sturdy: Weighs 9.64kg, crafted from high-quality Monocrystalline Silicon.
Weather-Resistant: Engineered to operate optimally across diverse weather conditions.
Superior Output: Generates 12V voltage (assumed, based on the 50W model) with a higher current due to increased wattage.
Universal Design: Ideal for residential setups, RVs, boats, commercial applications, and more.
Convenient Dimensions: Measuring approximately 111.99cm x 67.01cm x 3cm (assumed based on an increase in wattage).
Efficiency Certified: Ensures optimum energy conversion and reliability.
Installation Made Easy: Equipped with MC4 Connectors for hassle-free setup.
10-Year Warranty: Trustworthy and long-lasting performance promised (based on the given FAQ).
Free
Local Shipping
10-year Hassle Free
Warranty
Lifetime Customer
Support
Share
View full details
Description

Includes
Specifications
FAQ
Downloads
Reviews
Delve into a brighter, more sustainable future with the ROCKSOLAR Black Diamond 150W 12V Rigid Solar Panel. An emblem of innovation and efficiency, this panel stands tall in the realm of solar energy, delivering unparalleled conversion capabilities. It's the epitome of reliability for all green energy enthusiasts.
Uncompromised Performance
Peak Efficiency: Boasting a staggering 22% high conversion efficiency, the monocrystalline silicon cells ensure every sunray is harnessed, maximizing your energy yield.
Consistent Power: Advanced bypass diodes work diligently, minimizing power drops in shaded areas, promising consistent energy output even on cloudy days.
Built to Last: Featuring a sturdy corrosion-resistant aluminum frame and robust low iron-tempered glass, durability is a guarantee, not just a promise.
Over 25 Year Service Life

 

guaranteed and 10 Year Manufacturer Warranty.
Reliability in Every Condition
Weatherproof Excellence: Equipped with glass-laminated monocrystalline cells, this panel is resilient against diverse weather conditions. With an impressive IP65 rating, whether it's sun or shade, performance remains paramount.
Sturdiness Assured: Engineered to withstand high winds, weighty snowfalls, and harsh climates, this panel is a testament to unwavering durability.
Endless Possibilities
Multi-Purpose Design: A fit for various applications - be it homes, commercial spaces, off-grid locations, marine setups, or RV trips. The ROCKSOLAR Panel offers versatility like no other.
Installation Made Simple: With the convenience of pre-drilled holes, mounting becomes a hassle-free task, ensuring you're powered up in no time.
Commit to a Greener Tomorrow with ROCKSOLAR
Choosing ROCKSOLAR is a pledge. A pledge to a sustainable, innovative, and green future. With the Black Diamond 150W Rigid Solar Panel, you're not just buying a product; you're investing in a vision. A vision of a greener planet and a brighter tomorrow.
Ideal For:
Green Residences and Sustainable Urban Settings
Road Trippers with RVs and Long-Haul Journeys
Maritime Journeys and Oceanic Adventures
Remote Cabins and Secluded Retreats
Entrepreneurial Ventures and Industrial Applications
Environmental Initiatives and Conservation Drives
1 x ROCKSOLAR Black Diamond 150W 12V Monocrystalline Rigid Solar Panel
1 x MC4 Connectors
1 x User Manual for the Rigid Solar Panel
Technical Specifications
ROCKSOLAR Black Diamond 150W 12V Monocrystalline Rigid Solar Panel Specification
Details
Manufacturer
ROCKSOLAR TECHNOLOGY LLC
Place of Business
1-800-858-4318
Part Number
1
Product Dimensions
111.99 x 67.01 x 3 cm
Item model number
RSRIG150-001
Size
150W Rigid Solar Panel
Style
Compact
Material
Monocrystalline Silicon
Shape
Rectangular
Voltage
12 Volts (DC)
Amperage Capacity
8.5 Amps
Maximum Power
150 Watts
Certification
Energy Star
Usage
Residential, Commercial, industrial, off grid, solar energy, RV, cottage, Boat, solar ventilation, solar powered pump, solar lighting
Included Components
150W Rigid Solar Panel, MC4 Connectors
Batteries Required?
No
Warranty Description
10 Years From Date Of Purchase
Item Weight
9.64 kg
The ROCKSOLAR 150W Rigid Solar Panel leverages monocrystalline silicon technology, acclaimed for its superior energy conversion proficiency. This makes it an optimal choice for efficient solar energy extraction.
The ROCKSOLAR 150W Panel measures 111.99cm x 67.01cm x 3cm and weighs 9.64 kilograms. This robust design ensures long-lasting durability while offering manageable dimensions for diverse installations.
Absolutely! The panel features weather-resistant, glass-laminated monocrystalline cells. Engineered to render optimal performance irrespective of weather variances, it comes with an IP65 rating signifying its resilience.
The panel's versatile design makes it apt for a wide range of applications, encompassing residential areas, commercial spaces, off-grid locations, RVs, boats, and many more. Its flexible nature ensures it addresses diverse solar energy requirements effectively.
Yes, the solar panel package includes MC4 connectors to simplify the installation process. However, it's essential to confirm compatibility with any other auxiliary equipment or accessories you might integrate.
By harnessing the sun's energy with the ROCKSOLAR 150W Rigid Panel, users adopt an environmentally friendly power solution. It supports renewable energy usage, substantially diminishing greenhouse gas emissions and contributing to a healthier planet.
The ROCKSOLAR 150W Rigid Solar Panel is backed by a comprehensive 1-year warranty, ensuring prolonged reliability and securing your investment in solar energy.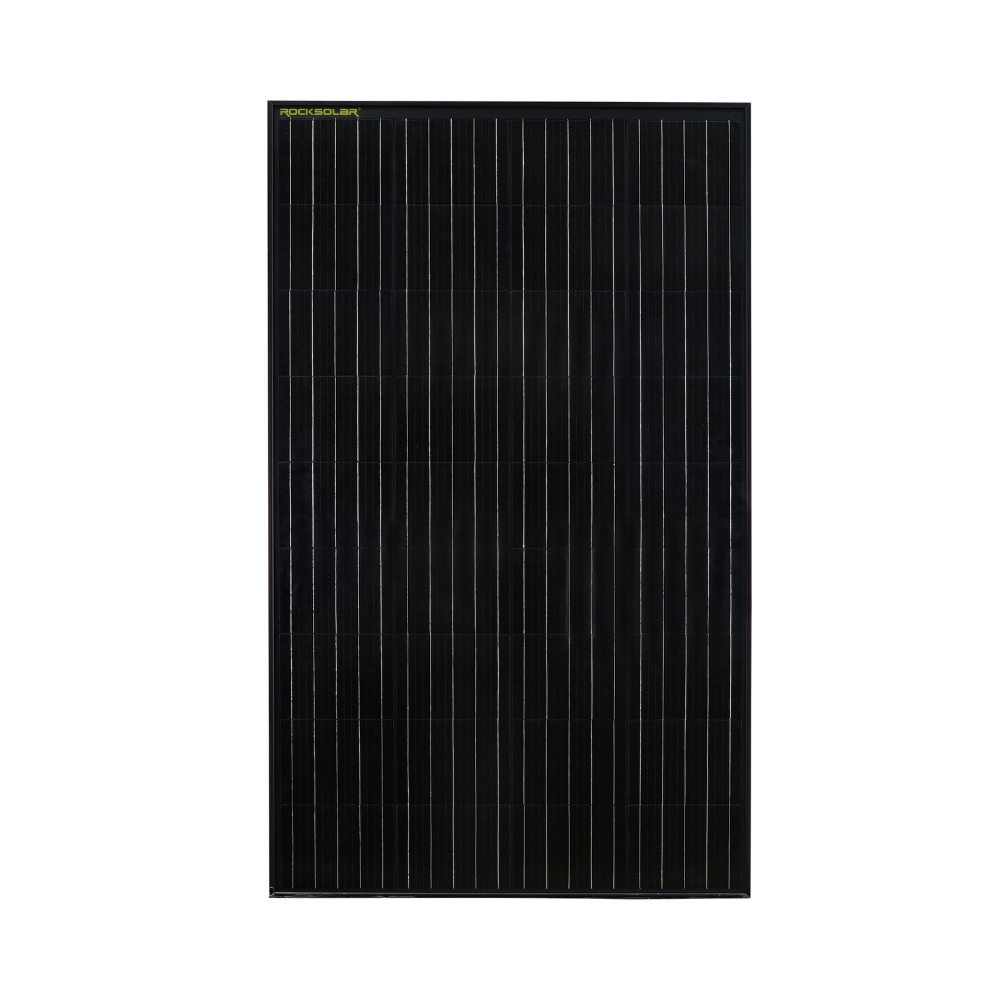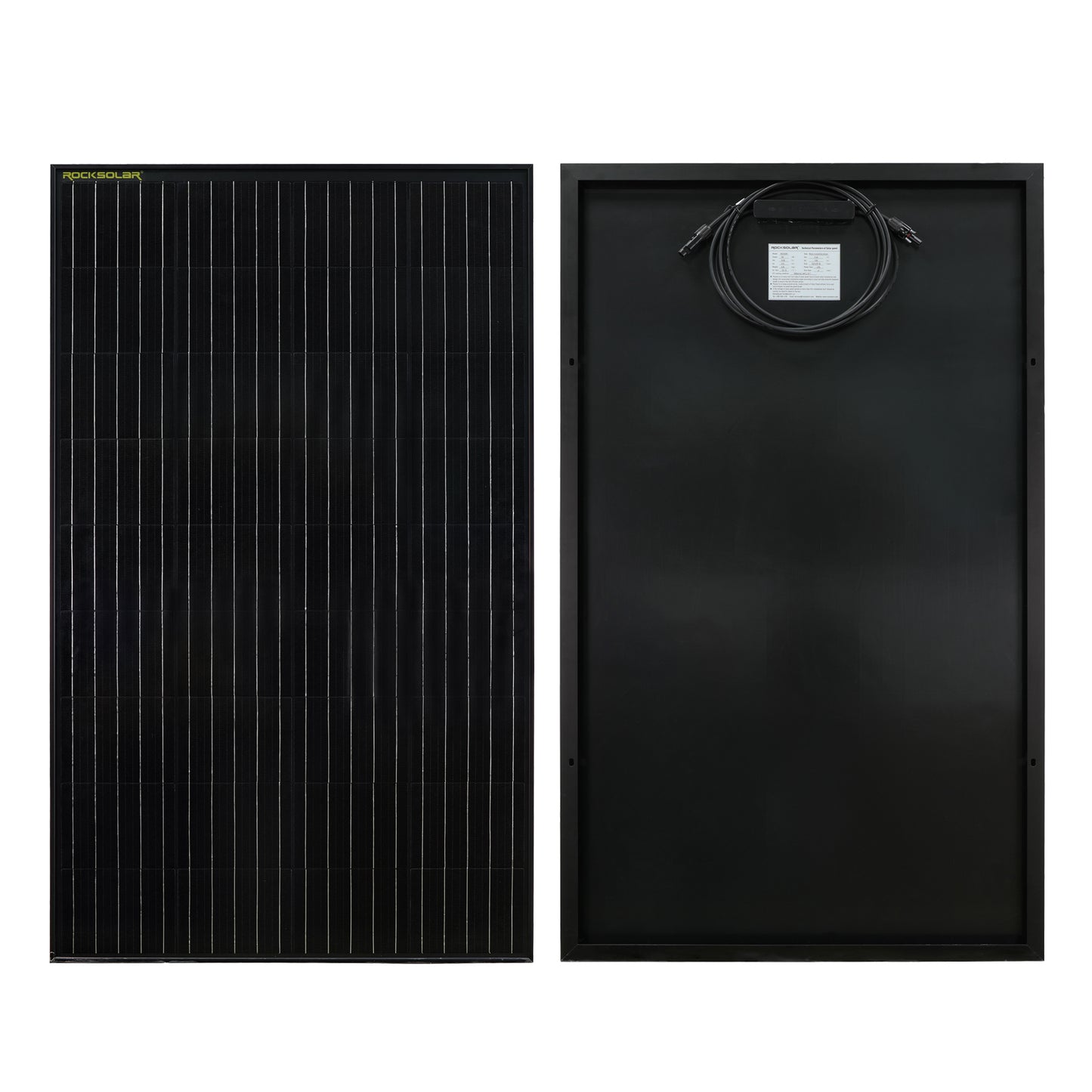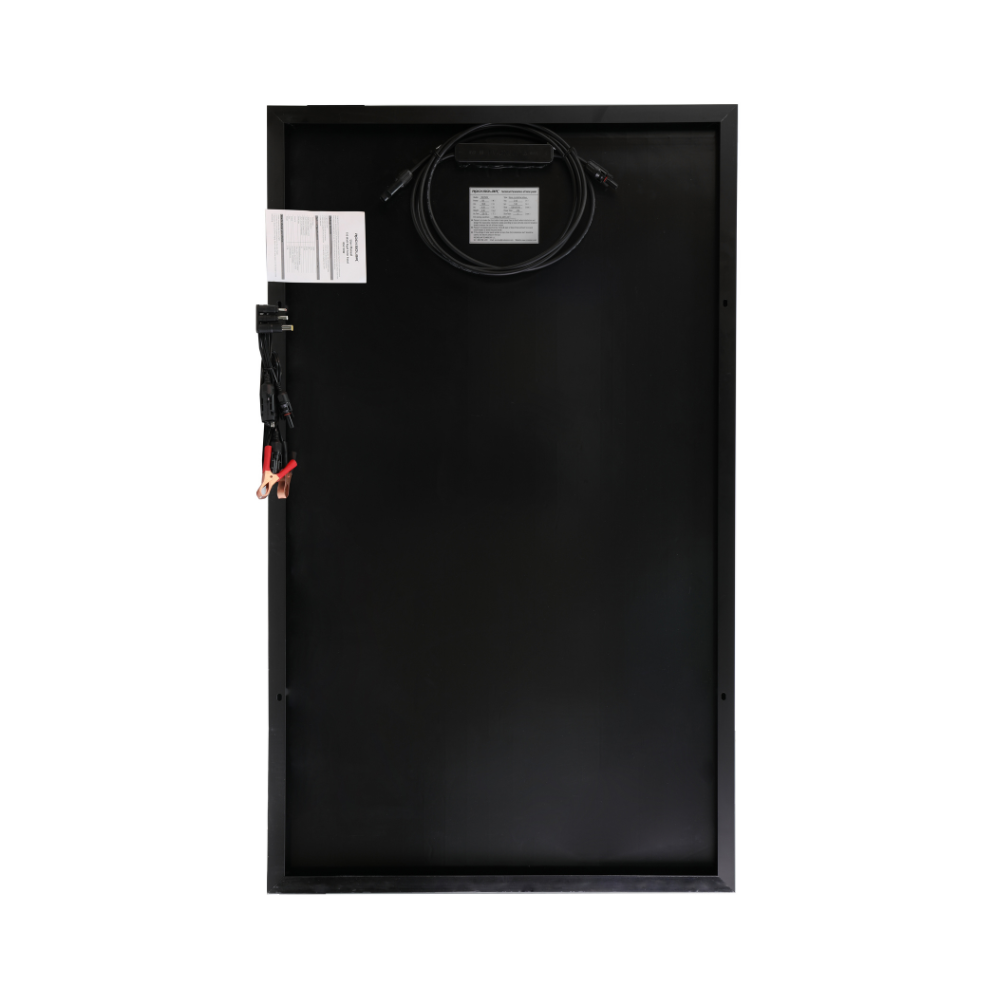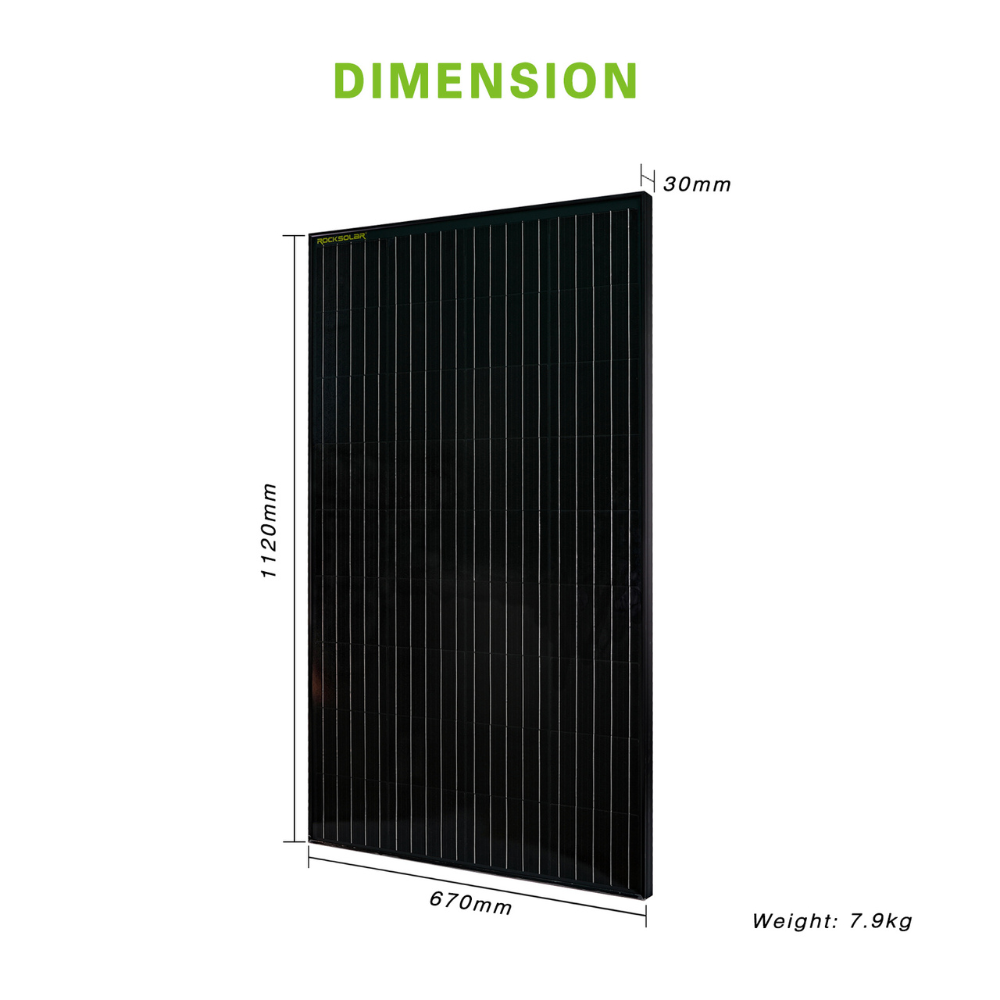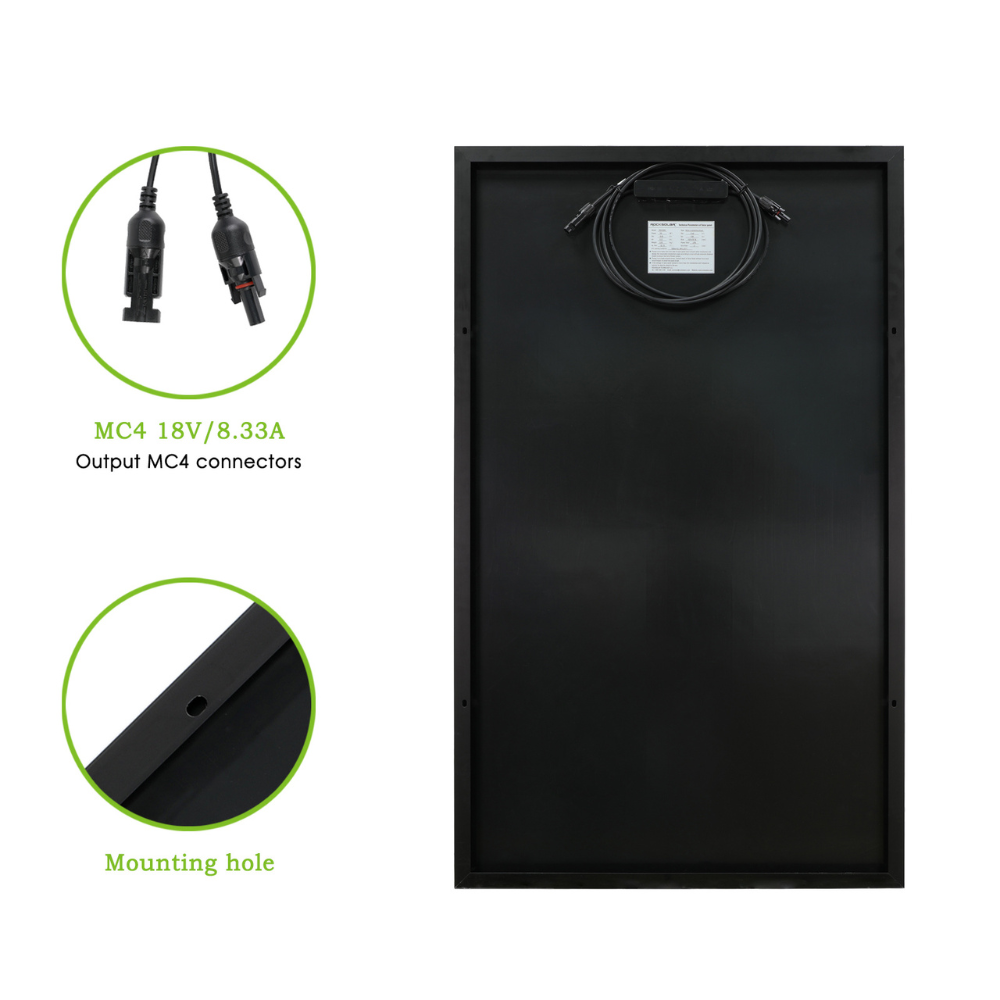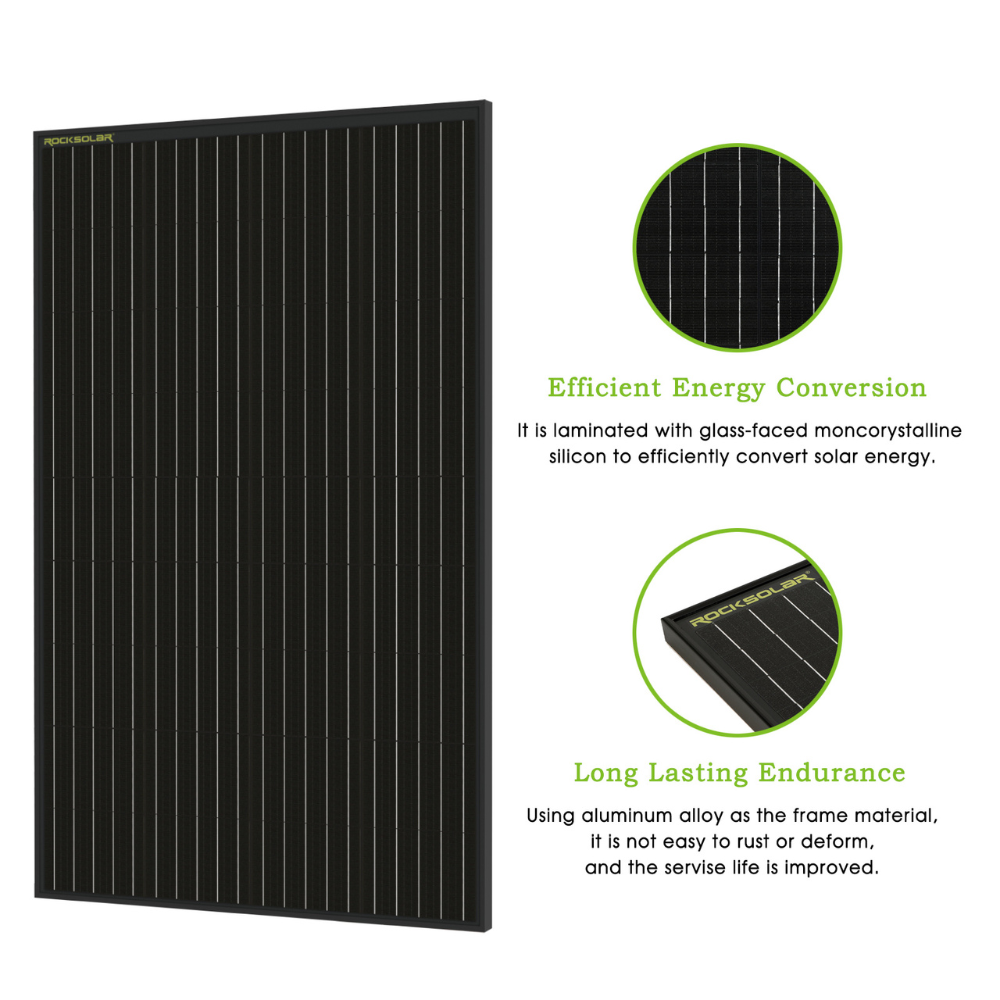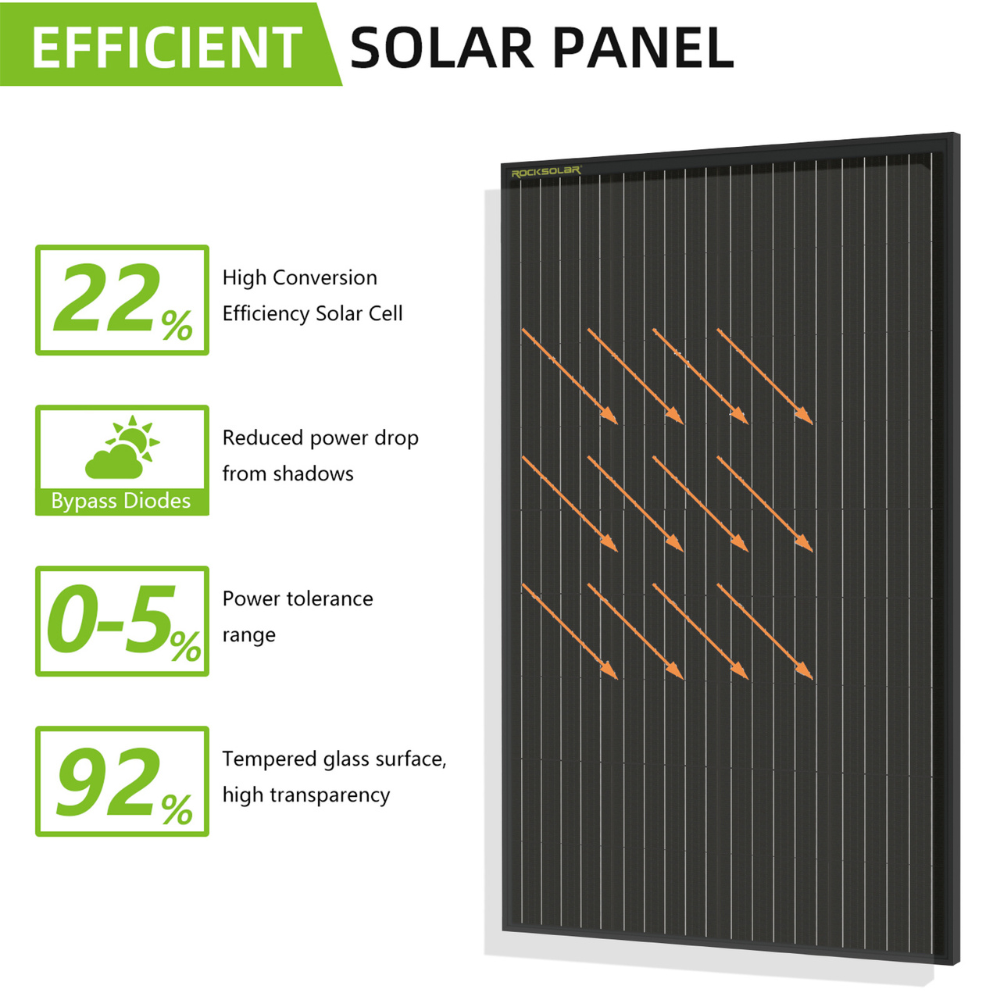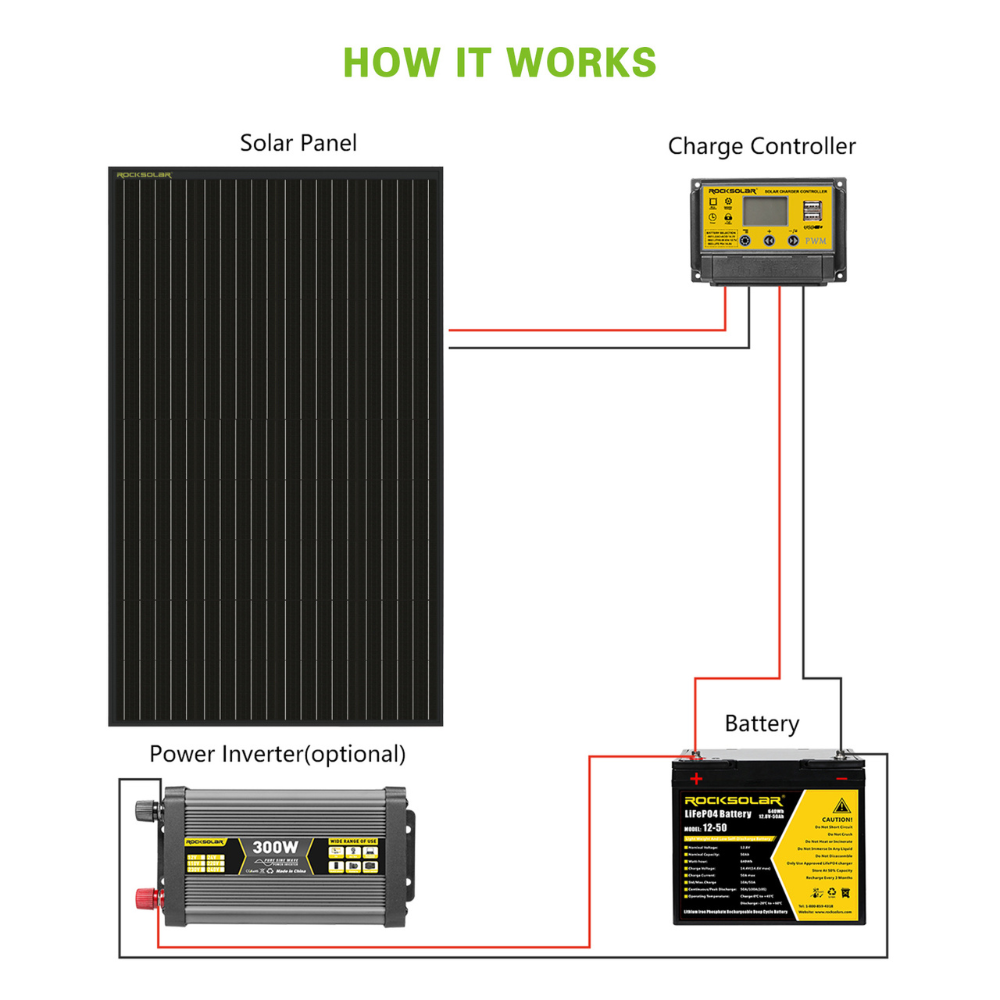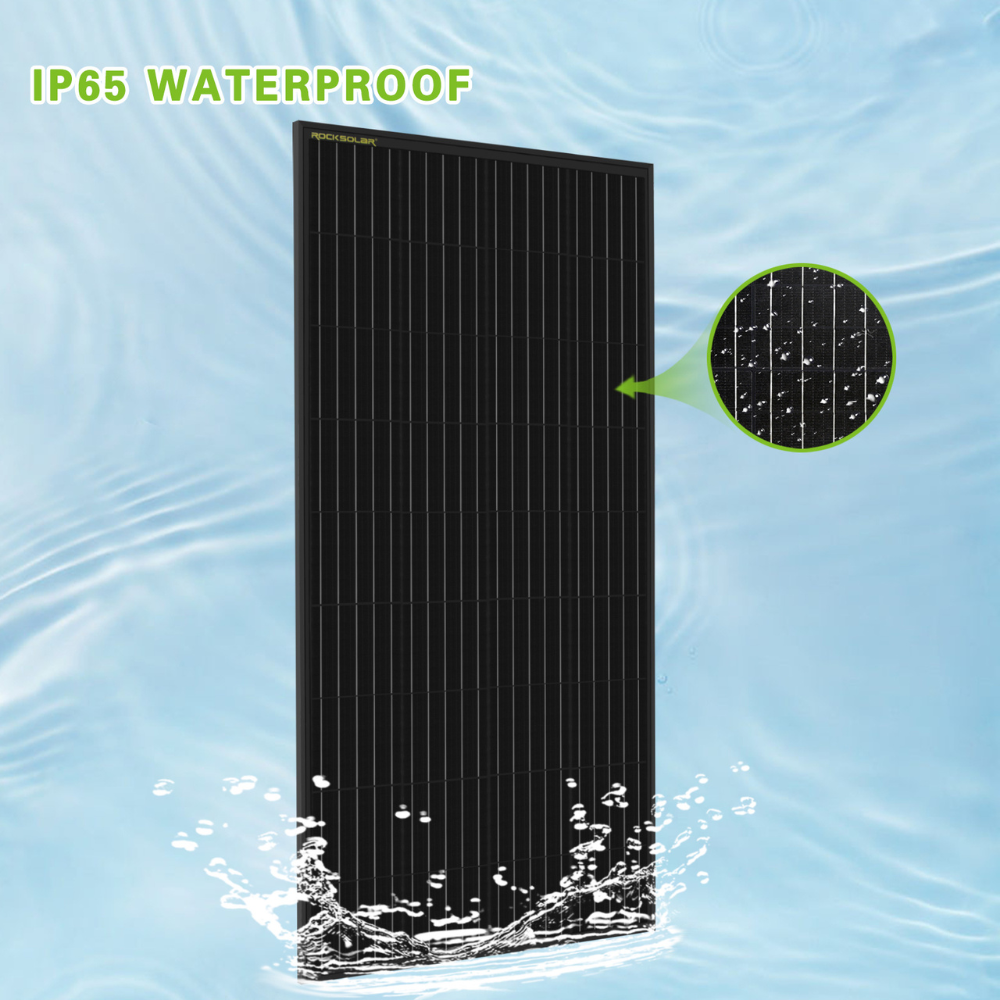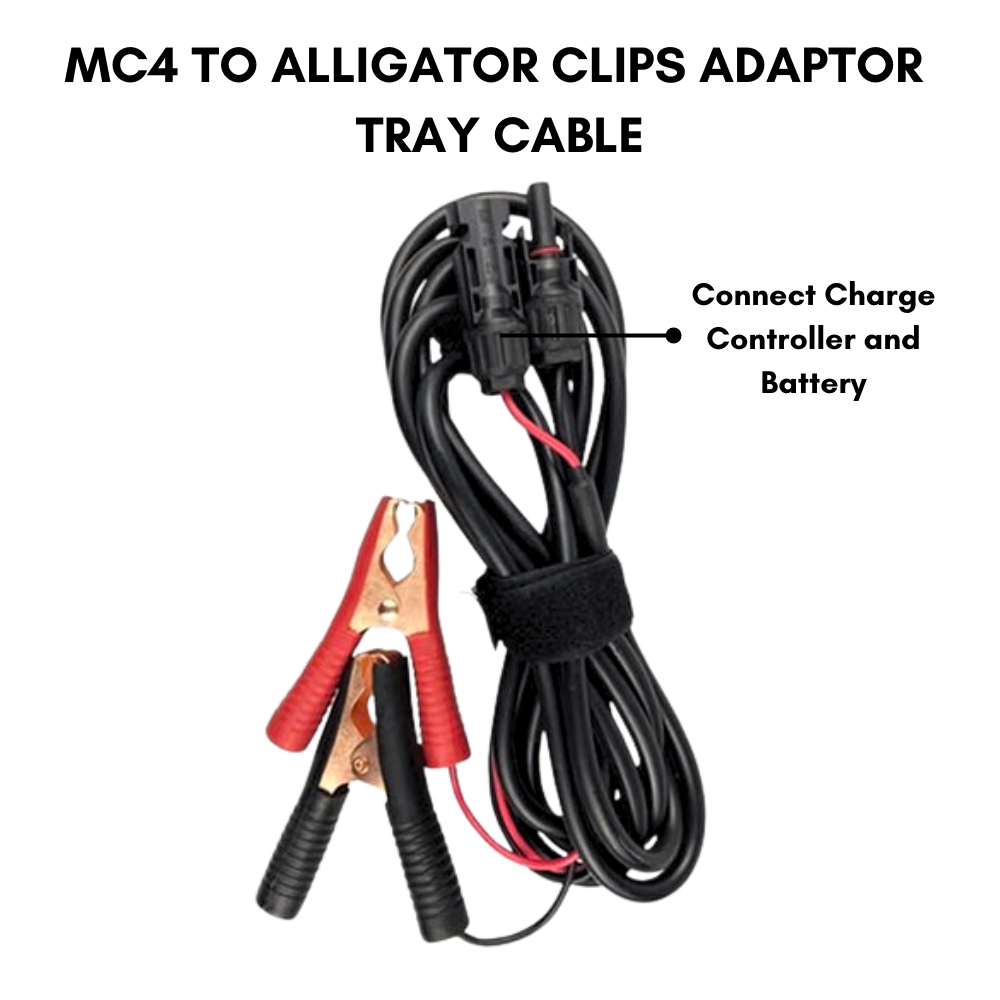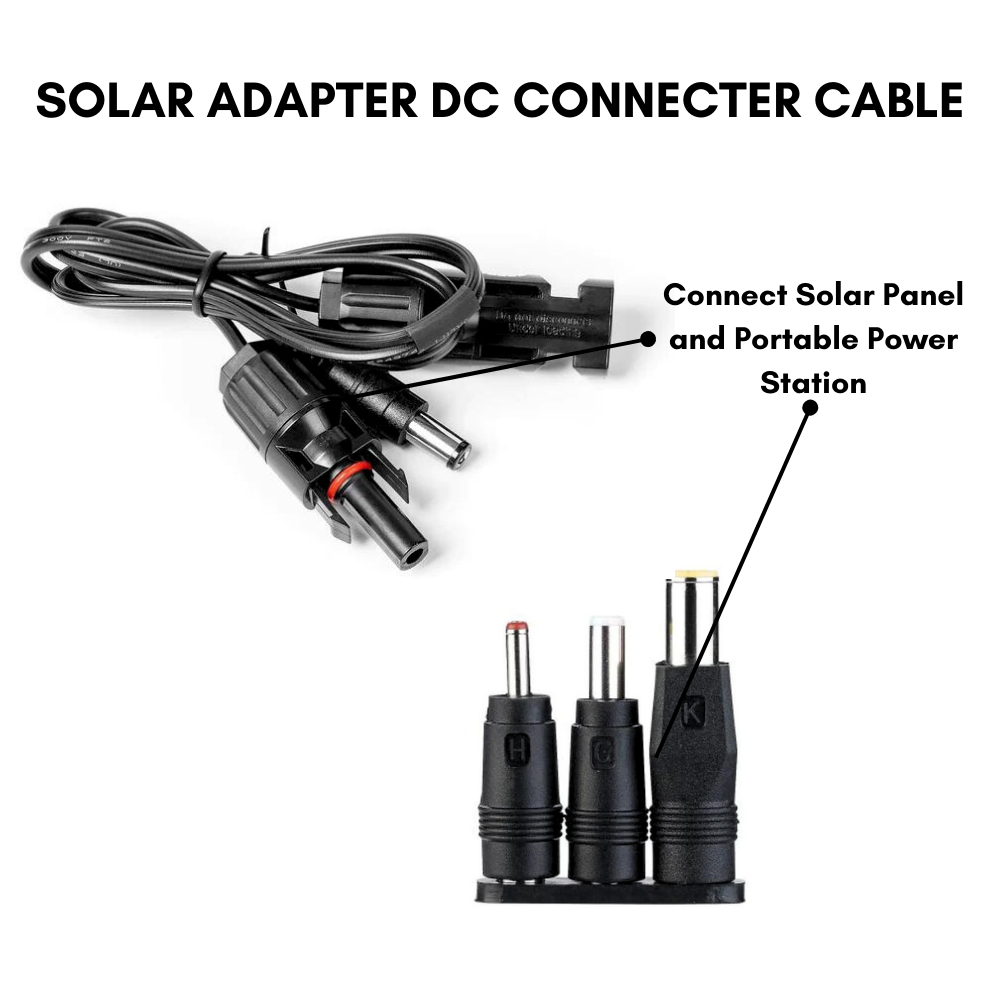 Great solar panels for my setup!
I have 19 of these as it has worked great for my system. Plan to buy more in future.
Very happy with this purchase!
so far so good. i use it for solar energy and this is awesome!
Great panels for RVs
Keeps my 12v marine battery foully charged while operating a hog trap
Panels arrived safe and sound. Great packaging. Fast delivery. Installed with no problems. I will likely buy more in the future.
Great customer service with ROCKSOLAR. These panels were super easy to install on my roof. With my twelve year old grandsons help, we got these up in no time. Looking forward to purchasing more in the future as soon as I can find more places to put some.