Up to 50% off already applied. Use code HOLIDAY23 for an extra 15% off!
Regular price
$136.00 USD
Regular price
$226.00 USD
Sale price
$136.00 USD
Unit price
per
Sale
Sold out
High Efficiency: Uses Monocrystalline Silicon cells.
Lightweight: Weighs only 2.88 kg.
Adjustable: 0-180 degrees kickstand design.
Weather-Resilient: Performs under cloudy conditions.
Water-Resistant: Handles splashes effectively.
Multiple USB Ports: Includes QC3.0 and USB-C PD 60W.
Compact: Easily foldable design.
1-Year Warranty: Assurance of quality.
Free
Local Shipping
1-year Hassle Free
Warranty
Lifetime Customer
Support
Share
View full details
Description

Includes
Specifications
FAQ
Downloads
Reviews
Introducing the ROCKSOLAR 60W 12V Foldable Solar Panel – a revolution in mobile solar charging solutions. Crafted for the modern adventurer and eco-warrior, this foldable solar panel promises unmatched power, efficiency, and convenience on-the-go. With the compactness of a laptop and state-of-the-art solar technology, it ensures you stay powered wherever life takes you.
Key Features
Optimal Efficiency: Experience top-tier conversion rates exceeding 20%, ensuring maximum sunlight harnessing.
Ultra-Portable Design: Laptop-sized when folded, it's a hiker's, camper's, and traveler's best companion. Ready for every adventure.
Fast, Diverse Charging: Multiple outputs, including 12VDC, USB, and a USB C with QC3.0 Quickcharge technology and PD 60W, cater to a vast range of devices, ensuring you're always connected.
Reliable in All Weather: Achieve up to 30% rated power even under heavy cloud cover, guaranteeing a dependable power source in all conditions.
Water-Resistant Build: Designed to withstand unexpected splashes and rain, ensuring durability and protection in the great outdoors.
Universal Compatibility: Featuring 10 diverse DC connectors, it seamlessly powers not just ROCKSOLAR devices but a plethora of electronics, ensuring versatility.
The ROCKSOLAR Commitment
Investing in the ROCKSOLAR 60W Foldable Solar Panel means more than just purchasing a product. It's a commitment to a sustainable future, a pledge for technological innovation, and a guarantee of unwavering reliability. From wilderness camping to critical backup power needs, ROCKSOLAR ensures you're always charged and ready.
Best Suited For:
Adventurous Treks & Camping Getaways
Urgent Backup Power Needs
Extended Journeys & RV Travel
Green Living & Sustainable Energy Projects
Nature Photography & Exploration
Marine Outings & Fishing Expeditions
1 x 60 Watt Foldable Solar Charger
1 x 10-inch Connector Cable
1 x 78-inch DC5521-to-DC5521 Cable
1 x MC4 Connectors
4 x Carabiners
1 x User Manual
Technical Specifications
| ROCKSOLAR 60W 12V Foldable Solar Panel Specification | Details |
| --- | --- |
| Manufacturer | ROCKSOLAR |
| Part Number | RSSP60 |
| Product Dimensions | 30.48 x 21.59 x 8.89 cm |
| Model Number | RSSP60 |
| Color | Black |
| Material | Monocrystalline Silicon |
| Power Source | Solar Powered |
| Rated Power | 60 Watts |
| Voltage | 18 Volts |
| Size (Folded) | 415mm x 370mm x 45mm |
| Size (Unfolded) | 1275mm x 415mm x 30mm |
| Weight | 2.88 kg |
| Special Features | Lightweight Design, Fast Charging, Charging indicator, Water Resistant |
| Warranty | 1 year |
| Mounting Type | Kickstand and Hanging Loops |
| Certification | IEC 61215, IEC 61730, and CE Marking |
| Batteries Included? | No |
| Batteries Required? | No |
The ROCKSOLAR 60W Foldable Panel incorporates cutting-edge PET monocrystalline solar technology, ensuring optimal energy conversion from the sun's rays for efficient power delivery.
Designed for convenience and mobility, the ROCKSOLAR 60W panel folds down to the dimensions of 415mm x 370mm x 45mm and weighs only 2.88 kg, making it as portable as a standard laptop. Ideal for all your outdoor adventures.
Yes, the panel is built for resilience. It's capable of delivering up to 20-30% of its rated power even in heavily overcast conditions. Its water-resistant design also protects it from water splashes from any angle, ensuring reliable performance come rain or shine.
The ROCKSOLAR 60W Panel is incredibly versatile. You can charge devices like smartphones, laptops, tablets, power banks, and even portable power stations. With its diverse connectors, it's ready to power up almost any electronic device you have.
Indeed! The solar panel comes equipped with 10 different DC connectors, making it compatible with a wide array of devices beyond just ROCKSOLAR products. This ensures you're always connected, no matter the device.
Utilizing the inexhaustible energy of the sun, the ROCKSOLAR 60W Panel is a testament to green energy solutions. It encourages the reduction of carbon footprints, supports the adoption of renewable energy, and aids in creating a sustainable future.
Absolutely! The ROCKSOLAR 60W Foldable Solar Panel is accompanied by 1-year warranty.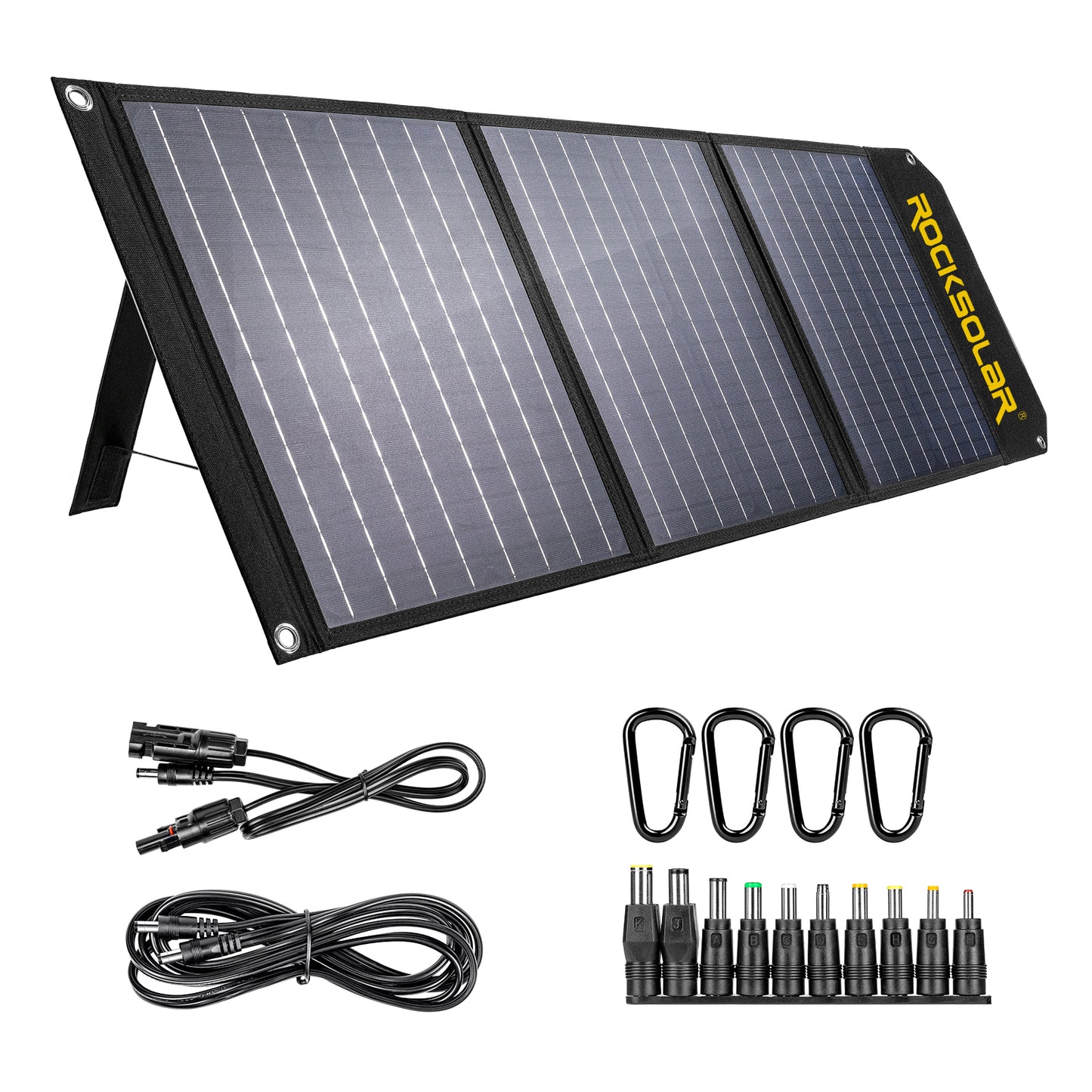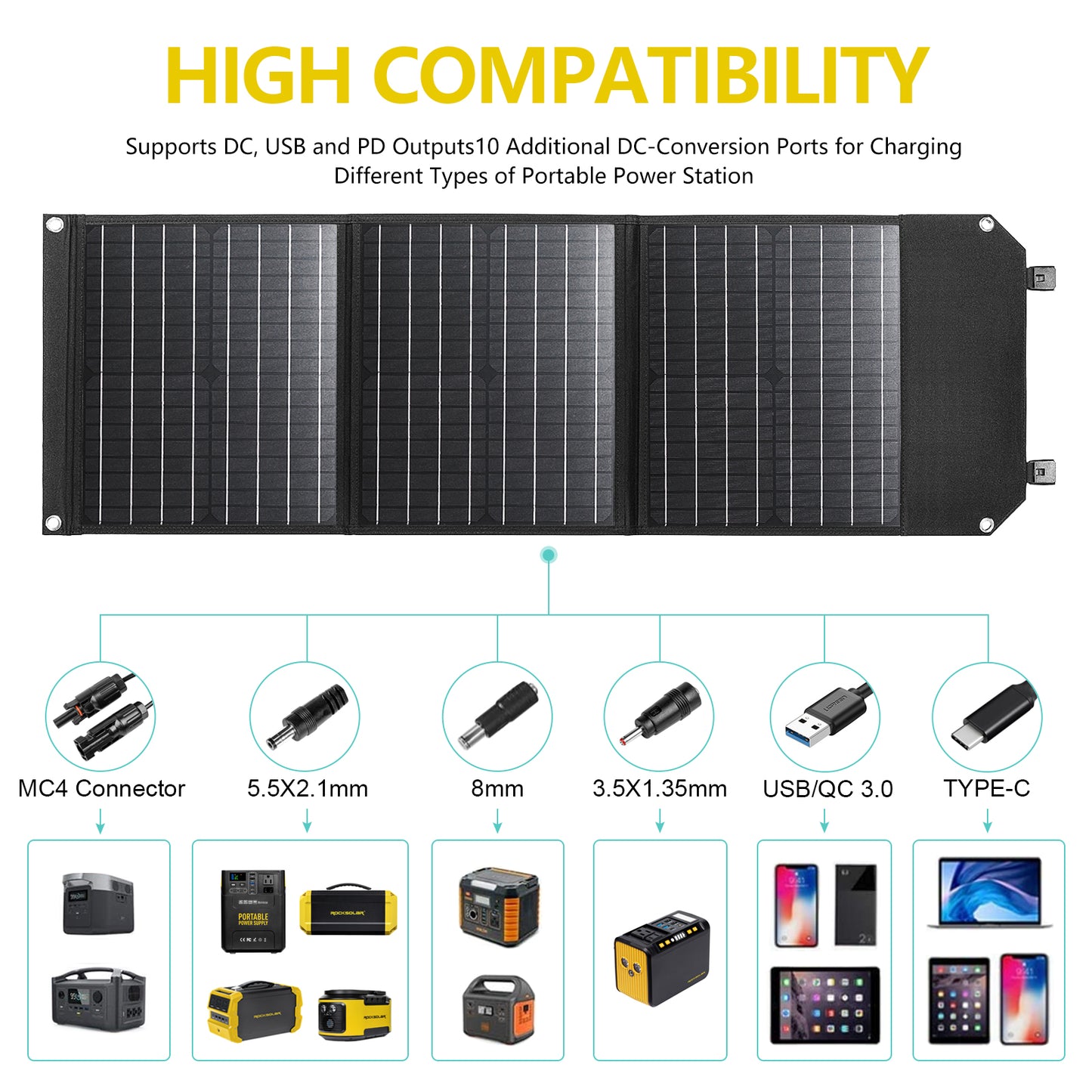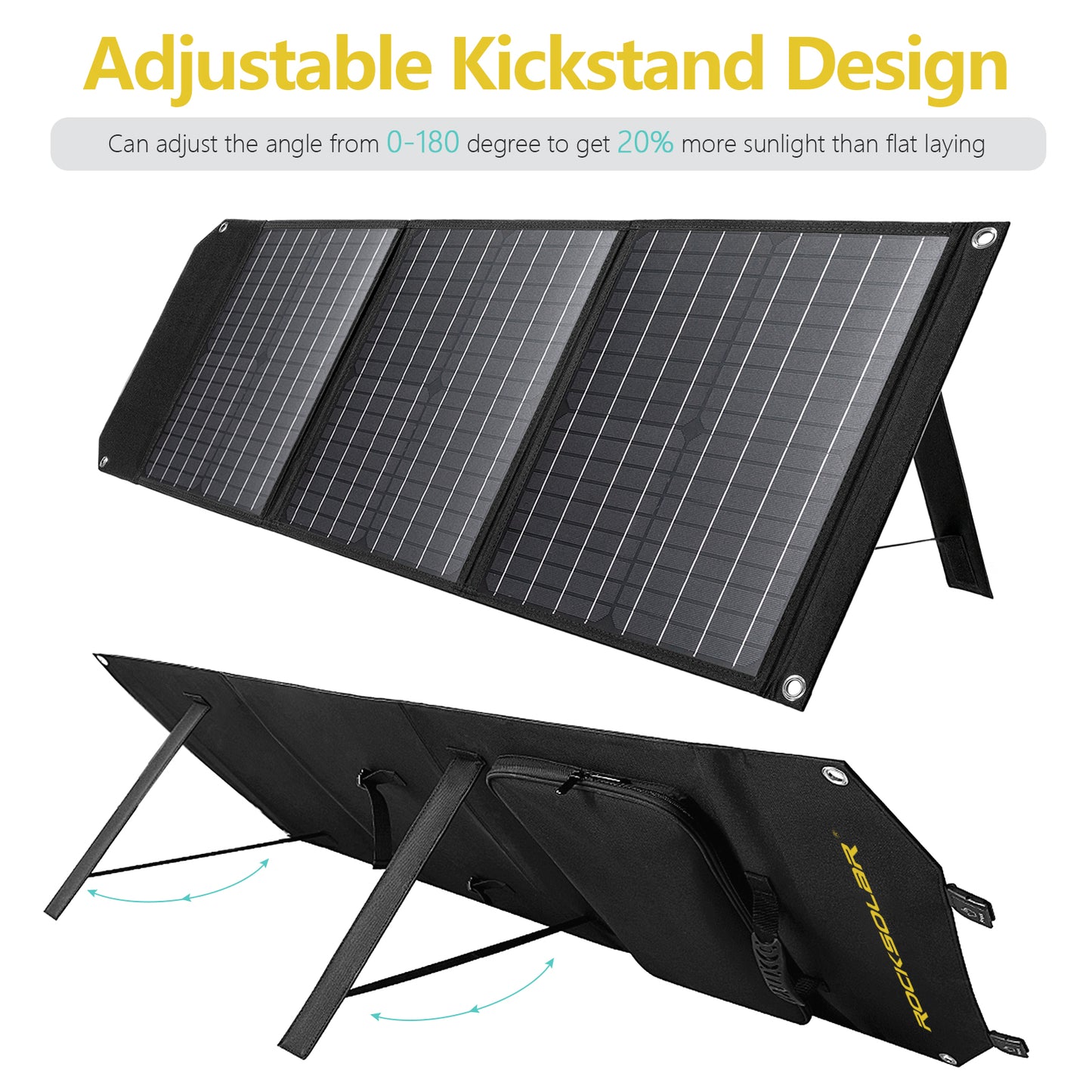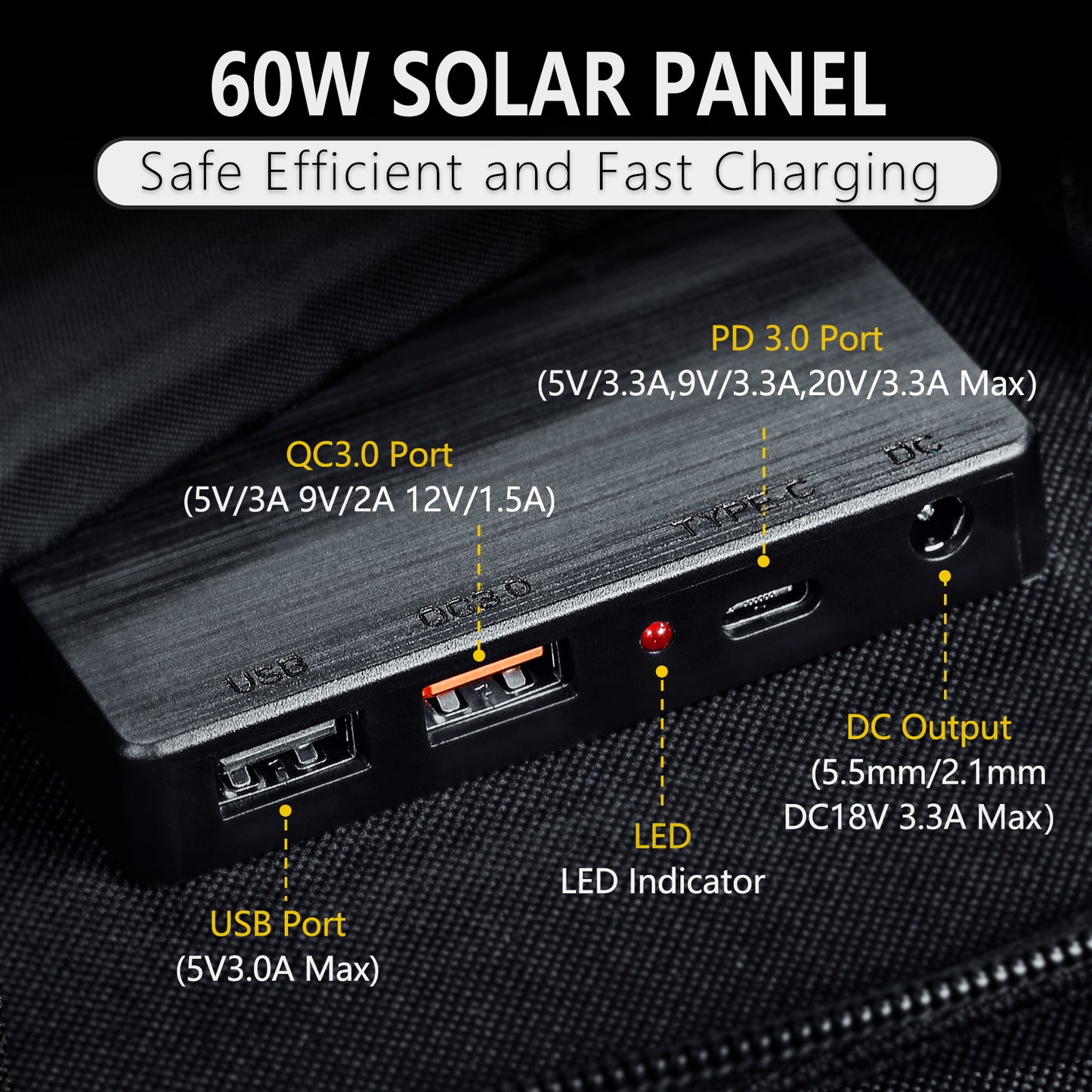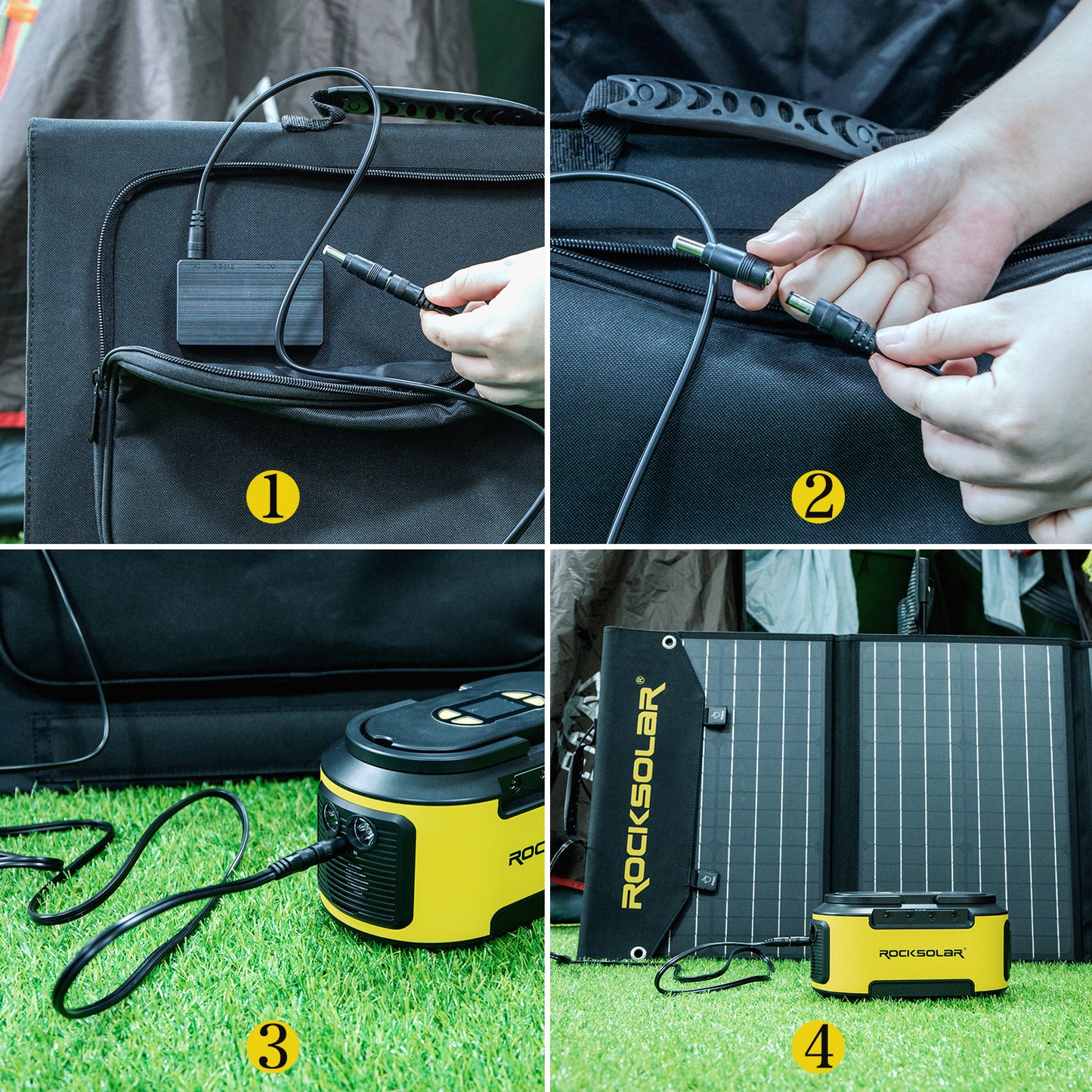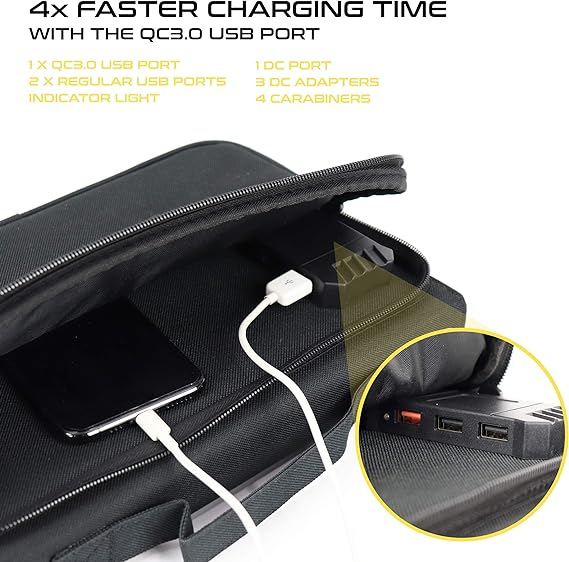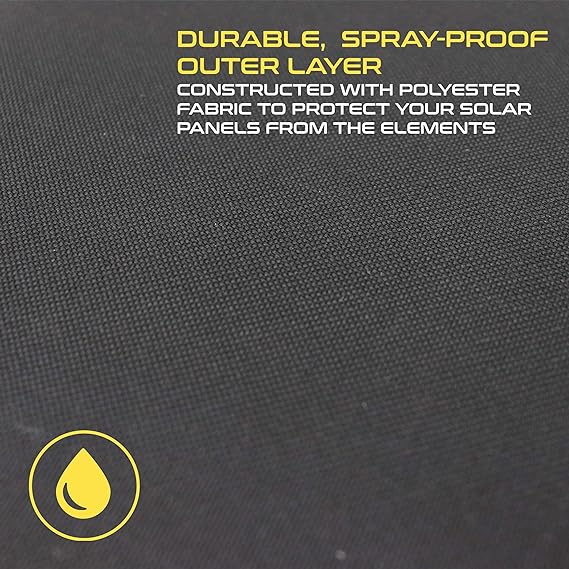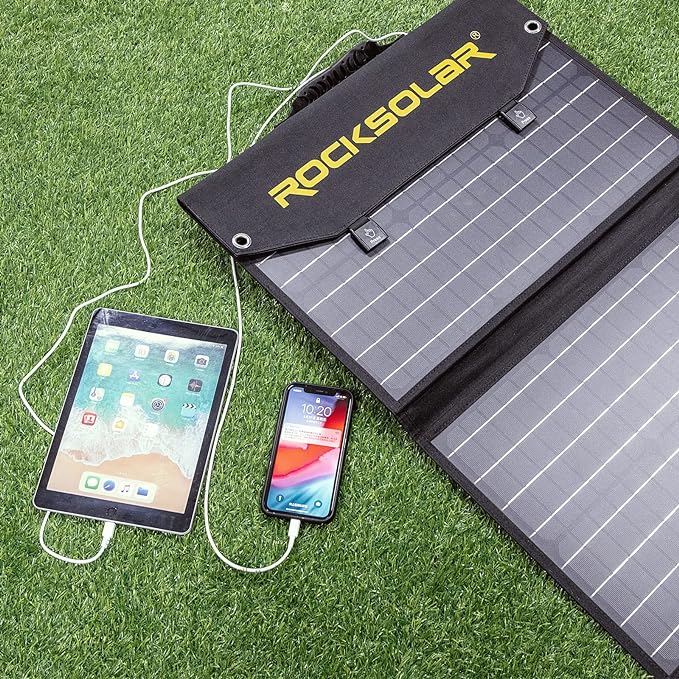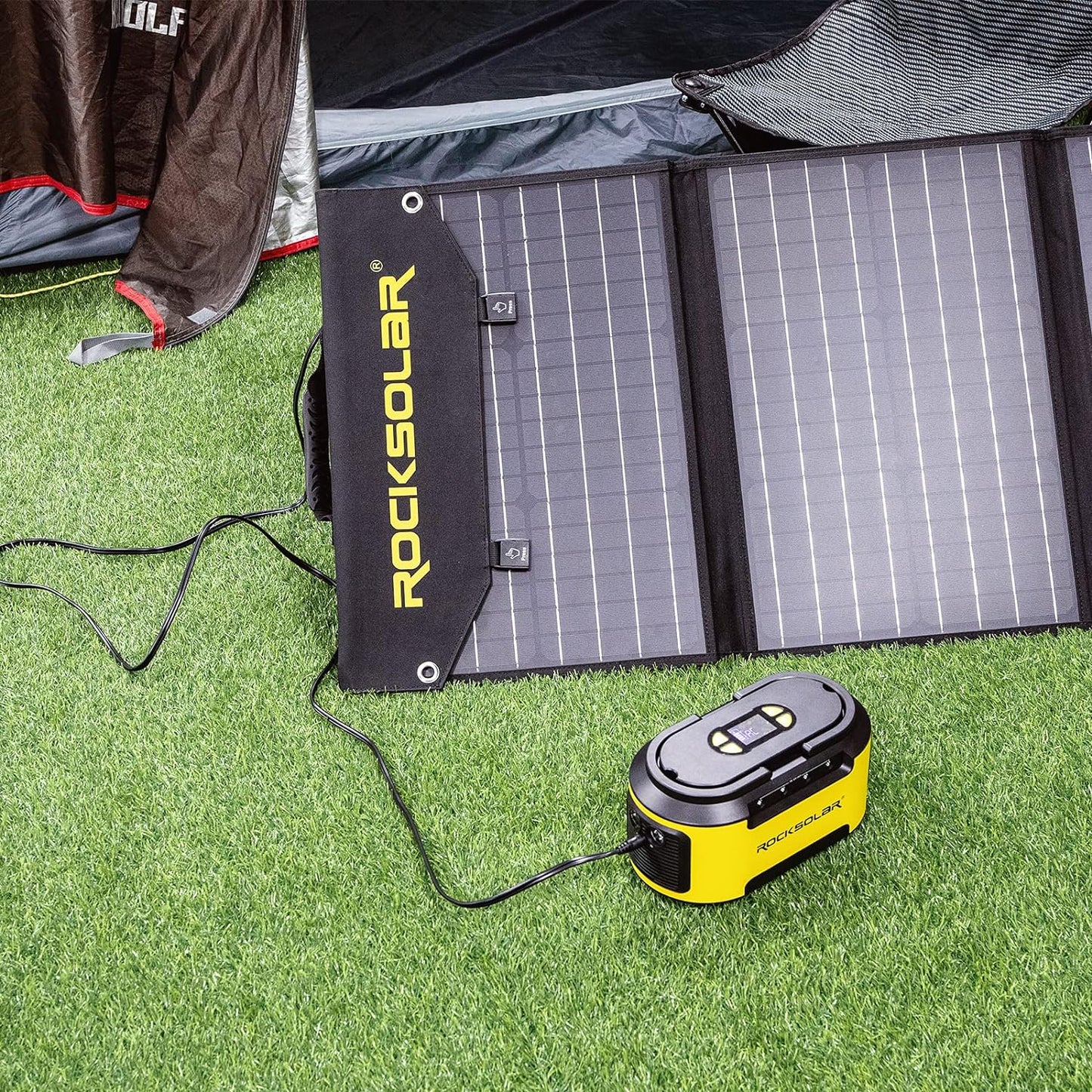 Solar Panel and Battery Charger
So far I have only tested the battery….I am running an amateur radio off it….I was set up with correct equipment by David…To test the charger at a later date…I can review the performance later..Great products.. Im very happy with Rock Solar!!!!
I recommend as a Canadian Company!!!!
Great piece of kit, was able to keep my rock solar power bank charged all day with this solar panel. Would definitely recommend this product.
Great for emergencies
I purchased the ROCKSOLAR 60W Foldable Solar Panel as a backup power source during emergencies, and it has exceeded my expectations. Even in heavy cloudy weather, it still provides a significant amount of power. The compact and foldable design makes it easy to store and transport. It's a life-saving tool and an essential camping accessory.
Reliable charging on the go
The ROCKSOLAR 60W Foldable Solar Panel is my go-to charging solution when I'm on the road. It charges my devices, including smartphones, laptops, and power banks, efficiently and reliably. The 10 different DC connectors ensure compatibility with various portable power stations and electronics. I'm impressed with its performance and highly recommend it for all travelers.
Lightweight and efficient
I'm amazed by the ROCKSOLAR 60W Foldable Solar Panel's lightweight design and impressive efficiency. It's incredibly portable, making it a perfect companion for my hiking trips. The adjustable kickstand allows me to maximize its solar exposure and charging capabilities. I'm confident in its reliability, and it has become an essential part of my outdoor gear.