Additional 15% off applied at checkout. Use code - SAVEMORE
Regular price
$114.00 USD
Sale price
$91.00 USD
Unit price
per
Sale
Sold out
30W 12V Flexible Solar Panel Kit Highlights:
Efficient: Premium Monocrystalline Silicon cells.
Light & Thin: 0.5kg weight, 20mm thickness.
Flexible: Fits diverse surfaces.
Durable: Weather-resistant build.
Optimal Power: 21.60V open, 18.00V peak.
Multi-Use: RVs, boats, off-grid.
Size: 400mm x 350mm x 20mm.
Temperature: -20°C to 70°C.
Warranty: 5 years.
10A PWM Charge Controller Highlights:
PWM Charging: 3-stage efficiency.
Compatible: AGM, GEL, Lithium-ion.
LCD: Clear monitoring.
Safe: Overcharge & short circuit protection.
USB Ports: Dual device charging.
Compact: Space-saving.
Warranty: 1 year.
Free
Local Shipping
5-year Hassle Free
Warranty
Lifetime Customer
Support
Share
View full details
Description

Includes
Specifications
FAQ
Downloads
Reviews
ROCKSOLAR 30W 12V Flexible Solar Panel Kit with 10A PWM Charge Controller
Meet the pinnacle of solar technology: the ROCKSOLAR 30W 12V Flexible Solar Panel Kit. Specifically tailored for the eco-conscious explorer, camper, and boating enthusiast, this kit encapsulates the power of the sun with unprecedented efficiency. Meticulously crafted with elite monocrystalline silicon, it delivers unparalleled performance in an elegantly flexible design, making it an ideal choice for all-weather battery trickle charge and diverse energy applications.
30W 12V Flexible Solar Panel Features
Advanced Monocrystalline Design: Exudes a stellar 30W rated power, harnessing the efficiency of monocrystalline silicon for superior energy conversion.
Ultra-Light & Ultra-Flexible: Flaunting a weight of just 0.56kg and dimensions of 540 x 350 x 20mm, this panel embodies adaptability, making installations and transportation a breeze.
Optimal Voltage Regulation: Showcases an open-circuit voltage (Voc) of 21.60V and a peak power voltage (Vmp) of 18.00V, promising consistent and robust energy delivery.
Resilient & All-Weather Ready: Reinforced with a weather-resistant frosted PET film and an IP68 rating, it is designed to stand firm against the challenges of wind, rain, and snow.
Effortless Installation: Equipped with pre-drilled holes, MC4 connectors, and additional accessories such as suction cups and carabiner clips, ensuring a seamless setup process.
Flexible Mounting: With up to a 20-degree bend capacity, it seamlessly adjusts to various mounting surfaces.
Wide Application Range: An ideal choice for RVs, boats, off-grid cabins, and other applications, especially for trickle charging batteries.
Consistent Performance: Operates efficiently within a temperature range of -20 to 70 °C, ensuring unwavering energy generation.
10A PWM Solar Charge Controller Features
Introducing the ROCKSOLAR 10A PWM Solar Charge Controller – a quintessential element for ensuring the longevity of your battery and the optimization of your solar system. With its cutting-edge 3-stage PWM charging technique, it guarantees superior energy conversion and management. This controller is exceptionally versatile, being compatible with a broad array of 12V/24V batteries, including Lithium, and offers manual voltage adjustments for Lithium users.
Extensive Battery Compatibility: Crafted for 12V/24V setups, it's compatible with AGM, Gel, Lithium, and more. Manual voltage adjustments are available for Lithium batteries.
3-Stage PWM Charging Prowess: Incorporates 3 charging modes, ensuring efficient energy absorption and prolonged battery life. Its temperature compensation attribute ensures top-notch performance across varying conditions.
Robust Safety Protocols: Armed with safeguards against reverse polarity, overcharging, short-circuits, and reverse current.
LCD Display Benefits: Sports a backlit LCD that provides insights into system operations, load controls, and error diagnostics, simplifying user interactions.
USB Integration: Features dual 5V/2A USB ports, perfect for charging USB-compatible devices on-the-go.
Sleek & User-Oriented Design: Its compact design ensures a straightforward installation in varied setups.
Revitalizing Lithium Batteries: Masterfully designed to recover over-discharged lithium batteries.
Dimensions:
30W 12V Flexible Solar Panel: 540 x 350 x 20mm; Weight: 0.56kg
10A PWM Solar Charge Controller: 123 x 178 x 48mm; Weight: 274g
ROCKSOLAR 30W 12V Flexible Monocrystalline Solar Panel

1 x DC to DC 5521 Connector Cable
4 x Suction Cups
4 x Carabiner Clips
1 x DC 5521 Charging Adapter (3pcs)
1 x DC to Alligator Clips Adaptor Tray Cable
1 x User Manual for the Solar Panel

ROCKSOLAR 10A PWM Solar Charge Controller

1 x ROCKSOLAR 10A PWM Solar Charge Controller
1 x User Manual for the Charge Controller
Technical Specifications
| 30W 12V Flexible Monocrystalline Solar Panel Specification | Details |
| --- | --- |
| Model | RSF30W |
| Type | Mono-crystalline silicon |
| Rated Power | 30W |
| Open Circuit Voltage(Voc) | 21.60V |
| Peak Power Voltage(Vmp) | 18.00V |
| Convert Efficiency | ±5% |
| Short Circuit Current(Isc) | 1.80A |
| Current at Maximum Power (Im) | 1.67A |
| Size | 540*350*20mm |
| Weight | 0.56kg |
| Operating Temperature | -20~70 °C |
10A PWM Solar Charge Controller Specification
Details
Model
POW-Keeper1220
PV Input
Max Open Voltage of PV Module: 55Vdc
Light Control Voltage
5V
Charge Mode
3 Stage
Battery Type Compatibility
Lithium and Lead Acid Battery
Nominal System Voltage
12/24V
Rated Charging Current
20A
Battery Voltage Range
8~32V
High Voltage Disconnection
16V (24V x 2)
Duration for absorption charging
2 hours
Charge Loop Voltage Drop
≤0.29V
Self-consumption
≤ 9.2mA 12V; ≤ 11.7mA 24V
Equalized Charging Voltage
AGM: 14.6V; GEL: No; FLd: 14.8V
Absorption Charging voltage
AGM: 14.4V; GEL: 14.2; FLd: 14.6V
Floating Charging voltage
AGM/ GEL/ FLd: 13.8V
Low Voltage re-connection (LVR)
AGM/ GEL/ FLd: 12.6V
Low Voltage Disconnection (LVD)
AGM/ GEL/ FLd: 10.8V
Operating Temperature Range
-20℃~55℃
LCD Temperature Range
-20℃~70℃
Humidity Range
≤95% No condensation
Protection Class
IP30
Dimension
123*178*48
Installation Hole
108*120 ∅5
Weight
274g
The ROCKSOLAR 30W Flexible Solar Panel is designed with high-grade monocrystalline silicon for optimal energy conversion, ensuring superior efficiency and flexibility, making it ideal for varied applications.
Absolutely! With included carabiner clips and suction cups, you can easily attach it to backpacks, tents, or smooth surfaces, making it a perfect companion for your adventures.
The DC 5521 Charging Adapter ensures that users can cater to a variety of charging requirements, ensuring versatility and broad compatibility with devices and systems.
Yes, every component in the kit is made with premium-grade materials, ensuring not only high performance but also durability and resistance against wear and tear.
The ROCKSOLAR 30W Flexible Solar Panel is built to be weather-resistant, offering efficient performance even in challenging environments ranging from -20 to 70 °C.
This kit is versatile and can be used for a wide range of applications, from charging outdoor equipment, RVs, boats, to providing backup for homes and off-grid setups.
For longevity, it's best to keep the panel clean from dust and debris. When storing, ensure it's in a cool, dry location away from direct sunlight and extremes of temperature.
The ROCKSOLAR 30W Flexible Solar Panel boasts a comprehensive 5-year warranty. Other components in the kit also come with a guarantee, underscoring our commitment to quality and customer satisfaction.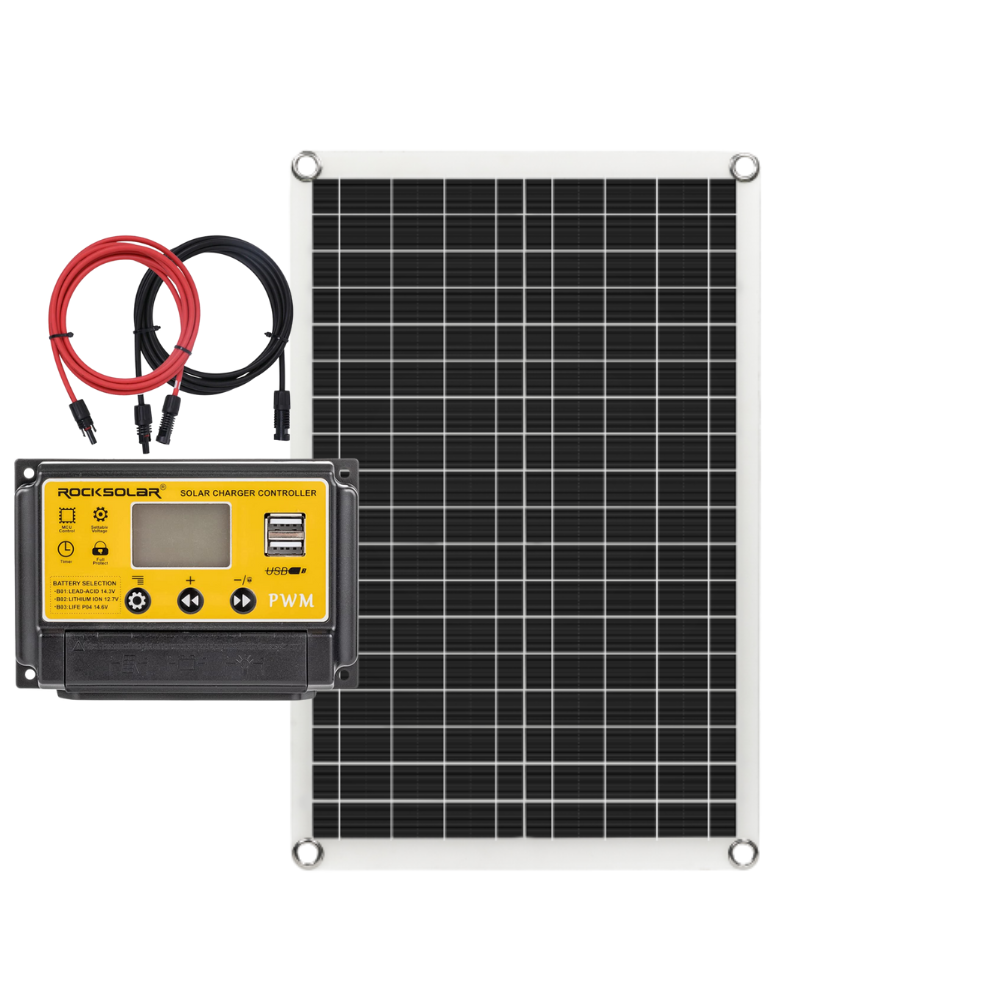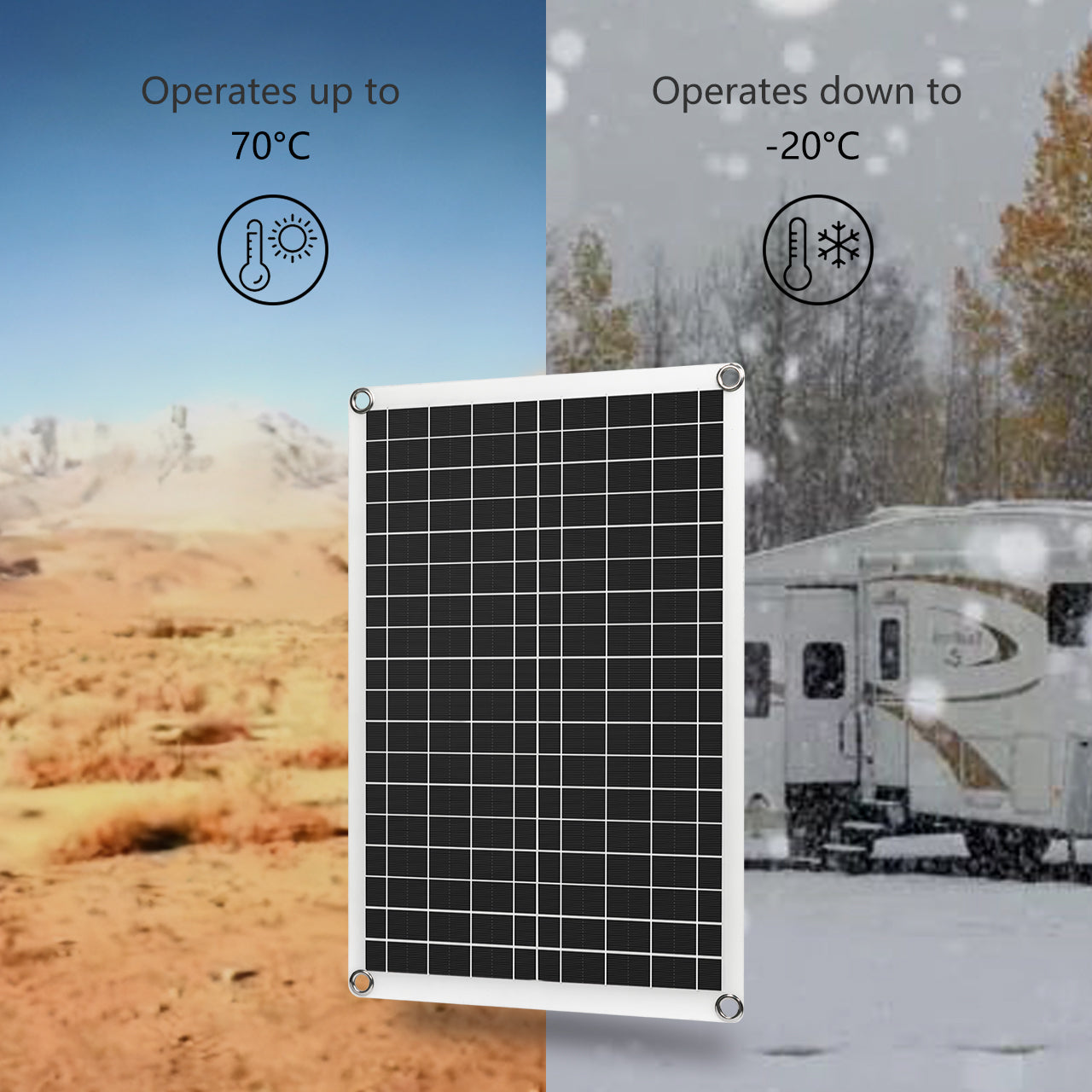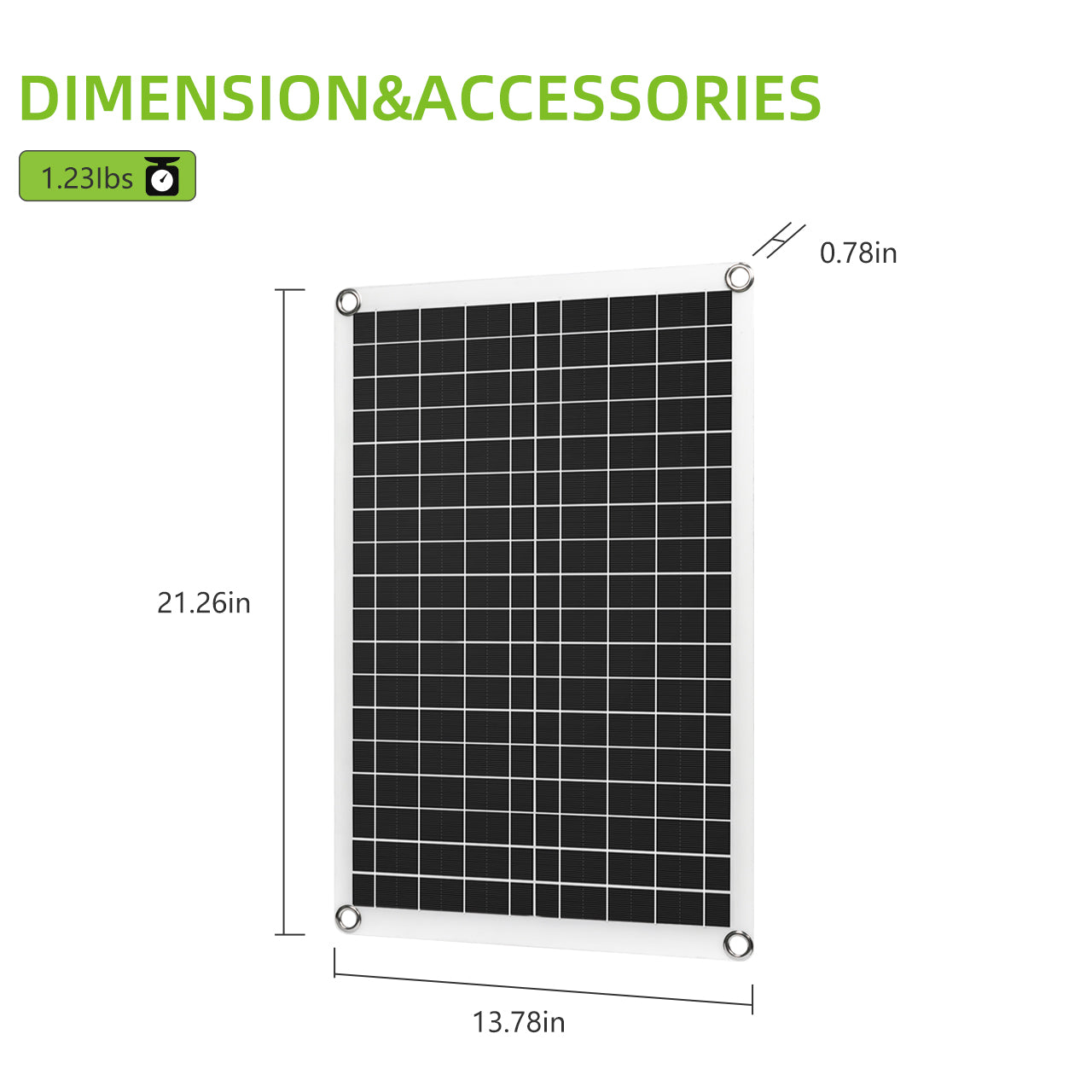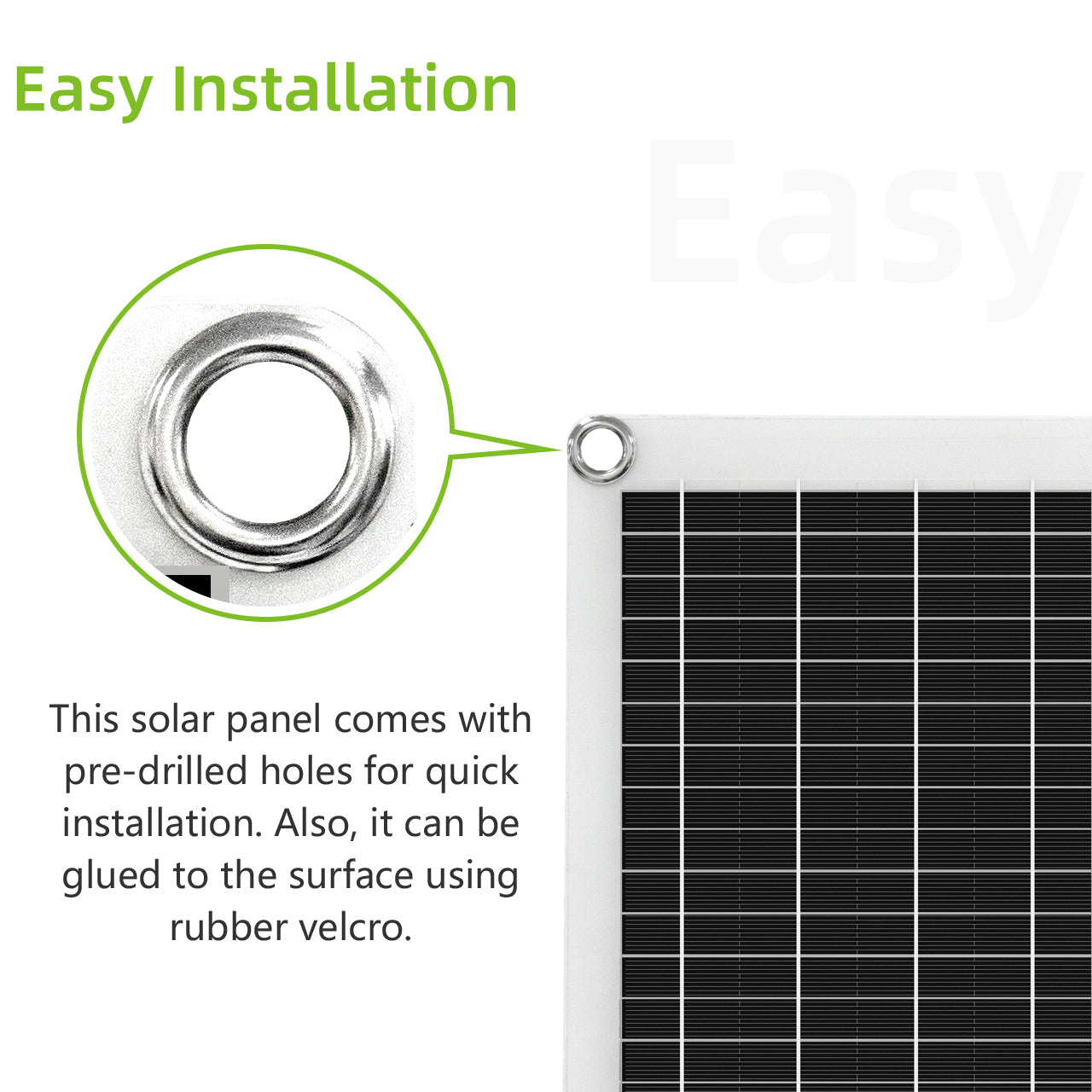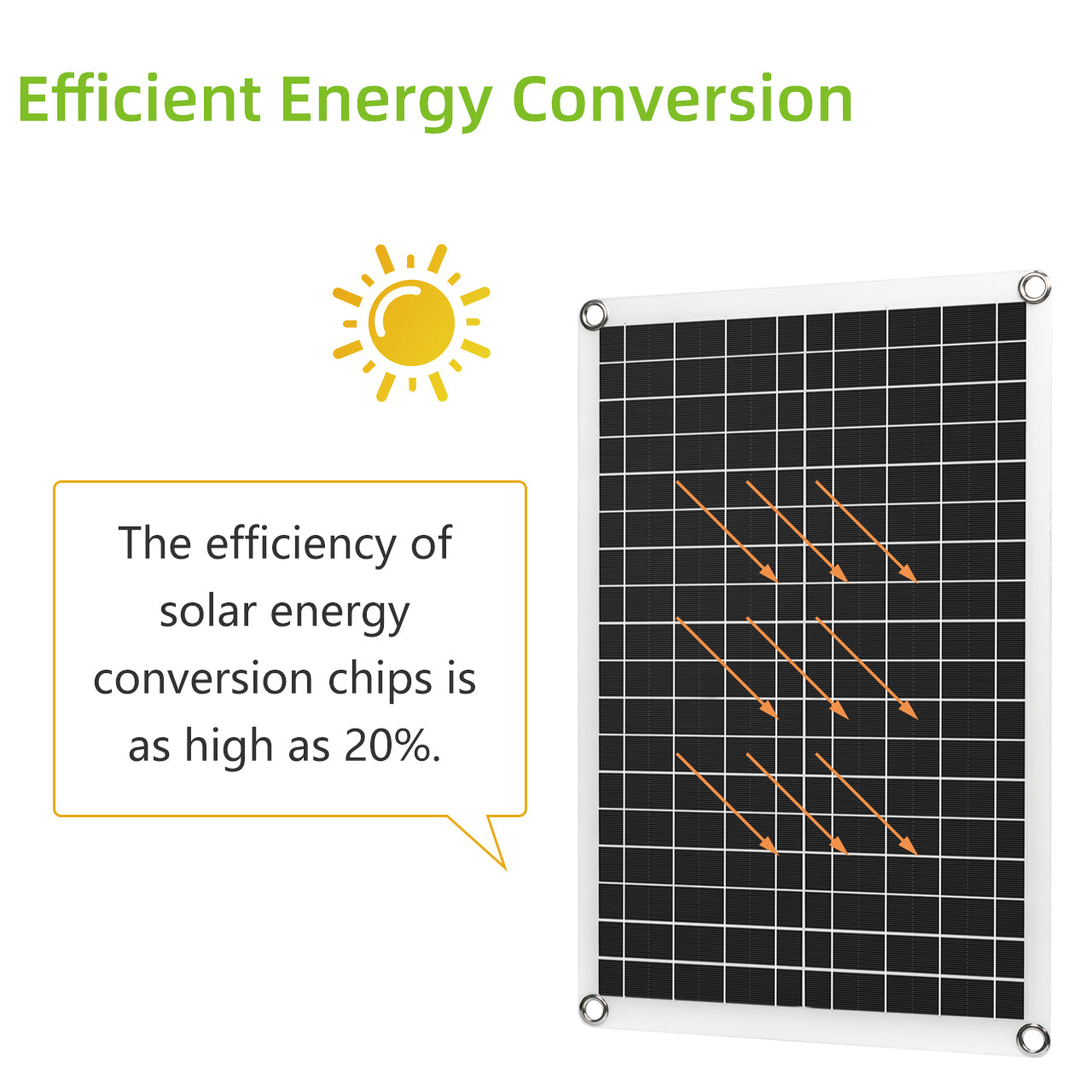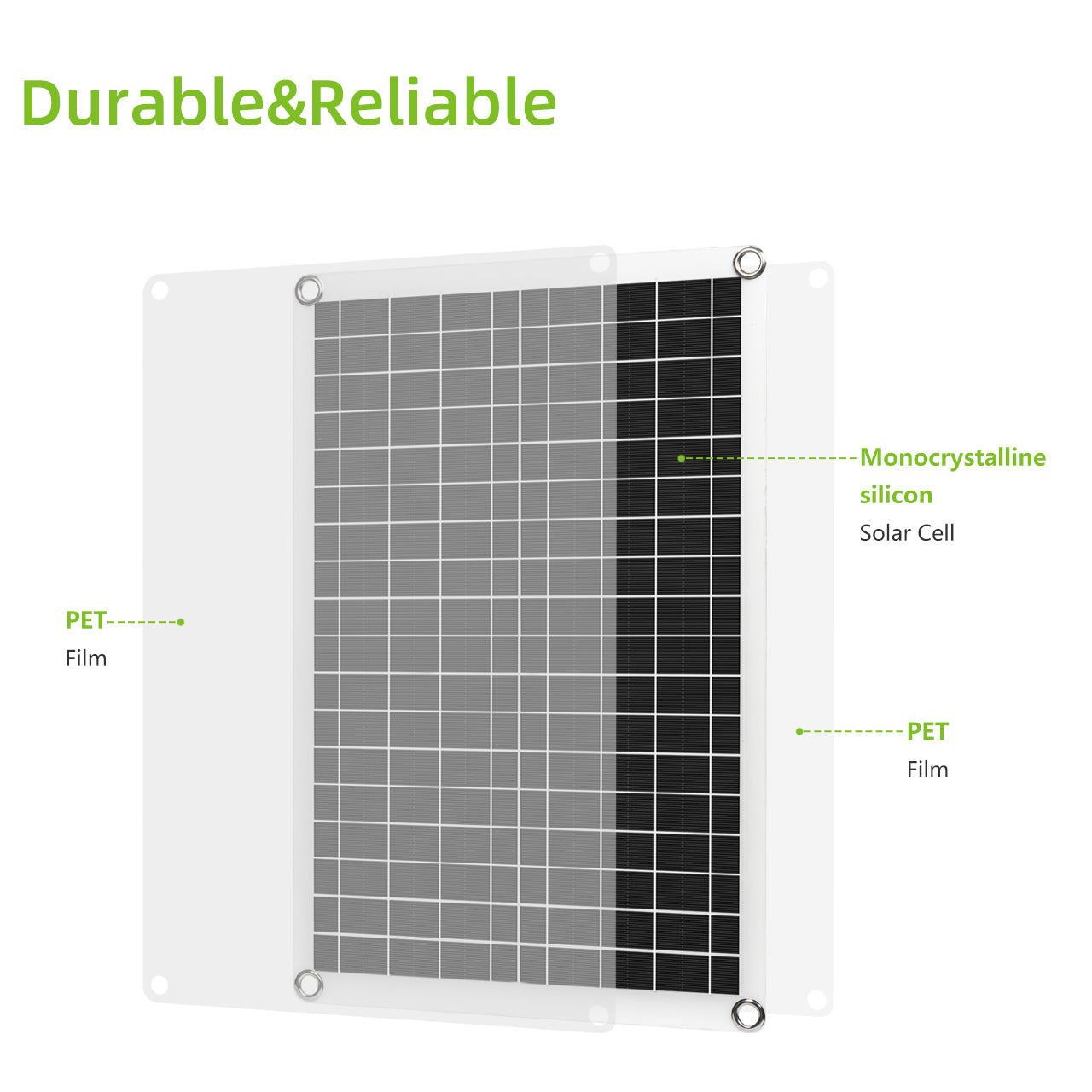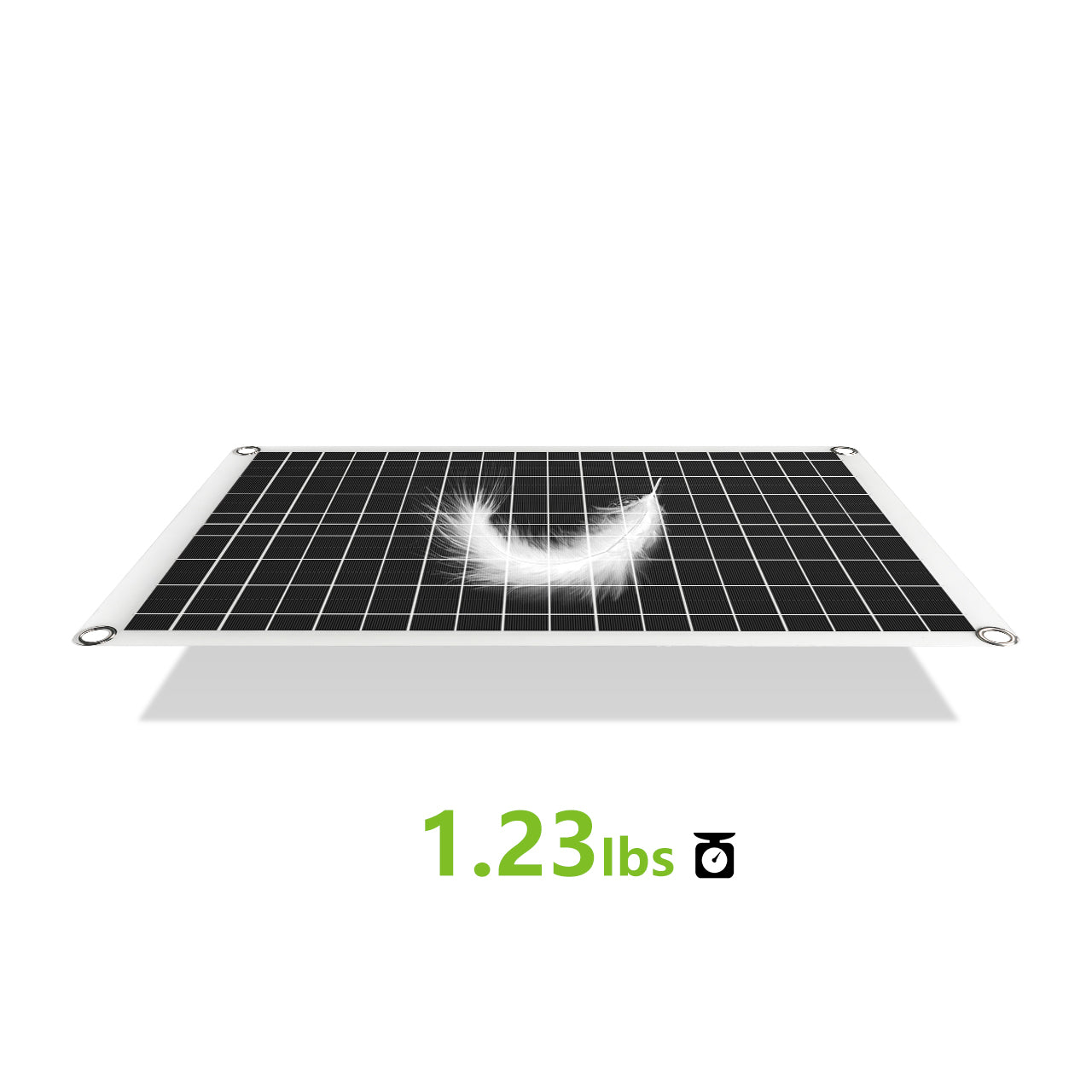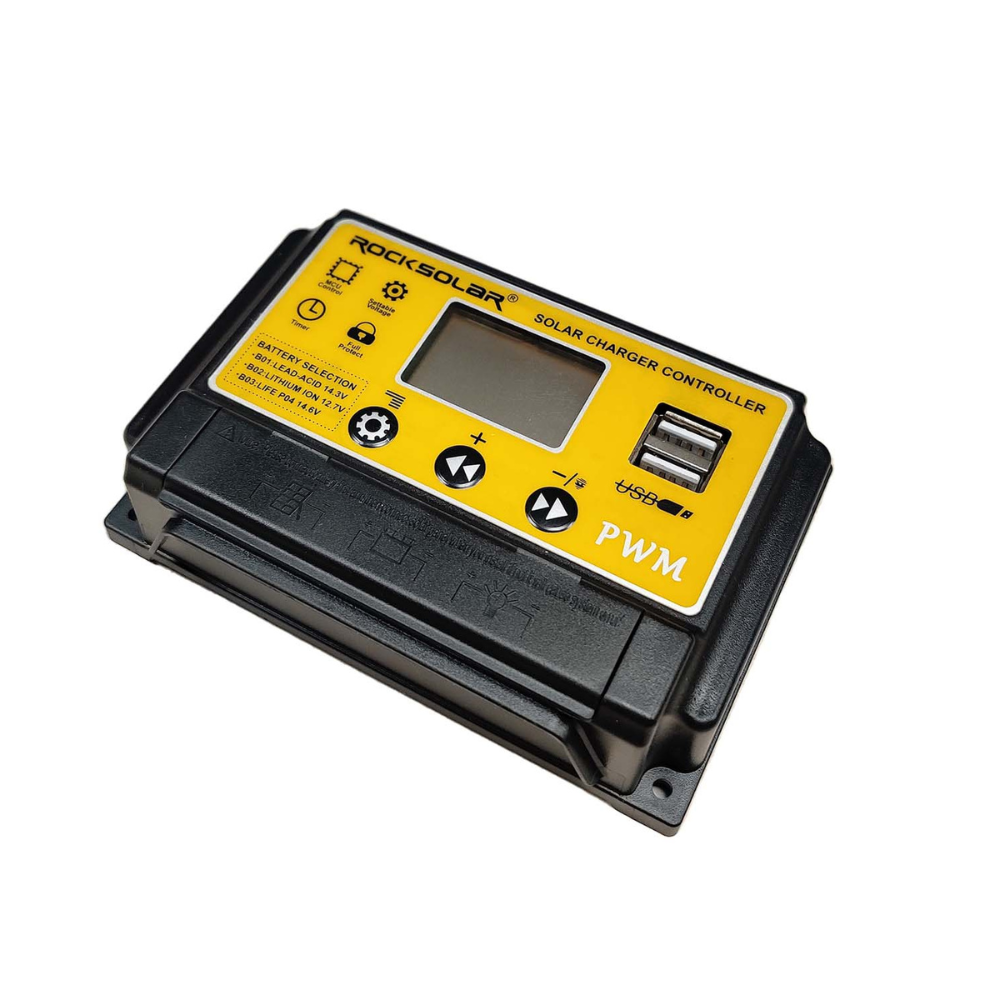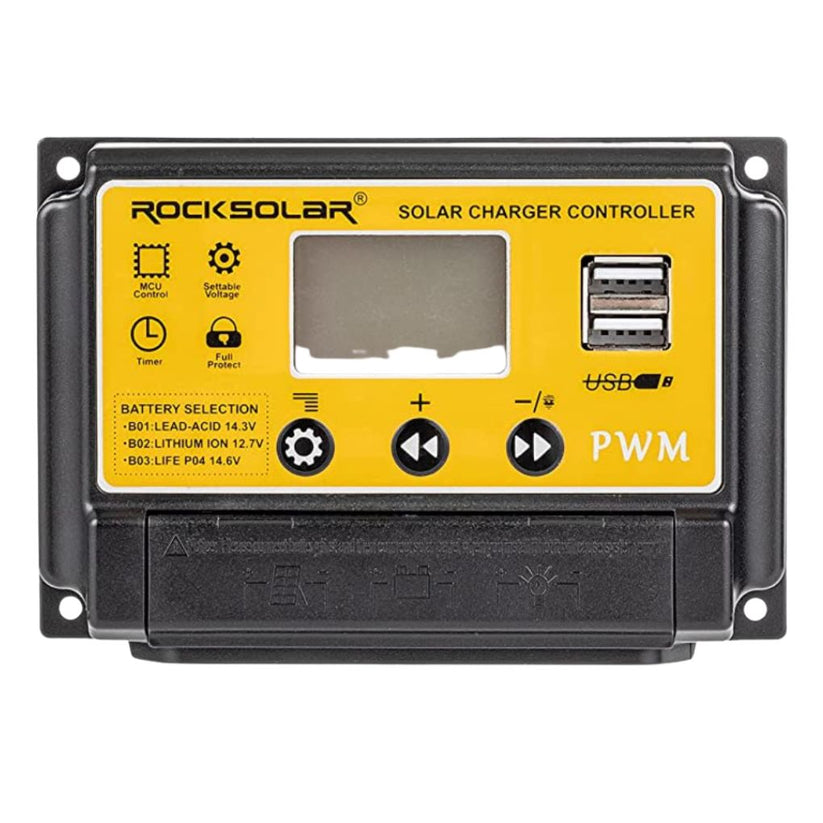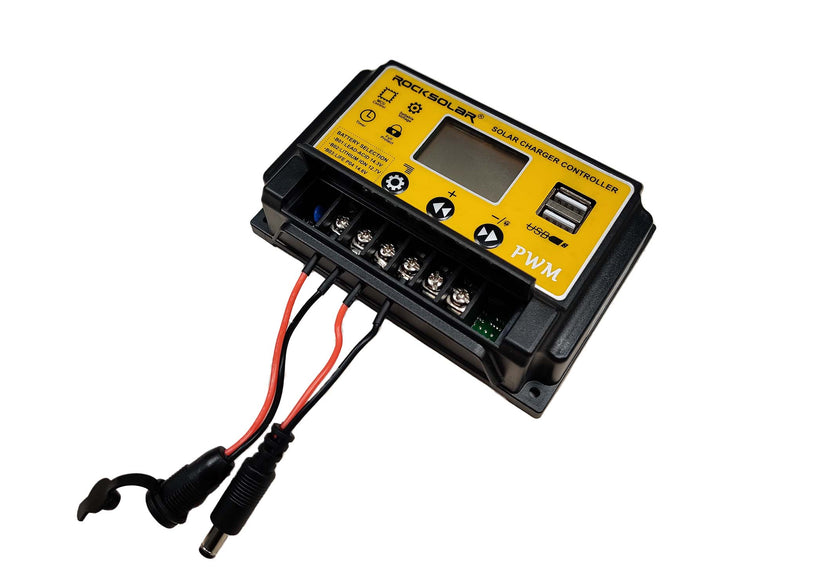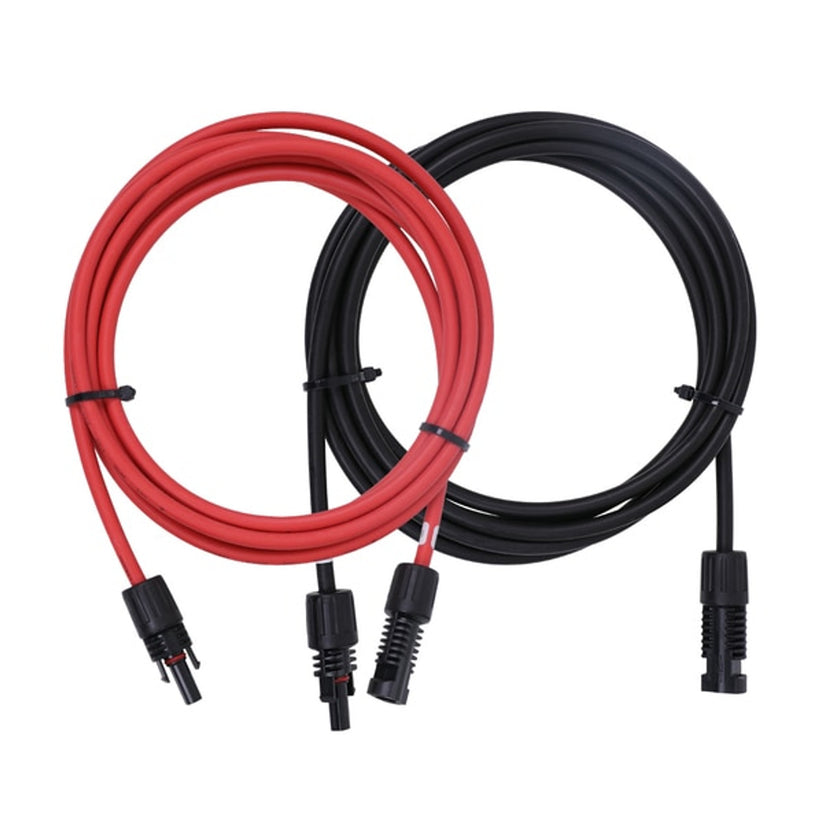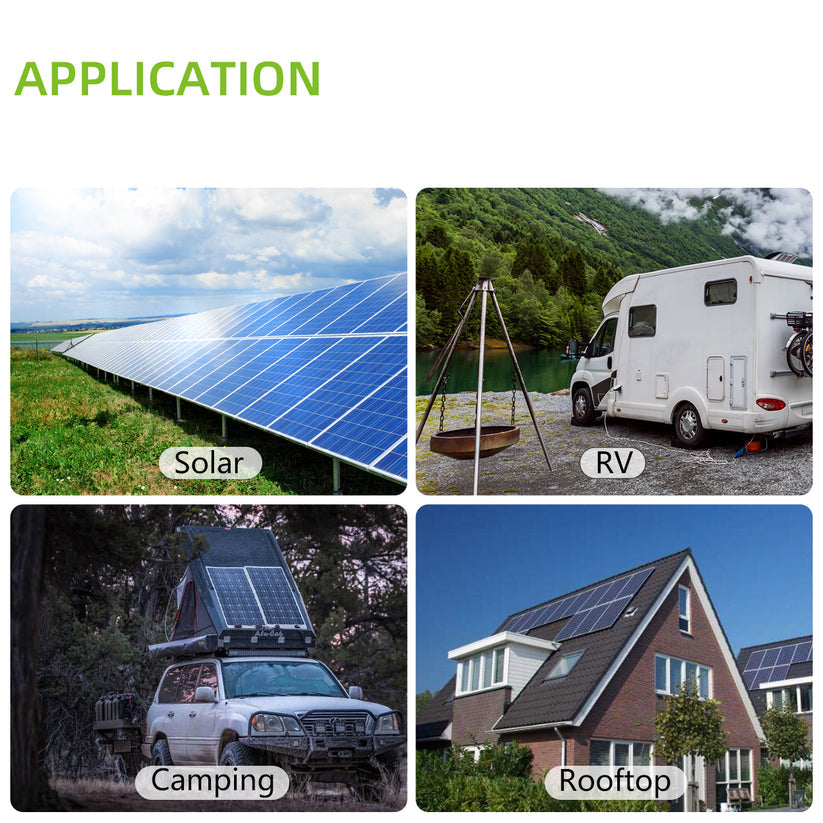 Reliable Off-Grid Solution
I'm living off-grid, and this solar panel kit has been my reliable power source. It's a dependable setup that meets my daily energy requirements.
-Thanks for your positive feedbacks on our solar panel kits. We are happy our solar panel kits can be helpful to your off-grid living.
Best regards
ROCKSOLAR
Flexible Installation
The flexible solar panel allowed me to install it on my irregularly shaped RV roof without any issues. The panel's performance is consistent and reliable.
-Thanks for your positive feedbacks on our flexible solar panels. They are very suitable for irregularly shaped RV roof.
Best regards
ROCKSOLAR
Solar Power Made Easy
This kit has everything you need to harness solar power effectively. It's an excellent entry point for anyone new to solar energy.
-Thanks for your positive feedbacks on our flexible solar panels. They are excellent products indeed. Glad that you enjoyed having them.
Best regards
ROCKSOLAR
A Green Future
Investing in renewable energy is essential for our future, and this solar panel kit is a step in the right direction. It's eco-friendly and efficient!
Solar Power Made Simple
I always thought setting up a solar panel would be complicated, but this kit proved me wrong. It's straightforward, and the results are impressive.