Regular price
$68.00 USD
Sale price
$46.00 USD
Unit price
per
Sale
Sold out
High Efficiency: Premium monocrystalline silicon cells.
Light & Slim: Weighs 0.56kg with a 20mm thickness.
Adaptable Flexibility: Fits various surfaces seamlessly.
Weatherproof: IP68 rated with durable PET film.
Stable Voltage: 21.60V open circuit, 18.00V peak.
Versatile Use: Ideal for RVs, boats, and off-grid setups.
Compact Size: Measures 540mm x 350mm x 20mm.
Wide Temp Range: Operates between -20°C to 70°C.
5-Year Warranty: For guaranteed quality assurance.
Free
Local Shipping
5-year Hassle Free
Warranty
Lifetime Customer
Support
Share
View full details
Description

Includes
Specifications
FAQ
Downloads
Reviews
Presenting the ROCKSOLAR 30W 12V Flexible Monocrystalline Solar Panel — a pinnacle of advanced solar technology. Designed for the modern-day explorer, camper, and sustainability enthusiast, this panel harnesses the sun's power with unparalleled efficiency. Crafted with top-tier monocrystalline silicon, its superior design ensures peak performance in a sleek and flexible profile, perfect for all weather battery trickle charge.
Product Features
Advanced Monocrystalline Technology: Delivers 30W rated power, ensuring superior energy conversion and enhanced efficiency.
Ultra-Light & Ultra-Flexible: Weighing merely 1.23 pounds and featuring a slim profile, it's engineered for adaptability, ease of transport, and hassle-free installations.
Optimized Voltage Delivery: Boasts an open-circuit voltage (Voc) of 21.60V and a peak power voltage (Vmp) of 18.00V, guaranteeing stable and efficient energy output.
Durable & Weather-Proof: Integrated with a weather-resistant frosted PET film and IP68 rating, ensuring resilience against wind, rain, and snow loads. Ideal for all weather battery trickle charge
Simple Installation: Pre-drilled holes and MC4 connectors facilitate a swift, efficient, and secure setup process.
Angle of Flexibility: Unique design allows up to 20 degrees of bending, accommodating varied mounting surfaces.
Broad Spectrum Applications: From RVs and boats to off-grid retreats, this panel is the go-to for diverse energy needs especially for your boat or RV battery trickle charge.
Optimal Operational Temperatures: Consistent performance in temperatures ranging from -20 to 70°C, ensuring reliable energy generation.
Experience the ROCKSOLAR Innovation
With the ROCKSOLAR 30W Flexible Solar Panel, you're not just investing in a product; you're adopting an eco-friendly, powerful, and reliable energy solution. Be it for adventures, off-grid living, or marine voyages, this panel ensures you stay powered up, always.
Perfect for:
Expeditions & Camping Adventures
Marine & Boating Applications
RV Travel & Caravans
Remote Cabins & Off-Grid Setups
Backup Power for Residential Areas
Eco-Conscious Energy Projects
1 x ROCKSOLAR 30W 12V Flexible Solar Panel
1 x DC to DC 5521 Connector Cable
4 x Suction Cups
4 x Carabiner Clips
1 x DC 5521 Charging Adapter (3pcs)
1 x DC to Alligator Clips Adaptor Tray Cable
1 x User Manual for the Solar Panel
Technical Specifications
| 30W 12V Flexible Monocrystalline Solar Panel Specification | Details |
| --- | --- |
| Model | RSF30W |
| Type | Mono-crystalline silicon |
| Rated Power | 30W |
| Open Circuit Voltage(Voc) | 21.60V |
| Peak Power Voltage(Vmp) | 18.00V |
| Convert Efficiency | ±5% |
| Short Circuit Current(Isc) | 1.80A |
| Current at Maximum Power (Im) | 1.67A |
| Size | 540*350*20mm |
| Weight | 0.56kg |
| Operating Temperature | -20~70 °C |
The panel utilizes state-of-the-art high-efficiency monocrystalline silicon technology, ensuring optimal energy conversion and maximizing solar absorption.
With a weight of just 0.56kg and dimensions of 540mm x 350mm x 20mm, the ROCKSOLAR 30W Panel offers a combination of lightweight convenience and powerful performance, suitable for various applications.
Absolutely! The panel is equipped with a weather-resistant frosted PET film and has an IP68 rating. It's crafted to operate efficiently across a temperature spectrum of -20 to 70 °C, ensuring dependability even in less-than-ideal weather conditions.
Indeed! The panel's flexible design ensures easy installation on varied, non-flat surfaces. This flexibility makes it a prime choice for installations on boats, RVs, and other irregular terrains.
The panel comes equipped with user-friendly MC4 connectors, ensuring hassle-free integration. While designed for optimal performance with ROCKSOLAR equipment, it's crucial to check compatibility if using with other devices or systems.
By leveraging solar power, the ROCKSOLAR 30W Panel offers a sustainable, eco-friendly energy solution. Using this panel not only reduces dependence on non-renewable energy sources but also decreases carbon footprints, making a tangible difference to the environment.
The ROCKSOLAR 30W Flexible Solar Panel comes with a robust 5-year warranty, reflecting our commitment to quality and your peace of mind.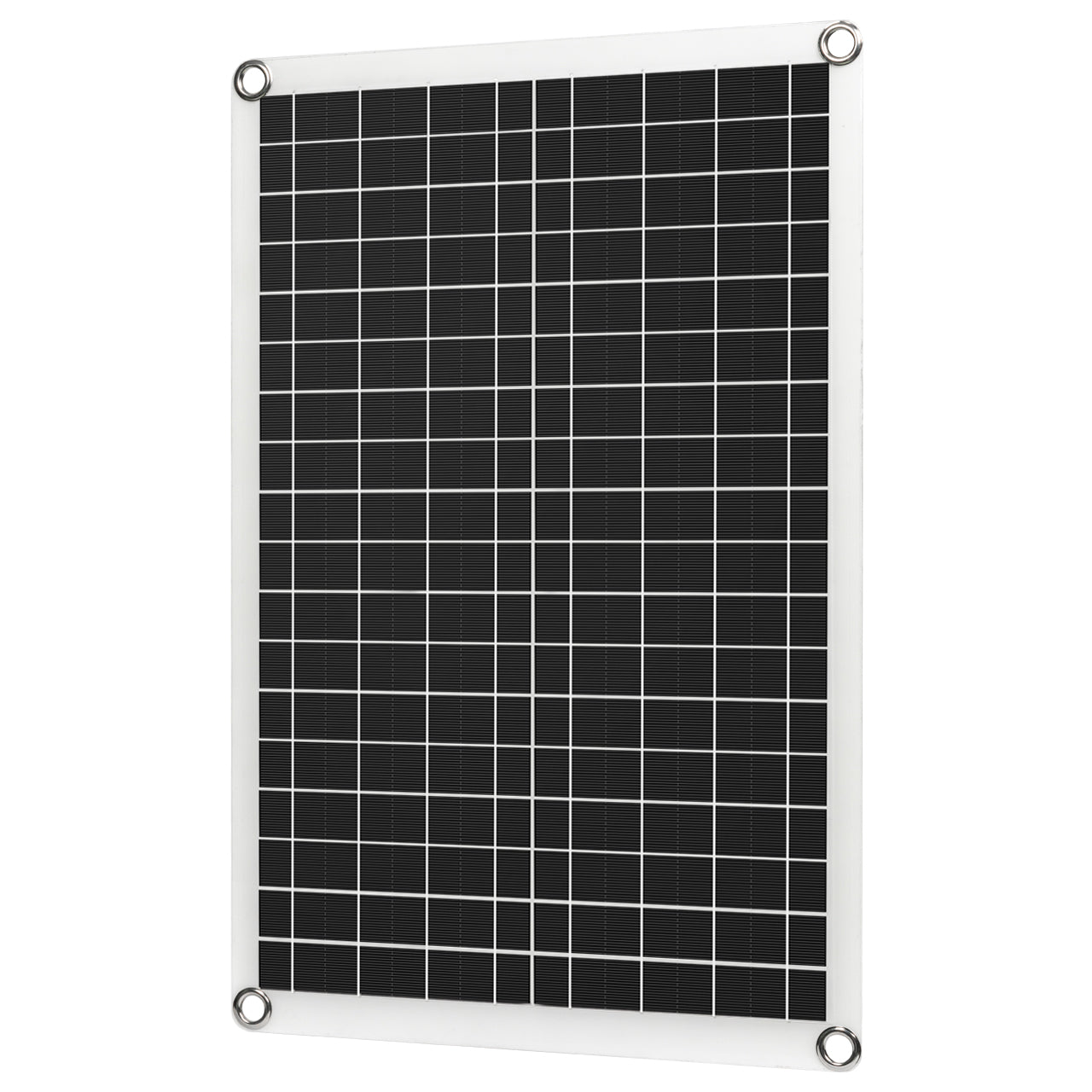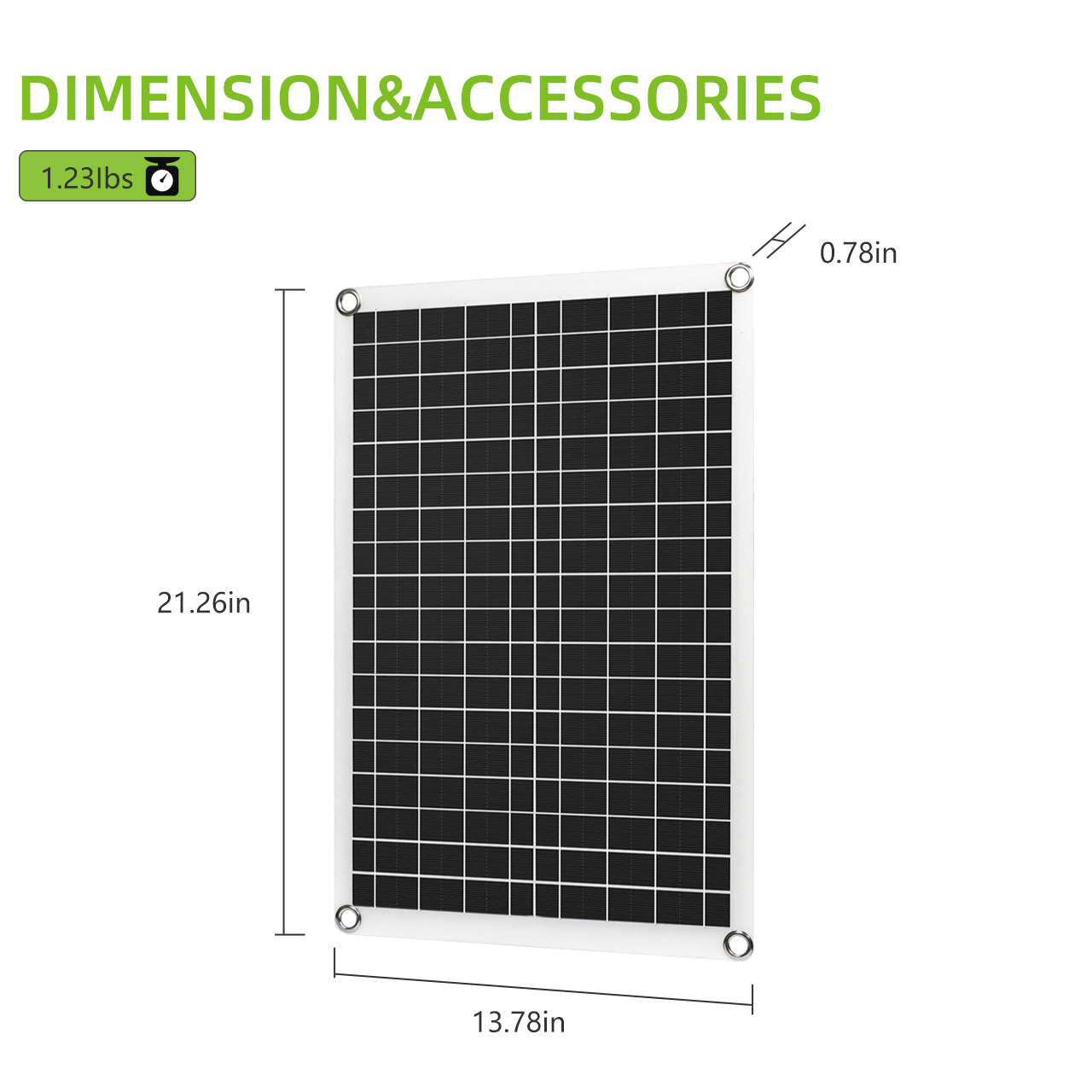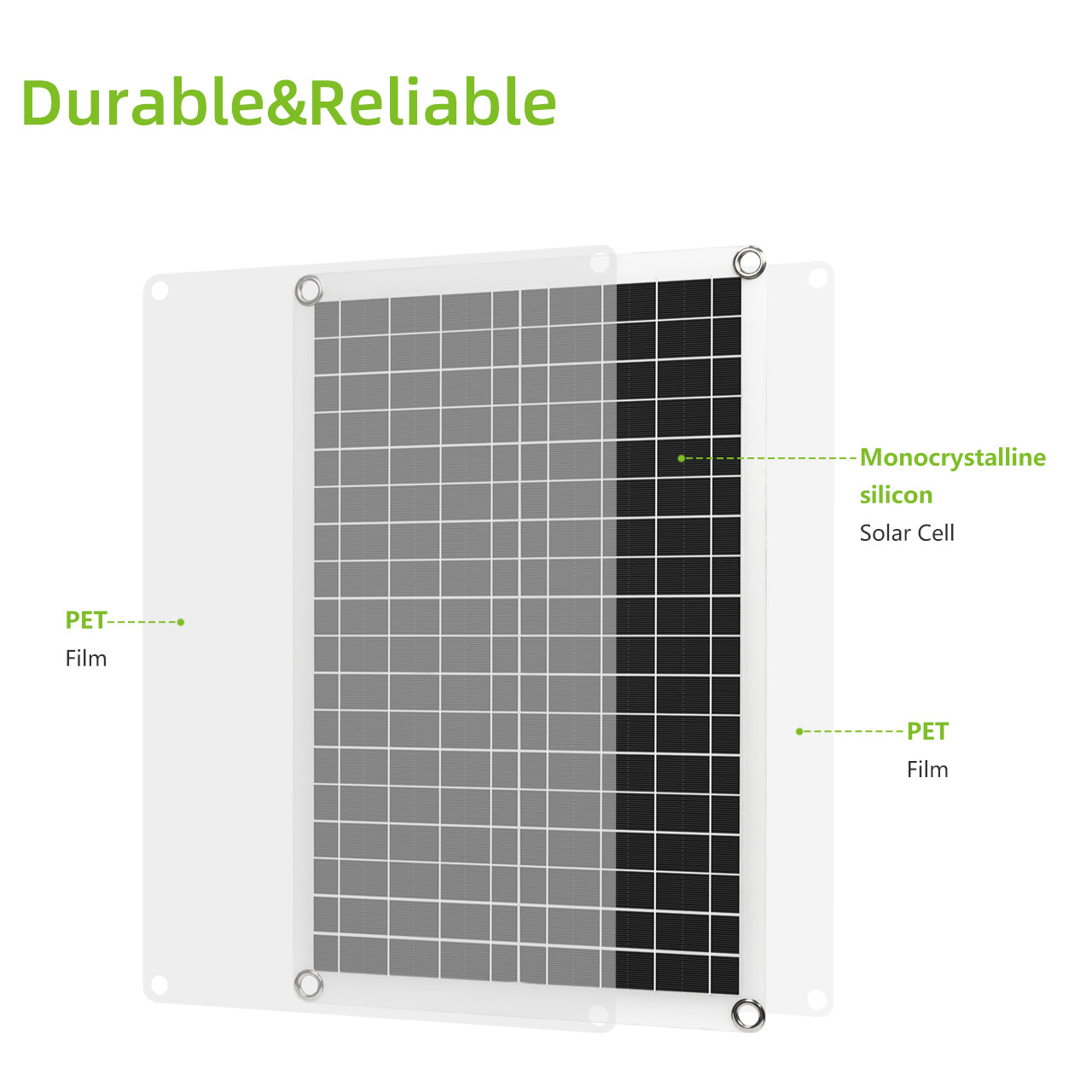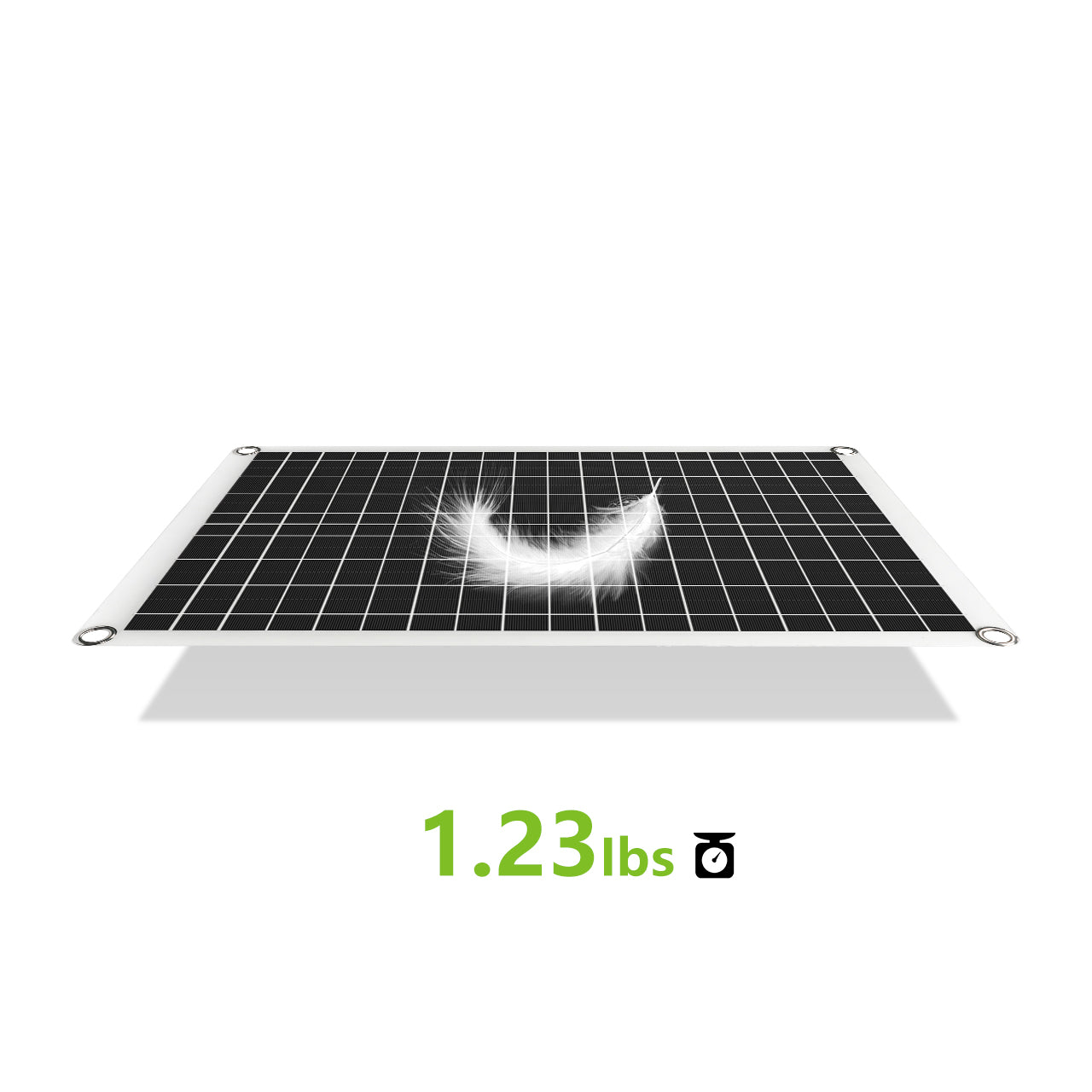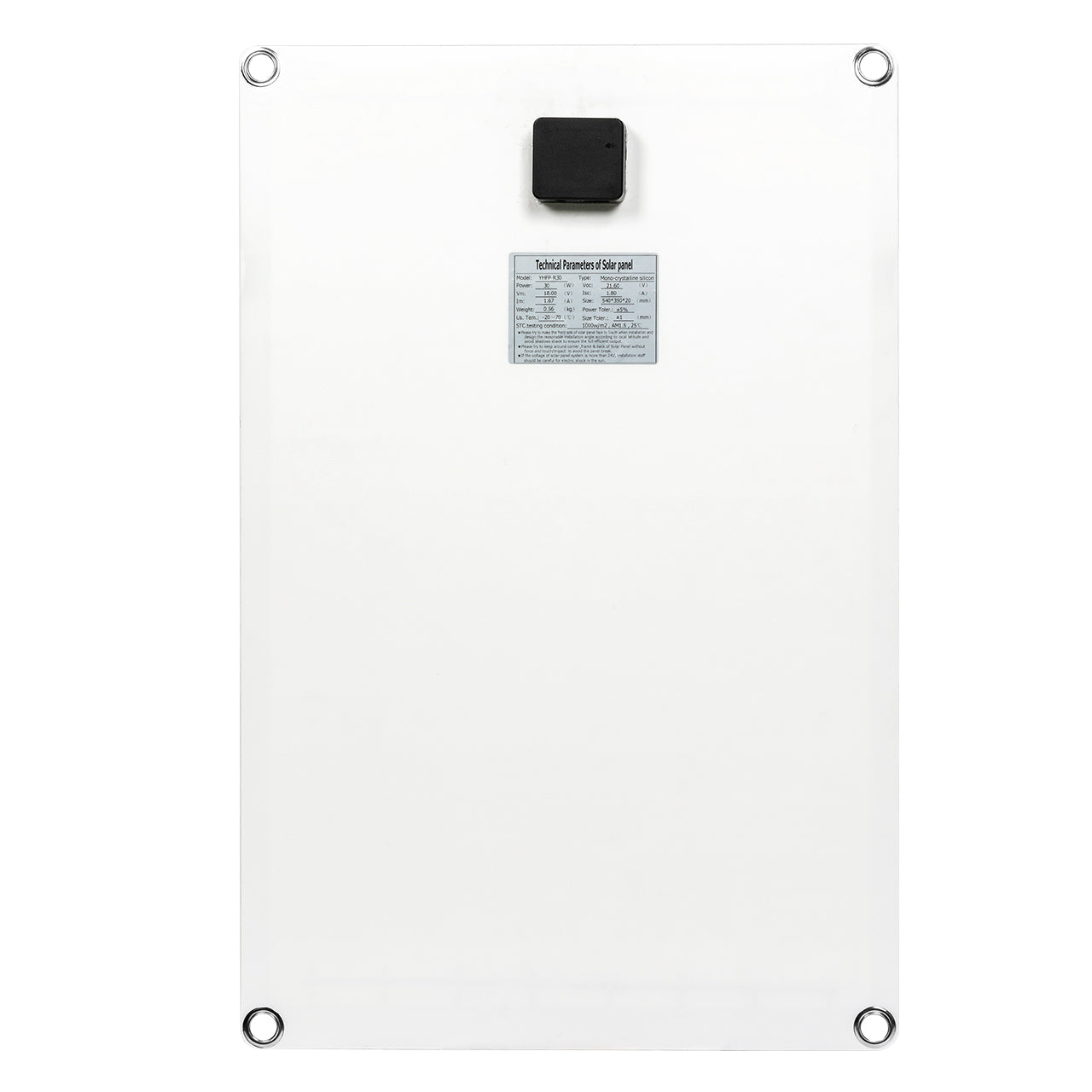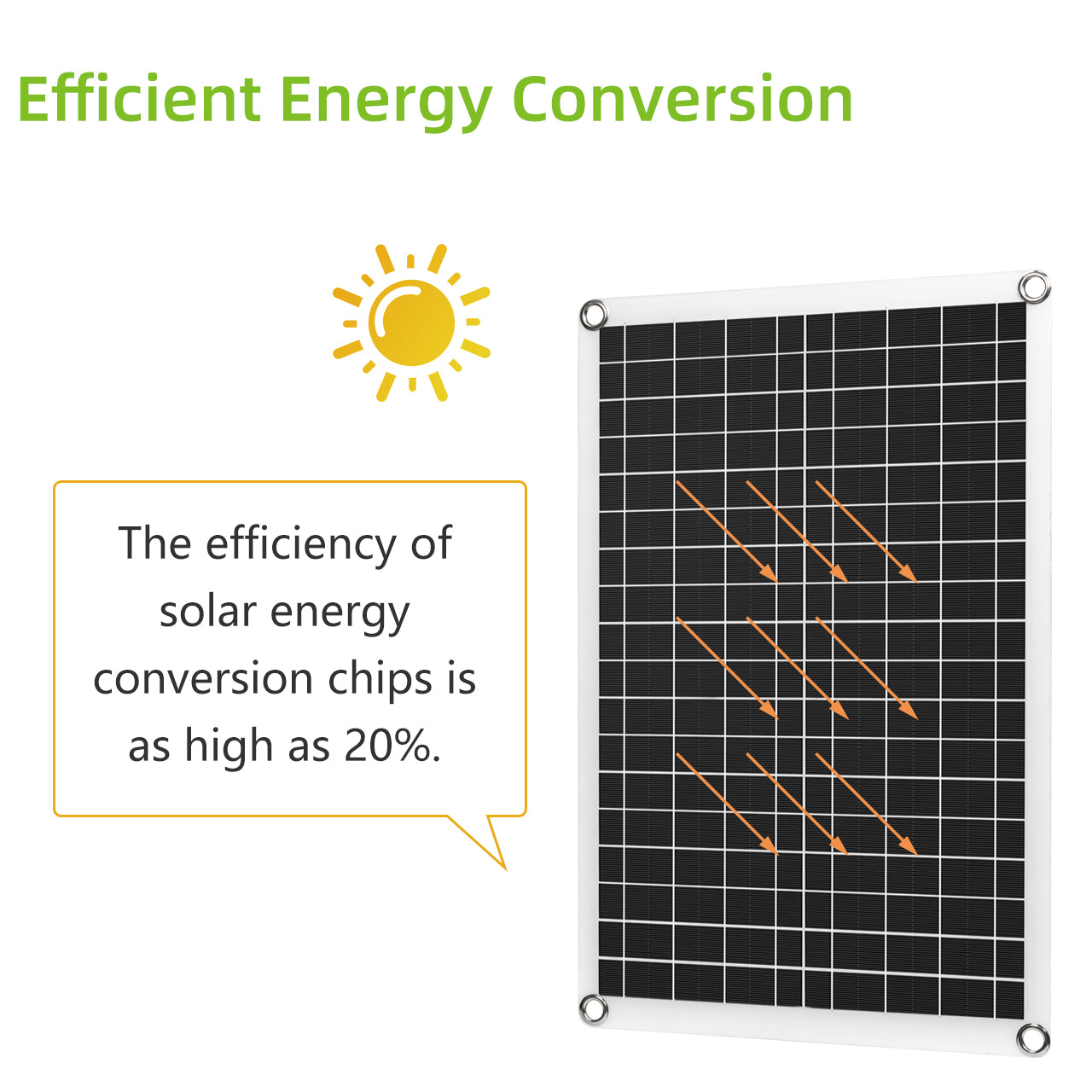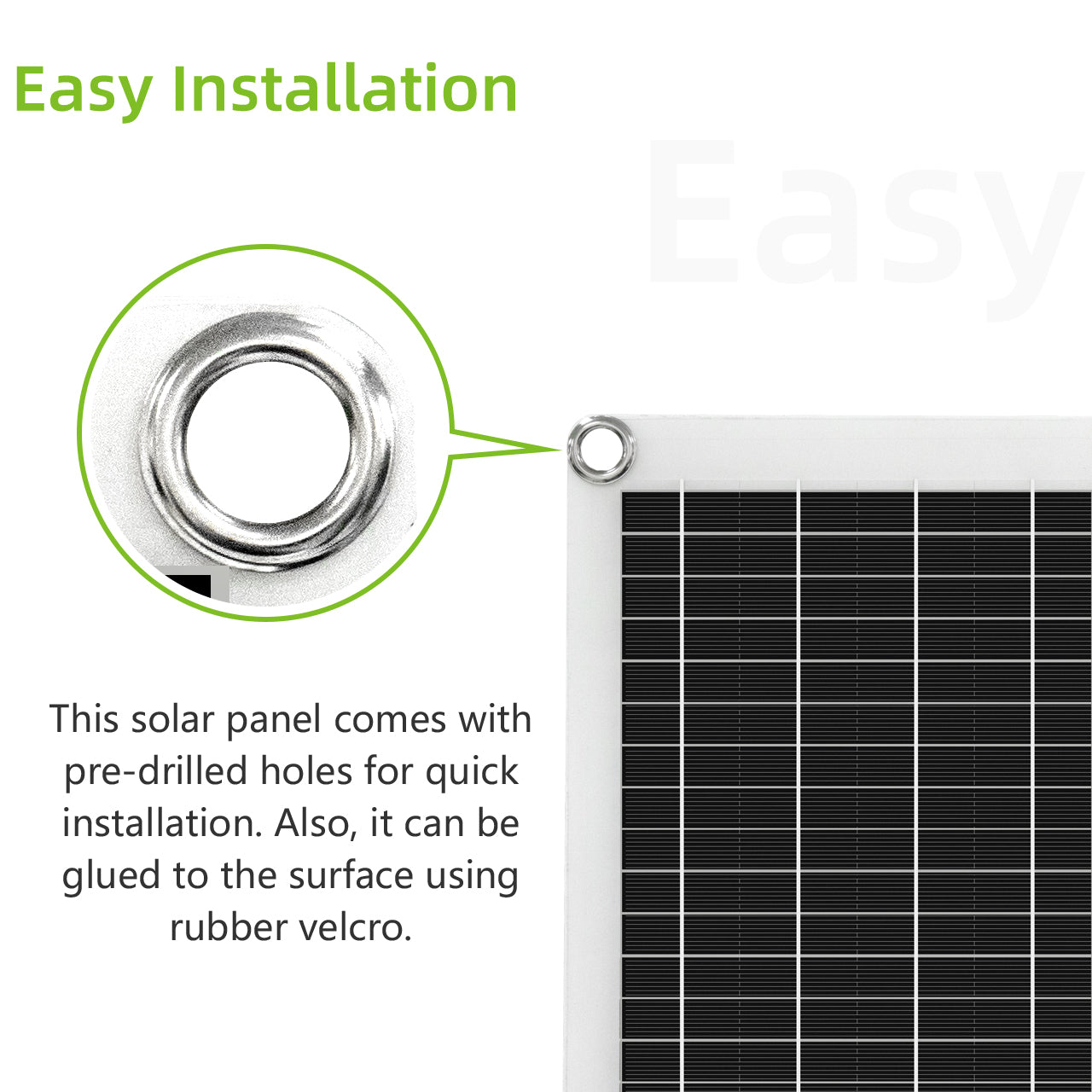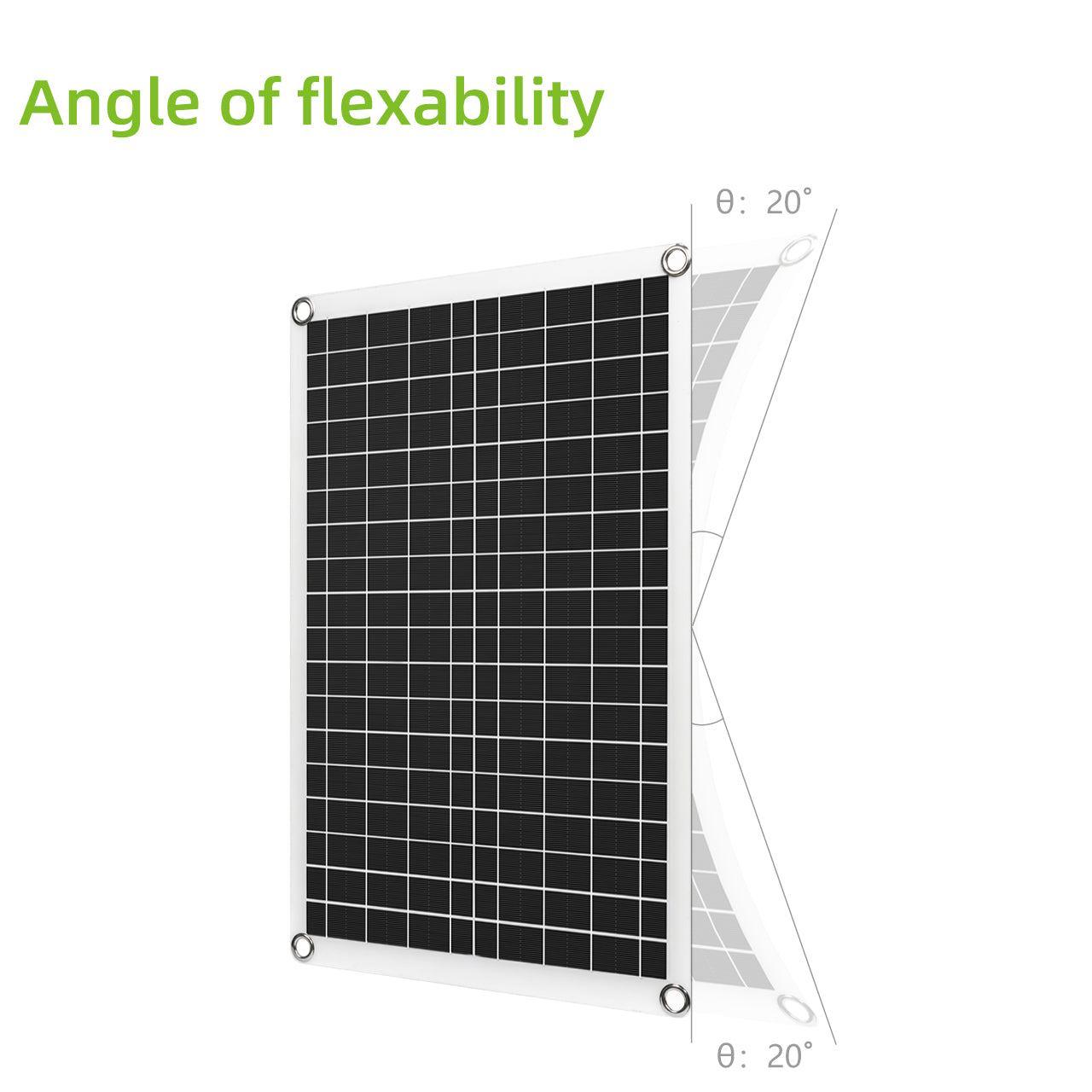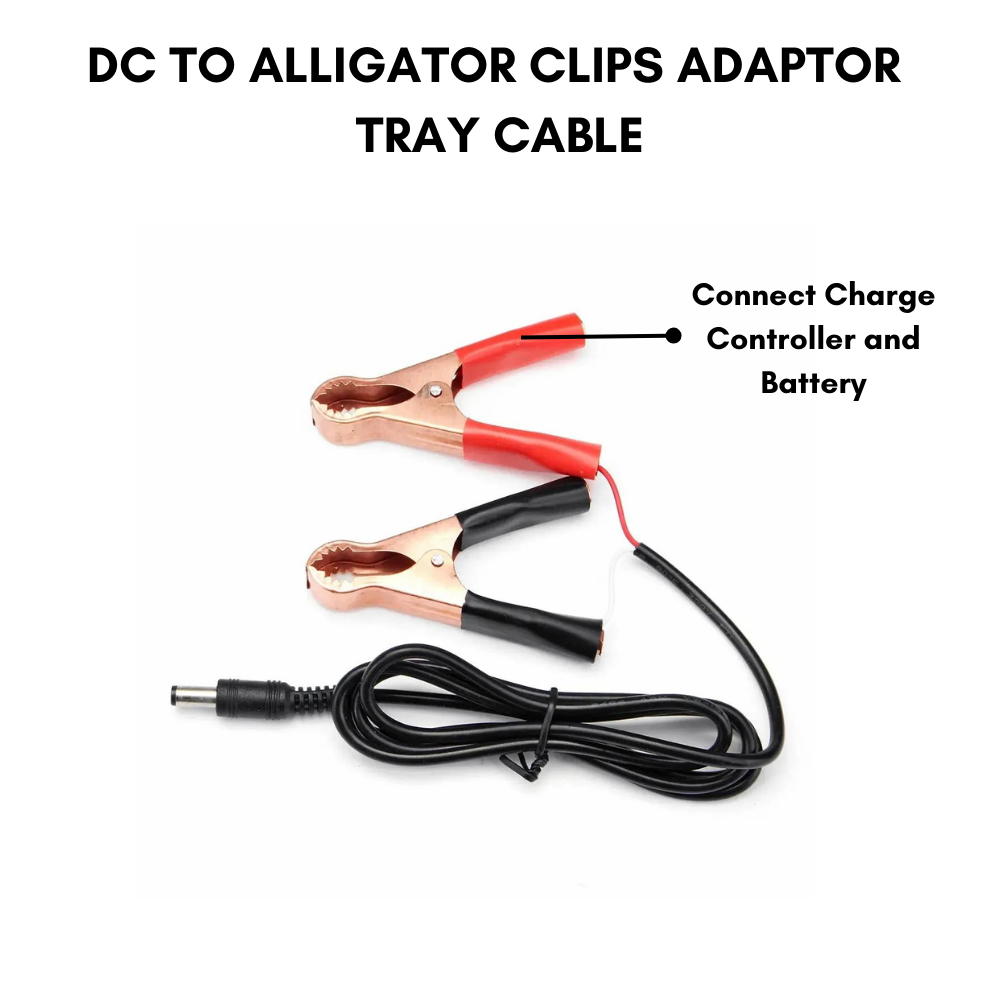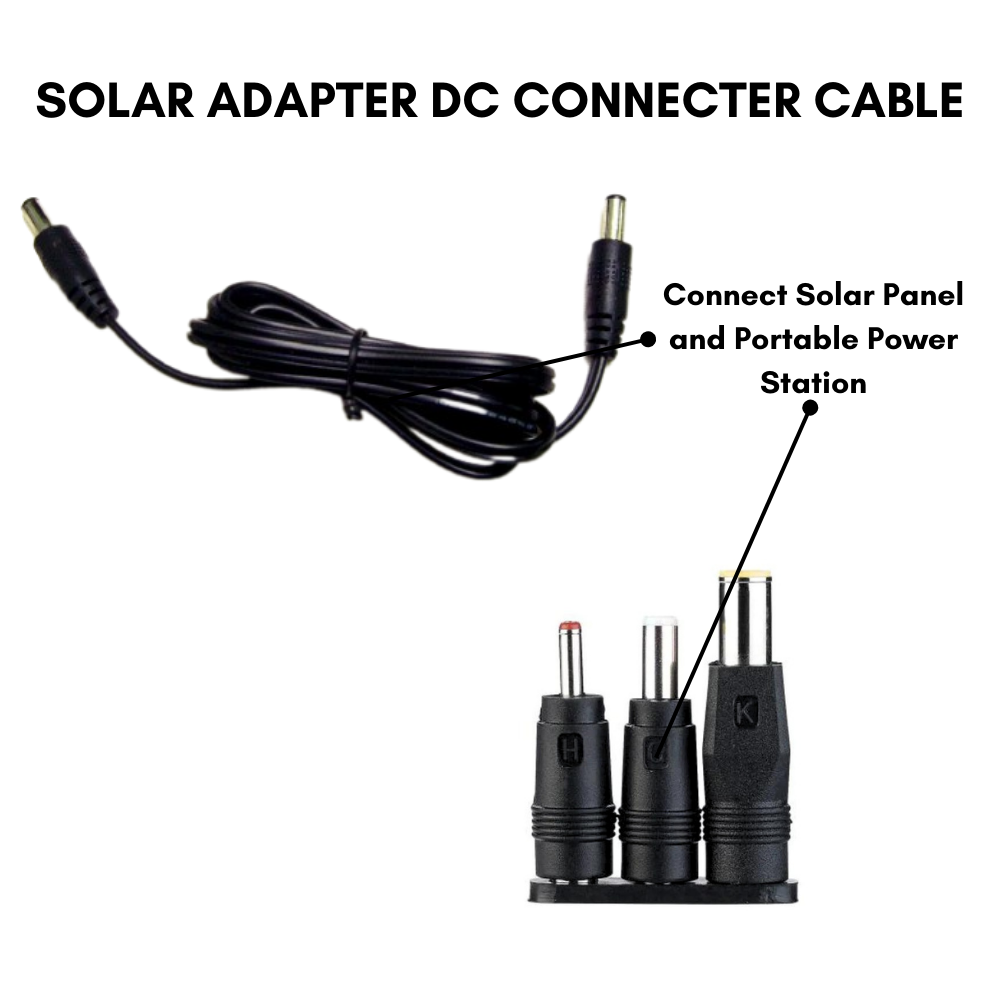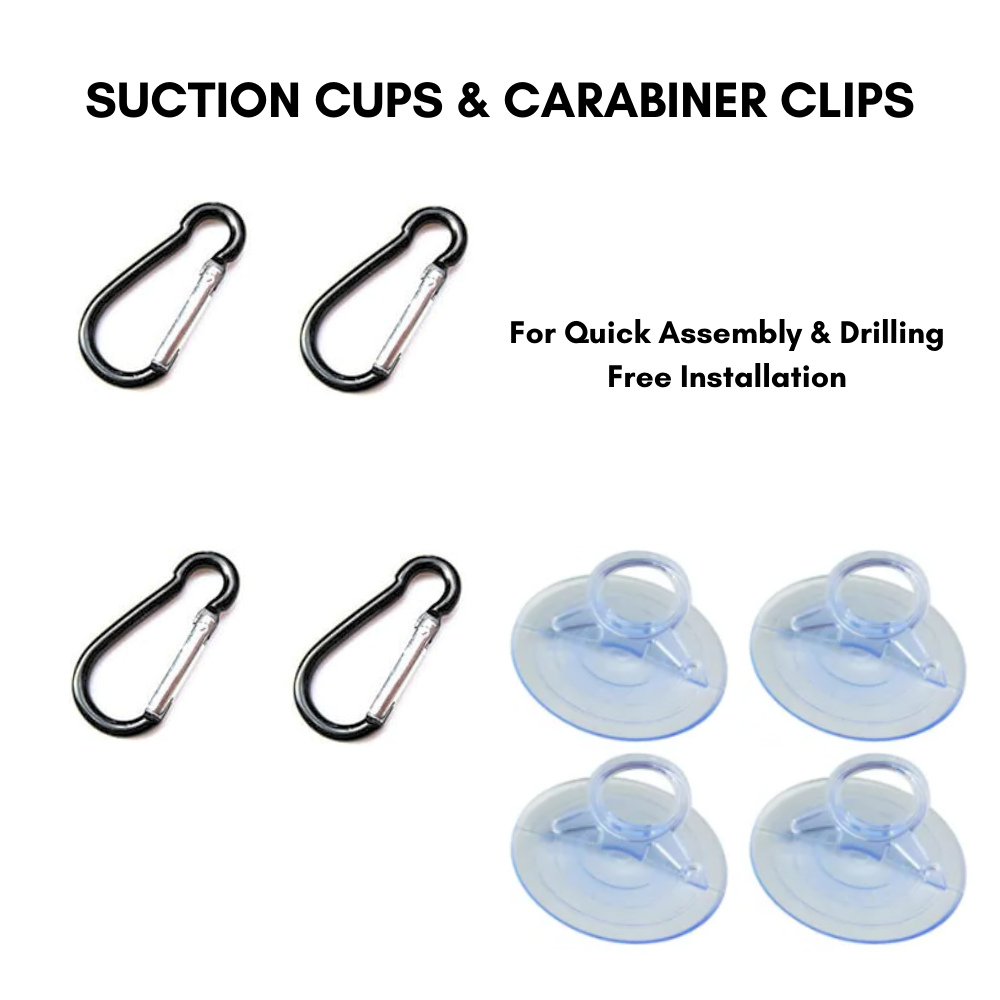 Works as it should
Works great in direct sunlight and even puts out outstanding charge on cloudy days . When out of direct sunlight it provides a maintenance charge. Very pleased with it.
Works Great on a Jon Boat
I use this to charge the battery on my jon boat. It charges just sitting in the yard, and also charges out on the water when Im fishing. Cord is plenty long enough to reposition the panel as needed. It seems to work as advertised even on very overcast days.
Great product Excellent customer service!!!
Easy to install and very portable. Love the flexibility and very happy with this product.
Perfect for keeping a battery topped up!
Great built quality and durability is outstanding. thanks for the excellent product.
Works as advertised.
Great little device, own two of these now and they work exactly as I need them to