Up to 50% off already applied. Use code HOLIDAY23 for an extra 15% off!
Regular price
$376.00 USD
Regular price
$526.00 USD
Sale price
$376.00 USD
Unit price
per
Sale
Sold out
High-Capacity Battery: 444Wh lithium polymer battery for long-lasting power.
Varied Power Outputs: Provides 400W AC power output, 2 DC power ports, 3 USB power ports, and a 12V cigarette lighter output.
Lightweight & Portable: Weighs only 11 pounds with an ergonomic carry handle for easy transport.
Quick Charging Time: Full recharge in just 7 to 8 hours with solar panel, AC power adapter, or car charger options.
Dependable Power Source: Ideal for household electronics during power outages, camping trips, or outdoor activities.
Sturdy Construction: Aluminum alloy shell with anti-scuff rubber feet for enhanced durability.
Silent Operation: Features a silent cooling fan for quiet performance.
Multipurpose Usage: Suitable for outdoor adventures, residential use, camping, RVs, and more.
Modern Design: Eye-catching yellow & black color combination with a user-friendly interface.
1-Year Warranty: Comes with a one-year warranty for added peace of mind.
Free
Local Shipping
1-year Hassle Free
Warranty
Lifetime Customer
Support
Share
View full details
Description

Includes
Specifications
FAQ
Downloads
Reviews
Introducing the ROCKSOLAR Nomad 400W Portable Power Station, a compact and light weight power station for all your adventures. Designed with the traveler, camper, and homeowner in mind, the Nomad ensures you have a mobile and reliable off grid power solution whenever and wherever you need it. Encased in a durable aluminum alloy shell and enhanced with a silent cooling fan, this unit promises both durability and discretion.
Product Features
Durable and Dependable: Built with a robust aluminum alloy shell, the Nomad comes with a lithium polymer battery boasting a 444Wh capacity.
Multiple Power Outputs: From 400W AC power to multiple DC and USB ports, this device ensures you can charge a wide range of electronics seamlessly.
Portable Compact Design: With an ergonomic handle and a weight of just 11 pounds, the Nomad is easy to transport and comes with anti-scuff rubber feet for stability.
Efficient Charging: Whether you're using a solar panel, an AC power adapter, or a 12V cigarette lighter, the Nomad charges fully in just 7 to 8 hours.
Emergency-Ready: Perfect for power outages, ensuring your essential household electronics like computers, cpaps, televisions, and lamps stay powered.
Silent power station: The built-in silent cooling fan ensures the unit remains cool without disturbing your peace.
Experience the ROCKSOLAR Edge
ROCKSOLAR's Nomad 400W Power Station isn't just about power; it's about giving you the freedom to explore, work, and live without compromise. Whether you're on a camping trip, facing a power outage, or on the move, Nomad ensures your devices are always powered and ready.
Suitable for:
Outdoor Expeditions & Camping
Power Backup during Outages
Traveling & Remote Work Stations
Everyday Electronics & Appliances
On-the-Go Recharging Needs
Solar Charging (Especially with ROCKSOLAR panels)
Nomad 400W 444Wh Power Station: A reliable and lightweight portable power station equipped with a 444Wh capacity lithium polymer battery.
Charger: For quick and efficient charging of the power station.
1x User Manual: All the information you need for operation and safety.
Technical Specifications
Specification
Details
Manufacturer
ROCKSOLAR
Place of Business
1-800-858-4318
Part Number
RS650
Product Dimensions
30.3 x 13.41 x 18.39 cm; 11.01 pounds
Batteries
1 Lithium Polymer batteries required. (included)
Item model number
RS650
Colour
Yellow & Black
Style
Power Station
Pattern
Power Station
Power Source
Solar Powered
Voltage
110 Volts
Wattage
400 watts
Item Package Quantity
1
Special Features
Portable, Easy to Install, Quiet
Usage
outdoor, residential, power outage, backup power supply, camping, rv, cpap
Included Components
Charger
Batteries Included?
Yes
Batteries Required?
Yes
Battery Cell Type
Lithium Polymer
Warranty Description
One Year
Item Weight
11.01 pounds
The Nomad 400W Portable Power Station takes approximately 7 to 8 hours for a full charge, ensuring quick readiness for your adventures or backup needs.
Yes, the Nomad 400W Power Station can be efficiently charged using solar panels, making it an eco-friendly and versatile power solution for outdoor activities and emergencies.
With a 444Wh capacity, the Nomad's lithium polymer battery exceeds the typical airline's allowed capacity for carry-on. Always check with your airline before traveling to ensure compliance.
The Nomad 400W Power Station is versatile and can power a range of household electronics like computers, televisions, mini fridges, lamps, cpaps and more. Its variety of power outputs ensures compatibility with numerous devices.
The duration the Nomad will last during a power outage depends on the total power consumption of the connected devices. With its 444Wh capacity, it can provide substantial backup for essential devices, ensuring continued function during outages.
The Nomad Power Station features a durable aluminum alloy shell, ensuring longevity and resilience against wear and tear.
Yes, the Nomad Power Station is equipped with advanced safety features, including overcharge protection, to ensure the longevity of the battery and safe operation.
No, the Nomad Power Station features a silent cooling fan, making it quiet during operation — ideal for both indoor and outdoor use.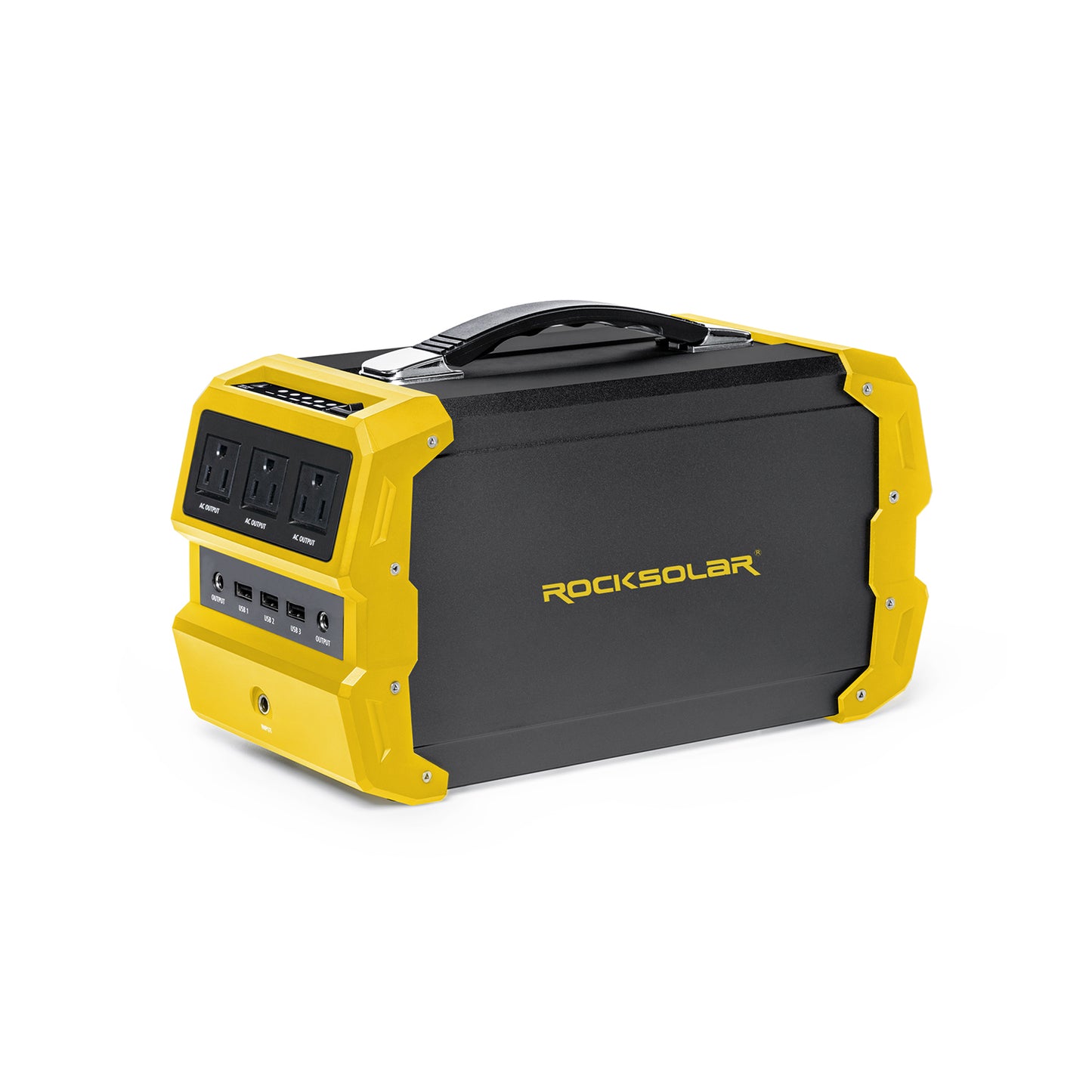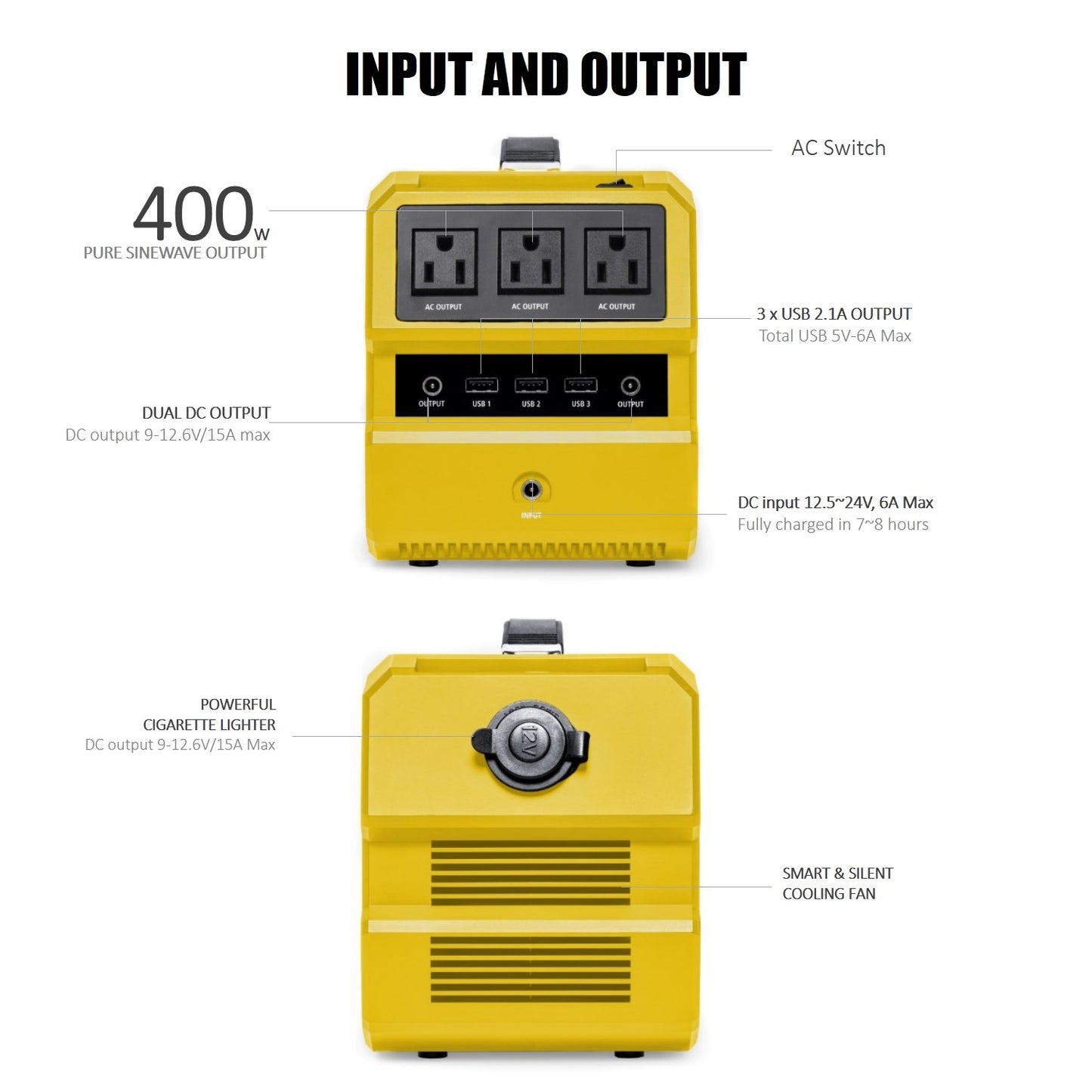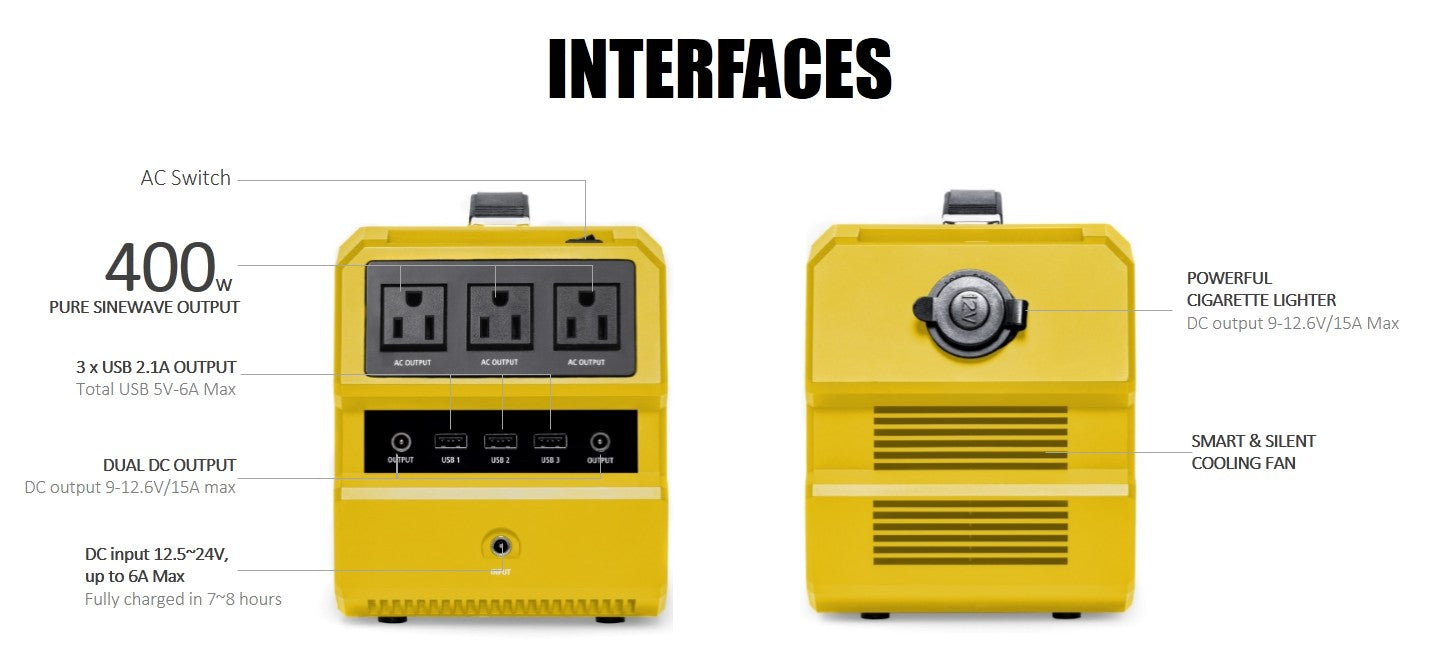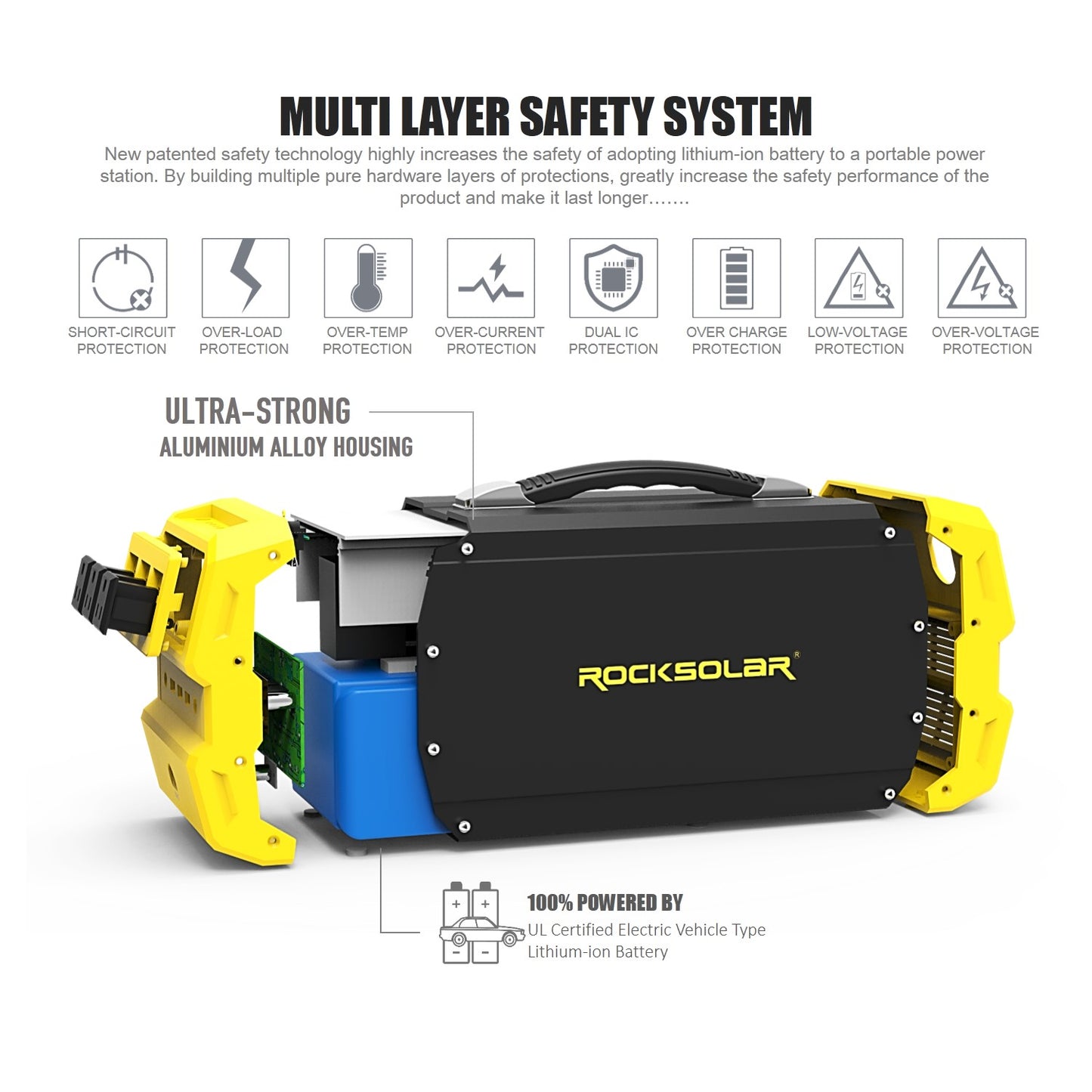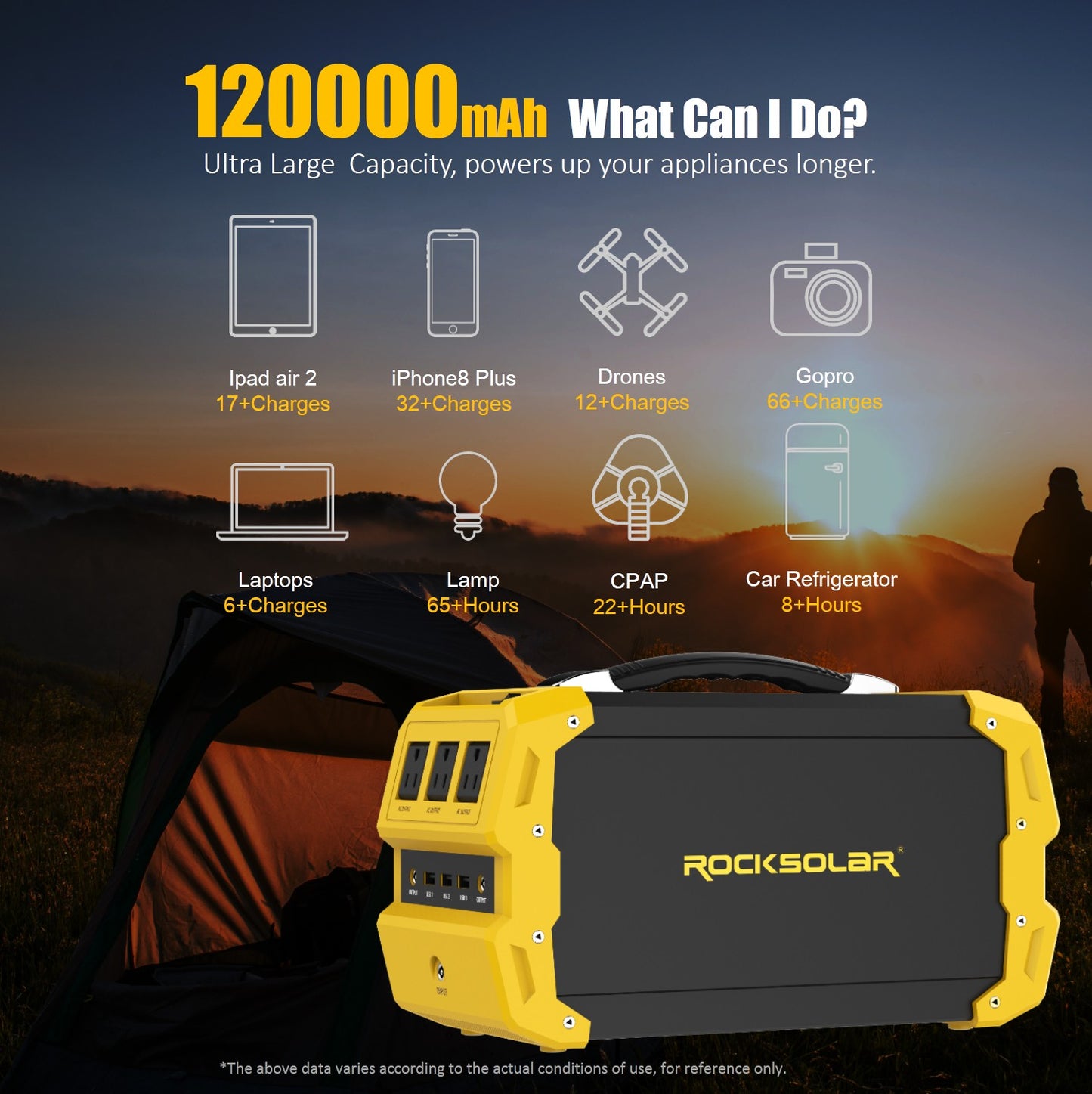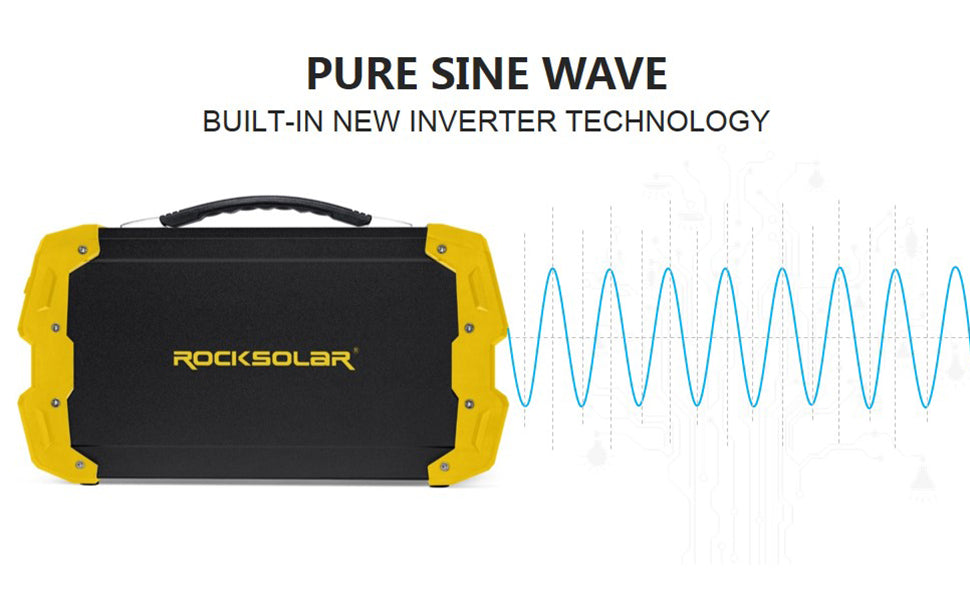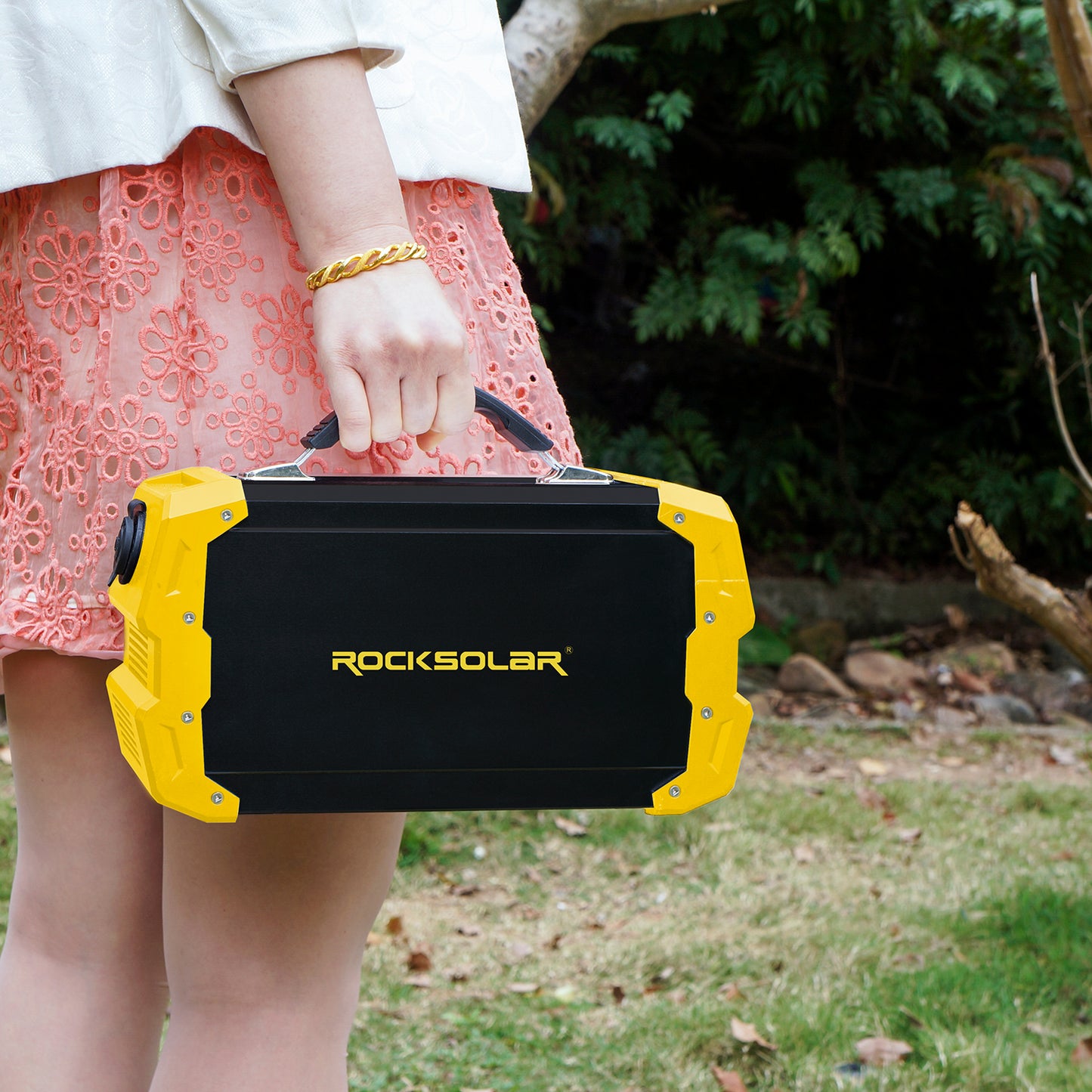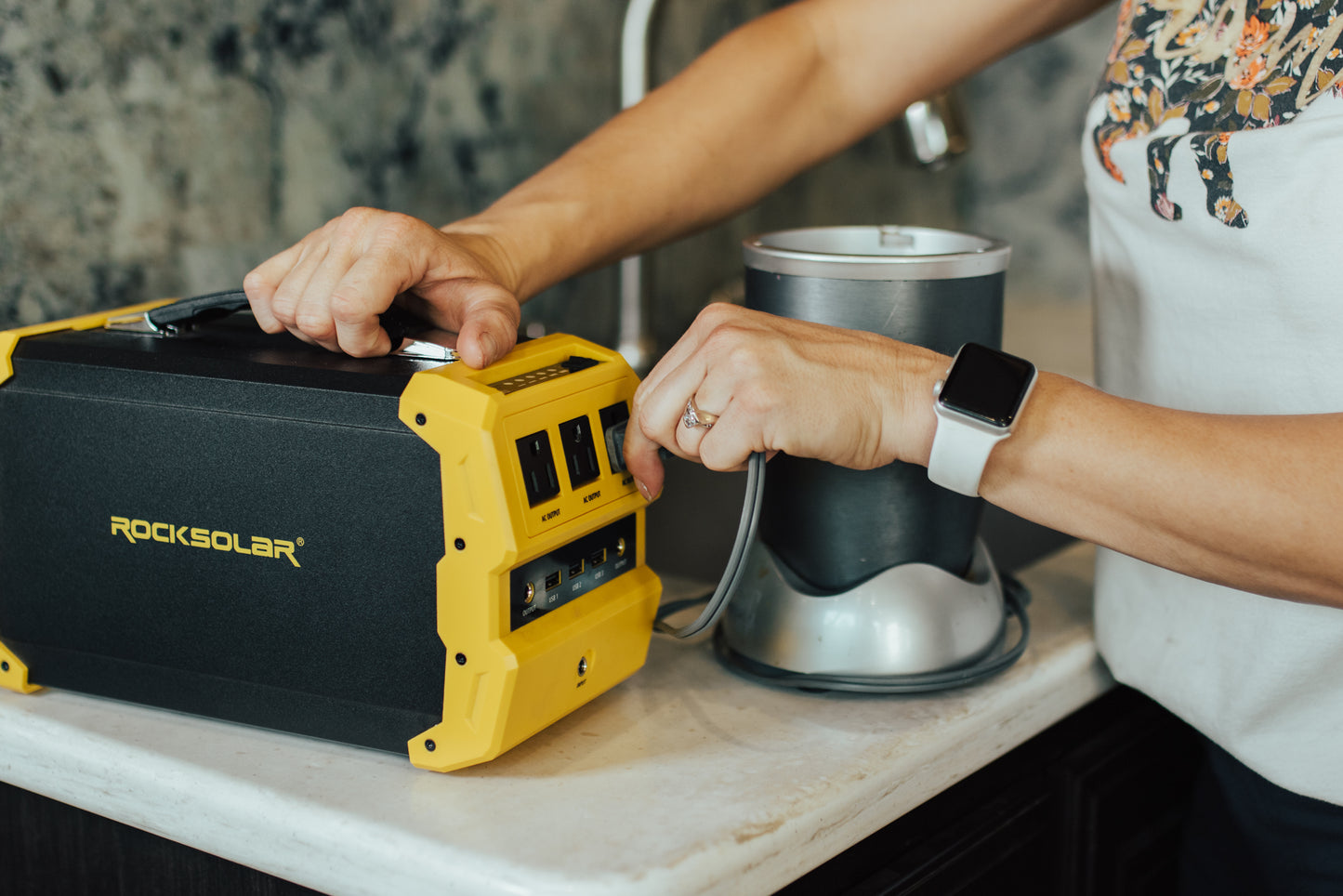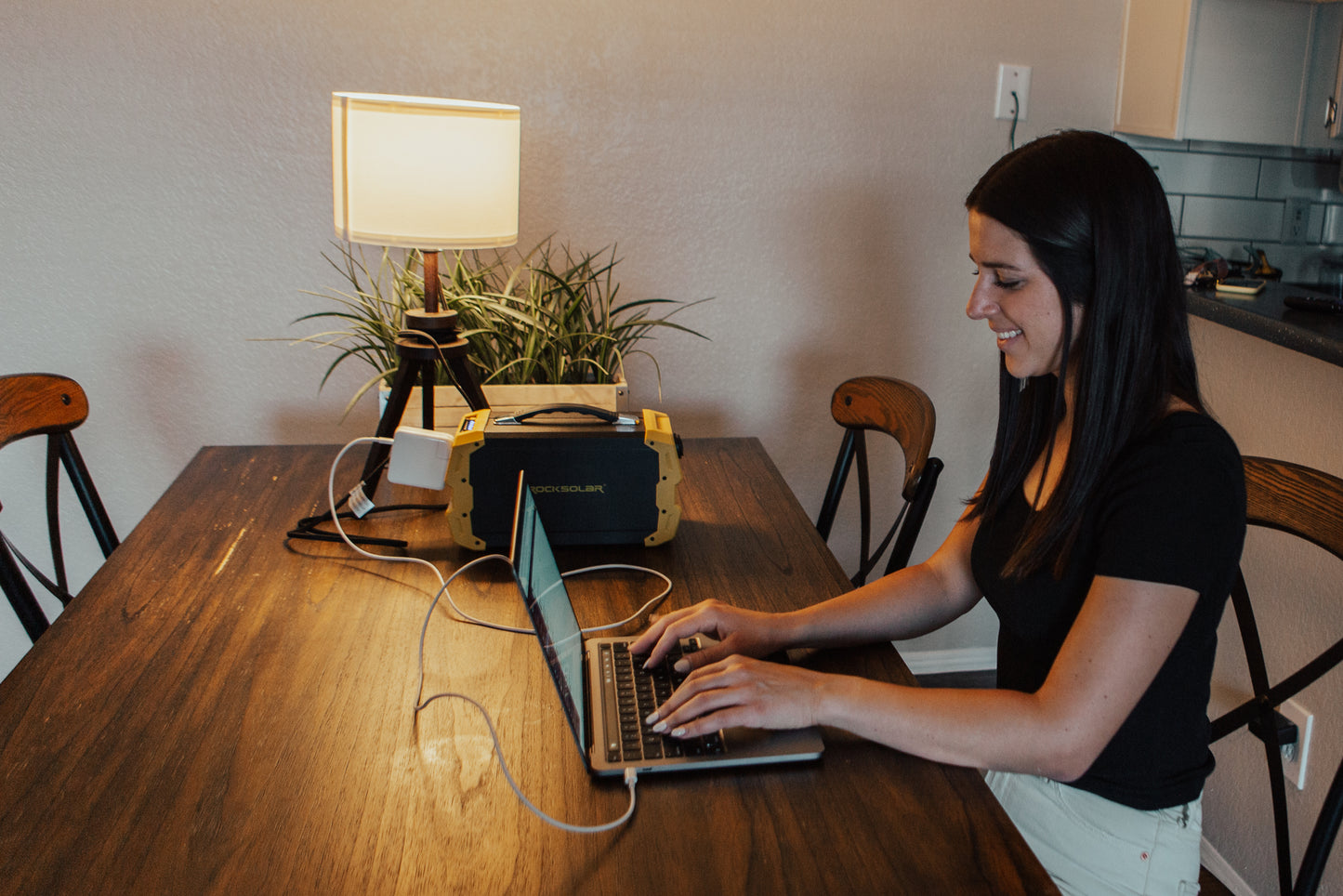 Nomad 400W is my fav
This is my third one because of their versatility. I have all three on the go in the evenings (they are charged by my solar panels in the daytime). My next purchase will be the 1000W model. Can't wait!
Nomad 400w
Handy to have. Great for charging our tablet and phones.
Impressive charging station
I got two charging stations with 1 folding solar panel to power a fridge and small electronics in my cabin. While one is connected to the fridge, the other one is solar charging. Each station powers my fridge for 12 hours before I have to switch them. I am truly impressed and relieved to have a reliable way to refrigerate our food. It takes 8 hours to charge with the solar panel, and 4 hours to charge from an AC outlet. I am so pleased with this power station that I will buy two more to use during the Winter. Mark the product manager was very responsive and helpful during the purchase and shipping. The most responsive company out of the 5 companies I contacted regarding off-grid power supplies. Definitely will buy from them again.
The power station was received in good condition. I charged it and plugged a fan into the AC outlet. It works.
Great, powers my Bouge RV fridge for up to 10 hours
This is my second Rocksolar and I love it. I love the 3-way power source to charge (cigarette lighter, plug in and solar). I also love that I can charge the Rocksolar while I use it to charge my device (be aware that not all batteries can do this). I chose it over other brands because it is a good portable size and fits well in the tight space in my minivan camper conversion. I can have one charging the fridge and another fits neatly between the front seats. Seems robust too. Numerous ports to charge all kinds of devices so you'd be hard pushed to run out.