Up to 50% off already applied. Use code HOLIDAY23 for an extra 15% off!
Regular price
$308.00 USD
Regular price
$346.00 USD
Sale price
$308.00 USD
Unit price
per
Sale
Sold out
All-In-One Powerhouse: Provides reliable energy for larger tasks and trips.
Pure Sine Wave Output: 300W peak 500W power, delivering clean energy like at home.
Multiple Ports: 2 AC outputs, 1 DC, and 4 USB ports including a USB type C & 3 USB QC 3.0 ports.
Fast Charging: Quick recharge via solar panels, wall outlet, or carport.
Advanced Protection: Built-in BMS for overcurrent, overvoltage, and over-temperature safety.
Lightweight Design: Under 10lbs, making it portable for outdoor and indoor use.
Quiet & Clean Energy: No fuel needed, noiseless operation, and no emissions.
Durable Build: High-quality Lithium-ion Polymer battery with over 1000 life cycles.
Stylish Appearance: Yellow and Black design with an Aluminum body.
1-Year Warranty: Comes with a one-year warranty for peace of mind.
Free
Local Shipping
1-year Hassle Free
Warranty
Lifetime Customer
Support
Share
View full details
Description

Includes
Specifications
FAQ
Downloads
Reviews
Introducing the ROCKSOLAR Utility 300W Portable Power Station, your all-in-one off grid power solution and best power station for camping. Whether you're in an RV, on a camping trip, navigating a power outage, or at a worksite, the Utility as an outdoor power generator is designed to be your emergency power source and backup power supply. With its advanced battery management system and a plethora of output ports, you can trust this device to keep all your gadgets running smoothly.
Product Features
All-in-One Solar Power Station: A Lithium-ion battery powered and solar ready design for extended use and longer journeys.
Compact and Light weight: Features 2*AC 110V Pure Sine Wave outputs with a peak capacity of 300W (and 500W max), as well as multiple DC and USB ports for diverse device compatibility.
Quick Charging: Recharge using ROCKSOLAR 60W or 100W solar panels (sold separately), an AC wall outlet within 8 hours, or on-the-go from your carport.
Reliable and Silent Power Station: The built-in advanced BMS offers protection against overcurrent, overvoltage, and over-temperature. Say goodbye to fumes, noise, and the hassle of gasoline with this clean energy solution.
Mobile and Portable: Weighing under 10lbs, it's the perfect companion for all your adventures and tasks.
Experience the ROCKSOLAR Advantage
Comparing with most lithium portable power banks, this battery powered generator with its light weight and compact design is named one of the best portable power generators. With its portable energy storage ability from an emergency outage to powering your van life dreams, trust the Utility to light up your world.
Suitable for:
RVs & Mobile Homes
Camping & Outdoor Adventures
Emergency Backup Power for CPAP
Worksite Power Needs
Boats & Marine Use
Van Life & Travel
1x ROCKSOLAR Utility 300W Portable Power Station: Your reliable source for on-the-go power.
1x Power Adapter: For quick and convenient charging.
1x Car Charger Cable: Easily recharge the power station while you're on the move.
1x Cigarette Lighter Adapter: For versatile power options.
1x User Manual: All the information you need for operation and safety.
Technical Specifications
Specification
Details
Manufacturer
ROCKSOLAR TECHNOLOGY LLC
Place of Business
18008584318
Part Number
1

Product Dimensions
11.3 x 5.1 x 5.1 cm; 3.76 Kilograms
Item model number
RS630A
Is discontinued by manufacturer
No
Size
333W Solar Panel
Colour
Yellow and Black
Style
Power Station
Material
Aluminium
Pattern
Power Station
Power Source
Battery Powered
Voltage
110 Volts (AC)
Wattage
300 watts
Handle/Lever Placement
Center
Display Style
LCD
Special Features
Portable, Quiet, BMS, light weight
Usage
camping, residential, power outage, backup power supply, Cpap, outdoor, RV
Included Components
Car cigarette adapter, Charger
Batteries Included?
Yes
Battery Cell Type
Lithium Ion
Warranty Description
one year
Item Weight
8.29 lbs
The ROCKSOLAR Utility 300W Power Station is designed to provide reliable power for larger tasks, longer trips, and emergencies. It's ideal for RVs, camping, mobile homes, boats, and worksites.
You can fully charge the Utility 300W Power Station within 8 hours using an AC Wall Outlet or through your carport. With ROCKSOLAR 60W or 100W solar panels (sold separately), the charging time will depend on the sunlight intensity.
Yes, the Utility 300W Power Station provides a 110V Pure Sine Wave output. This means it delivers clean and stable energy similar to what you get from home outlets, making it safe for sensitive electronic devices.
Absolutely! The power station includes an advanced battery management system (BMS) that protects against overcurrent, overvoltage, and over-temperature, ensuring the safety of both the user and the connected devices.
Yes, the ROCKSOLAR Utility 300W Power Station supports pass-through charging. This means you can simultaneously charge the power station and power your devices.
The Utility 300W Power Station utilizes a high-quality Lithium-ion Polymer battery, designed for durability and long life cycles of over 1000 charges.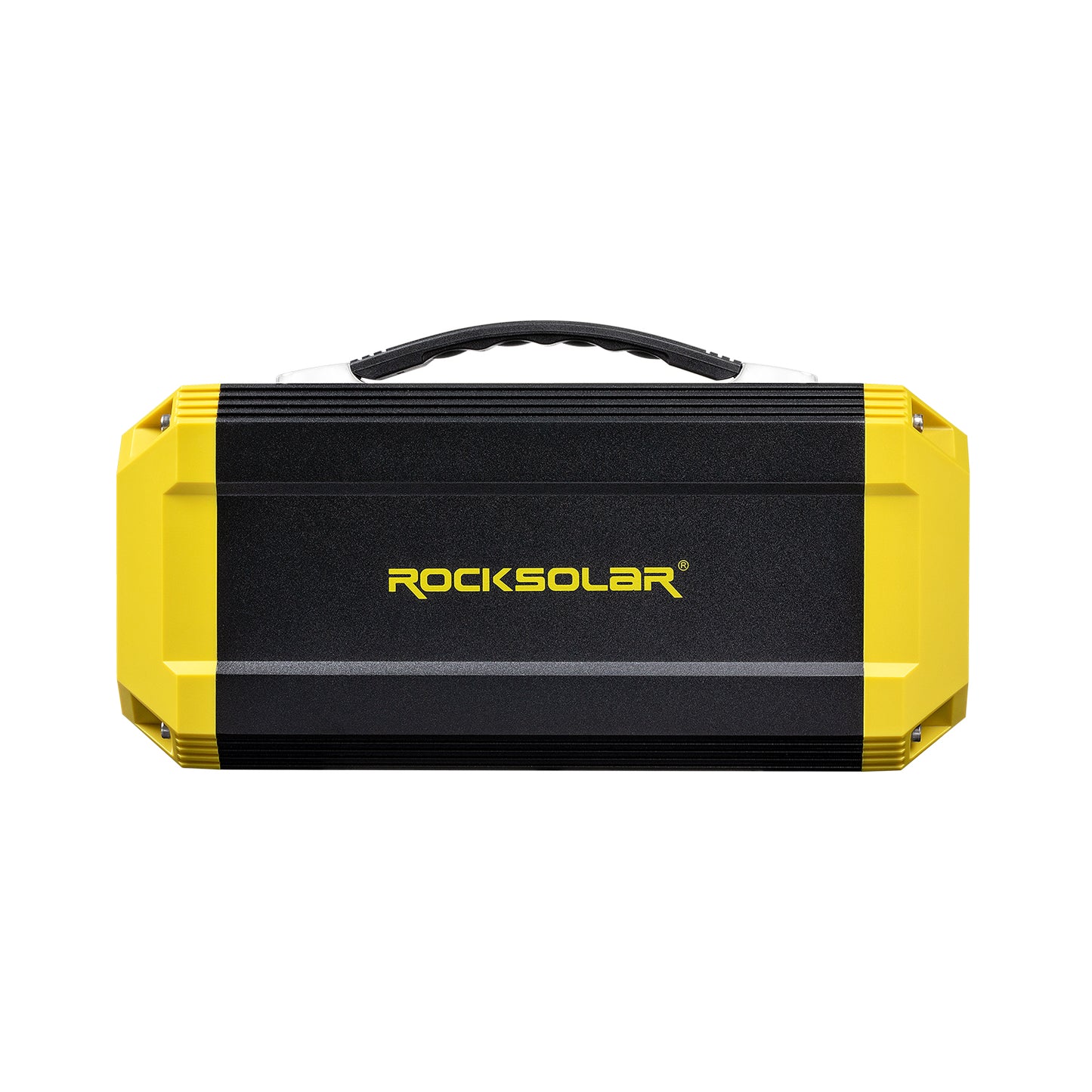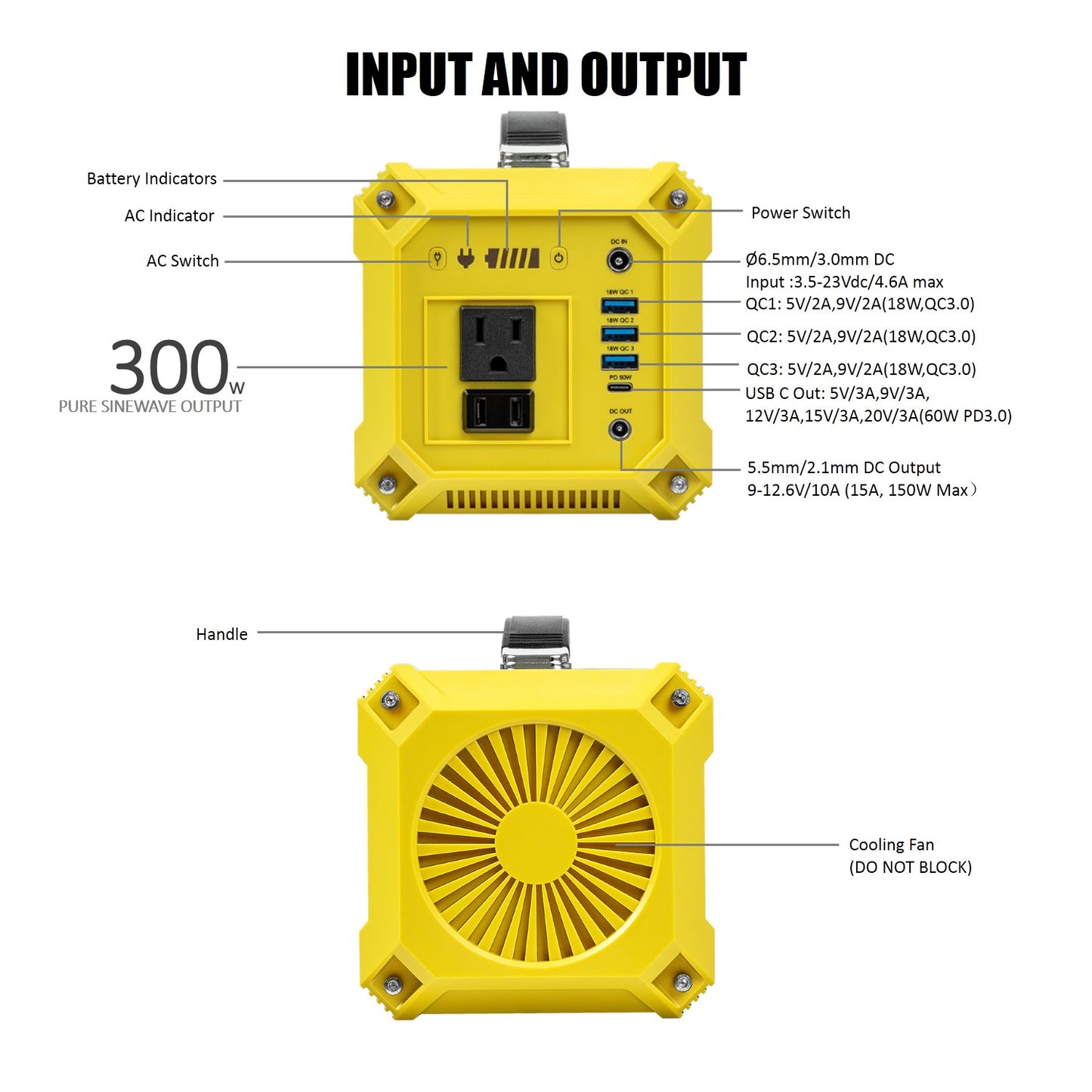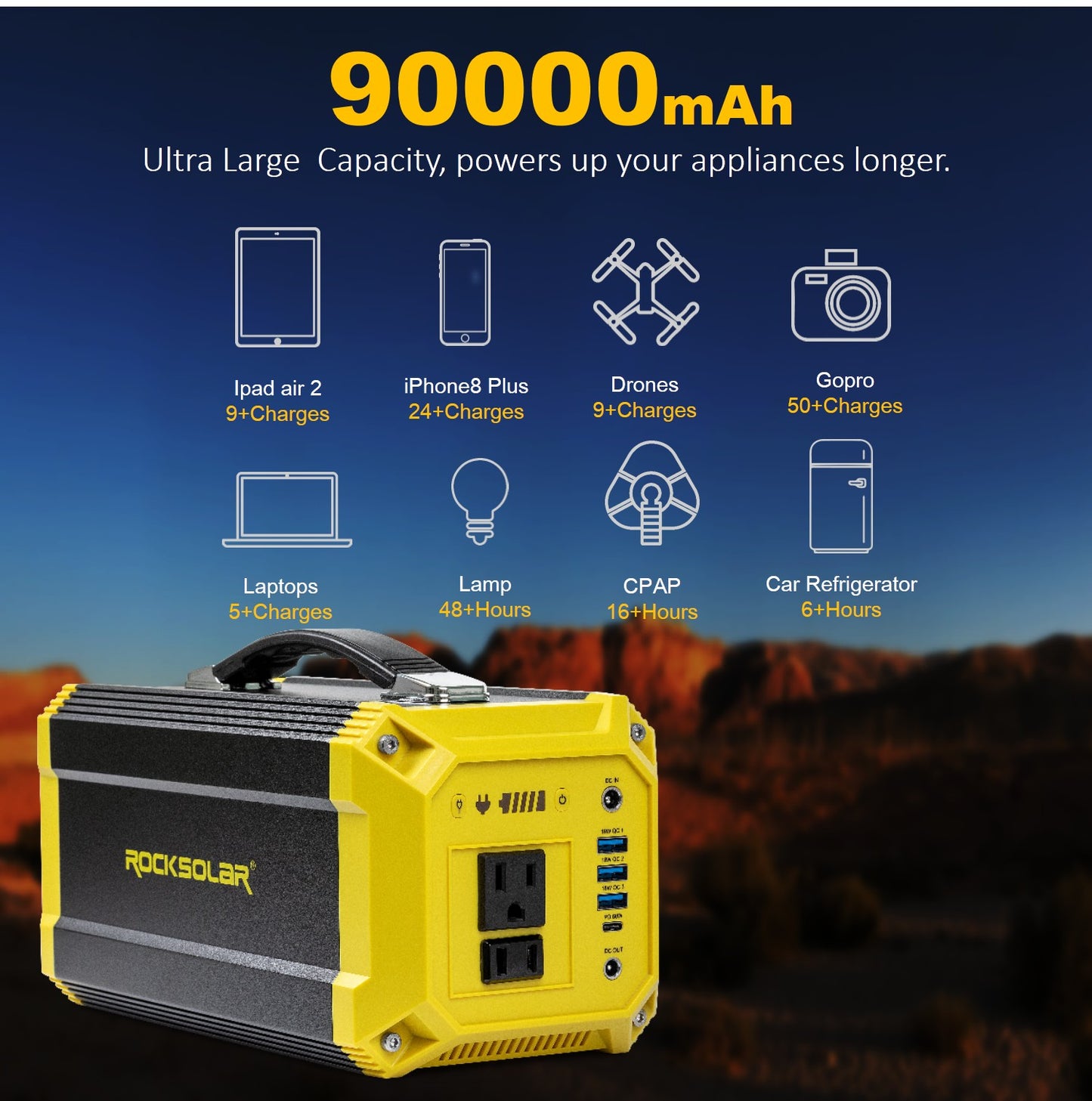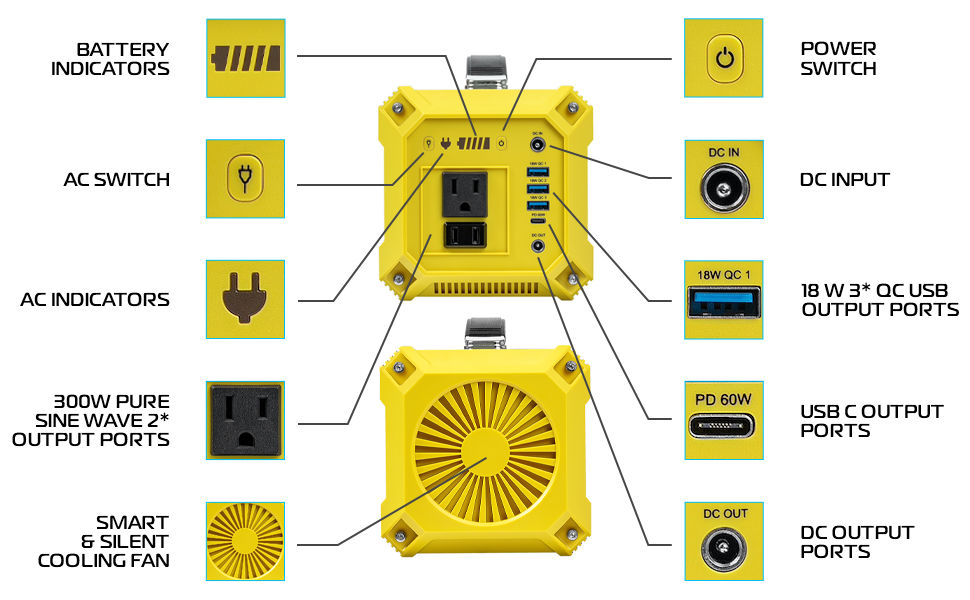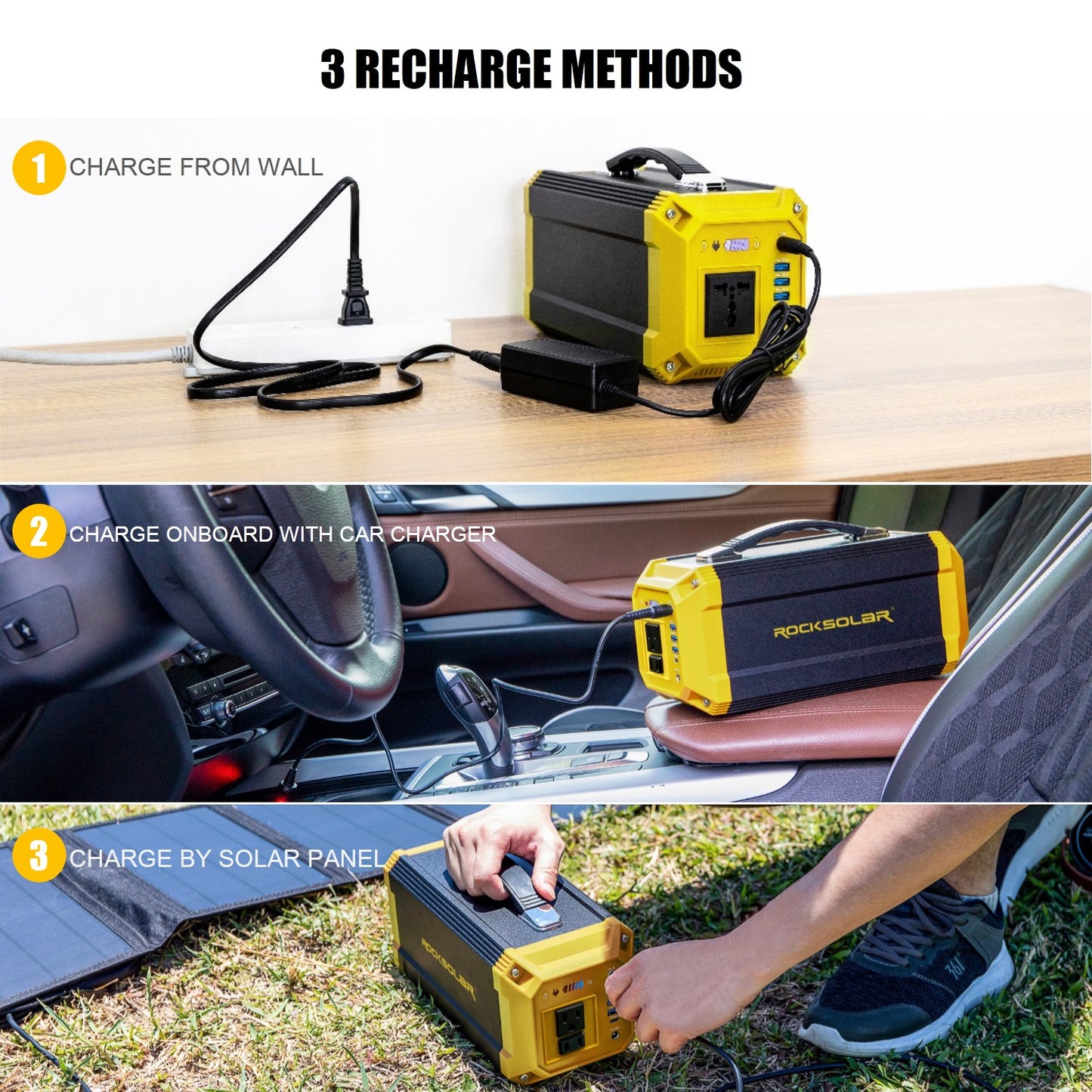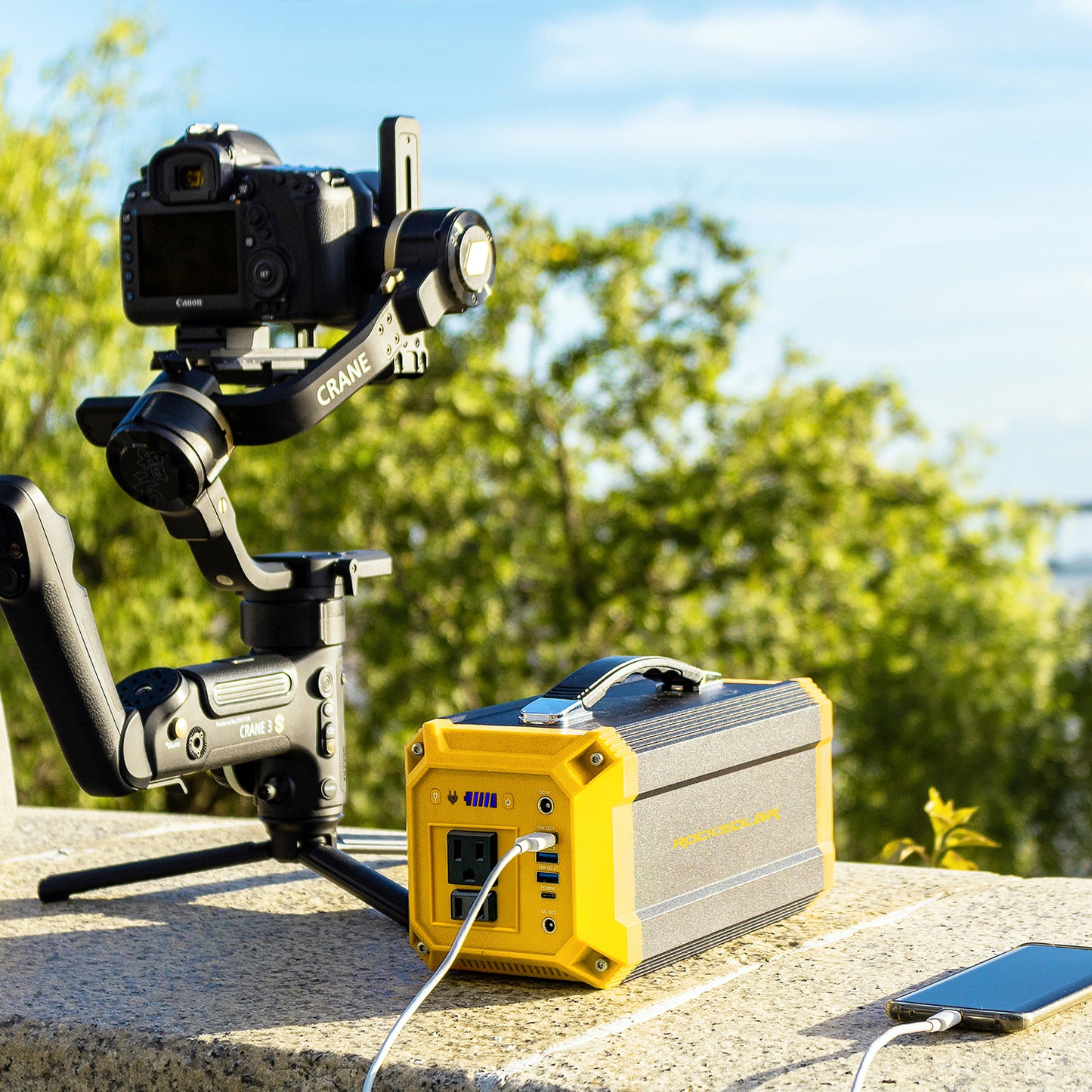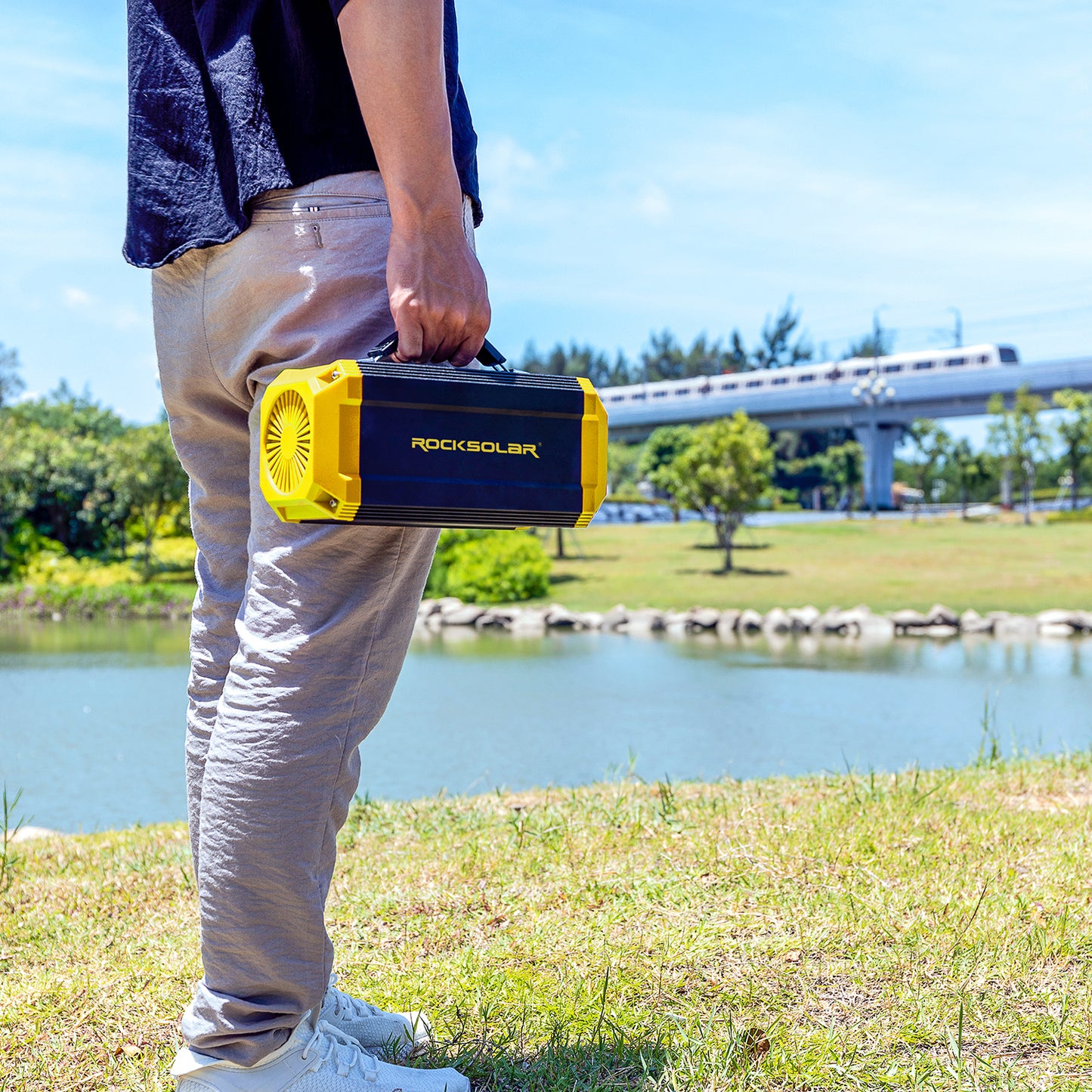 Excellent Product, fast delivery
I've been using my solar panels to recharge my phone and iPad. Works great. Easy to carry. Quick setup. Using the stands helps put my phone and iPad under the shade of the panels.
Haven't used the Power Station yet. It looks solid. Small. Light. Will be using it for my video camera as the battery doesn't last very long. Video camera batteries are about $150, so I figured getting a portable power supply is better value. Can plug camera lights too. Ready for filmmaking or video making on the go.
Charge before you use!
We loved this product. Took it camping with us for 10 days and only had to charge it up one time! Very happy with this purchase. We charged everything from phones to breast pump batteries. Everyone was a happy camper ;)
Great to have!
I wanted something just in case we lost power. This was a solar option for a great price! Works beautifully.
Great for work!
My husband uses this in his workn truck he charges his phone, ear buds and heated lunchbox with this. He loves it!
Great job
I hooked up two of these batteries in parallel. They did a wonderful job powering my camper during two weeks at Big Bend NP. I used 200 W of ROCKSOLAR solar panels to keep them charged. I am very pleased with the batteries.