Additional 15% off applied at checkout. Use code - SAVEMORE
Regular price
$832.00 USD
Regular price
$1,361.00 USD
Sale price
$832.00 USD
Unit price
per
Sale
Sold out
Peak Output: Four 200W panels, combined 800W, generating 3200-4000 Wh daily.
Shade Efficiency: Bypass diodes ensure minimal power drops in suboptimal lighting.
Rugged Construction: Corrosion-resistant frame with top-tier encapsulation.
Climate Adaptability: IP65-rated for performance in -20°C to +50°C conditions.
Mounting Ease: Pre-drilled holes for straightforward installation.
Charge Controller Sync: Best with 12V 60A MPPT Controllers.
Flexible Use: Suitable for homes, RVs, marine environments, and more.
Eco Commitment: A green choice for a sustainable energy future.
Warranty Assurance: 10 years, maintaining a minimum of 90% output.
Free
Local Shipping
10-year Hassle Free
Warranty
Lifetime Customer
Support
Share
View full details
Description

Includes
Specifications
FAQ
Downloads
Reviews
Introducing the ROCKSOLAR Black Diamond 800W 4 Pcs 12V Rigid Monocrystalline Solar Panel, a high-performance and eco-friendly solution for your energy needs. Offering the pinnacle of efficiency with four 200W monocrystalline panels. Designed with durability in mind, each solar panel features a rigid, weather-resistant aluminum frame and anti-reflective tempered glass to ensure maximum efficiency. The monocrystalline cells provide excellent performance, even in low-light conditions, making it a reliable energy source for off-grid living, camping, or emergency backup power. Easy to install and compatible with a wide range of applications, the ROCKSOLAR 200W 12V Solar Panel will help you harness the power of the sun and reduce your carbon footprint.
Product Features
High-efficiency monocrystalline cells: These solar cells offer excellent performance in low light conditions and higher energy output compared to polycrystalline cells.

800W power output: Each solar panel provides 200 watts of power (when combined 800W), making it suitable for various applications such as RVs, boats, cabins, and off-grid systems.

12V & 24V system compatibility: The solar panel is designed to work with 12V and 24V battery systems, making it ideal for use in remote or off-grid locations.

Rigid aluminum frame: The panels feature durable, corrosion-resistant aluminum frames that ensures long-lasting performance and easy mounting.

Weather-resistant design: Each solar panel is built to withstand harsh environmental conditions, including heavy rain, snow, and strong winds.

High light transmittance glass: Each panel features a high-quality, low-iron tempered glass that offers high light transmittance and improved energy output.

Pre-drilled mounting holes: The panels come with pre-drilled holes for easy mounting and installation.

Bypass diodes: Integrated bypass diodes minimize the impact of shading on the panel's performance, ensuring consistent energy output.

MC4 connectors: Each solar panel is equipped with industry-standard MC4 connectors for easy and secure connections to your solar system.

Long service life: Over 25 year service life and 10 year manufacturer warranty.

Easy installation: The solar panels can be easily installed on various mounting systems, including roof, ground, and pole mounts.

Eco-friendly power source: Harnessing solar energy is a clean, sustainable, and environmentally friendly way to generate electricity.
4 x ROCKSOLAR Black Diamond 200W 12V Monocrystalline Rigid Solar Panel
4 x MC4 Connectors
1 x User Manual for the Rigid Solar Panel
Technical Specifications Of Each Panel
Specification
Details
Panel Type
Monocrystalline
Power Output
200W
System Voltage
12V
Cell Efficiency
20-22%
Frame Material
Aluminum
Dimensions
 65" x 39"
Weight
approx. 25-30 lbs
Operating Temperature
-40°C to +85°C
Waterproof Rating
IP65 
Front Glass
High light transmittance, low-iron tempered glass
Bypass Diodes
Integrated
Connectors
MC4
Cable Length
Varies depending on the brand (approx. 3-6 ft)
Mounting Hole Locations
Pre-drilled
Service Life
25 years or more
Warranty
10 years
You can anticipate an energy output ranging from 3200-4000 Wh daily, depending on sunlight conditions and panel orientation.
Absolutely! The panels are IP65-rated and are designed to operate optimally in temperatures from -20°C to +50°C. Their glass-laminated structure ensures resilience across varied weather conditions.
The panels come with pre-drilled holes for convenient mounting. Ensure a secure connection between panels and your system, positioning them in a location with maximum sun exposure for best results.
These panels pair perfectly with 12V 60A MPPT Charge Controllers. However, always check for compatibility with other types or brands before integrating.
By utilizing the sun's rays, the ROCKSOLAR 800W set promotes renewable energy use, decreasing greenhouse gas emissions and supporting a sustainable, eco-friendly future.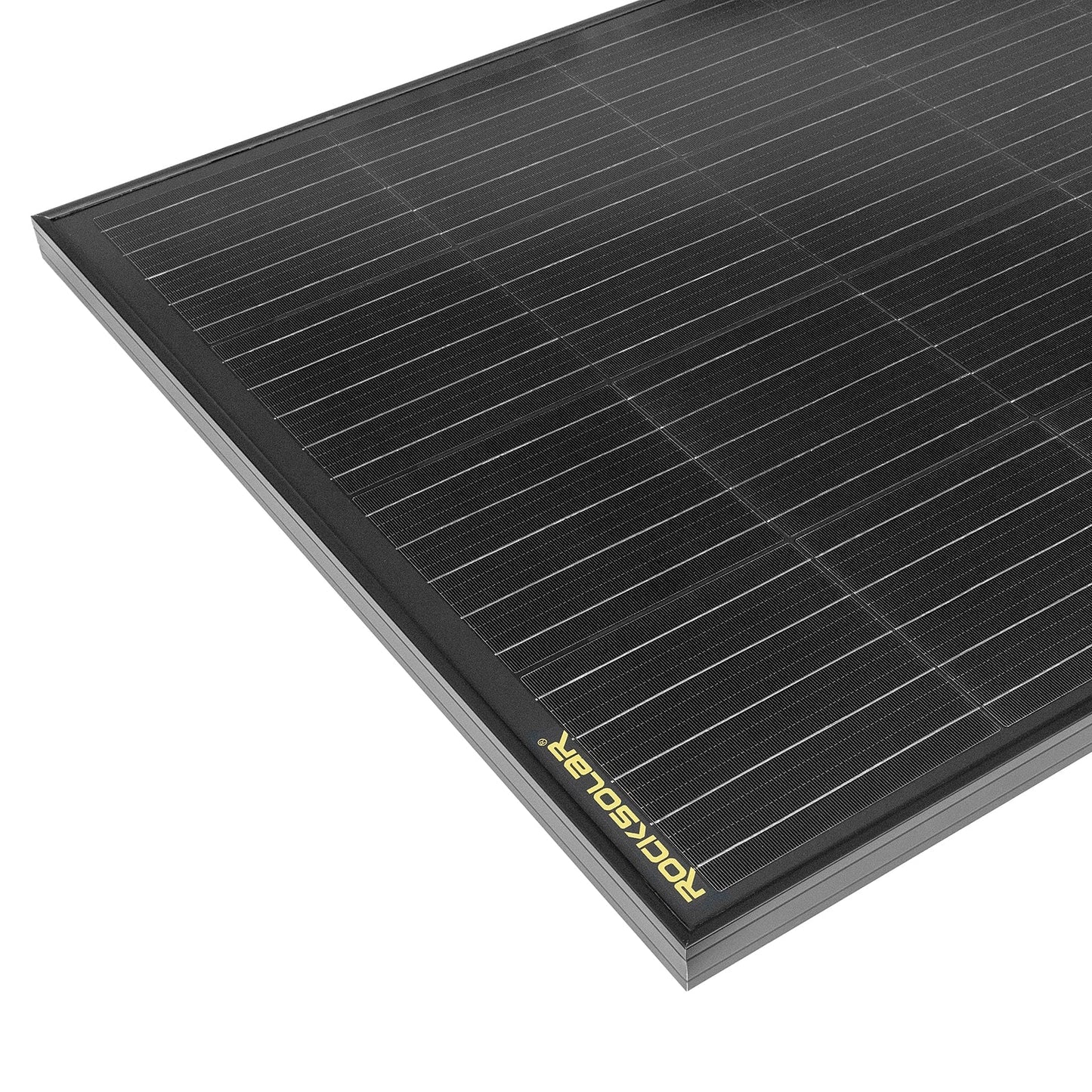 A Great Solar Panel
This is a great solar panel. Easy to install and very efficient.
Excellent for Emergencies
After a storm left us without power, this panel was a lifesaver. Definitely a good buy for emergencies.
Easy to Set Up
This was super easy to set up, even for someone who's not tech-savvy like me.
Reliable & Durable
The Rocksolar panel has been a reliable and durable addition to our off-grid home.
Sturdy and Efficient
This solar panel is not just sturdy, it's very efficient. My energy bills are way down now!